Rasmalai Recipe | How to Make Soft Rasmalai At Home | Easy Homemade Ras Malai (रसमलाई) – Learn how to make easy and soft homemade rasmalai with a tutorial video with all the instructions.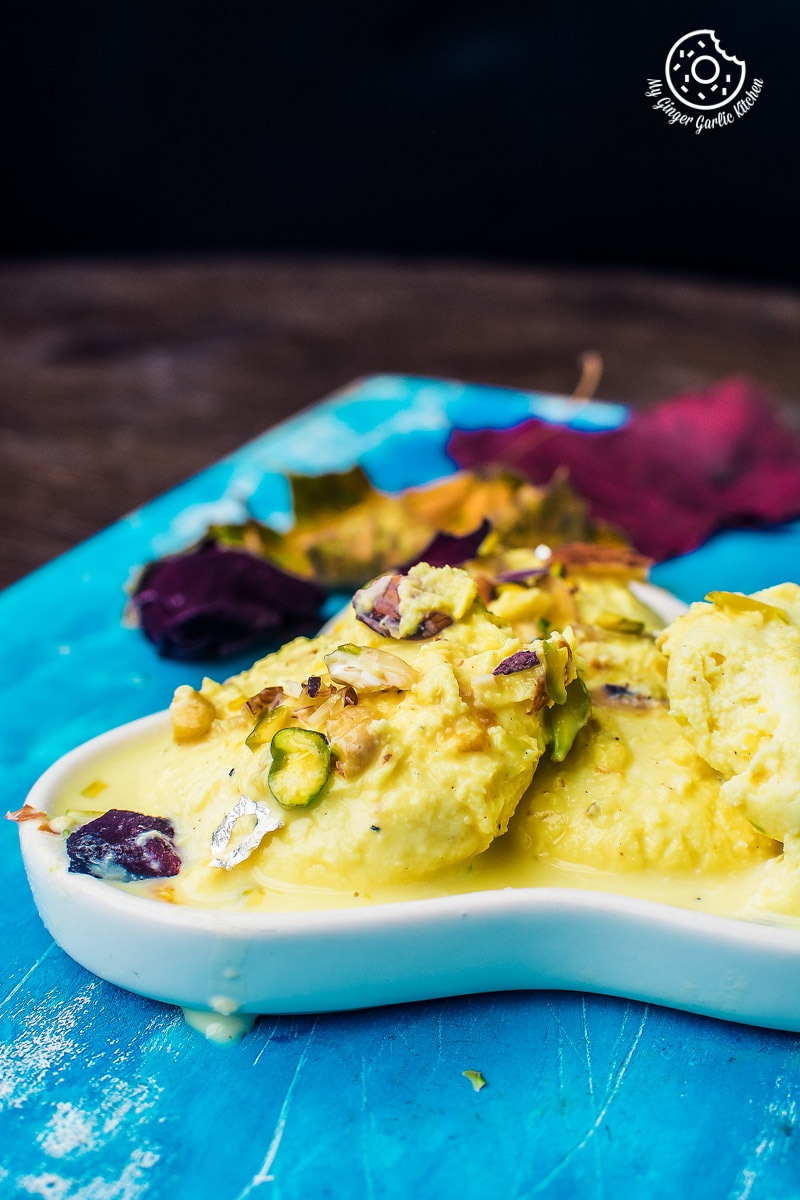 Have you ever had this classic Indian dessert at an Indian Restaurant? Those soft and mouth melting paneer discs soaked in sweet, thick and creamy milk? Mmmmm, these panner discs are super soft, delicate, delicious and have an astonishingly melt-in-your-mouth feel that will unquestionably leave you desiring for more. They are tender and filled with juicy cream in every bite. This dessert will earn your applause for sure.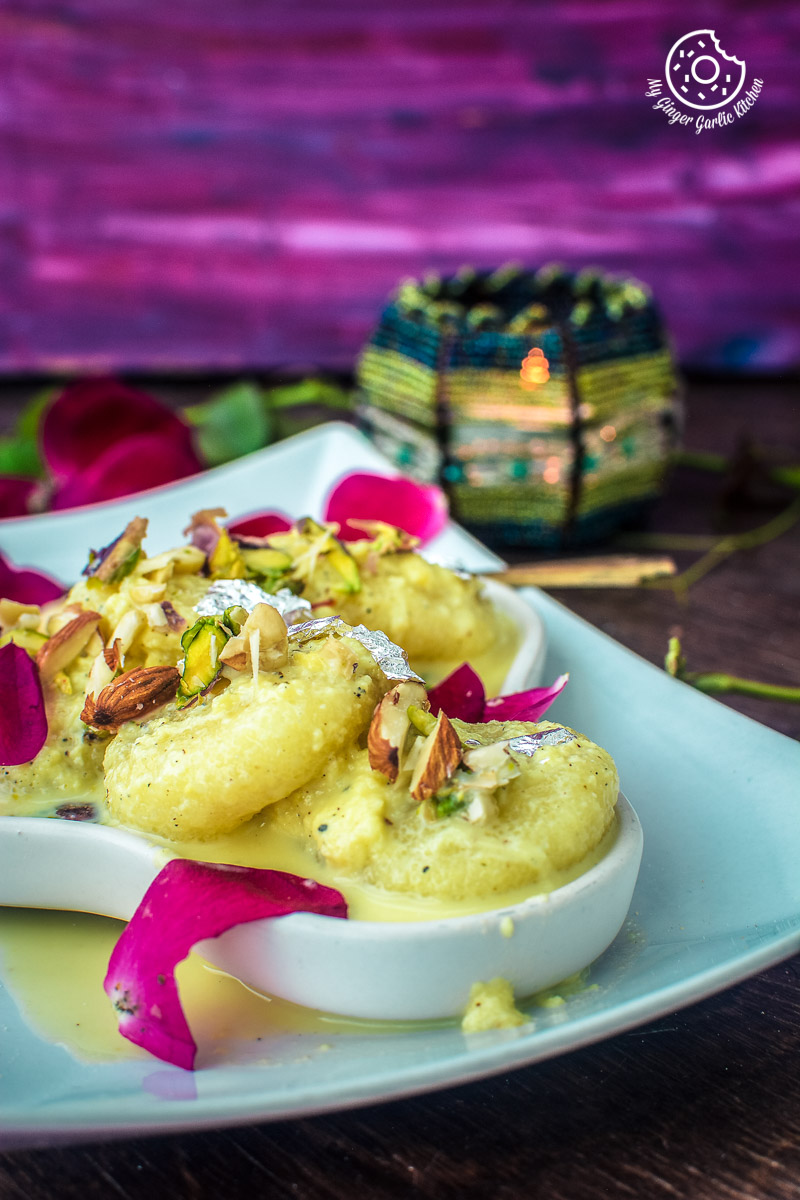 I am sharing this perfect Monday recipe of Rasmalai. The good thing is that you can have them without any celebration. Well, I don't think that you want a special event for eating these light, soft and spongy paneer balls. Nevertheless, if you still need an excuse to enjoy these then you will have to pretend that there's a party or something. Does that make you feel better? 🙂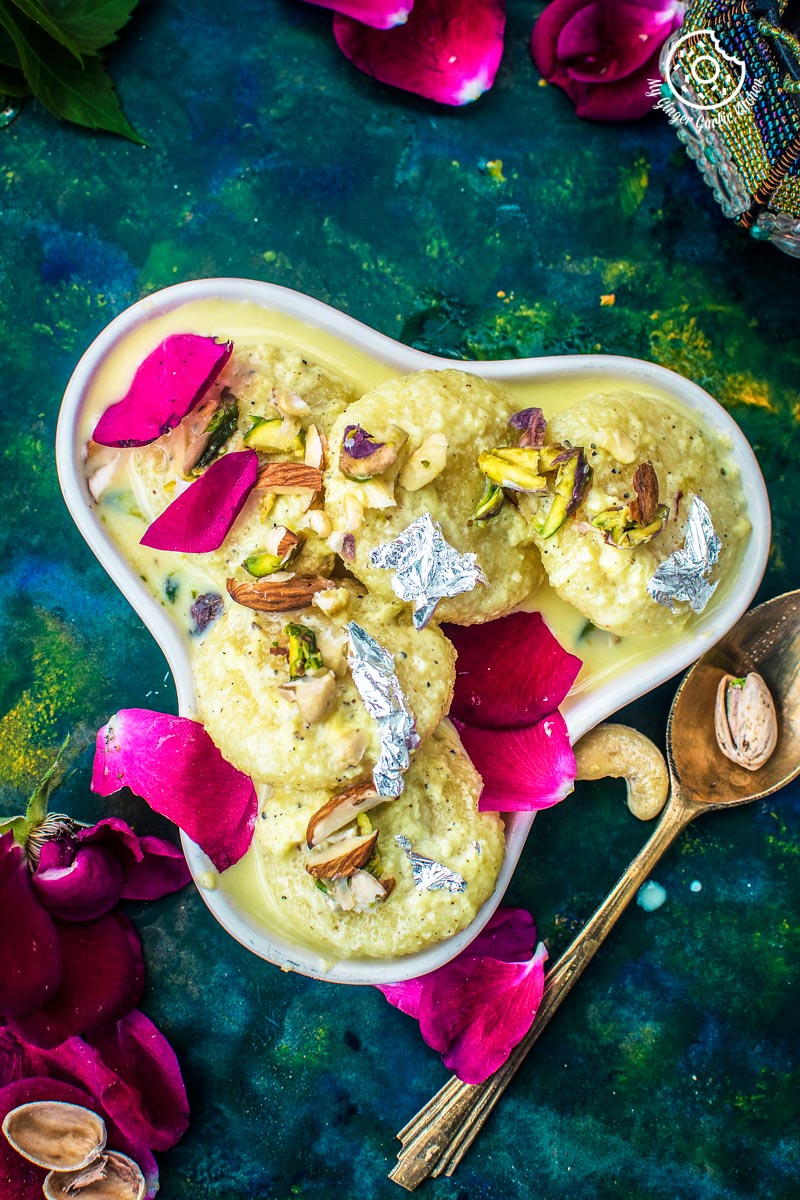 What is Rasmalai? 'Ras' (रस) means juice and 'malai' means fresh cream. In this dish, 'Malai' ( मलाई ) is flattened cottage cheese balls (chenna/paneer balls), which are cooked in sugar syrup first and then later dunked and soaked in rich, sweet, saffron flavored thick and creamy milk syrup known as 'ras'. It's then garnished with chopped nuts.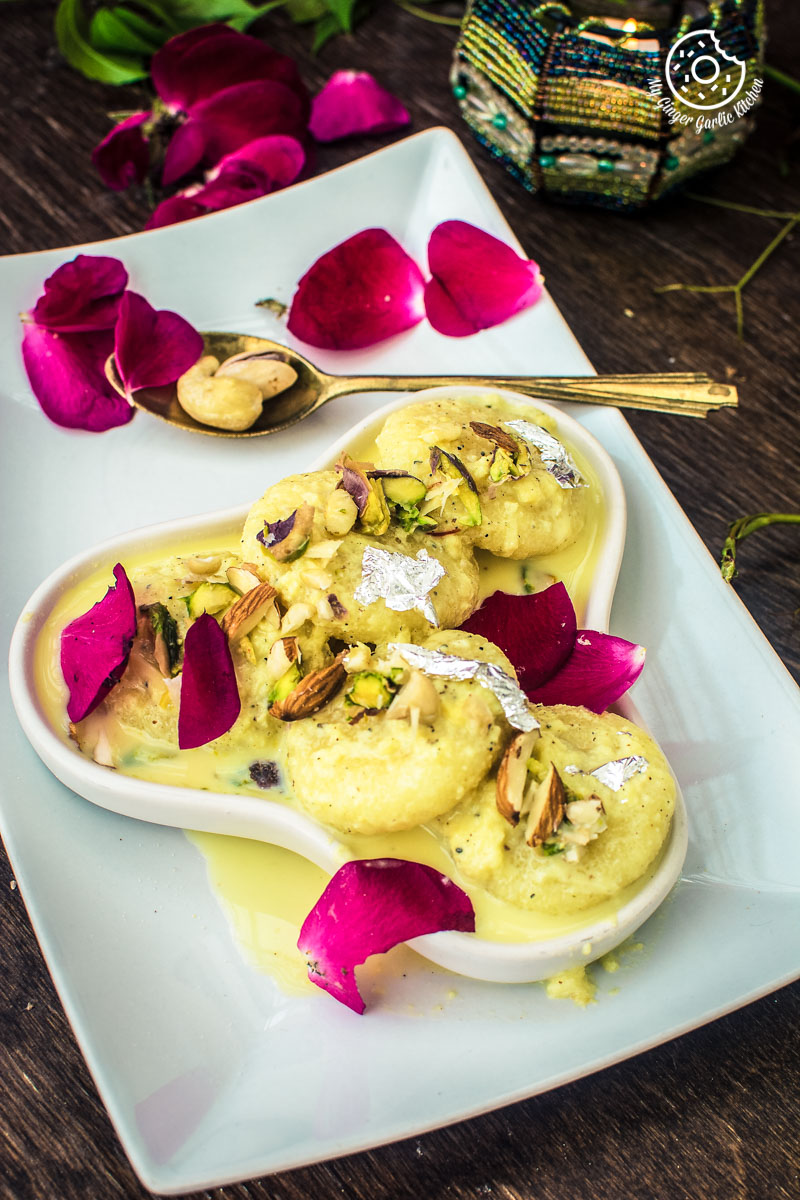 Rasmalai is a Bengali delicacy which hails from the Indian State of Bengal. But this is popular in all over India — people are just crazy for this Indian sweet. You can get it everywhere in India.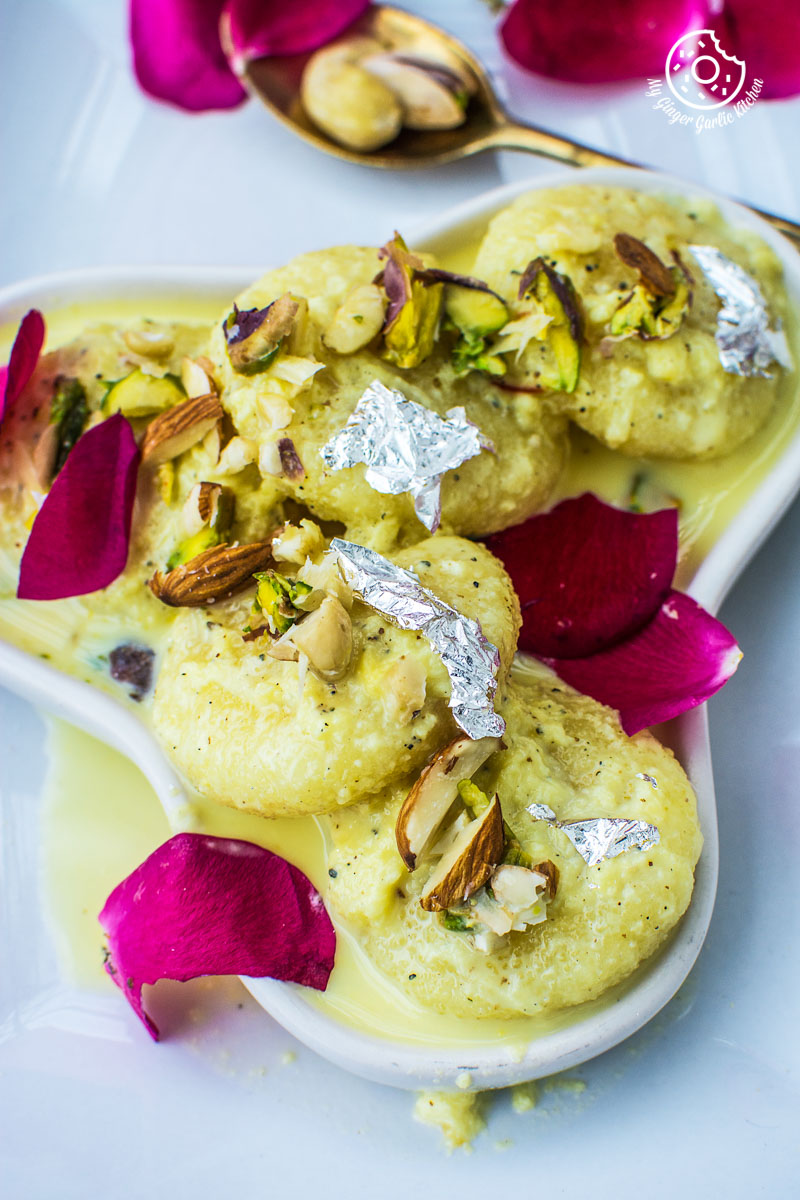 Today I am sharing the very original and authentic way of making Rasmalai. This rasmalai method is very straightforward. I made everything from scratch, which includes making chenna/paneer, shaping them to discs, boiling them in sugar syrup, and making milk rabari. And finally at the end, dunking and soaking soft and spongy paneer discs into the rabri to get that intense rich, milky, creamy sweet flavor inside out.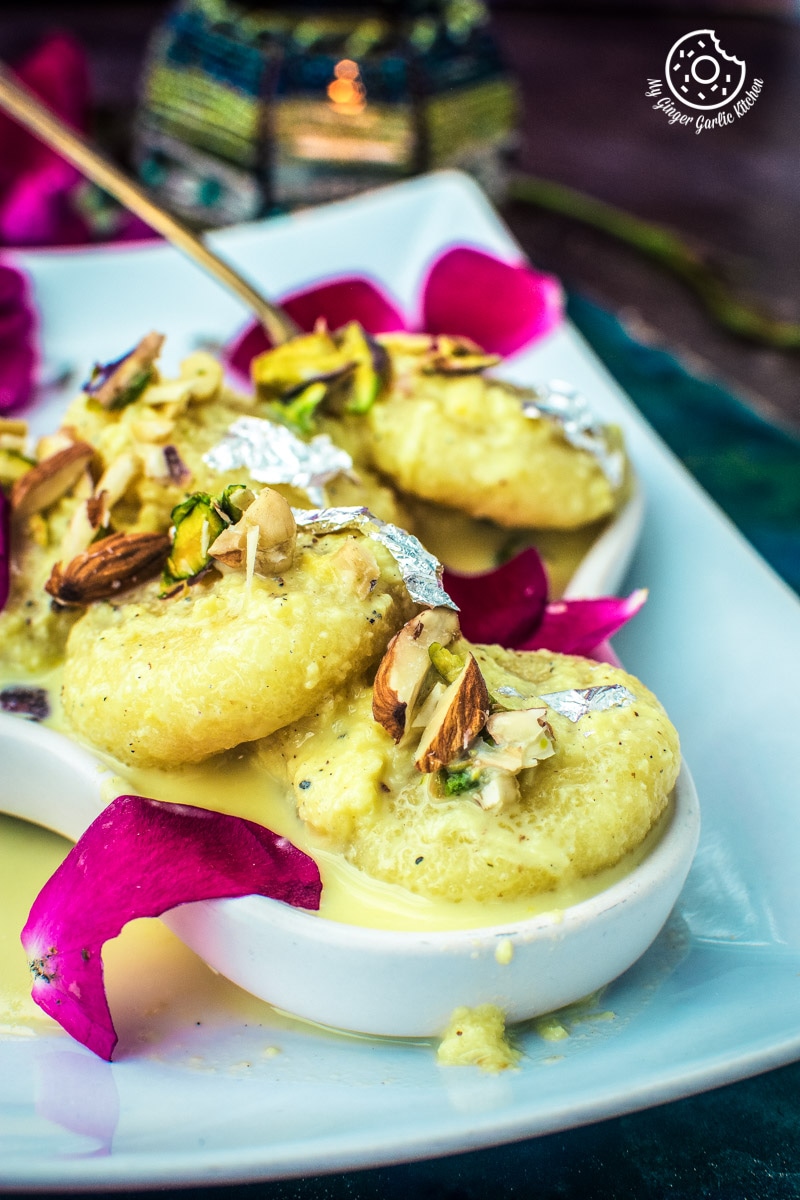 You can also make this instant version of Rasmalai by using store-bought ready-made rasgullas from any Asian grocery store.
I always make rasmalai when I make spongy rasgullas at home. That is the main reason that whenever rasgullas I make sure to cook some extra, so that I can also make some instant rasmalai with them. In this recipe, you'll just have to make rabri, and dunk rasgullas into rabri the same way you do with the original Rasmalai recipe.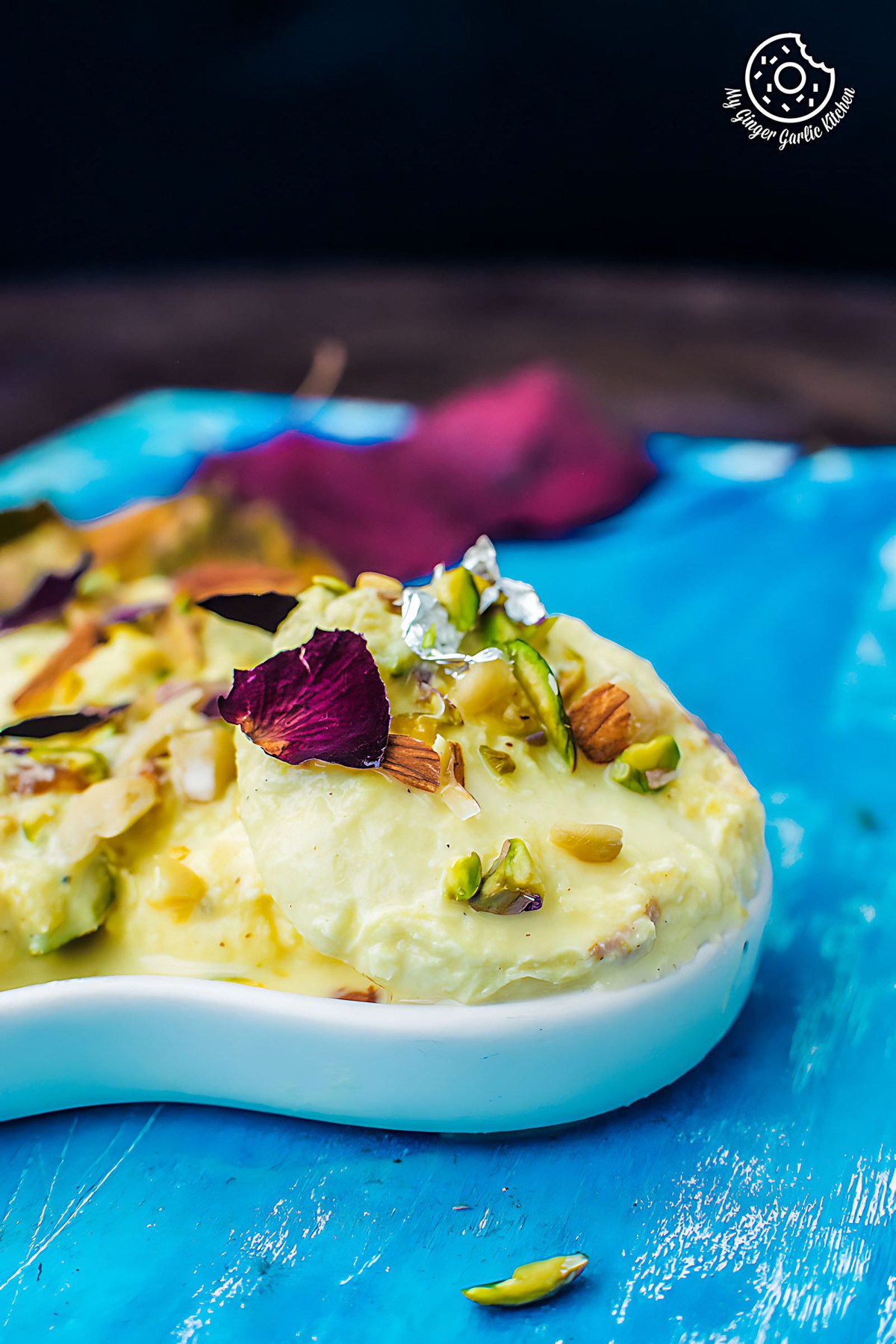 For me, it is one of the tastiest Indian desserts. I just adore them. I can even skip my meals for these tiny jewels. There is something so cool about this dessert — as soon as one of these balls are in your mouth, and all your life's current problems would melt away temporarily. Like me, little A is also a HUGE fan of this sweet dish because it is sweet and it contains her favorite paneer. Yes, she loves eating raw paneer.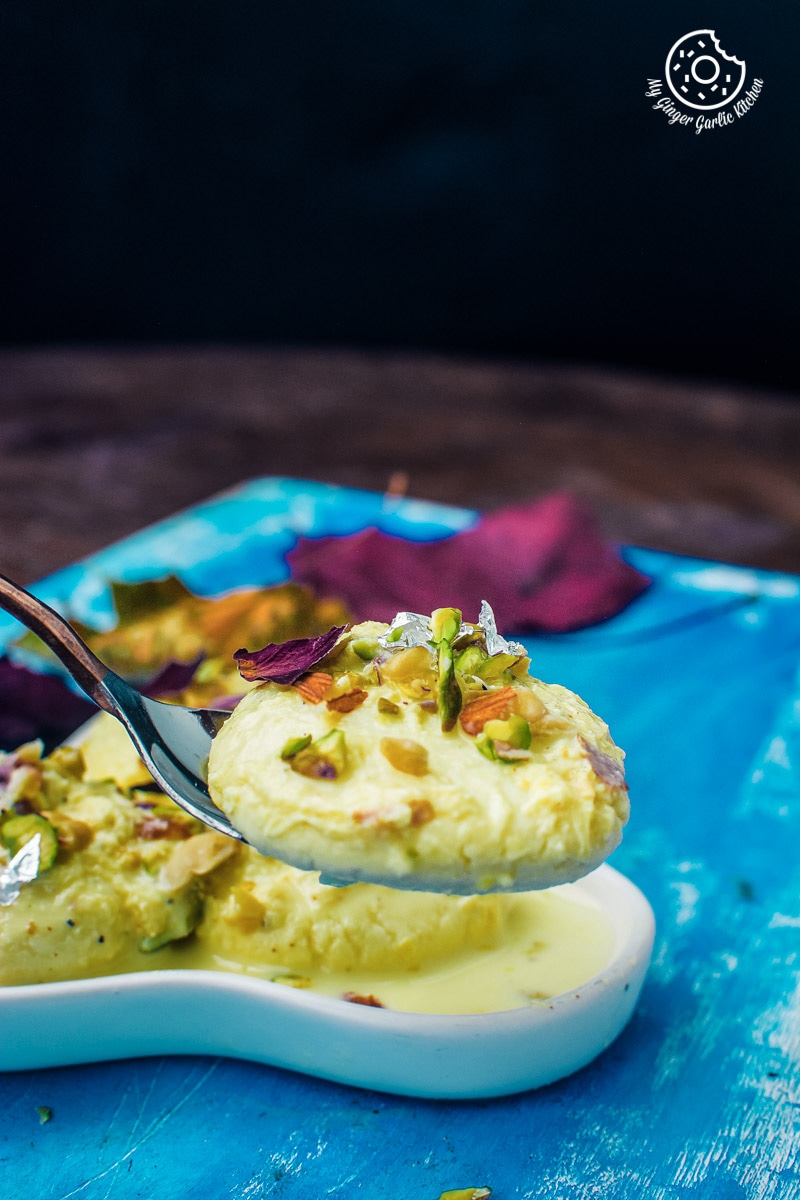 The good news is that this is completely gluten-free, grain-free, butter-free, and egg-free dessert. The key ingredient of this dish is full cream milk. If you like this dessert recipe, then I am sure you'll also like this Instant Bread Rasmalai recipe I shared earlier.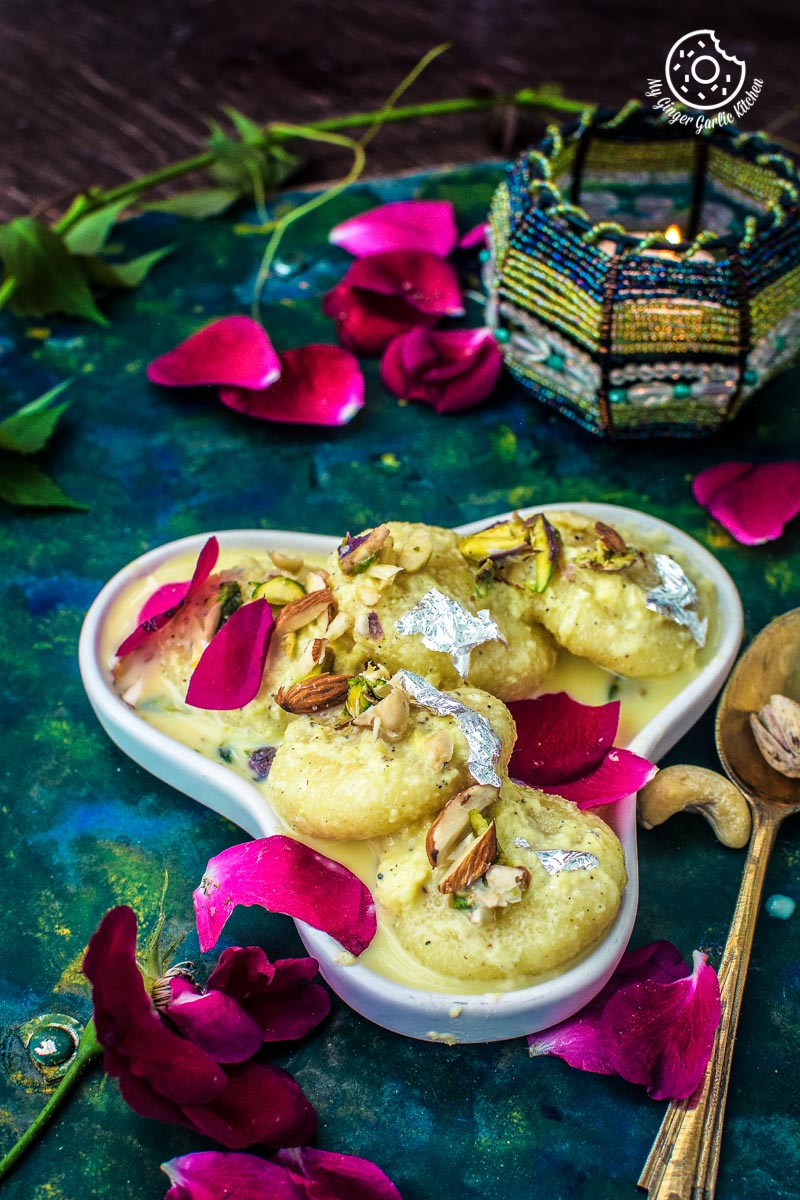 This deliciously lip-smacking dessert is best served chilled topped with some almonds, pistachio, and cashews.
If you are looking for more India sweets recipes then do check out: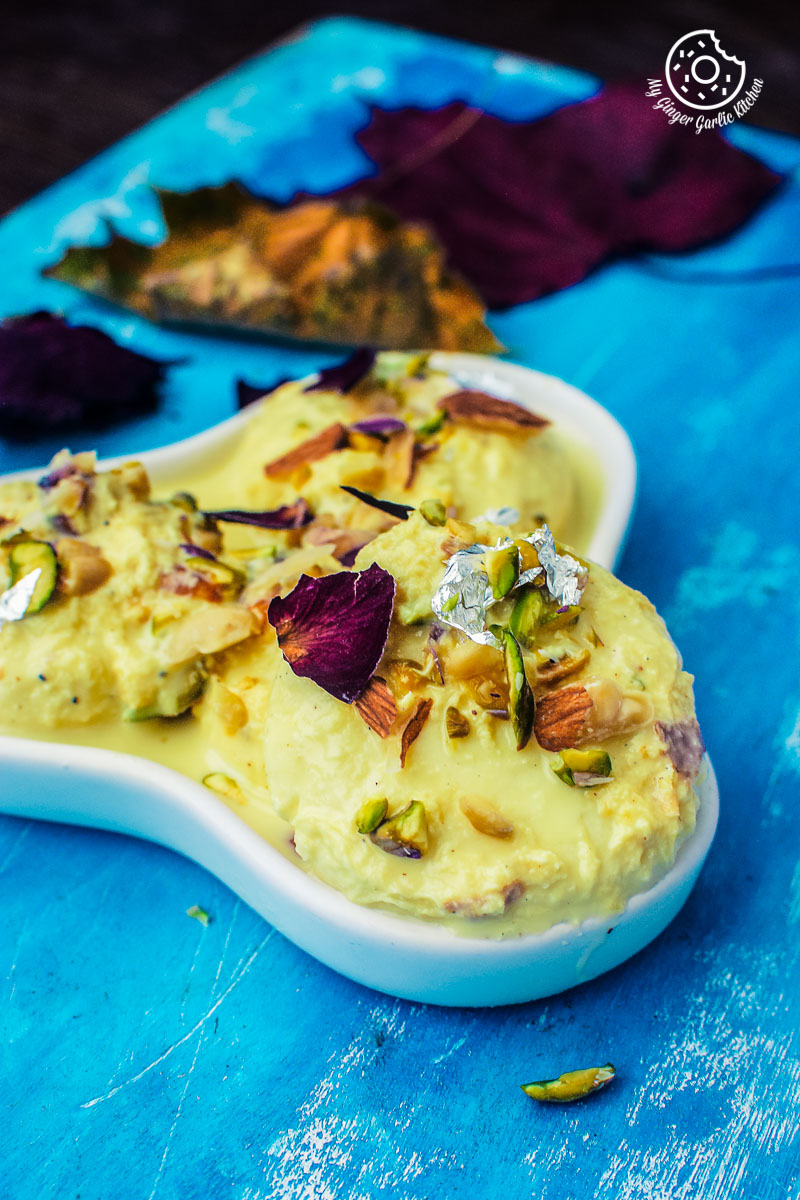 Watch How to Make Soft Rasmalai At Home | Rasmalai Recipe video below (please wait for a couple of seconds for loading).
Rasmalai [RECIPE]
Rasmalai Recipe | How to Make Soft Rasmalai At Home | Easy Homemade Ras Malai (रसमलाई) – Learn how to make easy and soft homemade rasmalai with a tutorial video with all the instructions.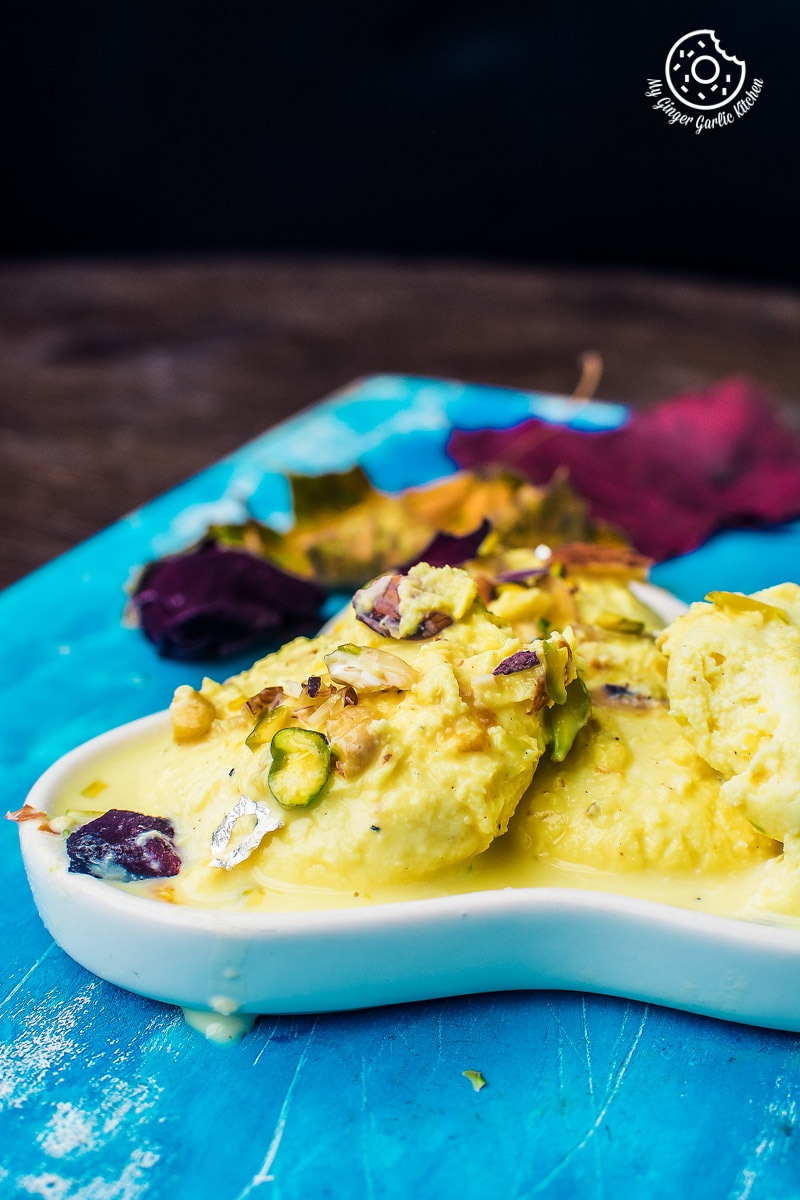 ♥ ♥ ♥ ♥ ♥
(Rating: 5 from 1 reviews)
INGREDIENTS
For Making Chenna For Malai Balls:
• Milk – ­ 1 Liter (Use full Milk Cow Milk)
• White vinegar or lemon juice – 3 tbsp + 1.5 tbsp more if needed.
• Water as needed
For Sugar Syrup:
• Sugar – 1 Cups
• Water – 5 cups
• Cardamom pods – 3-4 (Optional)
For Rabri:
• Whole Milk – 1 liter + 1 tbsp
• Sugar – ¼ cup or as per taste
• Chopped nuts – 3 tbsp + 1 tbsp for garnish
• Saffron strands- 7-8
• Ground cardamom – 1 tsp
• Rose water – 1 tsp (optional)
 For serving:
• Nuts, chopped­ (pistachio, almonds, cashews)
---
| 🕐 Prep time | 🕐 Cook time | 🕐 Total time |
| --- | --- | --- |
| | | |
| ☶ Category | ♨ Cuisine | ☺ Serves |
| Desserts | Indian | 12-14 |
---
INSTRUCTIONS:
For Making Chenna:
1. Heat milk in a pan and let it come to a boil.
2. Stir the milk occasionally to prevent burning.
3. Once the milk comes to a boil, turn the heat to low and add lemon juice/vinegar to it. Stir with a spatula.
4. When you see the green whey separated from the solids, then your milk is curdled.
5. Turn off the heat.
6. Line a strainer/colander with a cheese/muslin cloth and pass the curdled milk through the lined strainer.(You can use this whey for making chapati dough)
7. Rinse well. Washing will remove the tang from the (curdled milk) chenna.
8. Now gather the cloth from the sides and squeeze well.(Chenna ­has to be the dry well.
9. )
10. Hang the cloth for 30 mins to remove excess water.
For Making Malai Balls:
1. Remove the chenna out from the cloth and knead well for about 10-12 minutes. You can also use a food processor for kneading. (Knead well until it starts leaving the fat, or you see your palms are getting greasy.)
2. Divide the dough into 12-14 pieces and roll each piece between your palms to make smooth and round lemon sized balls and flatten them to shape into discs.
For sugar syrup:
1. Add 1 cup sugar, 5 cups water, and cardamom pods to a large pot and stir with a spatula.(The ratio of sugar water should be 1:5.)
2. Let the water boil for few minutes and add the cheese balls into it and cover it.
3. Cook covered for 5 minutes on high heat.
4. Turn the heat to low and cook for 10 minutes.
5. Let it cool completely.
For Making Rabri:
1. Heat milk a pan and let it come to a boil.
2. Add 1 tbsp hot milk to the saffron strands and stir well.
3. Add this saffron mixture to the milk and boil it till it reduced to half. Keep stirring occasionally.
4. Add sugar and mix well.
5. Now add cardamom, rose water chopped nuts and boil for 5 more mins.
6. Let it cool.
For Assembling:
1. Refrigerate ras for 2-3 hours if you want to serve chilled.
2. Remove cheese balls from sugar syrup and press gently between palm or spatulas to remove excess sugar syrup.
3. Transfer them to a platter or bowl, and add soak them in rabri on top of it.
4. Refrigerate for 2-3 hours or overnight.
5. Garnish with nuts and serve chill.
---
NOTES:
1. Always use full-fat milk.
2. You can also use store-bought rasgullas for making instant rasmalai.
---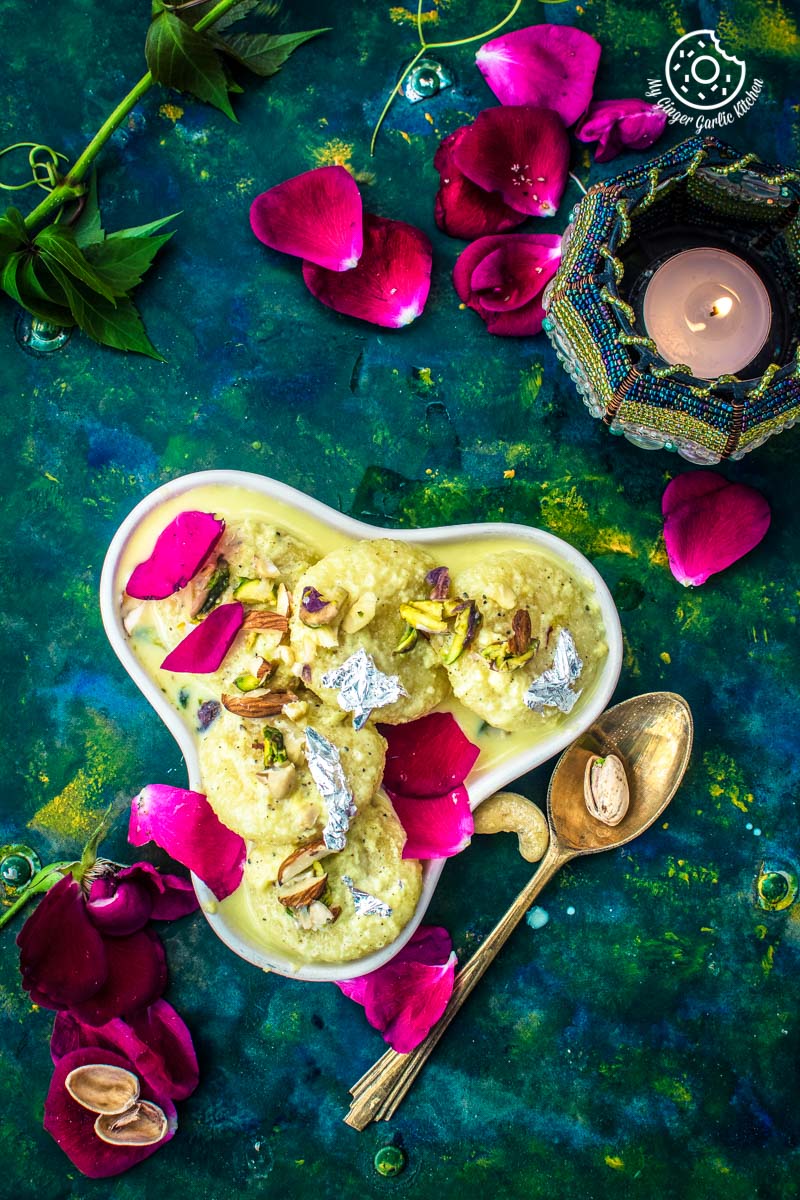 You may also like these other recipes.
If you enjoyed this recipe, then please further help me by FOLLOWING me on:
Instagram // Facebook // Pinterest // Twitter // Google+ // YouTube
If you cook this dish, be sure to tag your photo with this hashtag: #mggk
Happy Cooking and Keep Sharing! 🙂
---
Editor's note: This post was originally published in September 2017 and has been updated for comprehensiveness and freshness.