How to Make Soft Rasmalai At Home - Homemade Ras Malai
Rasmalai is a popular Bengali dessert where flattened cottage cheese balls are cooked in sugar syrup and then soaked in sweet, saffron flavored milk syrup.
---
« Go back
Print this recipe »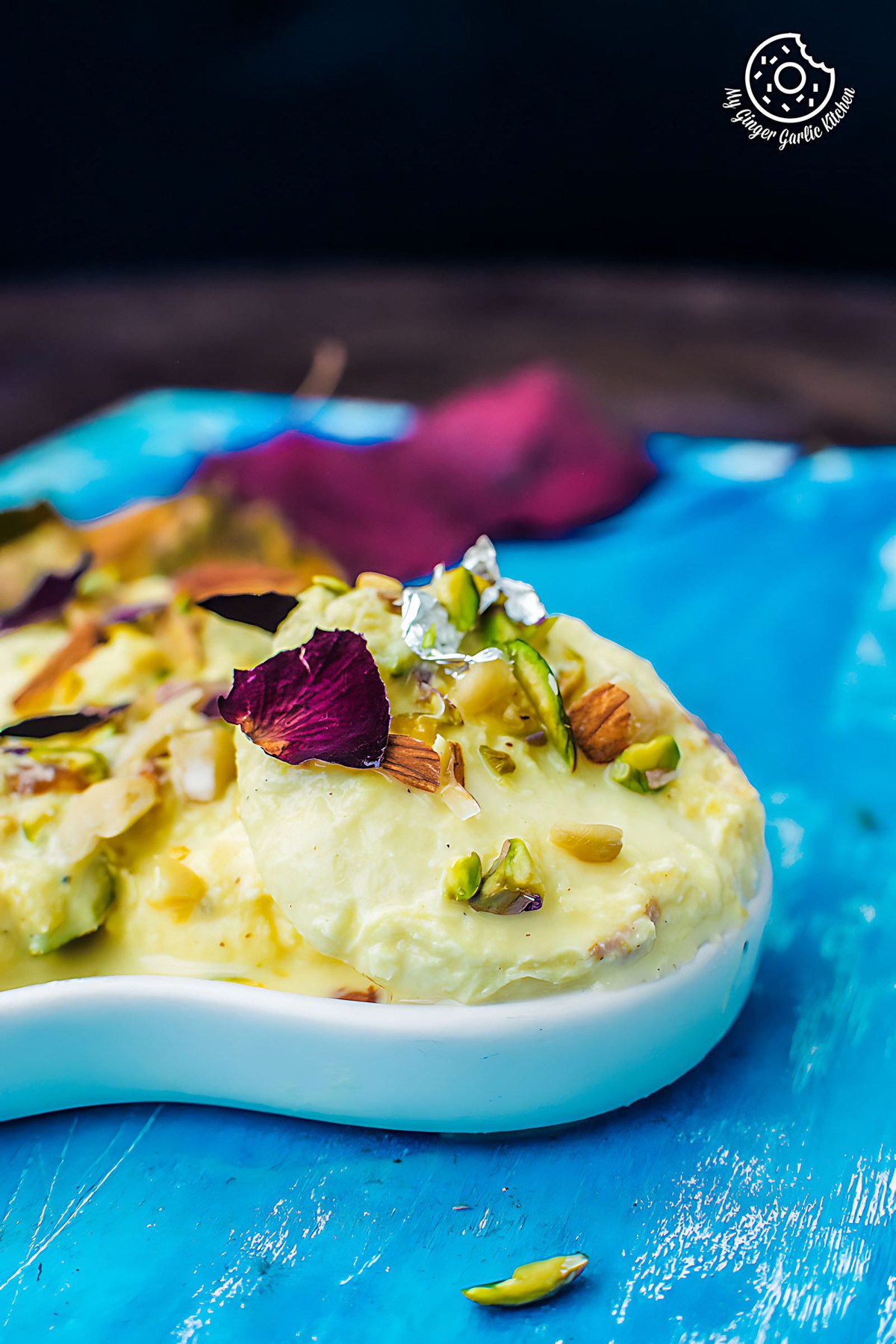 ---
Prep Time = 1 hour(s) 10 minutes
Cook Time = 1 hour(s) 40 minutes
Total Time = 1 hour(s) 50 minutes
Category = Desserts
Cuisine = Indian
Serves = 12-14
Nutrition Info = 215 calories
Serving Size = 1 bowl, 4-rolls, etc.
---
RECIPE INGREDIENTS
» For Chenna For Malai Balls:
1 liter milk (use full milk cow milk)
3 tablespoons white vinegar or lemon juice, plus more if needed
Water as needed
» For Sugar Syrup:
1 cup sugar
5 cups water
3-4 green cardamom pods (optional)
» For Rabri:
1 liter + 1 tablespoon Whole Milk
1/4 cup sugar, or as per taste
3 tablespoons, Chopped nuts + 1 tablespoons for garnish
7-8 saffron strands
1 teaspoon ground cardamom
1 teaspoon rose water (optional)
» For serving:
Nuts, chopped­ (pistachio, almonds, cashews)
---
RECIPE INSTRUCTIONS
» Making Chenna (paneer) for Rasmalai:
Heat milk in a pan and let it come to a boil. Stir the milk occasionally to prevent burning.
Once the milk comes to a boil, turn the heat to low and add lemon juice/vinegar to it. Stir with a spatula.
When you see the green whey separated from the solids, then your milk is curdled. Turn off the heat.
Line a strainer/colander with a cheese/muslin cloth and pass the curdled milk through the lined strainer. (You can use this whey for making chapati dough)
Rinse well. Washing will remove the tang from the (curdled milk) chenna.
Now gather the cloth from the sides and squeeze well. (Chenna ­has to be the dry well.) Hang the cloth for 30 minutes to remove excess water.
» Making Malai Balls for Rasmalai:
Remove the chenna out from the cloth.
Knead well for about 7-8 minutes. You can also use a food processor for kneading.
You need to well until it starts leaving the fat, or you see your palms are getting greasy.
Divide the dough into 12-14 pieces and roll each piece between your palms to make smooth and round lemon sized balls and flatten them to shape into discs.
» Making Sugar syrup For Rasmalai:
Add 1 cup sugar, 5 cups water, and cardamom pods to a large pot and stir with a spatula. (The ratio of sugar water should be 1:5.)
Let the water boil for few minutes and add the cheese balls into it.
Cover the pan with the lig and cook covered for 5 minutes on high heat.
Turn the heat to low and cook for 10 minutes.
Let it cool completely.
» Making Rabri For Rasmalai:
Heat milk in a pan and let it come to a boil.
Add 1 tablespoon hot milk to the saffron strands and stir well.
Add this saffron mixture to the milk and boil it till it is reduced to half. Keep stirring occasionally.
Add sugar and mix well.
Now add cardamom, rose water chopped nuts, and boil for 5 more minutes.
Let them cool completely.
» Assembling Rasmalai:
Transfer rabri to a plate and refrigerate ras for 2-3 hours if you want to serve chilled.
Remove cheese balls from sugar syrup and press gently between palm or spatulas to remove excess sugar syrup.
Transfer them to the rabri platter and coat then with rabri.
Refrigerate for 2-3 hours or overnight.
Garnish rasmalai with nuts and serve chilled.
---
RECIPE NOTES
Always use full-fat milk.
You can also use store-bought rasgullas for making instant rasmalai.
---