How to Make Gulkand Pista Kulfi | Rose and Pistachio Kulfi. This Rose Jam and pistachio flavored frozen dessert have an authentic chewy texture, they are super cute, and they taste SO GOOD. It's not just the exotic flavorings that makes it taste so yum, it's really much more than that.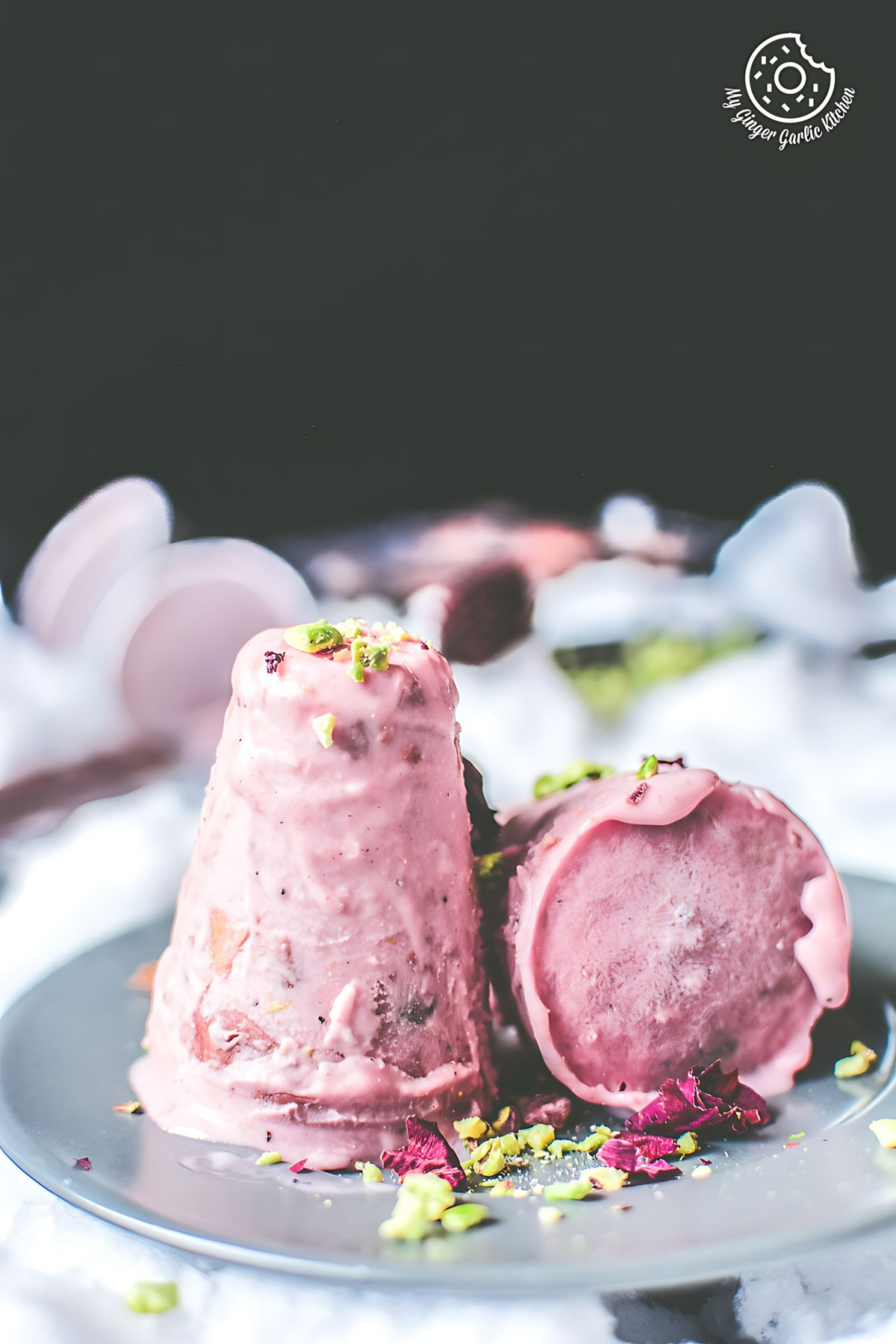 Weekday or weekend, Valentine's month deserves all kinds of good-looking pinkish treats. I know that Valentine's Day is over, but love is still in the air. Isn't it?
Don't you admit that the whole month of February is a cause for celebration? February requires all things attractive and rosy.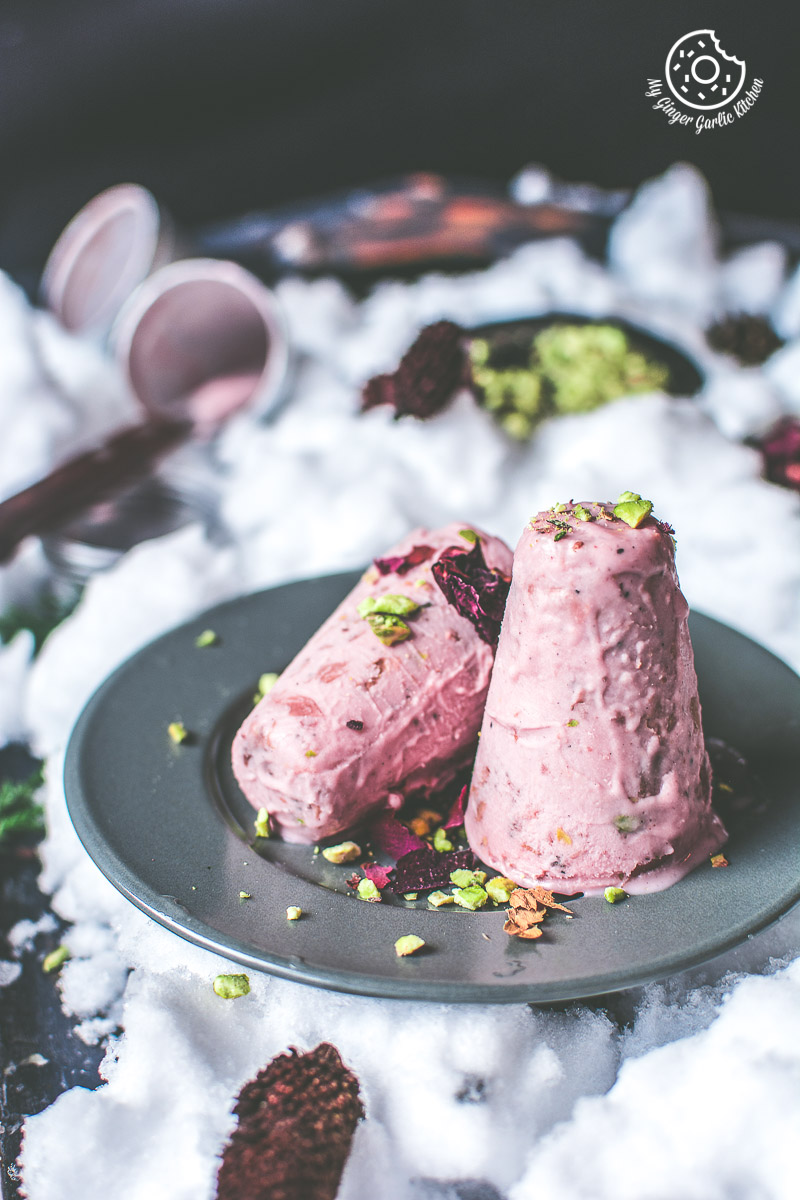 Well, if you ask me every single month/week/day is like Valentine's day when you are surrounded by loved ones, who care for you selflessly — who love you like no one else can do. This blessing itself is a reason to cherish life.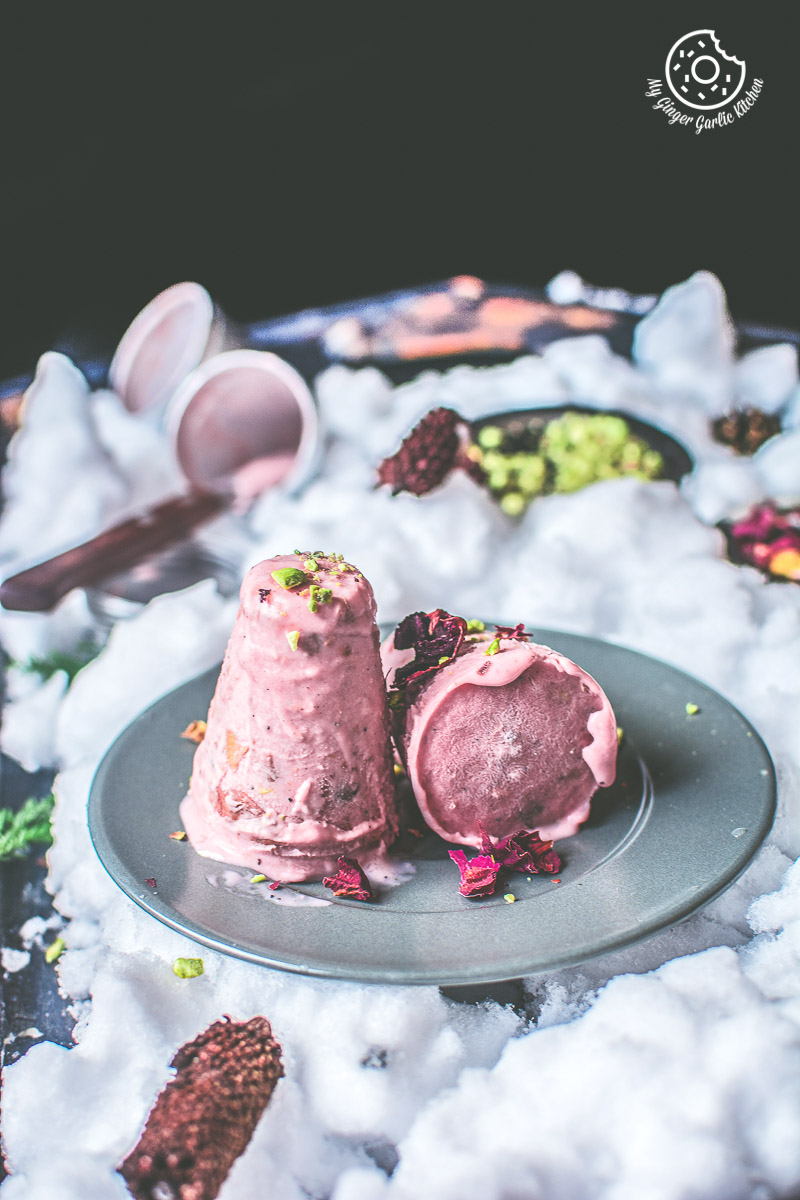 Today's recipe, the kulfis which I am sharing today are pretty pink, but that's not the only reason for sharing this pink kulfi. I have many other reasons too.
One of those reasons is the upcoming Indian festival of Holi.
This month I am focusing on Gulkand recipes, so I decided to create a series outta it. Here is my second post in Gulkand recipe series which I promised in my earlier post about Gulkand Shrikhand.
Let's talk about the weekend, shall we? 🙂 How did your weekend shape up? Mine was beautiful, bright, cold and sunny. I know that's a rare scenario, but it did happen.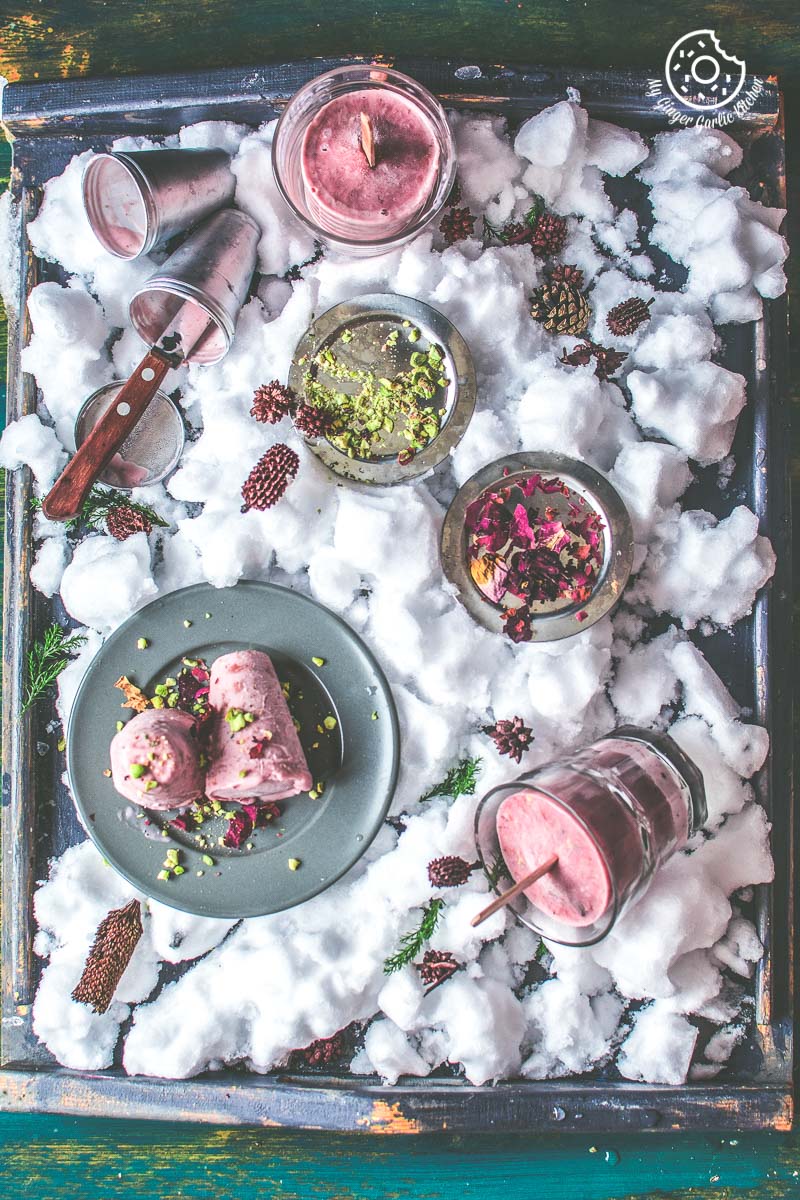 During the weekend, following the mood of nature, I made this luscious, creamy, and rich, gulkand laden kulfi on Saturday. To my delight, I also caught up with a friend after 2 years who had moved to the UK.
We had a lot of fun and did everything which we hadn't done during these two years. This included shopping, dinner and many more fun activities. 🙂
Alright, now let's get on with Monday and coming back to today's recipe about 'Gulkand Pista Kulfi'.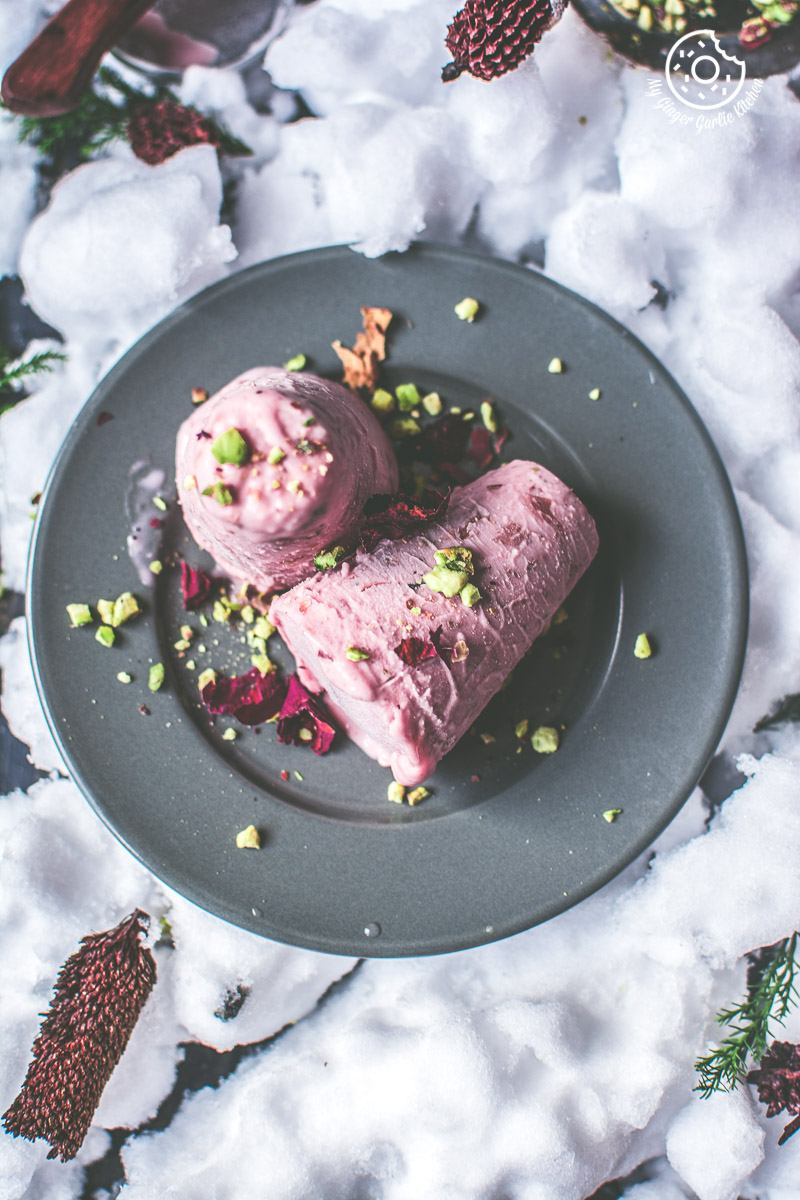 By this time, you'd probably know that gulkand is rose petal jam. Kulfi is a wonderful Indian frozen dessert traditionally made using caramelized milk.
In short, this is an authentic Indian ice-cream. And pista is pistachio. So this dessert Gulkand Pista Kulfi is 'Rose jam and pistachio flavored frozen dessert'.
These kulfis have authentic chewy texture, they are super cute, and they taste SO GOOD. It's not just the exotic flavorings that makes it taste so yum, it's really much more than that.
I suppose you must have eaten this frozen dessert 'Kulfi' in an Indian restaurant for sure. They always have this on their menus.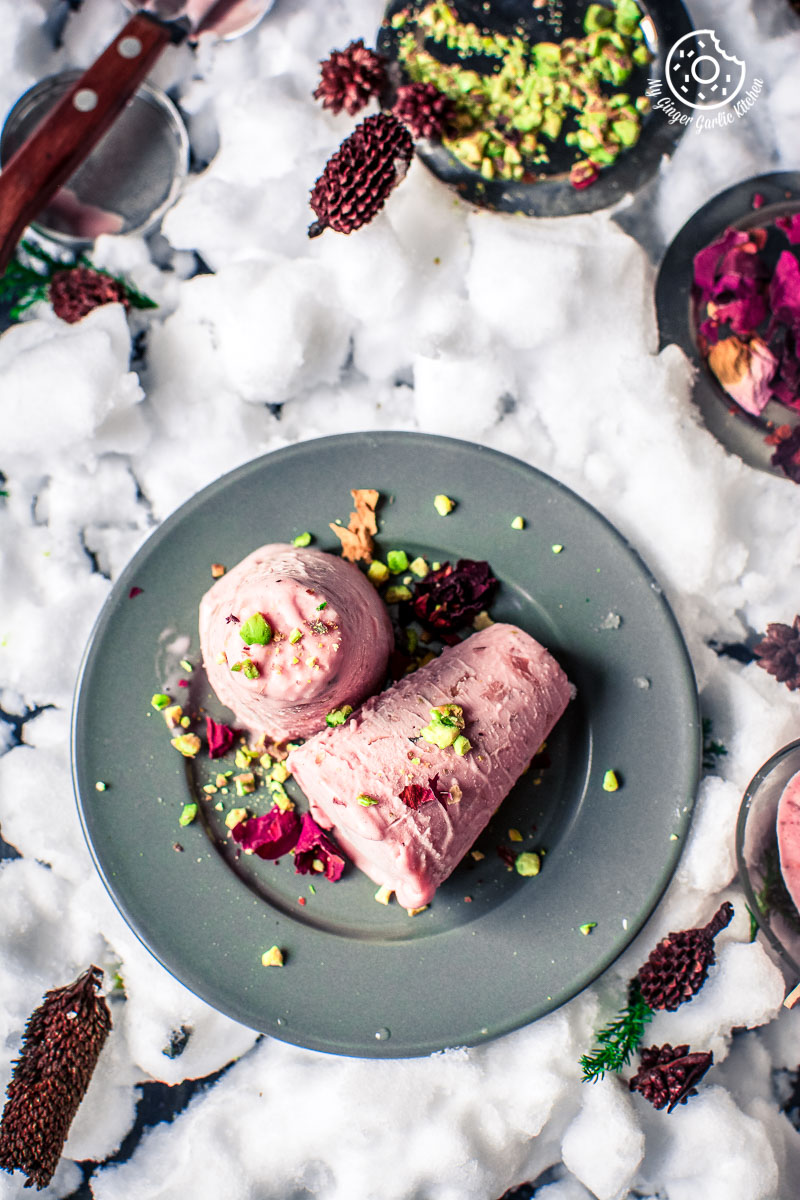 The main difference between ice cream and kulfi is their base. For ice creams, we mostly use egg-custard base. However, for making kulfi you only need milk.
Traditionally milk is simmered for hours which helps in getting the impressive nutty caramelized flavor. In a perfect kulfi, milk gets reduced by two-thirds. So for thickening milk, I have added 1 tbsp of the cornflour mixed with a little milk, which works as a perfect thickener. You can also replace corn flour with rice flour.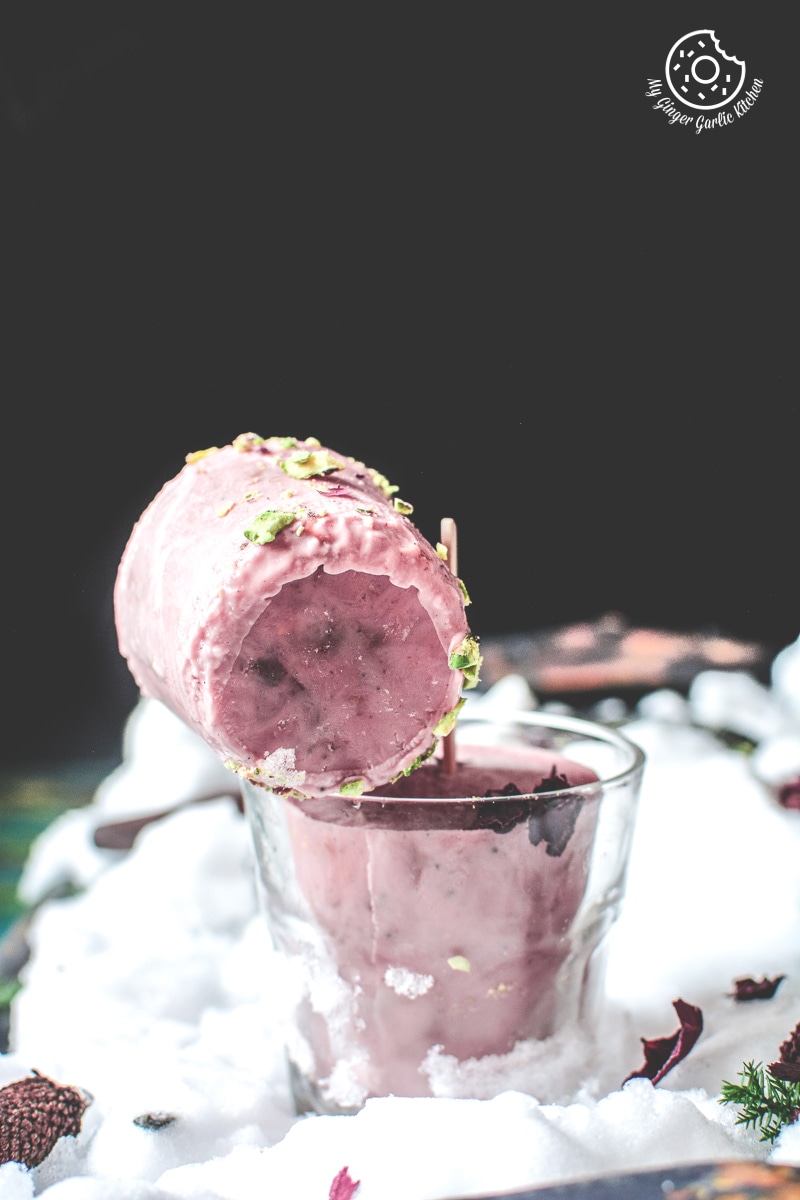 I have also added cream to the mixture to get that thick double creamy result.
There are so many flavors of kulfi such as Malai Kulfi, Pista Kulfi, Mango Kulfi, Badam Pista Kulfi, Kesar Pista Kulfi, Paan Kulfi, Lychee Kulfi and many more.
If you're adventurous enough, then you would clearly love to experiment with flavors of your own. This Gulkand Pista Kulfi is a result of my exploration and it was a HUGE success, I must say.
You know that someone is falling in love with them when they roll their dreamy eyes and declare that is the best dessert ever. Well, if I tell you about little A, she does this for most of the sweet-ish cold-ish desserts.
Freezing kulfi in conical kulfi moulds is a little bit complex because sometimes the molds come without the stands with uneven bottoms.
But I have a solution for that — simply put moulds in shot glasses before putting them in the freezer.
I used kulfi mould for making these, but you can simply use disposable paper glasses. Pour mixture into glasses, cover them with foil paper and freeze. It's that simple.
These kulfis are definitely a decadent treat, but so worth it. Simple and delicious.
The good thing is that this can be made in 30 minutes + cooling and freezing time.
So let's get started.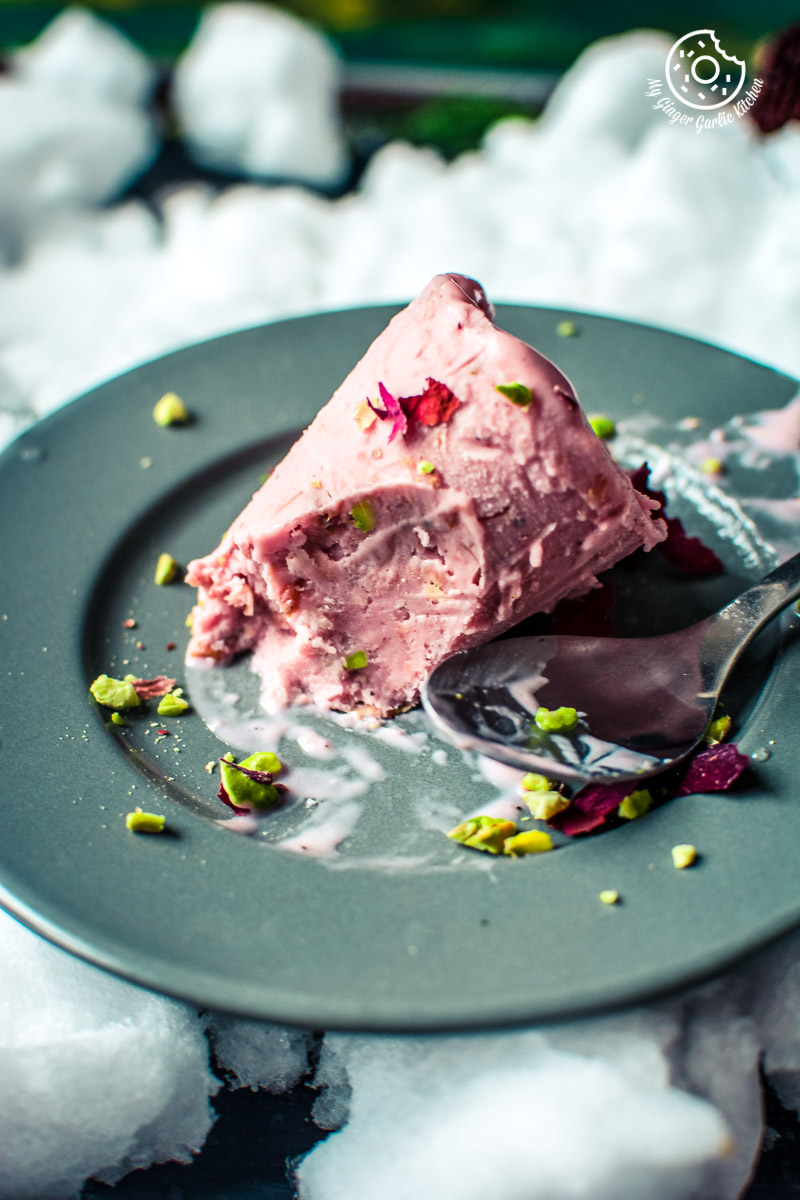 Gulkand Pista Kulfi - Rose and Pistachio Frozen Dessert

[Recipe]
Kulfi is a popular indian frozen dessert, and this rose jam and pistachio flavored kulfi has an authentic chewy texture. It is super cute and tastes awesome.
---
★★★★✰
(Rating:
4.1
from
78
reviews)
---
| Prep time 🕐 | Cook time 🕐 | Total time 🕐 |
| --- | --- | --- |
| | | 30 mins |
| Category ☶ | Cuisine ♨ | Serves ☺ |
| Dessert | Indian | 4-5 |
| Nutrition Info ⊛ | | Serving size ⊚ |
| 115 calories | | 1 kulfi |
---
INGREDIENTS
Gulkand Pista Kulfi (Rose Kulfi):
1/2 liter full cream milk, + 4 tablespoon to dissolve the rice flour or corn flour
1/4 cup (50 ml) sugar, or as per taste
1 tablespoon corn flour/corn starch/or rice flour
1 teaspoon cardamom powder
2 tablespoon pistachio powder / pista
1/4 cup (50 ml) gulkand
1 tablespoon rose water
1/4 cup fresh milk cream
A few drops of pink food color, optional
---
INSTRUCTIONS:
How to Make Gulkand Pista Kulfi (Rose Kulfi):
Heat 1/2 liter milk in a pan over medium-low heat.




Let it boil on medium-low heat for 10 minutes.




Add the sugar and stir well. Let the milk boil until sugar dissolves completely.




Add the cornflour or rice flour to the 4 tablespoon milk and whisk well to dissolve completely. There shouldn't be any lumps.




Add the rice flour or cornflour mixture to the milk.




Reduce the heat to low and keep stirring, for 4-5 minutes.




Once the milk has thickened, add cardamom powder, pistachio powder, and gulkand.




Stir well for 2-3 minutes, or until the gulkand is combined well.




Add cream and mix well. Let it boil for 2-3 minutes.




Add rose water and mix well. Let it boil for another minute.




Turn off the heat and add pink food color. Mix well to combine.




Let the kulfi mixture cool completely.




Now pour the kulfi mixture in kulfi moulds or in disposable glasses.




Cover and freeze for 8 hours or overnight.




Once the kulfi is well set, rub the moulds between palm for a minute.




Now take out the kulfis with the help of a knife by sliding at the edges.




Garnish with rose petals and pistachios. Cut gulkand kulfi into slices or serve.



---
WATCH RECIPE VIDEO: Click the play button and video will load ...
---
NOTES:
No notes for this recipe.
---
If this recipe helped you, then please spread the word by sharing and
subscribing
to us on YouTube to get more such Recipe Videos.
---
Your feedback is so helpful for me and other MyGingerGarlicKitchen readers. So, for Facebook and Instagram, please mention
@MyGingerGarlicKitchen
or
#mygingergarlickitchen
. I would love to see your photos. :)
---
Author:
Anupama
Recipe Source Link:
https://www.mygingergarlickitchen.com/gulkand-pista-kulfi-rose-pistachio-kulfi-recipe/
Date Published:
2019-10-11
• • • • • • • • • •