How To Make Punjabi Aloo Paratha – 2 Ways | Tandoori Aloo Ka Paratha Recipe (पंजाबी आलू पराठा )
---
Learn How to Make Punjabi Aloo Paratha – 2 Ways | Tandoori Aloo Ka Paratha Recipe (पंजाबी आलू पराठा ) with step-by-step video instructions. Punjabi Aloo Paratha is very famous North Indian Style stuffed flatbread. This so addictive and appealing paratha has a spiced potato filling. This is a breakfast dish, but you can have it for lunch or dinner.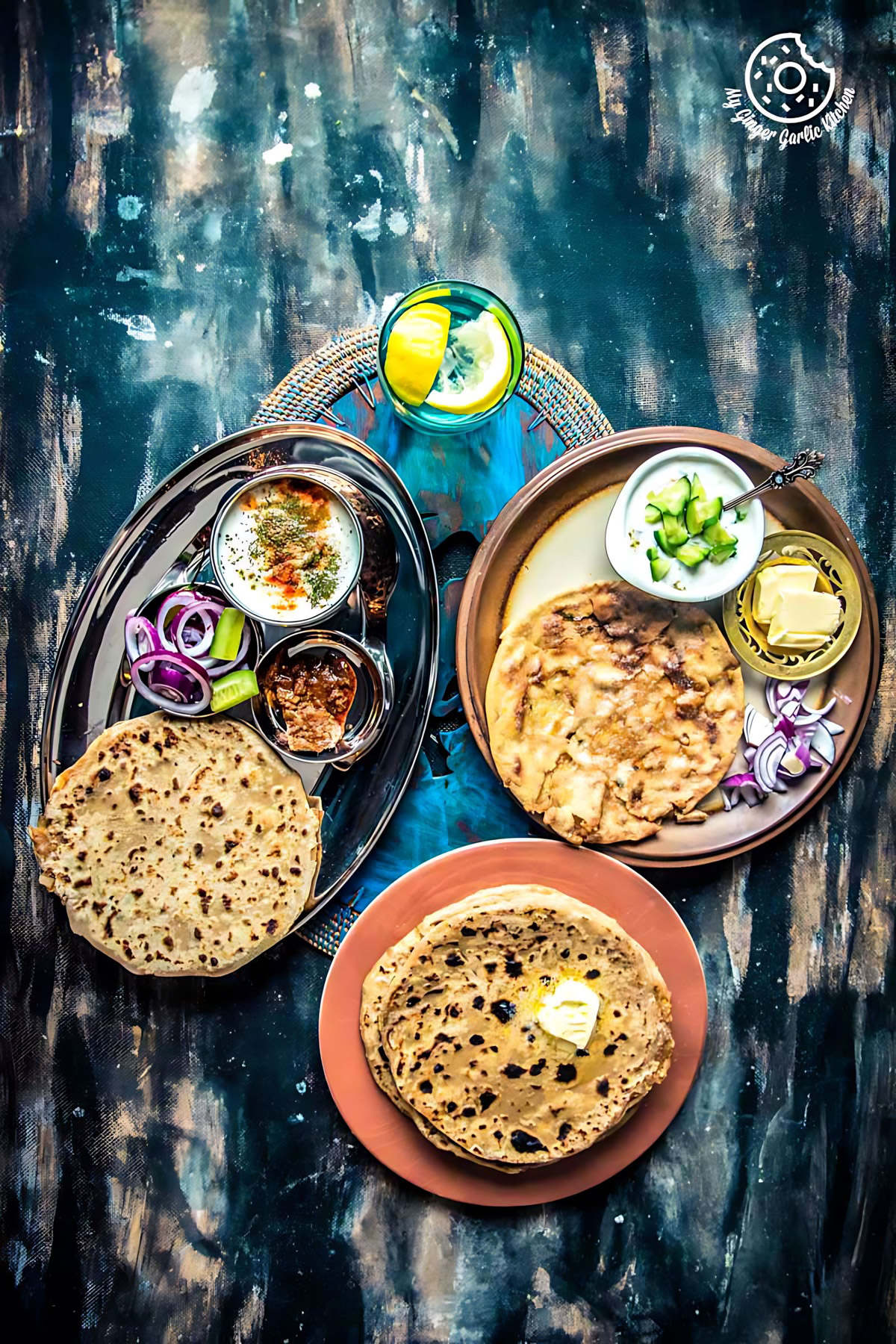 Let's talk about this classic 'Aloo Paratha' aka 'Spicy Potato Stuffed Flatbread'.
You know my all time fascination with flatbreads. And when it comes to stuffed ones they are the dreamiest things. Spicy potato filled flatbread = Yumminess overloaded.
This flatbread is called paratha, which tastes out of the world. You can call it samosa flatbread if you like.
See, this also has spicy potato stuffing like a samosa. This is the logic I get to hear from my little one. She says, "Mummy see, I know it doesn't look like samosa because samosa looks like a pyramid. But this tastes like samosa bread,  because this has a potato filling like the samosa. So I want to call it samosa bread".
Related: Aloo Palak Paratha – Potato stuffed Spinach Flatbread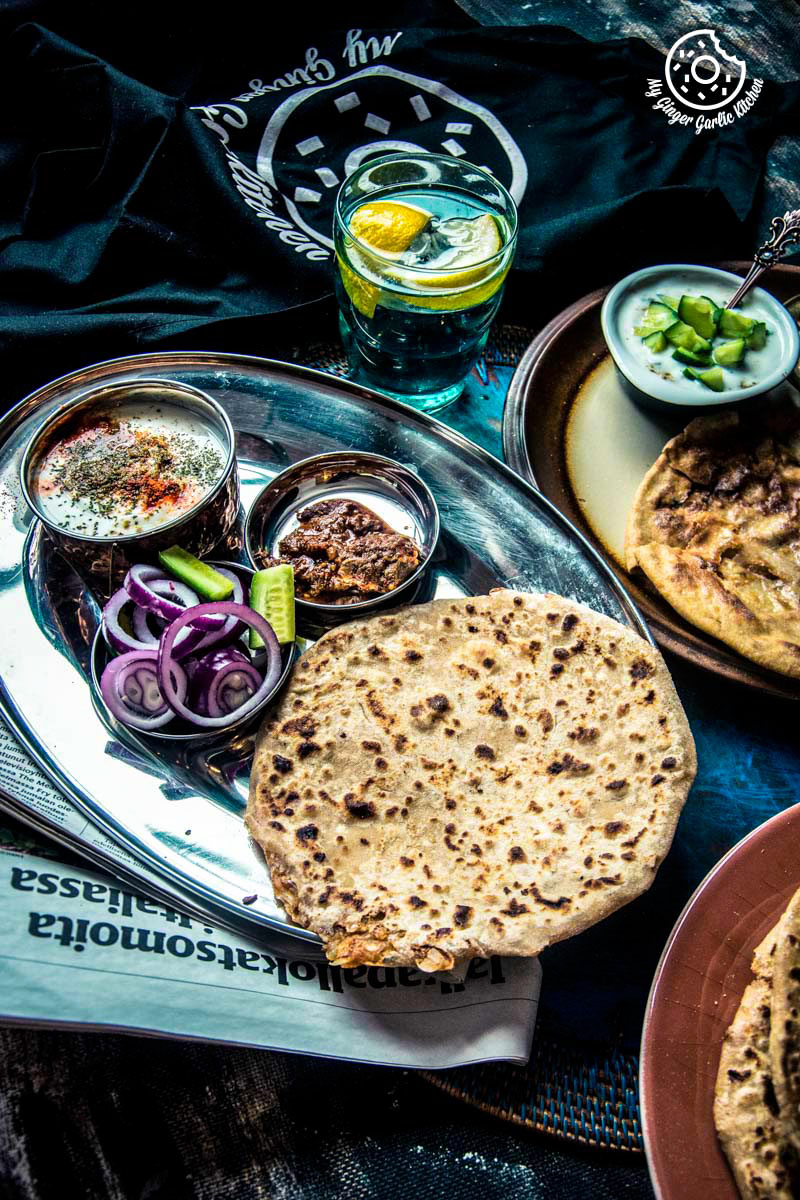 The fact is, I really do not have any reasoning other than some technical difference (which kids won't understand) to deny that this is not samosa bread. And I actually loved her creative naming, so it is 'Samosa Bread' for my little one.
You can call it 'Aloo Ka Paratha', or 'Samosa Bread' like little 'A' does, or anything else if you want to name it yourself.
Please do let me know if you also come up with another logical name for this flatbread. I would love to know and expand my 'Paratha vocabulary'. 😀
Good food depends on one's taste buds. How much do you agree?
Related: How to Make Punjabi Achaari Gobi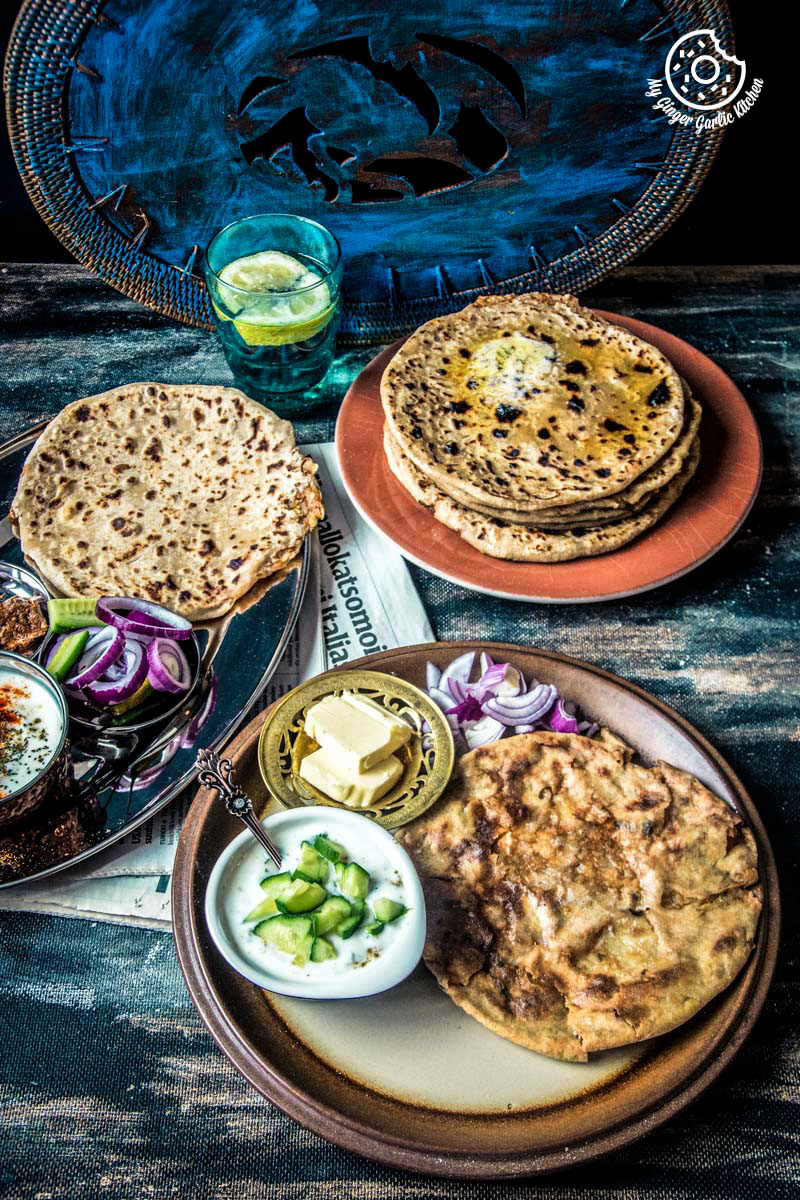 I agree this 90%, that good food is unquestionably all about one's taste preferences. I kept the remaining 10% for the things which are utter universal delights no matter what your taste buds prefer.
And this 'Aloo Ka paratha' falls in this range of 10% food loved by everyone.
At least I have yet to meet someone who doesn't like it. Because I have made this paratha for many of my friends from different parts of the world. They all have loved it to the core.
For most of the people, 90% of the good food is the one which had impacted their own memory. Won't you agree that the food we grew up eating is still the best? That's why everyone loves Mom's food.
Related: How To Make Punjabi Chole Bhature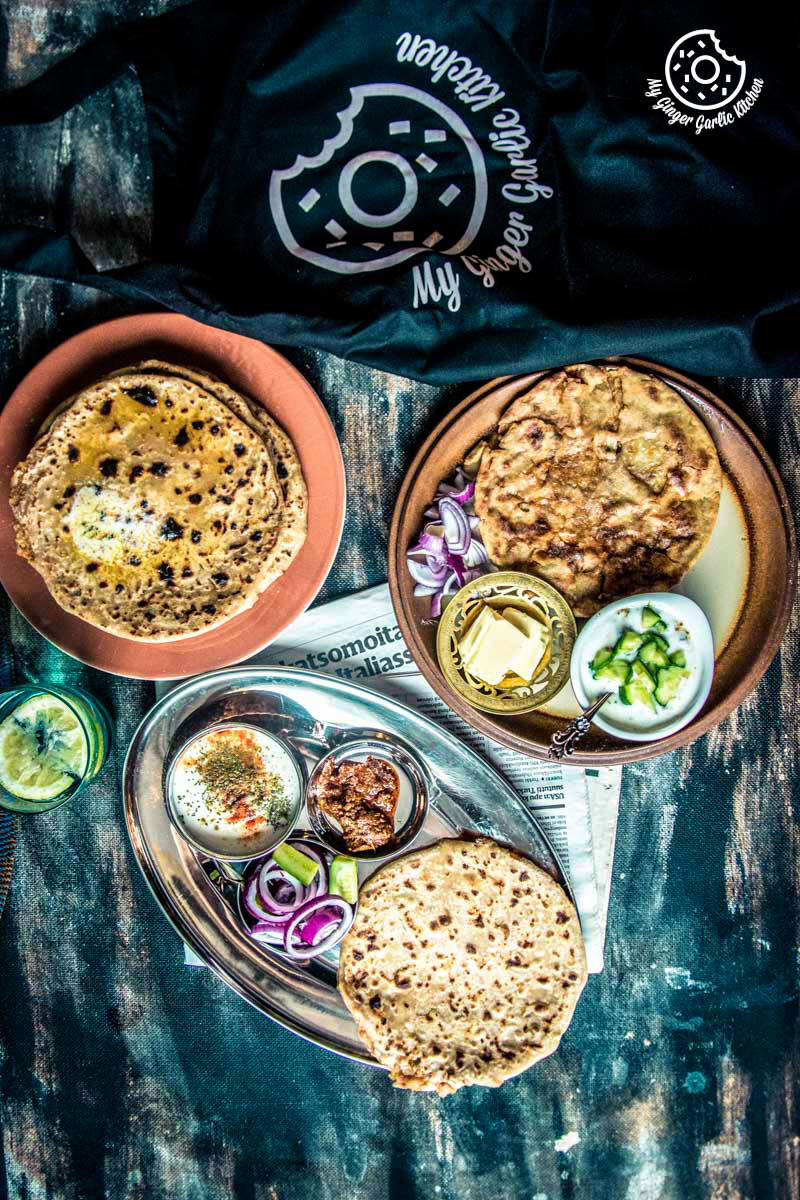 Good food is all about the good memories we make throughout our eating journey. Memories which we made in past. Memories we are making in present, which would create magic in the future.
Well, future is a virtual thing, which is yet to be seen and experienced. But the past is actually the one we have lived.
The texture of a particular dish, the distinct taste of that one special dish, the warmth of a bowl full of soup, the smell of your favorite meal — all of these are good food memories which were adored in the past.
Food has an acute potential to take us back from where it all started. And for me, this 'Aloo Paratha' journey started when I was so little. I was so young that I didn't even know my age then.
Related: Authentic Punjabi Chole Masala Recipe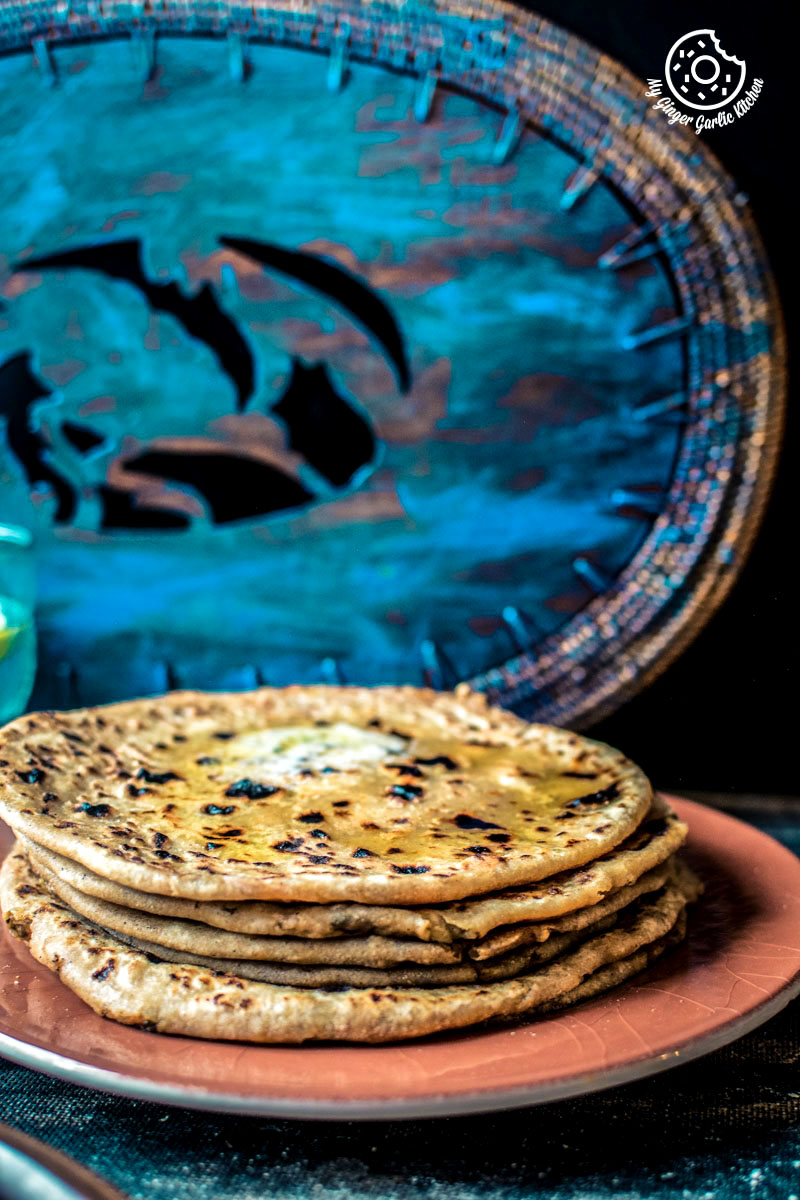 There are some different ways of making 'Aloo Paratha', but this 'Punjabi Aloo Paratha' is one of my most loved versions. It's not like that I don't like any other parathas, but it's because I have so many good memories about this dish which get me excited till this day.
This 'Punjabi Aloo Paratha' is so deeply present in me like an art piece is present in a well woven tapestry.
It certainly gives me the warmth of my mom and drives me back to that golden era everytime I make this for my family.
My Mom used to make this 'Punjabi Aloo Paratha' (पंजाबी आलू पराठा ) often for my breakfast. Or I should rather say that it was my only preferred breakfast for many years then. Whenever she had a doubt in her mind about my eating preferences at breakfast time, she made this 'Aloo Paratha' as a failsafe for me.
Related: Punjabi Paneer Bhurji Dry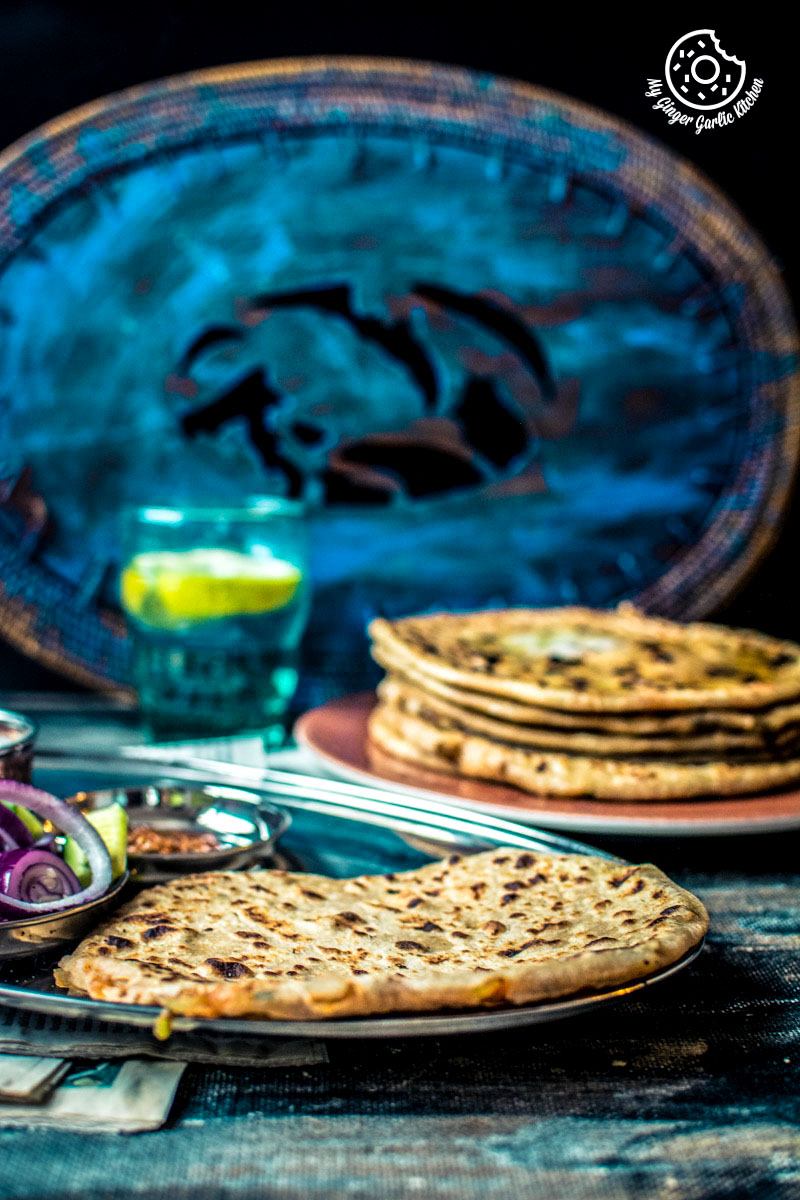 It was because I was such a fussy eater as a child. When you are a picky eater then the moms have this tendency to make your favorite meal every day to avoid any kind of daily arguments over food. My mom tried it, and it worked 100% of the times with me. 🙂
Watching the art of cooking this 'Aloo Paratha' is always a delight for me. It also always amazes my little one how the flour turns into the dough and the dough turns into a flatbread and it eventually goes straight on the hot pan for roasting with a good amount ghee/oil to get that charred spots. If I see from her point of view, this whole phenomenon is indeed magical.
Related: Punjabi Aloo Poori Recipe
Relishing this hot Punjabi Aloo Ka Paratha along with some pickle and chilled plain yogurt or raita is a pure bliss. You just want to stuff your mouth with it.
It is a deep comfort food for me, and I hope I would be able to pass that same feeling of warmth and comfort to my child which she would cherish her whole life.
Related: Punjabi Paneer Bhurji Dry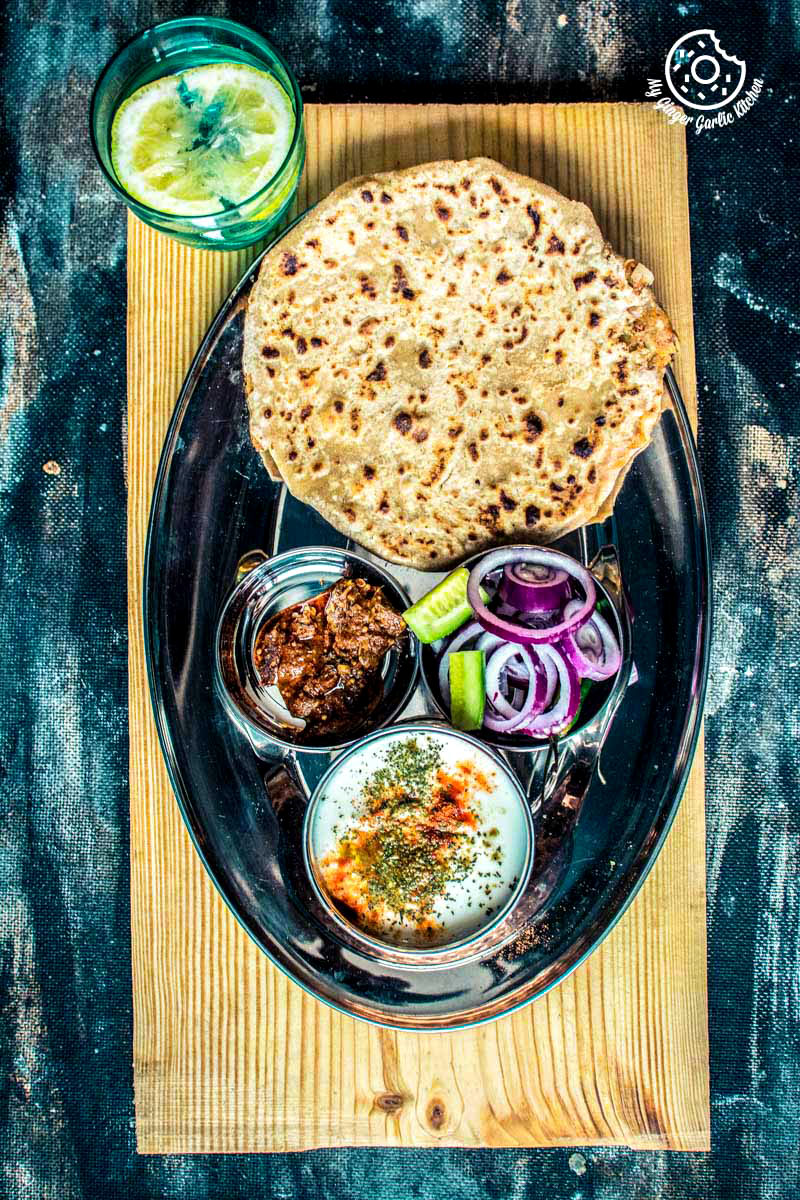 Today I am sharing two versions of this 'Punjabi Aloo Paratha'. One is the regular version where you roast paratha on a pan. And the second version is 'Tandoori Aloo Paratha' which is broiled in an oven in order to obtain that perfect tandoori texture and flavor.
Punjabi Aloo paratha is a very popular North Indian stuffed flatbread recipe. Spiced potato mixture is used as a stuffing for this Indian flat bread.
Related: Punjabi Paneer Stuffed Naan
The stuffing is made with boiled and mashed potatoes, onions, green chilies and some spices. It tastes perfectly spicy and slightly tangy due to dried mango powder. Overall very balanced.
The paratha cooking method is very straightforward. Read on.
Making this paratha is just so fast and easy.  Knead a basic chapati dough. Mix the stuffing ingredients and make balls out of them. Roll out the dough. Stuff with the stuffing ball, seal and roll again. Roast on a pan or in the oven. Top with a dollop of butter and voila. The best Punjabi Aloo paratha is done.
Alright, this is almost weekend, so let's enjoy this 'Aloo Ka Paratha'.
I am so READY, are you?
Realted: Punjabi Baingan Bharta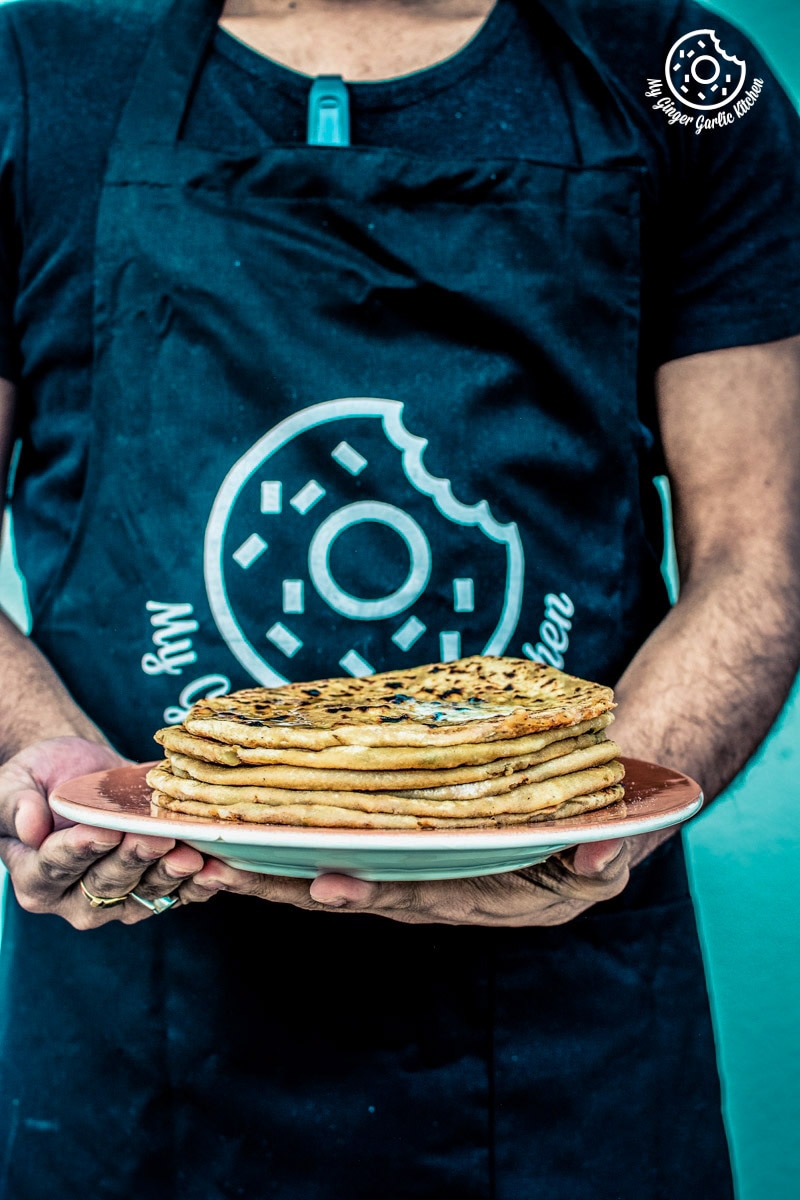 How To Make Punjabi Aloo Paratha – 2 Ways [RECIPE]
Punjabi Aloo paratha is very famous Indian stuffed flatbread. Spiced potato mixture is used as a stuffing for this Indian flatbread.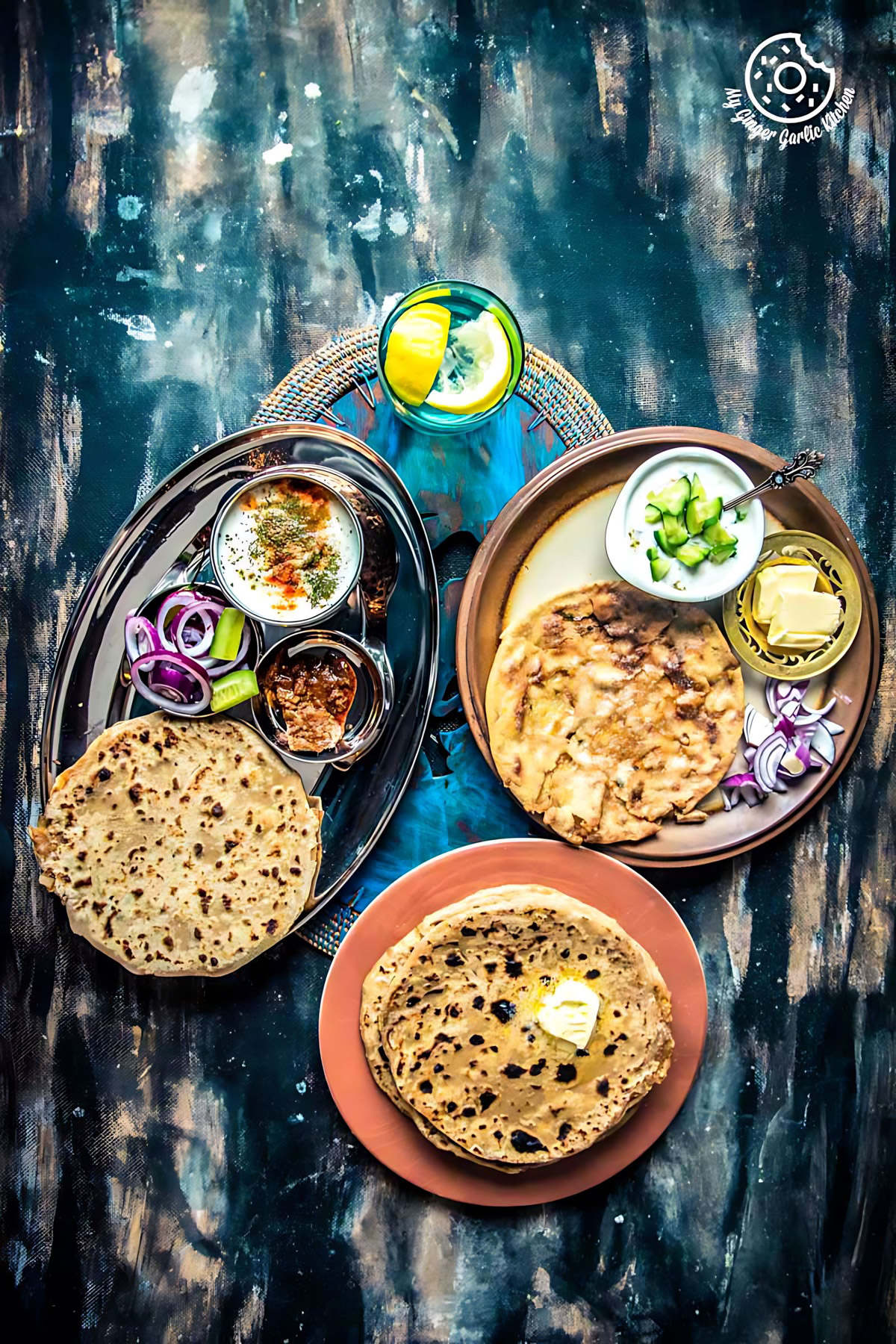 ♥ ♥ ♥ ♥ ♥
(Rating: 5 from 1 reviews)
INGREDIENTS
For The Dough:
• Whole Wheat Flour – 2 Cups
• Oil – 1 Tsp
• Salt – 1/4 Tsp
• Water For Kneading Dough
• For Paratha:
• Some Extra Wheat Flour For Rolling
• Ghee / Butter / Oil For Roasting
For Stuffing:
• Potatoes (Aloo), Peeled & Boiled – 4
• Ginger (Adrak), Crushed – 1 Tsp
• Green Coriander Leaves (Hara Dhania), Chopped – 1 Tbsp
• Onion, Chopped (Pyaaj) – 1
• Green Chillies, Chopped (Hari Mirch)- 1 Tbsp
• Carom Seeds (Ajwain) – 1/2 Tsp
• Coriander Seeds (Sabut Dhaniya) – 1 Tsp
• Dried Mango Powder (Amchur) – 2 Tsp
• Garam Masala Powder – ½ Tsp
• Red Chili Powder (Lal Mirch Powder) – 1 Tsp
• Salt To Taste
---
| 🕐 Prep time | 🕐 Cook time | 🕐 Total time |
| --- | --- | --- |
| | | |
| ☶ Category | ♨ Cuisine | ☺ Serves |
| Bread | Indian | 8 Parathas |
---
INSTRUCTIONS:
For Aloo Stuffing:
1. Take another mixing bowl, and add potatoes and mash coarsely.
2. Add chopped onions, chopped green chilies, chopped coriander leaves, and all the spices.
3. Mix well all the spices with mashed potatoes.
4. Divide the potato mixture into 6-8 equal sized balls.
For The Dough:
1. Add wheat flour, oil, salt and mix well. Now, add enough water to make a soft dough.
2. Knead well to make a smooth dough.
3. Apply a little oil to the dough and cover with a muslin cloth and set aside for 30 minutes.
4. Divide the dough into 8 equal sized balls and keep aside.
For Parathas:
1. Spread some flour and roll out one dough ball into a circle of 4″ diameter.
2. Place stuffing ball in the center of the dough circle.
3. Bring together all the sides in the center and seal tightly.
4. Press lightly to seal the edges well.
5. Roll out again into a circle of 6″ diameter with the help of some flour.
6. Heat a pan. Roast rolled paratha from both sides.
7. Apply a little ghee/oil/butter on both sides.
8. Roast until golden brown from both sides.
9. Repeat with the remaining dough and filling to make more parathas.
10. Serve hot with your favorite chutney, pickle, and raita.
For Tandoori Paratha:
1. Put paratha on an oven-safe pan, and broil at high for mins.
2. Apply a little ghee/oil.
3. Flip and broil again for 2 mins.
4. Apply a little ghee/oil.
5. Repeat with the remaining dough and filling to make more parathas.
6. Serve hot with your favorite chutney, pickle and raita.
WATCH VIDEO BELOW: How To Make Punjabi Aloo Paratha – 2 Ways | Tandoori Aloo Ka Paratha Recipe (पंजाबी आलू पराठा )
(Please wait for a couple of seconds for loading)
Direct Video link: https://www.youtube.com/embed/xSpcVsX7LkE