Learn to make Aloo Poori Recipe | Puri Sabji Recipe Video | Aloo Ki Rasewali Sabzi With Puri recipe with a video tutorial. Aloo Poori is a North Indian breakfast-lunch recipe. 'Sabji' is a spicy, aromatic and tangy potato dish. This is served with puffed up, deep fried Indian bread 'Poori'.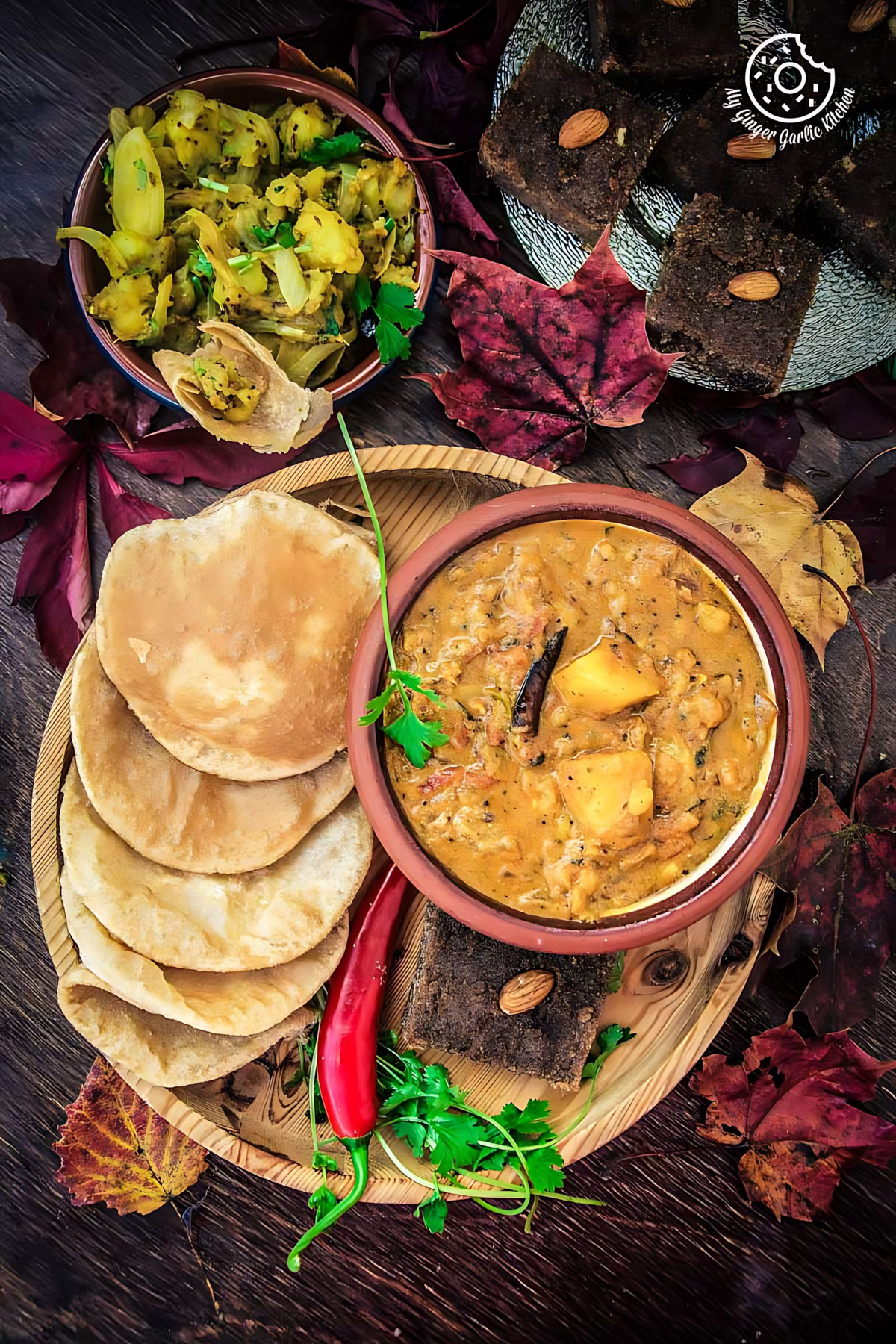 Hope you guys had a great past week. My last week was good and productive too. I finally finished up some important tasks which were long due, and happy about this accomplishment.
Today I have a very special recipe to share with you. The breakfast-lunch meal I am sharing today is named as 'Aloo Poori', or 'Poori Sabji'. This is a very popular breakfast-lunch recipe in Northern Part of the India.
Related: How to Make Halwa Chana Poori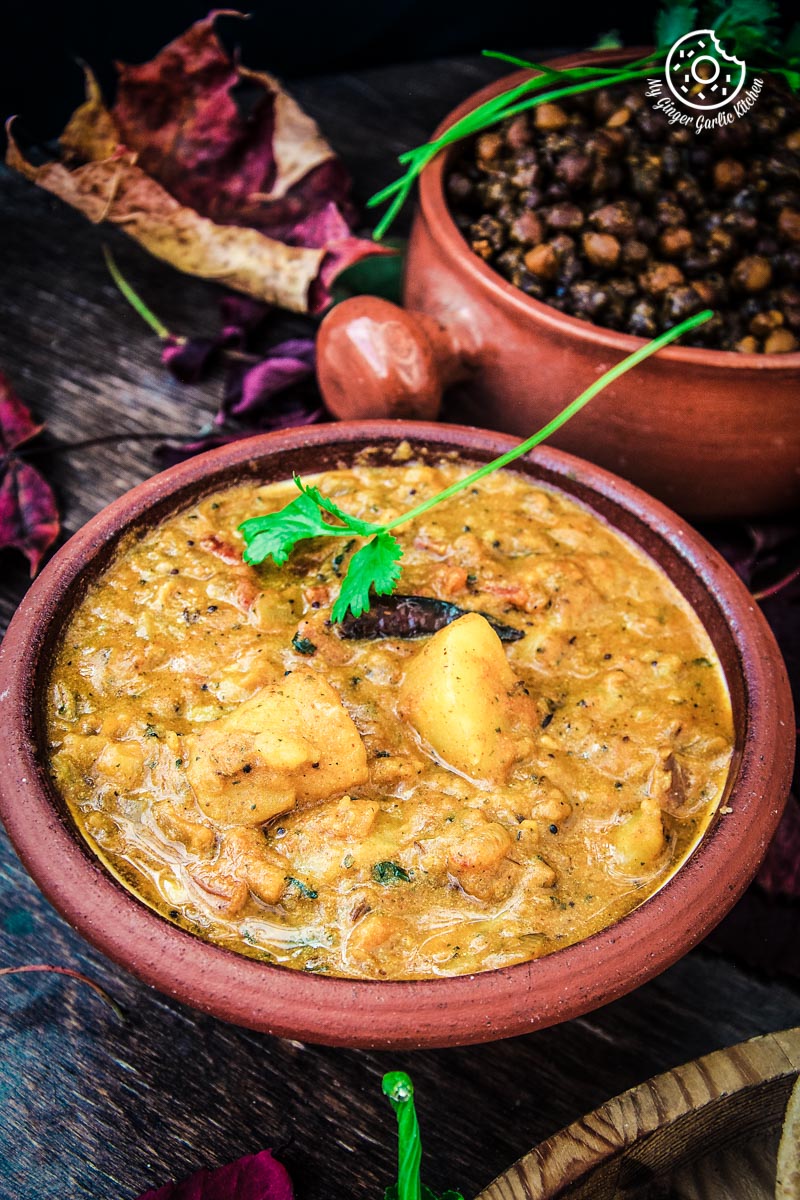 I have been making this breakfast 'aloo poori' aka 'poori sabji' often lately. You can count 'often' since the start of 2017. But I realized that I haven't shared it on my blog yet. So I decided to share this.
However, I was also waiting for a perfect timing to share this, such as some festival. So I planned to share this before the festival of 'Karwa Chauth' which was celebrated yesterday. However, that couldn't be done last week due to some work commitments. But I guess, it's never too late to share a good recipe. Right?
For my Indian friends, who are celebrating** 'Diwali'**, this 'Poori Sabji' would be a great dish for the whole family.
Related: How to make Puri Bhaji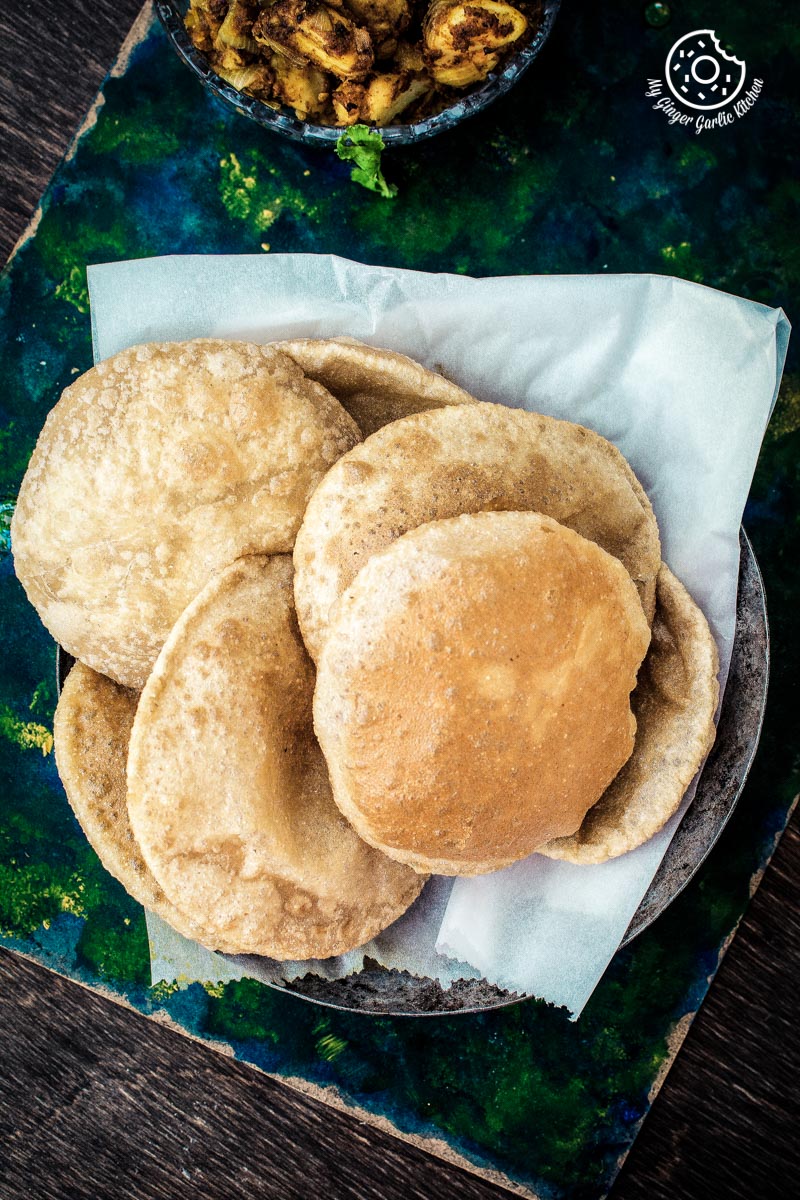 The reason why I have started making this rich breakfast often, is little A. I am happy to declare that this classic combo of 'Poori Sabji' aka 'Aloo Poori' has become the most desired weekend breakfast/lunch/dinner for the little 'A'. Whenever I ask on the weekends about the breakfast, her answer is like this most of the times: "Can't I get 'Poori Sabji'?"
My reply is sometimes 'yes' or sometimes like this: "Not this weekend, but I can cook it next weekend". And she makes sure to keep reminding me about the upcoming weekend's 'Poori Sabji or Poori Bhaji' breakfast I promised to her.
Related: Palak Ki Puri Recipe | Spinach Puri
Furthermore, most of the times her dedication leads me into making her favorite meal much before the weekend itself. Sometimes I feel, how much we have to learn from the children. These children are so determined. They know exactly what they want, and they never stop working towards getting it. They just never give up.
Related: Tandoori Aloo Ka Paratha Recipe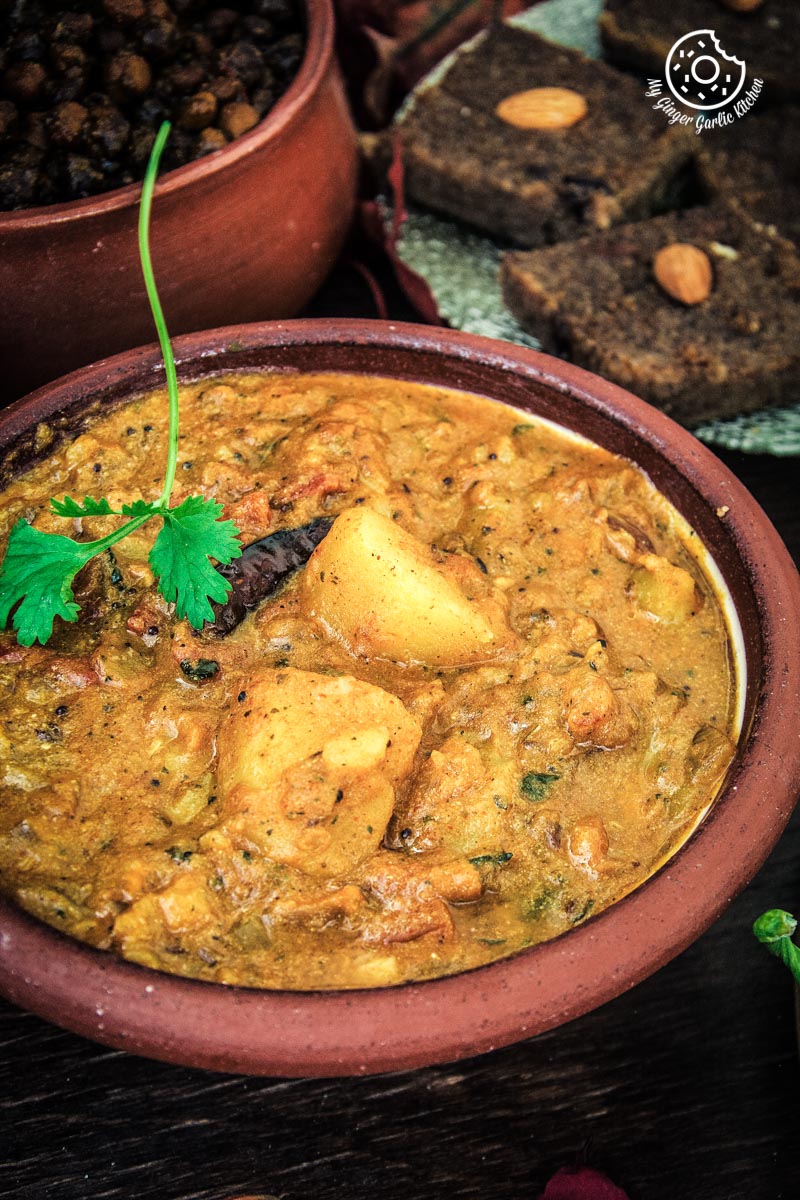 Coming to the recipe, in most North Indian families, this hearty meal is served as a weekend breakfast. However, at my home, it was served as full meals (breakfast, lunch, dinner) depending upon the time of serving. Although if you ask me, I personally didn't like 'Poori Sabji' for breakfast much, but I surely enjoyed them as lunch. Now, I love to eat this breakfast once in a while, but not every other weekend. However, my preferred breakfast meals were all types of parathas and I must say they are still my favorite. Whenever I intend to make Indian breakfast, they come first to my mind. Be it Aloo Paratha, Rajma Tofu Paratha, or Mooli Paratha, Patta Gobi Ka Paratha, Mushroom Kale Stuffed Paratha, Pepper Onion Potato Paratha, Aloo Palak Paratha, or any other paratha. I JUST LOVE any type of 'Paratha'.
Related: How To Make Aloo Matar Dry Sabji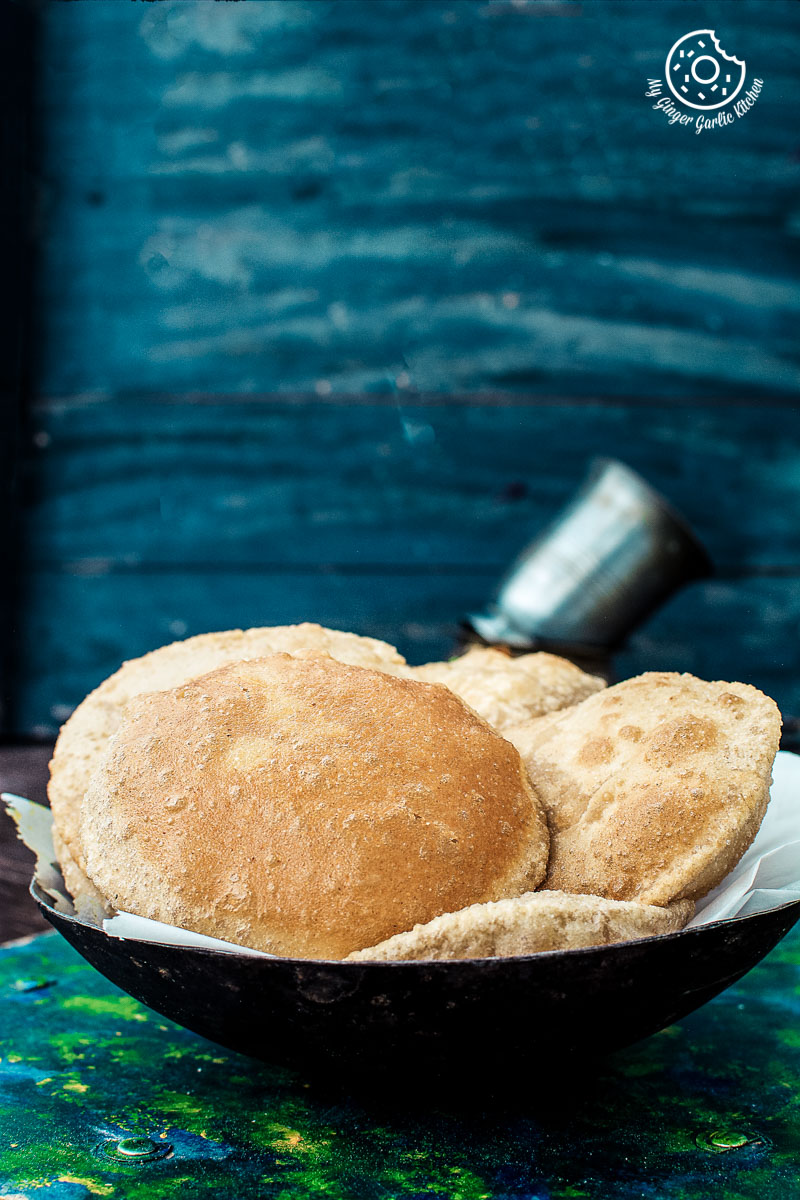 A similar type of breakfast to 'Aloo Poori' is 'Poori Bhaji'. Pooris are the same for both combinations, the only difference is in the potato-based spicy side dish. 'Bhaji is a dry dish and Sabji is semi-liquid'. I have made both Bhaji and Sabji for yesterday's festive dinner. I also made another popular version of Indian poori which is 'Palak Poori' aka 'spinach fried bread' and planning to share 'Poori Bhaji', and 'Palak Ki Poori' soon.
The sabji recipe I am sharing today is 'Halwai' (confectioner or caterer) style recipe which is normally served during Indian weddings and parties. This is one of my family's most trusted aloo sabjis. Everyone in my family just loves this version of aloo ki sabji. This combo of hot and puffed up pooris with spicy potato sabji is the best.
Related: How To Make Aloo Gobi Sabji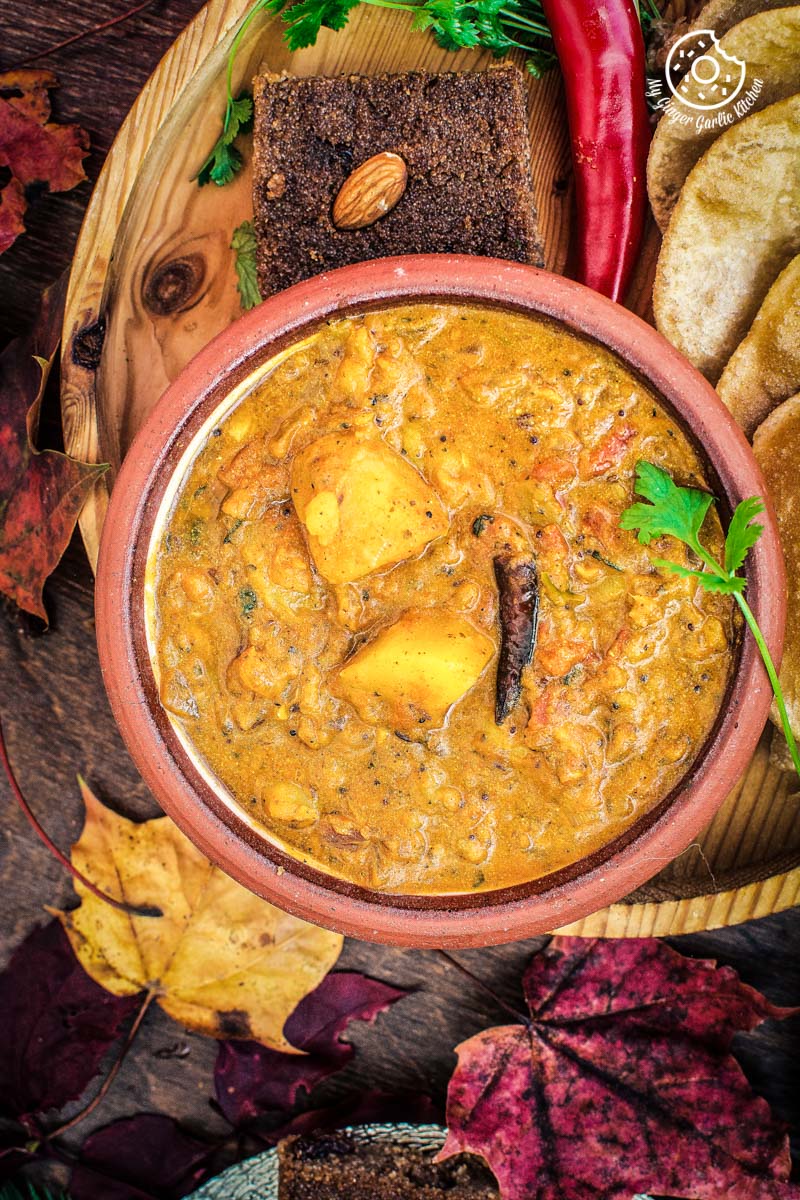 What is Poori?
A basic Poori is a deep fried Indian bread made with 'atta' aka whole wheat flour. This poori is usually served as a side-dish. There are many versions of pooris depending upon the addition of ingredients. In this recipe I have shared the poori dough recipe made with whole wheat flour and semolina aka suji. But for those who don't want to add suji, they can try this poori recipe I have shared earlier.
Related: Potato Onion Curry Recipe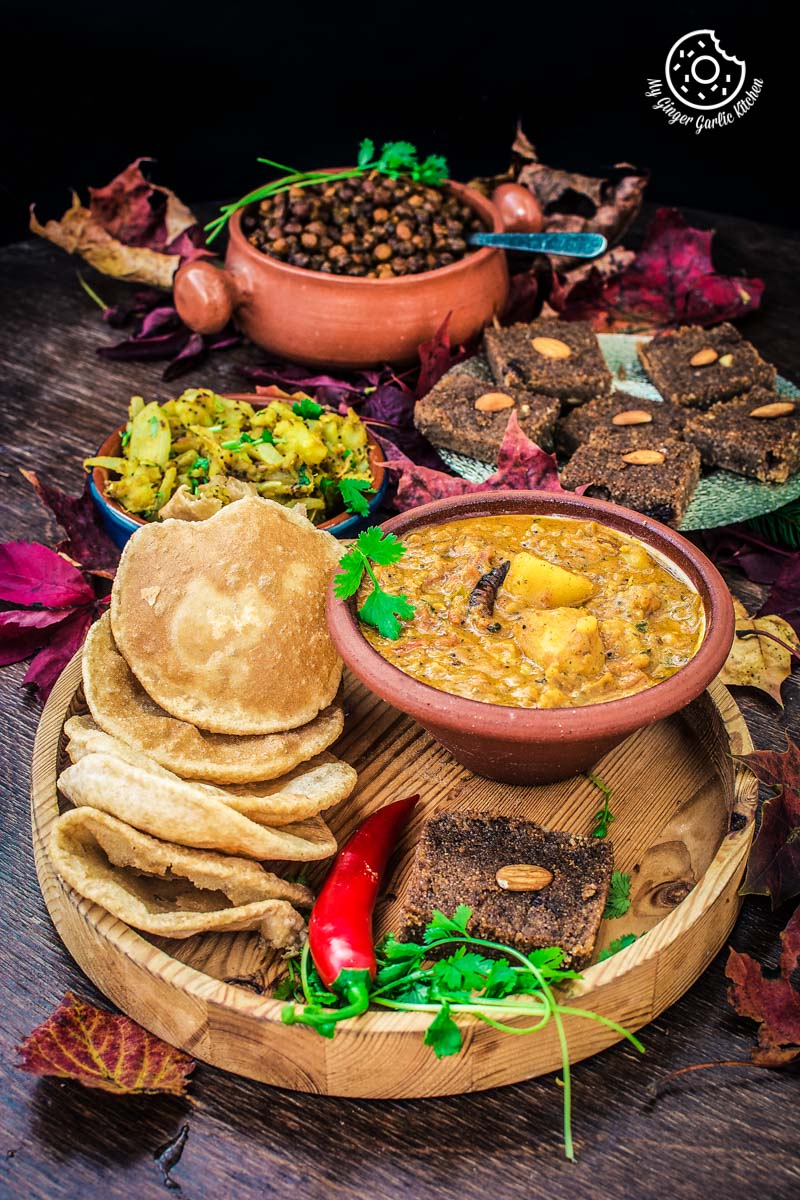 What is Aloo Ki Sabji?
This is a spicy and tangy potato curry made with potatoes, spices, tomato, and yogurt. Just pair it with some hot pooris and some pickle and you get a complete and satisfying meal. This makes a comfy meal during cold days.
Any type of gravy dishes go so well with this poori. My beloved curries to go with poori are:
Shahi Kaju Curry, Jaipuri Aloo Pyaaz Ki Sabzi, Besan Gatte Ki Sabzi , Malai Kofta, Rajasthani Govind Gatta Curry, Matar Paneer Curry, Haldi ki Sabji, Almond Peas Curry, Punjabi Achaari Gobi, Mughlai Navratan Korma
Aloo Poori Recipe | Puri Sabji Recipe Video | Aloo Ki Rasewali Sabzi With Puri recipe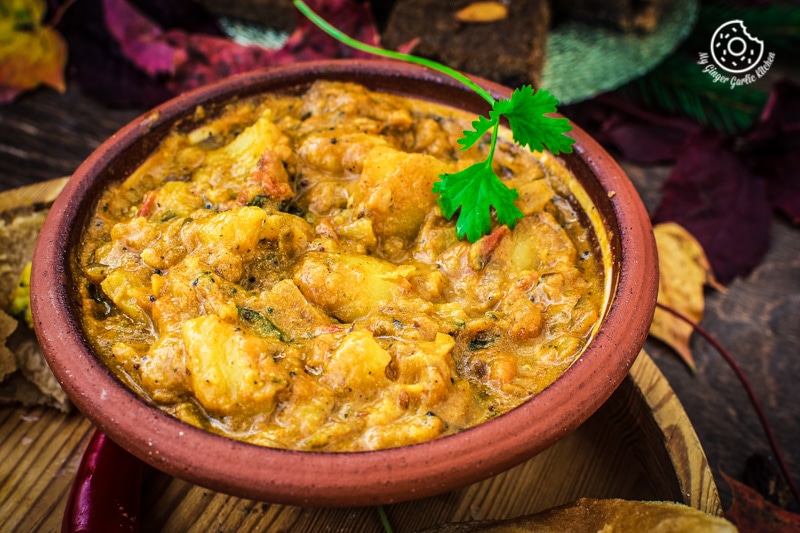 Aloo Poori Recipe | Puri Sabji [RECIPE]
Aloo Poori Recipe | Puri Sabji Recipe | Aloo Ki Rasewali Sabzi With Puri — This is a North Indian breakfast-lunch recipe. Sabji is a spicy, aromatic and tangy potato dish. This is served with puffed up, deep fried Indian bread poori.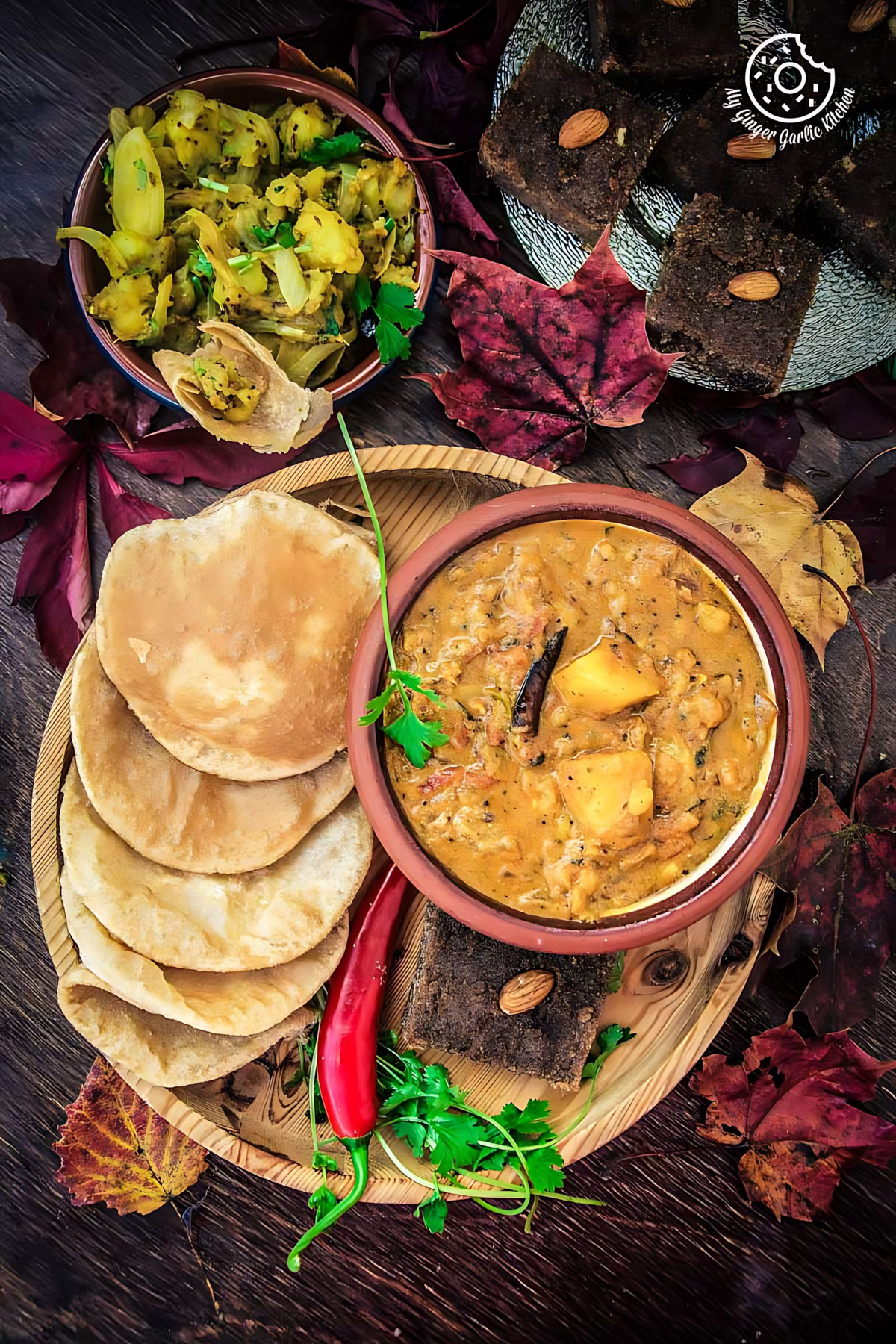 ♥ ♥ ♥ ♥ ♥
(Rating: 4.9 from 24 reviews)
INGREDIENTS
• For Poori/Puri:
• Whole Wheat Flour / Gehun Ka Atta – 1 1/2 Cup
• Semolina/Suji – 1/4 cup
• Oil – 2 Tbsp
• Salt To Taste
• Oil For Deep-Frying Pooris
• Water For Kneading Dough
• For Aloo Tamatar Ki Rasedwali Sabji:
• Oil – 3 Tbsp
• Bay Leaf/tej Patta – 1
• Dried Red Chilies/Sukhi Lal Mirch – 2
• Cloves/Laung – 2
• Cinnamon Stick/Dalchini – 1 Inch Stick
• Cumin Seeds/Jeera – 1 Tsp
• Mustard Seeds/Rai – Tsp
• Pinch Of Asafetida/Hing
• Garlic Cloves, Minced Or Finely Chopped – 1 Tbsp
• Ginger Peeled, And Minced Or Finely Chopped – 1 Tbsp
• Green Chili, Chopped – 1
• Chopped Onion – 1 Large
• Coriander Powder/Dhaniya – 1 Tsp
• Turmeric Powder – 1/4 Tsp
• Red Chili Powder – 1 Tsp Or To Taste
• Salt To Taste
• Tomato, Chopped – 2 Medium
• Water – 1/4 Cup + 3/4 Cup Or More If Needed
• Whisked Yogurt – 5 Tbsp
• Coriander Leaves, Chopped – 1 Tbsp
• Potatoes/aloo, Boiled, Peeled And Crumbled Into 1 Inch Pieces – 4 Medium
• Kasuri Methi/Dried Fenugreek Leaves
---
| 🕐 Prep time | 🕐 Cook time | 🕐 Total time |
| --- | --- | --- |
| | | |
| ☶ Category | ♨ Cuisine | ☺ Serves |
| Breakfast | Indian | 6 |
---
Nutrition Info: 305 calories // Servings: 1 serving
INSTRUCTIONS:
For The Poori/Puri:
1. Combine the whole wheat flour, semolina salt and 2 tbsp of oil and mix well.
2. Knead into a stiff dough using enough water.
3. Cover the dough with damp cloth and let it rest for 30 minutes.
4. Divide the dough into 3 equal portions and roll out each portion into a thin log as shown in the video.
5. Heat enough oil in a pan for frying.
6. Cut each log into ½-inch pieces and roll each piece into small rounds of 5-inches diameter.
7. To check if the oil is hot enough, add tiny dough pieces to the oil, if it rises up immediately then the oil is ready.
8. Now put one rolled out poori/puri into the hot oil and lightly press it with a spatula so that it puffs up.
9. Fry them till they turn golden brown in color from both the sides.
10. Transfer to a kitchen towel.
For Aloo Tamatar Ki Rasedwali Sabji:
1. Heat 3 tbsp oil in a pan on a medium heat.
2. Add bay leaf, dried red chilies, cloves, cinnamon stick, cumin seeds, mustard seeds, and asafetida.
3. Once the seeds start to splutter, add chopped garlic, chopped ginger, and chopped green chilies.
4. Let them sauté for 2 mins or until they turn golden in color.
5. Add chopped onions and let them sauté for 5 mins or until translucent.
6. Now add coriander powder, red chili powder, turmeric powder, and salt.
7. Stir well for a minute or you see oil releasing from the sides.
8. Add chopped tomatoes and stir well. Cook for 2 minutes.
9. Add 1/4 cup of water and cook for 5 minutes, keep stirring occasionally.
10. Add crumbled potatoes and stir well.
11. Add 3/4 cup of water and cook covered for 10 minutes on medium-low heat.
12. Uncover and add whisked yogurt and cook for 5 minutes. Add more water if needed.
13. Add garam masala powder, chopped coriander leaves, and kasuri methi.
14. Stir well and cook for 5 more minutes.
15. Remove from heat and serve hot with pooris.
---
WATCH VIDEO BELOW: Aloo Poori Recipe | Puri Sabji Recipe Video | Aloo Ki Rasewali Sabzi With Puri
(Please wait for a couple of seconds for loading)
Direct Video link: https://www.youtube.com/embed/uXPFHD87W7g
You may also like these other recipes.
If you enjoyed this recipe, then please further help me by FOLLOWING me on:
Instagram // Facebook // Pinterest // Twitter // Google+ // YouTube
If you cook this dish, be sure to tag your photo with this hashtag: #mggk
Happy Cooking and Keep Sharing! 🙂
---