This Restaurant Style Chana Masala is one of the most sumptuous and famous vegetarian dishes of Punjabi cuisine. This is also one of the most commonly ordered dishes in any Indian restaurant around the globe. Protein-enriched Chana Masala is one of the finest dishes of Indian cuisine. It's because this melt in-mouth, tender, and creamy chickpeas curry has a medley of Indian spices.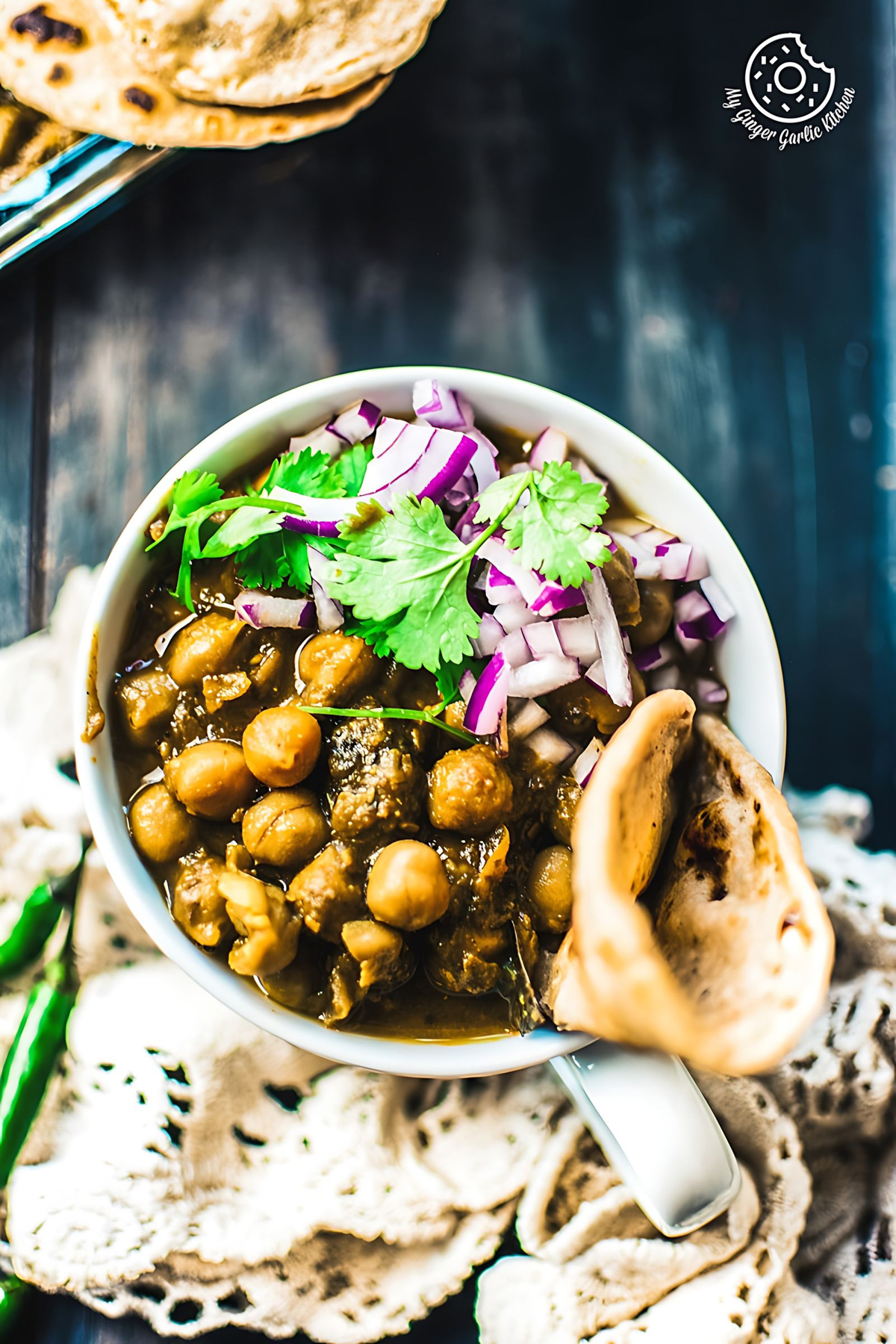 This restaurant style chana masala recipe is everything anyone can ever dreamt of. In this easy Restaurant Style Chana Masala /Chole Masala recipe, Kabuli Chana aka chickpeas is soaked overnight and then boiled with tea bags and salt until soft. Then, the boiled chickpea is simmered in a deliciously spiced onion tomato sauce. Thus, it has a rich flavor and is incredibly satisfying to eat.
What is Chana Masala?
Channa Masala or Chole Masala is a very popular and scrumptious Indian vegetarian and gluten-free side dish. In this curry, the chickpeas are cooked in a spicy and tangy tomato-based sauce.
What should I look in a Restaurant Style Chana Masala recipe?
Chana Masala is one of such curries which you can't stop at one serving. You'll find yourself going for a second or third serving every single time you make this Restaurant Style Chana Masala recipe at home. 
A tasty authentic Restaurant Style Chana Masala is all about the combination of right ingredients and the way you cook it. The secret to good restaurant-style chana masala is in the process of simmering. 
Every single chickpea should be tender, yet it should hold its soft creamy and velvety texture. Each spoonful of this chickpeas curry (chana masala) have to be out of this world. The gravy should be thick and every mouthful of this curry should burst out delectable flavors.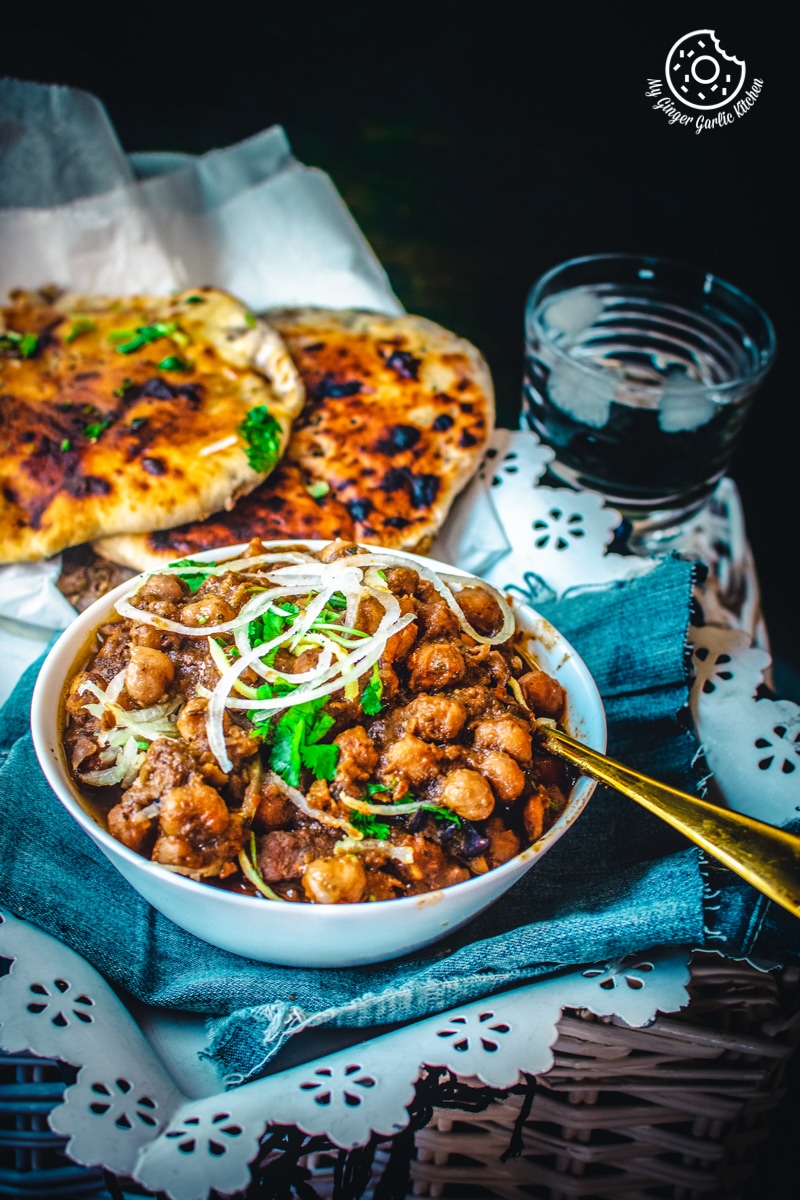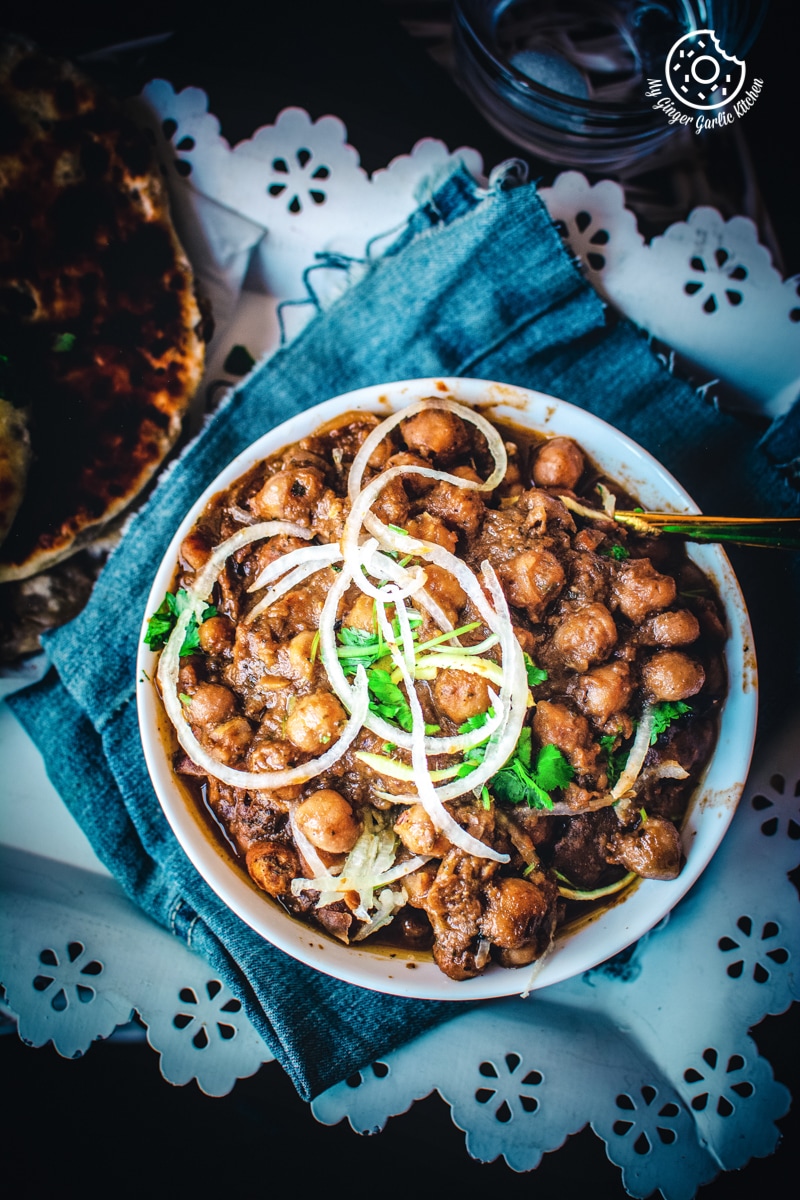 How to serve Restaurant Style Chana Masala?
Restaurant Style Chana Masala is a lip-smackingly delicious and spicy curry. It is best accompanied with any type of Indian flatbread such as , , , , , , or even with plain steamed rice. Chana masala is a pure comfort meal when paired with any of the above.
When to make this Restaurant Style Chana Masala?
Restaurant Style Chana Masala is the pride of Indian cuisine, thus, this humble dish is an essential part of weddings, festivals, get-togethers, parties, and other celebrations. So you can cook it any time your heart desires. 
Can I freeze Chana Masala?
Yes, this chana masala is entirely freezable. By freezing, you can save any leftovers you have and relish it some other time. You can effortlessly freeze this chickpea curry in a freezer-safe container for up to 1 month. Just thaw this curry at room temperature and reheat in a microwave or stove when you want to eat it.
You can also add some tadka to oomph up the flavors of leftover chana masala. For tadka (tempering), add some cumin seeds in hot ghee/oil. And once the seeds start to crackle, add some chili powder, garam masala powder, and kasuri methi. Sauté for about a minute on medium-low heat and pour this sizzling takda over reheated chana masala.
Can I make Restaurant Style Chana Masala with Canned Chickpeas?
Yes, you can certainly do that. For making Restaurant Style Chana Masala with Canned chickpeas, follow the same recipe of making onion tomato masala. Replace boiled chickpeas with canned chickpeas. Also brew tea bags and this tea mixture instead of water. Cover and cook until the chickpeas are soft and tender.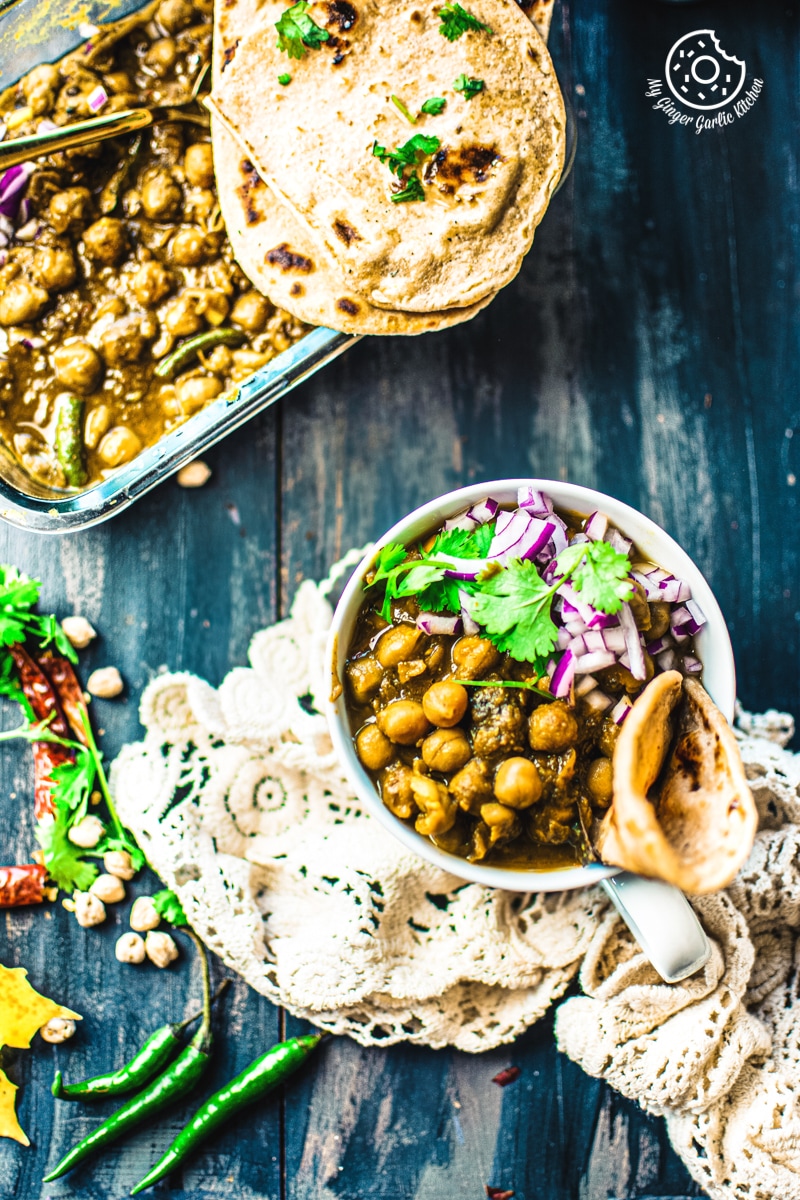 Are Chana Masala or Chole Masala the same?
Yes! Chana Masala and Chole Masala both are simply different names of chickpeas curry cooked in a spicy onion tomato gravy. The name depends on where you are from. In some regions, it is called chole masala and in other parts, it is called as chana masala. 
How to make Restaurant Style Chana Masala?
There are various ways to make or , and probably every family has their own variation of this recipe. But to make a perfect Restaurant Style Chana Masala recipe, you need to follow some easy and simple steps. Let's see how to make this delicious Chole Masala recipe.
To make this chana masala it is better that you follow the preparation of this recipe in steps.
First step: 
Rinse and soak chickpeas in enough water for 8-10 hours or overnight. Drain out the excess water and rinse them again with fresh running water in the morning and set aside.
Second step:
Start with the paste and puree required in this recipe. These paste/puree are:
✔︎ ½ cup onion paste: simply dice onions and blend them in a blender.
✔︎ ½ cup homemade tomato puree: blanch tomatoes. Peel the tomato skin and puree in a blender.
✔︎ 1 tablespoon store-bought tomato puree or paste
Third step:
Once you are done with the puree/paste, we can start collecting the whole spices for this recipe. The whole spices we need are:
✔︎ 1 teaspoon cumin seeds (jeera)
✔︎ 1 bay leaf (tej patta)
✔︎ 4 cloves (laung)
✔︎ 2 green cardamom pods (hari ilaichi)
✔︎ 1 black cardamom pod (moti or kali ilaichi)
✔︎ 2 cinnamon sticks (dalchini) 
✔︎ 1 star anise (chakrafool)
✔︎ 4 black peppercorns (kali mirch)
Fourth step: 
Collecting powdered spices. The spices we are using in this recipe are:
✔︎ 1 teaspoon red chili powder (lal mirch powder)
✔︎ 1 teaspoon coriander powder (dhaniya powder)
✔︎ 1 teaspoon dried ginger powder (sonth powder)
✔︎ 2.5 teaspoon chole masala 
✔︎ 1 teaspoon dried mango powder (jeera powder)
✔︎ 1 teaspoon pomegranate seeds powder (anardana powder)
✔︎ 2 tablespoons dried fenugreek leaves (kasuri methi)
✔︎ Salt to taste
Fifth step: 
Collecting other remaining ingredients. These are:
✔︎ 1.5 cups chickpeas (kabuli chana)
✔︎ 3 tablespoons oil/ ghee
✔︎ 3 tablespoons plain whisked yogurt (dahi)
✔︎ 3 green chilies slit (lambi kati hui hari mirch)
✔︎ 1/2 tablespoon ginger juliennes (adrak ki katran)
✔︎ onion rings (pyaaz ke challe)
✔︎ ½ teaspoon baking soda
✔︎ 2 black tea bags (chai patti)
✔︎ water
Sixth step:
Cooking Process: The following is the cooking process for making Chole Masala:
Add rinsed chickpeas to a pressure cooker along with salt, water, tea bags, and baking soda. Pressure cook chickpeas for 4-5 whistles. Let the pressure come off completely before opening the lid.
Heat oil/ghee in a pan over medium heat. Add cumin seeds and let them crackle. Once they start to crackle add whole spices and sauté them for few seconds or until they are fragrant. Sautéing whole spices in the hot oil/ghee brings out awesome flavors.
Now add onion paste and sauté it for 2 minutes. Once the onion is slightly translucent, add the homemade tomato puree. Mix everything well, and let the puree cook for 3 minutes.
After 3 minutes, add ginger garlic paste, green chilies, and ginger juliennes. Mix everything well and cook for 2 minutes. Now add store-bought tomato puree and mix everything well. Let the masala cook for a few minutes or until tomatoes are cooked and raw smell goes off.
Next, add the ground spices (red chili powder, coriander powder, amchoor, coriander, readymade chole masala, dried ginger powder, cumin powder, and pomegranate seeds powder).
Mix everything well and saute spices with onion tomato mixture for 1 minute. Following this, add some water and let the masalas cook for 2-3 minutes.
Next, add cooked chickpeas and mix everything well. Check for seasoning. Add more salt or if required. Also, you can adjust spices at this point. 
Now add Kasuri methi and stir everything well. Cover and simmer for at 15-30 minutes. This simmering time depends upon your ease. Simmering is the key to make best Restaurant Style Chana Masala so do not skip it. The more you simmer the chickpeas, the more flavorful your chana masala would come out. 
Once done, open the lid and add some ghee and onion rings. Cook for 1-2 minutes. 
Garnish with coriander leaves and some butter and serve along with some . That's it, it's done!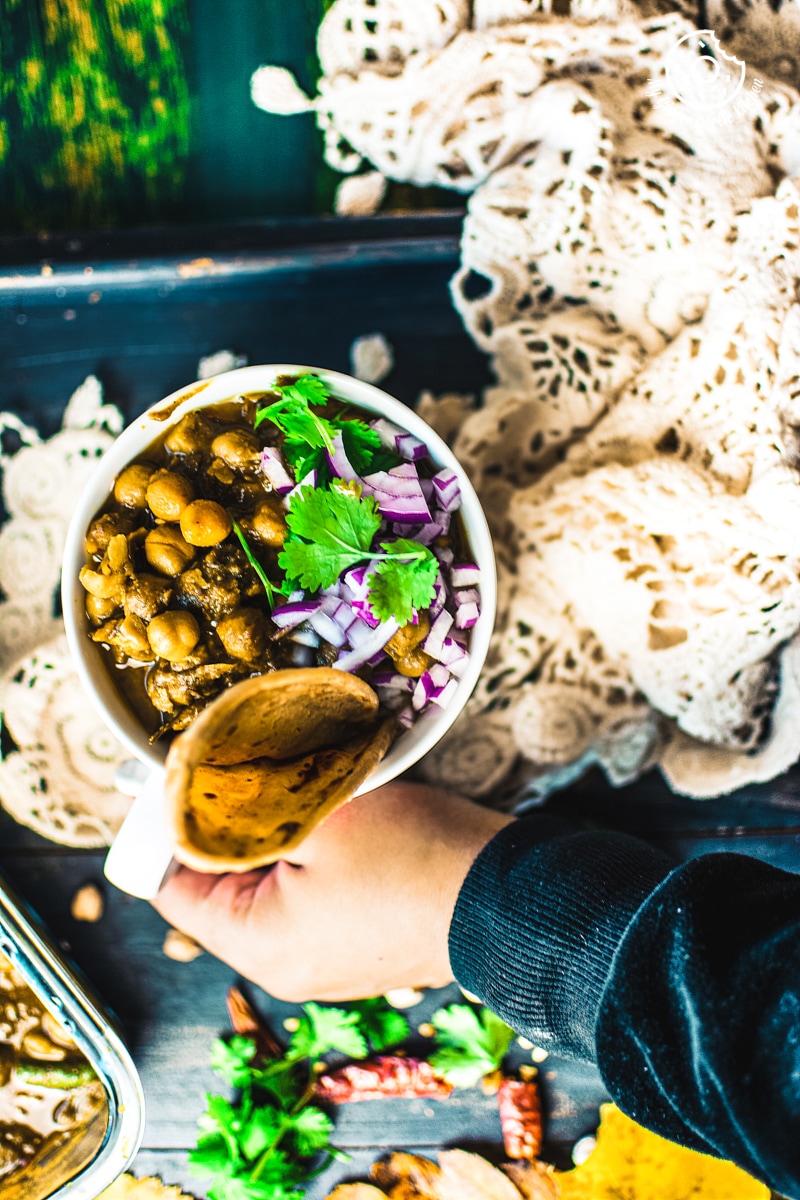 Tips for making Best Restaurant Style Chana Masala:
Use the finest quality of large chickpeas (Kabuli Chana) available. The larger the better. 
Use really good quality fresh and fleshy tomatoes for homemade tomato puree. 
Homemade calls for tamarind paste for tartness. But in this Restaurant Style version of Chana Masala, you don't need to add tamarind. Simply replace tamarind pulp or paste with the combination of plain yogurt and store-bought tomato puree or tomato paste. It brings forth the flavors of chana masala. 
I have cooked my chana masala in vegetable cooking oil. But you can also use ghee or butter for cooking Restaurant Style Chana Masala. Or simply use the combination of ghee and oil.
I have added some ghee as a final touch. But if you are a vegan, you can simply replace ghee with vegan butter.
This is a hot and spicy recipe, so use more or less chili powder and green chilies depending on your heat tolerance.
The secret to cooking best chana masala is cooking it with dried chickpeas. 
Amchoor powder or dried mango powder is made from dried green mangoes. This ingredient adds a perfect tartness to chana masala. You can easily get this powder at any local Asian grocery store. However, if you can't find it, then you can simply omit it. When you are skipping amchoor powder, then you need to substitute it with something tart. Lemon juice is the best substitute for amchoor powder. So once the chickpeas are cooked, turn off the heat. Add freshly squeezed lemon juice and stir well.