'Chole Bhature' or 'Chana Bhatura' is one of the most crowd-pleasing and appetizing North Indian dishes from Punjabi Cuisine which can be served for breakfast or lunch.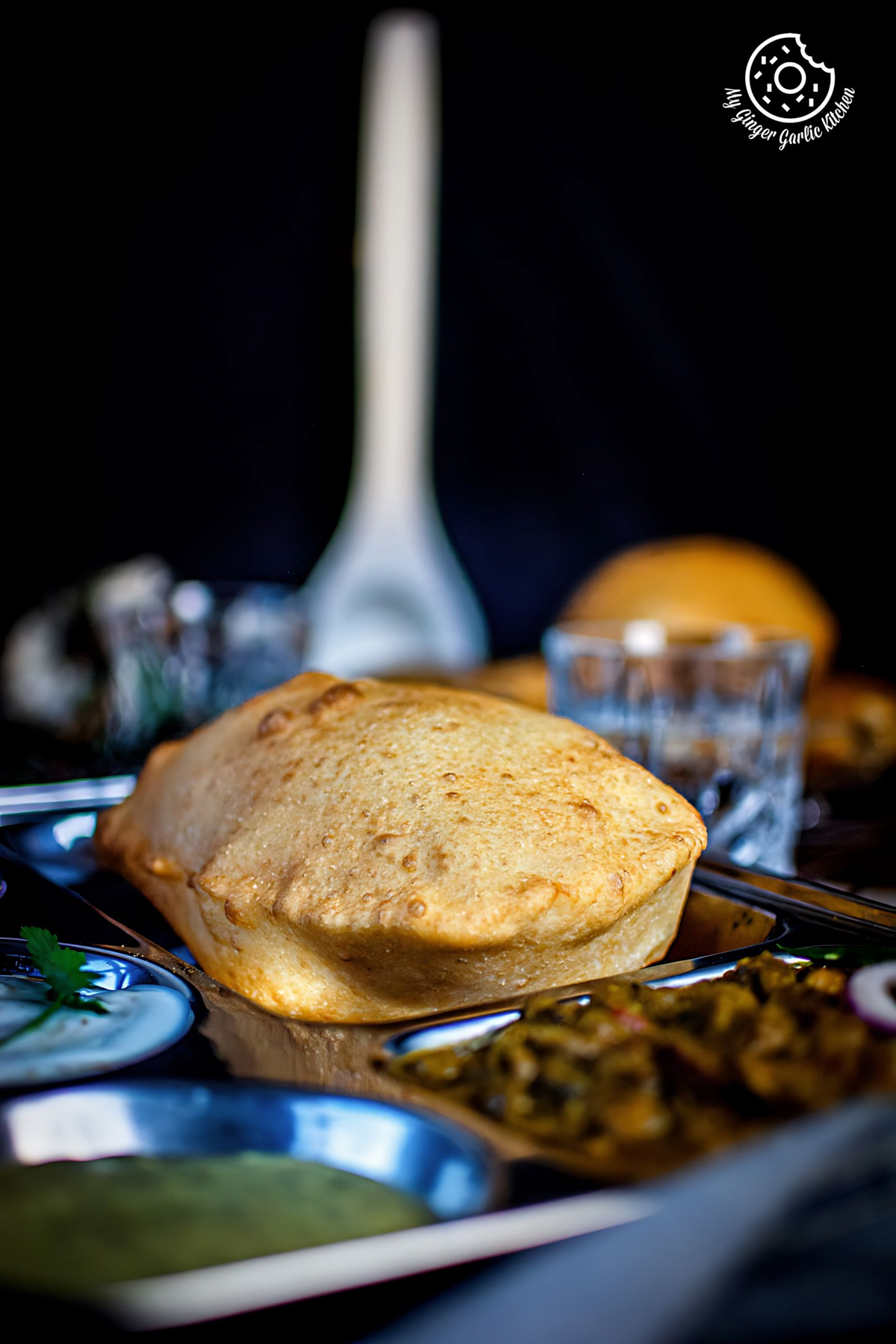 In this dish named as Chole Bhature', 'Chole' is referred to as a spicy chickpea curry made with a perfect medley of spices, whereas  'Bhature/Bhutura' is a fermented deep-fried puffed Indian bread. This heavenly and steaming hot merger of 'Chole' with Instant Bhature makes a classic one-pot meal for any time of the day.
Making traditional puffed 'Bhatura' is a tedious task since it requires fermentation. But not to worry, here is a quick and easy recipe with a video tutorial to cook tempting Instant Bhaturas quickly and instantly. This mouth-watering, steaming hot, puffed deep-fried, crispy and soft Instant 'Bhatura' is best served with the hot, spicy and flavorful Chole. 
If you are from Northern India or have ever tasted authentic or 'chana bhatura', then this tantalizing and satisfying breakfast dish must be one of your favorites. 'Chole Bhature' is one of the most popular Indian dishes which has its fans worldwide. Almost everyone feasts on eating this tempting and flavorsome dish with gusto.
How to Serve Bhature?
This Indian bread 'Bhature', or (Bhtaura) is fabulously enticing and tastes best when served hot along with some pickle and . 
This dish is served as a filler and gratifying breakfast or . But since this is a heavy dish, you can enjoy it for any meal of the day. Yes, it could be brunch, lunch, or even dinner.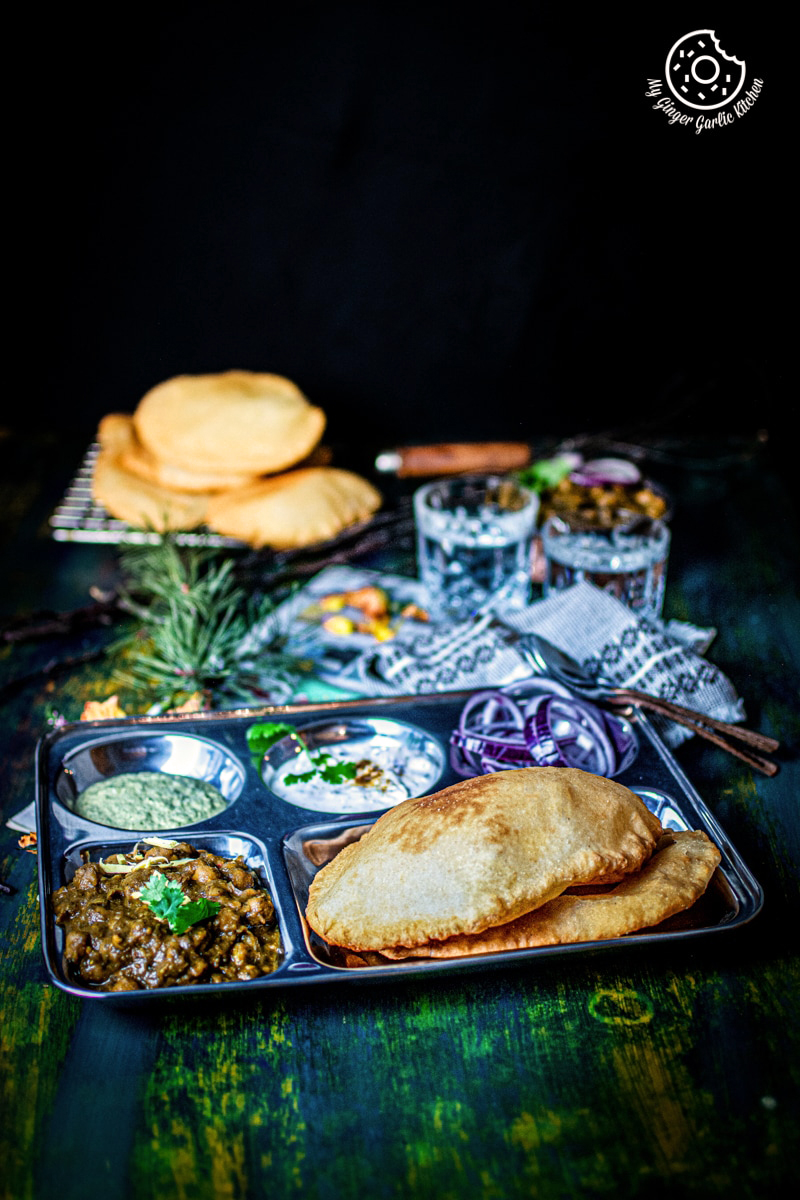 What Ingredients do you need for making Instant Bhatura?
For making Instant version of 'Bhatura' bread, you'll only need a few ingredients such all-purpose flour (maida), semolina (suji), baking powder, sugar (shakkar), oil (tel), yogurt (dahi), and soda water. These ingredients are easily available in any kitchen. If not, then don't worry they are effectively attainable in any grocery store.
What is the best time to make Chole Bhature?
For devouring 'Chole Bhature' one does not require a particular time. You can gobble it whenever you want. But if you want to make it for special occasions such as festivals, get-togethers, or house parties, then you can surely make this dish to shine at your dinner table. I guarantee you, that your guests will gobble it down in no time. 
How to reheat Bhatura?
You don't actually need to reheat bhatura, you can naturally serve it as it is. Like puris, Bhaturas also taste good when they are at room temperature. But if you want to enjoy only warm bhaturas, then you can reheat it in the microwave for 30 seconds. Or you can also heat it in the preheated oven over 250°C for 1-2 minutes.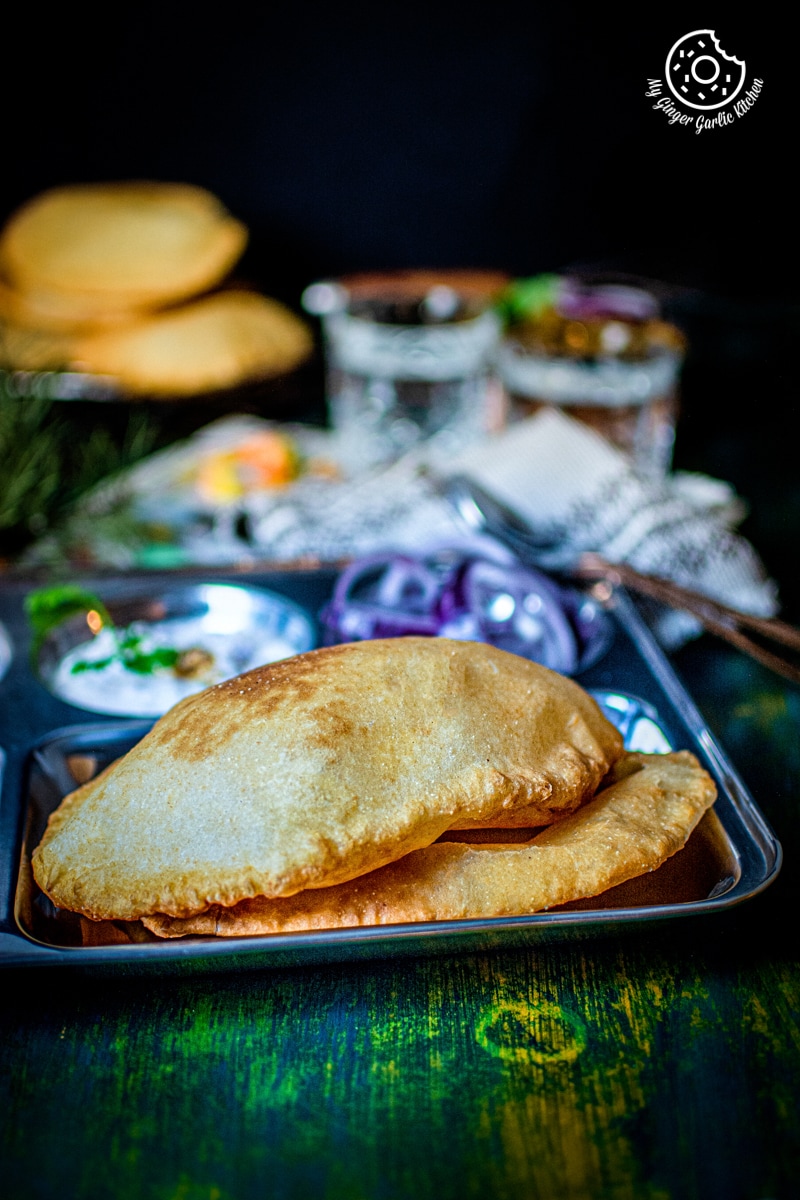 How to make Bhature?
I have already shared authentic recipe where I have used the combination of baking powder and baking soda. After kneading the dough, it is then kept aside for resting for a few hours or until it gets fermented. So to make the traditional version of 'Bhatura', one needs to be proactive. 
Another version of the regular 'Bhatura' recipe is the yeast 'Bhatura', Here, the recipe calls for yeast. In this recipe, the dough also demands to rest for 4-6 hours or sometimes overnight. So there is a lot of pre-planning required when cooking 'Chole Bhature' the traditional way. 
How to make Instant Bhature?
This Instant and quicker version of the 'Bhatura' recipe does not require any fermentation. This recipe is very easy-to-make and can be made within minutes. With this quick and instant 'Bhatura' recipe, Bhatura comes out puffy, crispy and soft, and it will not become chewy even when it gets cold. 
Here's a painless and easy way to make street style 'Bhaturas' at home without much hassle. For this fast and effortless instant bhatura recipe, I have used soda water instead of yeast. You need to knead the dough with soda water. And then the dough needs to be rested for 30 minutes.
After that, you can start rolling and frying the bhaturas. So your bhaturas can be ready within 20 minutes after kneading. In short, that means this would take about  45-50 minutes from start to finish. This speedy version of 'Bhatura' does not compromise on the taste. It tastes just as delicious as the traditional version of 'Bhatura'. It has the crispy layer on top, and is soft from inside. Just the way a 'Bhatura' should taste. 
So now all you have to do is make this instant bhatura recipe and relish it with your loved ones. I can assure you that this quick and easy bhatura recipe will be a big hit at your home.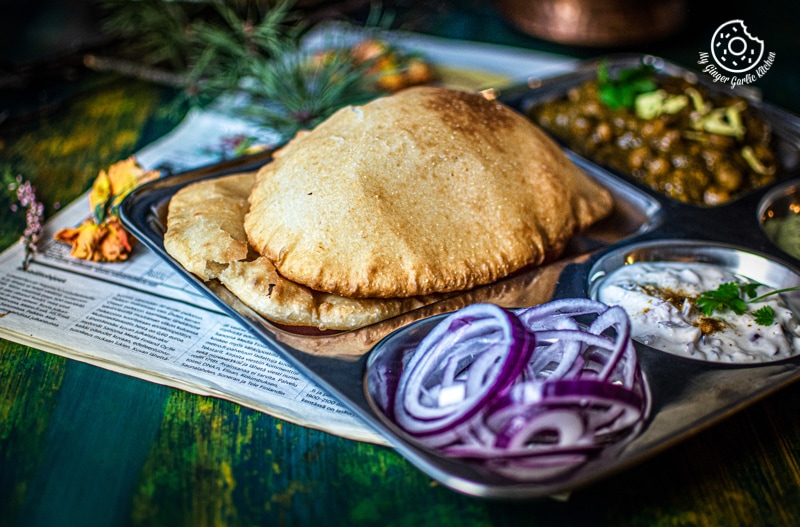 Tips and variations for making best bhature:
You can make your bhature more flavourful by adding some dry roasted kasuri methi. This will enhance the taste of bhatura and would add more flavour to this puffed bread.
You can also add some carom seeds (ajwain) to the dry flour before kneading the dough. Your bhatura would taste like ajwain ki .
You can make 'Bhatura' more delectable by adding your twist to this recipe. Like while kneading the dough you can add some dry roasted kasuri methi to the dough — this will add more flavors and surely enhance the taste of bhatura. 
I have added yogurt in 'Bhatura' recipes, but you can also add some warm milk along with yogurt. Your 'Bhatura' would come out more softer. 
Normally, bhaturas are made with all-purpose flour aka 'maida'. But to make this healthier, you can also use a combination of all-purpose flour and whole wheat flour. 
Always knead the dough with room temperature club soda or soda water. 
You can immediately use this dough to make instant 'Bhatura' after kneading it. But I won't recommend it. Soda water would work magic in the dough when rested for 30 minutes, so the resting time of 30 minutes is recommended. 
The oil should be steaming hot when frying bhaturas. If you deep fry bhaturas in not-so-very-hot oil, then your bhaturas won't puff up.
If you want to avoid adding oil in 'Bhatura' dough, then you can surely do it. Simply replace the oil with 1 medium-sized boiled, peeled, and mashed potato. This would make bhaturas softer.