Mooli parathas are famous Indian flatbreads. They make an ultimate, quick breakfast meal. And this tropical Strawberry Grapes Chutney is bursting with deliciousness and sweet, spicy and tangy flavors.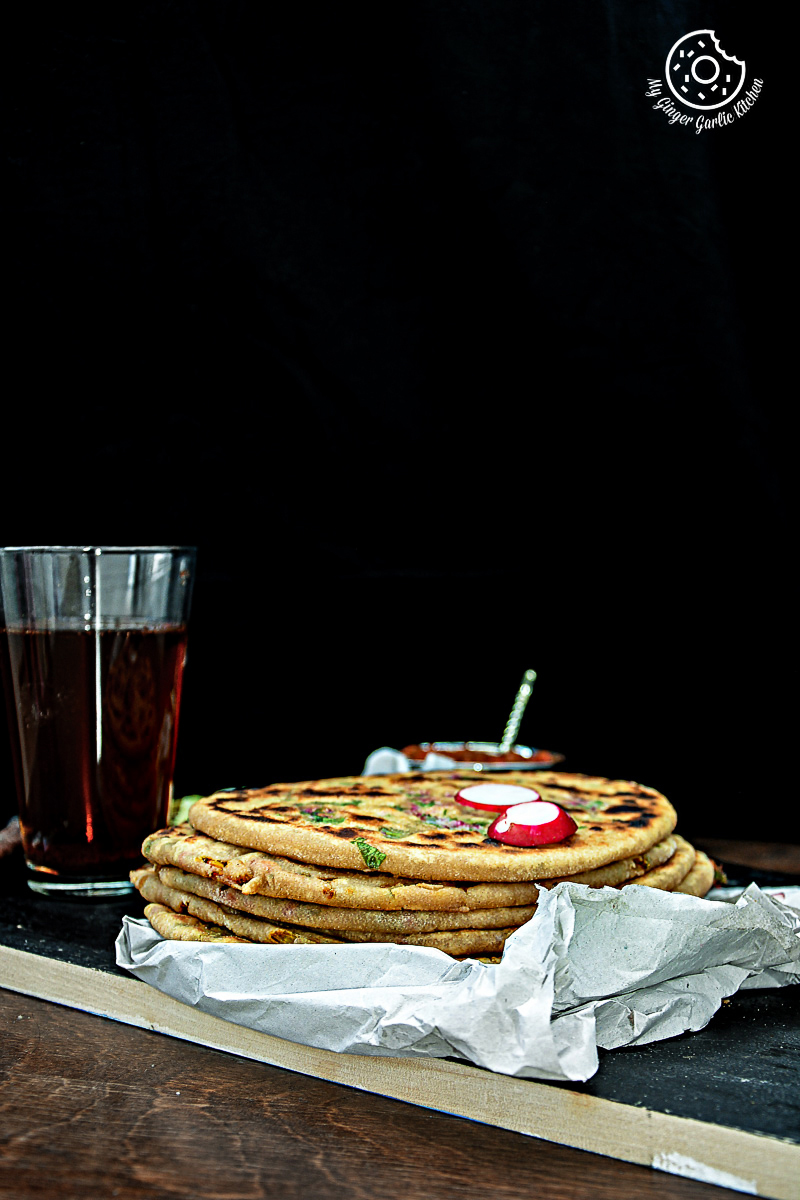 As the weather gets colder my roots start calling me. The sun is up today but not with warmth — it's up with cold breeze again. But as long as it is glaring and shiny I am perfectly happy. I know it is not the warm weather as I have been dreaming for, but at least it gives a feeling of warmth. What else would I need now?
Whenever the cool breeze caresses me I get the goosebumps, and then it tickles my soul. Then I suddenly start dreaming for some cozy and comfy things to eat and drink. Am I insane? Why do I always crave for food? I guess, that's what makes us different with other people. We can always associate everything with good food. Right? And that's what makes us a true foodie.
So if you want to get that essence of life's true calling, I want you all to feel the breeze as much as I do. I want your soul to be as rain-swept as mine. It would make you crave for something comfy, something you grew up eating. And that's what makes you a foodie.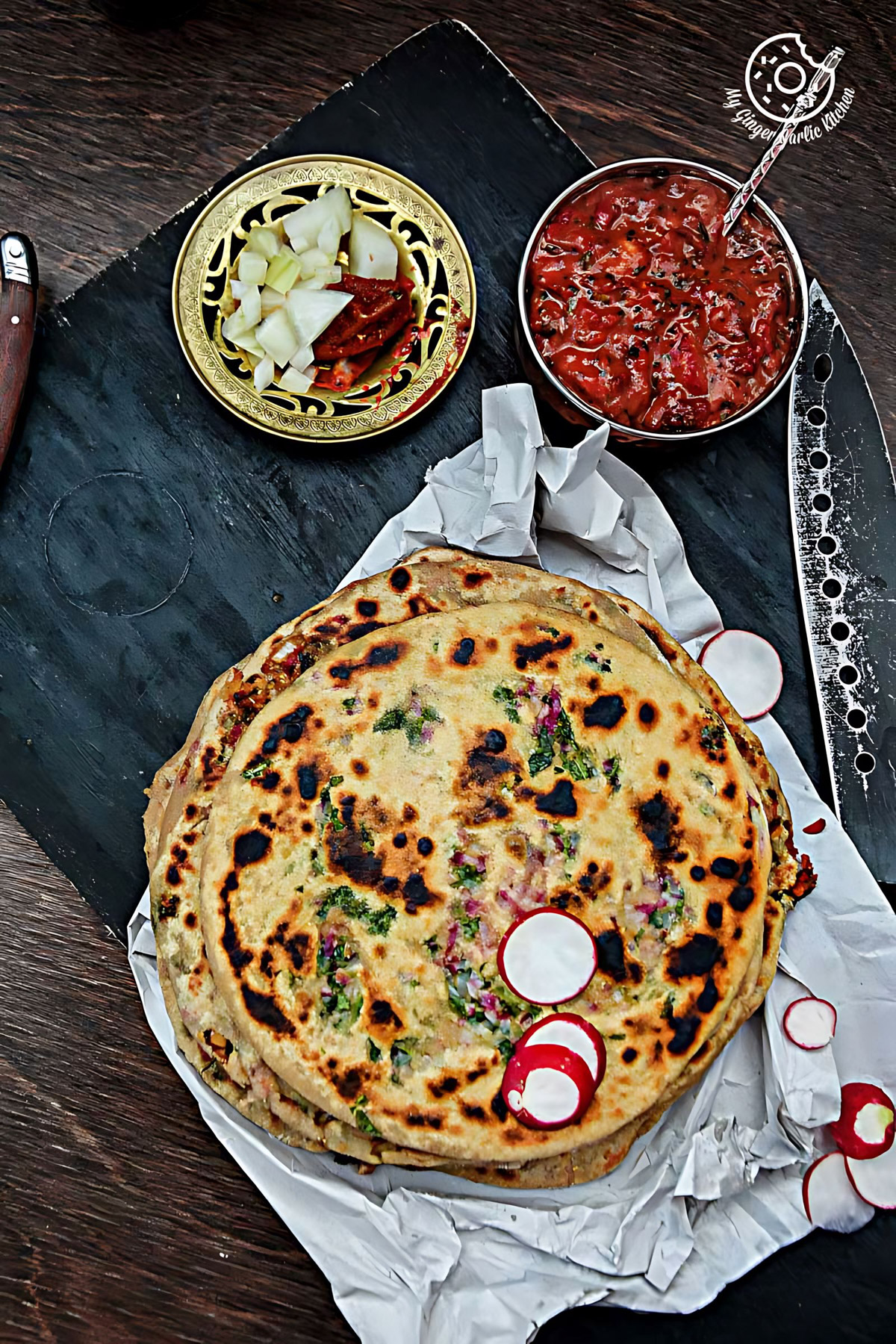 Now tell me, how many foodies we have here. Can you virtually raise your hands? Wow! I can see so many. Cheers to all my foodie buddies.
After coming back home yesterday evening, I sat on my bed just next to my open window, I felt the cold breeze which blew over my face and that made me feel really chilly. Sun was still high at 5:00 p.m.
I put on my jacket and socks. Then and only then I got that much needed physical warmth, but something was still missing. The body was fine then, but the missing part was the warmth for my soul. And that made me crave for mom's stuffed paratha (flatbread) with some chutney. She always used to cook it for me whenever I craved for it, and for quite sometime I craved for it every day! 😉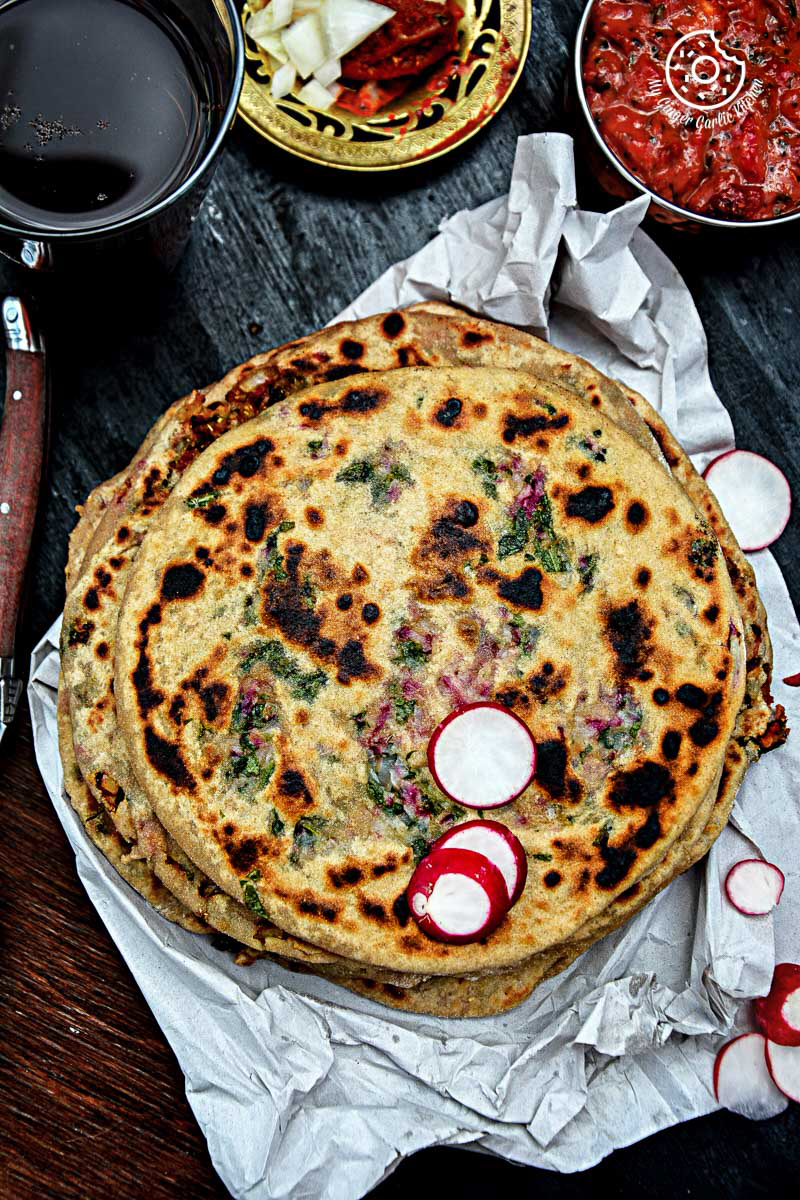 How precious is mother's love. No matter how tired they are, they get some boost of energy when a child demands food. They don't think twice before fulfilling their child's wishes. All they want is that their kid shouldn't sleep hungry. And if a child is a fussy eater like I was, then the pain gets doubled. Now, I feel for you mom, and thank you so much for all your efforts and love. That's why they say Moms are the best and Mom's food is the bestest. 🙂
Now you know I missed my Mom and missed her D-LICIOUS parathas too. What could I do other than making it for myself, as she could not make it for me, because she lives far far away from here.
If it was some other day, I would have compromised but then I remembered some good lines once a friend said to me; "You need to be selfish sometimes, think about yourself. Everything else is secondary. Live your life the way you want it. Do what your heart desires for and feels right. "
I talked to myself: "Some spicy and stuffed parathas on a cold, cold day? Why not? That is just the BEST thing ever. What I want right now is some stuffed parathas".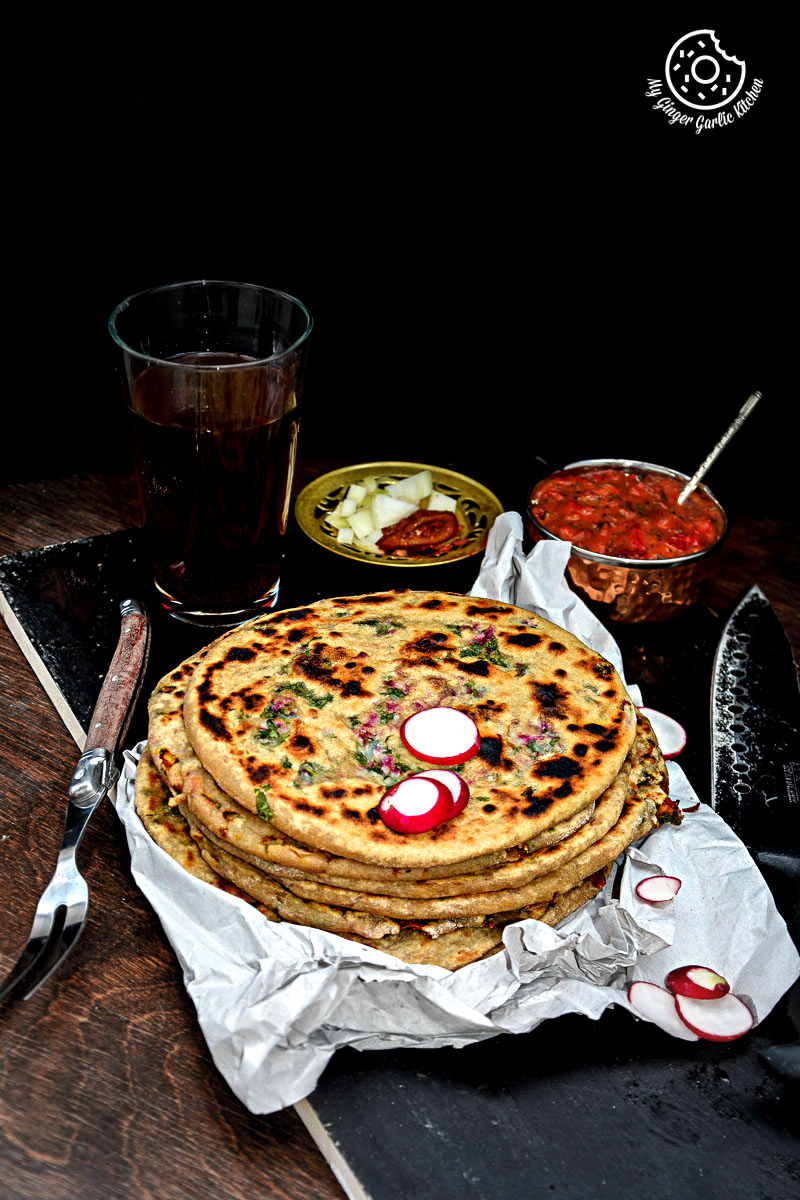 So I decided to pamper myself this time and made 'Mooli Paratha With Strawberry Grapes Chutney'. Mooli is called radish in English. And by making this simple yet hearty meal for dinner yesterday, I not only pampered myself but I gave a pleasure to my family too. Adoria and daddy are also die hard fans of any type of stuffed parathas.
The parathas are exactly the way my mom used to make it. And Strawberry Grapes Chutney is my invention.
Parathas and chutney, they just work so well together.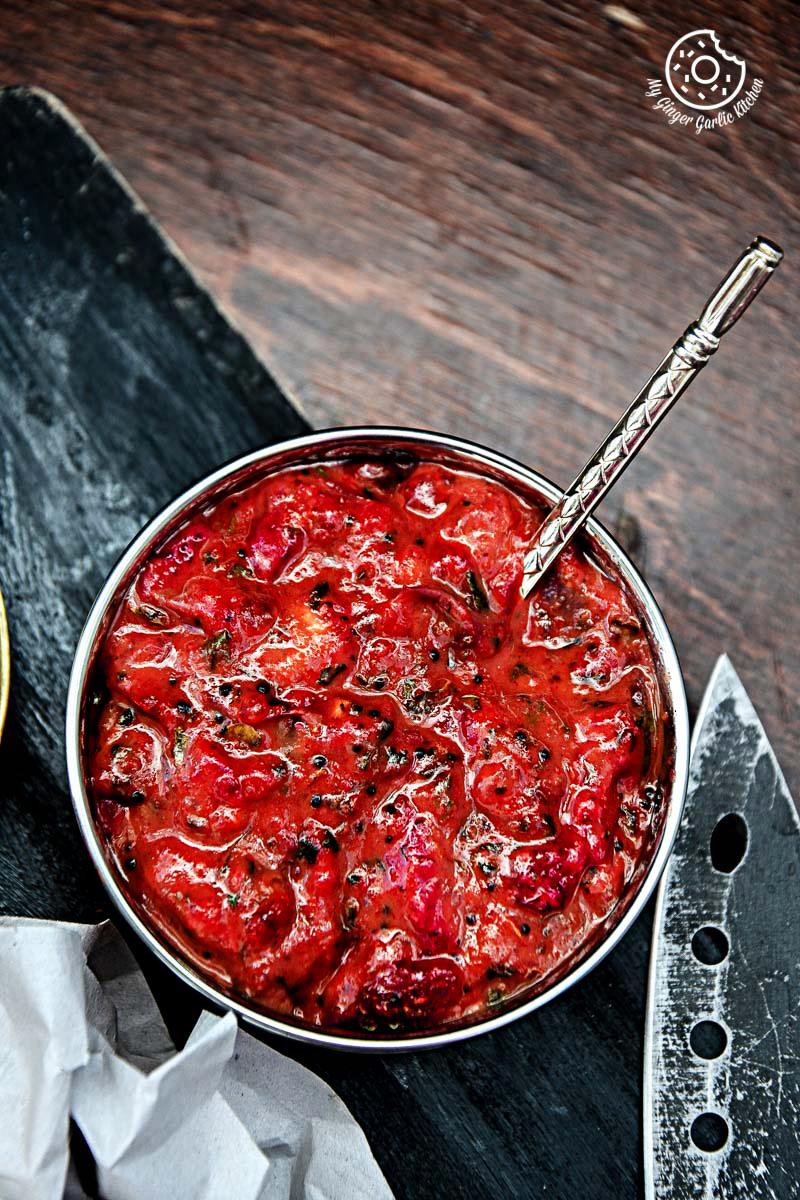 So let's have a quick chat about this healthy, delicious and VEGAN meal. This Strawberry Grapes chutney; I love tropical fruits so I decided to pair my parathas with some tropical chutney. This chutney is a combo of sweet, spicy and tangy flavors. I also added some peanut butter to my chutney and which gave a nice, creamy and classic nutty flavor. In other words, this tropical chutney is bursting with deliciousness. Plus, this is GLUTEN-FREE too!
The parathas are simple, easy and delicious. They are so packed with fiber which we need in our meals. A good source of veggies and fruits.
If you have made any stuffed flatbread before than making these parathas should be a cakewalk. Stuffing the parathas are a little tricky, though, but you can totally get it after a little practice. Radishes (mooli) are so full of water and you need to squeeze out as much water you can.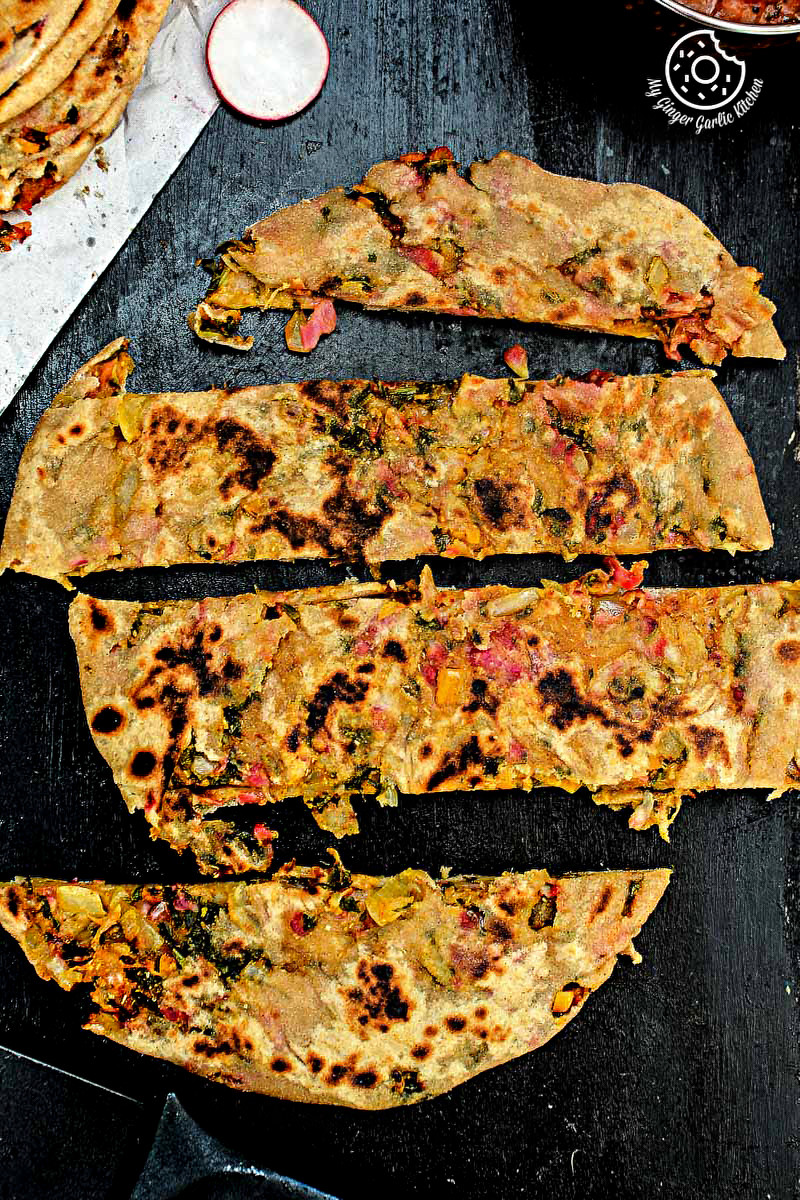 They should be pretty dry. And as you add spices they start getting soggy again. So my trick is that I squeeze out all the water from radishes and keep it in the refrigerator while I make my dough.
Then I take it out and squeeze water again and add spices to it. And then I try to make parathas as soon as possible, so the stuffing doesn't get soggy again.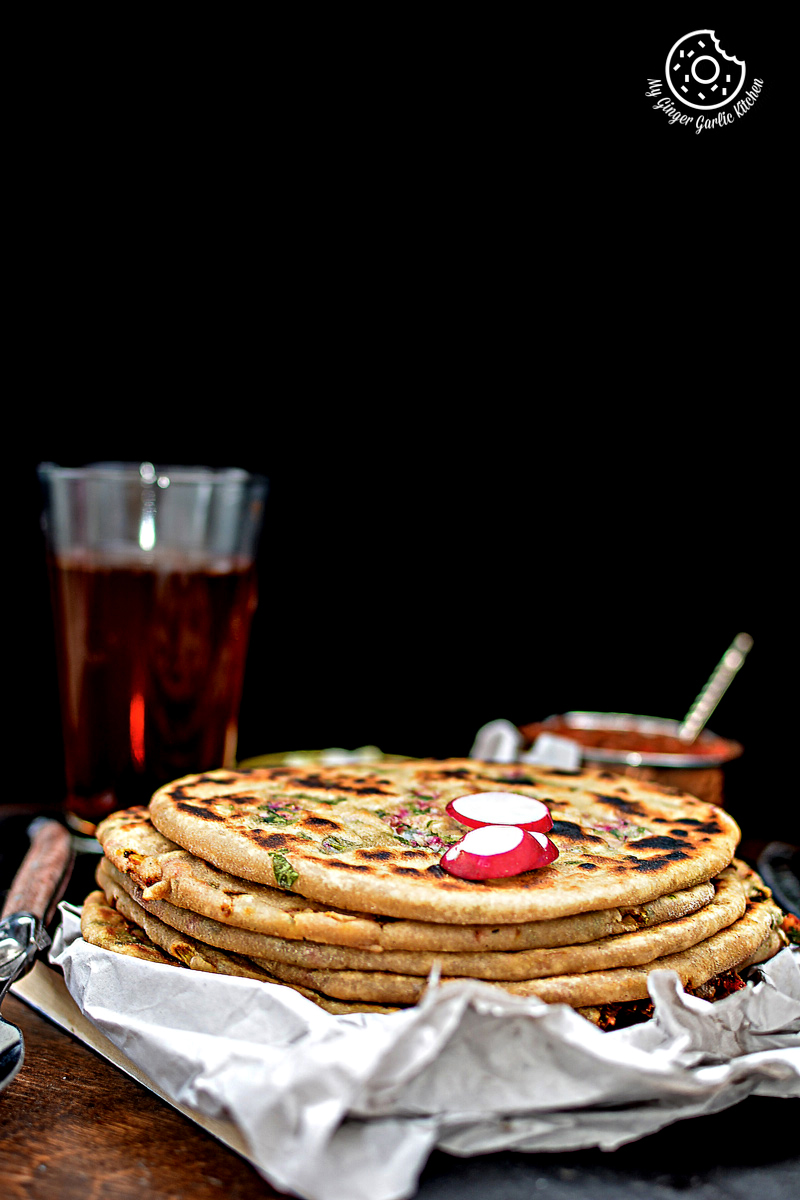 And this vegan and incredibly delicious flatbread is ready for dipping in sweet and spicy chutney.
Mooli parathas are famous breakfast meals in India, but for me, they are the ultimate, quick and healthy meal anytime of the day.
Sooo, what do you say? Maybe some spicy parathas with some tropical chutney for dinner tonight? It will sure make you feel warm inside and gives you healthy energy too!
Serve it along with some chutney, raita, pickle or plain yogurt.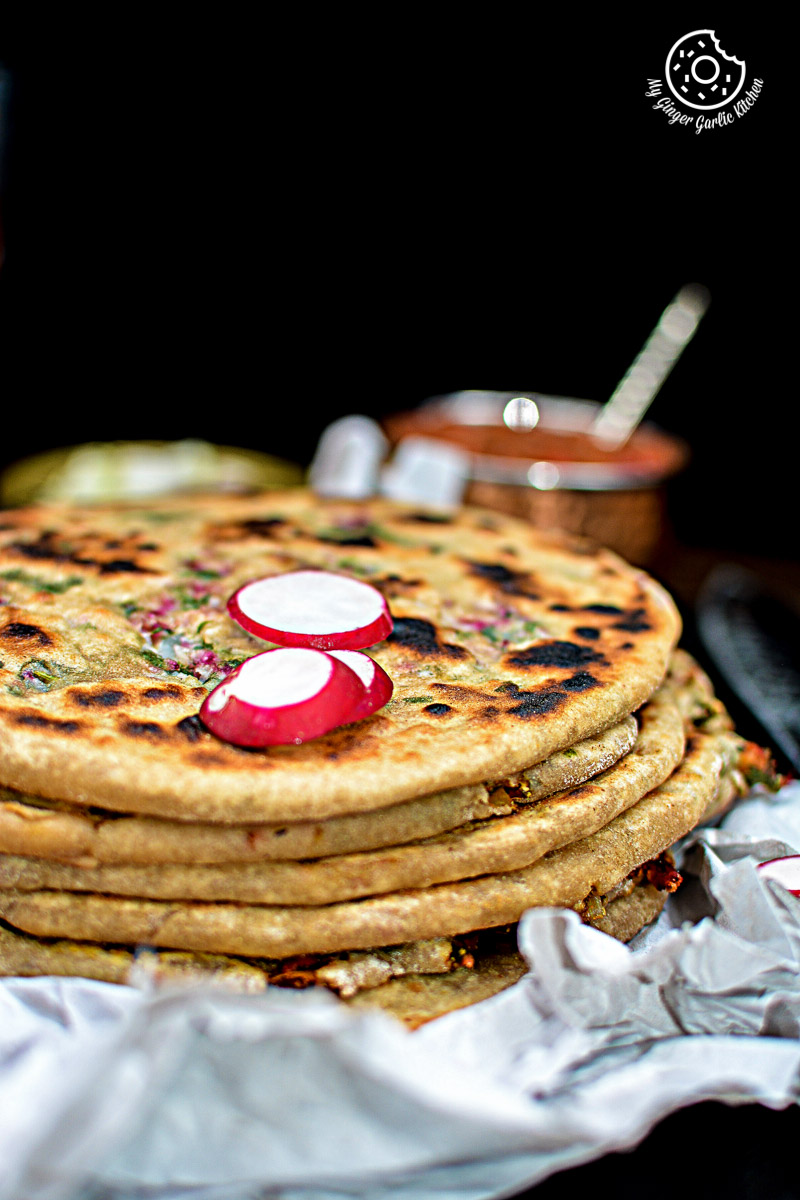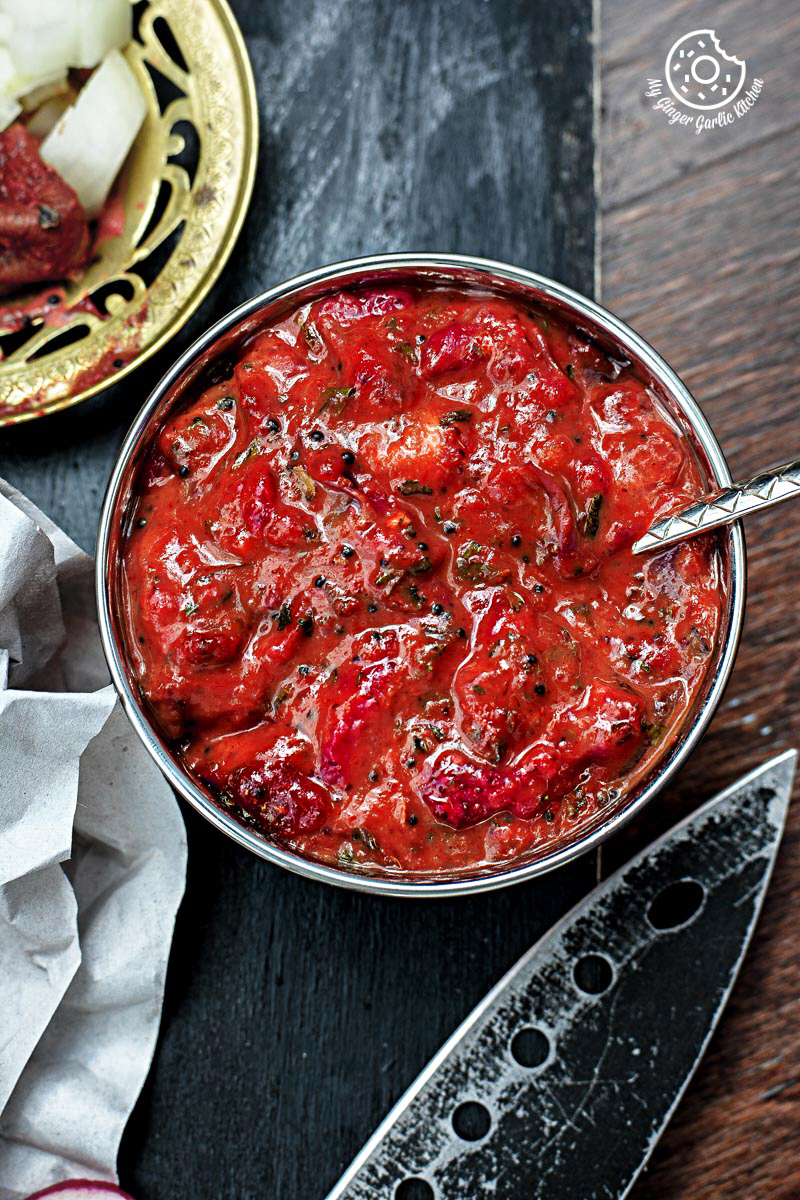 Mooli Paratha With Strawberry Grapes Chutney (Video)

[Recipe]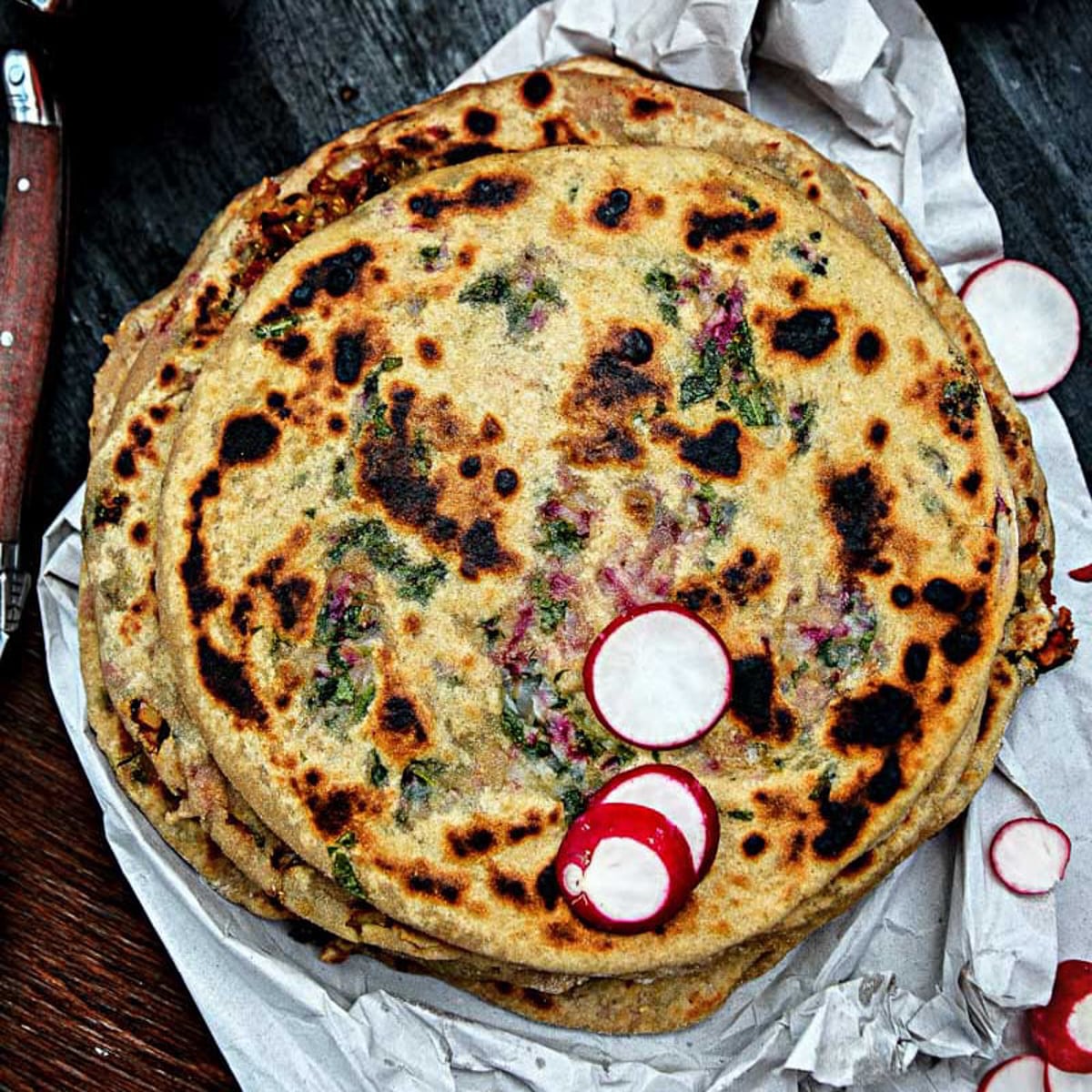 Mooli parathas are Indian flatbreads stuffed with radish. They make a quick breakfast meal. Taste awesome with this tropical Strawberry Grapes Chutney.
---
★★★★✰
(Rating:
4.1
from
51
reviews)
---
| Prep time 🕐 | Cook time 🕐 | Total time 🕐 |
| --- | --- | --- |
| | | 35 mins |
| Category ☶ | Cuisine ♨ | Serves ☺ |
| Main | Indian | 8 |
| Nutrition Info ⊛ | | Serving size ⊚ |
| 203 calories | | 1 serving |
---
INGREDIENTS
For Strawberry Grapes chutney //
Oil - 1 tablespoon
Mustard seeds - 1 tsp
Pinch of asafetida
Sliced and hulled strawberries - 1 cup
Sliced purple grapes - ¾ cup
Honey - 2-3 tablespoons
Salt to taste
Turmeric powder - ½ teaspoon
Chili powder - 1 teaspoon
Coriander powder - 2 teaspoons
Peanut butter - 1 tablespoon
Kasuri methi - 1 tablespoon
For Mooli Stuffing //
Radish (Mooli), Shredded, red or white - 1 cup
Chopped radish Leaves - ¾ cup
Onion, chopped - 1
Coriander powder - 2 teaspoons
Red chili powder - 1½ teaspoons
Chili, finely chopped - 1
Salt to taste
For Dough //
Whole wheat flour - 2 cup
A pinch of salt
Squeezed mooli water +extra water, if needed
For Paratha //
Some extra wheat flour for rolling
Butter or oil for roasting
---
INSTRUCTIONS:
How to Make Strawberry Grapes Chutney //
Heat oil in a pan. Add mustard seeds and asafetida. When they start to crackle, add ginger-garlic paste and saute for 1 minute.




Add sliced strawberries, sliced black grapes and saute for 1 minute.




Add salt and turmeric powder and cook for 1 minute.




Add honey and cook for one more minute.




Now add peanut butter, red chili powder, coriander powder and mix well. Cook for 2 minutes. Add Kasuri methi and cook for another minute.




Remove from heat and let it cool completely.



Making Paratha Stuffing //
Add some salt to shredded mooli and mix it well. Set aside for 20 minutes.




Squeeze grated mooli to remove extra water. Keep it refrigerate for 15 minutes.




Squeeze mooli again.




Combine shredded mooli, chopped mooli leaves, chopped onions, chopped chili, red chili powder, salt, coriander powder and dried mango powder in a bowl. Set aside.



Making Paratha Dough //
Add wheat flour, salt and squeezed mooli water to make a soft dough. Add some more water if needed and knead well to make a smooth dough. Divide the dough into 8 equal sized balls.




Divide the prepared stuffing into 8 equal sizes and keep aside.



Making Stuffed Mooli Paratha //
Spread some flour and roll out one dough ball into a circle of 5 inches diameter.




Place 2 tablespoons mooli mixture in the center of the dough circle.




Bring together all the sides in the center and seal tightly.




Press lightly to seal the edges well.




Roll out again into a circle of 5-6 inches diameter with the help of some flour.




Heat a pan. Roast rolled circles from both sides. Apply a little oil on the both sides, and roast until golden brown on both sides.




Repeat with the remaining dough and filling to make more parathas.




Serve hot with strawberry grapes chutney and your favorite raita.



---
WATCH VIDEO:
---
NOTES:
No notes for this recipe.
---
If this recipe helped you, then please spread the word by sharing and
subscribing
to us on YouTube to get more such Recipe Videos.
---
Your feedback is so helpful for me and other MyGingerGarlicKitchen readers. So, for Facebook and Instagram, please mention
@MyGingerGarlicKitchen
or
#mygingergarlickitchen
. I would love to see your photos. :)
---
Author:
Anupama
Recipe Source Link:
https://www.mygingergarlickitchen.com/mooli-paratha-strawberry-grapes-chutney-video/
Date Published:
2019-11-07
• • • • • • • • • •