Mooli Paratha With Strawberry Grapes Chutney (Video)
Mooli parathas are Indian flatbreads stuffed with radish. They make a quick breakfast meal. Taste awesome with this tropical Strawberry Grapes Chutney.
---
« Go back
Print this recipe »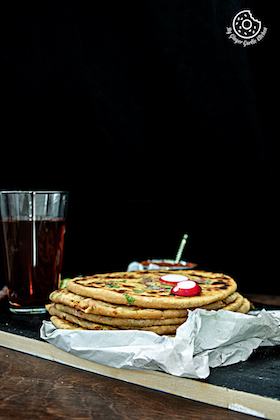 ---
Prep Time = 10 minutes
Cook Time = 25 minutes
Total Time = 35 minutes
Category = Main
Cuisine = Indian
Serves = 8
Nutrition Info = 203 calories
Serving Size = 1 serving
---
RECIPE INGREDIENTS
» For Strawberry Grapes chutney //
Oil - 1 tablespoon
Mustard seeds - 1 tsp
Pinch of asafetida
Sliced and hulled strawberries - 1 cup
Sliced purple grapes - ¾ cup
Honey - 2-3 tablespoons
Salt to taste
Turmeric powder - ½ teaspoon
Chili powder - 1 teaspoon
Coriander powder - 2 teaspoons
Peanut butter - 1 tablespoon
Kasuri methi - 1 tablespoon
» For Mooli Stuffing //
Radish (Mooli), Shredded, red or white - 1 cup
Chopped radish Leaves - ¾ cup
Onion, chopped - 1
Coriander powder - 2 teaspoons
Red chili powder - 1½ teaspoons
Chili, finely chopped - 1
Salt to taste
» For Dough //
Whole wheat flour - 2 cup
A pinch of salt
Squeezed mooli water +extra water, if needed
» For Paratha //
Some extra wheat flour for rolling
Butter or oil for roasting
---
RECIPE INSTRUCTIONS
» How to Make Strawberry Grapes Chutney //
Heat oil in a pan. Add mustard seeds and asafetida.
When they start to crackle, add ginger-garlic paste and saute for 1 minute.
Add sliced strawberries, sliced black grapes and saute for 1 minute.
Add salt and turmeric powder and cook for 1 minute.
Add honey and cook for one more minute.
Now add peanut butter, red chili powder, coriander powder and mix well.
Cook for 2 minutes. Add Kasuri methi and cook for another minute.
Remove from heat and let it cool completely.
» Making Paratha Stuffing //
Squeeze grated mooli to remove extra water. Keep it refrigerate for 15 minutes.
Squeeze mooli again and add it to a mixing bowl.
Also add, chopped mooli leaves, chopped onions, chopped chili, red chili powder, salt, coriander powder and dried mango powder to mixing a bowl.
Mix well and set it aside.
» Making Paratha Dough //
Add wheat flour, salt and squeezed mooli water to make a soft dough. Add some more water if needed and knead well to make a smooth dough.
Divide the dough into 8 equal sized balls.
» Making Stuffed Mooli Paratha //
Spread some flour and roll out one dough ball into a circle of 5 inches diameter.
Place 2 tablespoons mooli mixture in the center of the dough circle.
Bring together all the sides in the center and seal tightly. Press lightly to seal the edges well.
Roll out again into a circle of 5-6 inches diameter with the help of some flour.
Heat a pan. Roast rolled circles from both sides.
Apply a little oil on the both sides, and roast until golden brown on both sides. Repeat with the remaining dough and filling to make more parathas.
Serve hot with strawberry grapes chutney and your favorite raita.
---
RECIPE NOTES
No notes for this recipe.
---