Pav Bhaji is a popular Indian street food where Pav aka dinner rolls/buns are served with steaming hot spicy and fragrant mashed vegetable gravy. Pav Bhaji Recipe is one of such dishes which is adored by almost every age group. A good Pav Bhaji is a delight for Indian food lovers.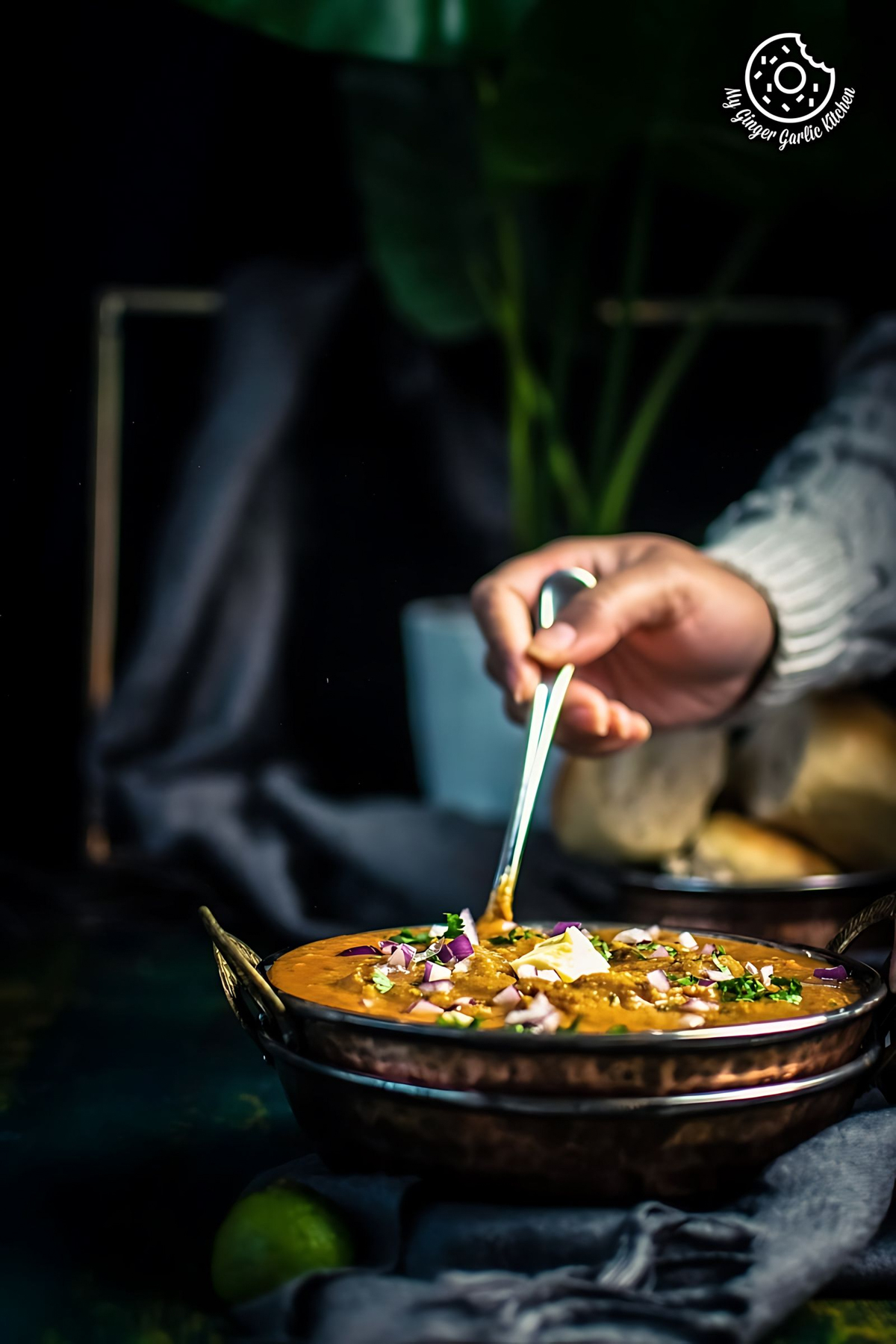 Pav Bhaji is one of my favorite street foods ranking amongst Chole Bhature and Vada Pav. This Mumbai street style pav bhaji recipe is very simple to make, and it tastes exactly like the street style pav bhaji you get in the city of Mumbai.
About Pav Bhaji recipe: 
Pav Bhaji originated as a quick lunch from Mumbai, Maharashtra, however it has been vastly popular throughout India. You can get this Maharashtrian native dish 'Pav Bhaji' as street food from the street vendors in every corner of India. Pav Bhaji is also widely served in restaurants.
In this dish, 'Pav' is a Marathi word for buns or dinner rolls which are toasted with bhaji masala and butter. Bhaji is a tomato based spicy and smooth mixture of mashed vegetable mix cooked in a thick gravy.
Variations of pav bhaji:
Pav bhaji has many variations depending upon the ingredients used. Some famous pav bhaji varieties you can find in India are:
Cheese pav bhaji: Bhaji is topped with a lot of cheese in this dish.
Kathyawadi Pav Bhaji: This Gujarati version of Pav bhaji has a twist of local Gujarati flavors. This type of Pav Bhaji is generally served with buttermilk.
Fried Pav Bhaji: In this Pav Bhaji, pav is tossed with the spicy bhaji.
Paneer Pav Bhaji: Indian cottage cheese (paneer) is added to the bhaji.
Punjabi Pav Bhaji: Punjab's version of Pav Bhaji has a lot more spices and more butter. This dish is generally served along with Lassi.
Khada Pav Bhaji: The vegetables used in this recipe is are not mashed. Here they are added in chunks.
Jain Pav Bhaji: This is a strict version where NO onion garlic is involved in making of Pav Bhaji. In some places, potatoes are replaced with plantains (unripe bananas).
Kolhapuri Pav Bhaji: This Pav Bhaji recipe uses the vegetables similar to the Mumbai Pav Bhaji. And it uses a special (masala powder) spice mix common in Kolhapur. This masala is known as 'Kolhapuri pav bhaji masala' which is similar to garam masala.
White Pav Bhaji: This White Pav Bhaji is made without garam masala and no chili powder.
How to make Pav Bhaji in Pressure Cooker?
Add 2 tbsp butter, salt, turmeric powder, pepper powder, kasuri methi, some pav bhaji masala into the pressure cooker. Sauté for 1 minute, and add finely chopped veggies (potatoes, capsicum, carrots, cauliflower, beetroot) along with 5 tbsp of water.
Cover with lid and pressure cook on high for 3 whistles. Turn off the heat and let the pressure come down before opening the lid. Mash the vegetables. The tadka recipe would be the same as given in the recipe box on this page.
Vegetables for Bhaji: 
The vegetables that are generally added to bhaji are potatoes, cauliflower, carrots, peas, capsicum. You can also add some other vegetables like bottle gourd or cabbage. I like to add some beetroot, because it gives a nice color to bhaji.
Blending Veggies For Bhaji:
Smooth consistency is required in Bhaji. Street vendors use a potato masher for making a smooth blend of bhaji. You can either use a potato masher or an immersion blender for blending vegetables.
How to Make Pav Bhaji:
Pav Bhaji is a combination of 2 dishes. Mumbai Ladi Pav and the Bhaji. Following are the details:
Pav Bhaji Masala:
'Ladi Pav' is classic, feather-soft homemade eggless slider buns or dinner rolls, which are very renowned in Mumbai (India).  The Pav is basically eggless dinner rolls. Making Ladi Pav at home is very simple and easy. You can check out the Ladi Pav Recipe I have shared earlier.
If you don't want to make Pav at home, then you can also buy them from a local Indian/Asian grocery store. You can also use burger buns.
The Bhaji
Bhaji is a spicy blend of mashed veggies where the boiled veggies are cooked with a special blend of spices known as pav bhaji masala. The boiled and mashed veggies cooked with spicy masala gives it a pungent flavor. The blending of veggies makes it smooth, yet chunky in texture.
Bhaji is traditionally made on a flat griddle aka tava/tawa, but this can also be made in a pan, stovetop pressure cooker, or in an Instant Pot.
Pav Bhaji Masala:
Pav Bhaji Masala is the key ingredient of the Bhaji recipe. This masala gives 'Pav Bhaji' an irresistible, mouthwatering aroma and taste. You can easily get 'Pav Bhaji Masala' at any nearby Asian grocery store. However, if you can't find readymade Pav Bhaji Masala, then you can easily make it at home by pounding some dry and whole spices.
You can find the complete recipe of Pav Bhaji Masala in the recipe box on this page.
How do you make Bhaji:
To make bhaji, first, you sauté vegetables (capsicum, carrots, green peas) in butter+oil. Then you add salt, pepper powder, pav bhaji masala, and kasuri methi.  Then you add boiled cauliflower, tomatoes, and beetroot.
Then ginger-garlic paste is added to the veggies. After sometime boiled and mashed potatoes are added to the bhaji base. Bhaji is then mashed with a potato masher.
Lastly, you make tadka. You sauté onions and coriander leaves in butter. Then you add Kashmiri red chili powder, pav bhaji masala, and salt. Then add some water to the tadka and let it cook for sometime.
Finally, the tadka is added to the bhaji base and bhaji is simmered for a few minutes.
How to serve Pav Bhaji?
You can enjoy Pav Bhaji for snack, lunch, brunch or sometimes even dinner. Take 1-2 ladles of bhaji in a plate. Top Bhaji with a dollop of butter, some chopped onions, chopped coriander and a dash of lemon juice. Serve steaming hot spicy Bhaji with hot toasted Pav on the side. This pairing of buttery buns and spicy bhaji is a treat in itself.
Pav Bhaji is a great meal option for kids:
Kids LOVE to eat Pav Bhaji. Normally, kids don't like to eat many veggies. Pav Bhaji is a great way to make little fussy eaters eat the veggies they don't like. They will cherish Pav Bhaji and won't even realize that the bhaji has their not-so-favorite veggies. 😉
Perfect for Party and get-togethers:
Pav Bhaji is a perfect dish to serve at parties or get-togethers when you want to entertain your guests. You can easily make Pav and bhaji base in advance.
When you want to serve, simply make a tadka, then add bhaji base to the tadka. Toast sliced pav with butter, coriander leaves, and pav bhaji masala. Done!
Tips to make the best Pav Bhaji Recipe ever:
If you are using raw vegetables, then the bhaji cooked on tawa/pan takes a little time. Pressure cooking or boiling vegetables is recommended to makes things faster. This way cooking pav bhaji is much easier and quicker, and it does not compromise on the taste. So I would recommend using boiled potatoes, boiled green peas, and boiled cauliflower if you are making bhaji on a tawa or a pan.
Adding a generous amount of butter is required for making Pav Bhaji. If you want that street style taste in your pav bhaji, then don't cut down on the butter.
Use fresh vegetables for making bhaji, because fresh ingredients play a good role in a good taste of bhaji.
Freshly made ginger-garlic paste and freshly chopped juicy tomatoes are required in making bhaji. Canned ones won't give the bhaji that fresh taste and fragrant flavor.
Toasting the pav with a sufficient amount of butter and pav bhaji masala definitely enhances the flavor. So this is a must step.
The final touch of butter, lemon juice, chopped onions, and chopped cilantro on top of bhaji is a must while serving. Street food can't get any better.
You can easily replace butter with vegan butter to make Vegan version of Pav Bhaji.
Pav bhaji has a bright orangish red color. Some street vendors use artificial color to the bhaji. I personally don't use any artificial food color to my bhaji. To give my bhaji a naturally rich color, I add some beetroot and Kashmiri red chili powder. You can also use a paste made from Kashmiri red chili. Just soak chilies 30 minutes in hot water and blend to make a smooth paste.
Pav Bhaji Recipe

[Recipe]
Pav Bhaji is a popular Indian street food where Pav aka dinner rolls/buns are served with steaming hot spicy and fragrant mashed vegetable gravy.
---
★★★★✰
(Rating:
4.3
from
48
reviews)
---
| Prep time 🕐 | Cook time 🕐 | Total time 🕐 |
| --- | --- | --- |
| | | 55 mins |
| Category ☶ | Cuisine ♨ | Serves ☺ |
| Snack | Indian | 6 |
| Nutrition Info ⊛ | | Serving size ⊚ |
| 230 calories | | 1 serving |
---
INGREDIENTS
Homemade Pav Bhaji Masala Powder Recipe:
1 bay leaf (tej patta)
7-8 whole dry kashmiri red chillies, broken into pieces
1/3 cup coriander seeds (sabut dhania)
6 cloves (laung)
3 tablespoons cumin seeds (jeera)
1 1/4 tablespoons fennel seeds (saunf)
1 stick cinnamon (dalchini)
4 black cardamom (badi elaichi)
1 tablespoon turmeric powder (haldi)
2 tablespoon dried mango powder (amchur)
1 tablespoon black salt (kala namak)
1 tablespoon freshly ground black pepper (kalimirch)
1 tablespoon dry ginger powder (saunth)
For Bhaji Base:
1 tablespoon oil
1 tablespoon butter
1 tsp cumin seeds
1 large capsicum (green bell pepper/shimla mirch), chopped
2 medium carrots (gajar), peeled and chopped
1/4 green peas (hare matar)
1 tsp black pepper powder
2 tablespoons pav bhaji masala
1 tablespoon kasuri methi (dried fenugreek leaves)
Salt to taste
2 cups tomatoes (tamatar), chopped
1/4 cup boiled cauliflower (gobi)
2 tablespoons grated beetroot (chukundar)
2 tablespoons ginger-garlic paste (adrak lahsun ka paste)
2.5 cups boiled, peeled and mashed potatoes (aloo)
1 1/4 cups water
For Bhaji Tadka (Tempering):
1 tablespoon oil
3 tablespoons butter
2 medium-sized onions, finely chopped
3 tablespoons + 2 tablespoons cilantro (coriander) leaves (hara dhania)
2 tablespoons kashmiri red chili powder (kashmiri lal mirch)
2.5 tablespoons pav bhaji masala
Salt to taste
3/4 cup water
For Serving:
12-14 ladi pav
Finely chopped onions
Cilantro (coriander) leaves
Lemon wedges
Butter
---
INSTRUCTIONS:
How To Make Pav Bhaji Masala Powder:
Dry roast the bay leaf, kashmiri dry red chillies, coriander seeds, cloves, cumin seeds, fennel seeds, cinnamon and cardamom in a broad non-stick pan for about 5 minutes on a medium-low heat.




Transfer roasted spices to a plate and let them cool completely.




Once the spices are cooled grind them into a fine powder using a spice grinder along with turmeric powder, dry ginger powder, amchur powder and black salt. You can pass it through a sieve to get a very fine powder.




Store pav bhaji masala in an airtight container at room temperature. Use it as required.



How To Make Bhaji:
Heat 1 tablespoon of oil and 2 tablespoons of butter in a broad pan over medium heat.




Once hot, add chopped capsicum and cumin seeds.




Sauté for 3 minutes.




Add chopped carrots, 1/4 cup green peas, 1 teaspoon of black pepper powder, 2 tablespoons of pav bhaji masala, 1 tablespoon of kasuri methi and mix well.




Sauté for 3 minutes.




Add salt and mix well.




Now add boiled cauliflower, chopped tomatoes, and grated beetroot.




Mix everything well and cook for 3 minutes.




Add 2 tablespoons of ginger garlic paste.




Mix well and cook for 3 minutes.




Add boiled potatoes and mix everything well to combine.




Using a potato masher, mash the veggies until they are entirely mixed.




Add 1 1/4 cups water and mash again using a potato masher. (You can also use an immersion blender).




Let the bhaji cook for about 10 minutes over medium-low heat.




Bhaji base is ready. Keep it aside.



Making (Tempering) Tadka for Bhaji:
Heat 1 tablespoon of oil and 3 tablespoons of butter in a broad pan over medium heat.




Add chopped onions, and mix well to combine.




Add chopped coriander leaves.




Mix everything well and sauté for 3-4 minutes.




Add Kashmiri red chili powder and mix well.




After 1 minute add pav bhaji masala and some salt, if needed.




Let the spices cook in oil for about 1 minute.




Add little water and let the tadka come to boil. Add some more water and cook for 3-4 minutes.




Add this tadka to bhaji base and mix everything well.




Let the bhaji cook for 3-4 minutes.




Add coriander leaves and mix well.




Cook for 3-4 minutes. Bhaji is ready. Turn off the heat and keep it aside.



Toasting Pav:
Add butter, pav bhaji masala, coriander leaves to a flat griddle. Melt the butter over medium-low heat.




Slice the pav and place it on the pan. Toast the pav from the sides.



Serving:
Transfer prepared bhaji on a serving plate.




Top bhaji with a dollop of butter, some chopped onions, chopped coriander, and a dash of lemon juice




Serve hot with butter toasted pav.



---
WATCH RECIPE VIDEO: Click the play button and video will load ...
---
NOTES:
Use vegan butter for the vegan version.

I have used homemade pav bhaji masala, but you can use any other brand's pav bhaji masala.

You can add any other vegetables such as cabbage, broccoli, french beans, or aubergine.

I have used homemade ladi pav, but you can also use any dinner rolls or buns.
---
If this recipe helped you, then please spread the word by sharing and
subscribing
to us on YouTube to get more such Recipe Videos.
---
Your feedback is so helpful for me and other MyGingerGarlicKitchen readers. So, for Facebook and Instagram, please mention
@MyGingerGarlicKitchen
or
#mygingergarlickitchen
. I would love to see your photos. :)
---
Author:
Anupama
Recipe Source Link:
https://www.mygingergarlickitchen.com/pav-bhaji-recipe/
Date Published:
2019-10-11
• • • • • • • • • •