Making delicate, cushioned and feather-like 'ladi pav' aka dinner rolls at home is not rocket science.
To experience the glee of delightful and freshly baked aroma coming from these soft buttery rolls, you'll only need little hands-on preparation, a little time and just a few ingredients.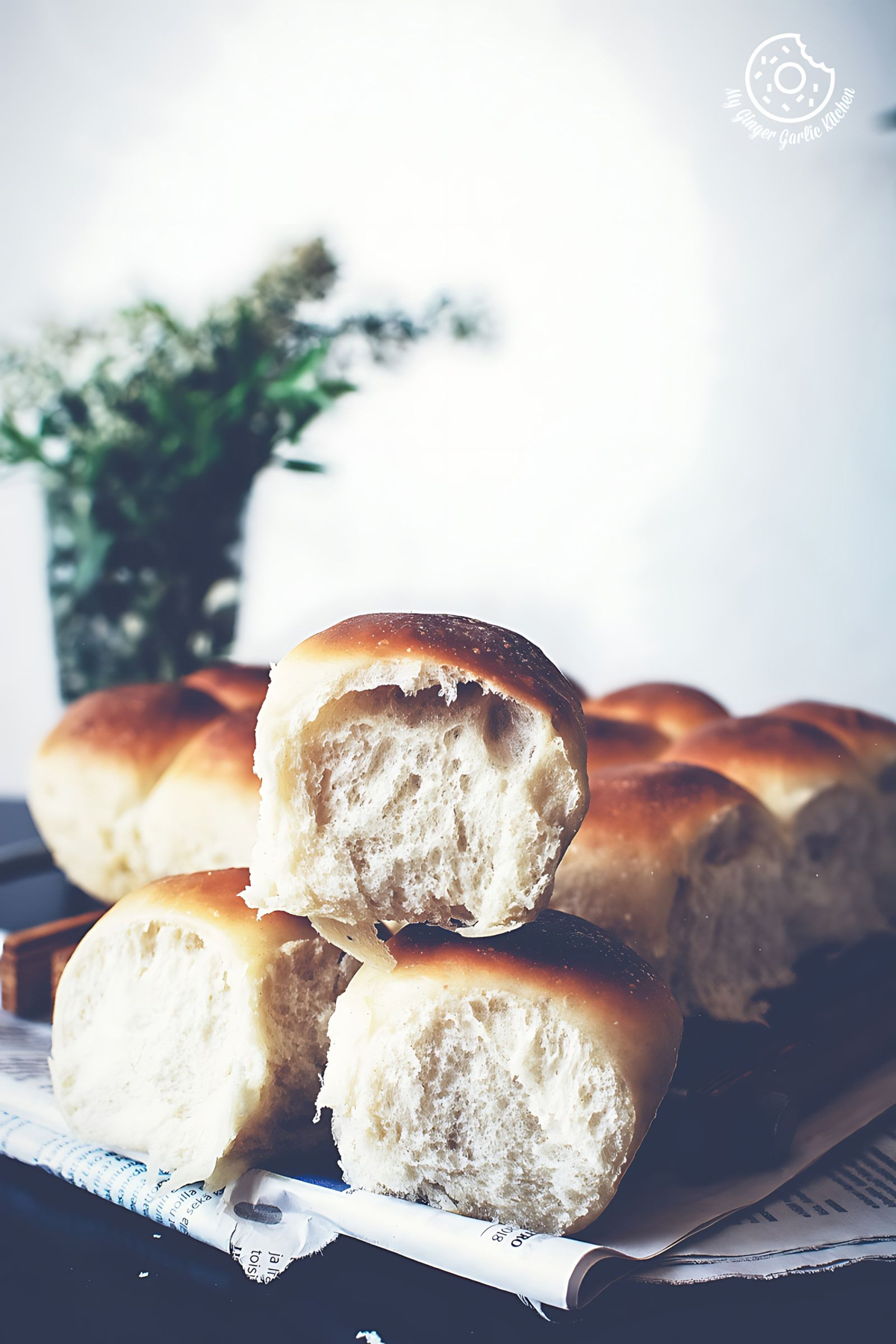 As intimidating as baking this 'Ladi Pav' may seem, it really isn't.  Once you overcome that commencing fear, you just need some practice. And we all know, practice makes perfect!
Learn to make Eggless Ladi Pav | Soft and Fluffy Dinner Rolls Recipe with simple video instructions.
Do you have some wistful memories of devouring your favorite pieces of bread at home? For me, this ladi pav (aka slider buns) always make me nostalgic, giving me my fair share of joy.
Like most of my Indian friends, I raised up eating the wonderful dishes such as, 'pav bhaji, vada pav, and bhurji pav'. This humble pav was the star of those dishes.
If I take myself back in time, I would have never ever thought that I would be baking this 'ladi pav' at home with so much ease and poise. It was considered to be a far-flung thing by me back then.
Whenever there were any dishes including Pav in the menu at home, we bought freshly baked pavs from the bakery. My mom never baked them at home. I still remember our fascinating visits to local bakeries for buying pav.
I always got these cookies as a bonus there. I didn't even know that baking these pavs at home was even possible. I always thought this was one of the things we only get at the bakeries.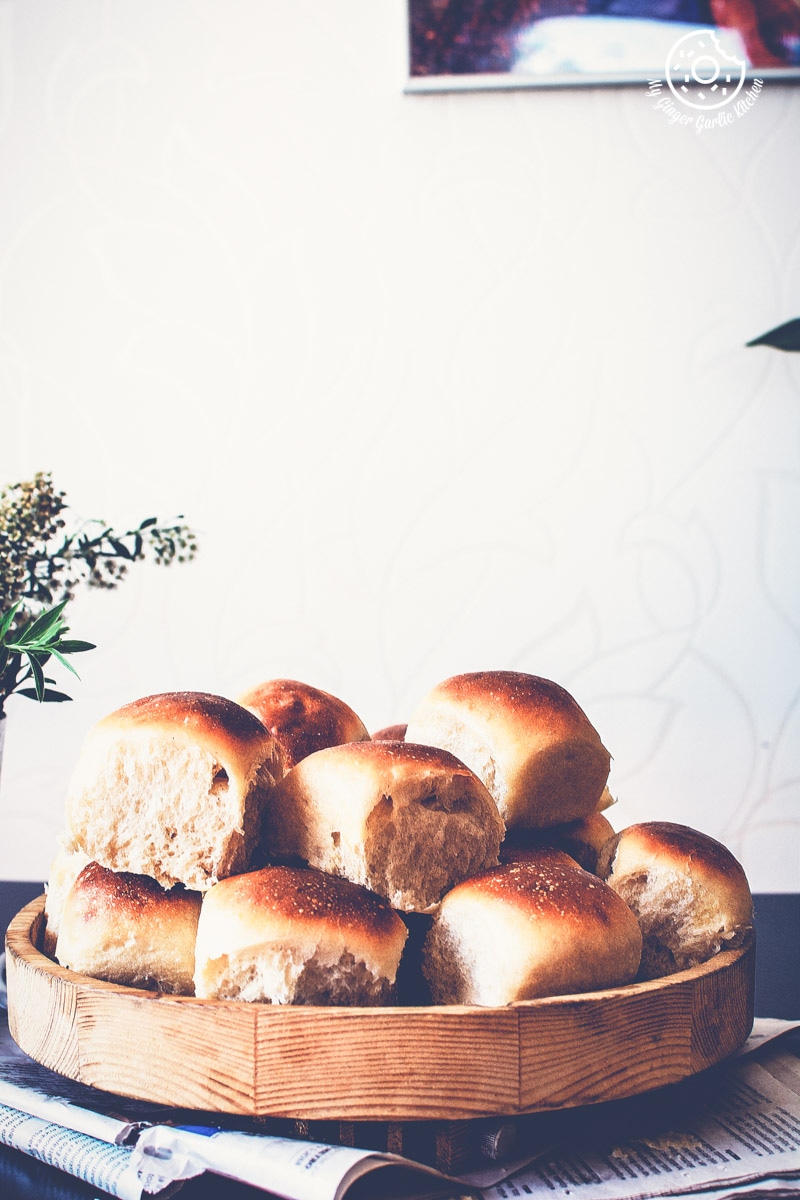 Isn't it that time changes miraculously over the years? Things which seemed impossible before, start to look like I-M-POSSIBLE afterward? Yes, such things occur and you end up surprising yourself by doing the things you never dreamt of doing in the first place.
I have never baked my own pav, pao during the time when I was in India. But when I moved to Scandinavia, then I got an urge of baking my own pav.  The reason was very simple.
The reason was that I couldn't find the 'pav' here. Initially, I replaced my pav with burger buns but that 'oomph factor' was always missing. So I started baking my own pavs, and I can boastfully say that my first experience of making pav was wonderful. They were as soft and fluffy as any dinner roll should be.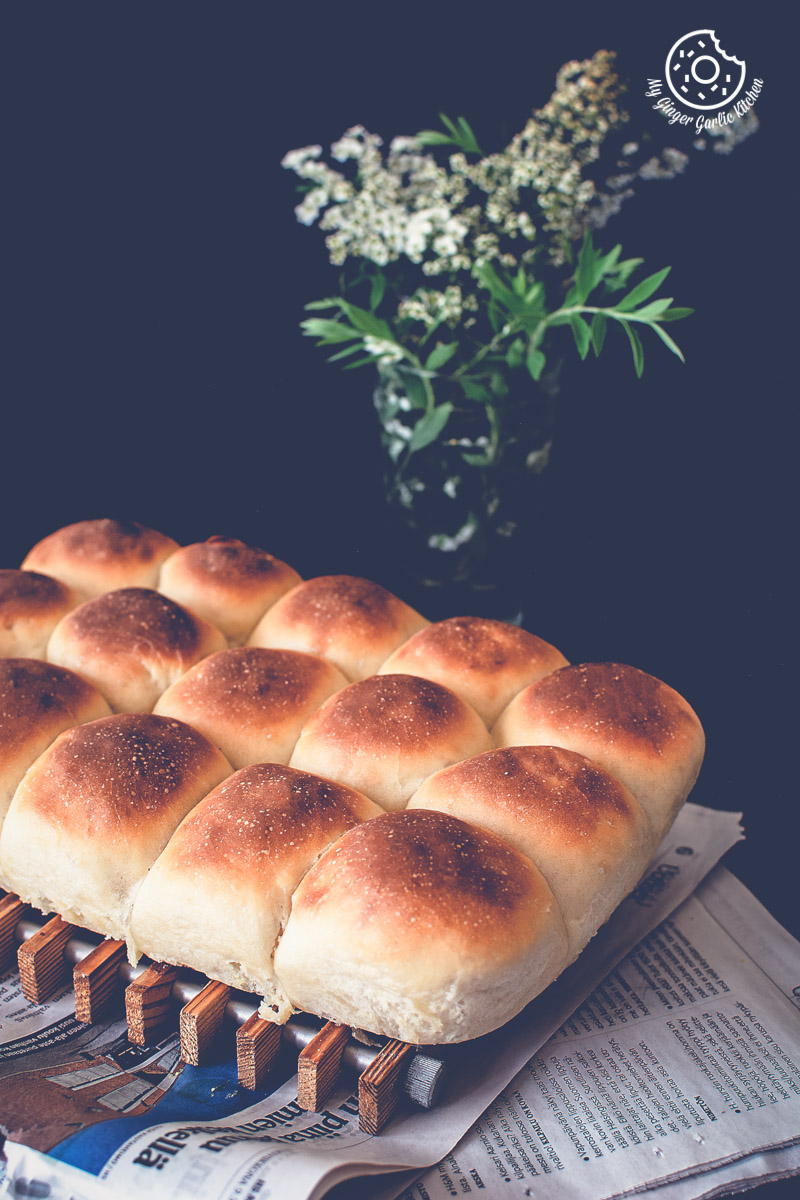 These days I do bake a lot of bread.
For some time now, baking has been one of my favorite things to do. But if you'd asked me the same question a decade ago, I would have considered myself a novice in this area, and still had a long way to go.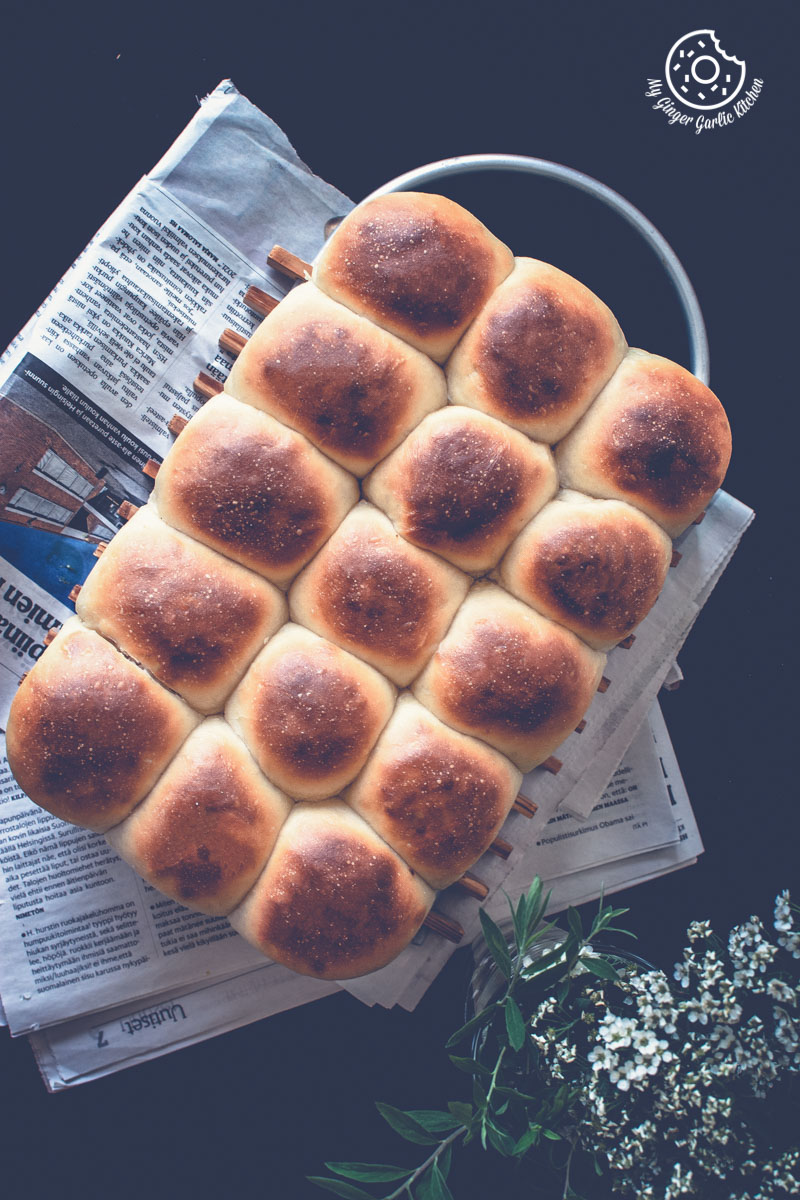 What is Ladi Pav?
'Ladi Pav' is classic, feather-soft homemade slider buns or dinner rolls, which are very renowned in Mumbai (India). 'Pav' is normally served with bhaji, bhurji or used as a sandwich base for vada pav.
Pav Bhaji is an enticing dish. Pav is usually gobbled up with Bhaji which is a spicy and fragrant minced vegetable curry.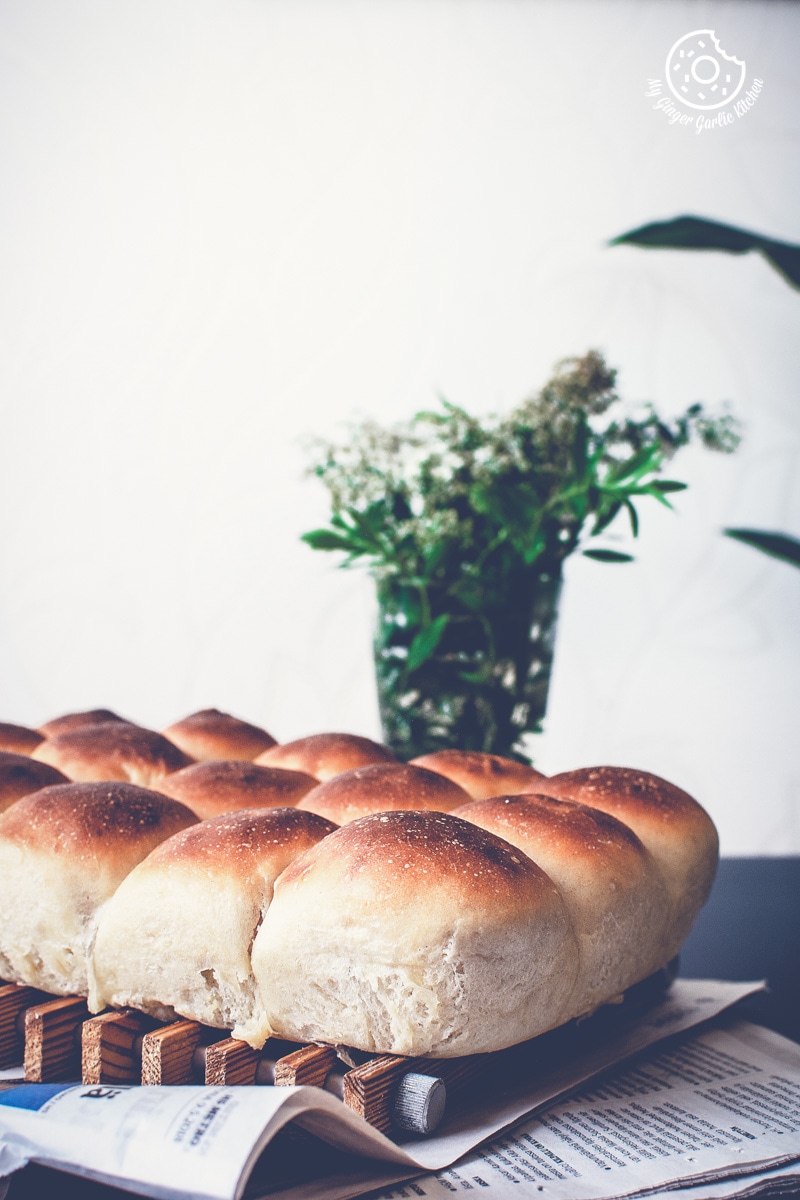 You might ask, why to bake breads at home when you can easily buy them at any store? It's because:
Baking is love.
I agree that baking takes time and a little effort. But trust me, once you start baking you would definitely love it. And I bet, you wouldn't want to buy store-bought bread ever again.
Baking has a therapeutic value.
The whole process of kneading the dough and watching it rise, transforming into perfected goodies gives the best cheerfulness and satisfaction. Baking is indeed remedial.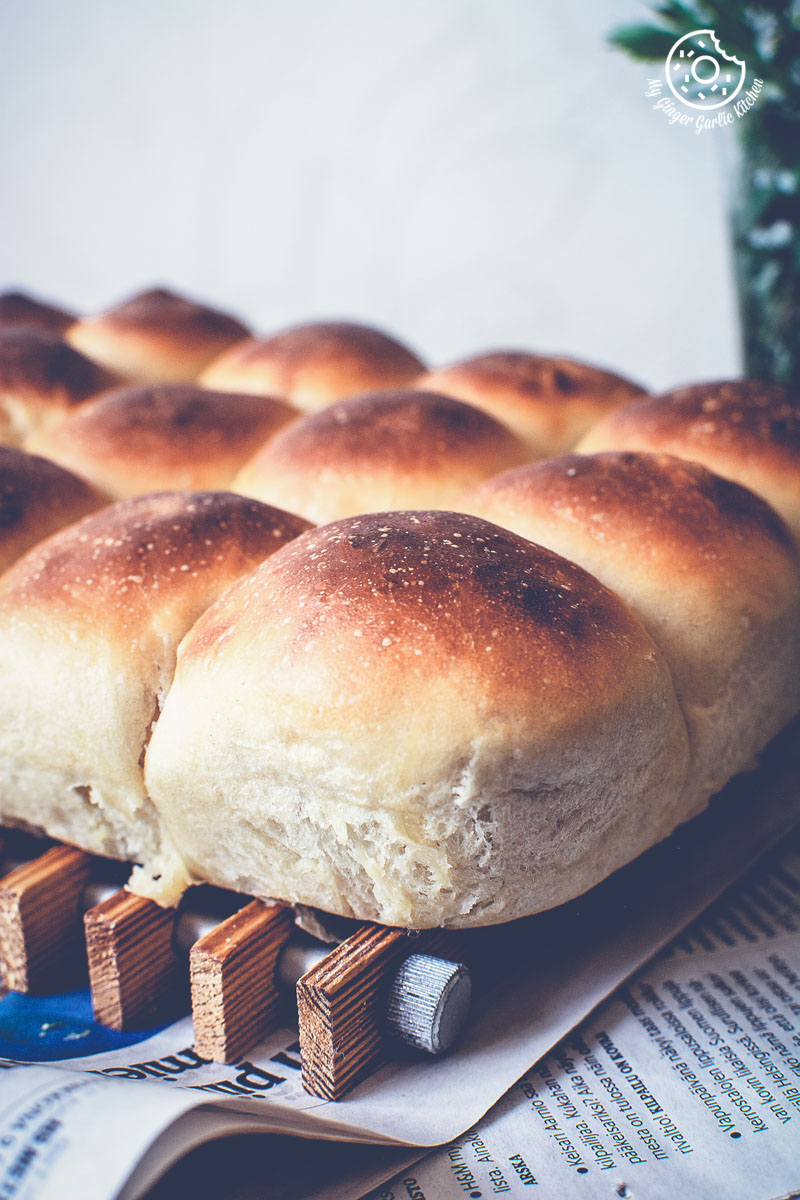 You can't say no to the fresh aroma.
When you bake at home, your home smells like a bakery. Just imagine the drifting of the aroma of freshly baked bread to every corner of your home via the kitchen. That feeling is purely divine.
What are the ingredients you'll need to make pav?
Making Ladi Pav is very easy and it only needs a few ingredients. Which are:
All Purpose Flour / Maida
Warm Milk
Salt
Butter
Instant Yeast
Sugar
Milk & Butter For Brushing Pav
Butter / Oil for greasing the pan
That is another reason why you should bake these dinner rolls at home is that baking them doesn't require tons of ingredients.
You just need 6 basic ingredients and the party is all set. These six ingredients are: flour, milk, salt, sugar, butter, and yeast. Another benefit of baking a bread at home is that when you bake your own bread you know entirely what goes into it. That way, you certainly are confident of the good quality.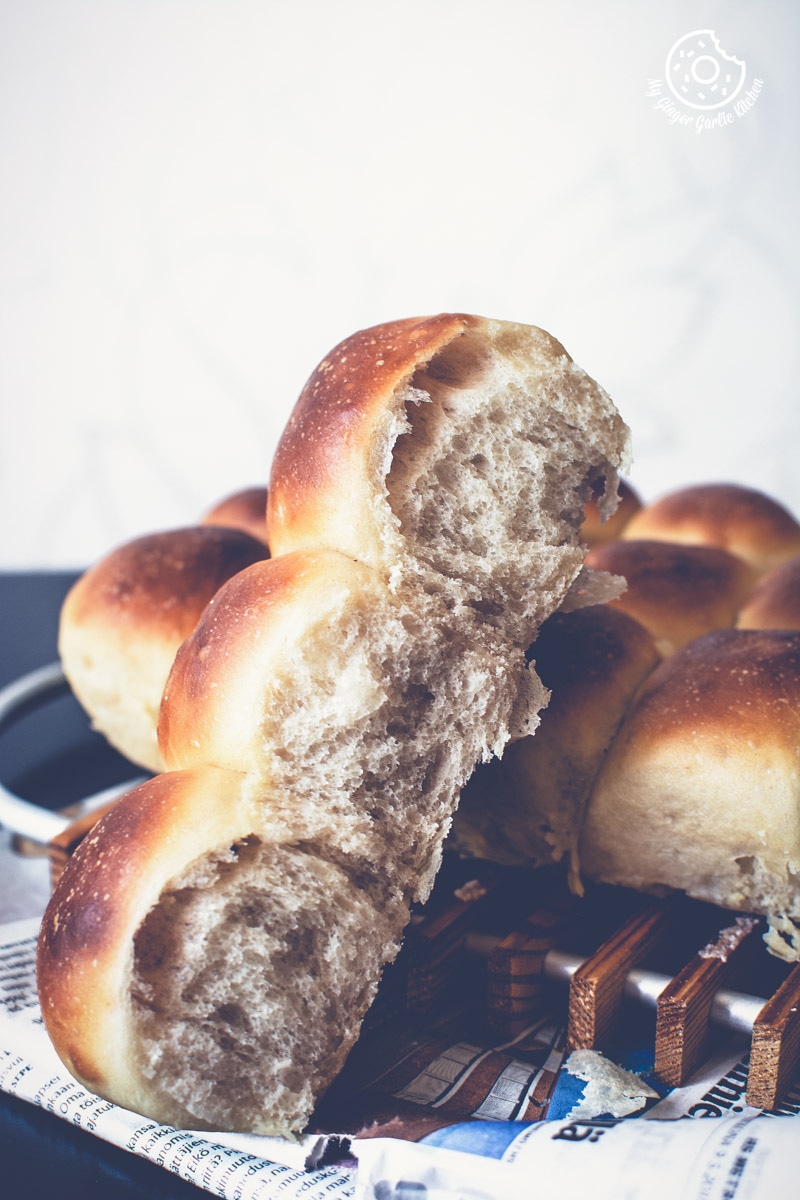 Homemade Pav is easy and fun:
In conclusion, the joy of biting into a piece of that homemade bread gives you the simplest joys of life. Eating freshly baked homemade bread would definitely become your thing.
How to make Ladi Pav?
The procedure of making pav* is similar to making any other slider buns or rolls.
Step 1: Activate instant yeast for 5-10 minutes. Simply mix all the ingredients until you have a smooth, soft, elastic dough. Let it rise.
Once it gets doubled in size, lightly knead the dough again and divide into 16-18 equal pieces.
Step 2: Roll each piece into a smooth dough ball and arrange them in a large greased baking pan. Let them rise again.
Step 3: Brush with milk. Bake in a preheated oven at 200°C for 15-20 minutes. Check after baking. When you knock on the tops, they should sound hollow.  
Step 4: That is the time when they are baked. Smear the top with generous amount of butter. This would prevent them from drying once they've cooled off. Cover and let it cool. DONE.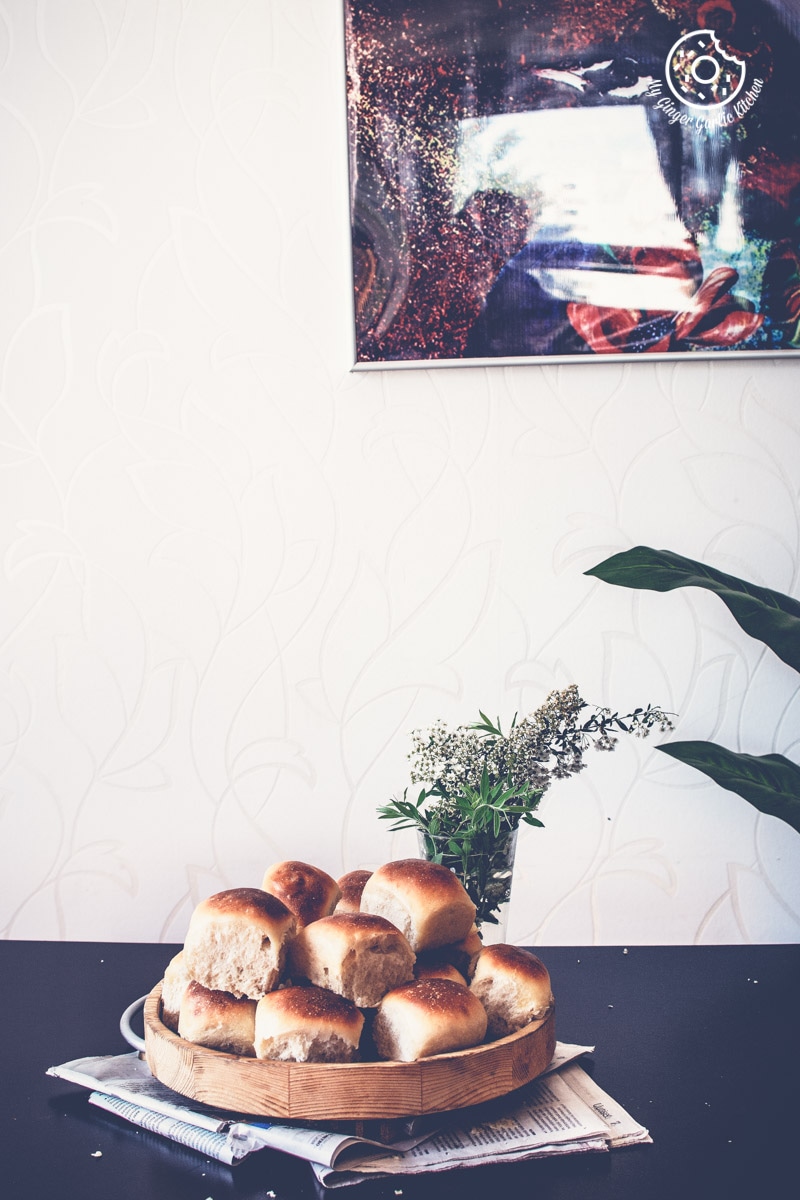 Some important points to consider:
Use instant yeast for fast action:
In this version, I have made 'Ladi Pav' with instant dried yeast. This way things go faster, and you don't need to wait for yeast to get activated. But if you want, you can use the same amount of active dry yeast instead.
Butter or oil – it's your choice:
I have used butter for this recipe, but if don't prefer butter then you can simply replace it with 2 tbsp of cooking oil or baking margarine.
It's a versatile side-dish:
Baking these airy, soft,  fluffy, and pillow-like mini slider buns at home is absolutely undemanding. They are so versatile when paired with a variety of stuffings.
You can simply enjoy these slider buns, filled with sandwich fillings, dipped in your favorite hot drink. Or just simply smear some butter, jam and have them with a cup of hot coffee or tea. They can also make a great base for chutney or omelet sandwich.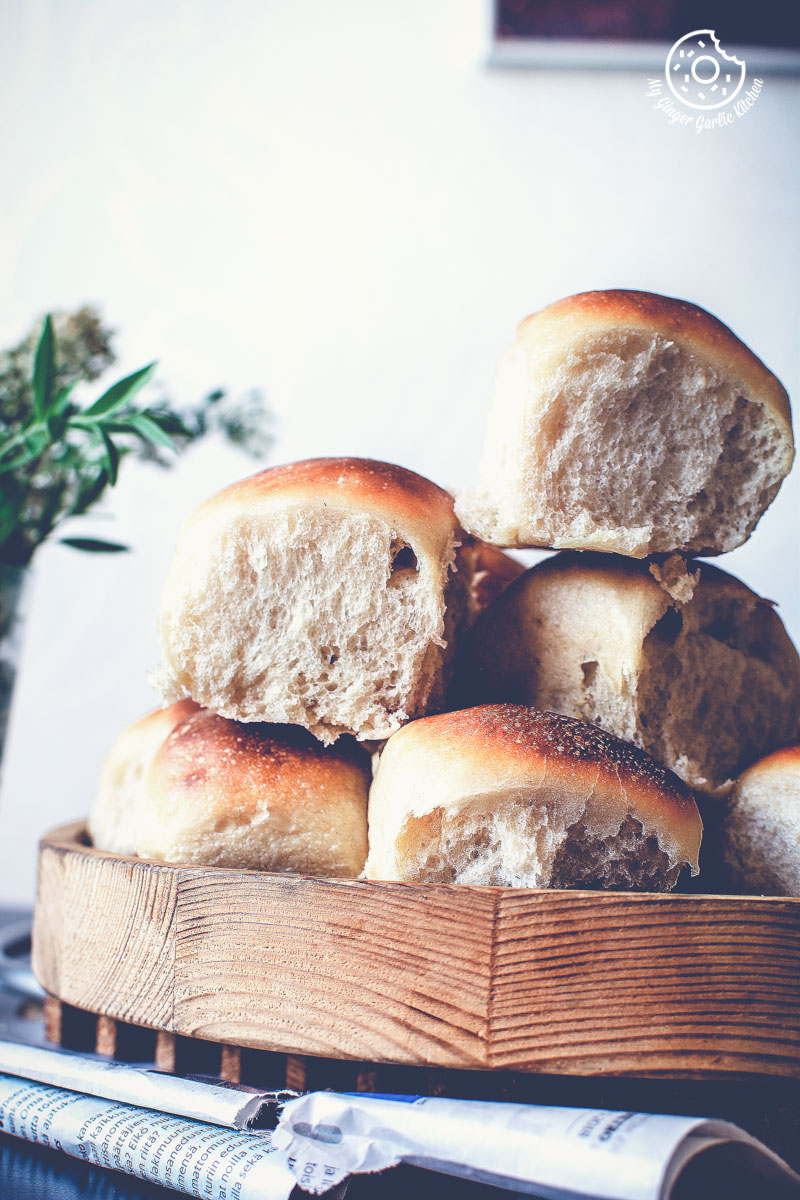 Ladi Pav - Soft and Fluffy Dinner Rolls

[Recipe]
Learn to make ladi pav or soft and fluffy dinner rolls with a video tutorial. Making delicate, cushioned and feather-like ladi pav at home is very easy.
---
★★★★✰
(Rating:
4.2
from
109
reviews)
---
| Prep time 🕐 | Cook time 🕐 | Total time 🕐 |
| --- | --- | --- |
| | | 2 hours 30 mins |
| Category ☶ | Cuisine ♨ | Serves ☺ |
| Side | Indian | 2 |
| Nutrition Info ⊛ | | Serving size ⊚ |
| 106 calories | | 18 rolls |
---
INGREDIENTS
For Eggless Ladi Pav:
2.5 cups all-purpose flour (maida)
250 ml warm milk (gunguna doodh)
1 teaspoon or 5 gms salt
1 tablespoon butter or 2 tablespoon oil
7 gms instant yeast
1 tablespoon sugar
2 teaspoons milk for brushing pav
2 teaspoons butter for brushing pav
Butter/oil for greasing the pan
---
INSTRUCTIONS:
Make Dough For Pav (Dinner Rolls)
Place warm milk in a small bowl; add sugar and yeast.




Stir well to combine.




Let it stand for about 10 minutes or until foamy.




Combine flour and salt in a large bowl, or put in on a kitchen top. Make a well in the center.




Add yeast mixture little by little and start kneading the dough until you have a soft, shaggy dough. It would take about 3-5 minutes. (Add little water if needed).




Add 1 tablespoon of butter and knead until smooth and elastic, about 10 minutes. (You can use the scraper to scrape the dough if it was glued to the surface).




Place dough in the mixing bowl.




Cover the bowl with plastic wrap or a kitchen towel.




Let it stand in a warm spot until the dough has doubled in size. It would take about 1-2 hours.




Divide the dough into 18 portions; shape into balls.




Butter a 13-by-9-inch baking pan. (Mine was an 11-by-8 inch pan, that's why I baked 15 in a large pan, and 3 in a small ).




Arrange dough balls in prepared pans.




Cover with a wet towel; let it stand in a warm spot until rolls have doubled in size, about 2 hours. You can also cover the pan loosely with plastic.



Bake Pav (Dinner Rolls)
Preheat oven to 200°C. Once rolls have doubled in size, brush milk onto rolls.




Bake for 15-20 minutes or golden brown.




Smear the top part with a generous amount of butter.




Cover the baking pan with a towel and let them cool completely.




Remove cooled pav from the pan.




Serve pav with bhaji or use it in a vada pav.

---
WATCH RECIPE VIDEO: Click the play button and video will load ...
---
NOTES:
No notes for this recipe.
---
If this recipe helped you, then please spread the word by sharing and
subscribing
to us on YouTube to get more such Recipe Videos.
---
Your feedback is so helpful for me and other MyGingerGarlicKitchen readers. So, for Facebook and Instagram, please mention
@MyGingerGarlicKitchen
or
#mygingergarlickitchen
. I would love to see your photos. :)
---
Author:
Anupama
Recipe Source Link:
https://www.mygingergarlickitchen.com/eggless-ladi-pav-dinner-rolls-recipe-video/
Date Published:
2020-09-21
• • • • • • • • • •