Ladi Pav - Soft and Fluffy Dinner Rolls
Learn to make ladi pav or soft and fluffy dinner rolls with a video tutorial. Making delicate, cushioned and feather-like ladi pav at home is very easy.
---
« Go back
Print this recipe »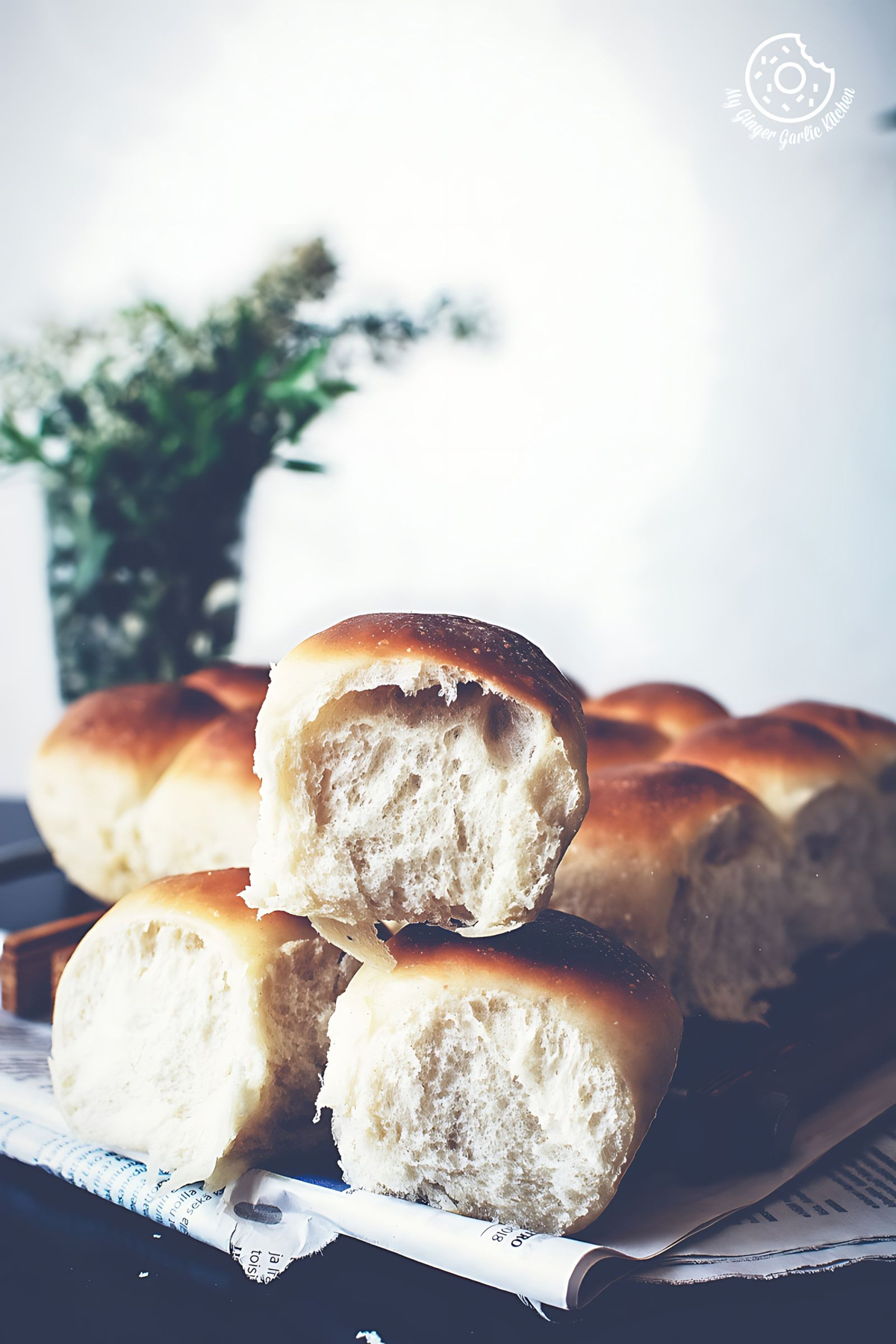 ---
Prep Time = 2 hour(s) 10 minutes
Cook Time = 20 minutes
Total Time = 2 hour(s) 30 minutes
Category = Side
Cuisine = Indian
Serves = 2
Nutrition Info = 106 calories
Serving Size = 18 rolls
---
RECIPE INGREDIENTS
» For Eggless Ladi Pav:
2.5 cups all-purpose flour (maida)
250 ml warm milk (gunguna doodh)
1 teaspoon or 5 gms salt
1 tablespoon butter or 2 tablespoon oil
7 gms instant yeast
1 tablespoon sugar
2 teaspoons milk for brushing pav
2 teaspoons butter for brushing pav
Butter/oil for greasing the pan
---
RECIPE INSTRUCTIONS
» Make Dough For Pav (Dinner Rolls)
Place warm milk in a small bowl; add sugar and yeast.
Stir well to combine.
Let it stand for about 10 minutes or until foamy.
Combine flour and salt in a large bowl, or put in on a kitchen top. Make a well in the center.
Add yeast mixture little by little and start kneading the dough until you have a soft, shaggy dough. It would take about 3-5 minutes. (Add little water if needed).
Add 1 tablespoon of butter and knead until smooth and elastic, about 10 minutes. (You can use the scraper to scrape the dough if it was glued to the surface).
Place dough in the mixing bowl.
Cover the bowl with plastic wrap or a kitchen towel.
Let it stand in a warm spot until the dough has doubled in size. It would take about 1-2 hours.
Divide the dough into 18 portions; shape into balls.
Butter a 13-by-9-inch baking pan. (Mine was an 11-by-8 inch pan, that?s why I baked 15 in a large pan, and 3 in a small ).
Arrange dough balls in prepared pans.
Cover with a wet towel; let it stand in a warm spot until rolls have doubled in size, about 2 hours. You can also cover the pan loosely with plastic.
» Bake Pav (Dinner Rolls)
Preheat oven to 200°C. Once rolls have doubled in size, brush milk onto rolls.
Bake for 15-20 minutes or golden brown.
Smear the top part with a generous amount of butter.
Cover the baking pan with a towel and let them cool completely.
Remove cooled pav from the pan.
Serve pav with bhaji or use it in a vada pav.
---
RECIPE NOTES
No notes for this recipe.
---