Seasoned Sweet Potato Vada Grilled Pita Burger
---
Seasoned Sweet Potato Vada Grilled Pita Burger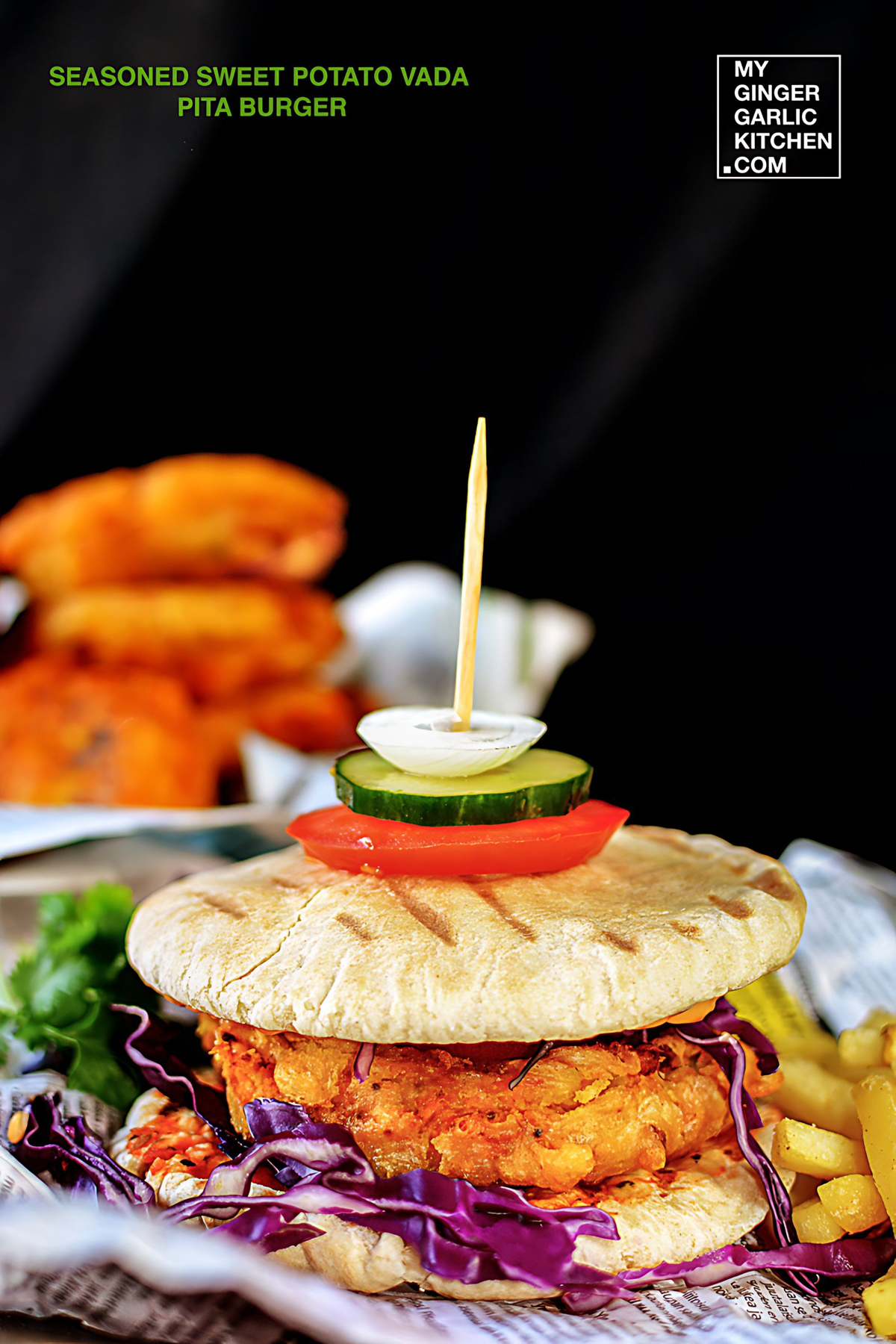 What is Seasoned Sweet Potato Vada Grilled Pita Burger?
Sweet Potato Vada Grilled Pita Burger is an awesomely modified version of the very famous Maharashtrian Vada pav from India.  This super delicious  burger is made with seasoned sweet potato filling, which is dipped in gram flour batter, and pan fried. Frying and tossing gives a nice touch to the authentic aroma. This is a quick and perfect snack, and one can even make it a full meal. Blend of spices fills this burger with all the required flavors. Sweet Potato Vada Grilled Pita Burger is very tender, and the heavenly taste takes you back to have that bite once again.
Let's learn to make Seasoned Sweet Potato Vada Grilled Pita Burger in easy to understand quick steps.
Red chutney for spreading [SEE RED CHUTNEY RECIPE HERE]
For vada filling:
Heat 2 tbsp oil in a pan. Add mustard seeds to it. when they start to splutter, add sliced onions, chopped green chilies, salt, and turmeric powder to it. Mix well and let them cook for 3 minutes.
Add grated garlic, crushed ginger and cook for 2 minutes. Now add mashed sweet potato, and mix well.
Cook for 2 minutes, and add dried mango powder, and garam masala and mix well. Cook for one more minute and remove from heat.
Method for vada batter:
Take a mixing bowl. Add gram flour, salt, and baking soda to it. Make a thick lump free batter by adding water to it. Keep aside.
Method for vada frying:
Divide vada filling into 5-6 equal sized balls, and slightly flatten them. Heat the oil for deep frying on a medium flame. When the oil is hot, dip one filling ball at a time into the gram flour batter to coat well, and then deep fry till it turns golden. Repeat the same with remaining balls. Drain on paper towels.
Method for serving:
Grill pita breads. Spread a spoonful of red chutney on one side. Place a hot fried vada ball on it. Spread sliced vegetables.
Apply hamburger sauce on other side, and close the burger.
Serve hot with french fries and your favorite drink. Enjoy!
Seasoned Sweet Potato Vada Grilled Pita Burger
Author:
Prep time:
Cook time:
Total time:
Ingredients
<ul class="ingredients">
  <li class="ERSeparator">
    For vada filling:
  </li>
  <li class="ingredient">
    Sweet potatoes boiled, peeled and mashed - 1 1/2 cup
  </li>
  <li class="ingredient">
    <g class="gr_ gr_128 gr-alert gr_gramm gr_disable_anim_appear Punctuation only-del replaceWithoutSep" id="128" data-gr-id="128">Garlic,</g> grated - 2 tsp
  </li>
  <li class="ingredient">
    <g class="gr_ gr_129 gr-alert gr_gramm gr_disable_anim_appear Punctuation only-del replaceWithoutSep" id="129" data-gr-id="129">Ginger,</g> crushed- 1 tsp
  </li>
  <li class="ingredient">
    green <g class="gr_ gr_130 gr-alert gr_gramm gr_disable_anim_appear Punctuation only-del replaceWithoutSep" id="130" data-gr-id="130">chilies,</g> chopped - 1
  </li>
  <li class="ingredient">
    <g class="gr_ gr_131 gr-alert gr_gramm gr_disable_anim_appear Punctuation only-del replaceWithoutSep" id="131" data-gr-id="131">Onion,</g> sliced - 1
  </li>
  <li class="ingredient">
    Turmeric powder - ½ tsp
  </li>
  <li class="ingredient">
    Mustard seeds -1/2 tsp
  </li>
  <li class="ingredient">
    Salt to taste
  </li>
  <li class="ingredient">
    Dried mango powder - 1 tsp
  </li>
  <li class="ingredient">
    Garam masala powder - ¼ tsp
  </li>
  <li class="ingredient">
    Oil - 2 tbsp
  </li>
  <li class="ingredient">
    Ingredients for Vada Batter:
  </li>
  <li class="ingredient">
    Bengal gram flour - 2 cups
  </li>
  <li class="ingredient">
    Cooking oil for deep frying
  </li>
  <li class="ingredient">
    Pinch of baking soda
  </li>
  <li class="ingredient">
    Pinch of salt
  </li>
  <li class="ingredient">
    Ingredients for serving:
  </li>
  <li class="ingredient">
    red chutney for spreading [SEE RED CHUTNEY RECIPE HERE]
  </li>
  <li class="ingredient">
    tomatoes, sliced
  </li>
  <li class="ingredient">
    onions, sliced
  </li>
  <li class="ingredient">
    cucumber, sliced
  </li>
  <li class="ingredient">
    red or green cabbage, julienned
  </li>
  <li class="ingredient">
    hamburger sauce or any other sauce
  </li>
  <li class="ingredient">
    french french fries
  </li>
  <li class="ingredient">
    pita bread 8 slices
  </li>
</ul>

Instructions
<div class="instructions">
  <div class="ERSeparator">
    For [b] Vada filling[/b]:
  </div>

  <ol>
    <li class="instruction">
      Heat 2 tbsp oil in a pan. Add mustard seeds to it. when they start to splutter, add sliced onions, chopped green chilies, salt, and turmeric powder to it. Mix well and let them cook for 3 minutes.
    </li>
    <li class="instruction">
      Add grated garlic, crushed ginger and cook for 2 minutes. Now add mashed sweet potato, and mix well.
    </li>
    <li class="instruction">
      Cook for 2 minutes, and add dried mango powder, and garam masala and mix well. Cook for one more minute and remove from heat.
    </li>
  </ol>

  <div class="ERSeparator">
    For [b] Vada frying[/b]:
  </div>

  <ol>
    <li class="instruction">
      Divide vada filling into 5-6 equal sized balls, and slightly flatten them. Heat the oil for deep frying on a medium flame.
    </li>
    <li class="instruction">
      When the oil is hot, dip one filling ball at a time into the gram flour batter to coat well, and then deep fry till it turns golden.
    </li>
    <li class="instruction">
      Repeat the same with remaining balls. Drain on paper towels.
    </li>
  </ol>

  <div class="ERSeparator">
    For [b] Assembling[/b]:
  </div>

  <ol>
    <li class="instruction">
      Grill pita breads. Spread a spoonful of red chutney on one side.
    </li>
    <li class="instruction">
      Place a hot fried vada ball on it. Spread sliced vegetables.
    </li>
    <li class="instruction">
      Apply hamburger sauce on other side, and close the burger.
    </li>
    <li class="instruction">
      Serve hot with french fries and your favorite drink. Enjoy!
    </li>
  </ol>
</div>

If you enjoyed this recipe, then please further help me by FOLLOWING me on:
Instagram // Facebook // Pinterest // Twitter // Google+ // YouTube
If you cook this dish, be sure to tag your photo with this hashtag: #mggk
Happy Cooking and Keep Sharing! 🙂
---
Filed under: All-Recipes, Appetizer Recipes, Breakfast Recipes, Dinner Recipes, Gluten Free Recipes, Potato Recipes, Snack Recipes, Summer Recipes, Vegan Recipes food photography, Food Styling, Indian Food, indian food styling, My ginger garlic Kitchen, Quick Indian Recipes, Sweet potato recipes, vegetarian recipes
---