Learn To Make Aloo Poha aka Kanda Batata Poha, or Potato Poha Recipe with a quick recipe video tutorial. Poha is a popular dish which is easy to cook.
Poha makes a wholesome breakfast or a simple snack, which is made of flattened rice.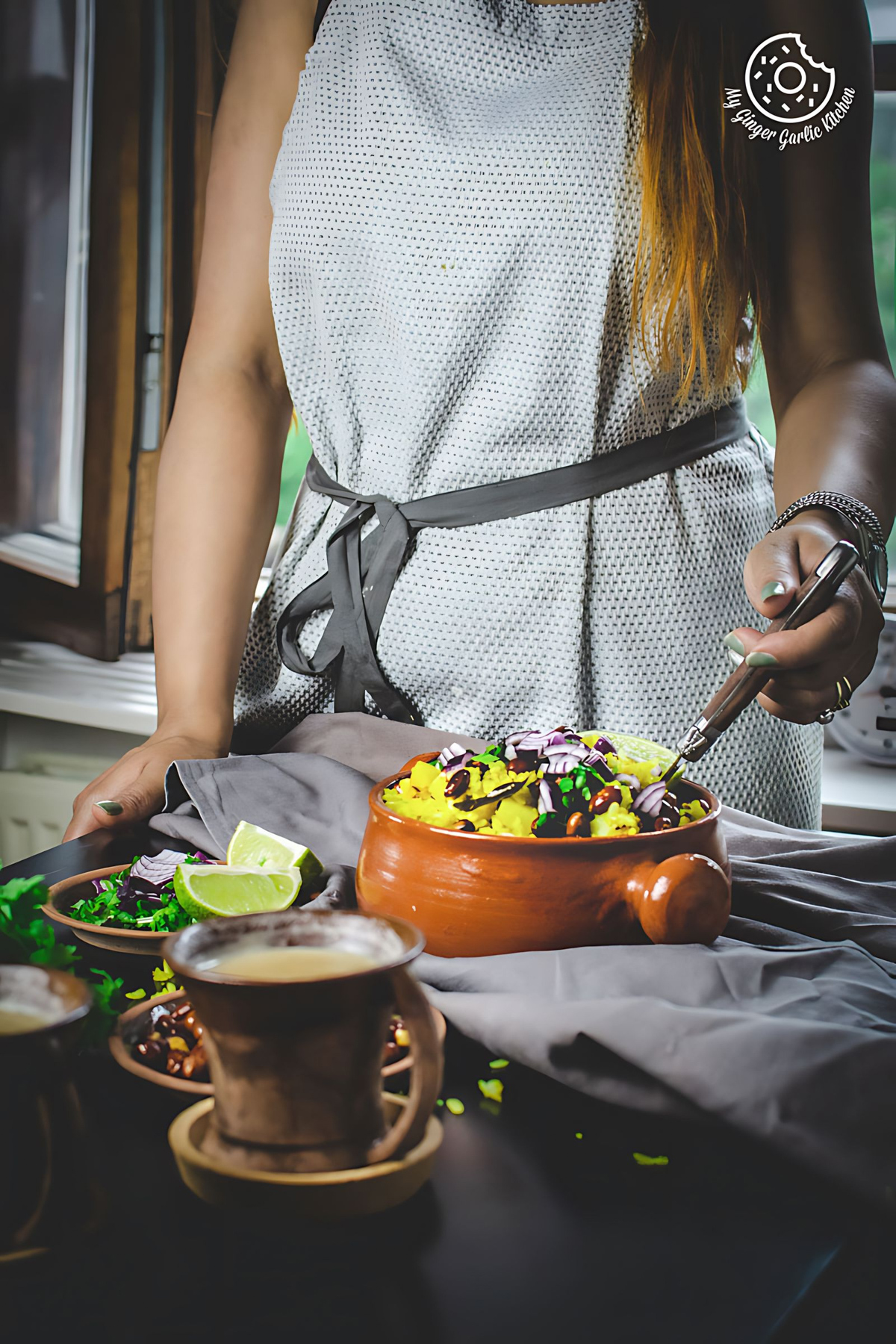 This poha is better known as batata poha, where batata means "potato" and poha means "flattened rice". Thus, this Aloo Poha is a dish made from flattened rice which is fried with potatoes, turmeric, onions, mustard seeds and some more ingredients.
It is quick and easy to make, and is truly flavorful and goes well with hot chai / coffee in the morning.
What is Poha?
Poha originates from the Indian subcontinent. Poha is also known as pressed rice, beaten rice, flattened rice or chura, where rice is flattened into flat, light, and dry flakes. When a liquid such as milk or water is added to these flakes of rice, they absorb the liquid, and thereby swell up. This liquid could either be hot or cold.
What is Poha called in English?
POHA is commonly known as Flattened rice, Beaten Rice, or Pressed Rice.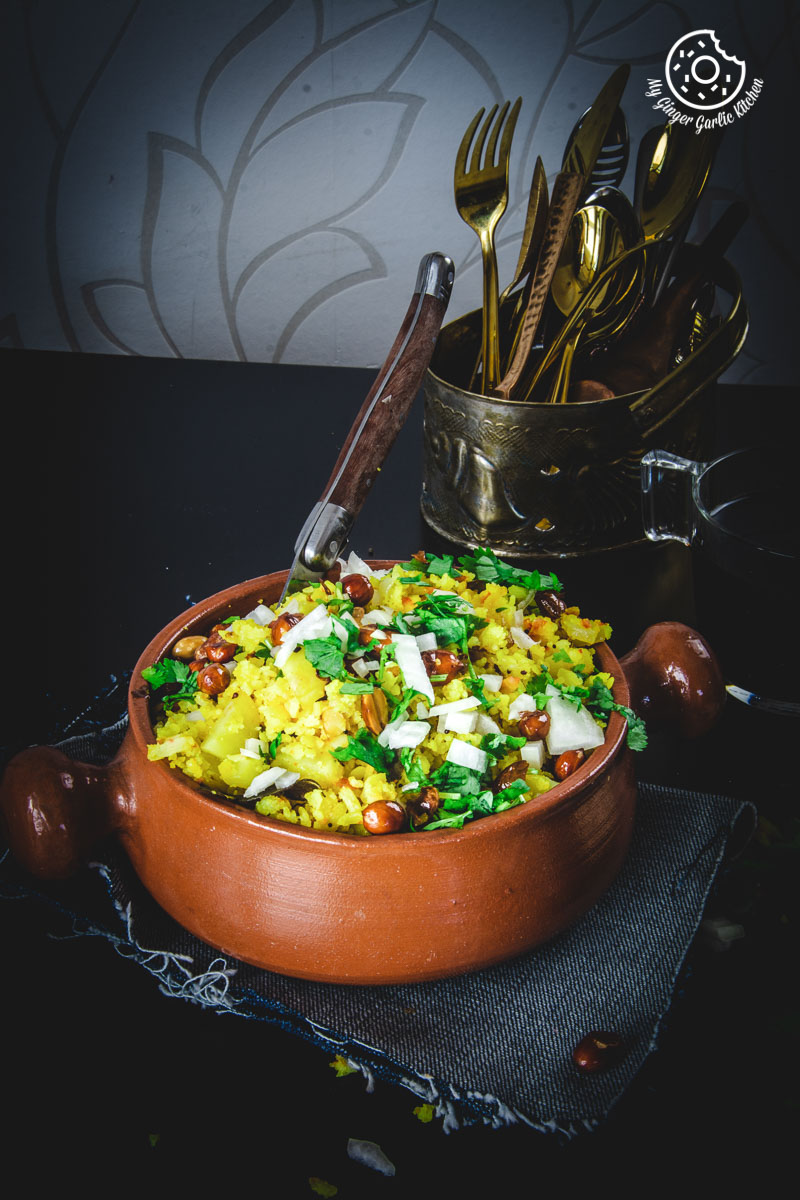 What is Aloo Poha / Kanda Batata Poha Recipe?
This easily digestible Aloo Poha or Potato Poha is a popular breakfast recipe in the Indian states of Gujarat, Madhya Pradesh, and Maharashtra. Even though this snack is originated from the above Indian states, it has now become renowned across the whole of India.
Hence, this Aloo poha, batata poha, or Potato Poha is a very simple and satisfying breakfast dish which is a frequent visitor at Indian households. The reason for its popularity is simple — making this poha is quick and easy. Plus, due to its nature, it is also healthy and fuller.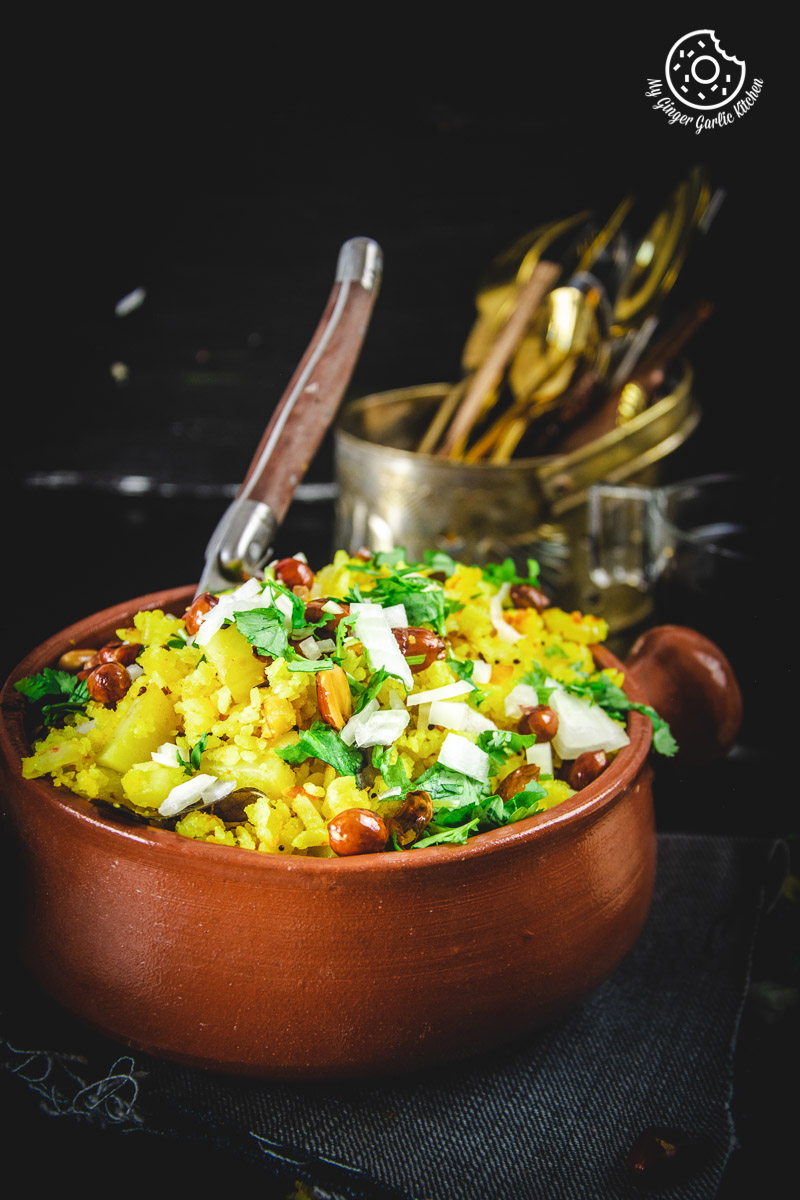 How do you make potato Pawa/ Potato Poha Recipe ?
This potato Pawa / poha is cooked using beaten rice aka poha and is altogether trouble-free to make. In this Aloo Poha / Batata Poha recipe, potatoes are first stir-fried. And then onion is added to sauteed potatoes. The mixture of sauteed potatoes and onions gives this poha a desirable soft texture and an awesome flavor.
How can I make Poha?
There are many ways of making and eating a poha — sweet, salty, fried, spicy, or raw. There is another very popular lightly fried version of poha which is a standard breakfast in Malwa region (neighboring Ujjain and Indore) of Madhya Pradesh. This is known as Indori Poha.
Precisely, Indori Poha is well-known in Indore and eaten with the sweet Jalebi. And this breakfast is famously known as 'Poha-Jalebi'.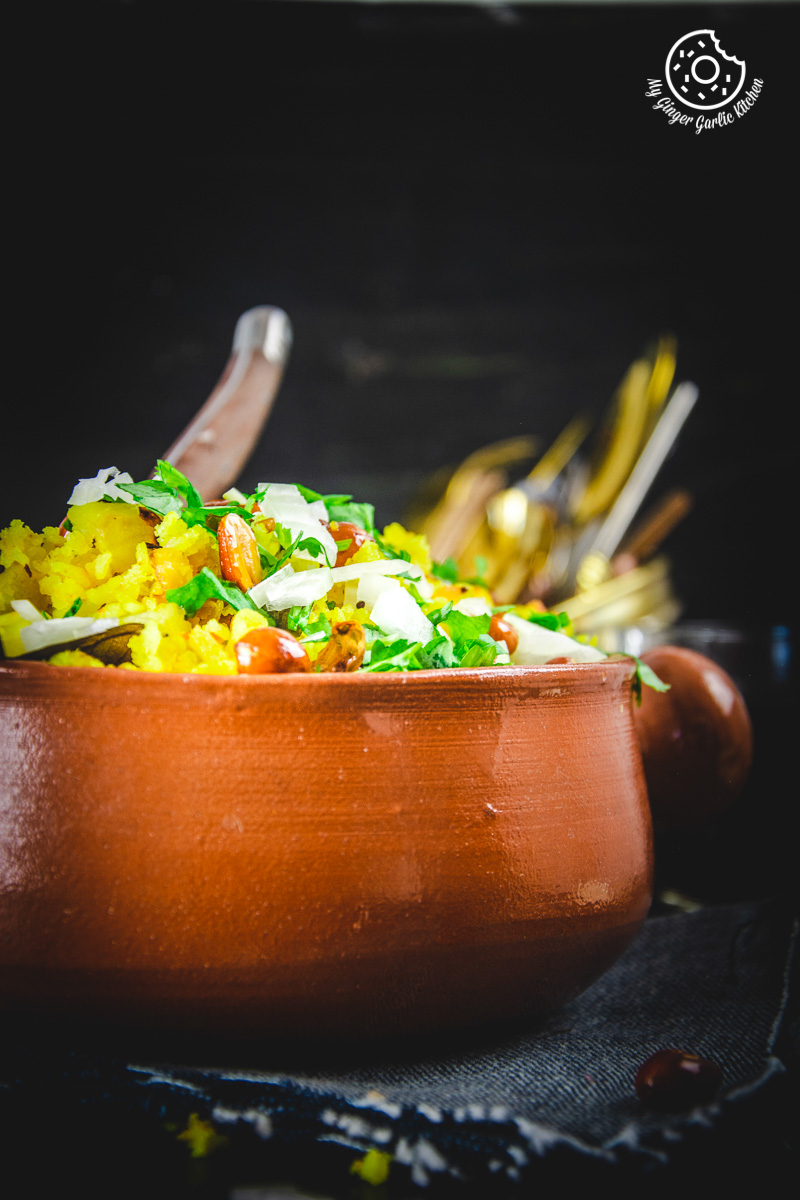 What is thin Poha?
Thin Poha looks almost translucent. This is best for making chivda (a fried snack).
Which Poha to use in aloo poha recipe — thick or thin?
You will have to use medium-thick poha for this aloo poha recipe.
How long do you have to soak Poha?
There are different varieties of poha with various thickness.
For making aloo poha, you would be needing the medium thick poha. But this thickness also varies from label to label, so when making the poha for the first time using a particular brand, you will have to check the soaking time. So be very vigilant about the soaking time of the poha.
To make things easier, I personally like to test 1-2 tbsp of poha first, so that the poha doesn't get wasted. Another tip is that when you like a specific brand, try to stick with that so that you don't have to go for a dry run with every new packet.
I don't immerse my poha in water. What I do is, I add the poha to a strainer and simply rinse it well, then keep it aside for 7-8 minutes. All the magic happens in those 7-8 minutes when the poha sheds the excess water and keeps getting softer from the remaining water. With this method, poha swells up nicely. In the meantime, I prepare the stir-fry for poha.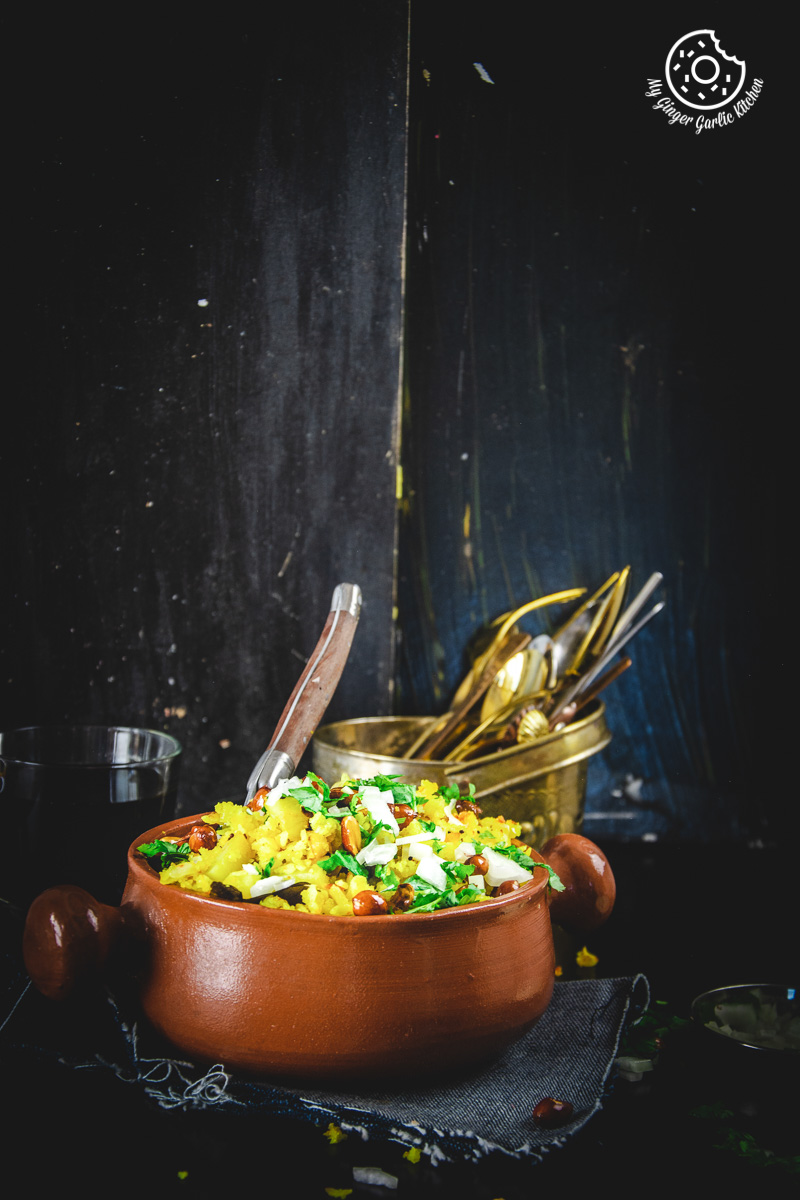 How to serve aloo poha?
Aloo poha is usually served with the toppings of crunchy fried peanuts and a generous amount of chopped coriander leaves. Having it with a piping hot cup of tea/coffee is one of the best ways to kickstart any morning.
However, many people like different types of garnishing for aloo poha. Some people like to add crunch in the form of bhujia/sev and onions. Others like some fruity topping, so they add pomegranate arils. While I like to top my poha with lots and lots of fresh mint leaves. So be your own chef and create any desired toppings. 🙂
Making poha at home is always good, because it's hygienic, and tastes wonderful, and of course, it's made with your love and care.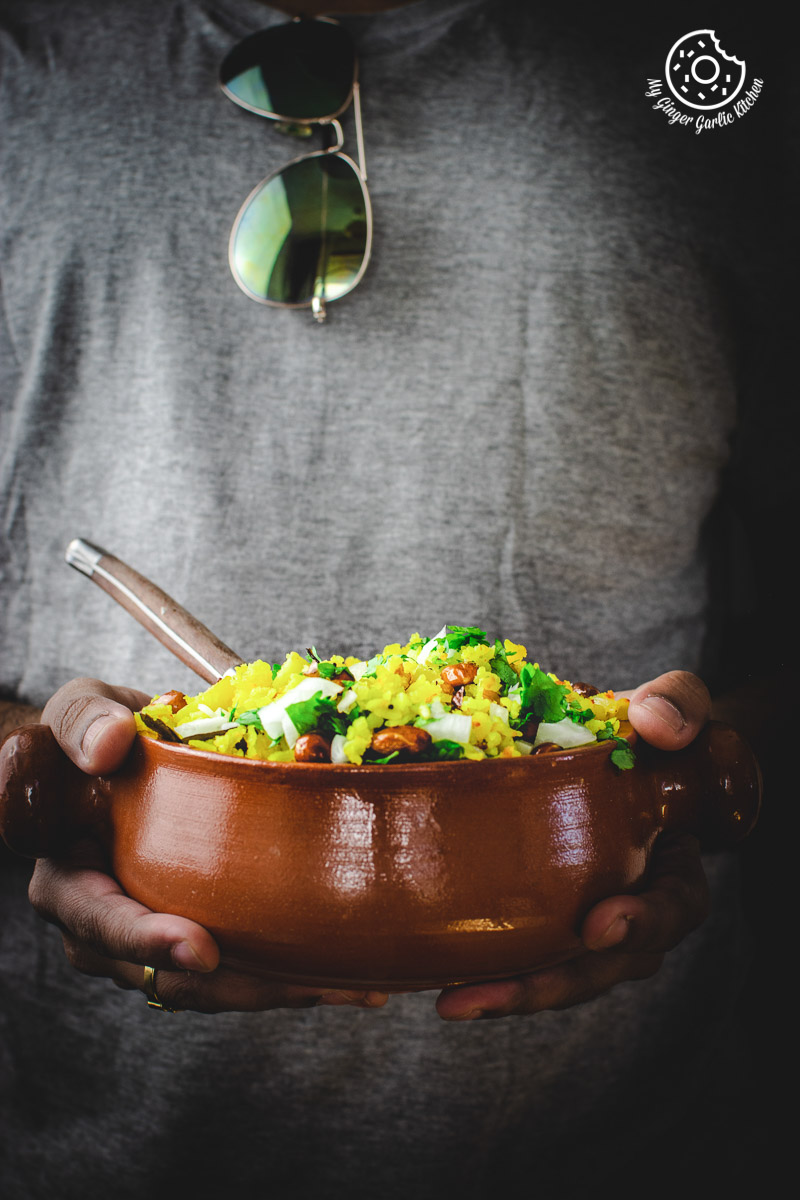 Is POHA gluten free?
Yes, the white poha is entirely gluten-free. This gluten-free dish is a tasty, fast and easy alternative to the very general breakfast bread.
Is POHA good for health?
Yes, it is good for health, because it has many health benefits. It's light on the stomach and easily digestible. Thus, many nutritionists recommend poha as one of the healthiest Indian breakfasts or snacks.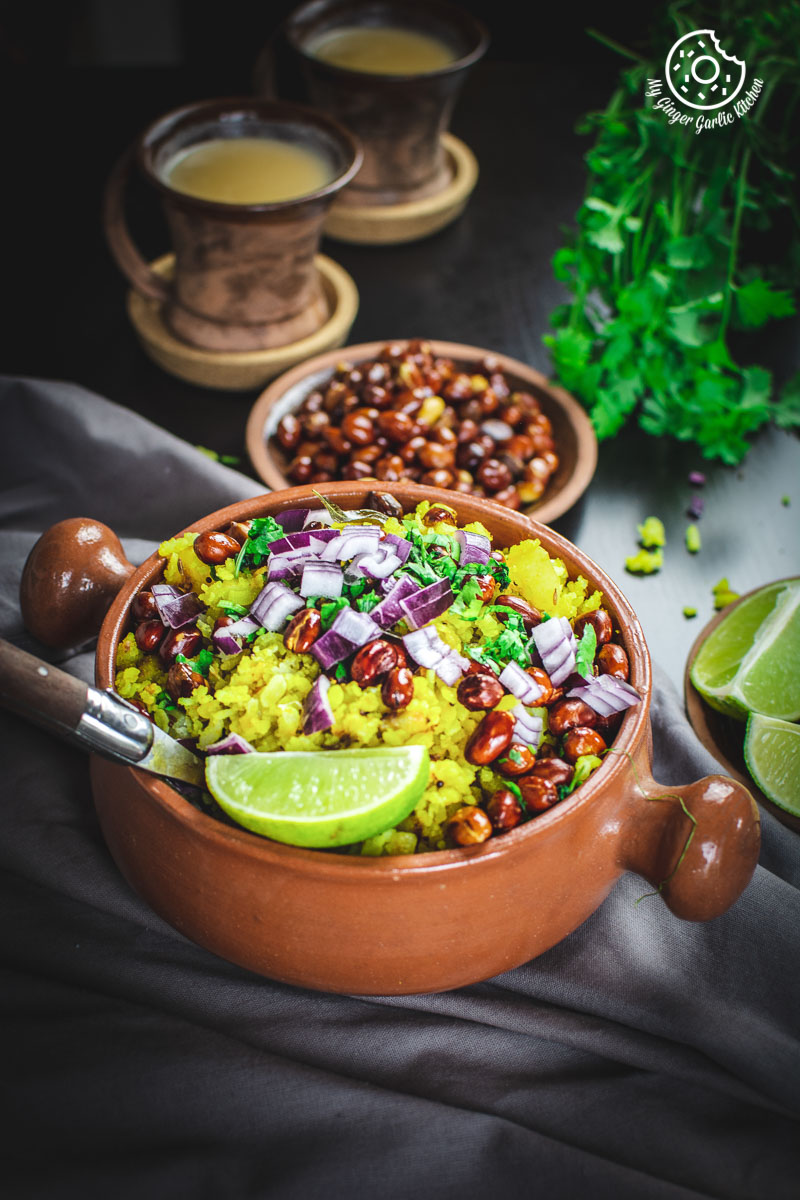 What are the health benefits of poha?
Poha is completely lactose-free, so this can easily be served to the people with lactose intolerance.
Poha is also considered to be fat-free. Thus, it is good for the people who are weight conscious.
Poha is also a good source of many essential vitamins and minerals.
Poha is a very good source of instant energy as it is flattened rice based. This will surely keep your hunger cravings at bay.
Peanuts are added to this poha dish. So this is also a good source of carbohydrates, antioxidants, proteins, iron, along with being rich in fiber, and has essential vitamins and is vegan, and gluten-free.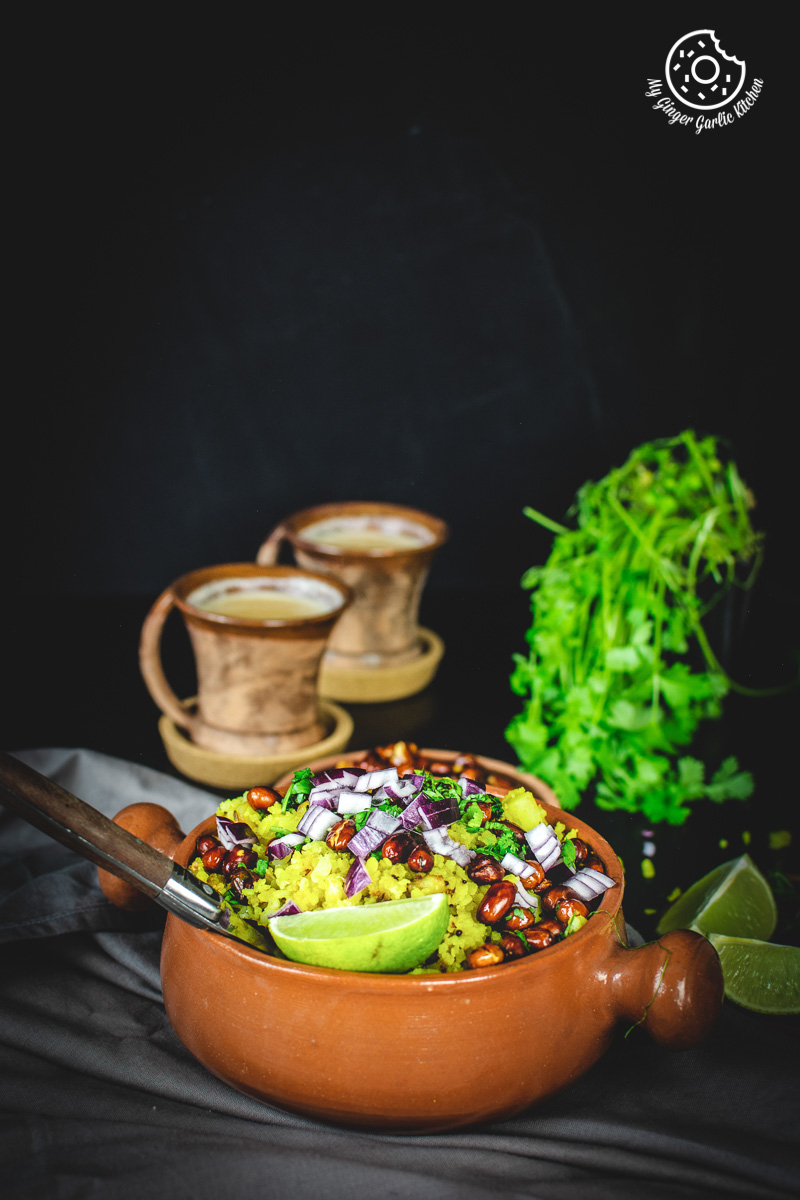 Some important tips to make best Aloo Poha Recipe:
I have added dried curry leaves, but if you have access to fresh curry leaves, try to use them because they give a nice flavor.
Always drain the poha in a colander. This way the excess water would drain out perfectly, and poha would puff up nicely.
You can use the leftover poha for making 'poha cutlets'. You can also add this poha to the mashed potatoes and make your personal aloo tikki.
Poha always tastes best when served hot. If you want to pack it for lunch then it can easily be packed in lunch boxes. I would suggest to pack it in a thermal lunch box, because this way poha would stay soft and fresh for a longer time.
If you want to re-heat poha, then simply use the double boiler method. The poha would be fresh and soft, and won't stick to the bottom or turn chewy.
For making aloo poha, always use a medium thick variety of poha. If you will use the thin variety of poha, it would turn soggy. Thin poha is best for fried dishes such as chiwda.
Add salt and turmeric to the soaked poha, this way we get evenly mixed and seasoned poha.
When you add turmeric powder to the soaked poha, it would not look very light yellow. Don't worry, the yellow color will become intense once the poha is cooked.  
I have added 3 tbsp of oil for this recipe. If you want to healthify the recipe, you can surely reduce the amount of oil, but then it won't taste that good.
I have fried the peanuts in oil first and then added them while serving. However, if you want to use raw peanuts then simply saute them with the potatoes.
Poha tastes best when served immediately after cooking. However, you can also have it on room-temperature, it would still taste good. But if you want to eat it later, then it might turn chewy and dry. In that case, simply sprinkle some water on the poha and mix it well. Heat it in a microwave for around 40 seconds. Poha would gain the moisture again and would taste fresh. And as suggested, you can also re-heat poha using the double-boiling method.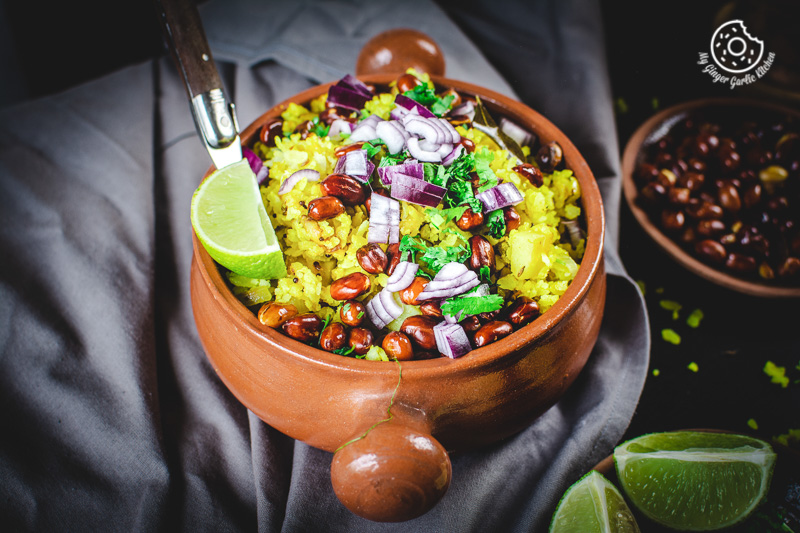 Aloo Poha | Kanda Batata Poha | How To Make Potato Poha [RECIPE]
Learn To Make Aloo Poha | Kanda Batata Poha | How To Make Potato Poha Recipe with a quick recipe video tutorial. Poha is a popular dish which is easy to cook. Poha makes a wholesome breakfast or a simple snack, which is made of flattened rice.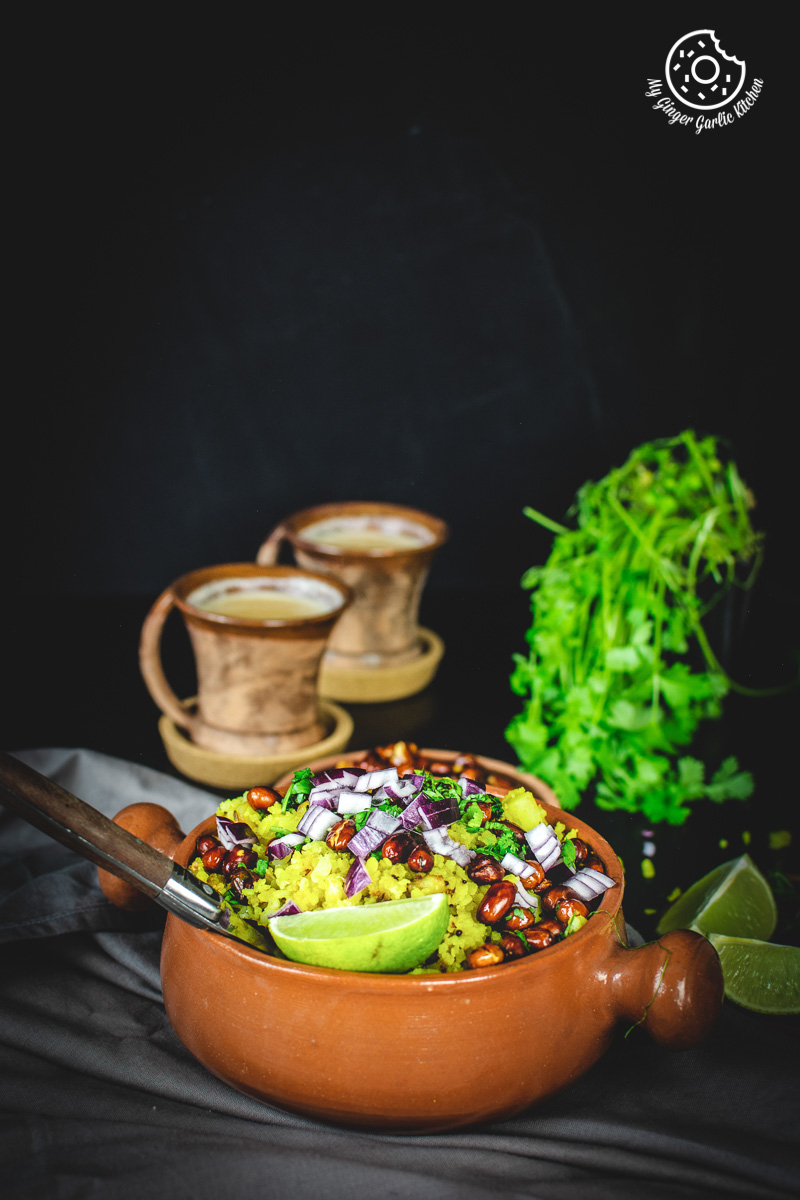 ♥ ♥ ♥ ♥ ♥
(Rating: 4.8 from 65 reviews)
INGREDIENTS
• 2.5 Cups Medium-Thick Poha (Flattened Rice)
• 3 Tbsp Oil (Tel)
• 1 Tsp Cumin Seeds (Jeera)
• 1/2 Tsp Mustard Seeds (Rai)
• 1 Large Onion, Chopped
• 1 Tbsp Curry Leaves (Kadhi Patta)
• 2 Cups Peeled Potato Cubes (You Can Reduce The Amount Of Potatoes)
• Salt To Taste
• 1/2 Tsp Turmeric Powder (Haldi)
• 1 Tbsp Green Chillies, Chopped
• 1 Tsp Lemon Juice
• 1/4 Cup Peanuts
• For The Garnish:
• Finely Chopped Coriander (Hara Dhania)
• Lemon Wedges
• Fried Peanuts
• Chopped Onions

---
| 🕐 Prep time | 🕐 Cook time | 🕐 Total time |
| --- | --- | --- |
| | | |
| ☶ Category | ♨ Cuisine | ☺ Serves |
| Breakfast | Indian | 4-5 |
---
Nutrition Info: 198 calories // Servings: 1 serving
INSTRUCTIONS:
1. Wash the poha in a colander under running water for a couple of minutes.
2. Let the water drain out and set aside for at least 7-10 minutes.
3. Use fingers to open up the poha.
4. Add turmeric powder, and salt. (You can also add some sugar.)
5. Heat 3 Tbsp oil in non stick pan.
6. Add 1/4 cup peanuts and fry them on medium heat until they are fragrant golden.
7. Remove from the pan and set them aside.
8. Add the cumin seeds, mustard seeds to the same pan.
9. When the start to splutter, add the curry leaves and sauté for few seconds.
10. Add the diced potatoes and mix well. Cook for 2 minutes.
11. Cover with the lid and cook on medium heat for 5-8 minutes. (Stir occasionally.)
12. Add the onions, chopped green chilies and sauté on a medium heat for 2-3 minutes.
13. Add this soaked poha to the pan and stir well.
14. Cook on a medium heat for 4 to 5 minutes, while stirring continuously.(You can also cook it in a double boiler by putting it over a pot of boiling water. For this method also, cook for 4-5 minutes. )
15. Add 1 tsp lemon juice and mix well. Remove from heat.
16. Divide into servings bowl.
17. Garnish with fried peanuts, finely chopped coriander leaves, and chopped onions.
18. serve hot aloo poha with a steaming cup of coffee or tea. Enjoy.
---