Mysore Pak is an aromatic, delicious, and melt-in-mouth sweet which is very popular in South India. This classic Indian sweet originated in the royal kitchen of Mysore Palace. Mysore Pak is Southern India's one of the most archetypal sweets and got its name from its city of origin – Mysore. This delicate and delicious sweet dish is made using only 3 ingredients — chickpea flour (gram flour/besan), sugar, and ghee.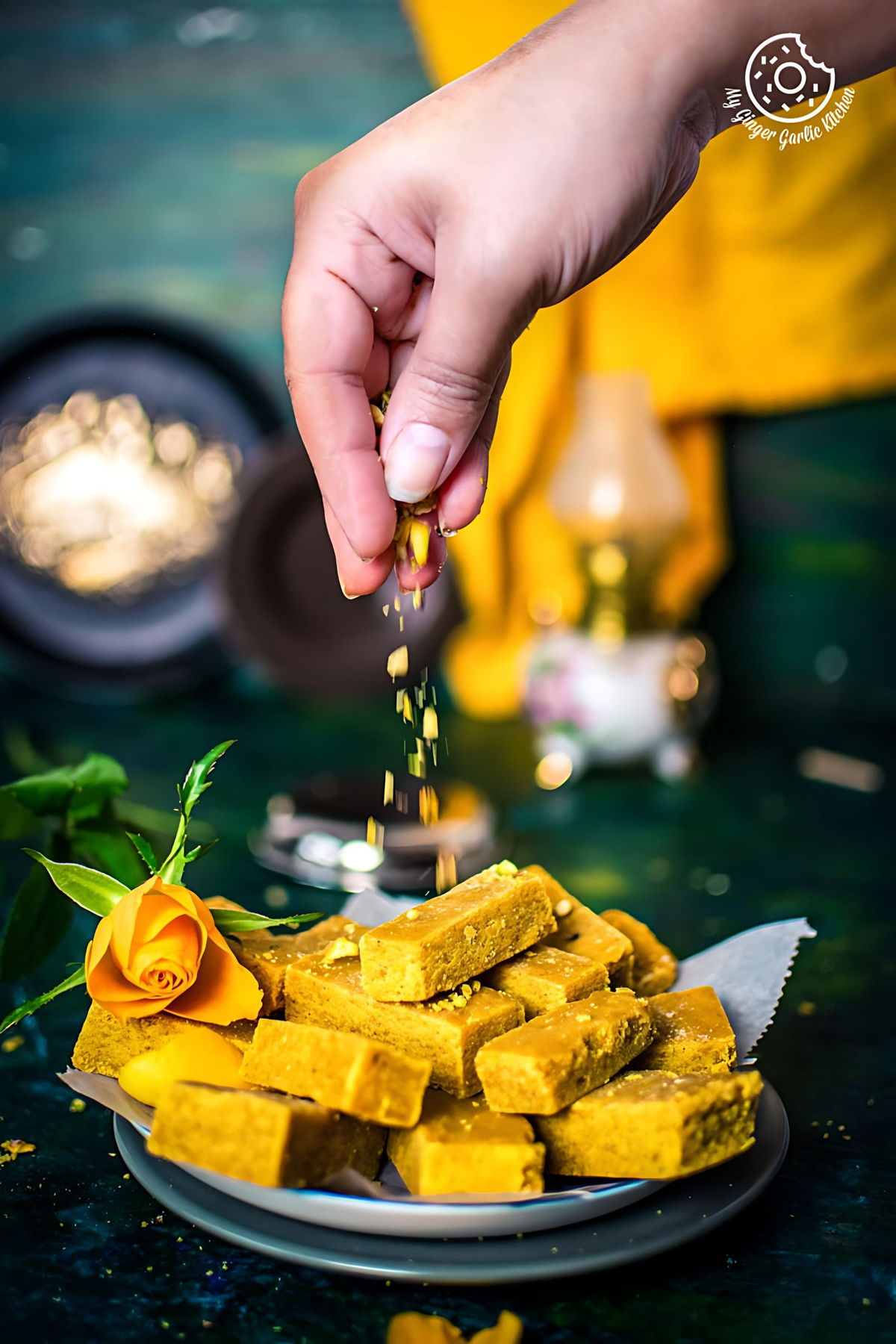 Unlike other popular Indian sweets (aka mithai), Mysore Pak is an easy and quick recipe which can be prepared in just 15 minutes. And you can painlessly make this dessert using only 3 ingredients easily available in your pantry. This delightful sweet recipe is adored by folks of all age-groups and can give your meal a perfect ending.
What is Mysore Pak?
Mysore Pak is called 'Mysuru Paaka' in Kannada Language, which is the official language of Indian state of Karnataka. Here 'Paaka' means a sweet syrup and 'Mysuru' refers to Mysore city. 
Mysore Pak is a South Indian sweet dish made with gram flour, sugar, and ghee. This dish originated from Southern Indian State of Karnataka. This sweet (mithai) is made with a lavish amount of ghee. It usually has a texture similar to .
To make the perfect Mysore Pak, one does not have to be born with any special skills. However, understanding the whole process is essential to the ideal texture. A perfectly made mysore pak is light in weight, soft and has edges with crumbs, and has a delicious aroma. After cooling, you should not see any remains of ghee across it, and it shall not leave ghee when you eat.
What is the origin of Mysore Pak?
As the name suggests, Mysore Pak originated from Mysore. It is believed that this sweet dish was first developed in the Royal Kitchens of Mysore Palace by the royal cook named Kakasura Madappa.
He created this dish by the concoction of gram flour, ghee, and sugar. But he didn't know what to call it. When the king asked about the name of this dish, he just said, 'Mysuru Paka'. Pak or Paka, in Kannada language means 'sweet'. So 'Mysore Sweet' is the simple translation of the name for this sweet.
What is the right consistency of sugar syrup for Mysore Pak?
The simple syrup is made with sugar and water. For making Mysore Pak, sugar syrup has to be of one-string consistency, or heated to the soft ball stage. Making sugar syrup is the only stage you need to execute with some careful attention.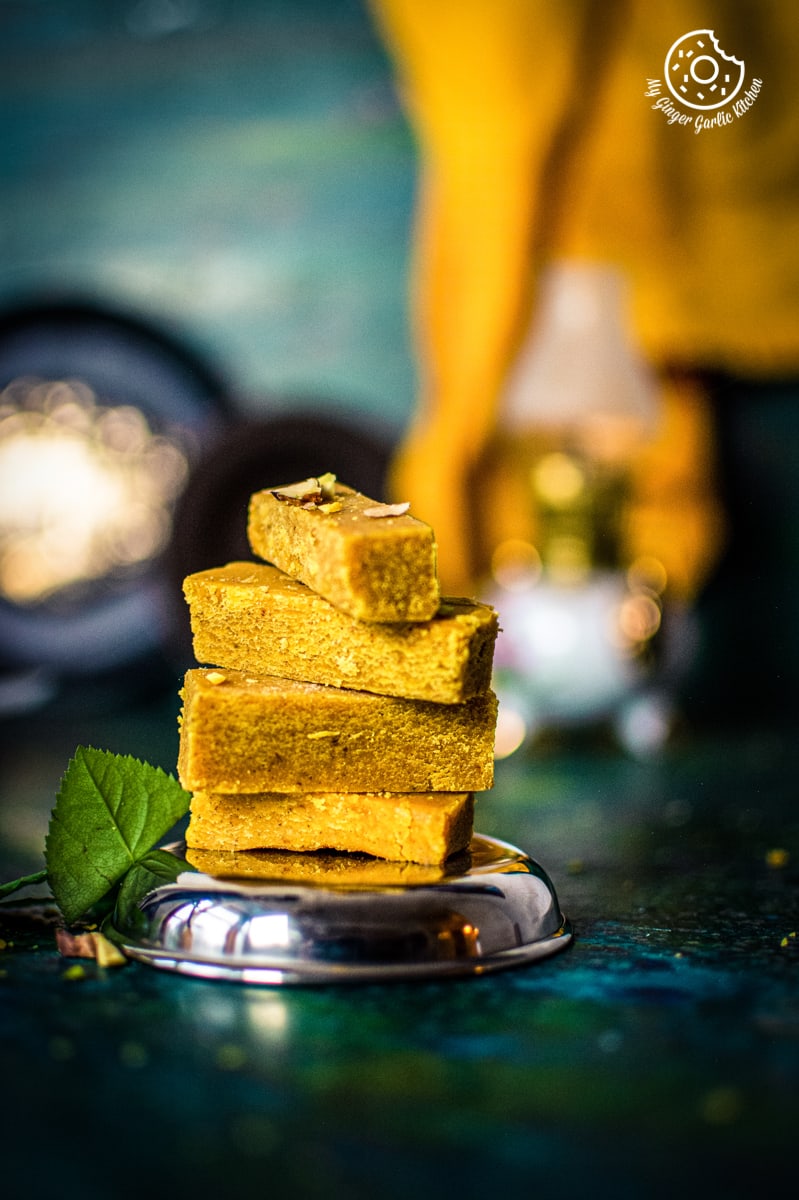 What is the shape of Mysore Pak?
Mysore Pak is usually cut and sold into square and rectangle pieces. However, when you are making them at home, you can choose any shape you like. 
If you like this Mysore Pak recipe, then here are some other besan recipes which might also interest you:
What flavors can be added to Mysore Pak?
Traditional Mysore Pak is made without any flavorings. However, you can make the alteration to this authentic sweet dish as per your taste preferences. And playing with flavors create no harm. For flavoring this sweet you can try adding cardamom or rose essence to the sugar syrup.  
You can also add your favorite nuts for a richer and nutty texture. Simply chop or crush any of the desired nuts such as almonds, cashews, pistachios, walnuts. Add them to the gram flour mixture. 
What is the shelf life of Mysore Pak?
Mysore Pak has a longer shelf life due to the addition of very little water which is used in the sugar syrup. Mysore Pak stays fresh in a cool and dry place for about two weeks. But personally I like the fresh Mysore Pak — it tastes best when it is fresh.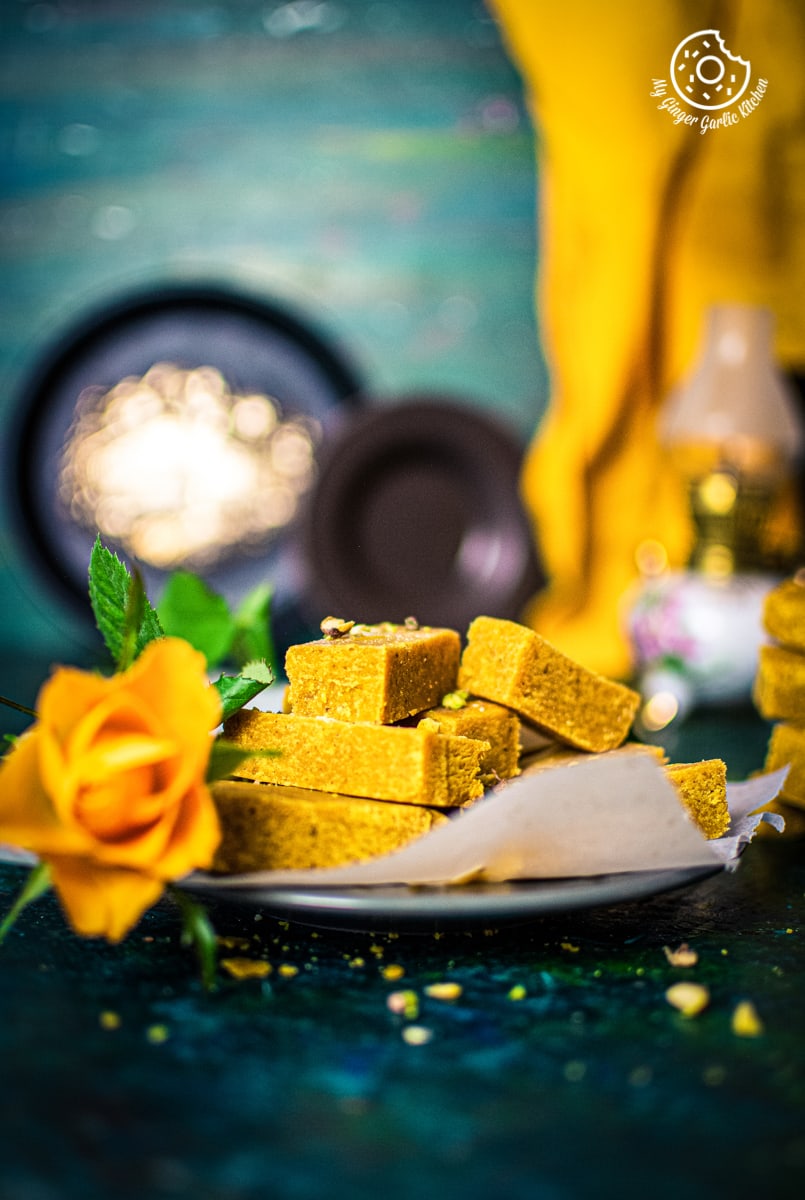 When to serve Mysore Pak?
Mysore Pak goes well with any type of elaborated Indian meal, so you can serve it as an after meal dessert any time of the year. In Southern India, this sweet dish is traditionally served at weddings, baby showers, and other festive occasions. 
Also, you can make this sweet dish when you have some special guests coming over for dinner over short notice. You can treat them with this delicious and authentic Royal Indian Sweet which is ready in no time. 
What is the texture of Mysore Pak?
The texture of Mysore Pak varies on the amount of ghee you add to the gram flour. When less ghee is added to the besan, then Mysore Pak comes out hard and porous. When you add less ghee, the wetness from the sugar syrup sneaks away as steam through the greased gram-flour and make Mysore Pak porous. 
But when you add an ample amount of ghee, the Mysore Pak would be soft and dense. Excess ghee in the gram flour fills the pores, and thus, you get a denser and softer Mysore Pak. 
What is the color of Mysore Pak?
Mysore Pak is made using lightly roasted gram flour. So this is usually yellowish or light brown in color.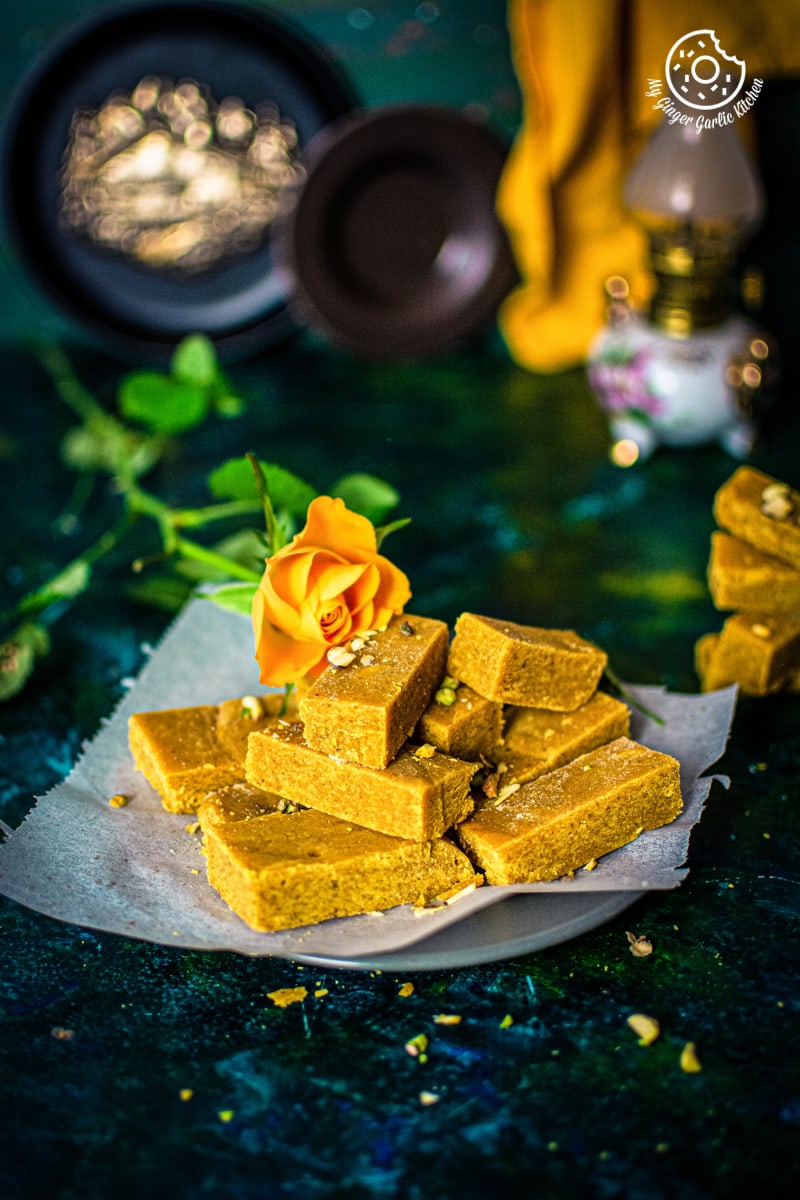 How to store Mysore Pak?
Let the Mysore Pak cool completely at room temperature before storing. Once cooled, line an airtight container with some parchment paper and then store at room temperature. 
How to make Mysore Pak?
Mysore Pak is a unique sweet which can be prepared very easily at home without making much efforts. To make Mysore Pak, first you roast gram flour. Then pass it through a sieve and add a generous amount of ghee to it. Addition of ghee makes Mysore Pak more delicious and enhances the flavours, so do not be wary, and add plenty of Ghee. 
After that, you make a sugar syrup and add this gram flour and ghee mixture to the syrup. Cook it on low heat and keep stirring constantly. Keep adding ghee. Finally transfer it into a greased tray. Let it cool for 15 minutes, and cut into desired shapes. Finally, they are ready!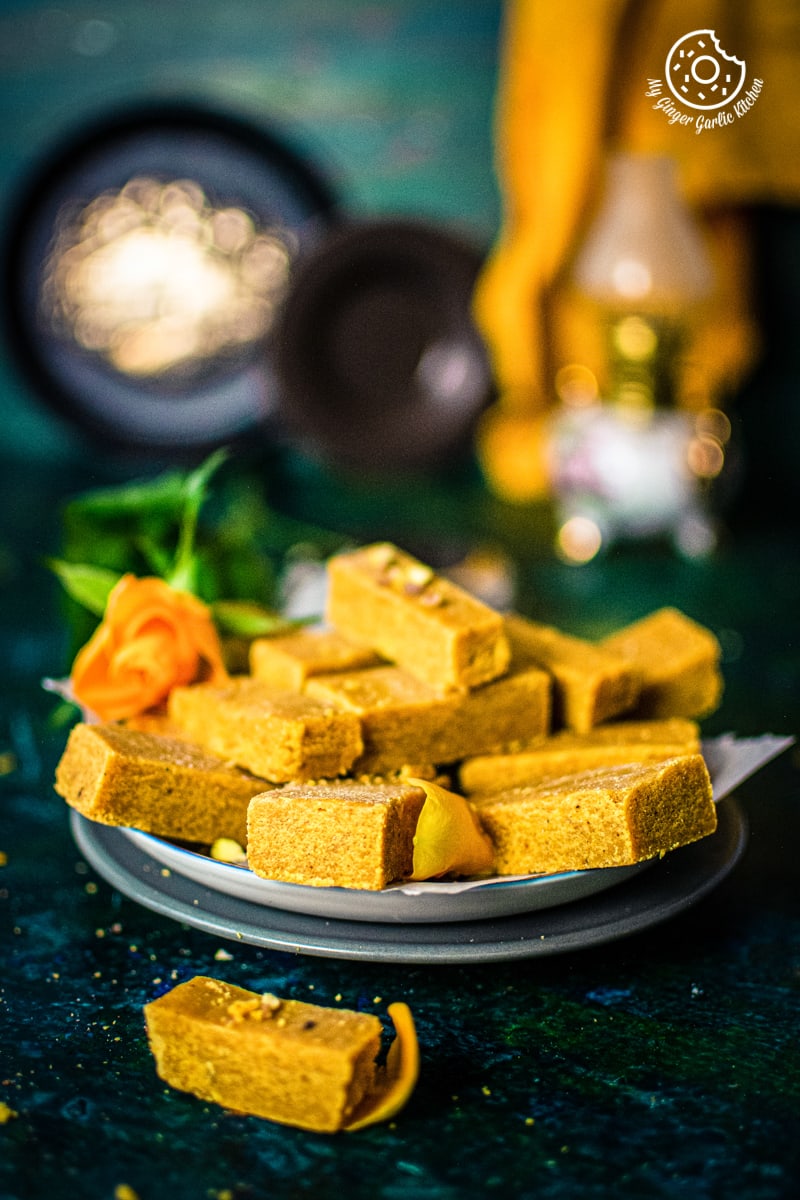 Some Tips for making the best Mysore Pak at home:
Roasting gram flour is very important. So make sure you roast besan properly until the raw smell of besan goes away.
To get the right texture, the ratio of the ingredients used is very important. I suggest not to alter the recipe if you are keen to get the same texture as seen in the pictures on this page. 
The Mysore pak recipe I have shared here yields 12-14 medium sized pieces. But you can easily double or triple the recipe if you want to make a large batch. 
When you add ghee to the roasted besan, mix it well until you see a smooth runny mixture. There shouldn't be any lumps. You can use a wired whisk to make things easier.
You need to keep stirring at low heat after adding the ghee-besan mixture to the sugar syrup. This is to make sure that there are no lumps.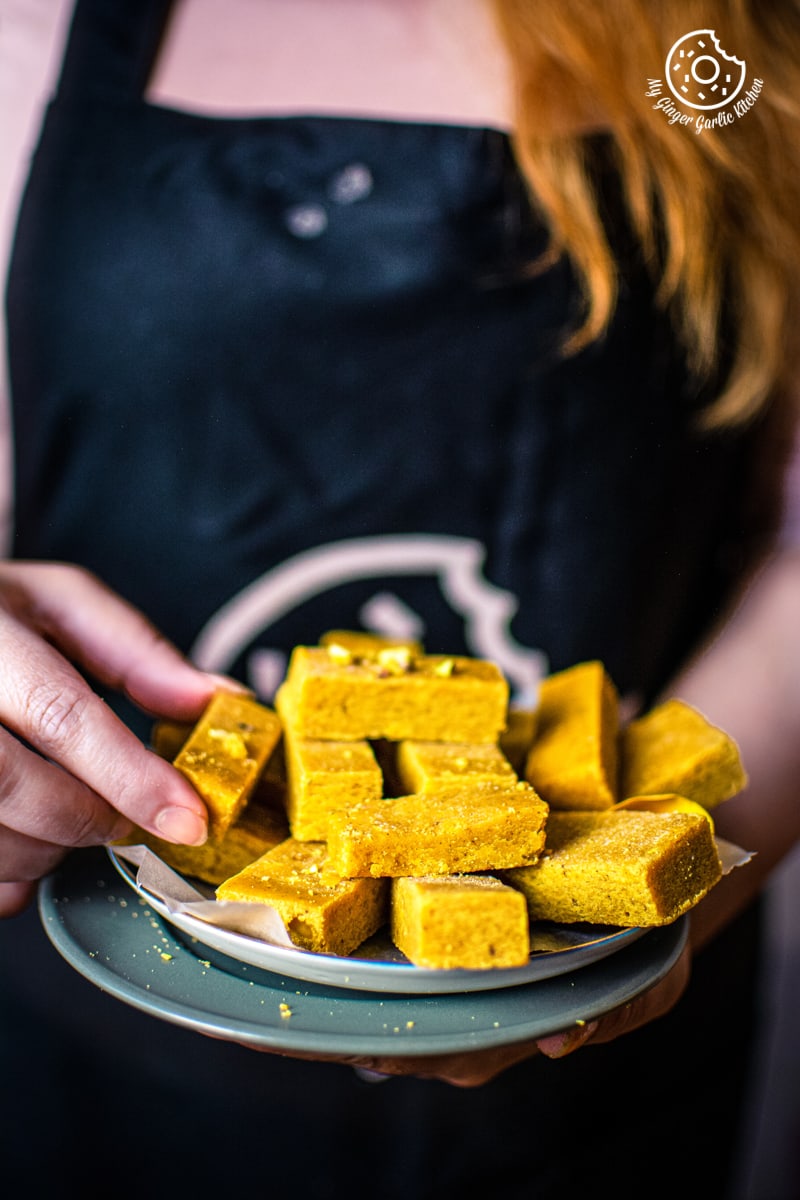 Mysore Pak - How to Make South Indian Ghee Mysore Pak

[Recipe]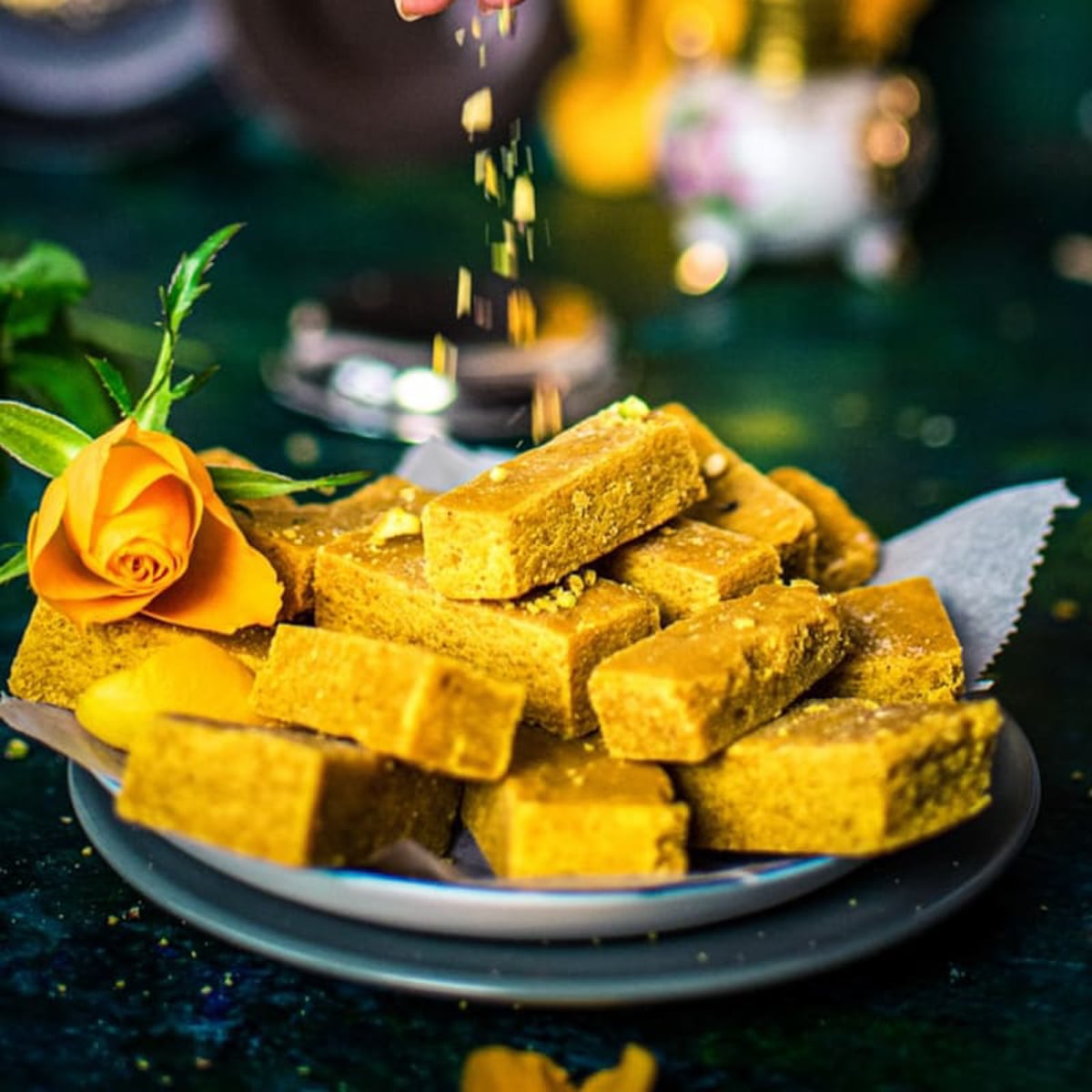 Mysore Pak is a popular, aromatic, delicious, and melt-in-mouth sweet from South India. This delicate sweet is made with chickpea flour, sugar, and ghee.
---
★★★★✰
(Rating:
4.3
from
44
reviews)
---
| Prep time 🕐 | Cook time 🕐 | Total time 🕐 |
| --- | --- | --- |
| | | 15 mins |
| Category ☶ | Cuisine ♨ | Serves ☺ |
| Dessert | Indian | 14 pieces |
| Nutrition Info ⊛ | | Serving size ⊚ |
| 195 calories | | 1 piece |
---
INGREDIENTS
For Mysore Pak:
1/2 cup besan (chickpea flour/gram flour)
1/2 cup + 4 tablespoons ghee
1 cup of sugar
1/2 cup water
---
INSTRUCTIONS:
Preparation For Mysore Pak:
Add besan to a broad non-stick pan and dry roast besan over medium-low heat for 5 minutes or until raw smell goes off.




Sieve the roasted besan.




Add ghee to it. You can do this process once or twice to make sure that there are no lumps in besan.




Mix well using a wired whisk until you get a lump-free, smooth and runny texture.



How To Make Sugar Syrup:
Add water and sugar to a thick bottomed pan over medium heat.




Stir well until the sugar dissolves completely.




Once the sugar syrup starts boiling and you see the bubbles, you can check the consistency. To check consistency, dip a spoon in the boiling syrup and let it cool for few seconds. Now gently touch the sugar syrup with a forefinger. Now touch your thumb and forefinger together and pull apart slowly and gently. One-thread consistency is ready when a single thread is formed (thread should not break) between your forefinger and your thumb when moved apart.



How To Make Mysore Pak:
Once the sugar syrup is ready, turn the heat settings to low and add besan and ghee mixture to it.




Keep stirring briskly so the besan mixture gets mixed evenly with the sugar syrup.




Once mixed add 1 tablespoon of ghee and keep stirring consistently.




After 1 minute add 1 tablespoon of ghee and keep stirring consistently.




Once mixed, add 1 more tablespoon of ghee and keep stirring consistently.




Now the mixture should turn light and foamy, and it would also start changing the color.




Meanwhile, grease a pan or tray with some ghee. Alternatively, line the tray first with a parchment paper and then lightly brush with melted ghee.




Turn off the heat and immediately pour the mixture into the prepared tray.




Drizzle with 1 tablespoon of ghee and gently smoothen the top with the spoon.




Let it cool for 15 minutes. Cut into desired shapes.




Let them cool completely at room temperature before storing it.



---
WATCH VIDEO:
---
NOTES:
Store Mysore Pak in an air-tight container, it stays fresh for about 2 weeks at room temperature.
---
If this recipe helped you, then please spread the word by sharing and
subscribing
to us on YouTube to get more such Recipe Videos.
---
Your feedback is so helpful for me and other MyGingerGarlicKitchen readers. So, for Facebook and Instagram, please mention
@MyGingerGarlicKitchen
or
#mygingergarlickitchen
. I would love to see your photos. :)
---
Author:
Anupama
Recipe Source Link:
https://www.mygingergarlickitchen.com/ghee-mysore-pak/
Date Published:
2019-10-24
• • • • • • • • • •