Mysore Pak - How to Make South Indian Ghee Mysore Pak
Mysore Pak is a popular, aromatic, delicious, and melt-in-mouth sweet from South India. This delicate sweet is made with chickpea flour, sugar, and ghee.
---
« Go back
Print this recipe »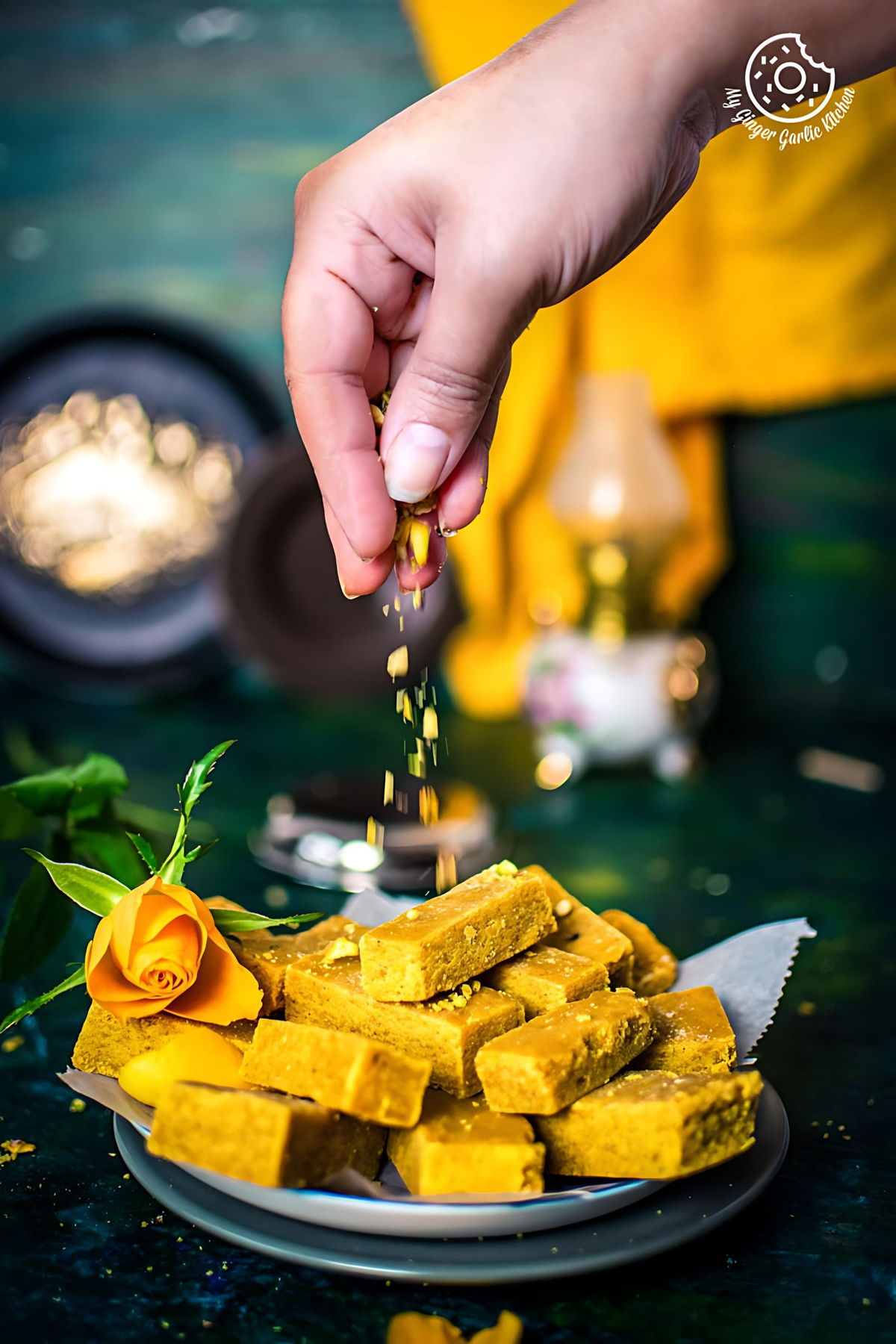 ---
Prep Time = 05 minutes
Cook Time = 10 minutes
Total Time = 15 minutes
Category = Dessert
Cuisine = Indian
Serves = 14 pieces
Nutrition Info = 195 calories
Serving Size = 1 piece
---
RECIPE INGREDIENTS
» For Mysore Pak:
1/2 cup besan (chickpea flour/gram flour)
1/2 cup + 4 tablespoons ghee
1 cup of sugar
1/2 cup water
---
RECIPE INSTRUCTIONS
» Preparation For Mysore Pak:
Add besan to a broad non-stick pan and dry roast besan over medium-low heat for 5 minutes or until raw smell goes off.
Sieve the roasted besan.
Add ghee to it. You can do this process once or twice to make sure that there are no lumps in besan.
Mix well using a wired whisk until you get a lump-free, smooth and runny texture.
» How To Make Sugar Syrup:
Add water and sugar to a thick bottomed pan over medium heat.
Stir well until the sugar dissolves completely.
Once the sugar syrup starts boiling and you see the bubbles, you can check the consistency. To check consistency, dip a spoon in the boiling syrup and let it cool for few seconds. Now gently touch the sugar syrup with a forefinger. Now touch your thumb and forefinger together and pull apart slowly and gently. One-thread consistency is ready when a single thread is formed (thread should not break) between your forefinger and your thumb when moved apart.
» How To Make Mysore Pak:
Once the sugar syrup is ready, turn the heat settings to low and add besan and ghee mixture to it.
Keep stirring briskly so the besan mixture gets mixed evenly with the sugar syrup.
Once mixed add 1 tablespoon of ghee and keep stirring consistently.
After 1 minute add 1 tablespoon of ghee and keep stirring consistently.
Once mixed, add 1 more tablespoon of ghee and keep stirring consistently.
Now the mixture should turn light and foamy, and it would also start changing the color.
Meanwhile, grease a pan or tray with some ghee. Alternatively, line the tray first with a parchment paper and then lightly brush with melted ghee.
Turn off the heat and immediately pour the mixture into the prepared tray.
Drizzle with 1 tablespoon of ghee and gently smoothen the top with the spoon.
Let it cool for 15 minutes. Cut into desired shapes.
Let them cool completely at room temperature before storing it.
---
RECIPE NOTES
Store Mysore Pak in an air-tight container, it stays fresh for about 2 weeks at room temperature.
---