These Spicy Zucchini Waffles | Besan Chilla Waffles are a waffle-tastic makeover to Indian besan chilla. Making them is super simple and they are so full of flavors with perfectly crisp outer layer and tender inner texture.
Happiest Friday guys! How's the life in your part of the world? Here, it's getting colder and it's really dark since morning.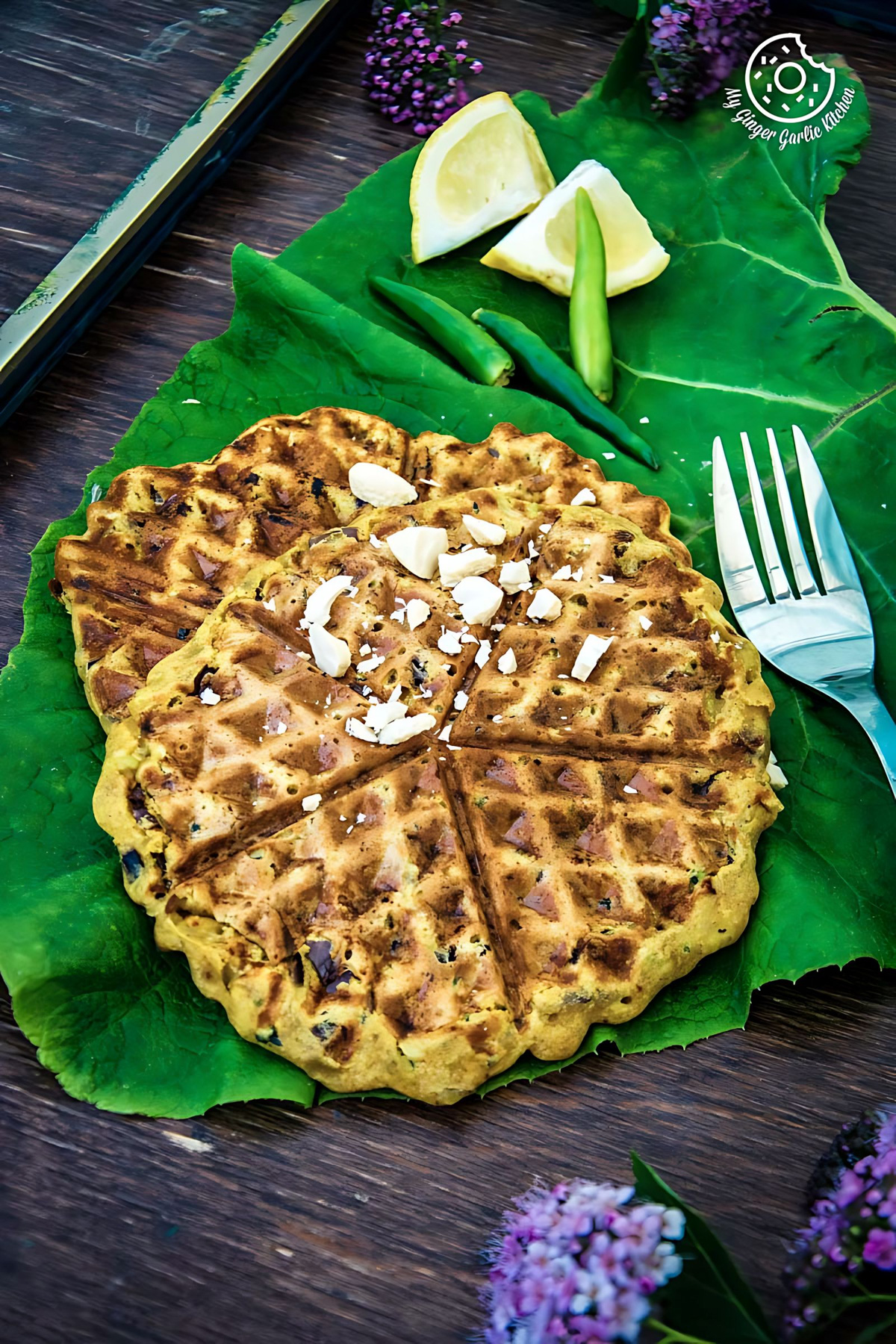 Even though it was cloudy today, I was up early and I must say it was a pretty productive morning for a Friday. The getting cooler weather has me craving for something spicy and filler.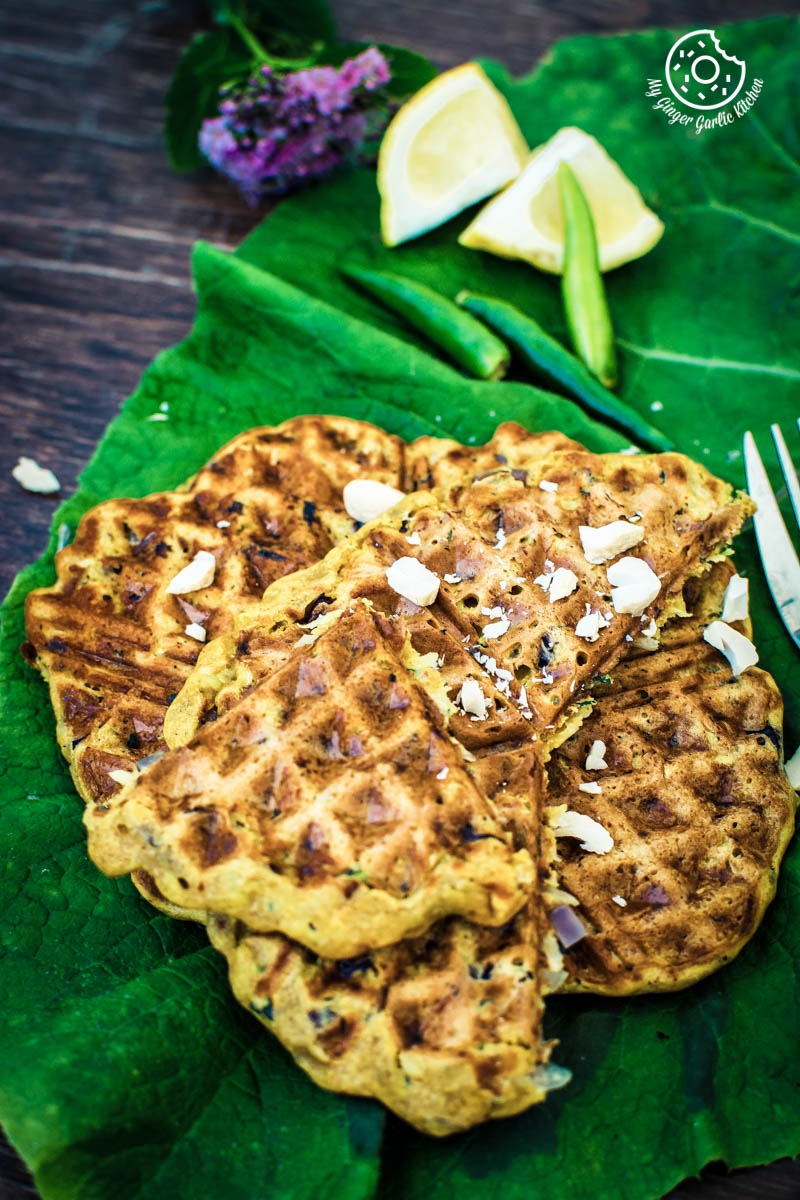 Have you ever faced a situation when you want something heavy yet healthy for breakfast meal but in the morning you don't really have much time to cook? If yes, then these waffles are the excellent solution for you. You need only a mixing bowl, a whisk and a ladle. And you are good to go. They are super quick and fuss free.
But Spicy Waffles for breakfast? Sounds something different? I know what you must be thinking. But this is one of the most exotic and tasty savory waffles I have ever made. These spicy zucchini waffles are a waffle-tastic makeover to Indian besan chilla. They are full of zucchini and onions. We all know that zucchinis and onions go so well together, but pairing them with chickpea flour was the greatest idea.
Believe it or not — they have become one of my favorites for breakfast. My spice loving genes just thank me for these treats. And why not? These treats are filler, they are healthy, they are fresh, they are spicy, they are gluten-free, and they are vegan. Furthermore, making them is 15 mins job max. Serve them with some chutney, salad, and your favorite beverage. I personally love them with some hot coffee.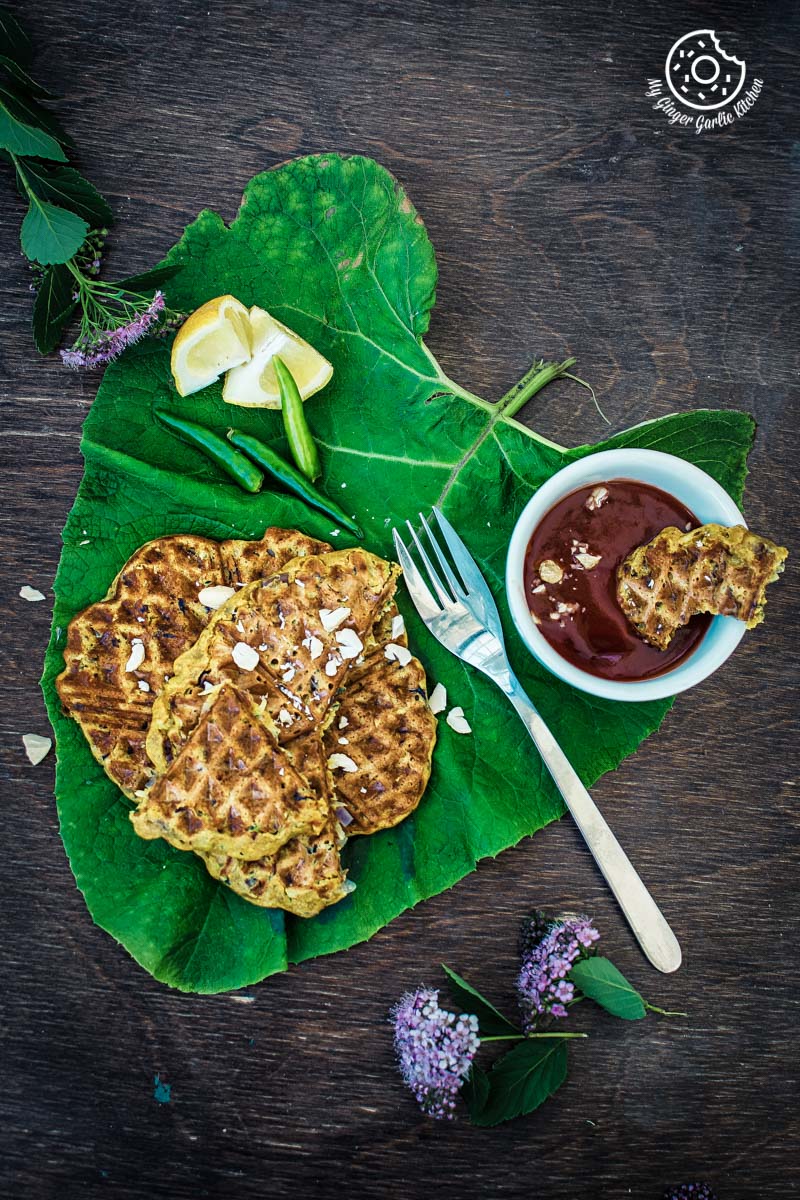 I believe having a good tasty and delicious breakfast is a pure bliss for anyone. Because when you are happy with your breakfast then you are the happy the whole day. Isn't it? For me, empty or unsatisfied stomach makes much more noise and fuss.
Well, the great news is that these low-carb waffles can also make a great lunch, dinner, or snack. They allow you to satisfy those spicy food cravings of yours.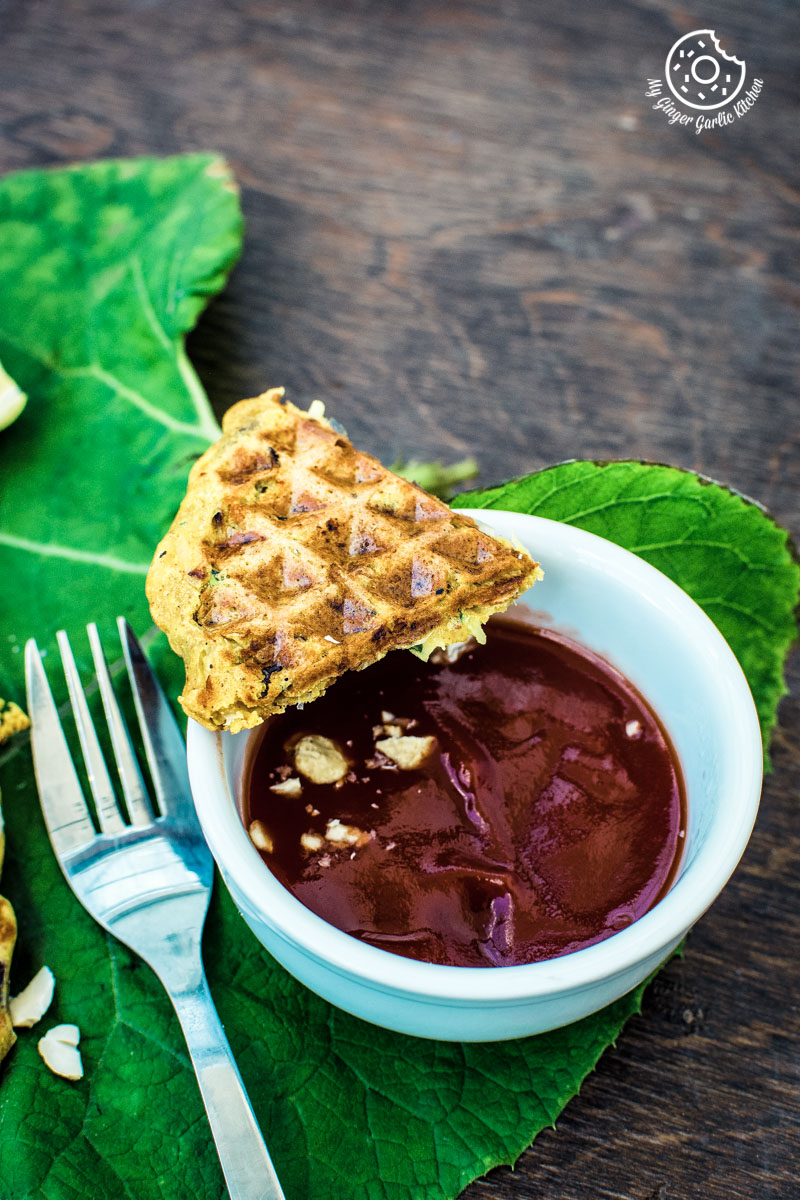 I am so much in love with waffles in general. However, I don't eat sweet waffles much, but savory ones are always welcome. If you are like me who loves savory/spicy waffles then I guarantee, you are gonna absolutely love these. There are not so many ingredients involved in these zucchini waffles.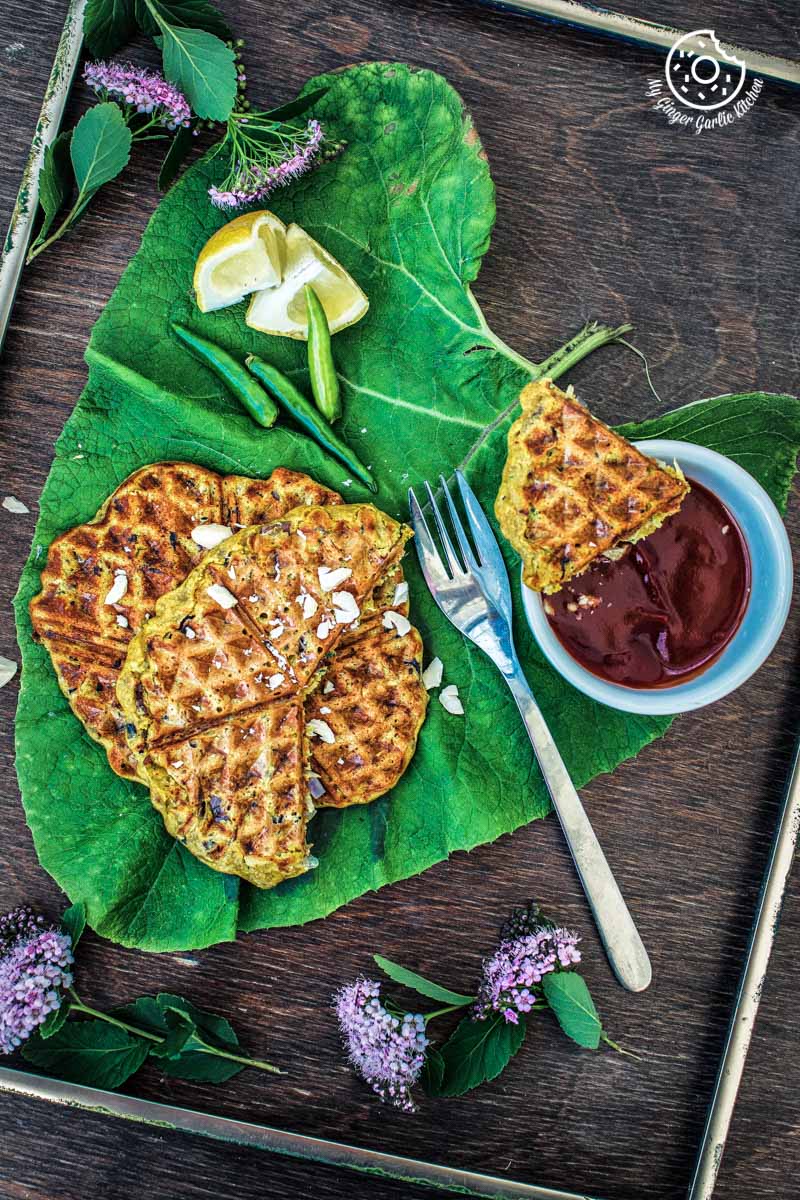 Why I am saying they are the best savoury waffles?
There is no white flour, so it's gluten free and only takes minutes to make.
They do not contain any eggs.
To make things even faster you can grate zucchinis and onions in a food processor with the grating blade in it.
I chopped onions because I wanted to eat those chunks, but if you like you can also grate onions.
There is no need to squeeze out zucchini water, so no loss of nutrients.
If you have kids who don't eat zucchini as such, then these waffles are a fun way to get your kids to eat zucchini.
Making them is super simple and they are so full of flavors and perfectly tender textured.
So let's make this Spicy Zucchini Waffles without wasting any time.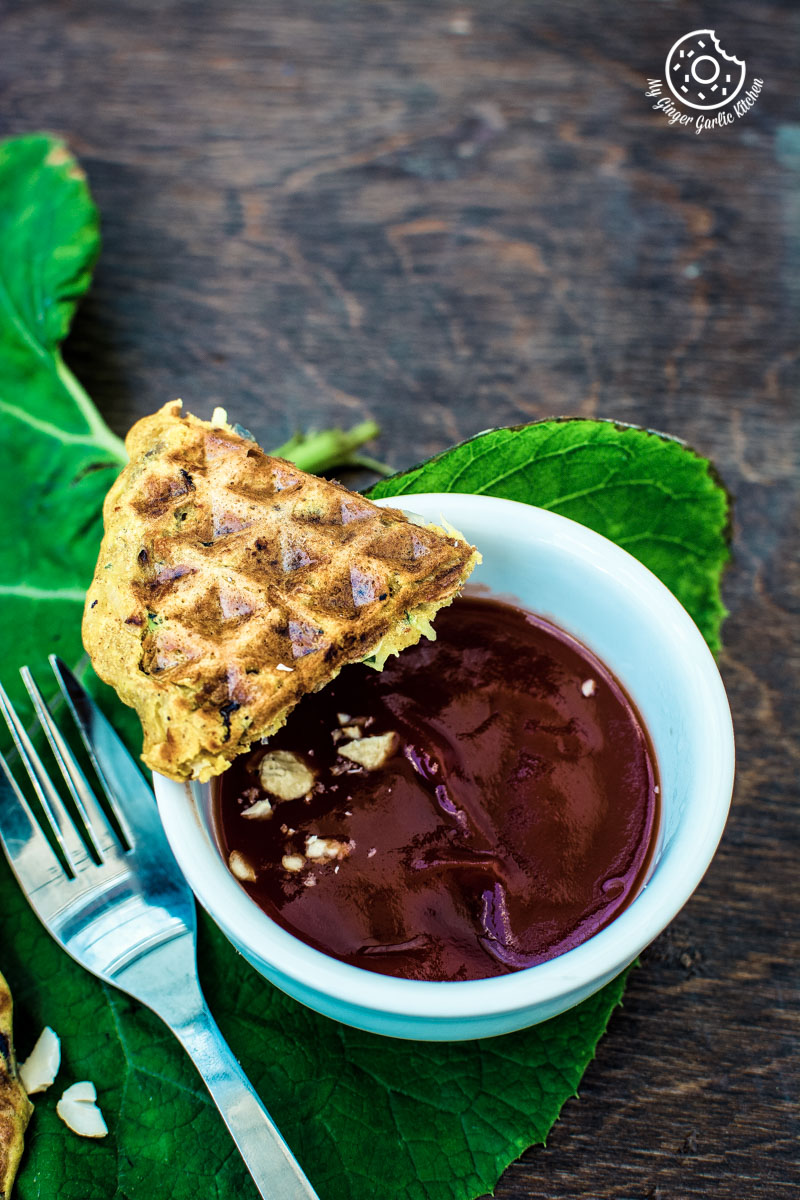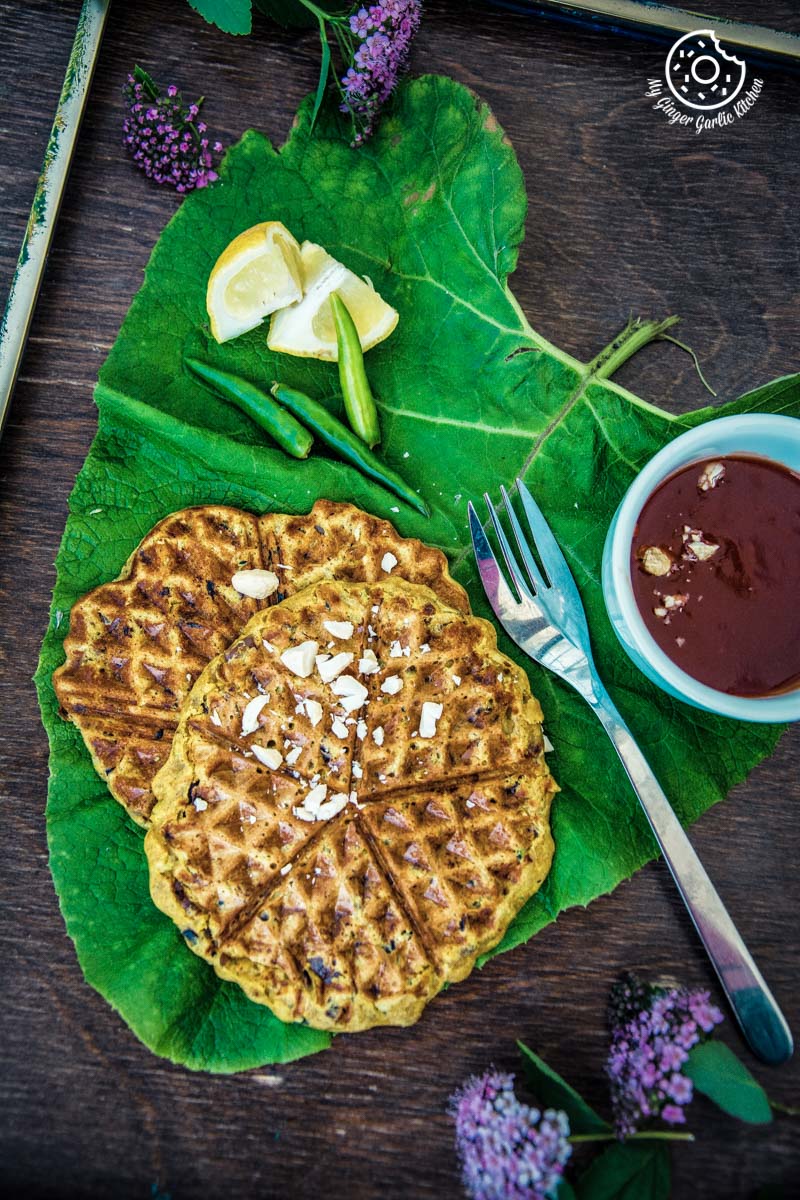 Spicy Zucchini Waffles - How to Make Waffled Besan Chilla

[Recipe]
These Spicy Zucchini Waffles are a waffle-tastic makeover to Indian besan chilla. Making them is super simple and they are so full of flavors.
---
★★★★✰
(Rating:
4.2
from
37
reviews)
---
| Prep time 🕐 | Cook time 🕐 | Total time 🕐 |
| --- | --- | --- |
| | | 20 mins |
| Category ☶ | Cuisine ♨ | Serves ☺ |
| Breakfast | Indian | 8 large |
| Nutrition Info ⊛ | | Serving size ⊚ |
| 65 calories | | 1 waffle |
---
INGREDIENTS
For Spicy Zucchini Waffles:
1 cup grated zucchini
1 cup onions, chopped
1/2 cup water
1 cup gram flour
1 teaspoon grated ginger
2 teaspoons grated garlic
1 teaspoon red chili powder
1/4 teaspoon turmeric powder
1 teaspoon cumin seeds
1/4 teaspoon garam masala powder
salt to taste
1 tablespoon lemon juice
1 tablespoon oil, plus 1 teaspoon for brushing
---
INSTRUCTIONS:
How to Make Spicy Zucchini Waffles:
Place zucchini, onions, gram flour, ginger, garlic, salt, turmeric powder, red chili powder, cumin seeds, and lemon juice, 1/2 cup water in a large mixing bowl.




Whisk until all ingredients are incorporated.




Add garam masala over the top of the mixture and stir well. Add more water if needed.




Heat waffle iron to medium-high.




Lightly brush the waffle iron with oil.




Pour 4-5 tablespoons of a batter to the center of your waffle iron, depending on how large you want your waffles.




Close the lid and cook according to your manufacturer's instructions, or until deep brown and crisp.




Remove and repeat with the remaining batter.




Serve Spicy Zucchini Waffles with some plain yogurt, chutney, and salad, as desired.

---
WATCH RECIPE VIDEO: Click the play button and video will load ...
---
NOTES:
With the same recipe, you can make spicy lauki waffles by replacing grated zucchini with grated bottle gourd (lauki).
---
If this recipe helped you, then please spread the word by sharing and
subscribing
to us on YouTube to get more such Recipe Videos.
---
Your feedback is so helpful for me and other MyGingerGarlicKitchen readers. So, for Facebook and Instagram, please mention
@MyGingerGarlicKitchen
or
#mygingergarlickitchen
. I would love to see your photos. :)
---
Author:
Anupama
Recipe Source Link:
https://www.mygingergarlickitchen.com/spicy-zucchini-waffles-how-to-make-waffled-besan-chilla-video-recipe/
Date Published:
2021-02-22
• • • • • • • • • •