Spicy Zucchini Waffles - How to Make Waffled Besan Chilla
These Spicy Zucchini Waffles are a waffle-tastic makeover to Indian besan chilla. Making them is super simple and they are so full of flavors.
---
« Go back
Print this recipe »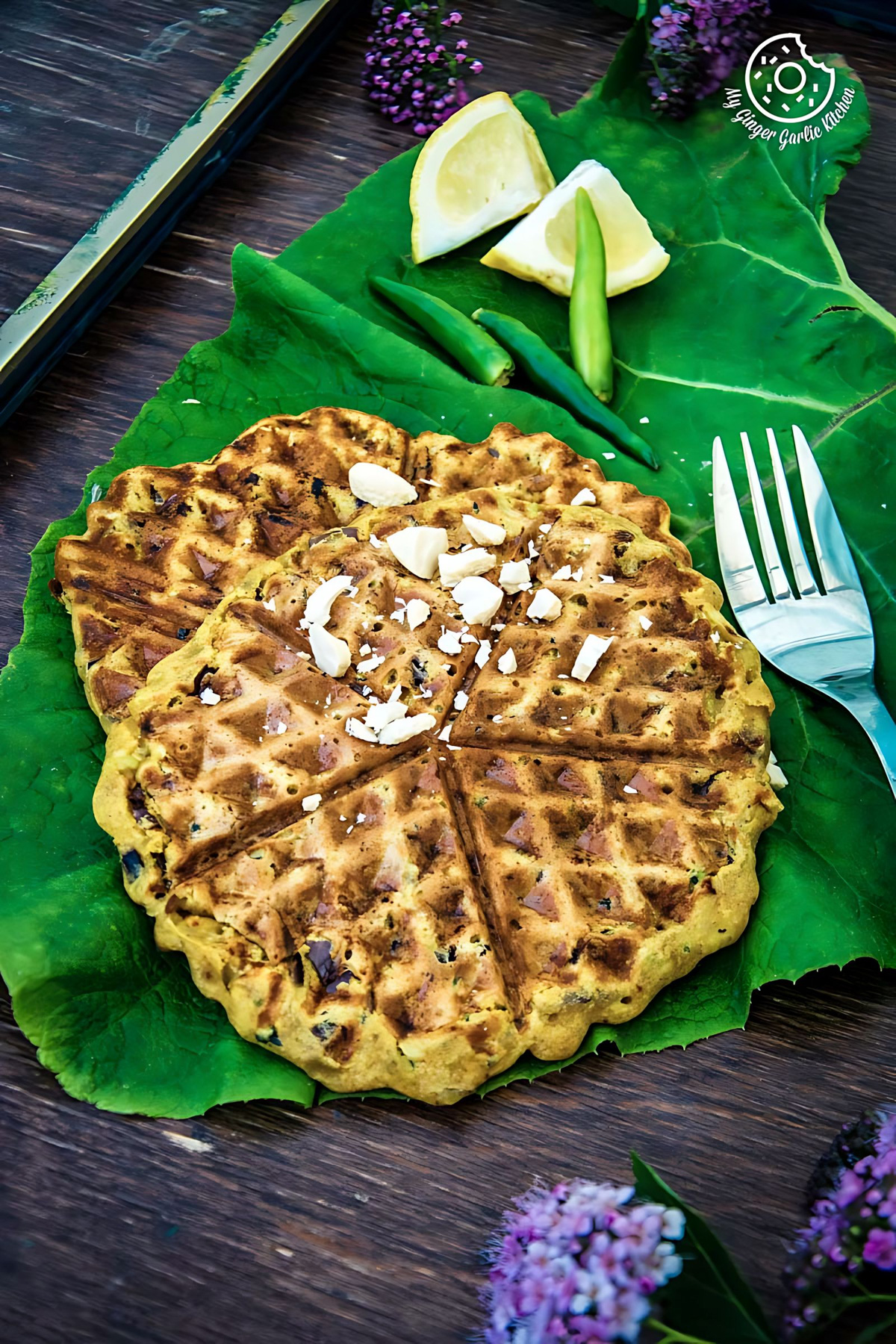 ---
Prep Time = 10 minutes
Cook Time = 10 minutes
Total Time = 20 minutes
Category = Breakfast
Cuisine = Indian
Serves = 8 large
Nutrition Info = 65 calories
Serving Size = 1 waffle
---
RECIPE INGREDIENTS
» For Spicy Zucchini Waffles:
1 cup grated zucchini
1 cup onions, chopped
1/2 cup water
1 cup gram flour
1 teaspoon grated ginger
2 teaspoons grated garlic
1 teaspoon red chili powder
1/4 teaspoon turmeric powder
1 teaspoon cumin seeds
1/4 teaspoon garam masala powder
salt to taste
1 tablespoon lemon juice
1 tablespoon oil, plus 1 teaspoon for brushing
---
RECIPE INSTRUCTIONS
» How to Make Spicy Zucchini Waffles:
Place zucchini, onions, gram flour, ginger, garlic, salt, turmeric powder, red chili powder, cumin seeds, and lemon juice, 1/2 cup water in a large mixing bowl.
Whisk until all ingredients are incorporated.
Add garam masala over the top of the mixture and stir well. Add more water if needed.
Heat waffle iron to medium-high.
Lightly brush the waffle iron with oil.
Pour 4-5 tablespoons of a batter to the center of your waffle iron, depending on how large you want your waffles.
Close the lid and cook according to your manufacturer's instructions, or until deep brown and crisp.
Remove and repeat with the remaining batter.
Serve Spicy Zucchini Waffles with some plain yogurt, chutney, and salad, as desired.
---
RECIPE NOTES
With the same recipe, you can make spicy lauki waffles by replacing grated zucchini with grated bottle gourd (lauki).
---