Namak Pare or Namak Para (Nimki) is a popular crispy and crunchy deep-fried savory Indian snack. Namak para has a crispy and flaky texture which is similar to samosa pastry in taste. This easy 'Namak Pare' recipe makes a great tea-time snack. Prepare this delightful snack recipe at home using the step by step video tutorial shared on this page.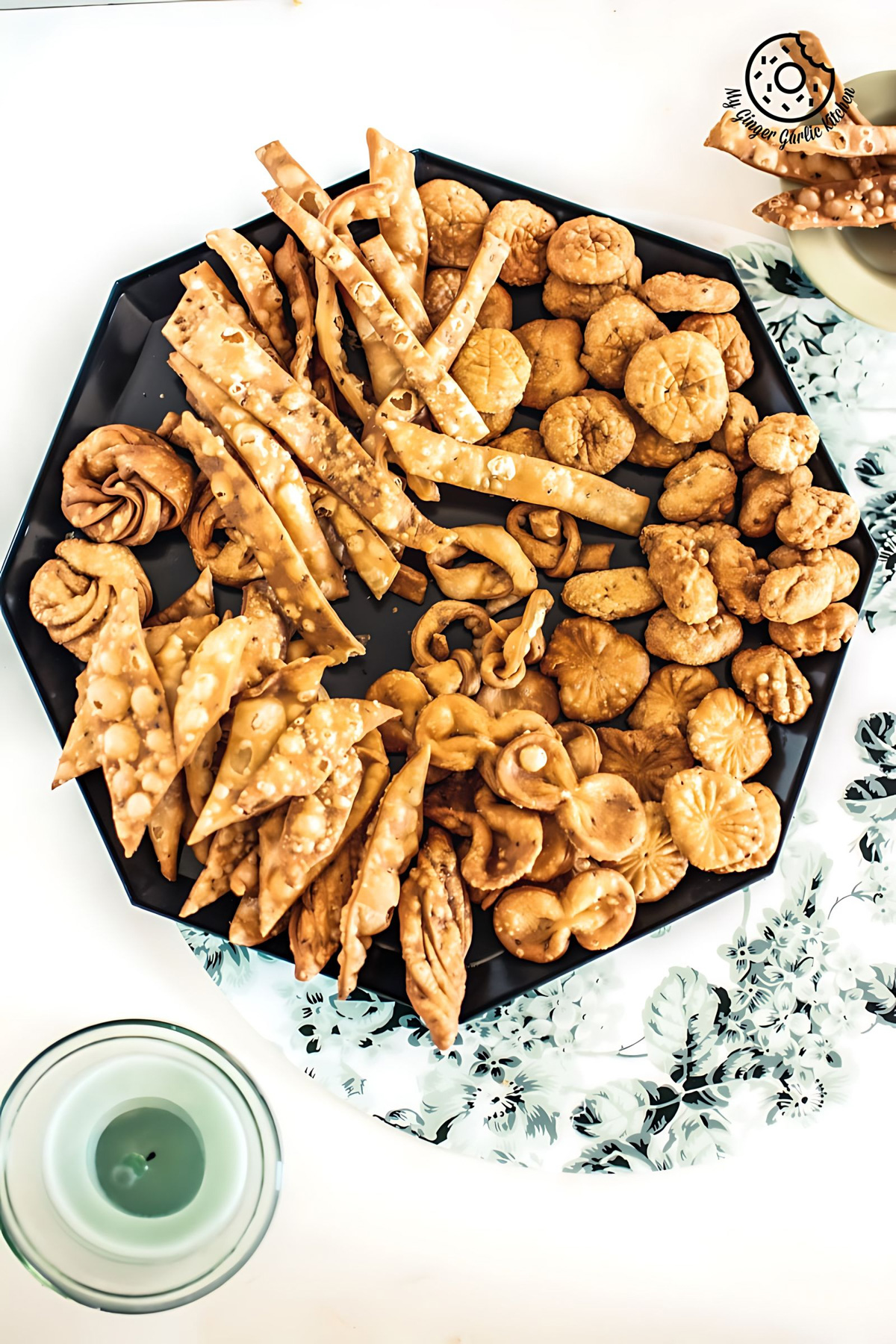 Namak Para can be eaten any time of the year as a snack but they are must, during the festivities of Holi and Diwali. Since the Indian festival of Holi is almost here, I thought of sharing this easy peasy Namak Para recipe with you.
What is Namak Para or Namak Pare?
Namak para or Namak Pare is a crunchy and crispy deep-fried salty Indian snack. Namak is a name for salt in Hindi language. 'Para' is usually referred to something which has a diamond or cube shape.
Namak pare is normally ribbon-like diamond shaped strips of a pastry which is gracefully seasoned with ajwain (carom seeds), and ghee/oil (also known as moyen). As the name of this recipe elucidates, Namak aka salt is used as the key seasoning in this Namak Para recipe.
There is also a sweet variant of this snack which is known as 'Shakkarpara'.
How to serve Namak Para?
You can enjoy these perfect bite-sized 'namak para' with a hot cup of ginger-cardamom tea (adark ilaichi wali chai), or a cup of spiced coffee. Namak Para also tastes magnificent with some pickle, tomato ketchup, or even green coriander chutney. Or you can simply munch on these without anything else. They always taste fabulous.
Namak Paare are also excellent to serve to your guests on holi party or get-togethers, along with Chakli, Masala Mathri, Mawa Gujiya, Moong Dal Namkeen, and Chana Dal Namkeen.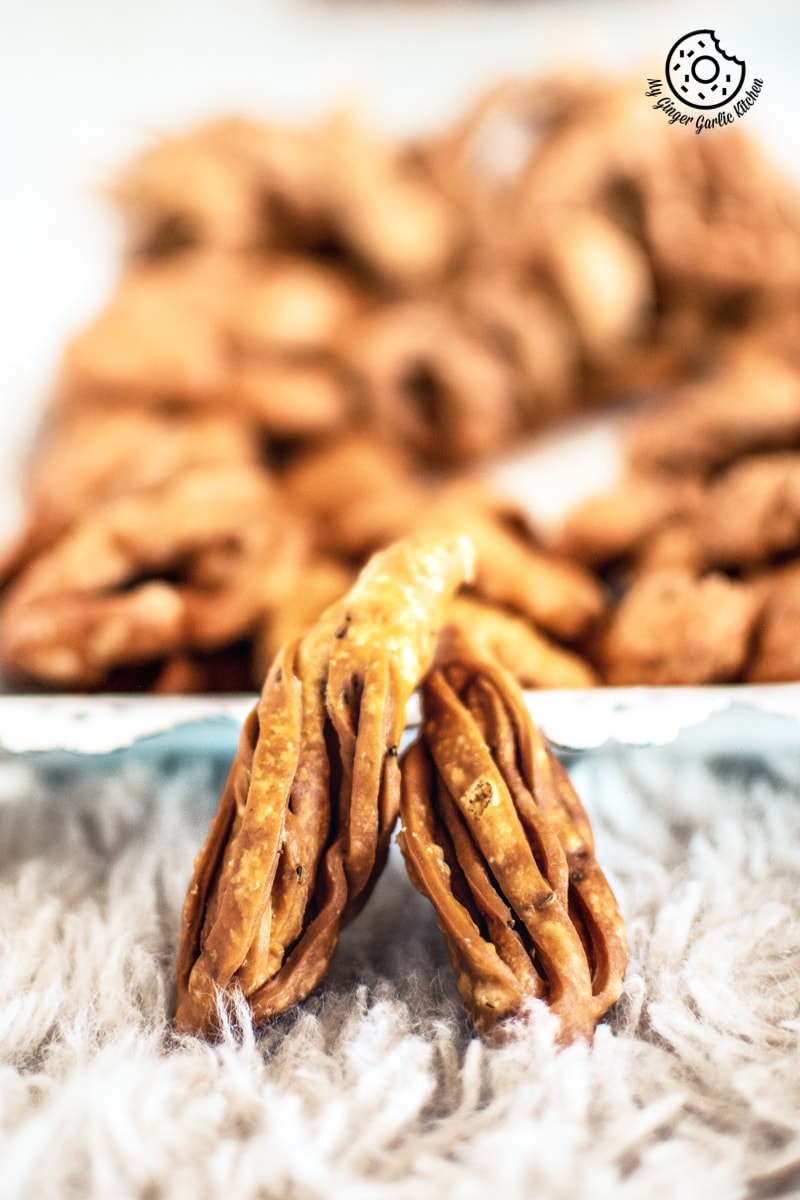 Can I use whole wheat flour for making Namak Para?
Traditional namak para recipe calls for maida (white refined flour). But you can easily replace all-purpose flour with the (atta) whole wheat flour. Or you can also use the combination of the whole wheat flour and all-purpose flour.
How to make Namak Para Dough?
For making Namak Para dough you first sift the flour. Then add salt, ghee, and carom seeds to the dry flour. Addition of ghee/oil is a requisite, because it provides the dough that perfectly desired flaky texture.
Mix well until all the moyen (ghee/oil) is incorporated well.
Then add some warm water and knead into a firm dough. It requires approximately 10-15 minutes of kneading. You can also use a food processor or a stand mixer for kneading Namak Para dough. The key to get the crunchy namak paare is to knead it really firm and let it rest for at-least 30 minutes covered with a wet cloth. After 30 minutes, dough is ready to play with.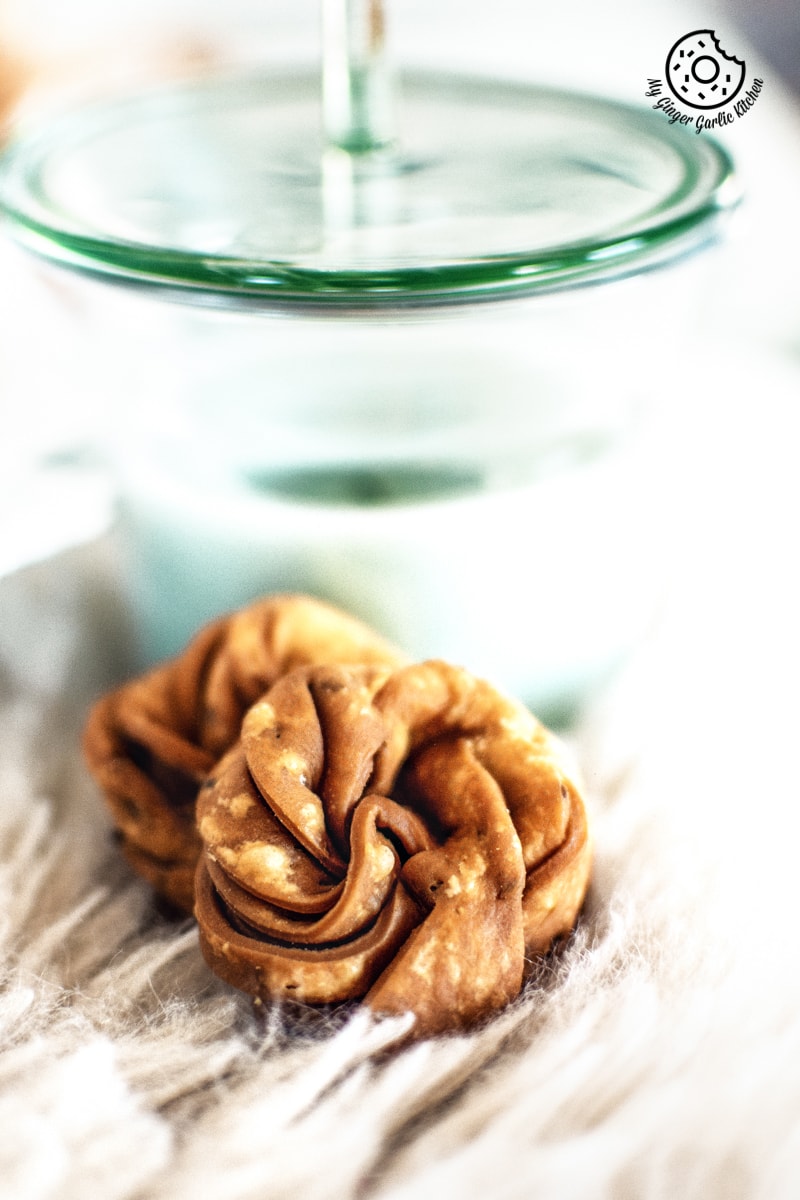 How to give fun shapes to Namak Para?
Namak para is usually made into diamond shapes. But you can be creative and enjoy them in many shapes as I do. Each different shape gives a different feel and taste.
So, if you are bored with the typical diamond shaped Namak Pare then you should clearly try your hands on easy fun shapes. I have shared 8 different shapes in my recipe video.
Make these differently shaped namak para at home, and I can assure you that the kids and grownups would enjoy munching of these fun shapes of Namak Para. Pack these namak paras in your kid's snack box and they would polish it off in no time.
How to make Namak Pare in the oven?
Namak pare taste best when they are deep-fried. But if you are on a diet then you can surely bake them in oven. To bake them, preheat oven to 175°C/350°F. Arrange sliced namak pare on lined baking tray. Brush them with some oil and bake in at 175°C/350°F 15-18 minutes.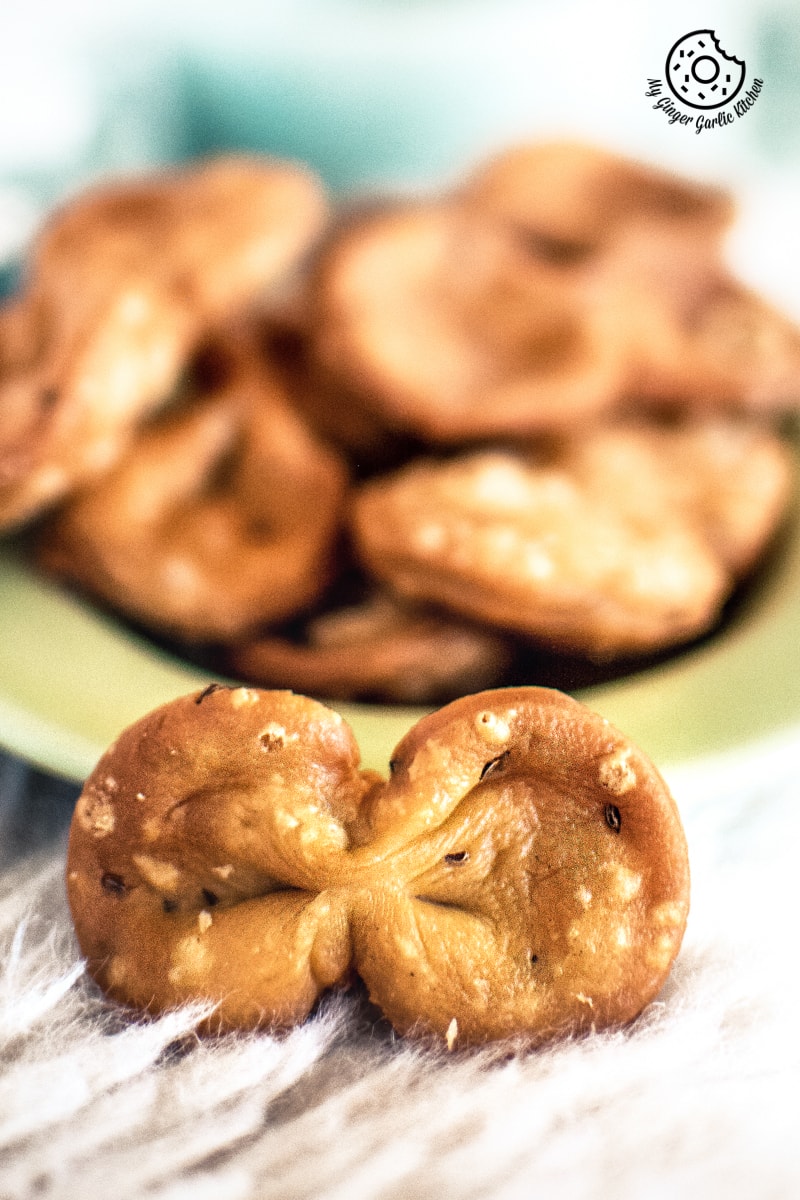 Important tips to make your absolute best Namak Para at home:
Some people like to add cumins instead of carom seeds. But I personally like carom seeds in my Namak Para. If you like cumin in your namak para, then you can replace carom seeds with the same amount of cumin seeds. Or you can also use the combination of carom seeds and cumin seeds. You can also add some toasted sesame seeds or lightly crushed black pepper and cloves.
I do not add baking soda to namak para recipe, because this is actually not required. But if you want to bake namak para then I would recommend adding ¼ tsp of baking powder to the dry flour mixture.
There is another version of namak para which is masala Namak Para. To make masala namak para, you can add the spices (masala) of your choice to the namak para dough.
The dough should be stiff when you are making this snack namak para. The consistency of dough should be like poori/puri ka atta (poori dough).
The temperature of the oil plays an important role in making namak para. Never fry namak pare over very low or very high heat. The perfect temperature is medium-low heat. Heat the oil and then turn it to medium-low heat. If you fry them over low heat they would absorb so much of the oil while frying and come out too oily, which wouldn't taste good.  And if you fry them over high heat they would turn brown very fast and would not cook properly from the inside.
To make namak pare extra crunchy, you can also add 2 tablespoons of suji or semolina to the dry flour mixture.
After deep-frying, drain the Namak Pare onto a kitchen tissue and let them cool completely before storing in an airtight container.
Store namak pare in a container lined with a kitchen tissue. The tissue would soak up the extra oil and your namak pare would stay crisp.
You can make namak para in large batches and store namak pare in an airtight container for up to 3 weeks.
Prepare this snack in advance for the celebrations and enjoy it on the time of festivals or simply have them with a cup of this masala chai.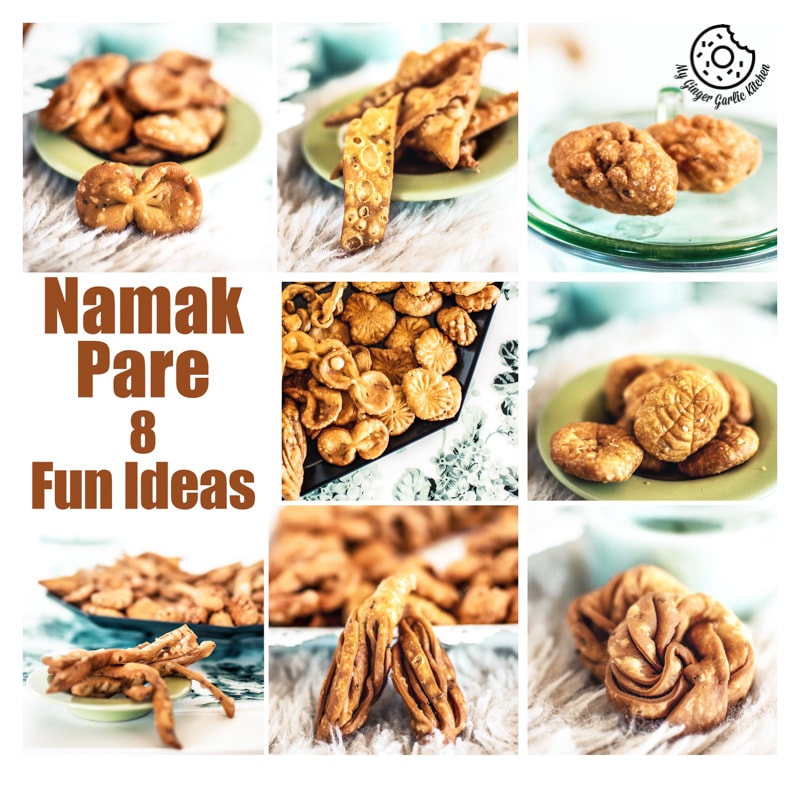 Namak Para (8 fun Ways)

[Recipe]
Namak Pare or Namak Para (Nimki) is a popular crispy, flaky and crunchy deep-fried savory Indian snack. Make this delightful snack with a video tutorial.
---
★★★★✰
(Rating:
4.2
from
55
reviews)
---
| Prep time 🕐 | Cook time 🕐 | Total time 🕐 |
| --- | --- | --- |
| | | 40 mins |
| Category ☶ | Cuisine ♨ | Serves ☺ |
| Snack | Indian | 6 |
| Nutrition Info ⊛ | | Serving size ⊚ |
| 302 calories | | 100g |
---
INGREDIENTS
For Namak Para:
2 cups all purpose flour (maida), or atta (whole wheat flour)
1.5 teaspoons salt or to taste
1 teaspoon crom seeds (ajwain)
1/2 cup warm water, or as required
3 tablespoons ghee/oil
Oil for deep frying
---
INSTRUCTIONS:
How to Make Namak Para Dough:
Add maida, salt, ajwain, and ghee to a large mixing bowl.




Rub ghee/oil into flour using your fingertips and hand. Now rub the dry flour between your palms to make sure there are no lumps. It should have a breadcrumb-like texture.




To check, press the flour ghee mixture in your fists, if it holds the shape it is ready.




Start adding warm water a little at a time and knead into a stiff and smooth dough. It would take about 10-15 minutes.




Cover the dough with the damp towel and let it rest for 30 minutes.




Once rested, uncover the dough.




Divide it into 4 portions, and roll each portion into a smooth ball and flatten it on a work surface or between your palms.



How to Shape Namak Para:
Using a rolling pin, roll the flattened dough ball into a 9-10 inch diameter circle. It should not be too thick or too thin.




Using a pizza/pasta cutter or knife, cut the circle into diamonds. (Don't forget to check out the namak para recipe video where I have shown how to make 8 fun shapes of namak pare.)




Transfer namaka pare onto a plate in a single layer. Set them aside.



Deep-Frying Namak Para:
Heat oil in a heavy bottom pan over medium heat. Once the oil is hot, turn the heat to medium-low.




Drop namak pare in the hot oil




Deep fry them on medium-low heat until golden brown.




Using a slotted spoon, drain excess oil, and remove fried namak para from the oil and transfer onto a plate lined with a kitchen tissue.




Let them cool completely before storing. Serve these as a snack with a hot cup of tea and enjoy them with your family and friends.



How to Bake Namak Para:
Preheat the oven to 175°C/350°F.




Arrange sliced namak para on a lined baking tray and brush them evenly with ghee/oil.




Bake namak para at 175°C/350°F for 15-18 minutes or till they are golden.




Place baked namak paras on a wire rack and let them cool completely.




Once cooled, store the baked namak para in an air-tight container.




Serve namak para with some chutney and masala chai.

---
WATCH RECIPE VIDEO: Click the play button and video will load ...
---
NOTES:
Store namak pare in a container lined with a kitchen tissue. The tissue would soak up the extra oil and your namak pare would stay crisp.

You can make namak para in large batches and store namak pare in an airtight container for up to 3 weeks.
---
If this recipe helped you, then please spread the word by sharing and
subscribing
to us on YouTube to get more such Recipe Videos.
---
Your feedback is so helpful for me and other MyGingerGarlicKitchen readers. So, for Facebook and Instagram, please mention
@MyGingerGarlicKitchen
or
#mygingergarlickitchen
. I would love to see your photos. :)
---
Author:
Anupama
Recipe Source Link:
https://www.mygingergarlickitchen.com/namak-para-recipe/
Date Published:
2020-11-05
• • • • • • • • • •