Namak Para (8 fun Ways)
Namak Pare or Namak Para (Nimki) is a popular crispy, flaky and crunchy deep-fried savory Indian snack. Make this delightful snack with a video tutorial.
---
« Go back
Print this recipe »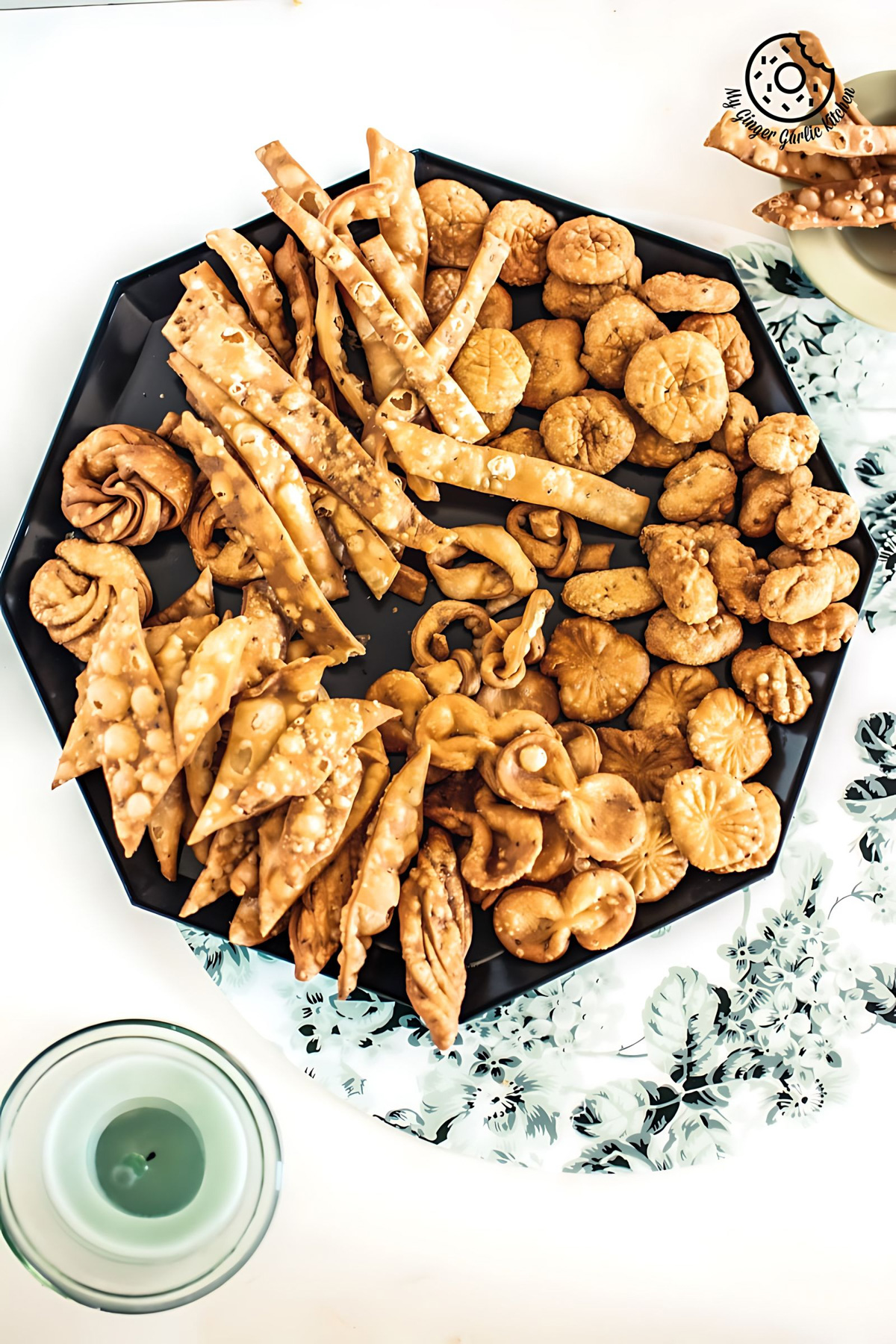 ---
Prep Time = 10 minutes
Cook Time = 30 minutes
Total Time = 40 minutes
Category = Snack
Cuisine = Indian
Serves = 6
Nutrition Info = 302 calories
Serving Size = 100g
---
RECIPE INGREDIENTS
» For Namak Para:
2 cups all purpose flour (maida), or atta (whole wheat flour)
1.5 teaspoons salt or to taste
1 teaspoon crom seeds (ajwain)
1/2 cup warm water, or as required
3 tablespoons ghee/oil
Oil for deep frying
---
RECIPE INSTRUCTIONS
» How to Make Namak Para Dough:
Add maida, salt, ajwain, and ghee to a large mixing bowl.
Rub ghee/oil into flour using your fingertips and hand. Now rub the dry flour between your palms to make sure there are no lumps. It should have a breadcrumb-like texture.
To check, press the flour ghee mixture in your fists, if it holds the shape it is ready.
Start adding warm water a little at a time and knead into a stiff and smooth dough. It would take about 10-15 minutes.
Cover the dough with the damp towel and let it rest for 30 minutes.
Once rested, uncover the dough.
Divide it into 4 portions, and roll each portion into a smooth ball and flatten it on a work surface or between your palms.
» How to Shape Namak Para:
Using a rolling pin, roll the flattened dough ball into a 9-10 inch diameter circle. It should not be too thick or too thin.
Using a pizza/pasta cutter or knife, cut the circle into diamonds. (Don't forget to check out the namak para recipe video where I have shown how to make 8 fun shapes of namak pare.)
Transfer namaka pare onto a plate in a single layer. Set them aside.
» Deep-Frying Namak Para:
Heat oil in a heavy bottom pan over medium heat. Once the oil is hot, turn the heat to medium-low.
Drop namak pare in the hot oil
Deep fry them on medium-low heat until golden brown.
Using a slotted spoon, drain excess oil, and remove fried namak para from the oil and transfer onto a plate lined with a kitchen tissue.
Let them cool completely before storing. Serve these as a snack with a hot cup of tea and enjoy them with your family and friends.
» How to Bake Namak Para:
Preheat the oven to 175°C/350°F.
Arrange sliced namak para on a lined baking tray and brush them evenly with ghee/oil.
Bake namak para at 175°C/350°F for 15-18 minutes or till they are golden.
Place baked namak paras on a wire rack and let them cool completely.
Once cooled, store the baked namak para in an air-tight container.
Serve namak para with some chutney and masala chai.
---
RECIPE NOTES
Store namak pare in a container lined with a kitchen tissue. The tissue would soak up the extra oil and your namak pare would stay crisp.
You can make namak para in large batches and store namak pare in an airtight container for up to 3 weeks.
---