These individual desserts are an enticing and fusion amalgamation of chilled rice kheer, fruit cream, and chocolate.
Learn to make Fruit Cream Rice Kheer Recipe - Indian Pudding Kheer Dessert recipe with video instructions.
When delicious ingredients are combined into a dessert, you definitely get a worth trying elegant and delectable dessert. They have that sweet flavor and glorious texture of kheer, which is well blended with the delicious flavor of fruits and cream resulting in the divine taste.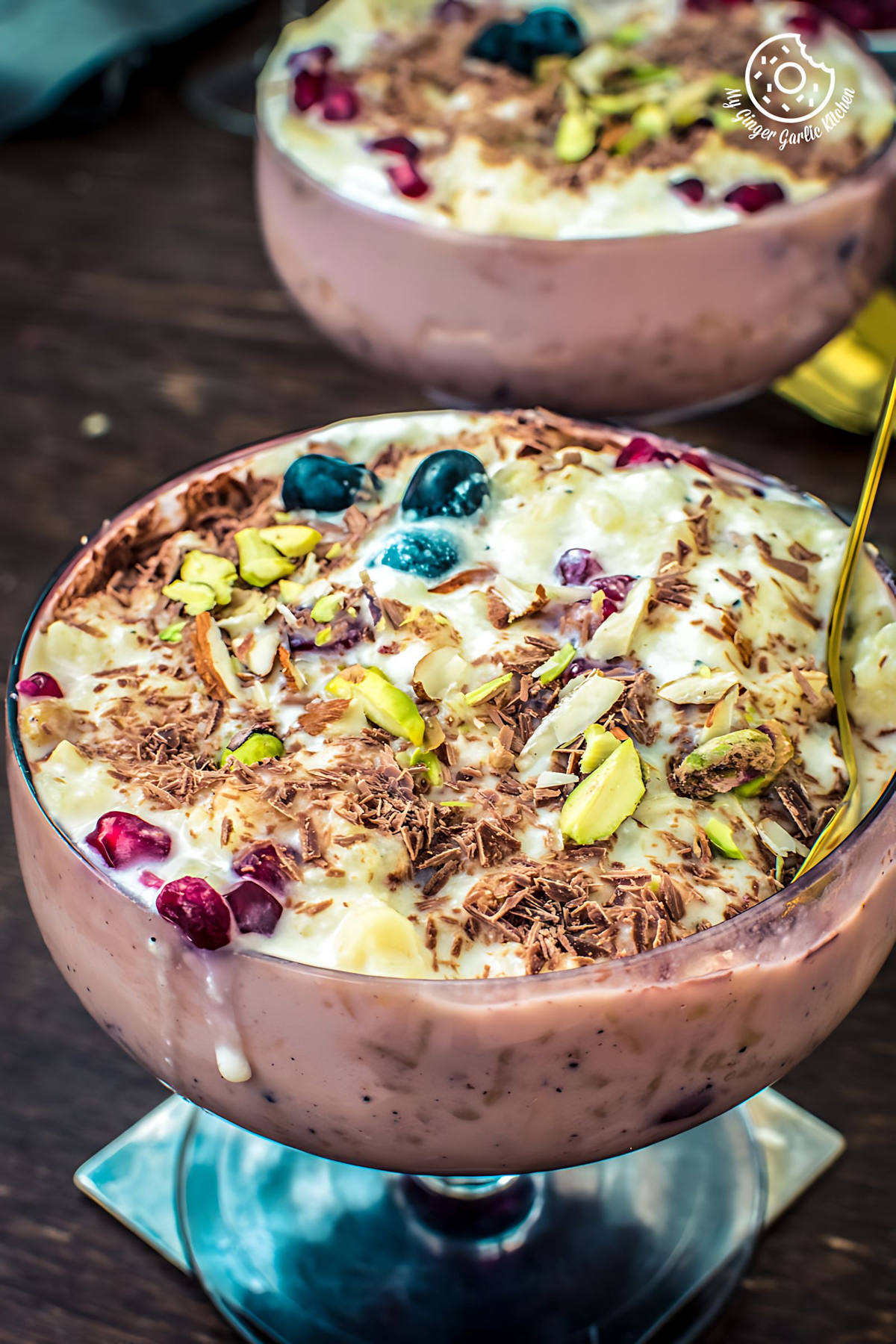 Dessert in individual portions always feels much better. This way you exactly know how much you can eat. The first glance at any individual dessert primes your brain and you know how much and what delicacy is gonna fill your mouth very soon. Isn't it?
Related: Chocolate Mousse With Aquafaba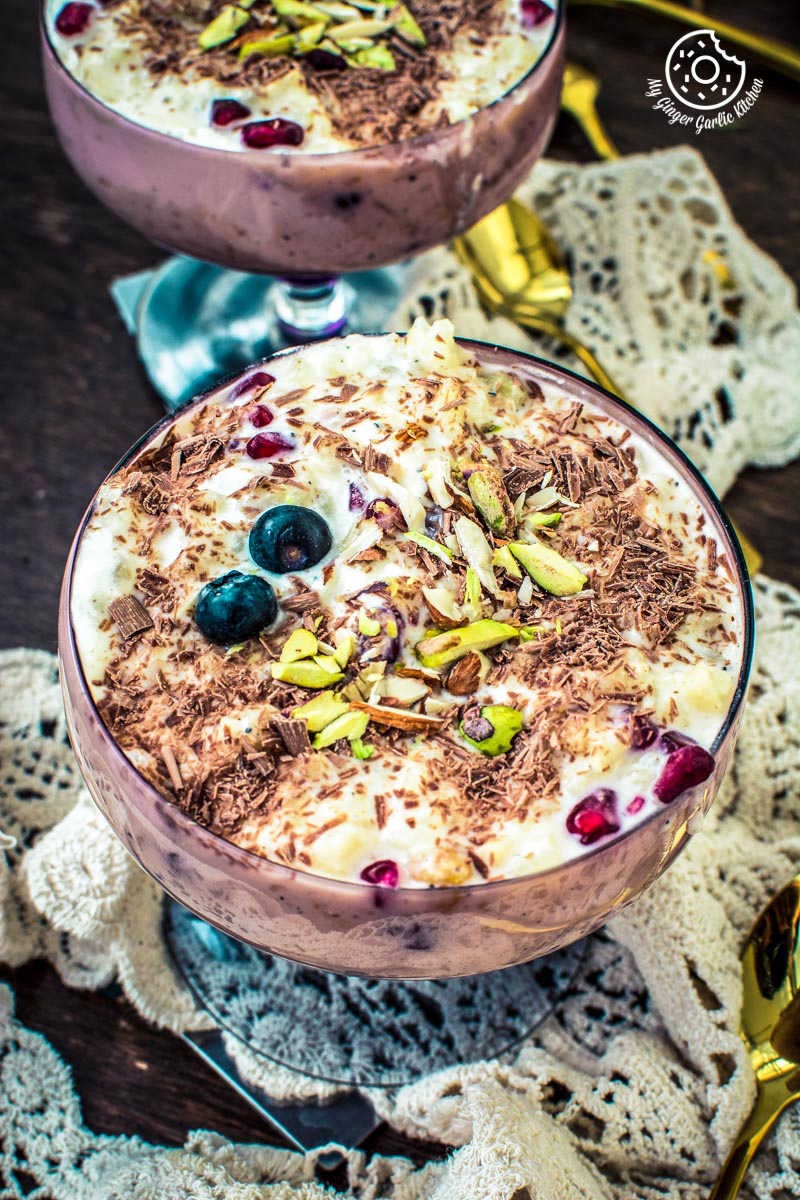 These Indian Pudding Kheer Dessert glasses are so cute. Undoubtedly, they taste wonderful too. How can they not taste good when we merge two of the most delicious desserts? If you ask me, all fusion and 2-in-1 desserts are a big hit at my place, and these pretty looking kheer glasses are no exception.
Oh my God! Oh my God! Easter is coming, so what should I make?
This is the question many of you would be asking at about this time. Well, the potential answer is this recipe.
I am sharing this today because the long Easter weekend needs some undecayed desserts. And because Easter is this Sunday, and also because I just wanted to share these with your before the long weekend.
Related: Eggless Banana Peanut Butter Chocolate Brownies
Related: Chocolate Vermicelli Kheer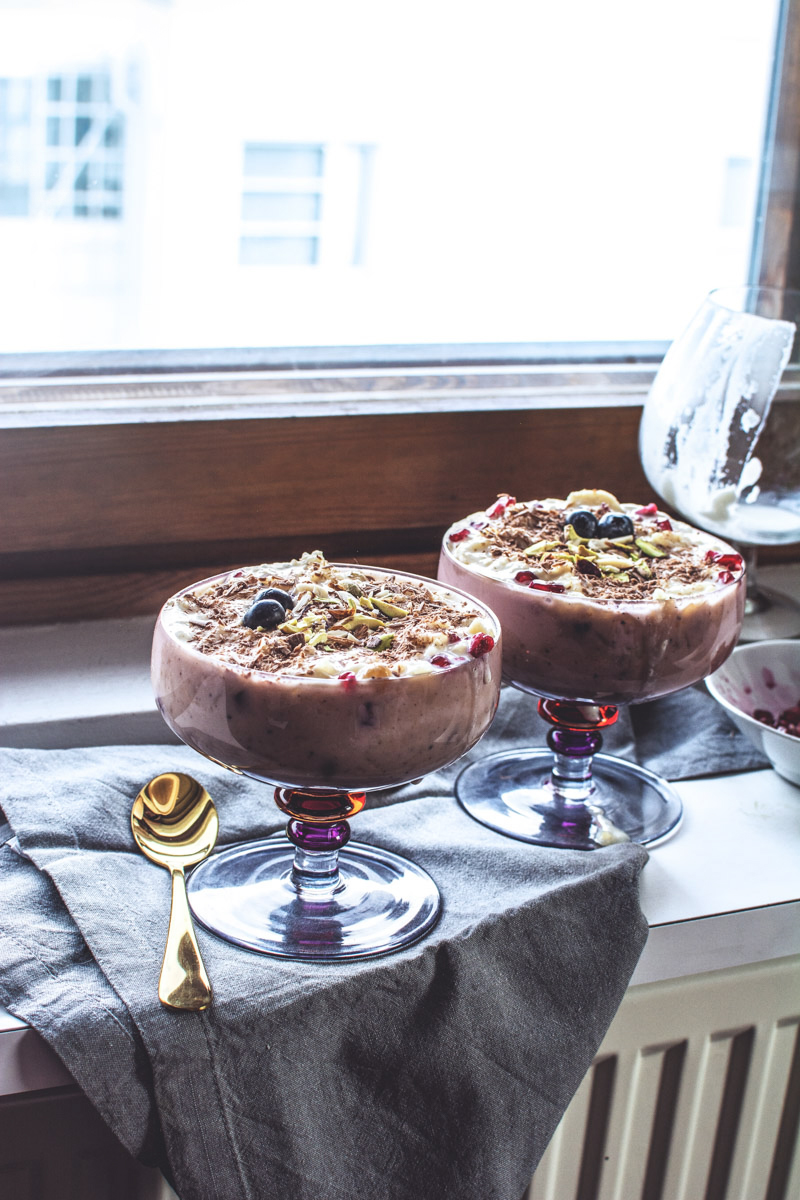 Other important reason is that I could not resist sharing these Fruit Cream Rice Kheer | Indian Pudding Kheer Dessert Recipe glasses with you. See, now you know that I have so many good reasons to share this dessert with you. 🙂
Guys, do you remember when I told you about my hate-love affair with the Rice Kheer? But this time I am sure you must have noticed that now I do admire my sweets. Seems like I have started loving them even more with every passing day.
How peculiar is that our taste glands evolve over the years, and we start cherishing the dishes we hate? Does that happen to everyone, or is it just me?
Related: Eggless Chocolate Hazelnut Ice Cream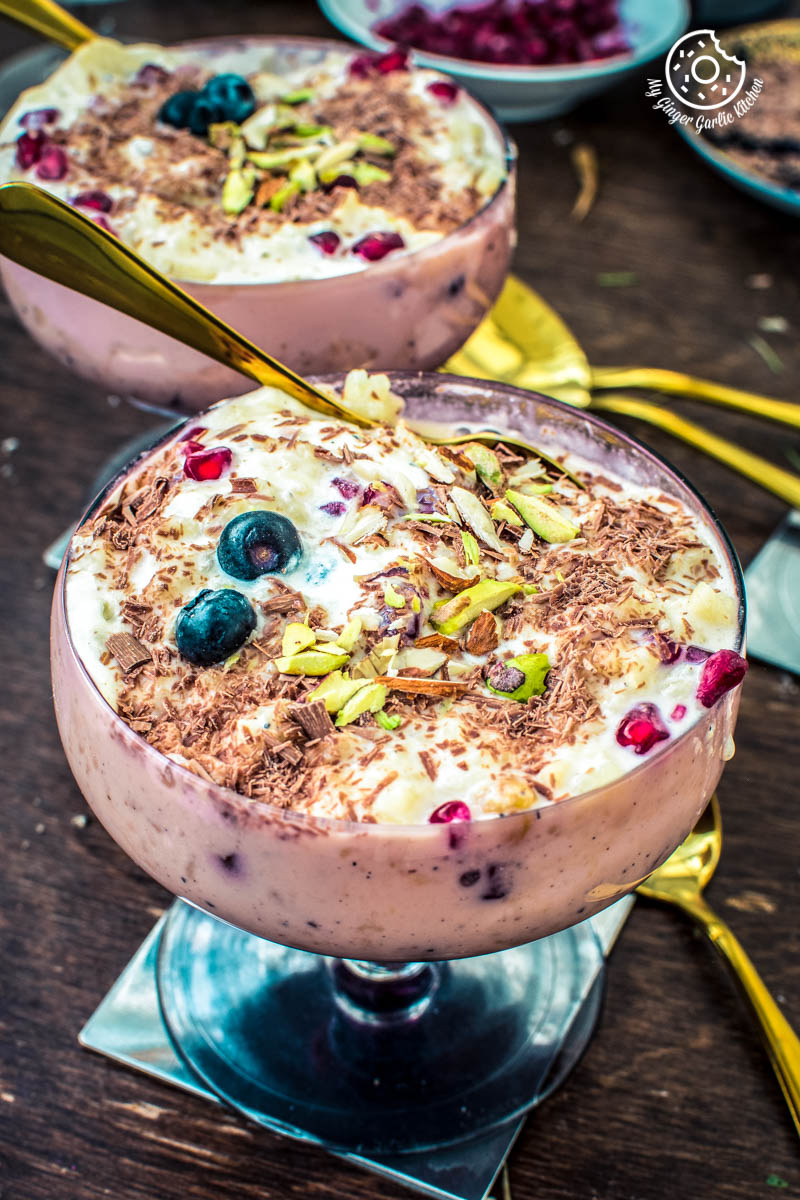 Is It possible to have dessert for meals?
Yes, it it possible. How? I tell you. Now you know that I love any kind of desserts, and at times I can even make them a meal. 😉
Yes, I do love sweet stuff but I also feel so full after eating them. Thus, most of the times when I make desserts at home they eventually become my meals, because I can't resist eating them, and I can't eat anything else after eating most of the desserts. Ice creams are the exceptions though. 🙂
Related: Seviyan Kheer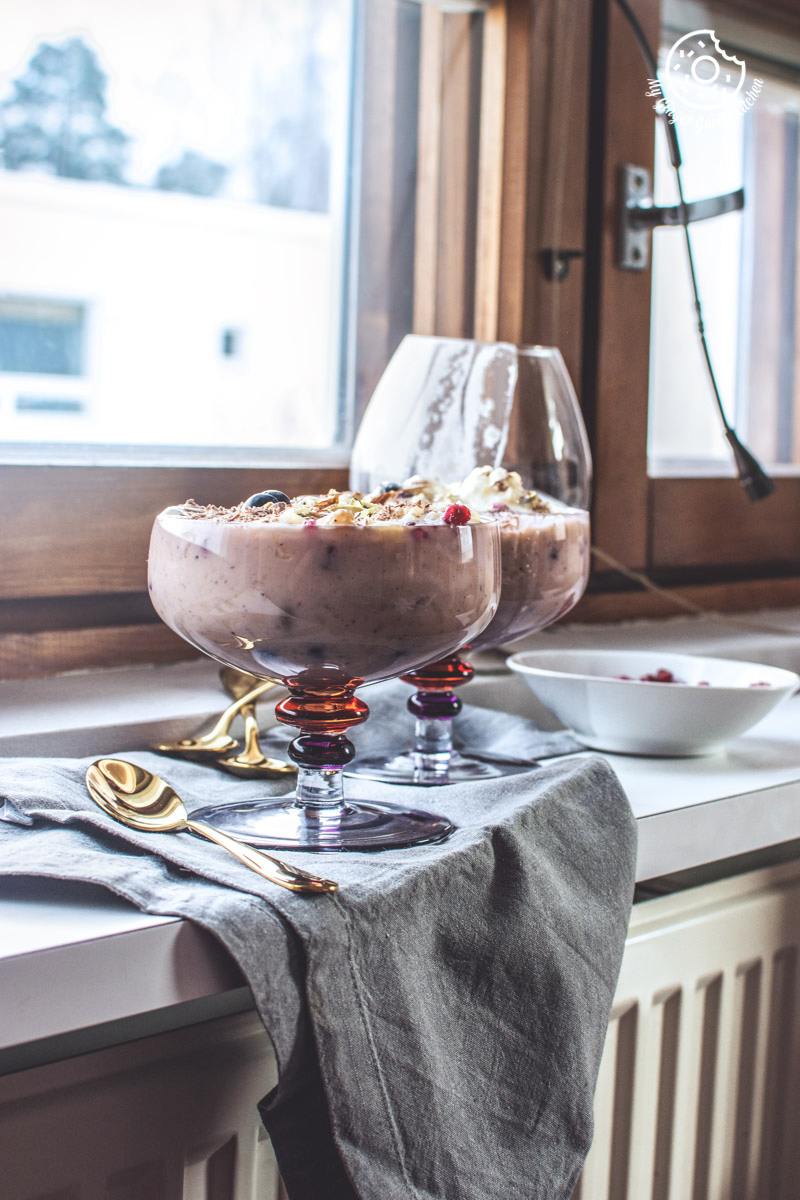 Desserts are always wonderful.
When it comes to making desserts I am not lethargic at all. Yes, I can spend hours in the kitchen making them, because I can foresee that the dessert I am cooking/baking is gonna fill my tongue with a guilty pleasure. And I kinda love that exhilarating feeling. 😉
Today's dessert 'Fruit Cream Rice Kheer' however, does not include any kind of laborious work, if you already have leftover kheer. You only need chilled kheer and 10 mins to make this easy peasy, yet one of the most exotic dishes.
Related: OAT STRAWBERRY KHEER
Birth of this Fruit Cream Rice Kheer:
This dessert came to life when I had a good amount of leftover kheer. My family and I are pretty happy with the leftover kheer itself, but this time we wanted to take a step forward. So I made this super dainty and so gratifying fruit cream rice kheer.
Everyone loves a traditional dessert, but if you're ready to put a palatable twist, try this one.
Related: Carrot Sago Kheer
What is Rice Kheer?
Rice Kheer aka chawal ki kheer is a popularly delicious and authentic dessert throughout India. It is called by different names across India – Payasam, Khiri, Payesh etc. Although the names are different, the cooking procedure is quite similar.
This rice pudding is a classic, rich and creamy Indian rice pudding cooked with rice and milk is delicately flavored with cardamom, saffron and rose water. Full fat milk is evaporated to half during the cooking process to produce a thick, creamy base.
Related: Fruity Rice Yogurt Pudding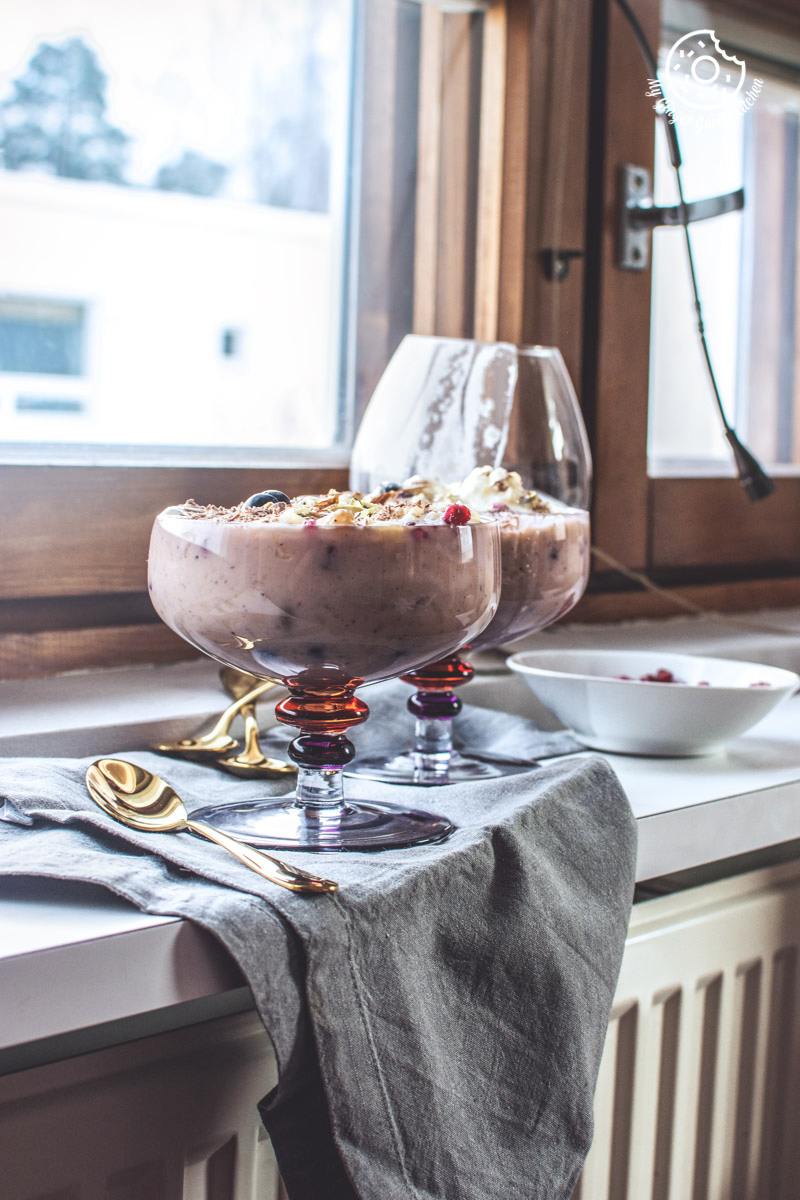 It's a perfect fusion dessert for Parties.
This marvelous Fruit Cream Rice Kheer is a great option when you want to create something interesting for parties or get-togethers at home. I have made it a couple of times and this Fruit Cream Rice Kheer is liked by everyone who loves kheer.
This fantastic and appealing fruit cream rice kheer is layered with chilled kheer, whipped cream, blueberries, bananas, and pomegranate arils. This slight fruity flavor of fruit cream with the kheer pairs nicely with the rice kheer.
Related: Holiday Fruit and Nut Ice cream
##Can I make this with Leftover kheer?
Yes, certainly you can. In fact leftover kheer is the best for making for making Fruit Cream Rice Kheer Recipe.
For the innovation of this fancy fusion dessert, I have used leftover chilled kheer for this recipe. You can check out the kheer recipe. This fusion dessert tastes out of the world. And absolutely uncomplicated and easy to assemble. No baking or cooking is required.
Related: Creamy Fruit and Nut Couscous Paneer Pudding with Chocolate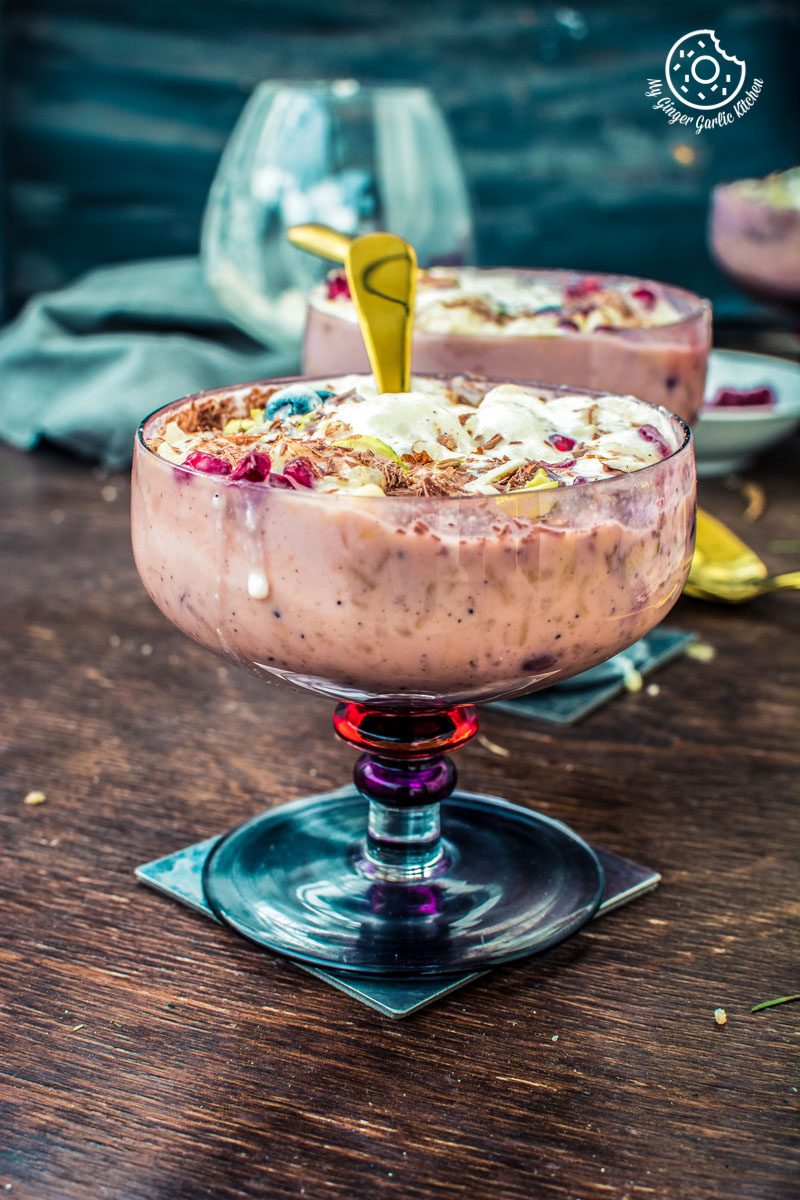 Why there's so much to love about them?
This dessert is extra sweet, delicate, and extra fluffy. This dessert is dense as a rice kheer should be, and light and airy as whipped cream should be. So this dessert is dense and airy at the same time. How charming is that?
Related: Strawberry Cheesecake Dip For Fruits and Snacks
This slight fruity flavor of fruit cream with the kheer pairs nicely with the rice kheer.
The best part about this Fruit Cream Rice Kheer? They are child's play. Yes, I promise. Make it and I am sure you will love it as much as I do.
Related: Fruity Blueberry Strawberry Pulav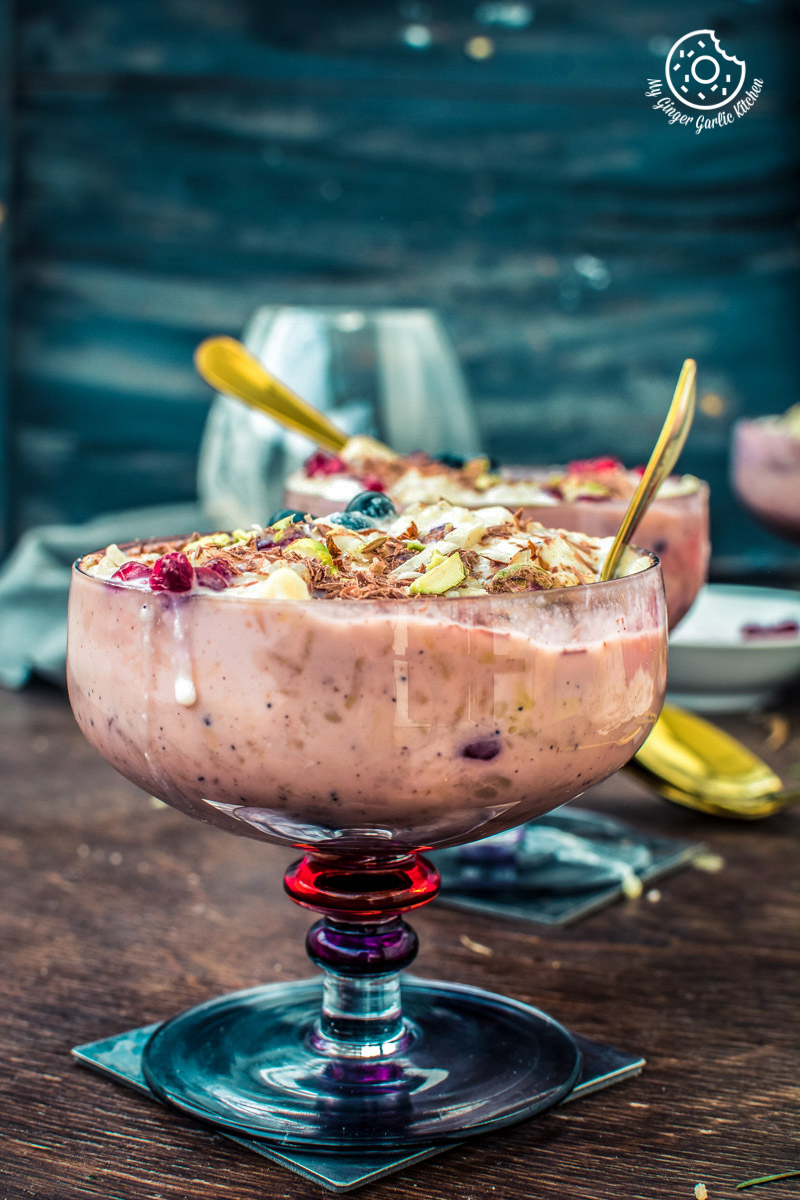 Fruit Cream Rice Kheer Recipe - Indian Kheer Pudding

[Recipe]
Fruit Cream Rice Kheer is a fusion Indian dessert. These individual desserts are an enticing amalgamation of chilled rice kheer, fruit cream, and chocolate.
---
★★★★✰
(Rating:
4.3
from
66
reviews)
---
| Prep time 🕐 | Cook time 🕐 | Total time 🕐 |
| --- | --- | --- |
| | | 7 mins |
| Category ☶ | Cuisine ♨ | Serves ☺ |
| Dessert | Indian Fusion | 3 |
| Nutrition Info ⊛ | | Serving size ⊚ |
| 283 calories | | 1 serving |
---
INGREDIENTS
For Fruit Cream Rice Kheer:
3 cups chilled rice kheer (rice pudding)
6 tablespoons fresh blueberries + more for garnish
2 medium-sized bananas, sliced
6 tablespoons pomegranate arils
1 cup whipped cream or as required
Chocolate shavings for garnish
Sliced almonds and sliced pistachios for garnish
---
INSTRUCTIONS:
Making Fruit Cream Rice Kheer:
Layer 1/4 cup chilled whipped cream into the bottom each of 4 dessert glasses.




Arrange 2 tablespoons blueberries or strawberries over whipped cream.




Layer each glass with a ladleful of chilled rice kheer.




Layer each glass again with the whipped cream.




Top each glass with 7-8 banana slices and 2 tablespoons pomegranate arils.




Layer each glass with another ladleful of chilled rice kheer or until glasses are filled to the top.




Garnish with chocolate shavings and chopped almonds and pistachios.




Serve fruit cream rice kheer chilled.



---
WATCH RECIPE VIDEO: Click the play button and video will load ...
---
NOTES:
You can also use any other fruits of your choice.
---
If this recipe helped you, then please spread the word by sharing and
subscribing
to us on YouTube to get more such Recipe Videos.
---
Your feedback is so helpful for me and other MyGingerGarlicKitchen readers. So, for Facebook and Instagram, please mention
@MyGingerGarlicKitchen
or
#mygingergarlickitchen
. I would love to see your photos. :)
---
Author:
Anupama
Recipe Source Link:
https://www.mygingergarlickitchen.com/fruit-cream-rice-kheer-recipe-indian-pudding-kheer-dessert/
Date Published:
2020-03-20
• • • • • • • • • •