Mawa Modak is a sweet dish made from sweetened Mawa/khoya (dried milk or milk solids). Mawa Modak or Khoya Modak recipe is usually made on the festive occasion of Ganesh Chaturthi, but this divine dessert can be made anytime you like. In the state of Maharashtra, the modak made from mawa is known as 'Khavyache Modak'.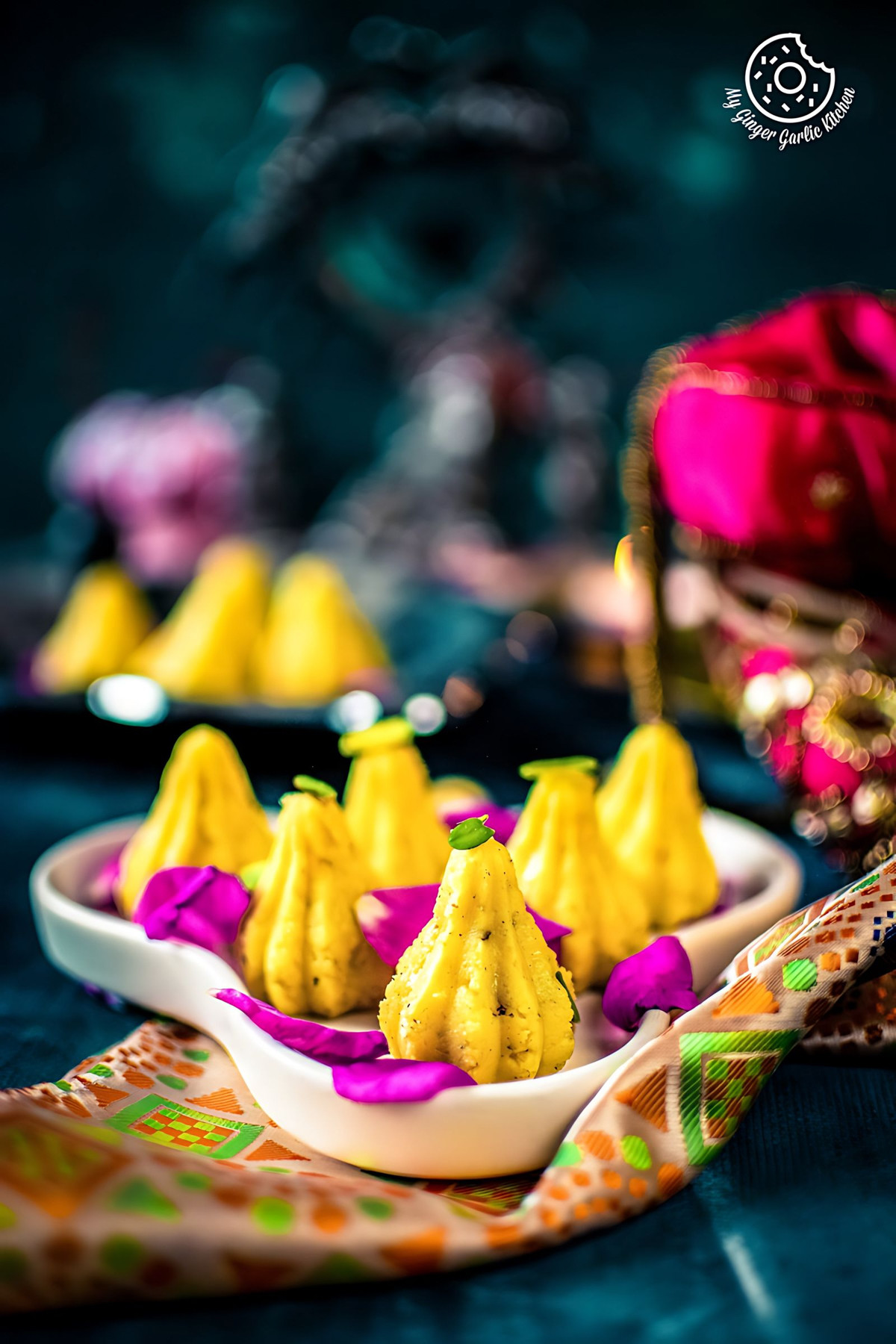 This is a quick, simple, and easy Instant version of mawa modak or khoya modak. For a nutty and rich touch, I have filled-up each modak with almond (badam), or cashew nuts (kaju). Mawa Modak can be a last-minute sweet because this sweet can be made under 20 minutes if you have mawa at home. These mawa modaks can also be served as naivedya or prasad to lord Ganesha during the Ganpati festival or on Ganesh Chaturthi.
Importance of Modaks during the festival of Ganesh Chaturthi
What is Ganesh Chaturthi?
Ganesh Chaturthi aka Vinayaka Chaturthi or Vinayaka Chavithi is an Indian festival celebrating the birth of Lord Ganesha. Lord Ganesha is an Indian God with an elephant head. Lord Ganesha is known as the god of new beginnings and the remover of obstacles and barriers, as well as the god of wisdom and intelligence. 
Customarily, people cook the typical traditional or 'fried modak'. But in modern days there are many different varieties of modak recipes made to be served as , or naivedya to Ganpati, this stuffed mawa modak is one of them.
What is Modak?
Modak is an Indian sweet dish which is popular in many regions of India. The accurate translation of is delightful, or pleasing in Hindi language. Modak also indicates chunks of wisdom and is considered to be Lord Ganesha's favorite sweet. Hence, it is offered to him during the Ganpati festival or on Ganesh Chaturthi.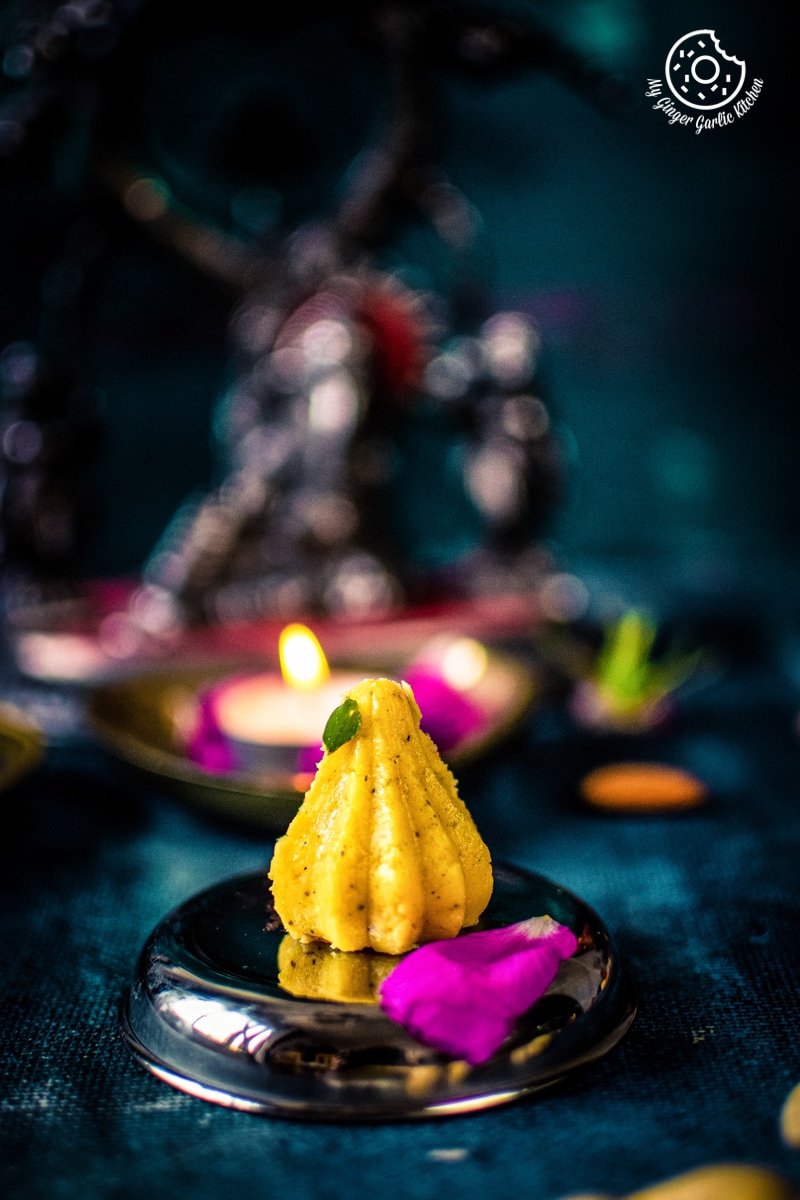 What is mawa modak?
Mawa modak is a sweet made with sweetened milk solids, cardamom, and saffron milk. In this type of Modak, Mawa is roasted over medium heat and then it is rested for 5-10 minutes to cool down a bit. 
Once the mixture is cool enough to handle, saffron milk is added to it. Then it is mixed well using a spoon or hands. When the mixture is lump-free, sugar and cardamom powder is added to this mixture and then this is kneaded into a smooth dough. Lastly, the smooth dough is molded into modak moulds.
What are other variations of mawa modak?
This is the instant version of mawa modak where roasted mawa is mixed with sugar, saffron milk, and cardamom. And then this mixture is shaped into modaks. 
There is another version of mawa modak where the mawa is caramelized with sugar, saffron, and cardamom. Then the mixture is rested for 7-8 hours. After that, you can shape the mixture into modaks.
How to stuff mawa modak?
For stuffing, I have used raw almonds and raw cashews. You can also use pistachios. Or you can stuff modak with a mix of nuts by combining ground almonds, ground cashew nuts, ground pistachios, grated coconut, and some powdered sugar or grated jaggery.
How many types of modak are there?
Modak can be divided into 2 basic categories:
1. Traditional and classic Modak
2. Trendy and Modern Modak.
1. Traditional and classic Modak
This category of modak has 2 variations: Ukadiche Modak and Talniche Modak
A. Ukadiche Modak :
Ukadiche Modak is very popular amongst Maharashtrian steamed rice flour dessert dumplings. These modak varieties are specially prepared and gorged throughout the festival of Ganesh Chaturthi or Vinayaka Chaturthi. It's because 'modak' is considered to be Lord Ganesha's beloved sweet. 
Here, the word Ukadiche precisely means steamed. In this type of modak, first the rice flour dough is shaped into dumplings and then those dumplings are steamed in a steamer or a broad pan. Ukadiche Modak dumplings have the sweet filling inside which contains coconut and jaggery with an outer layer of Rice flour. 
The traditional stuffing for these Ukadiche Modak is made of Coconuts and Jaggery. They are biodegradable, thus consuming them immediately is a good idea. 'Ukdiche Modak' are soft, and are commonly eaten hot with ghee and warm sweetened coconut milk.
B. Talniche Modak :
Fried version of Modak is called 'Talniche Modak', where they are deep-fried in hot oil instead of steaming. The process of frying modak gives them a different taste, crispier shell, and they last longer.
2. Trendy and Modern Modak includes the variety of Innovative modak recipes which are very popular in modern-day societies. Here are some examples of Trendy and Modern Modaks:
Mawa Modak or Khoya Modak: This type of modak is made from sweetened milk solids.
Moong Dal Modak: The modak has the same outer layer of rice flour dough and stuffing is made from cooked moong daal, grated coconut, and jaggery.
Chocolate Mawa Modak: This is a variant of mawa modak. They are made by adding Melted dark Chocolate or cocoa powder to the mawa mixture.
Chocolate Modak : The rice flour dough is mixed with chocolate syrup or cocoa powder to give the modak a chocolate flavor. This modak has the same filling as steamed modak.
Dry Fruit Modak: A combination of dry fruits and nuts (such as almonds, cashew nuts, pistachios, figs, coconut, dates/jaggery, and roasted poppy seeds) are mixed, and then this mixture is molded into the shape of modak.
Coconut Rose Modak: In this type of modak, desiccated coconut is mixed with sweetened condensed milk and cooked for 5 minutes. Once the mixture is warm, rose syrup is added to this mixture and then this mixture is formed into modaks.
Paneer Malai Modak: In this type of modak, crumbled and malai (milk cream) are mixed with sweetened condensed milk and cardamom powder and cooked for 5 minutes. Once the mixture gets cooled, it is then shaped into modaks.
Kesari Modak: In this type of Modak, the rice flour dough, used for making dumplings, is flavored with Kesar aka saffron strands.
Motichoor Modak: This is a Modak Dessert. In this modak dessert, motichoor mixture is molded into modak instead of .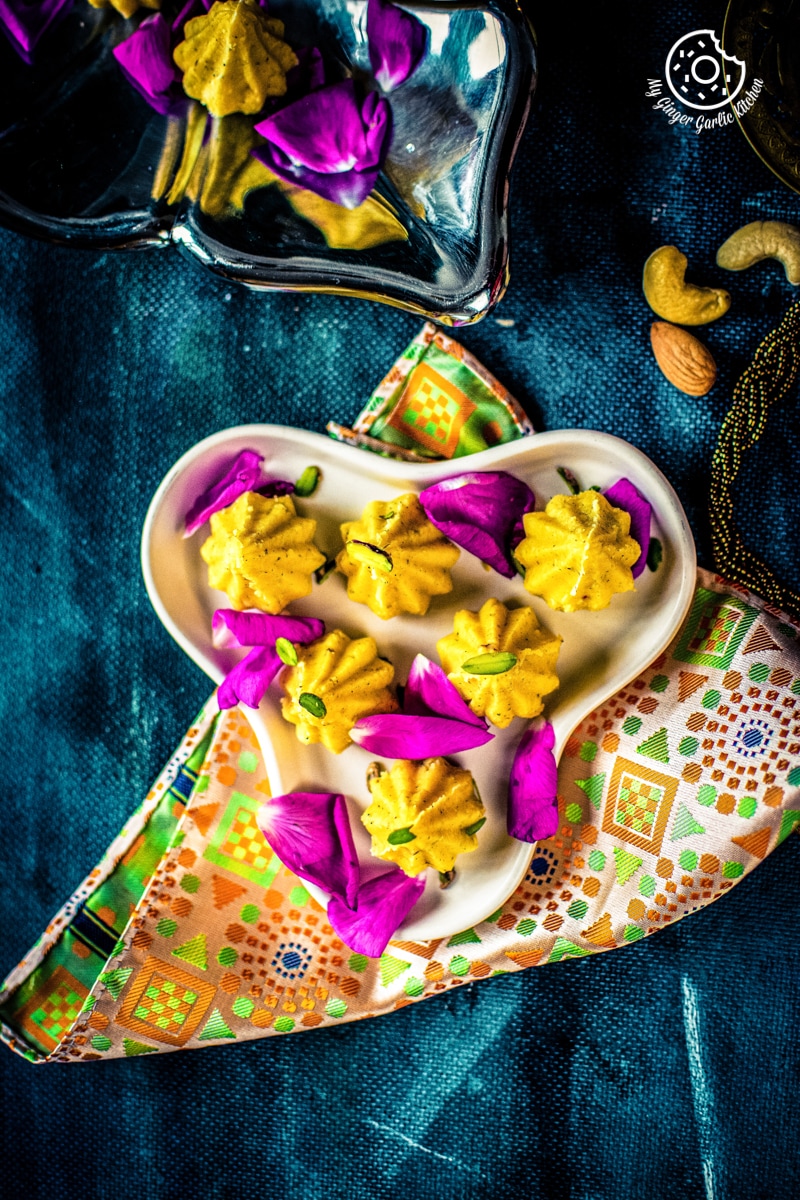 What are the ingredients for Mawa Modak?
These mawa modaks are made using very few ingredients. These ingredients are:
Mawa/khoya (evaporated milk solids)
Powdered sugar
Milk
Saffron strands
cardamom powder
Nuts (optional)
Can I make modak without a Modak Mould?
Modak moulds are easier to use because this device helps in shaping the symbolic modaks without much hassle, and you get a perfect shape every single time. 
Modak moulds are easily available in the market. But don't worry if you don't have a modak mould, you can still make mawa modak. This is how you do it.
Once the mawa mixture is ready, grease your palm and pinch small lemon-sized balls. Flatten the ball with the help of your thumb and fingers and shape into a cup.
Add almond or cashew and start to make pleats around the nut.
Gather all pleats at the center of stuffing and seal edges of the dough using your hands and pinch the top. For a finishing touch, you can also make sharp pattern marks using the sides of the fork over every pleat.
How to make Mawa Modak?
Heat a nonstick or heavy bottom pan over medium heat. Next, add mawa and roast for 5 minutes or till mawa softens. Once mawa is heated enough, transfer roasted mawa to a mixing bowl and set aside for 5 minutes or until the mawa mixture is still warm but cool enough to handle.
Add saffron strands to warm milk and mix well. Set aside saffron milk for 5 minutes. Add saffron milk to warm mawa, and mix well to combine. Break mawa using a spoon, and make sure there are no lumps.
Now add sieved powdered sugar and cardamom powder and mix till everything is well combined. Knead well to make a smooth dough. The mawa mixture for making modak is ready now. We will now start shaping them into modaks.
You can dust your modak mould with icing sugar, or grease it with some melted ghee.This way you can easily pull out modaks from the mould. Once the mould is ready for use, take mould and put some mawa mixture on the both sides of the mould. Using fingers, press down the mixture firmly to get a fine shape. Add cashew, almond or pistachio and close the mould. Discard the excess mawa from the sides and the bottom. Seal the bottom by pressing it with fingers. Gently open the mould, and press it lightly from the bottom to take it out from the mould. Similarly, make all the mawa modaks until all the mixture is used up. Arrange them on a serving plate and serve.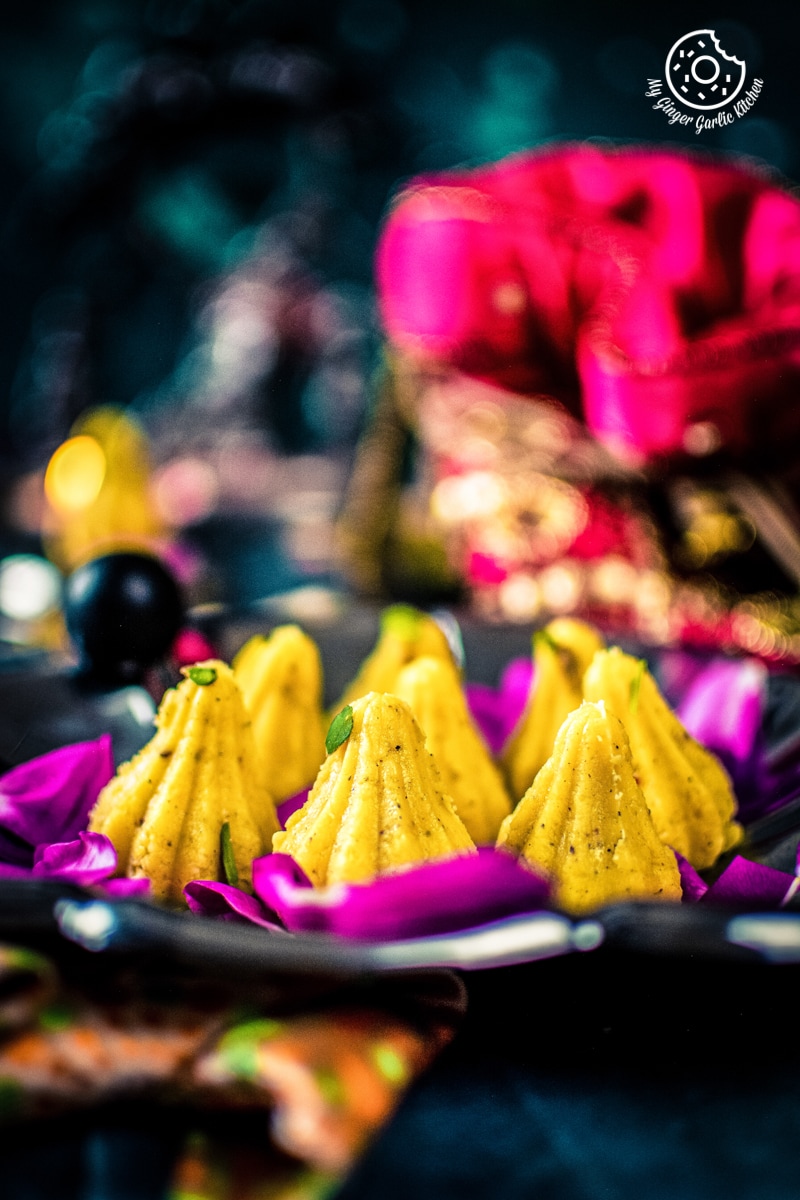 What are the tips and variations of making your best mawa modak?
Following are some awesome tips for making the best mawa modaks:
I used traditional mawa for this recipe, but you can also make these with instant . This recipe would still taste awesome.
I only used cardamom powder for flavouring 'Mawa Modak', but you can also add a splash of rose water or kewara water for a more fragrant touch.
I did not add any nuts to my mawa mixture, but if you want you can also add some sliced or powdered pistachios to the mawa. These modaks taste like peda. Thus, these are also called Modak Peda.
These Mawa Modaks can be stored in the refrigerator for 4-5 days, you can make them ahead of time.
You can also add 1 tbsp of milk powder to the mawa mixture for more milky taste.
Always cook mawa on medium-low heat and keep stirring it continuously, else the mawa might burn.
Don't add sugar while the mawa is still hot, or else the mawa mixture will turn runny and soft.
If the modak mixture is sticky after kneading, apply some ghee to mawa mixture.
If the mixture is too soft, and you are unable to mold the modaks, then put the mixture in the refrigerator for 30-60 minutes. The mixture would firm-up.
Powdered sugar has lumps, so always sieve the powdered sugar to evade any lumps.
I used saffron milk in this mawa modak recipe, but if you want your modaks to taste even richer and luxurious, then you can use saffron cream. For making saffron cream, use fresh cream instead of milk.
I hope you have learnt many things about Modaks today. Make this quick and sumptuous mawa modak to celebrate the festival with your family. Your loved ones will surely relish these rich elegant and delightful mawa modaks.