Instant Mawa Modak (Khoya Modak)
Mawa (khoya) Modak is a sweet dish made from sweetened milk solids. Mawa Modak is usually made on the festive occasion of Ganesh Chaturthi or any other time.
---
« Go back
Print this recipe »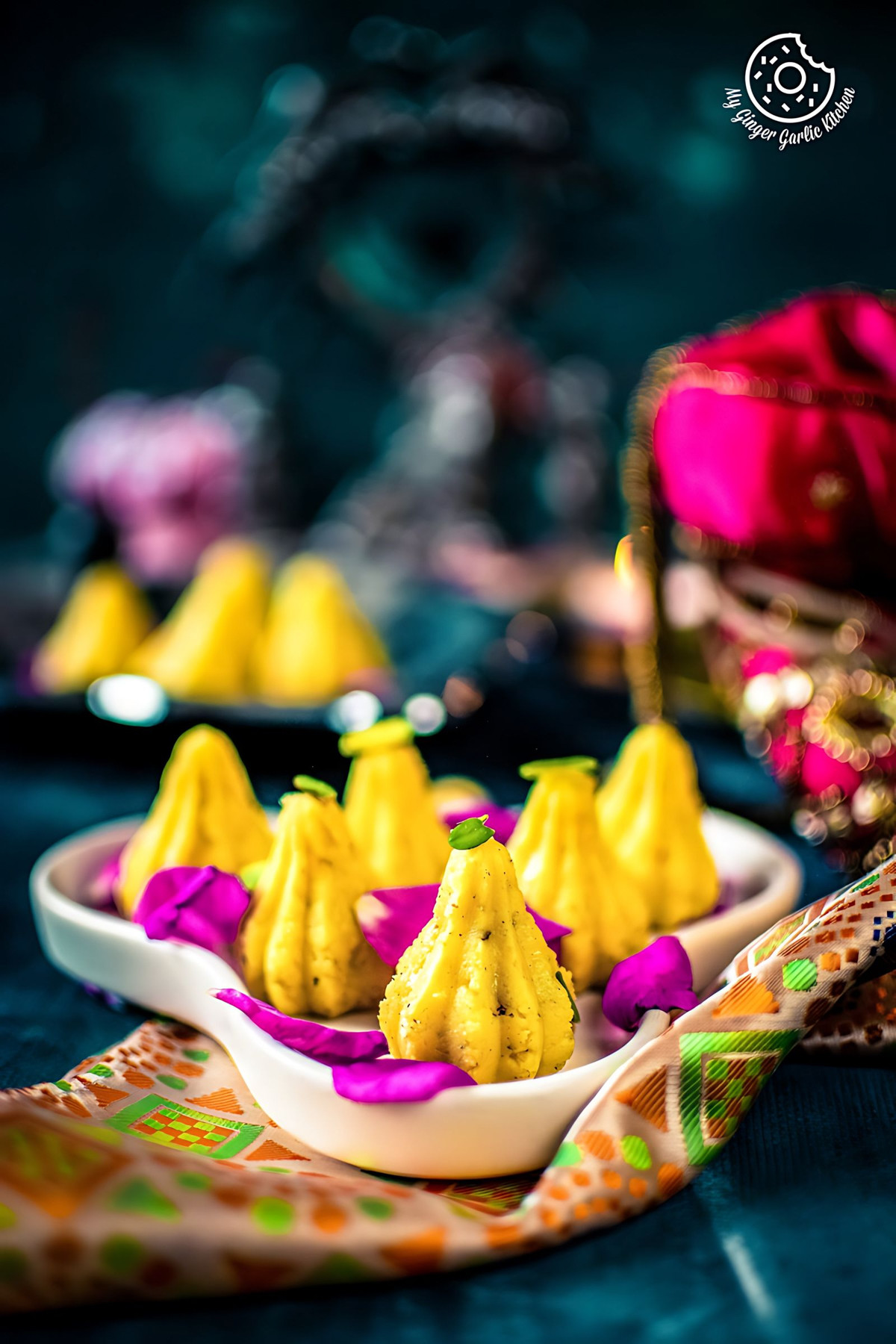 ---
Prep Time = 10 minutes
Cook Time = 10 minutes
Total Time = 20 minutes
Category = Dessert
Cuisine = Indian
Serves = 12-14 Modaks
Nutrition Info = 100 calories
Serving Size = 1 modak
---
RECIPE INGREDIENTS
» For Mawa Modak:
1 cup crumbled mawa/khoya (dried milk)
1/3 cup powdered sugar (confectioner?s sugar or icing sugar, both will work)
1 teaspoon cardamom powder (ilaichi powder)
2 tablespoon warm milk (gunguna doodh)
12-15 saffron strands (kesar)
Almonds(badam)/cashews (kaju)/pistachios(pista) for stuffing (optional)
Sliced pistachios (kati hui pista) for garnish (optional)
---
RECIPE INSTRUCTIONS
» How To Make Mawa Modak:
Heat a nonstick or heavy bottom pan over medium heat. Once hot, add mawa and roast for 5 minutes or till mawa softens. (Keep stirring continuously, otherwise, mawa would stick to the bottom).
When mawa is heated enough, transfer roasted mawa to a mixing bowl and set aside for 5 minutes or until the mawa mixture is still warm but cool enough to handle. ( Don?t let roasted mawa cool down completely, or else mawa will turn stiff and it would be hard to mix it with sugar).
Add saffron strands to warm milk and mix well. Set aside saffron milk for 5 minutes (This would ensure that you get the best color and flavors.)
Add saffron milk to warm mawa, and mix well to combine. Keep breaking mawa using a spoon, and make sure there are no lumps.
Once mawa is smooth, add sieved powdered sugar and cardamom powder to it.
Mix till everything is well combined.
After mixing, knead well to make a smooth dough.
The mawa mixture for making modak is ready now. We will now start shaping them into modaks.
» How To Shape Mawa Modak With Moulds:
Grease the mould, and put some mawa mixture on both sides of the mould.
Using fingers, press down the mixture firmly to get a fine shape.
Add cashew, almond, or pistachio and close the mould.
Discard the excess mawa from the sides and the bottom.
Seal the bottom by pressing it with fingers.
Gently open the mould.
Press it lightly from the bottom to take it out from the mould. Similarly, make all the mawa modaks until all the mixture is used up.
Arrange them on a serving plate and serve. Serve or store them in the refrigerator for up to 4-5 days.
---
RECIPE NOTES
I used traditional mawa for this recipe, but you can also make these with instant milk powder mawa. This recipe would still taste awesome.
I only used cardamom powder for flavouring Mawa Modak, but you can also add a splash of rose water or kewara water for a more fragrant touch.
I did not add any nuts to my mawa mixture, but if you want you can also add some sliced or powdered pistachios to the mawa. These modaks taste like peda. Thus, these are also called Modak Peda.
These Mawa Modaks can be stored in the refrigerator for 4-5 days, you can make them ahead of time. You can also add 1 tbsp of milk powder to the mawa mixture for more milky taste.
You can dust your modak mould with icing sugar, or grease it with some melted ghee. This way you can easily pull out modaks from the mould.
---