Learn to make Modak Recipe | Ukadiche Modak Recipe | How To Make Steamed Modak Recipe with a quick video tutorial. Modak is a famous Indian dessert dumpling made with rice flour which is filled with coconut, jaggery, cardamom, cinnamon, and cashew nuts. In other words, these dumplings have the sweet filling inside which contains coconut and jaggery with an outer layer of Rice flour.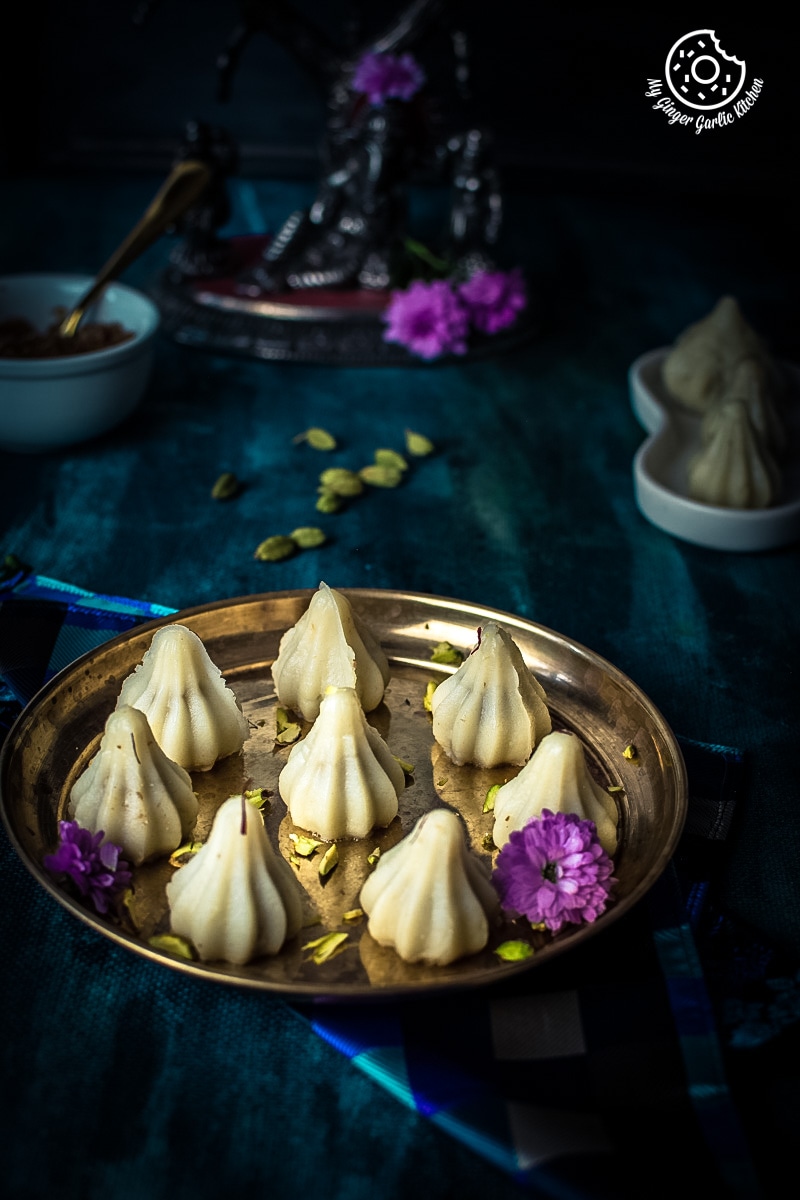 These dumplings are then steamed to perfection. These are particularly devoured during the festival of Ganesh Chaturthi or Vinayaka Chaturthi, because 'modak' is considered to be Lord Ganesha's favorite sweet. Modak also indicates nuggets of wisdom.
What is the origin of Modak?
Modak (मोदक) is an Indian dessert which is famous in many parts of India. But the origin of this sweet 'Modak' is the Indian State of Maharashtra.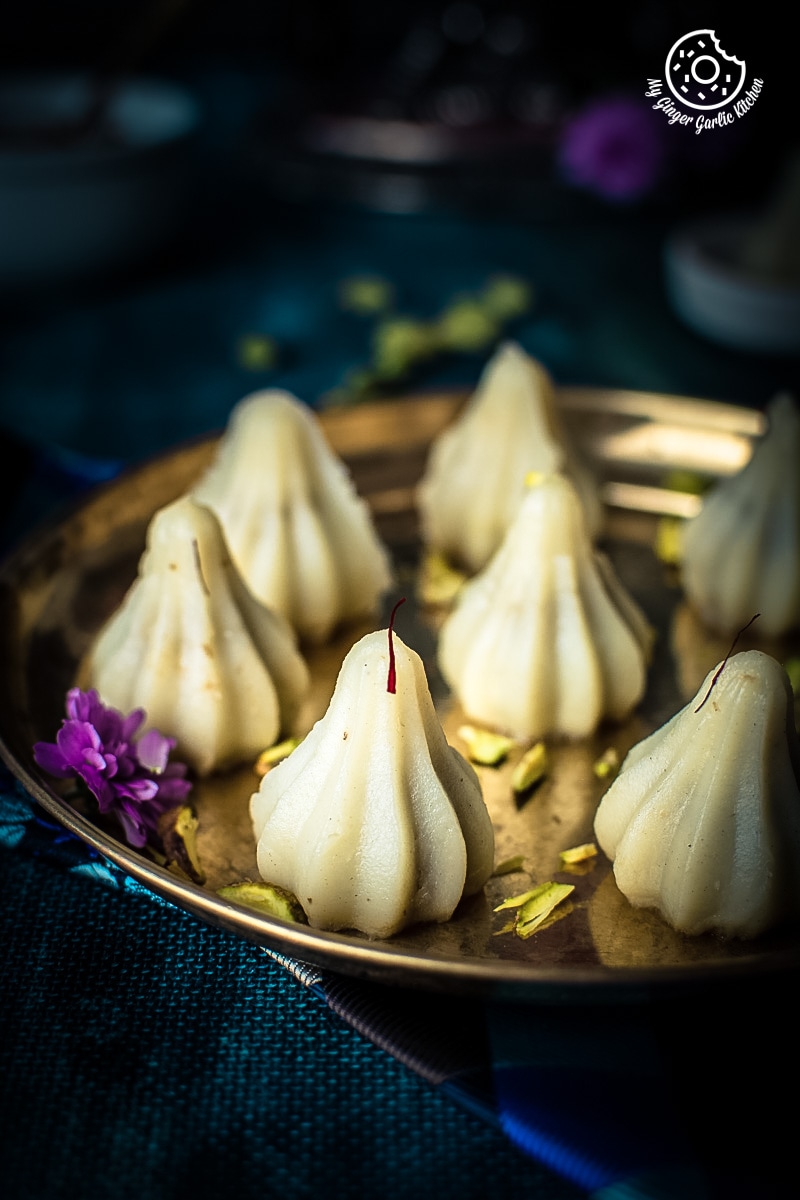 What does Modak mean?
The meaning of Modak is delightful, or pleasing in Hindi.
What is Ukadiche Modak?
Ukadiche Modak is very popular in Maharashtra, where the word Ukadiche literally means steamed. First, the rice flour dough is shaped into dumplings and then those dumplings are steamed in a steamer or a broad pan. The traditional stuffing for these Ukadiche Modak is made of Coconuts and Jaggery. They are biodegradable, thus consuming them immediately is a good idea. They are often eaten hot with ghee.

How to make modak for Ganapati?
Ukadiche Modak is considered to be lord Ganapati's favorite sweet, and thus this is uniquely made as a 'Prasada' or 'Naivedhya'.
Naivedya/Prasad means a gracious offering to the deity with a devotion which is prepared during the time of Ganesh Festival which is known as Vinayak Chaturthi or Ganesh Chaturthi.
The sweet jaggery and coconut filling is made first. Then the dough is made using rice flour and hot water. This dough is then shaped into the dumpling using hands or moulds. The shape of a modak usually resembles an onion bulb. It is then fried or steamed.
Modak holds a special place at the time of Ganesh Chaturthi. Modak prasad is usually offered to the Lord Ganesha in piles of 21 modaks as 'prasada'.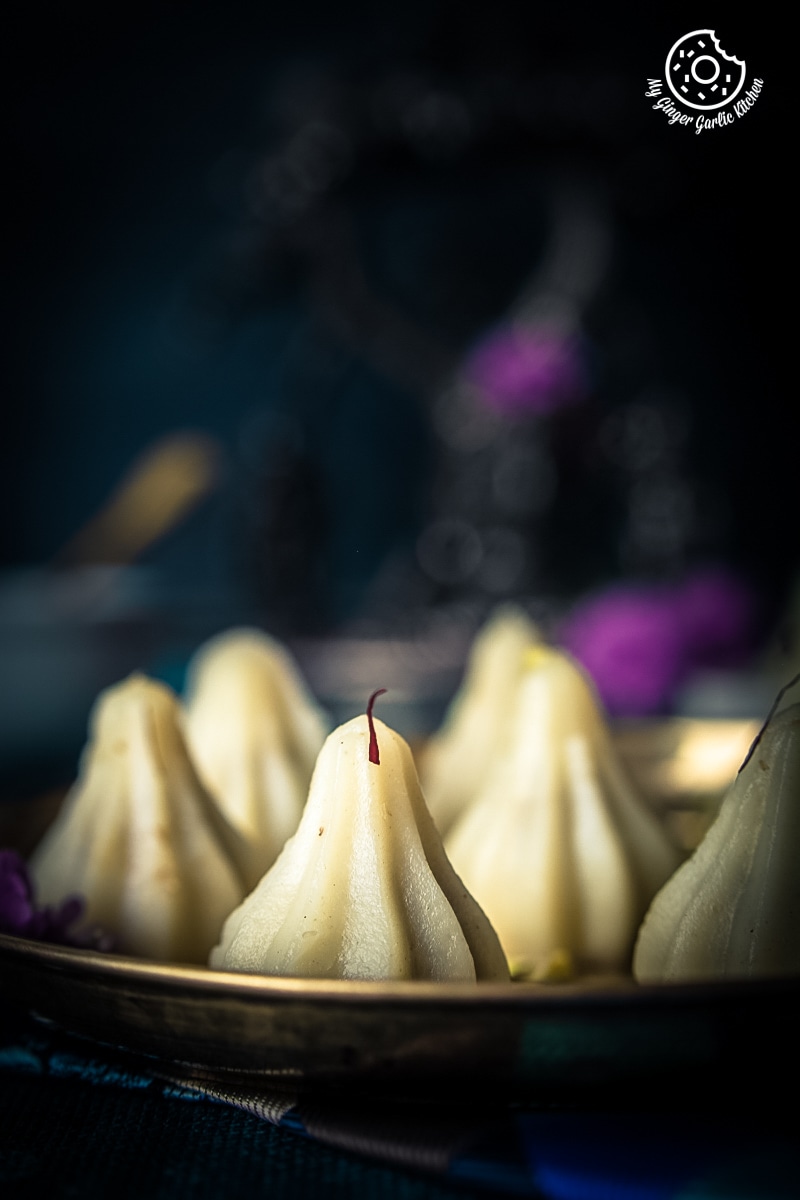 What is Ganesh Chaturthi?
Ganesh Chaturthi or Vinayaka Chaturthi is a festival celebrating the Lord Ganesha (an Indian God with an elephant head) as the god of new beginnings and the remover of obstacles as well as the god of wisdom and intelligence.
What is Ganesh Utsav?
Ganesh Utsav is a ten-day celebration which begins on Ganesha Chaturthi. Chaturthi is the fourth day of the waxing moon period. It is believed that on this day God Shiva, father of Lord Ganesha gave an elephant head to his beloved son.

What is the background Ganesh Modak Story?
It is believed that once when the Devas visited Lord Shiva and Goddess Parvati they gifted them with a holy modak, but there was one condition to eat it. The condition was that: only the clever, sharp-witted and the most knowledgeable one had a virtuous right to enjoy it.
Parvati wanted to give it to both her sons, but they were reluctant to share it. So then she assigned them both with a mission to go around the world three times, and whoever finishes it first would win the race and get the modak.
Kartikeya began the journey to circle the world, and Ganesha the wise one, simply chose to circle his parents, as they meant the world to him.
It is considered that since that day, Lord Ganesha is known as the most enlightened god who removes the obstacles from one's life, is always worshiped first. And his love for the sweets is well known. That's why Ganesha is always seen painted with plate heaps of modaks beside him.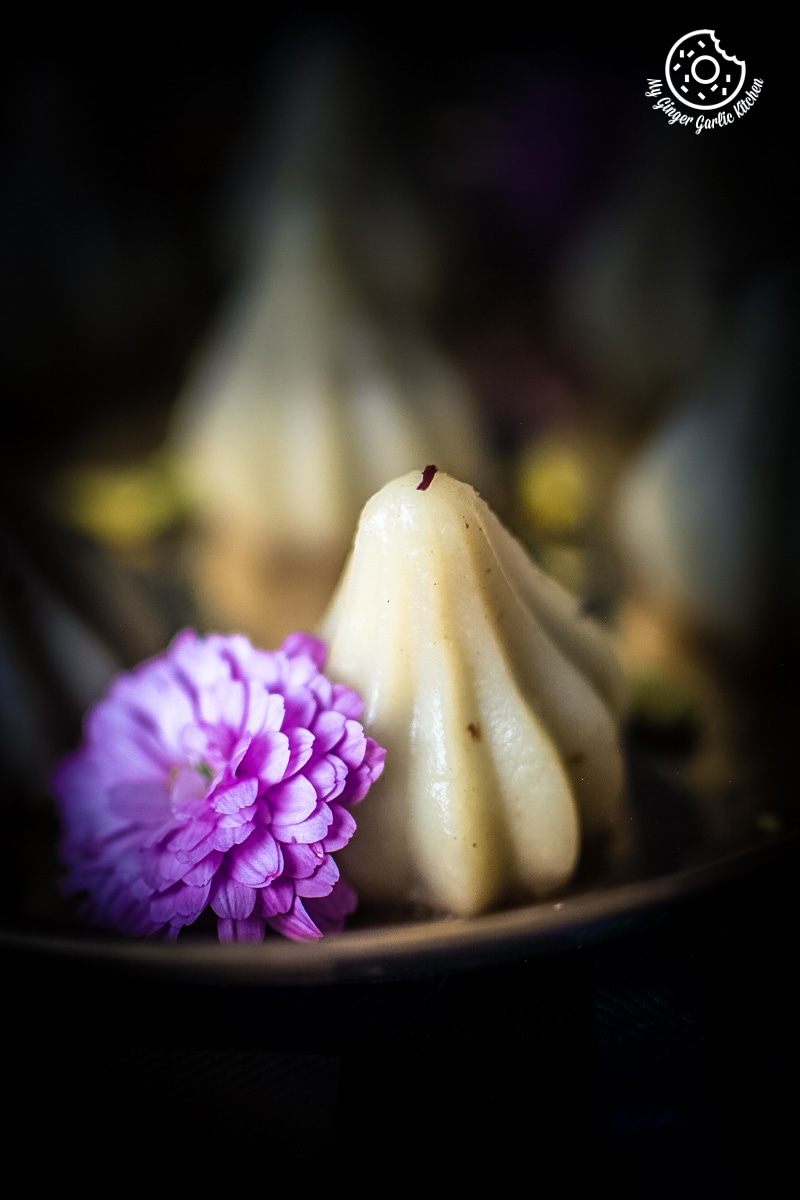 Which flour can I replace for Making Modak?
Traditionally, Modaks are made from rice flour. Modaks made with rice flour shells are often preferred for offering on Ganesh Chaturthi. However, you can opt for all-purpose flour or wheat flour in the same way as you do for momos.
What are the other names of a Modak?
This rice flour dumpling is called 'Modak' in Marathi language, Gujarati language and in the Konkani language.
And these dumplings are 'Kozhakkattai' or 'Modhakam' in the dialect of Tamil, and they are popular as 'Kudumu' in Telugu language. This is also called  'Kadubu' or 'Modhaka' in Kannada tongue.
What is the difference between steamed modak and fried modak?
The modak can be fried or steamed. The steamed version is called 'Ukdiche Modak', which is rather soft and often served with hot ghee or warm sweetened coconut milk. Fried Modak is called 'Talniche Modak', where they are deep fried in hot oil instead of steaming. The process of frying modak gives them a different taste, crispier shell, and they last longer.

How to make Modak filling?
The traditional modak filling is made using freshly grated coconut and jaggery, along with nuts, cinnamon, and/or some cardamom. This blend is cooked together in a pan until almost dry. Then cooled at the room temperature before filling into the rice dough balls. To shape dough balls into Modak, some people prefer plastic or metal modak moulds, while others simply use their hands for folding modak.
What is a Modak mould?
As stated, the shape of this modak is either handcrafted or made with the help of a mould which is known as modak mould. Modak mould is a device which helps in shaping the symbolic modaks without much hassle, thereby giving them a perfect shape each and every single time.
Modak Recipe - Ukadiche Modak Recipe - Steamed Modak

[Recipe]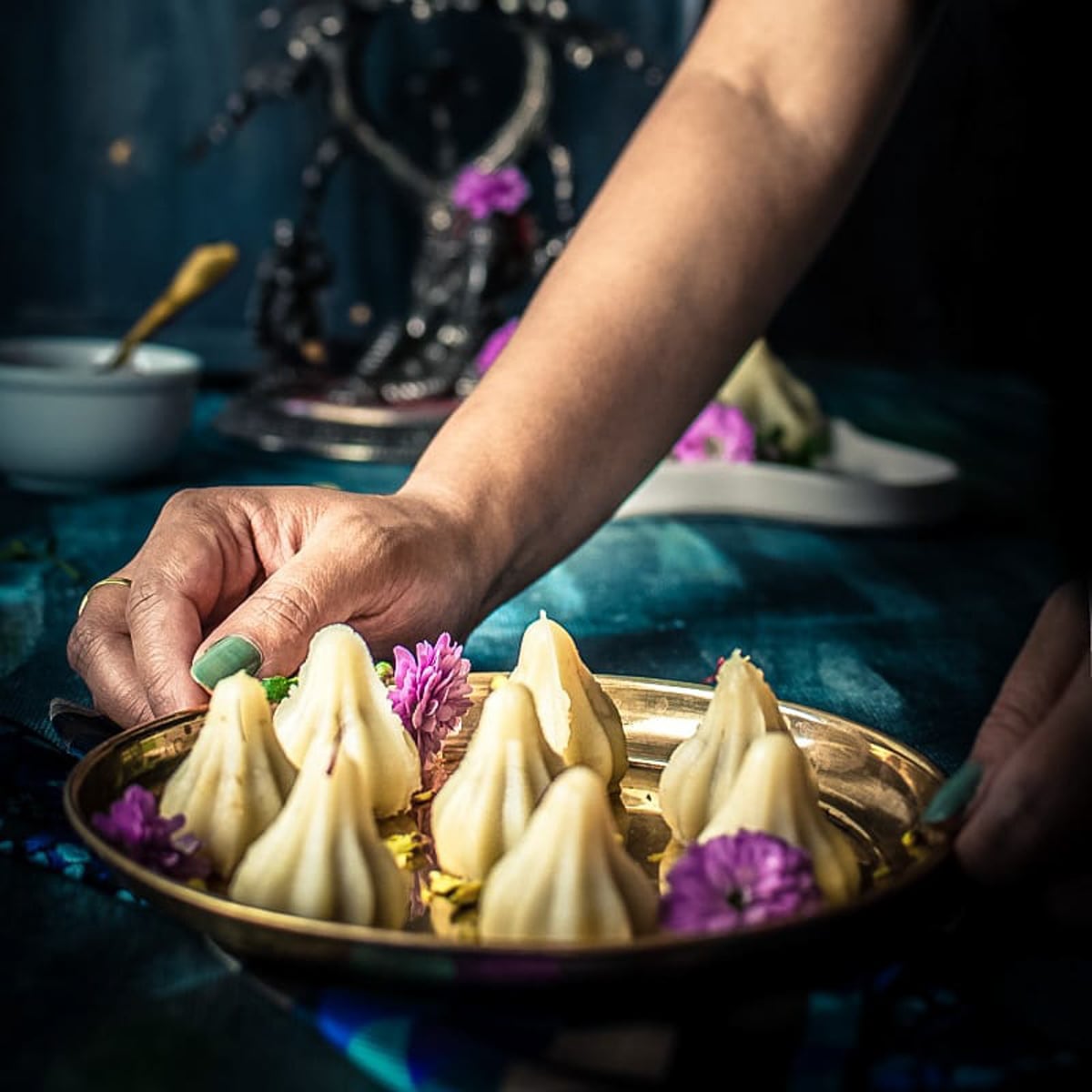 Modak is a famous Indian dessert dumpling made with rice flour which is filled with coconut, jaggery, cardamom, cinnamon, and cashew nuts.
---
★★★★✰
(Rating:
4.1
from
56
reviews)
---
| Prep time 🕐 | Cook time 🕐 | Total time 🕐 |
| --- | --- | --- |
| | | 60 mins |
| Category ☶ | Cuisine ♨ | Serves ☺ |
| Dessert | Indian | 12-14 |
| Nutrition Info ⊛ | | Serving size ⊚ |
| 115 calories | | 1 modak |
---
INGREDIENTS
For Making Ukad:
1/2 cup rice flour (chawal ka atta)
1/2 cup water
A pinch of salt
1/2 teaspoon ghee (clarified butter)
For Making Filling:
1/2 cup coconut, shredded
1/2 cup jaggery (gur)
1 tablespoon poppy seeds (khaskhas)
1/4 teaspoon cardamom powder (ilaichi)
1/4 teaspoon cinnamon powder (dalichini)
2 tablespoons chopped, cashewnuts
---
INSTRUCTIONS:
Make Filling:
In a pan, roast the poppy seeds.




Once they are roasted well add the jaggery on cook for 2-3 minutes.




When the jaggery starts melting add the shredded coconut.




Mix everything well, and cook on medium-low heat until the jaggery is fully melted and you get a thick mixture. (keep stirring occasionally.)




Finally add the cinnamon powder, cardamom powder, and cashew nuts.




Mix well cook for another 2 minutes and keep it aside to let it cool.



Make Ukad:
Add 1/2 cup of water to a deep pan. Add 1/8 teaspoon, or pinch of salt to this water.




Also, add 1/2 teaspoon of ghee and let it come to a rolling boil.




Turn off the heat. Add rice flour to this water.




Mix well until combined.




Cover with a lid and set it aside for 5-7 minutes.



Shaping Modak With Hands:
Transfer ukad to a plate.




Add a few drops of ghee to this ukad.




Grease your palm and knead into a smooth dough, or until you get a smooth dough. (This would take around 7-10 minutes.)




Pinch a small lemon size ball, and flatten it with the help of your thumb and fingers and shape into a cup.




Add a spoonful of the coconut-jaggery filling.




Start making plates around the stuffing.




Gather all plates at the center of stuffing and seal edges of the dough using your hands and pinch the top. Shape all the modaks and keep them covered with a wet cloth as they can dry out.



Shaping Modak With Moulds:
Grease the inner portion of the mould with ghee.




Pinch a small lemon size ball, and flatten it.




Put the dough into the mould.




Using your index finger just spread the dough on the walls of the mould.




Add 1 teaspoon of filling.




Seal the bottom with some dough.




Remove the excess dough, and carefully open the mould. Take out the modak.



Steaming Modak:
Heat 1.5 glass of water in a steamer or a broad pan.




When the water starts boiling, put a stand.




Grease a steamer plate or chalni with ghee, and place it over the stand.




Arrange the prepared modaks on the steamer plate, leaving enough space around each modak.




Cover with a lid, and steam for 10 minutes over medium heat, or until they become glossy.




Turn off the heat and leave it for 2 minutes. Remove the lid.




Transfer modak onto a serving plate.




Modak is ready to be served. Garnish with nuts or saffron strands. Or Drizzle with saffron milk/ghee.



---
WATCH VIDEO:
---
NOTES:
If you are using the mould, then I would suggest you grease it every time before shaping the modak.

Always keep the modak covered with a damp cloth, else they will get dry and might have cracks after they are steamed.
---
If this recipe helped you, then please spread the word by sharing and
subscribing
to us on YouTube to get more such Recipe Videos.
---
Your feedback is so helpful for me and other MyGingerGarlicKitchen readers. So, for Facebook and Instagram, please mention
@MyGingerGarlicKitchen
or
#mygingergarlickitchen
. I would love to see your photos. :)
---
Author:
Anupama
Recipe Source Link:
https://www.mygingergarlickitchen.com/ukadiche-modak-recipe/
Date Published:
2020-09-23
• • • • • • • • • •