Learn how to make Indulgent Steamed Veg Momos or Vegetable Dim Sum with Spicy Chili Chutney recipe with step-by-step video instructions.
This is the only recipe you'll ever need for Tibetan steamed veg momos with the spicy and sweet chili tomato sauce to make best street style steamed vegetable momos. Momos are also known as dim sum, wontons.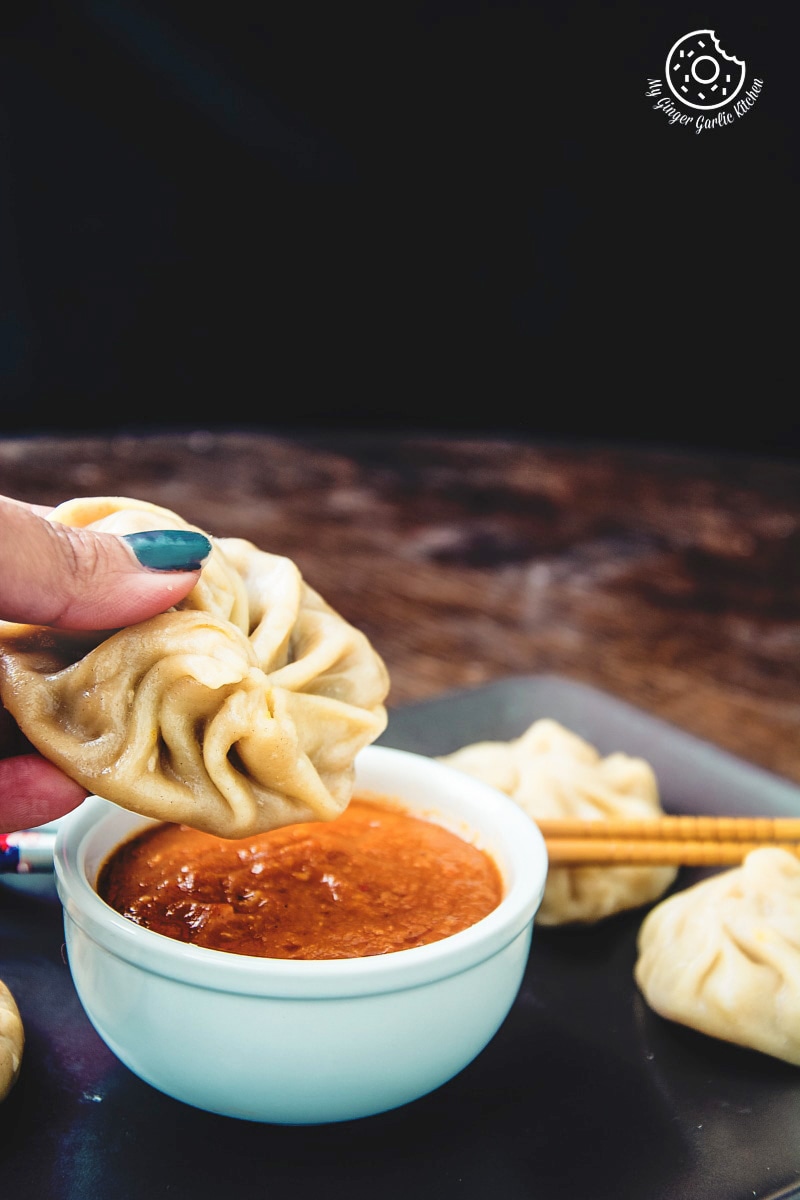 Today I have my very favorite recipe to share with you all. I am sharing the recipe of popular Tibetan / Nepali Steamed Veg Momos With Spicy Chili Chutney which is traditionally served with this Momos.
Related: Rajasthani Tomato Mustard Garlic Chutney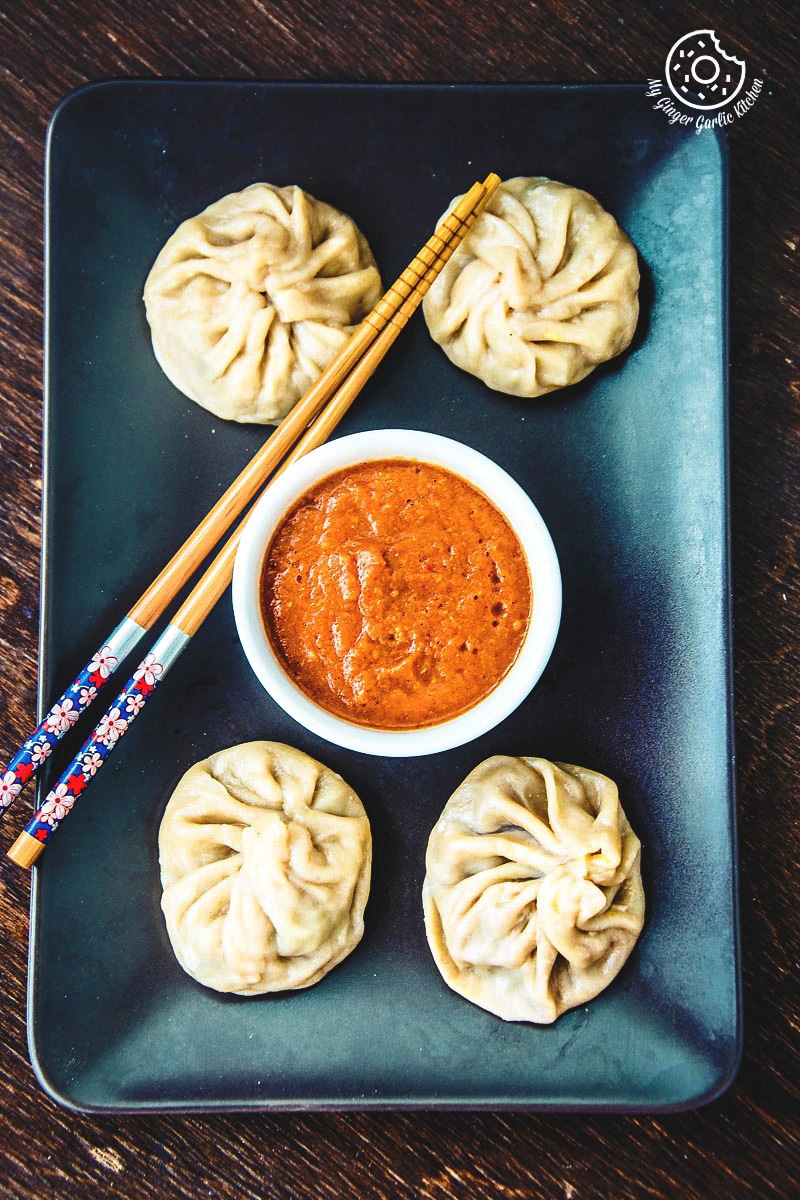 Well, I absolutely can not declare that these Momos belong to which part of the world because I have no idea of its beginning and I am surely not too much familiar with these Momos.
But I have read that Momos are considered staple food in the Northern part of Asia, especially in Nepal, Tibet, Bhutan, and China and also in north-eastern part of India. So, I take this info as such. Also, I have always seen them in Asian restaurants so I believe they originated from one of these countries. 🙂
Related: Lehsun Ki Chutney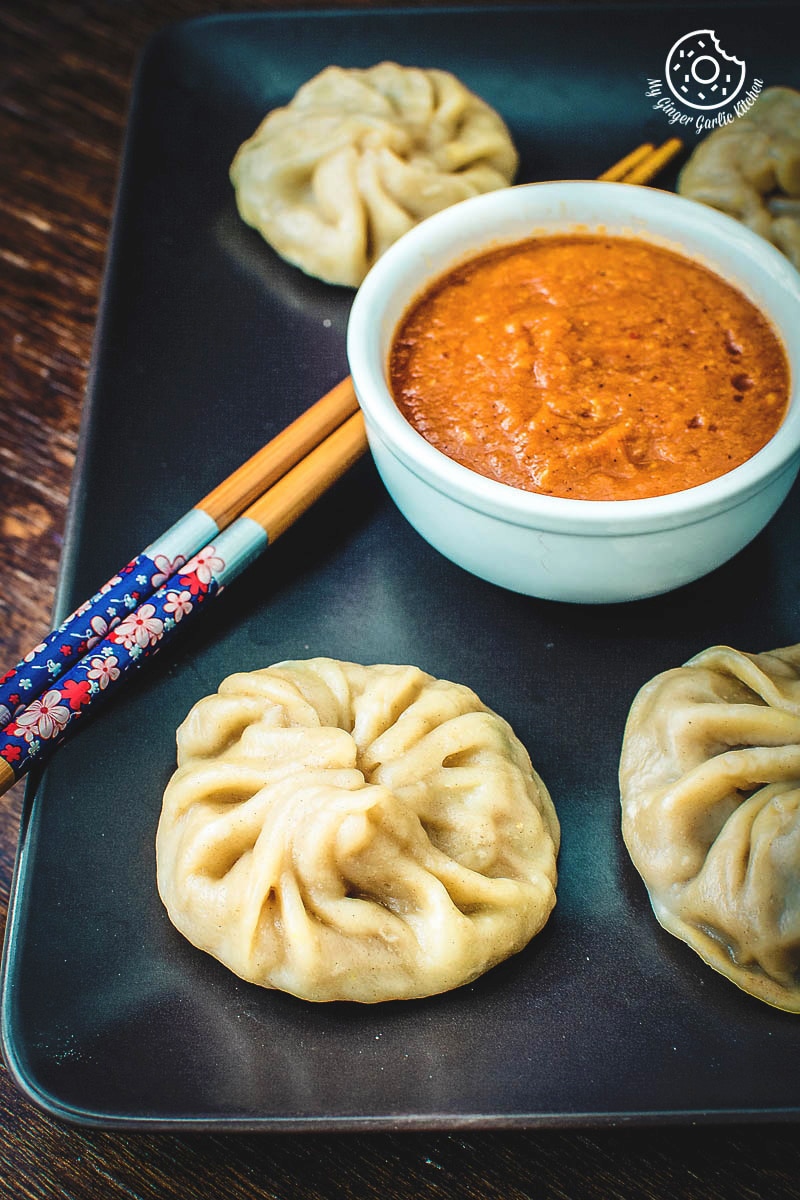 There are many types of savory momos depending upon their stuffing and cooking techniques such as steaming, frying, and boiling. Momos are also known as dim sum, wontons. These bite-sized savory steamed dumplings can be made with different fillings such as lamb, mushrooms, chicken, minced meat, veggies, veggies+tofu, shrimp and countless more.
Today I am sharing a very raw (basic) veggie version of these This is Steamed Veg Momos With Spicy Chili Chutney | Vegetable Dim Sum Recipe. And the best part is that everything is made from scratch.
Related: Green Coriander Chutney – 3 Ways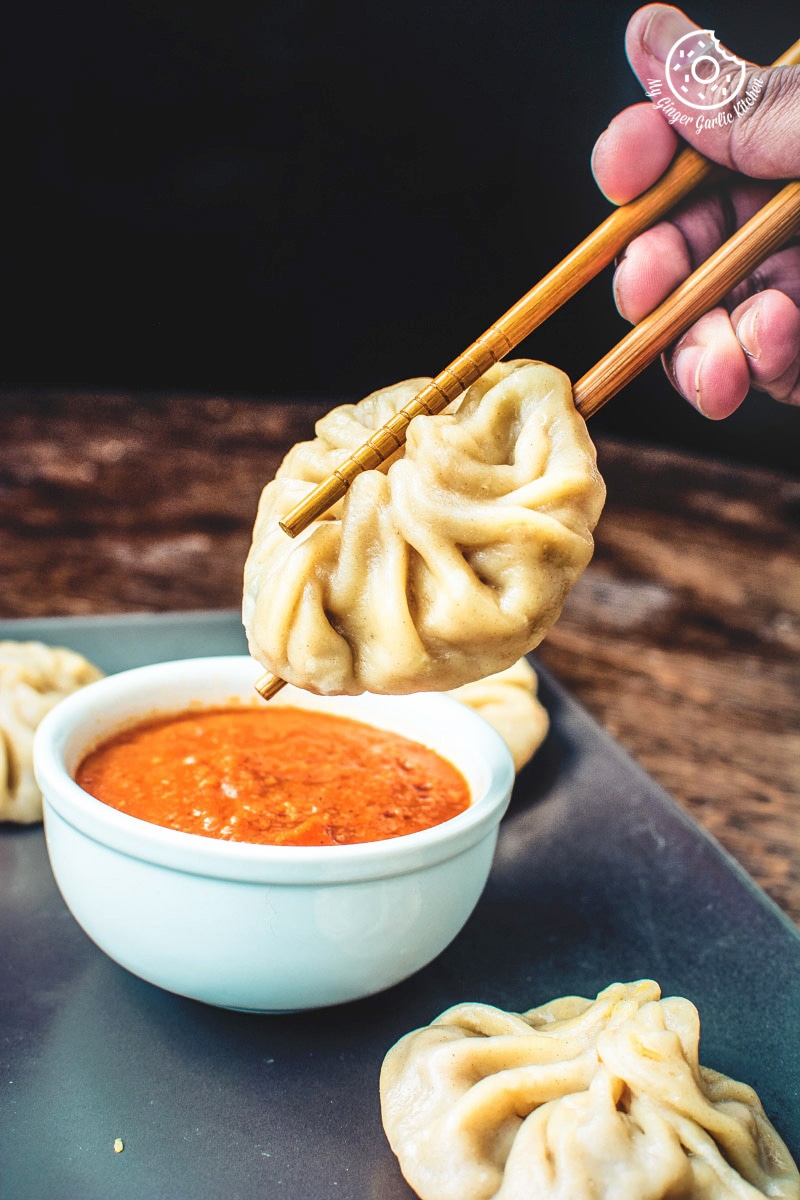 Preparation for these momos and making them is super smooth, but it is little time taking. However, I can also assure you that making these momos can really be faster if you have a helping hand or two who would assist you in rolling and pleating. I personally like to do the pleating part — that's so enormously artsy.
While I was shooting this steamed veg momos video, I also shot a video on 'Wrapping dumplings — 9 or maybe 10 easy ways. I bet all of these fun ways would surely make any kind of dumplings eating more fun. So stay tuned.:D
Related: Nepalese Whole Wheat Steamed Veg Momos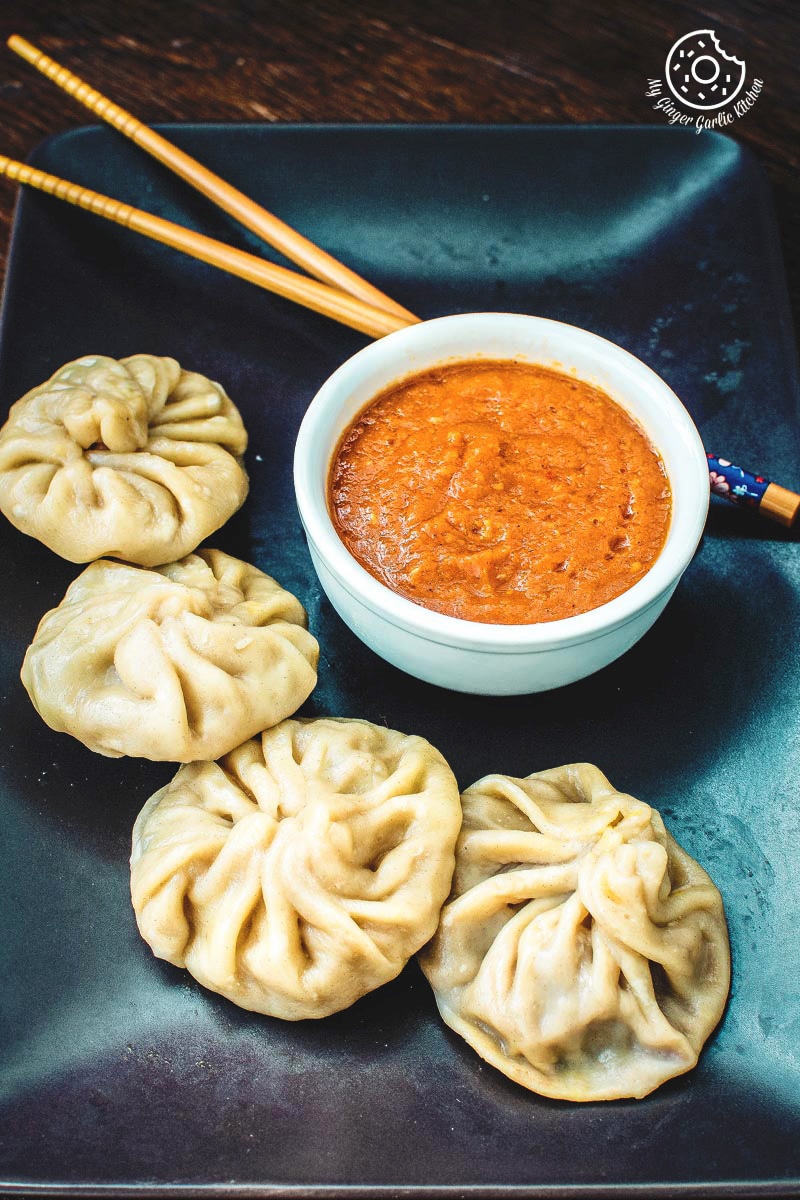 What is Momos?
Momos is a type of stuffed dumpling which is either steamed or fried. Momo is a traditional delicacy in Nepal, and Tibet. Momos are generally served with spicy and sweet tomato chili chutney (a dipping sauce).
The momos are delightful as a snack, but they can also make a light and satisfying meal for any time of the day.
Momos are very popular street food in a Northern part of India. I still remember the delicious taste and enchanting looks of the momos when I had them the first time many years ago. It was the time when I used to live in India.
I ate momos on a street vendor's kiosk as a snack, and I must say they were the best momos I have ever had until today. Mmmm, those hot veggie stuffed dumplings with spicy and sweet chili tomato chutney were out of this world.
Related: Indian Style Triple Egg Fried Rice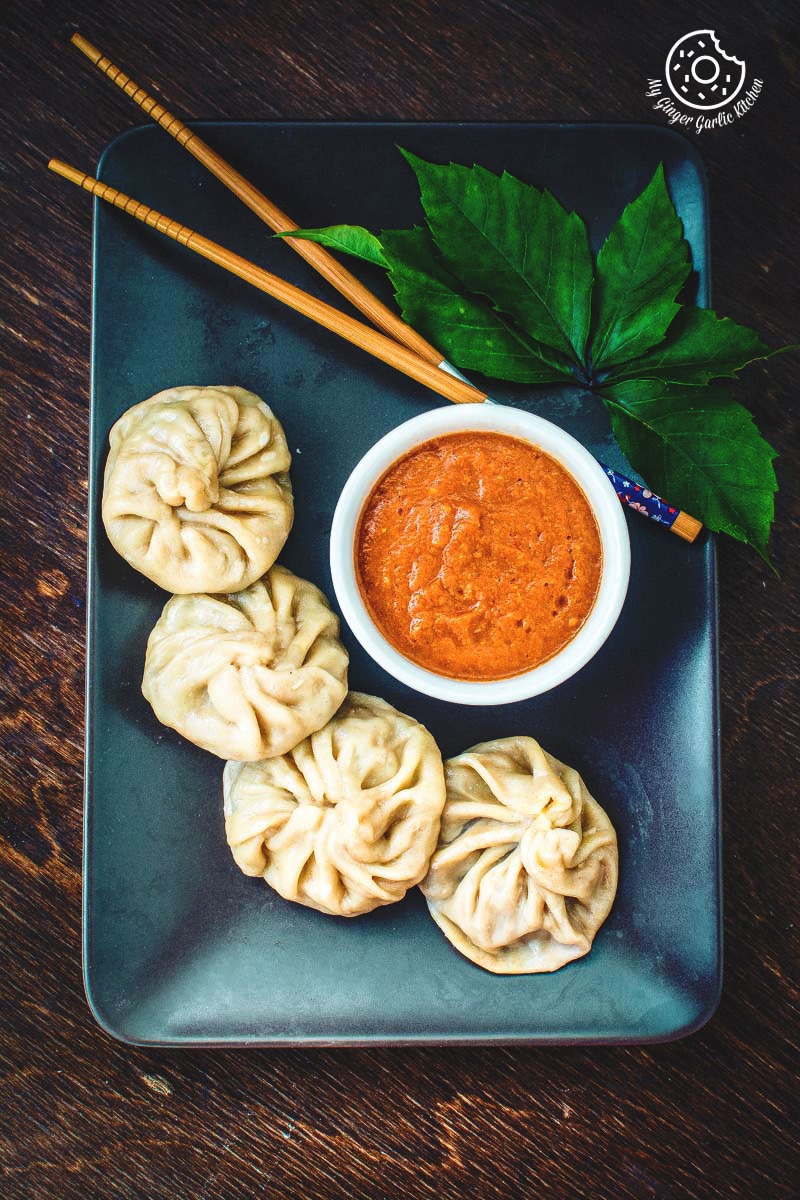 How do you make Veg Momos?
The key to making perfectly balanced momos is to keep the veggies stuffing-less spicier and then serve it with hot red sauce. This way your tongue would sense all the balanced flavors at the same time.
As I mentioned earlier that there are different types of momos — steamed momos, fried momos and sautéd and cooked in water. My personal favorite is the steamed one, so I have decided to share these steamed ones with you all.
Another good news is that making these momos do not require any complex kitchen tools. Just a rolling pin and bowl of water is all you need to create the most alluring momos.
Related: How to Make Schezwan Fried Rice
I can't deny that these street style dumplings are so versatile. Also making this **Steamed Veg Momos With Spicy Chili Chutney | Vegetable Dim Sum Recipe **is super easy and fun.
I know for some people, they might appear overwhelming, but I tell you, you just need to master the technique of pleating and twisting the dumplings. That's it.
Believe me, that pleating dumpling is no rocket science because if I can do it you can certainly do it too. So be patient while making this, because patience is virtue my dear friend and all good things come to those who are patient. Don't you believe it too? It's the same with these dumplings.
Related: How to make Thai Pineapple Fried Rice
Try these steamed momos with chutney at home and get ready to be enthralled by the bursting spicy and tangy flavors and wonderful textures in each bite.
You can make these momos also with wonton papers, but making them from scratch is so much fresh and delicious. That's why I always prefer making my own dough.
Last but not least, the good news is that these momos are vegan too.
Related: Homemade Schezwan Sauce
What are the tips, tricks, and suggestions for making the best vegetable momos at home?
I have used carrots, cabbage, bell peppers, and spring onions for filling. You can use any vegetables of your choice. Beans, green peas, corn kernels, boiled potatoes, or blanched broccoli taste great here.
You can also add grated paneer, grated tofu or halloumi cheese to momos filling.
Always line your steaming basket with either cabbage leaf or lettuce while steaming momos. This would prevent momos from sticking to the steaming tray.
additionally, do not roll too thin nor too thick. keep it medium thickness from center and thin from edges.
Make sure to roll the momos wrap as thin as possible (almost translucent), or else pleating momos would be tough. 
For more fun shapes, don't forget to check out my dumpling Wrapping video where I have showed 9 Guaranteed-Fun Ways To Wrap Dumplings.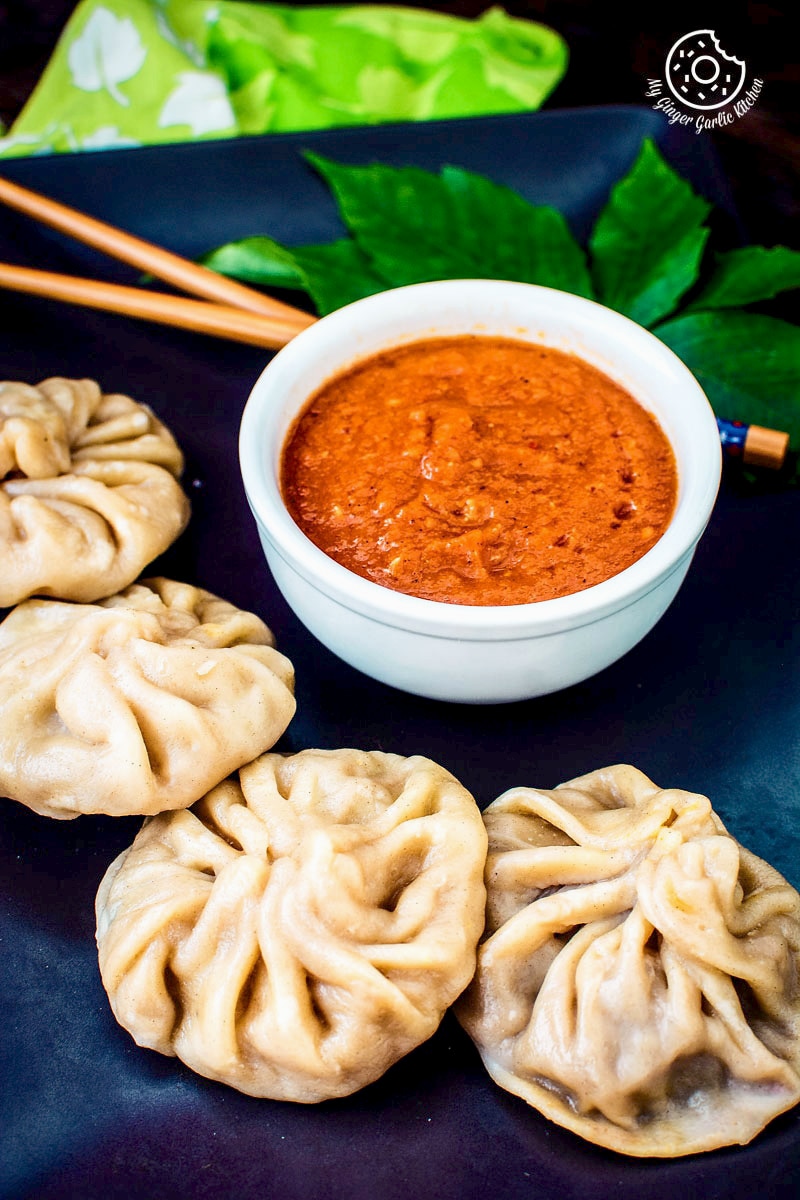 Learn how to make Steamed Veg Momos (Vegetable Dim Sum Recipe) With Spicy Chili Chutney.
Steamed Vegetable Momos With Spicy Chili Chutney - Dim Sum

[Recipe]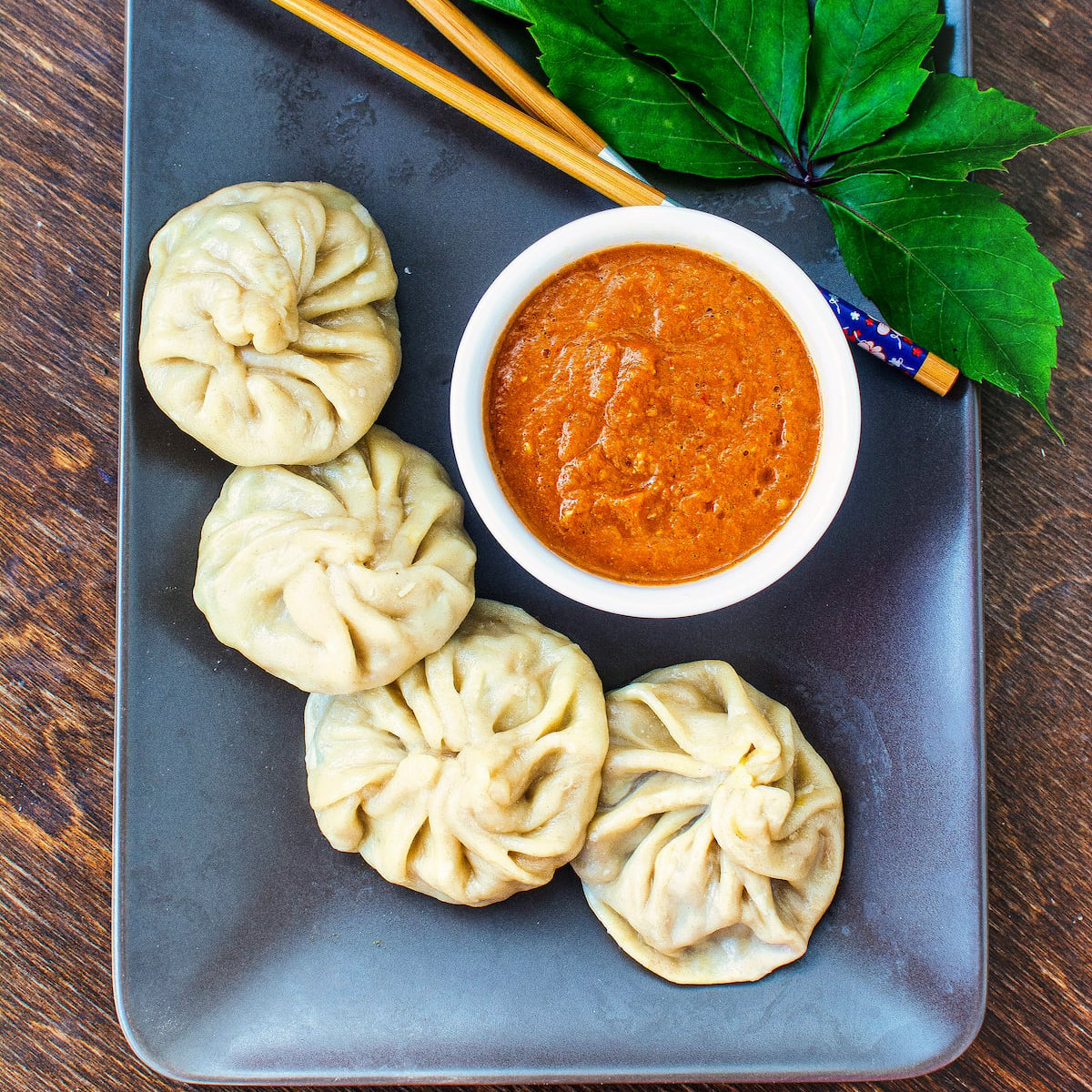 Learn how to make Steamed Veg Momos or Dim Sum and Spicy Chili Chutney Recipe with step-by-step video instructions. Veg momos recipe is a Tibetan street food.
---
★★★★✰
(Rating:
4.2
from
246
reviews)
---
| Prep time 🕐 | Cook time 🕐 | Total time 🕐 |
| --- | --- | --- |
| | | 55 mins |
| Category ☶ | Cuisine ♨ | Serves ☺ |
| Snack | Tibetan | 14-15 pieces |
| Nutrition Info ⊛ | | Serving size ⊚ |
| 36 calories | | 1 piece |
---
INGREDIENTS
For The Momos Dough:
2 cups maida (all purpose flour)
1 teaspoon oil
1/2 teaspoon salt
4 tablespoons milk + some water for kneading soft dough
For Momos Filling:
1 tablespoon oil
1 medium-sized onion, chopped
1 tablespoon ginger-garlic paste
1 cup carrots, grated
1 cup cabbage, grated
5 tablespoons bell pepper, chopped
2 tablespoons + 1 tablespoons spring onions
1 tablespoon red or green chilies, chopped (or as per taste)
1 teaspoon soy sauce
salt to taste
1 teaspoon black pepper
For Momos Red Chutney:
4 medium sized tomatoed, cut into 4 pieces
8-10 small or 4 large dried red chilies (you can also de-seed them)
3-4 garlic cloves, peeled
1 inch piece ginger peeled
1/4 teaspoon soy sauce (optional)
1 tablespoon vinegar
2 teaspoons sugar
Salt to taste
---
INSTRUCTIONS:
How to make Momos Chutney:
Boil about 1½ cup of water in a pot. Add tomatoes to it.




Also and red chilies to the hot water and boil on high for 5-6 minutes or until tomatoes skin start to peel off. Turn off the heat and let it cool down.




Once cooked, turn off the heat.




Remove the tomato skin and drain the excess water.




Transfer peeled tomatoes, cooked dried red chilies, salt, sugar, ground black pepper, ginger, garlic, and vinegar to a blender jar.




Blend to make a smooth puree. - Transfer it to a bowl. Momos Chuntey is ready. Keep it aside.



How to Make Momos Filling:
Heat oil in a pan. Once hot, add the chopped onions and saute for 2 minutes.




Add chopped chilies, and sauté for 1 minute.




Now add ginger garlic paste and stir well. Saute on high heat for 2 more minutes.




Now add grated carrots, grated cabbage, chopped bell pepper, and 2 tablespoons of sliced spring onion greens.




Stir everything well and cook on high heat for 3 minutes or until glossy.




Turn off the heat. After that add the soy sauce, salt, black pepper, and 1 tablespoon sliced spring onions greens.




Transfer it to a plate, and keep it aside to cool.



How to Make Momos Dough:
Add all-purpose flour, salt, and oil to a mixing bowl.




Also add milk and mix well.




Now add enough water to make a smooth dough, just like the chapati dough.




Once the dough is ready, apply a few drops of oil to it.




Cover the dough and let it rest for 30 minutes.



How to Make Momos (Dumplings):
Divide dough into 14-15 equal sized balls. Dust them with some dry flour.




Roll each dough ball thin into about 3″ circle, or until almost translucent. The edges should be thin. Roll all the balls.




Wet the edge with some water and place about 1 tablespoon filling in the center.




Bring one edge and start pleating as shown in the video above.




Twist to seal the dumpling. Stuff the rest of the dough balls in the same way.



How to Steam Dumplings:
Heat water in a steamer or a pan. Cover the steaming basket with lettuce or cabbage.




Arrange the momos on the steaming basket.(Make sure to have some space between them, so they do not stick to each other.)




Place the steaming basket over the steamer or pan and steam for about 10 minutes.




Serve hot momos spicy chilli chutney.



---
WATCH VIDEO:
---
NOTES:
No notes for this recipe.
---
If this recipe helped you, then please spread the word by sharing and
subscribing
to us on YouTube to get more such Recipe Videos.
---
Your feedback is so helpful for me and other MyGingerGarlicKitchen readers. So, for Facebook and Instagram, please mention
@MyGingerGarlicKitchen
or
#mygingergarlickitchen
. I would love to see your photos. :)
---
Author:
Anupama
Recipe Source Link:
https://www.mygingergarlickitchen.com/steamed-veg-momos-spicy-chili-chutney-vegetable-momos-recipe-video/
Date Published:
2020-09-21
• • • • • • • • • •