Carrot Halwa - How to Make Gajar Halwa
How to Make Gajar Ka Halwa | Carrot Halwa. This is a chewy halwa which is bursting with awesome cardamom-y flavor and nutty texture.
---
« Go back
Print this recipe »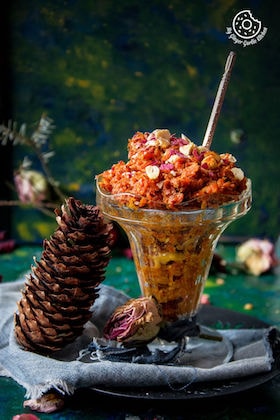 ---
Prep Time = 10 minutes
Cook Time = 45 minutes
Total Time = 55 minutes
Category = Main
Cuisine = Indian
Serves = 6
Nutrition Info = 351 calories
Serving Size = 1 serving
---
RECIPE INGREDIENTS
» For Gajar Halwa:
3 tablespoons + 1 tablespoon ghee (clarified butter) or unsalted butter
4 cups peeled, grated, carrots
3 cups (750 ml) whole milk
200 grams sweetened condensed milk or sugar - ¼ cup (feel free to add more if you like it sweeter)
1 tablespoon cardamom powder -
1 tablespoon cashews, chopped
1 tablespoon almonds, sliced
More chopped nuts for garnish
---
RECIPE INSTRUCTIONS
» How To Make Gajar Halwa:
Wash the carrots and trim their edges. Peel the skin and shred them using a grater or a food processor. Keep it aside.
Heat 3 tablespoons ghee or unsalted butter in a heavy-bottomed pan on medium heat.
Once the ghee is hot, add the shredded carrots and sauté for about 10-12 minutes or till the carrots changes in color slightly, and their moisture is evaporated completely.
Keep stirring occasionally. The raw smell of the carrots would have been completely gone by now.
Add the whole milk to the cooked carrots and stir well.
Let the carrots cook in the milk till the entire mixture becomes dry again or till all of the milk is absorbed. Keep stirring in between to avoid the carrots sticking to the bottom of the pan. This whole process should take about 15-20 minutes.
Now add the condensed milk/sugar and mix well. (If you are adding sugar, this halwa would become watery again.)
Stir well and cook for 5 minutes if you are adding condensed milk. (If you are adding sugar, then cook till the sugar is absorbed and halwa becomes dry again.)
Now add cardamom powder and chopped nuts and mix well.
Add 1 tablespoon ghee and cook for 2 minutes. The halwa would leave the sides on the pan.
Garnish Gajar Ka Halwa with chopped nut and serve hot, warm or cold.
---
RECIPE NOTES
Use almond butter and almond milk to make this gajar halwa vegan.
---