This deliciously colorful, light, and fresh Beet Potato Holiday Salad or Roasted Beetroot Salad is crowd-pleasing side dish to serve during get togethers or holiday parties.
Almonds, roasted beets, boiled potatoes, pomegranate arils, cranberries, garlic, some mayonnaise, sour cream, chili flakes, pepper, and honey make this roasted beet salad recipe a fabulous accompaniment to breadsticks.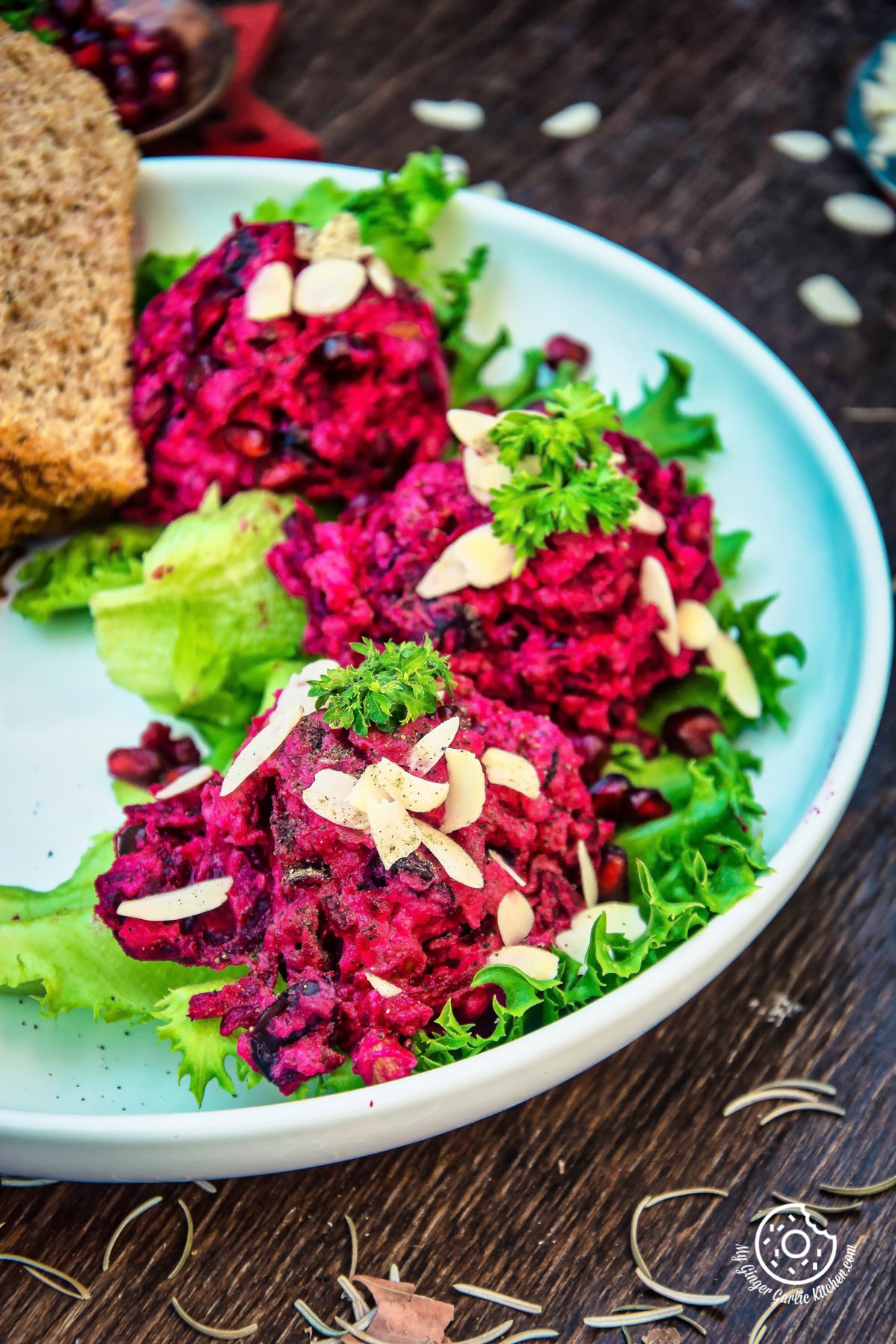 This festive and colorful salad can also be used as a topping on a flatbread.
My greetings to you all on this Happy Monday. Monday and happy? Yeah! All days are happy days in the month of December. Isn't it? December = Festivity. Every day feels so festive and fun. I am so much in festive mood and incredibly in love with this festive salad, which I am sharing today.
So are you ready to enjoy this Holiday salad? Alright then, welcome to Christmas Salad Monday.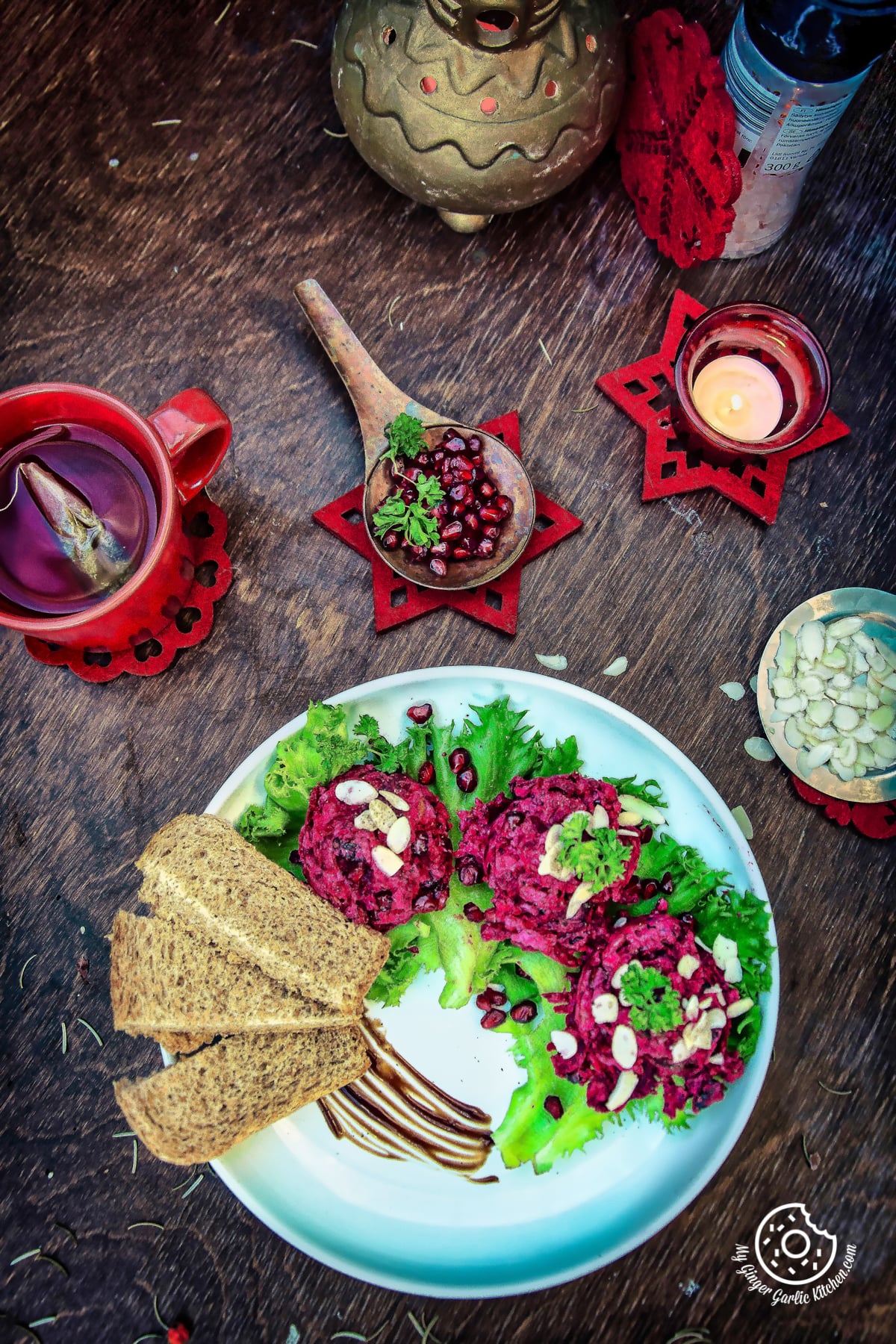 My weekend shopping:
First, lemme ask you, how was your weekend? What did you do? My weekend was pretty jam-packed, and by that, I want to say that it was a weekend full of shopping and I want such weekends every week. 😉 So after that happy and busy weekend, I want this salad again because I know this will once again make me feel energized and happy.
Why so? Because it is the 'Iron-Man' of salads. It has so much raw power. It has everything I love. I love beets, I love cranberries, I love pomegranate arils and I also love potatoes. So you can clearly see that I am way too excited about this pretty salad. Seriously, Beetroot is one of my favorite things and that is why I always keep them in stock.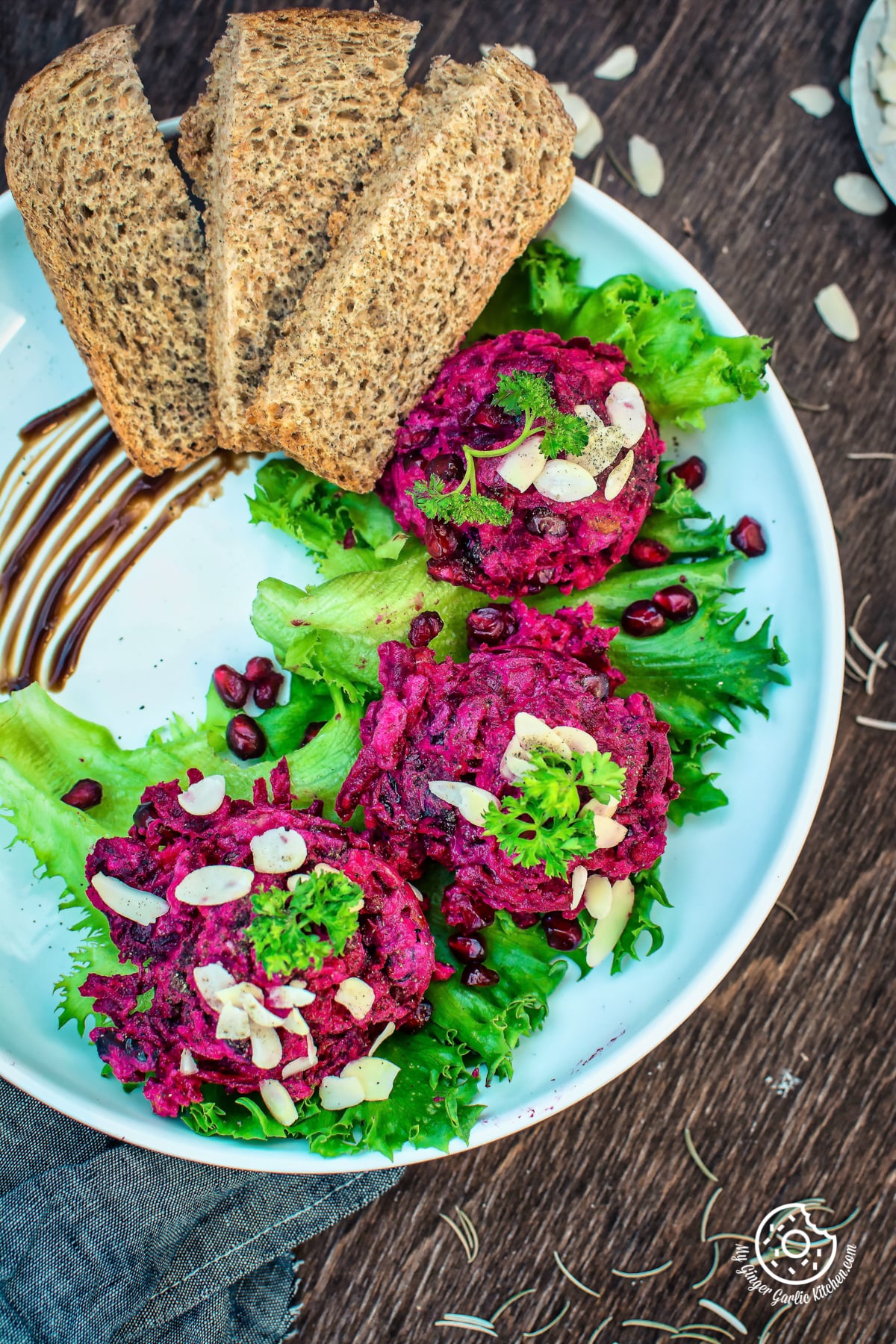 Peak Obsession:
I am usually not so obsessed with a salad but oh boy, this salad is an exception. This salad doesn't feel like a salad, it feels and tastes like some elegant gourmet food. So if I talk about only this salad then I can tell that my salad obsession is at the peak. Almonds, cranberries, pomegranate, and beets. What's not to love here? Sweet, tart and little spicy. Just my kinda salad!
What is roasted beet salad?
This roasted beet salad is Iron-Man.
Cheers for this festive color packed flavor-packed, pretty pomegranate packed salad. This salad can surely satisfy the stomach of your heart 😉 Don't believe me? Try this Roasted Beet Potato Holiday Salad for yourself and you will know what I am talking about. This salad is holiday perfection.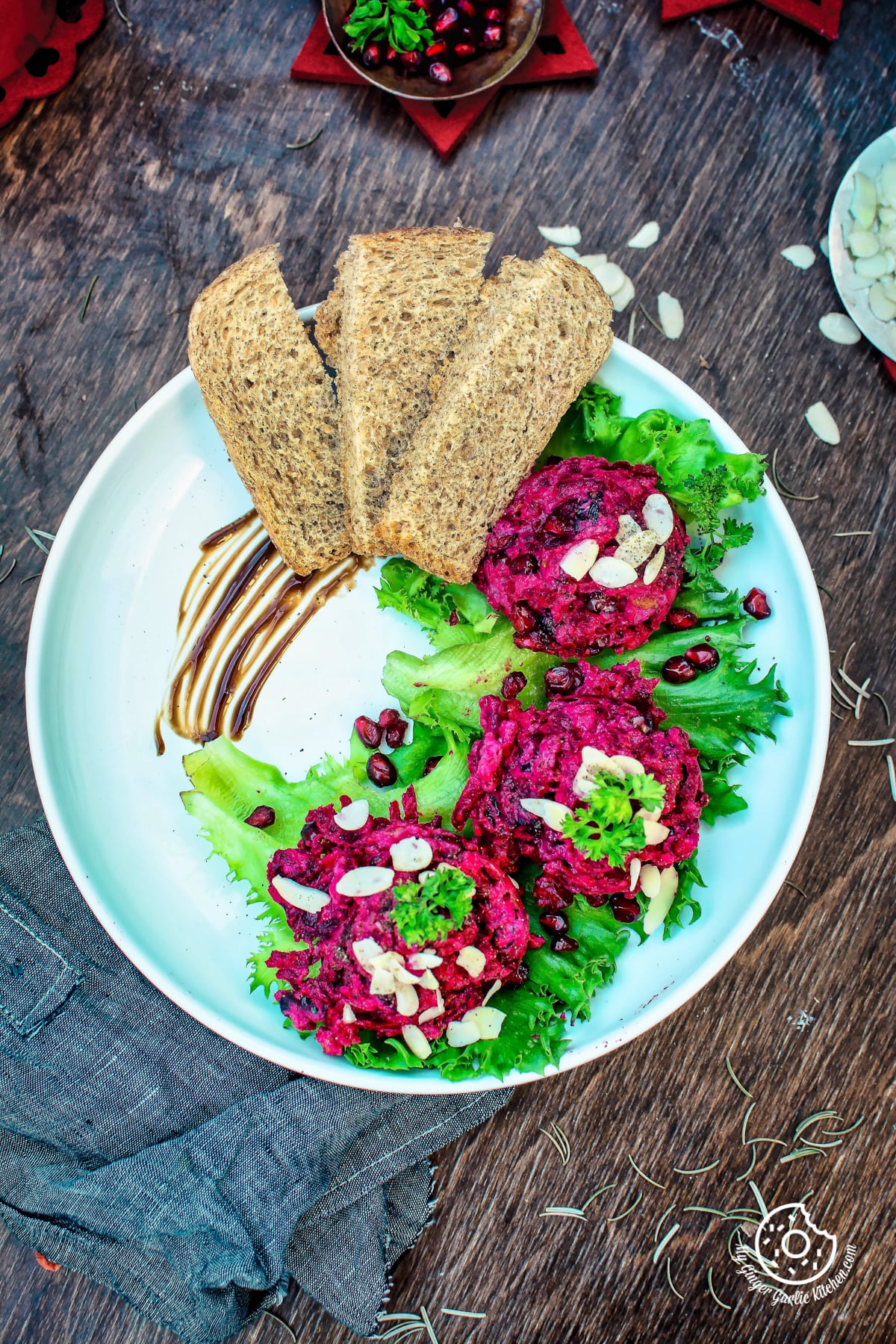 How to make roasted beet salad?
Making this holiday salad is very simple, satisfying and delicious. Once you've made it, you would want to make it on weekly basis.
Here's how it's made. It's simple and easy.
Add everything and toss well and chill. Then when it's serving time, just add some arils for a festive touch and we are all done. Simple, easy and pure deliciousness.
My family loves beets, thus this salad is a pleasant weekly affair at my home during winters. And why not? There is a lot to love. And anyway, who wants festivals to end. 🙂
Can I make this holiday salad for Starter or Dinner?
Certainly. This sweet & savory roasted beet salad is an enhanced version of the beet salad found in takeout shops. This elegant and hearty salad is enough to stand solo as a dinner entrée along with toasted whole grain bread slices.
This salad would also make an awesome starter for Christmas and New Year's family dinner. If you want, you can also make a nice breakfast sandwich with this leftover salad. This sandwich will taste delicately good.
What are Pro Tips and Tricks for making Beet Salad Recipe?
Making this beet potato salad is fairly simple. However, if you have never worked with beets before then there are a few things one should keep in mind before making this holiday beet potato salad.
Always use cool beets when preparing salads, this way it would be easier to toss the salad with the dressings. Also, it would stay fresh longer. 
If stored covered in an air-tight container, this salad will stay fresh for a couple of days in the fridge.
You can make this salad a day before you are planning to serve it. This way it would absorb the flavors, and it tastes more delicious and creamier.
Don't peel beets before roasting and cooling. Once the beet is roasted and cooled, it would be easier to peel them. The skin would slide off without any efforts. 
For a hearty variation, you can also add some boiled chickpeas or cooked quinoa to the salad.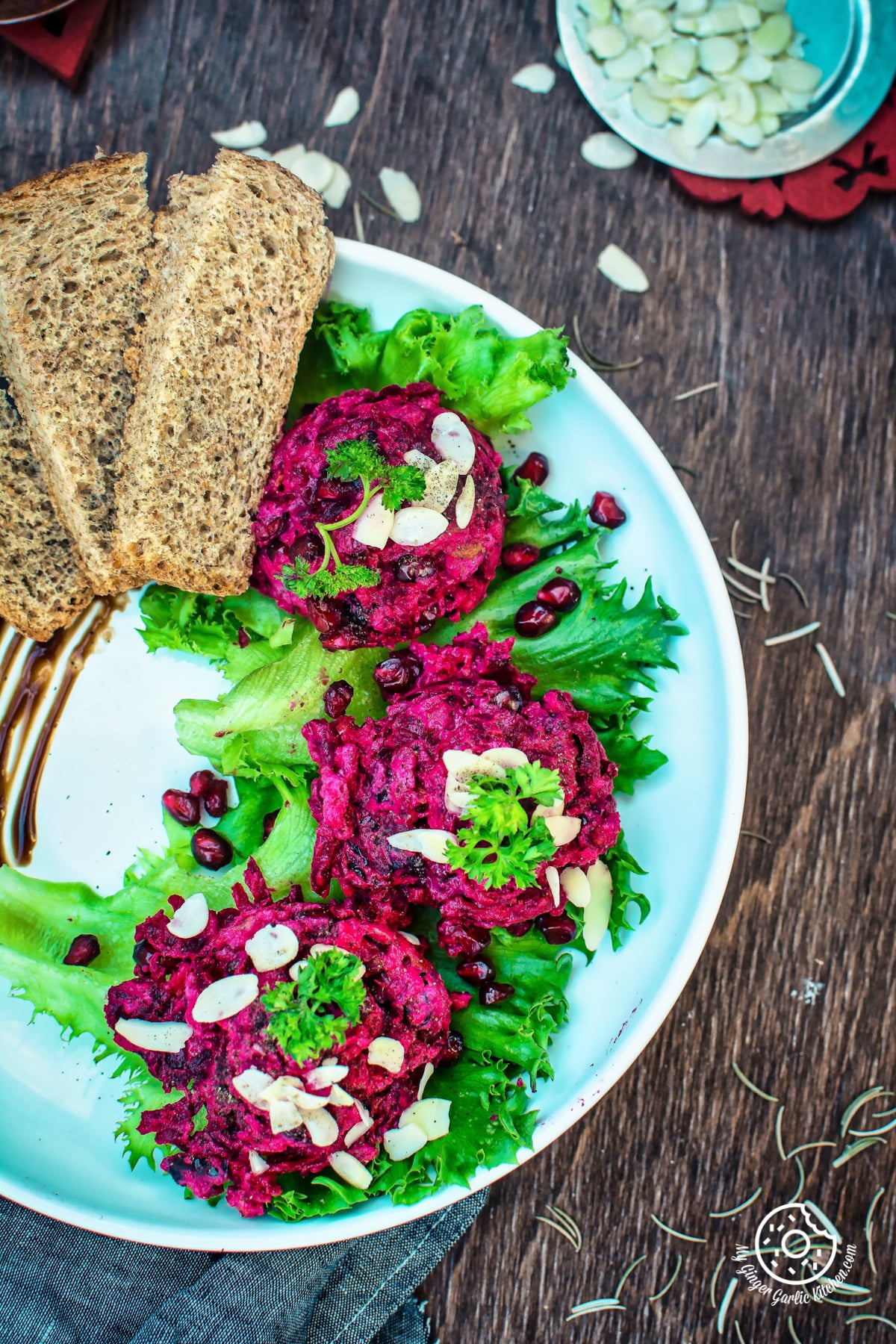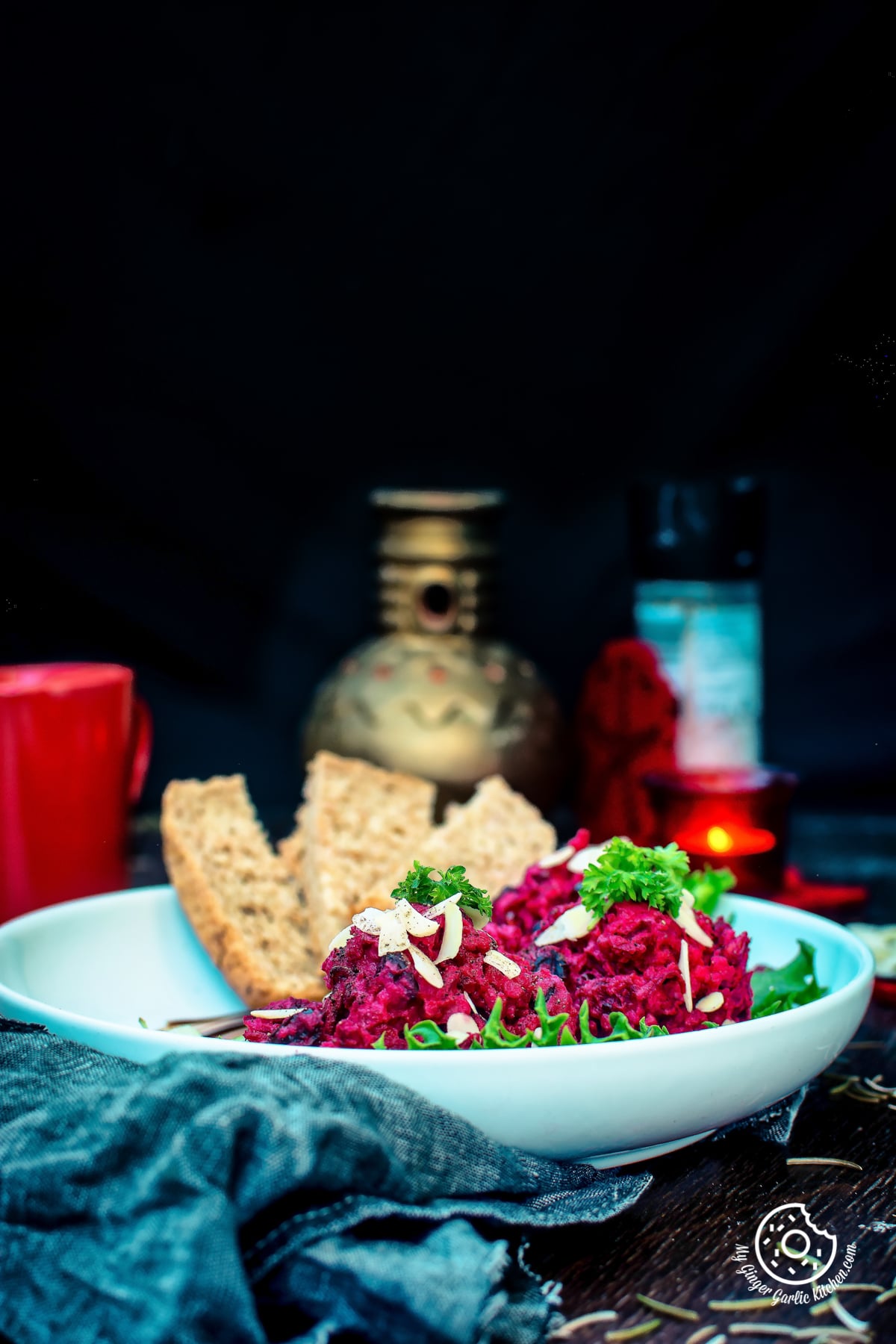 You may also like these salad recipes:
Beet Potato Holiday Salad - Roasted Beet Salad

[Recipe]
This colorful and fresh Beet Potato Holiday Salad or Roasted Beetroot Salad is crowd-pleasing side dish to serve during get togethers or holiday parties.
---
★★★★✰
(Rating:
4.4
from
39
reviews)
---
| Prep time 🕐 | Cook time 🕐 | Total time 🕐 |
| --- | --- | --- |
| | | 1 hours 35 mins |
| Category ☶ | Cuisine ♨ | Serves ☺ |
| Entrée | European | 4 |
| Nutrition Info ⊛ | | Serving size ⊚ |
| 435 calories calories | | 1 serving |
---
INGREDIENTS
For Roasted Beet Salad //
5 medium beetroot
2 medium potato, boiled and peeled
3 tablespoons almonds, chopped
1/4 cup pomegranate arils
1/4 cup dried cranberries
1 tablespoon garlic cloves, minced
Salt, pepper and chili flakes to taste
1 tablespoon honey
1 tablespoon mayonnaise
1/4 cup sour cream
For Serving //
Lettuce
Pomegranate arils
Sliced almonds
Ground pepper
Parsley
Whole grain bread slices or garlic breadsticks
---
INSTRUCTIONS:
How to Roast Beets //
Pre-heat oven to 200°C/400°F. Place the beets in the center of a piece of aluminum foil.




Wrap around the beets. Place the beets in the oven for 45-60 minutes.




Remove the beets from the oven and slide a knife in and out of the beets, if it slides easily then your beets are roasted.




Once the beets are cool enough to handle, rub the skins off and wash them under some cold water. Delicious roasted beets ready.



How to Make Roasted Beets Salad //
Grate boiled potato and beets.




Combine beets, potato, pomegranate arils, chopped almonds, dried cranberries, garlic, honey, chili flakes, sour cream, mayonnaise, ground pepper and salt in a large bowl.




Toss everything well.Refrigerate for 30 minutes.




Scoop chilled beet salad over a bed of lettuce.




Top with almond slices, pomegranate arils, and sprinkle some pepper powder.




Enjoy with some whole grain bread slices or garlic breadsticks.



---
WATCH RECIPE VIDEO: Click the play button and video will load ...
---
NOTES:
No notes for this recipe.
---
If this recipe helped you, then please spread the word by sharing and
subscribing
to us on YouTube to get more such Recipe Videos.
---
Your feedback is so helpful for me and other MyGingerGarlicKitchen readers. So, for Facebook and Instagram, please mention
@MyGingerGarlicKitchen
or
#mygingergarlickitchen
. I would love to see your photos. :)
---
Author:
Anupama
Recipe Source Link:
https://www.mygingergarlickitchen.com/roasted-beet-potato-holiday-salad-video-recipe/
Date Published:
2020-12-28
• • • • • • • • • •