Beet Potato Holiday Salad - Roasted Beet Salad
This colorful and fresh Beet Potato Holiday Salad or Roasted Beetroot Salad is crowd-pleasing side dish to serve during get togethers or holiday parties.
---
« Go back
Print this recipe »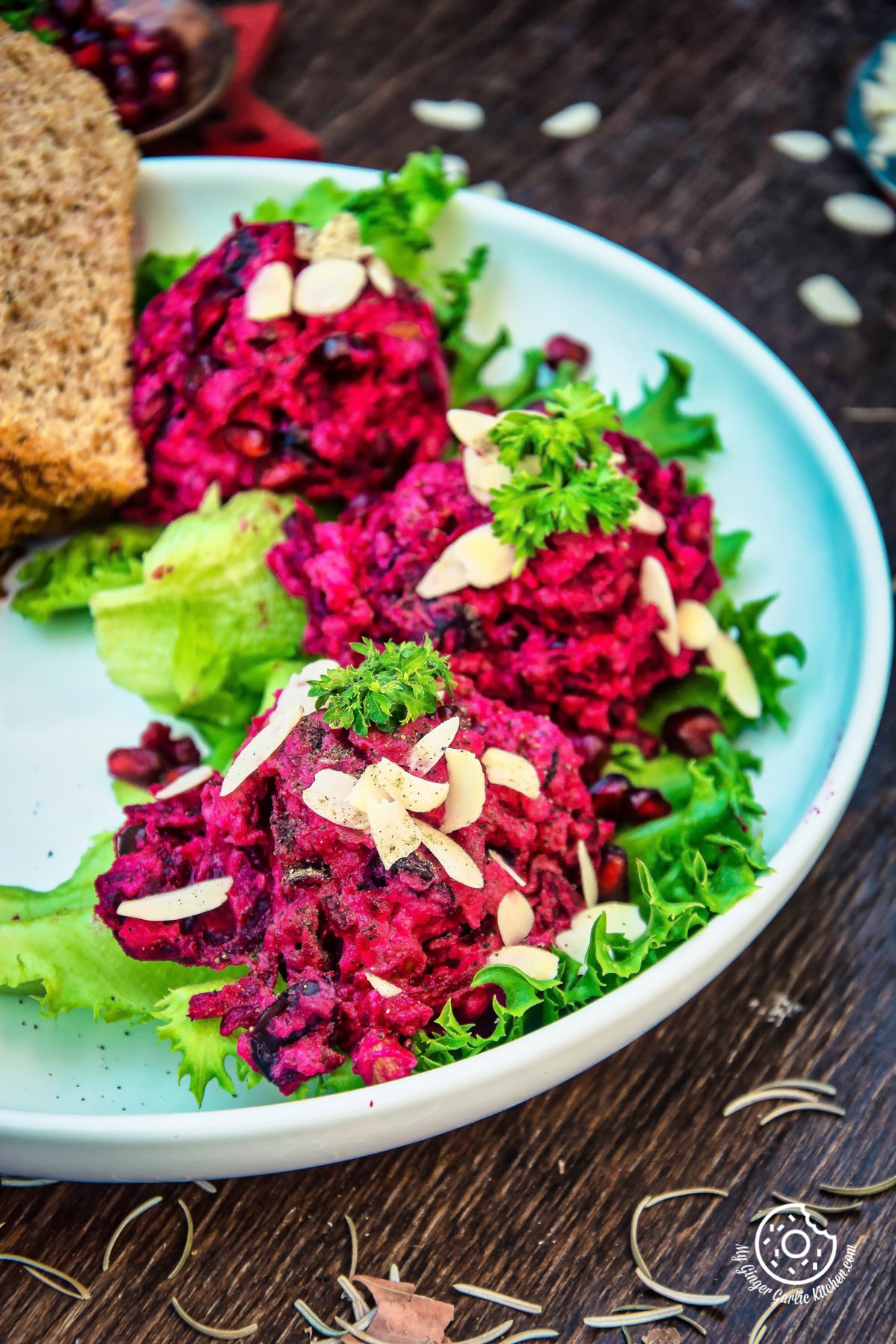 ---
Prep Time = 1 hour(s) 30 minutes
Cook Time = 5 minutes
Total Time = 1 hour(s) 35 minutes
Category = Entrée
Cuisine = European
Serves = 4
Nutrition Info = 435 calories
Serving Size = 1 serving
---
RECIPE INGREDIENTS
» For Roasted Beet Salad //
5 medium beetroot
2 medium potato, boiled and peeled
3 tablespoons almonds, chopped
1/4 cup pomegranate arils
1/4 cup dried cranberries
1 tablespoon garlic cloves, minced
Salt, pepper and chili flakes to taste
1 tablespoon honey
1 tablespoon mayonnaise
1/4 cup sour cream
» For Serving //
Lettuce
Pomegranate arils
Sliced almonds
Ground pepper
Parsley
Whole grain bread slices or garlic breadsticks
---
RECIPE INSTRUCTIONS
» How to Roast Beets //
Pre-heat oven to 200°C/400°F. Place the beets in the center of a piece of aluminum foil.
Wrap around the beets. Place the beets in the oven for 45-60 minutes.
Remove the beets from the oven and slide a knife in and out of the beets, if it slides easily then your beets are roasted.
Once the beets are cool enough to handle, rub the skins off and wash them under some cold water. Delicious roasted beets ready.
» How to Make Roasted Beets Salad //
Grate boiled potato and beets.
Combine beets, potato, pomegranate arils, chopped almonds, dried cranberries, garlic, honey, chili flakes, sour cream, mayonnaise, ground pepper and salt in a large bowl.
Toss everything well.Refrigerate for 30 minutes.
Scoop chilled beet salad over a bed of lettuce.
Top with almond slices, pomegranate arils, and sprinkle some pepper powder.
Enjoy with some whole grain bread slices or garlic breadsticks.
---
RECIPE NOTES
No notes for this recipe.
---