Healthy Avocado Tomato Cucumber Salad With Kiwi Olive Dressing is a light, fresh, and full of flavor salad. It is gluten-free and can be VEGAN if you skip egg. It makes a great picnic. And this is gonna be a perfect work/holiday summer lunch. This sure is a show-stopper if you are serving it to your health conscious guests! 😉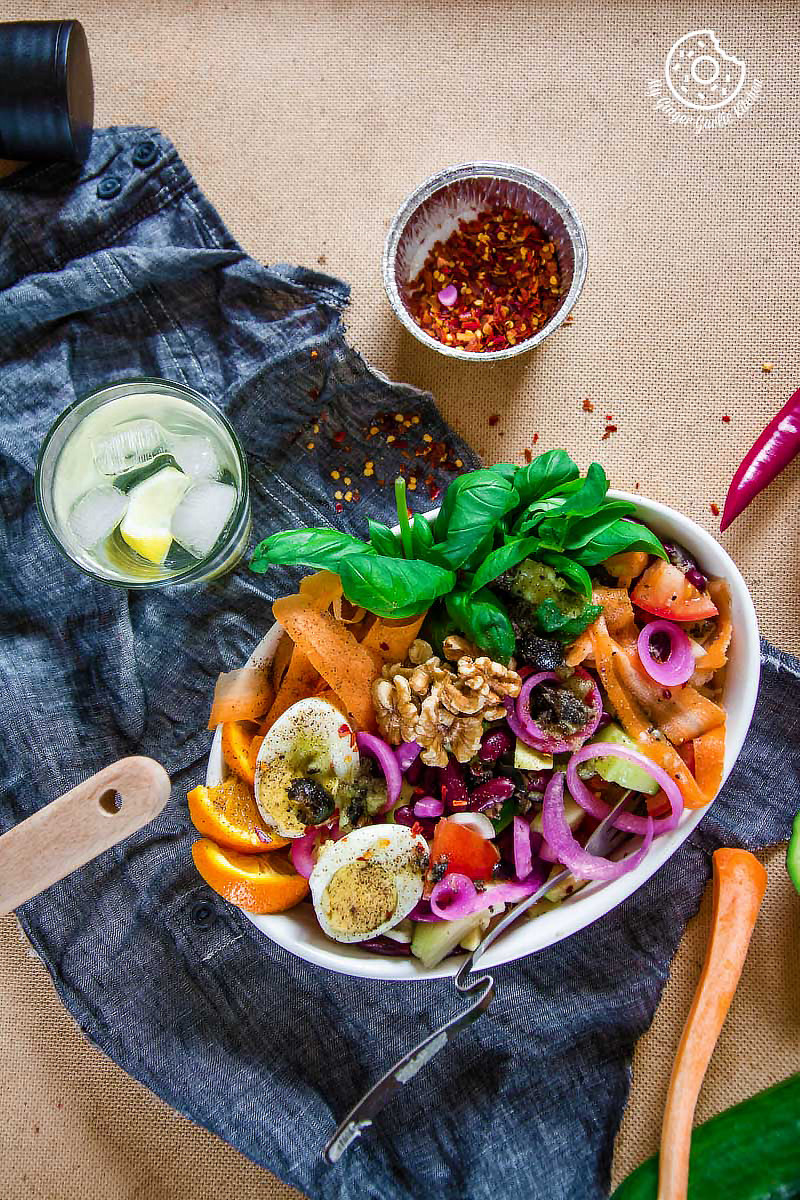 Welcome to this 'new' week! Monday – bringing the beginning of this 'new' week. Beginning of some 'new' hopes, some challenges, some wins and some losses.
Change is good, Oh yeah: Does new means change? Certainly. I often see that people get furious at first when you talk about something 'new'. Some people assume that 'new' is gonna is be good, others think 'new' is gonna be bad. To me, the word 'new' is quite adventurous. 'New' means something is gonna change for sure, but change is not always bad. Not always better, but it's not gonna be the same as it was earlier, that's for sure.
Does new gives you anxiety?
For some people, this 'new' might be a 'new' way of thinking, 'new' job, 'new' city, 'new' country or it might be be some 'new' food. Yeah, I have seen many people who are afraid of trying something 'new' when it comes to food. They are so comfortable with their existing food habits that they do not want to try anything 'new'. Even a talk about trying 'new' food gives them anxiety. Yes, I have met these people in person. I think we all have.
Love being a foodie: As a food blogger and a foodie, I am never frightened to try 'new' when it comes to food, like you all foodie people. After all how can someone claim that something is gonna be bad without even trying it. Right? For claiming it good or bad — we would have to try that thing first.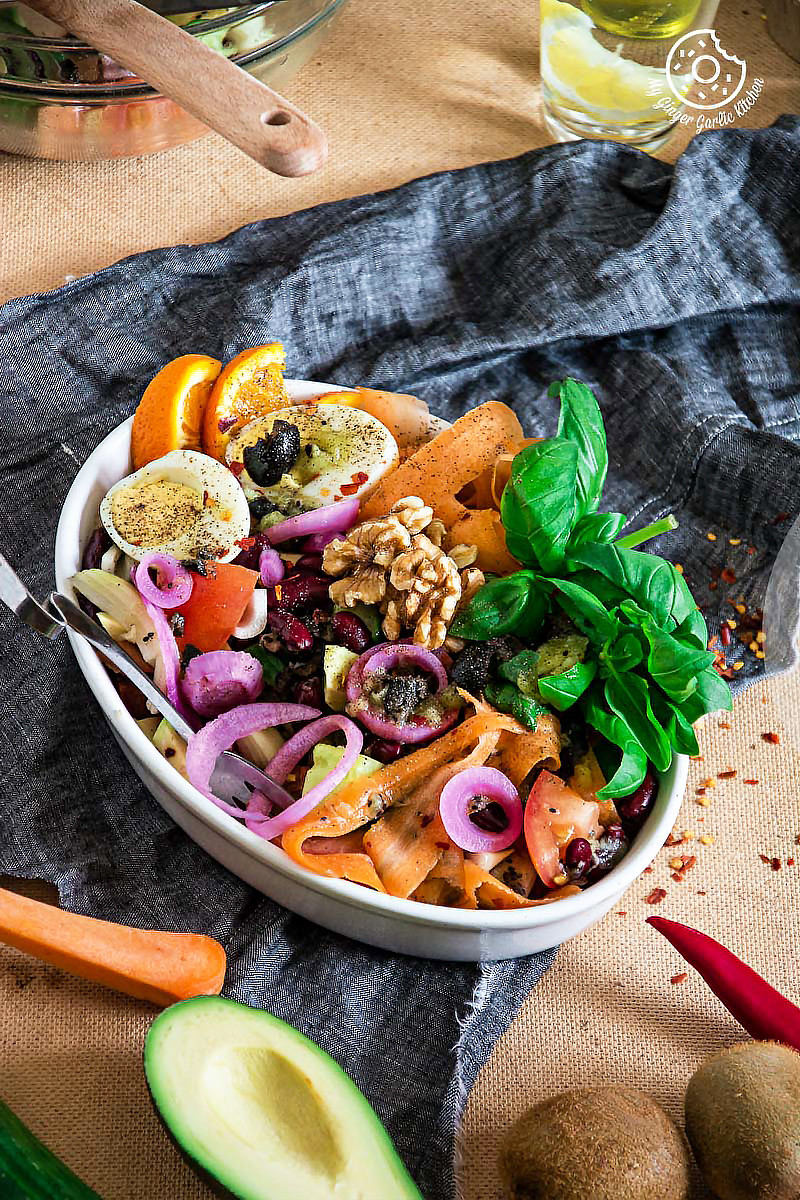 And if you have been following my blog for quite sometime, then you would surely know that I never hesitate when it comes to trying 'new' flavor combos. And why should I hesitate, after all I am a foodie.
How would people know what they crave to eat, if we foodies wouldn't try out and create something which is exotic and outstandingly good. Don't you agree that we have this nature's gift that most of the times our instincts are just right when it comes to food? We rarely fail with the flavor combinations. #Foodiebliss
Related: Couscous with Sauteed Mushrooms Kidney Beans | Video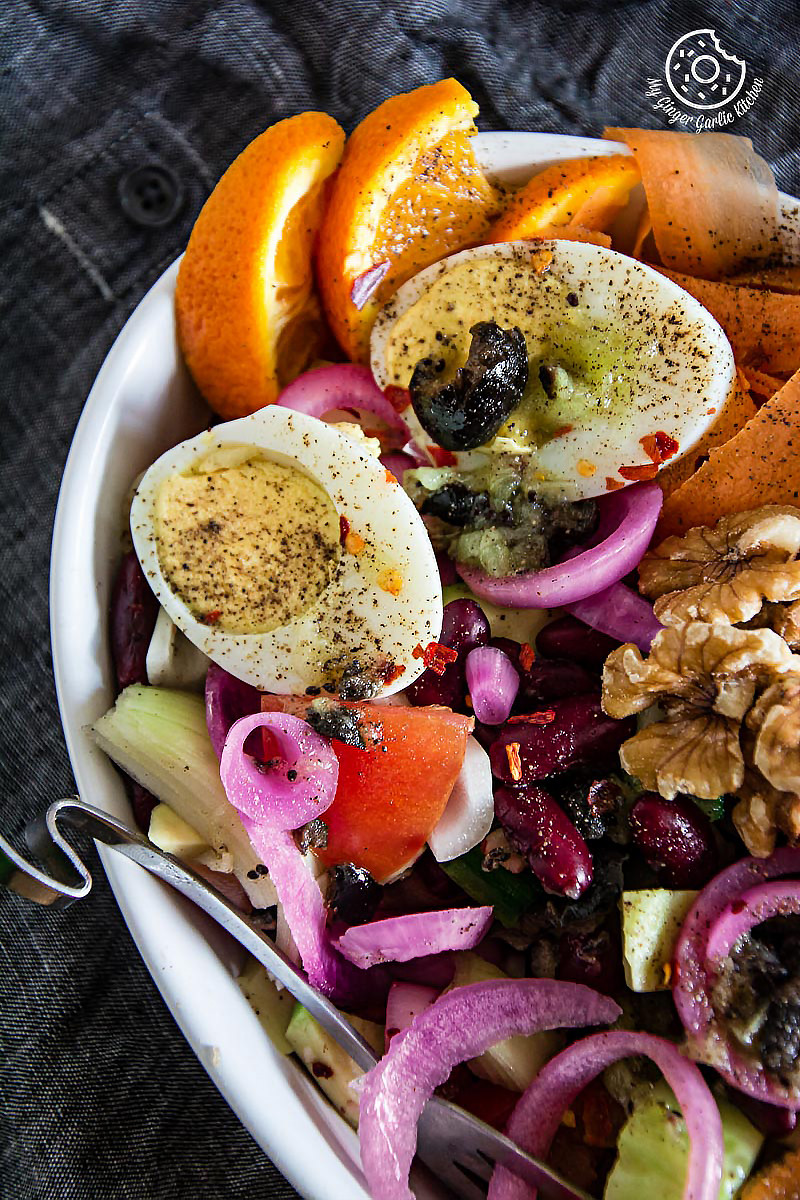 And this kiwi olives dressing which I am sharing today is one of such things which came out super awesome.
Hey, wait! OMG, already half-way through this post, and I haven't yet introduced to you the energy boosting salad I am sharing today.
Silly me, I was so busy in talking about 'new' stuff that I almost forgot to
tell about this AWESOME thing.
So here I am with a salad which would make your Monday, and this is just a few minutes away from you. Wouldn't you love to have a salad which is restaurant-quality? Raise your fork if you want this salad!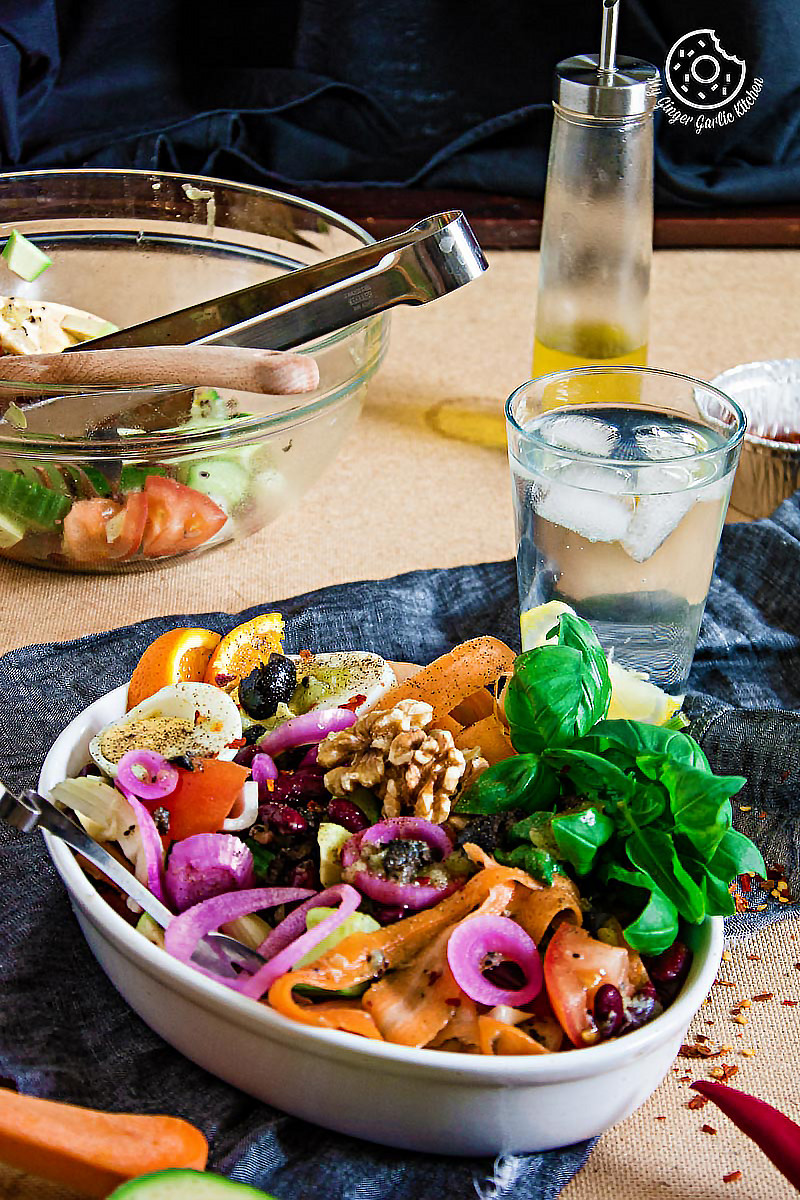 Oh no no no! I didn't mean you get this salad delivery right through your computer screen. You will have to get up first and walk down to the kitchen. And the rest would be taken care of so fast. Even before you realize anything, this so vibrant, fresh and delicious salad platter would be in your hands.
Let your imagination fly: This salad is simple to make and super easy to customize! The marvelous thing about this salad is that you can toss in just about any bean you have at hand. Feel free to try it with chickpeas, pinto beans, black beans or even baked beans. This salad's awesomeness would remain the same. And I guarantee you, this easy, tasty and quick to prepare salad will surprise you with it's refreshingly unique flavor.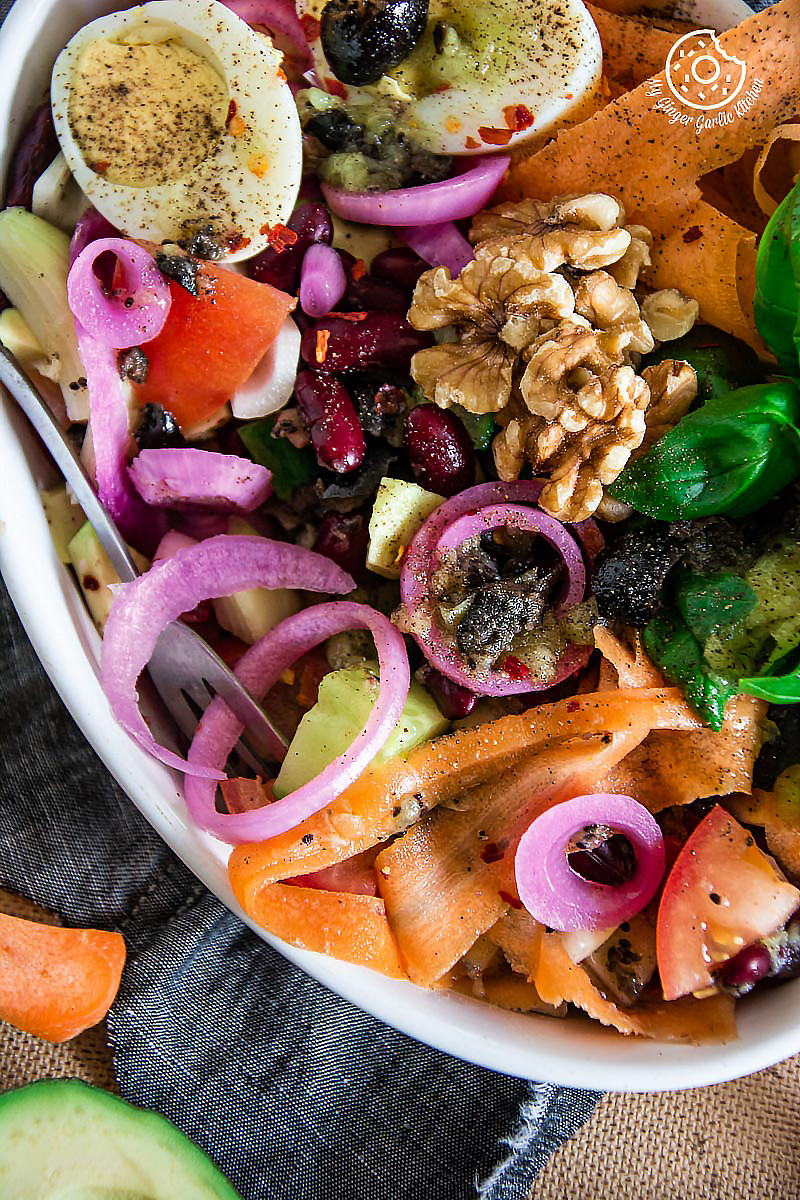 It takes only a few minutes to peel and chop all of the vegetables. For salad I added tomato, cucumber, onion, avocado, cooked kidney beans and carrot ribbons.
For dressing I used kiwi, black olives, olive oil, apple cider vinegar, salt and pepper. Tossed everything well. And served with fresh basil leaves, carrot ribbons, orange slices, boiled egg, pickled onions, walnuts and some more dressing. A sprinkle of some chili flakes, ground pepper. And Ta-da. The most exotic, most beautiful and delicious salad is ready.
Believe me, it is spoon-licking good and full flavored.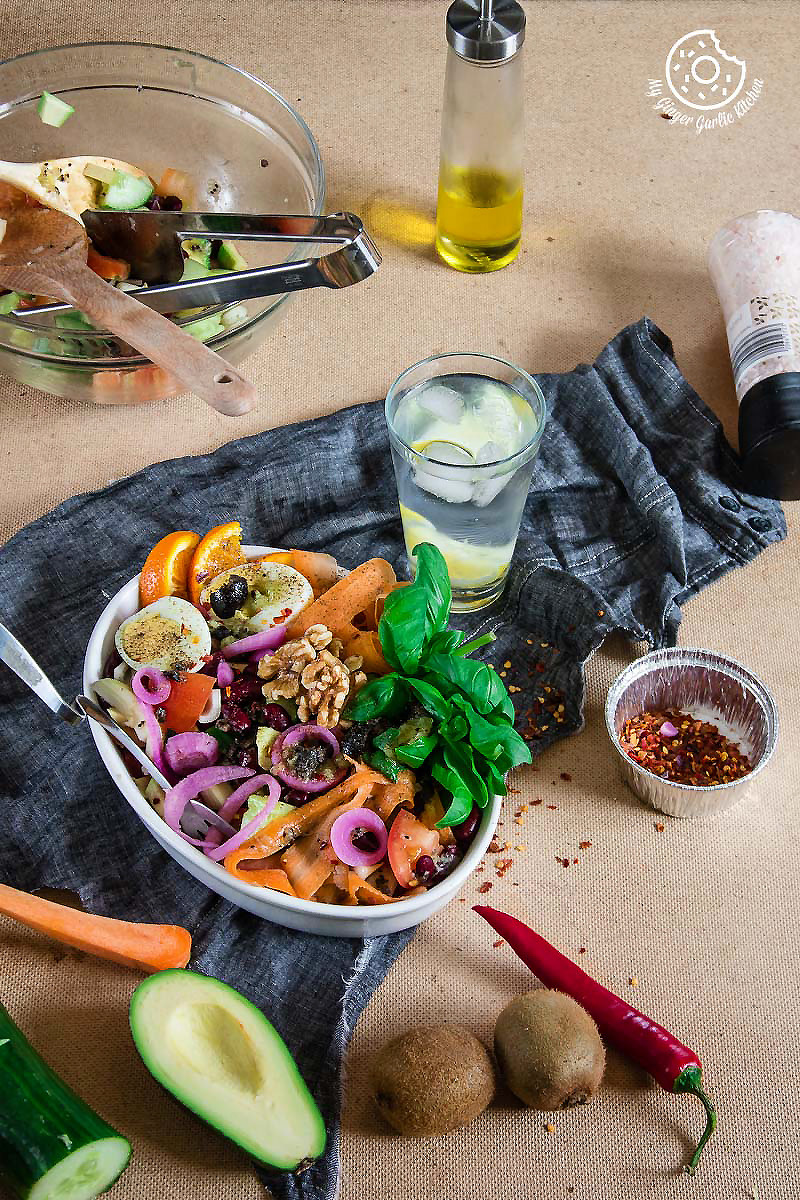 Don't you just love a mouth-watering dish which is quick, easy and can really rock and roll on a plate? I LOVE such meals.
Avocado Tomato Cucumber Salad With Kiwi Dressing makes a great picnic. And this is gonna be a perfect work/holiday summer lunch. This sure is a show-stopper if you are serving it to your health conscious guests! 😉
Related: Fruits & Vegetables Fiesta Salad With Honey Pepper Dressing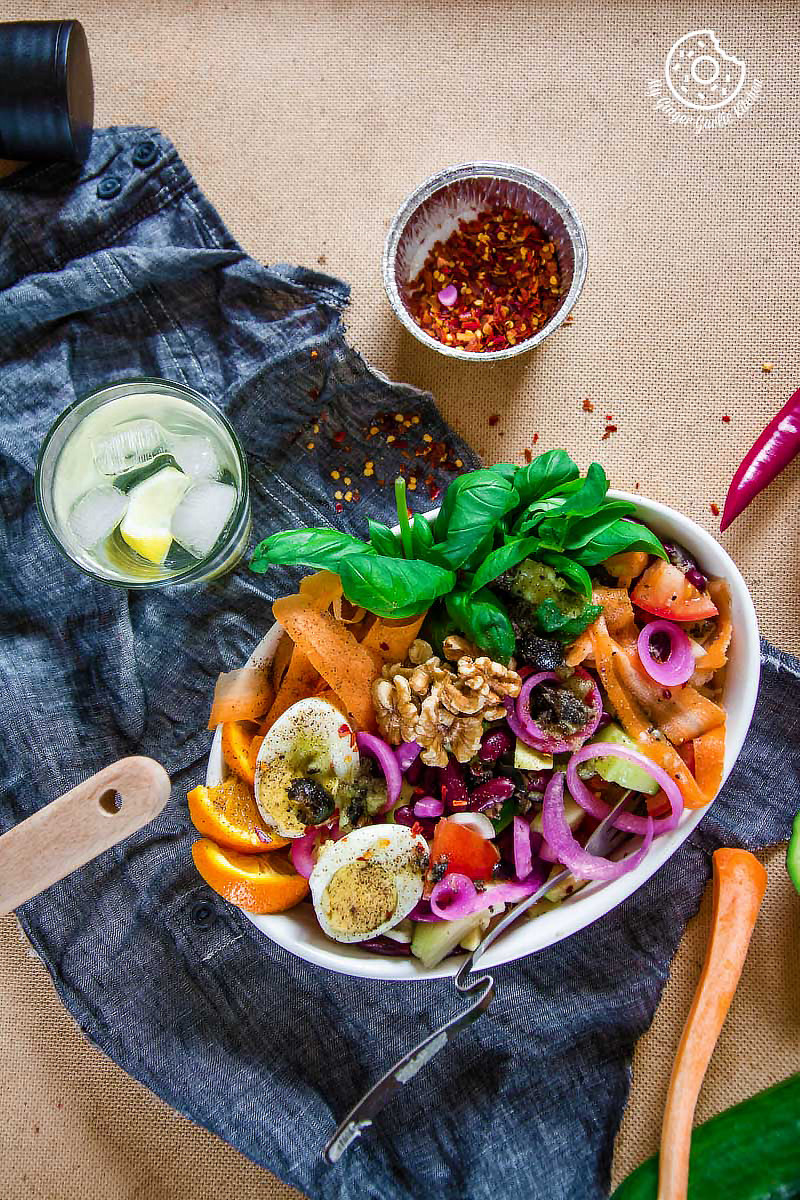 So what are you waiting for, grab your fork and rush to the kitchen. Oh I meant, rush to the kitchen and grab your fork! 😉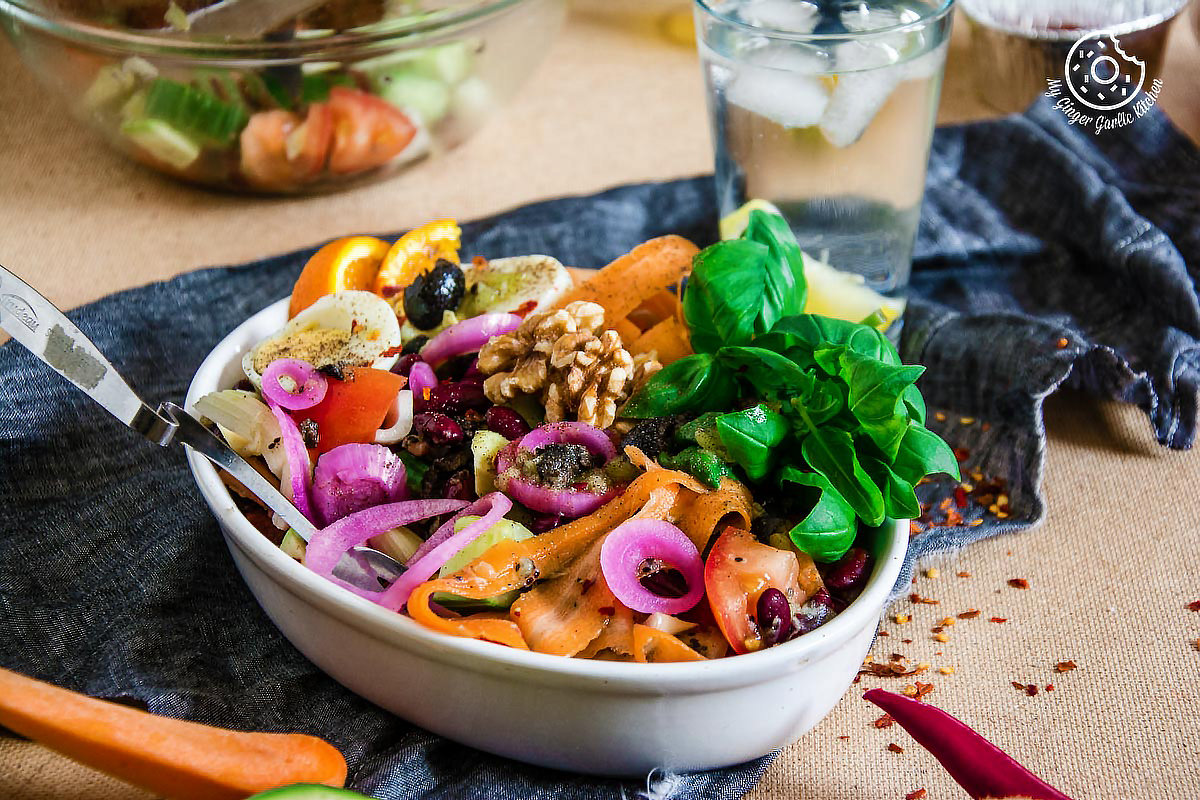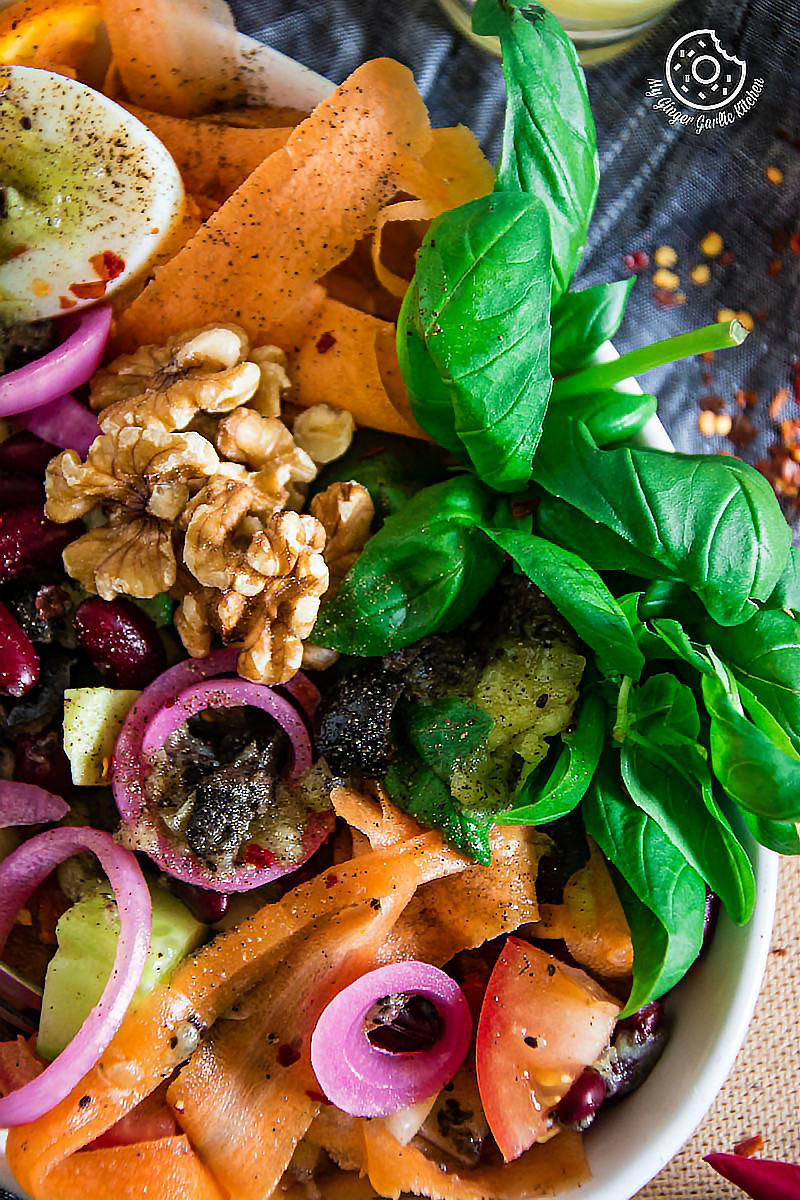 Avocado Tomato Cucumber Salad with Kiwi Dressing

[Recipe]
This is a light, fresh, healthy, gluten-free and full of flavor salad. It can be vegan if you skip egg. It makes a great picnic, perfect work/holiday lunch.
---
★★★★✰
(Rating:
4.8
from
34
reviews)
---
| Prep time 🕐 | Cook time 🕐 | Total time 🕐 |
| --- | --- | --- |
| | | 10 mins |
| Category ☶ | Cuisine ♨ | Serves ☺ |
| Main | World | 2-4 |
| Nutrition Info ⊛ | | Serving size ⊚ |
| 250 calories | | 1 serving |
---
INGREDIENTS
For Kiwi Olive Dressing //
Kiwi, peeled and crushed - ¼ cup
Olive, crushed - ¼ cup
Olive oil - 4 tbsp
Apple cider vinegar - 2 tbsp
Ground pepper - 1-2 tsp
Himalayan salt to taste
For salad //
Tomato, diced - ½ cup
Cucumber, diced - ½ cup
Onion, diced - ¼ cup
Avocado chopped - 2
Kidney beans, cooked or canned - 1 cup
Carrot ribbons - ¼ cup
For Serving //
Fresh basil leaves
Orange slices - 2-3
Carrot ribbons - 4-5
Pickled onions - 2 tbsp
Hard boiled egg, sliced - 1 (Omit egg to make it VEGAN)
Handful of walnuts
Chili flakes
Ground pepper
---
INSTRUCTIONS:
How to Make Kiwi olive dressing //
Combine all ingredients in a bowl and stir well until combined.




Set it aside.



How to Make Avocado Tomato Cucumber Salad //
Add tomato, cucumber, onions, avocado, carrot ribbons, kidney beans to a large bowl.




Pour ¾ kiwi olive dressing and toss to combine well.



How to Serve Avocado Tomato Cucumber Salad //
Arrange salad in a serving dish.




Also add basil leaves, orange slices, carrot ribbons, boiled egg and pickled onions.




Pour remained kiwi olive dressing on top.




Sprinkle chili flakes, and ground pepper.




Garnish with walnuts. Enjoy!



---
WATCH RECIPE VIDEO: Click the play button and video will load ...
---
NOTES:
No notes for this recipe.
---
If this recipe helped you, then please spread the word by sharing and
subscribing
to us on YouTube to get more such Recipe Videos.
---
Your feedback is so helpful for me and other MyGingerGarlicKitchen readers. So, for Facebook and Instagram, please mention
@MyGingerGarlicKitchen
or
#mygingergarlickitchen
. I would love to see your photos. :)
---
Author:
Anupama
Recipe Source Link:
https://www.mygingergarlickitchen.com/avocado-tomato-cucumber-salad-kiwi-dressing-video-recipe/
Date Published:
2019-09-28
• • • • • • • • • •