Besan churma is a traditional royal sweet from Rajasthani cuisine, made using besan (gram / chickpea flour), sugar, and ghee. This delicate and royal delight 'besan churma' has a rich taste, caramelized and aromatic essences, grainy, crunchy and yet melt in the mouth texture.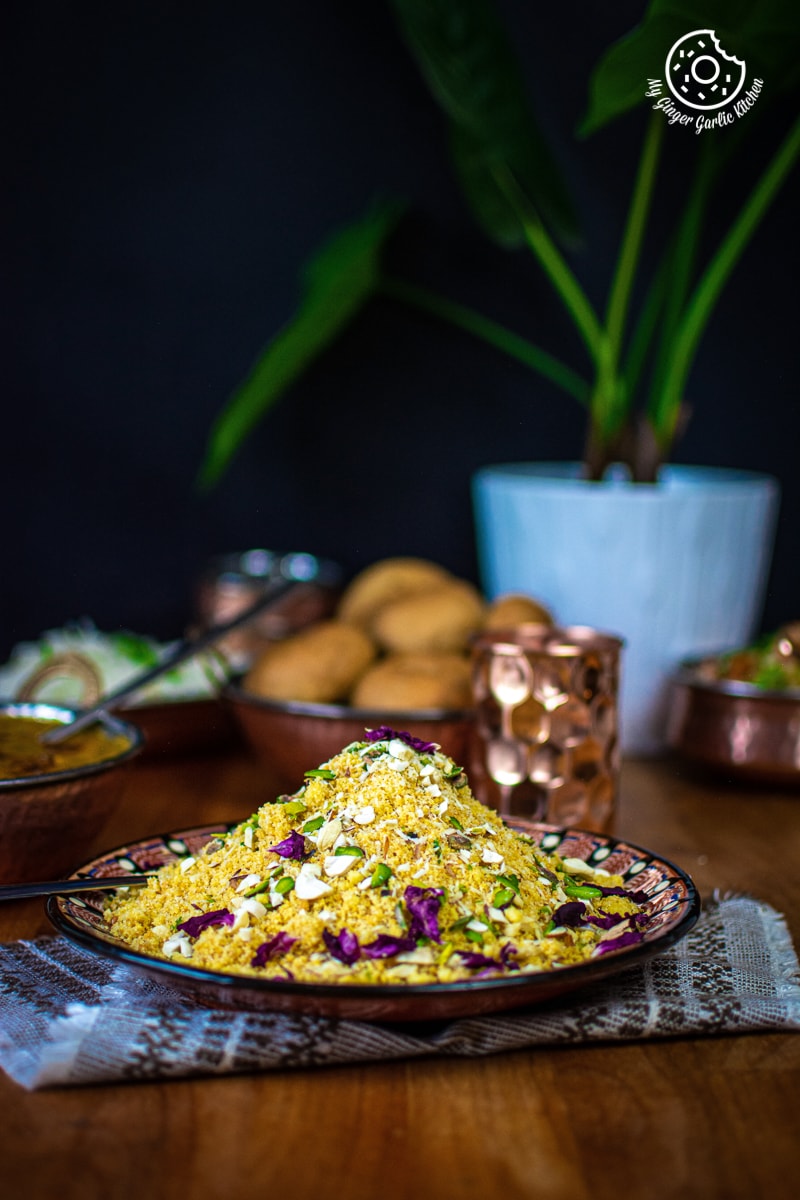 You can easily make this Rajasthani dessert at home, with the simple tips and tricks I have given in this recipe. 
This is the only recipe you'll ever need to make your best tasting authentic Rajasthani besan churma.
This easy besan churma recipe can never go wrong because this is very simple to make. To prepare this royal Rajasthani dessert Besan Churma, you don't require any practice.
Another best thing about this legendary culinary pleasure 'Besan Chrúrma' is that it can be effortlessly made at home using some basic ingredients which are easily available in any kitchen. 
The Indian state of Rajasthan is well known for its royal culture, heritage, and delightful foods. Besan churma (gram flour dessert) is absolutely one of the most sought-after recipes from Rajasthani cuisine. 
What is Churma?
Churma is a sweet delight from India, which is popular in the Indian states of Rajasthan, Haryana, Uttar Pradesh, and Bihar. A sweet crumbly churma is cherished for its simplicity and exquisite taste. 
This culinary masterpiece is renowned for its wonderful taste and excellent texture.
In simple words, Churma or choorma is coarsely ground grain (wheat flour, gram flour, millet flour) cooked with ghee and then crushed and powdered, and then mixed with ghee and sugar. 
The aroma comes from your kitchen while making churma is enough to draw the attention of the people who are nearby.
Traditionally, churma is made by smashing up (muthiya, bajri, or bati) using a heavy mortar and pestle. 
In Rajasthan, Churma is served with an elaborated Rajasthani meal of dal baati. And the combination of these 3 dishes is famous as ''.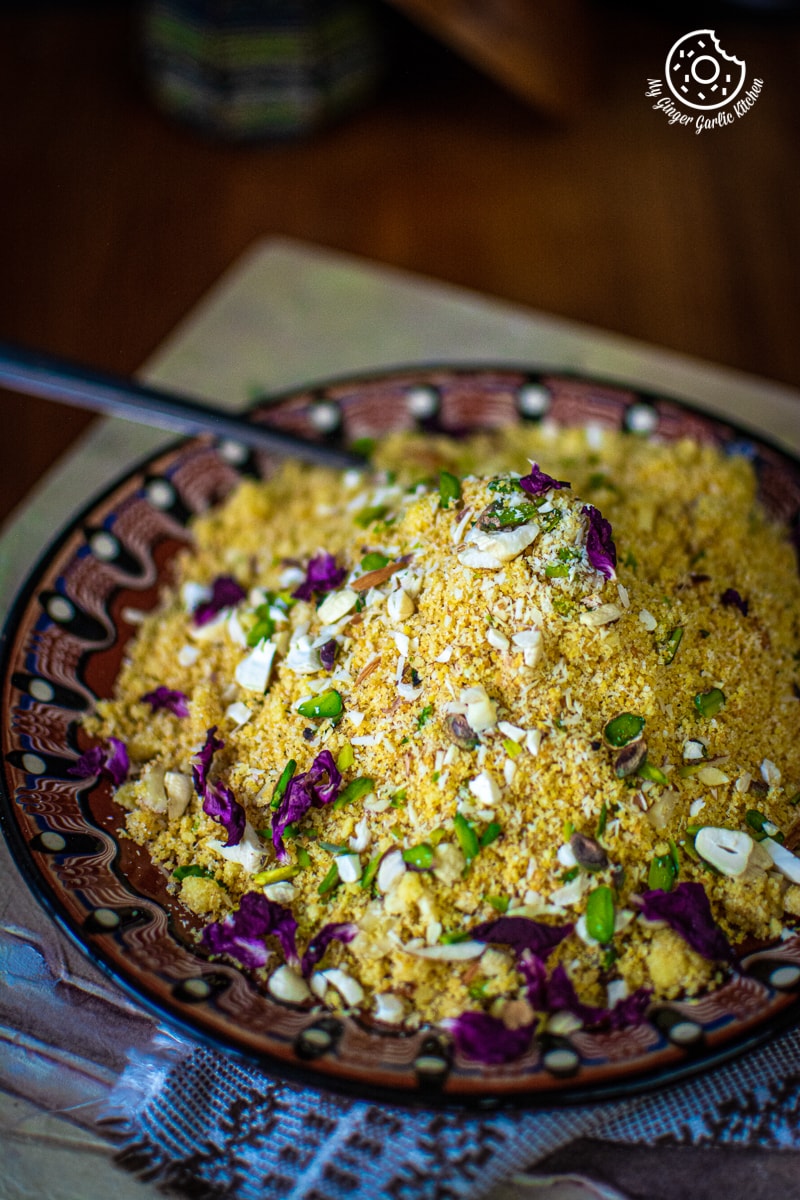 How to serve Besan Churma?
This besan churma also goes well with the traditional Rajasthani thali. 
An embellished vegetarian Rajasthani Thali is a classic platter of assorted royal Rajasthani dishes which includes, plain bati, bafla bati, , , bejad ki roti, bajre ki roti, missi roti, , plain rice, atta churma, rose churma, , , , , , , kala chana kadhi, chaas, chille ka raita, , , and .
Churma ladoo is also referred to as an energy bites, and they make a perfect warming treat when served in winter. Just have 1 laddu for breakfast or brunch along with a glass of milk or and you will be satisfied for 2-3 hours.  
What is the best way to present besan churma?
Churma is served either in amorphous or in ball forms, depending upon the serving ideas. When served with dal bati as a meal, it is then served in its shapeless from. But when it is served as a dessert, then it is served in the form of a .
What is Rajasthani Thali?
Rajasthan is the Rajwadi land of Rajputs and Rajasthani Thali (platter) is a heaven for food lovers because a Rajasthani thali has all the varieties of royal Rajasthani food. 
Rajasthani cuisine has an endless platter with an abundance of impressive dishes; ranging from spicy to tangy to sweet delicacies. 
So you'll need quite some time tasting the many dishes of Rajasthani cuisine as a sumptuous treat.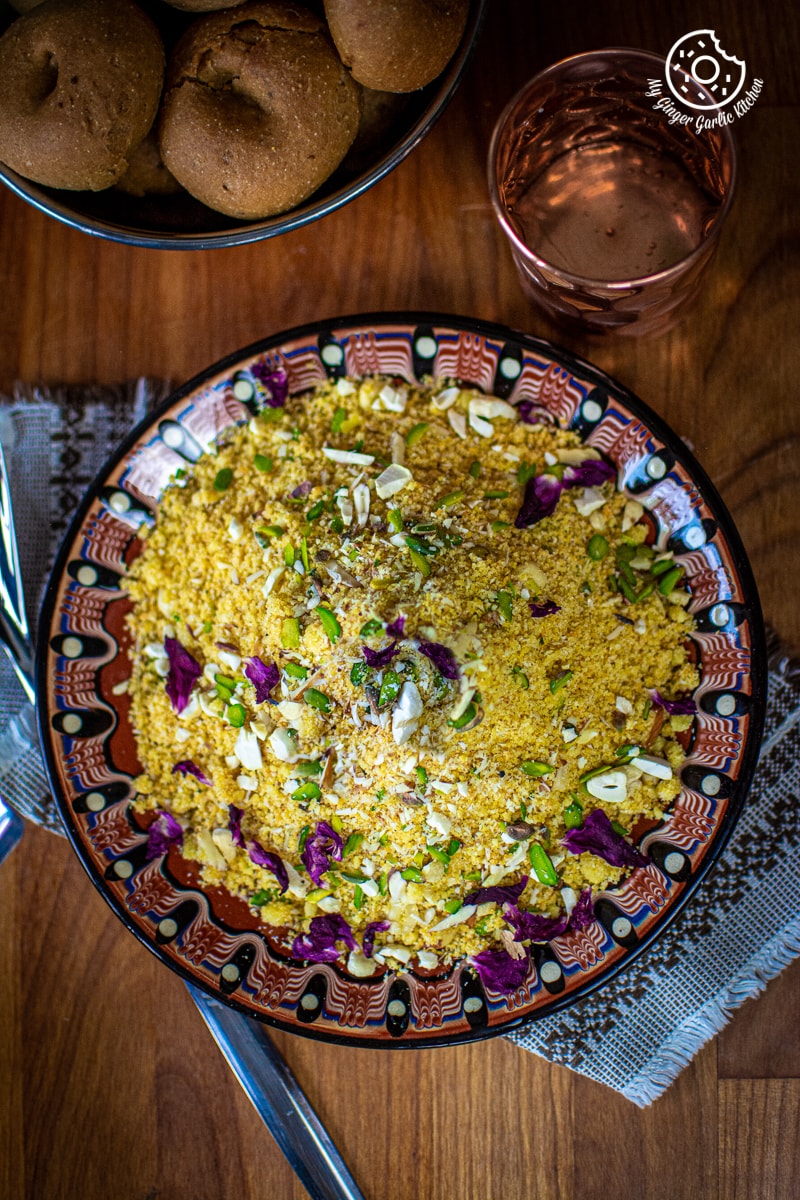 When to make Besan Churma?
This quick Rajasthani recipe for Besan churma or besan churma laddu makes an outstanding feast for the taste glands.
You can make besan Churma anytime you want to devour this rich and tasty delicacy.  It can be cooked for any festive occasions or celebrations.
You can also make this churma when you have guests coming for dinner. Serve it along with and and this trio of Rajasthani delicacies surely win you applause.
A simple 'churma' can be prepared with various styles and flavors. Today I will show you how to make traditional Rajasthani besan churma using deep-frying and baking methods.
What are the different flavors of Churma?
Churma is made into many flavors such as , bajra (pearl millet) churma, besan churma, Makki (corn flour) ka churma, , pineapple churma, mango churma, khus churma, and chocolate churma.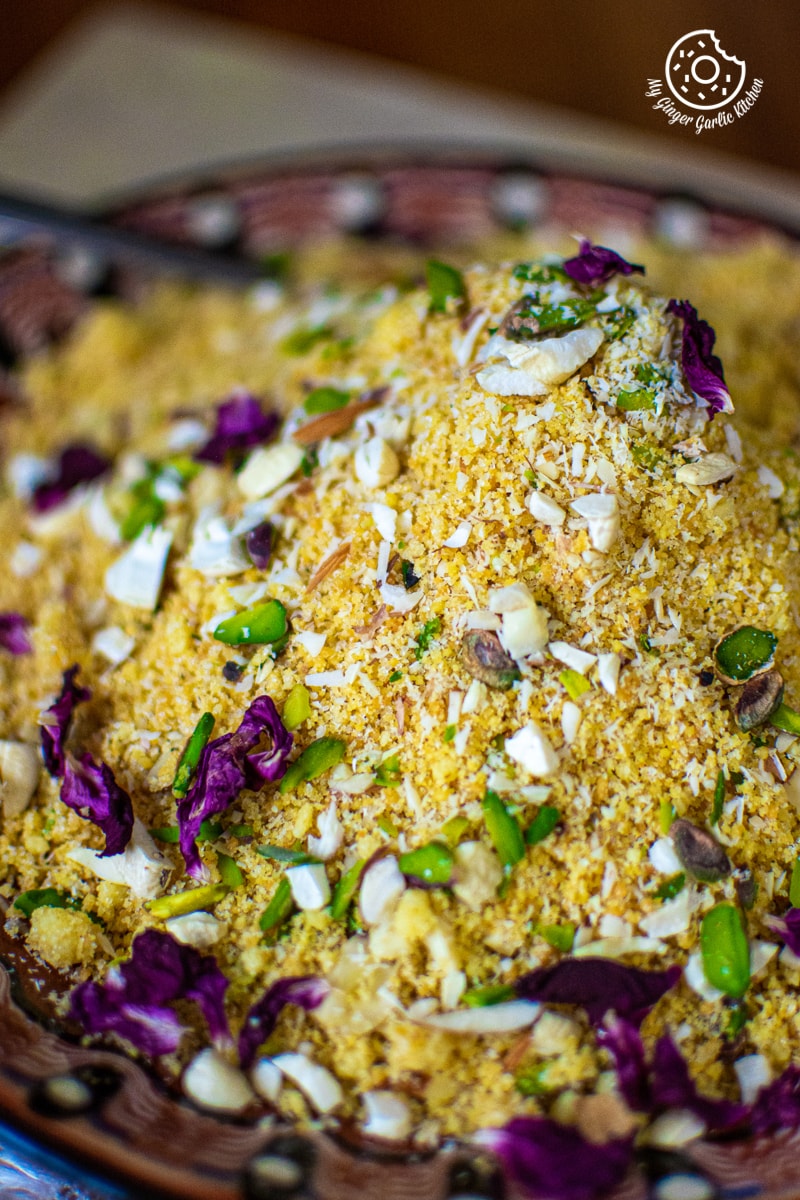 What is the difference between regular besan laddu or besan churma ladoo?
Besan ladoo, or besan churma ladoo are both sweet balls made from similar ingredients, but the method of making both laddus are so different.
Traditionally, churma is made by deep-frying the dough balls. These balls are then pulsed into a fine powder. Finally, sugar, ghee, and dry fruits are added to this powder.  
This powder is then molded into laddu or balls. The soft yet grainy texture of this moist besan churma laddu makes it unique and distinctive in taste.
In , besan is roasted in ghee first and then it is combined with sugar. After that laddu are made with this roasted besan mixture.
Can I bake Churma dough?
Yes, certainly. There are two ways of making of Traditional Churma – deep frying and baking.
The dough patties are either deep-fried in ghee or oil, and baked in a homemade oven using cow dung cake, or tandoor. However, you can also bake them in conventional ovens, pressure cooker, or in a pan.
Deep-fried choorma is a lot richer in taste whereas the churma made using the baking process is a light and healthy. Churma stays fresh for a long time no matter what method we choose to make it.
How to make Besan Churma?
Besan churma is a gratifying version of the regular churma. In this recipe, besan is used in place of wheat flour. 
To prepare besan churma, all you need to do is make a dough with coarse besan, ghee, and water or milk. Then shape out some muthiya or patties with this dough and deep-fry or bake these shapes.
After frying or baking, break them into pieces and blend to make a powder. This powder is then mixed with ghee, sugar, mawa, cardamom powder and some chopped nuts such as almonds, pistachios and cashews. Done!
Besan churma is ready to eat.  Check out the detailed recipe instructions (baking & frying) in the recipe box on this page.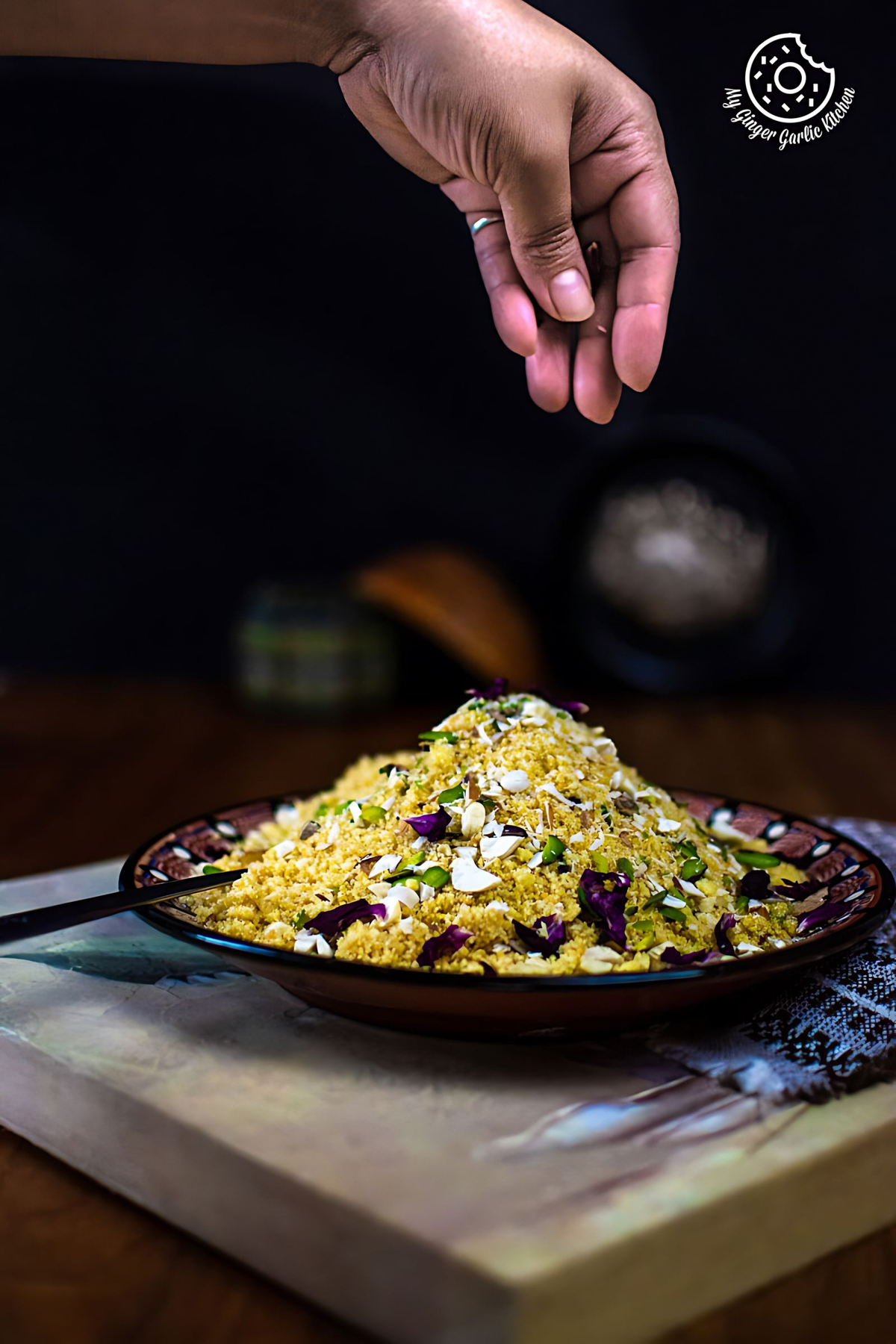 How to make Besan Churma Ladoo?
The recipe for making Churma ladoo is the same as besan churma. You just need to bind this churma mixture into ping pong size balls. If it is hard to shape ladoos from the churma mixture, then add some hot ghee little by little to the churma mixture. 
How to store besan churma?
To store besan churma, keep it in an airtight container at room temperature.
The addition of mawa (khoya) makes besan churma richer in taste. But since it has dairy products, it doesn't last long. You can store this besan churma made with mawa (milk solids) at room temperature for up to 2 days, and it stays fresh in the refrigerator for up to 5-6 days.
If you are storing besan churma in the refrigerator, then just keep churma at room temperature for about 1 hour before serving.
If you want churma to stay longer for about 1 month, then replace mawa with 1/4 cup of ghee.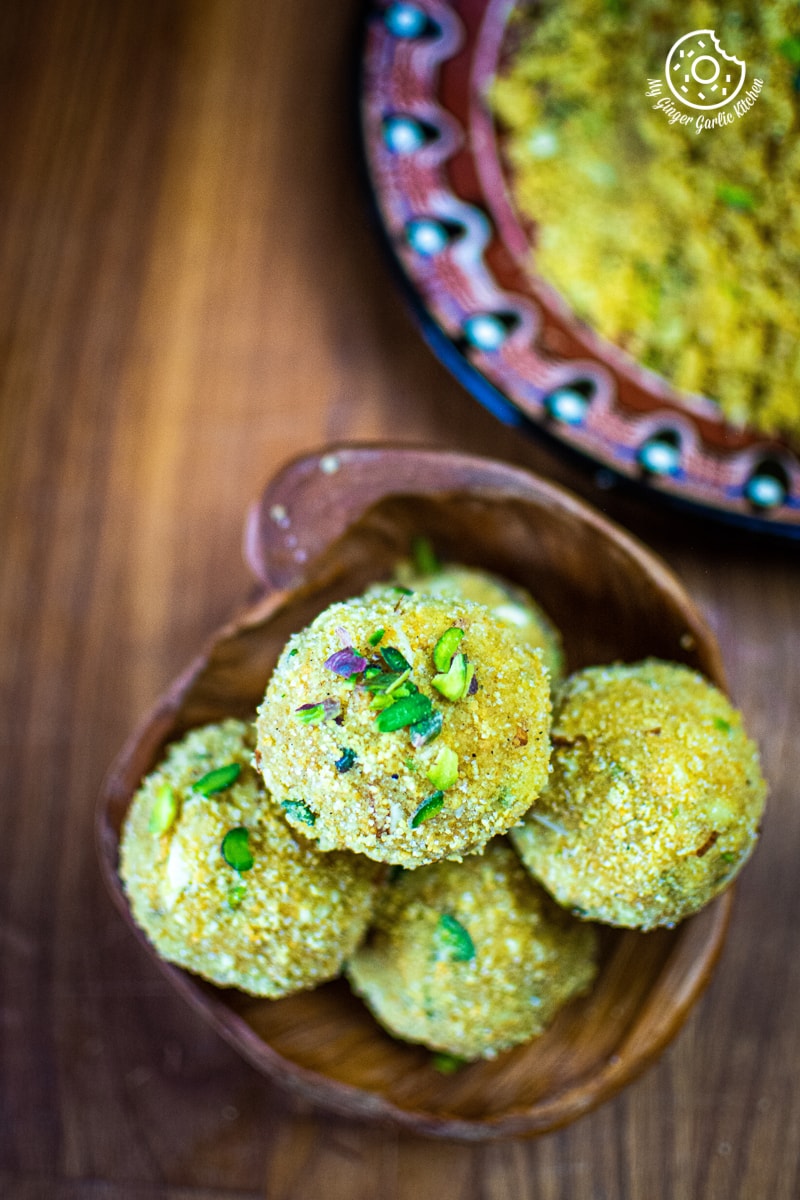 Tips and variations for making your best Besan Churma:
If you are making besan churma laddu, then the mixture (churma) should be warm for making ladoos. If the churma mixture has cooled down, then it would be hard to shape ladoos from besan churma. To fix this, warm churma mixture in microwave for a few seconds or just warm it using double boiler method.
Also, if you think the churma (mixture) is too dry and it is hard to mould laddu, then you can add some warm milk to the mixture.
For making besan churma, we need coarse (thick or mota) besan flour. If you can't find coarse variety of  gram flour, then add some semolina to the besan like I did. This would give you the same results.
You can also knead the dough with milk instead of water to make your churma taste even more exotic. 
This authentic besan churma recipe has a soft and melt in mouth texture, as the mixture has some crumbled mawa. If you don't want to add mawa, then you can substitute it with ¼ cup of melted ghee.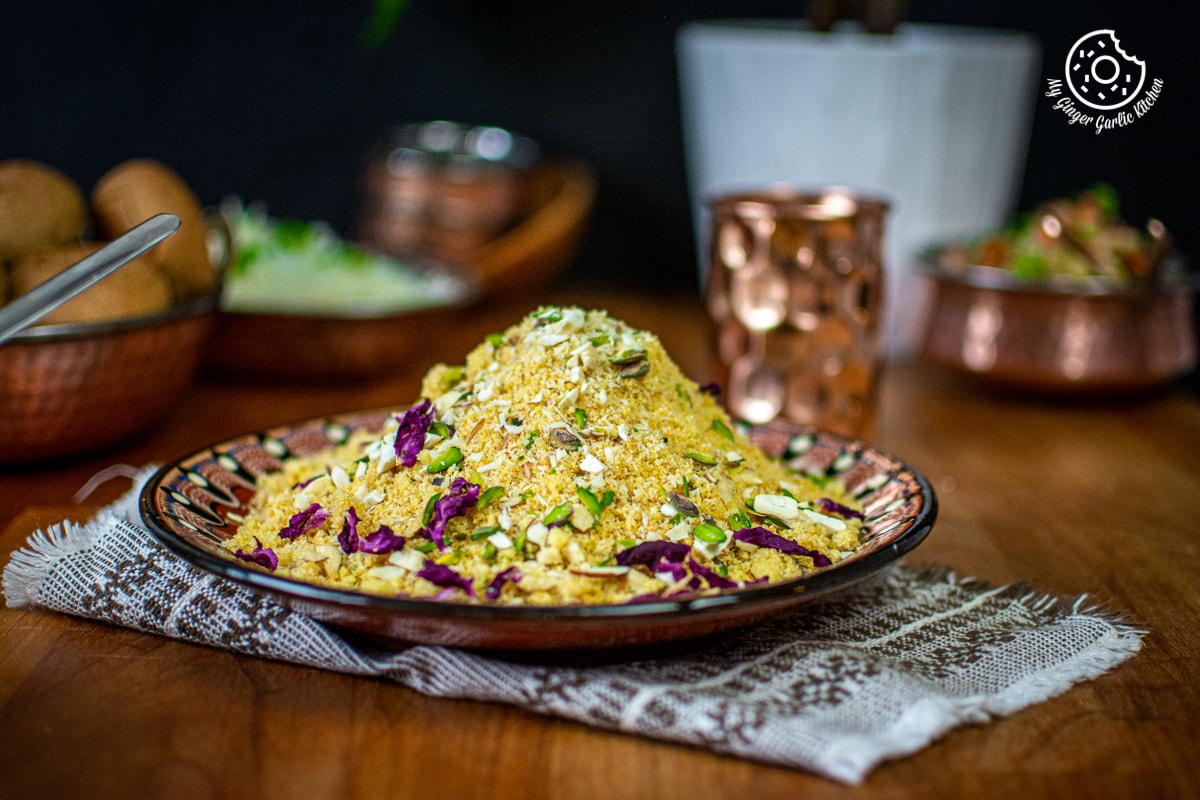 Rajasthani Besan Churma - Chickpea Flour Indian Dessert

[Recipe]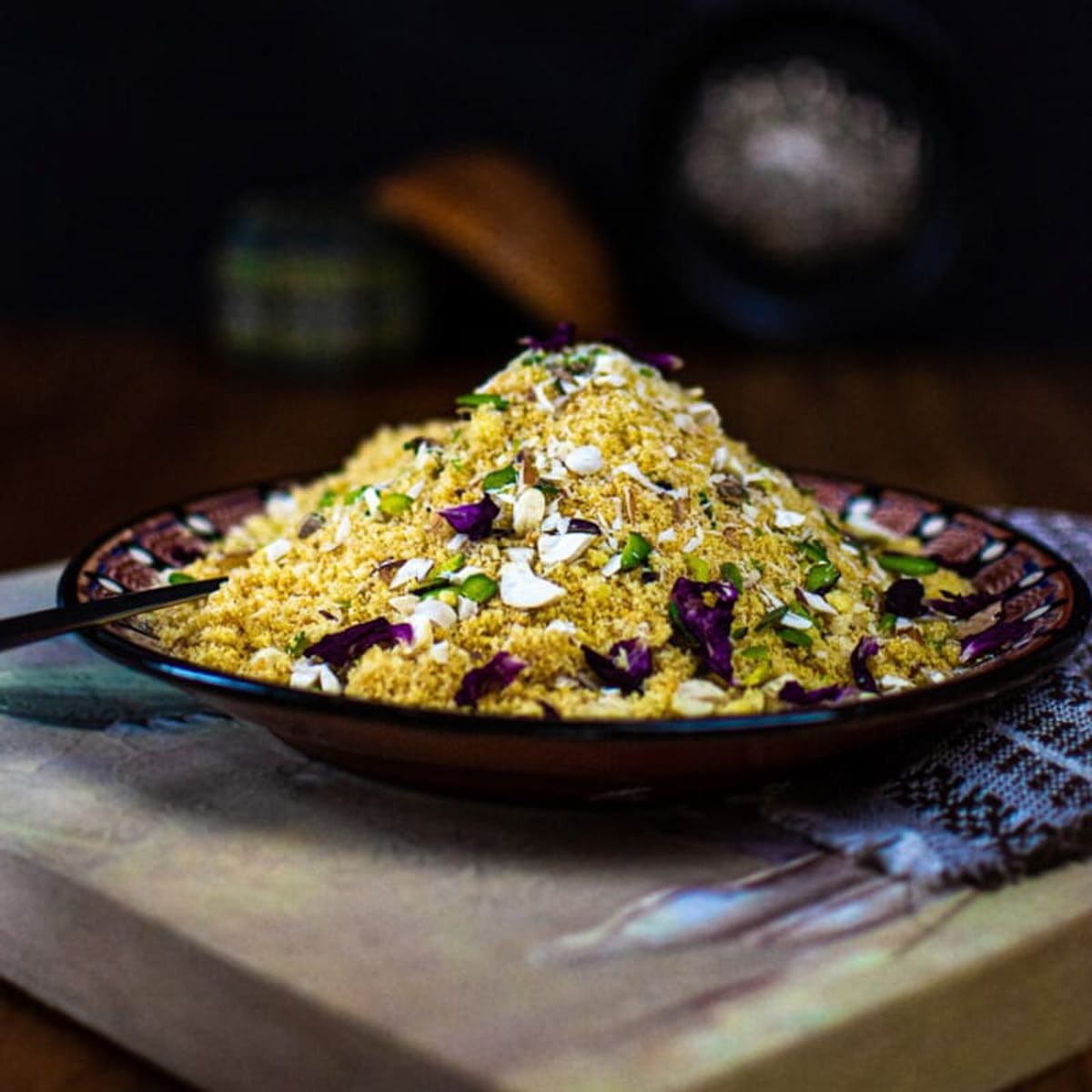 Make Rajasthani besan churma at home, with the simple tips and tricks I have given in this recipe. Besan churma recipe with a video tutorial.
---
★★★★✰
(Rating:
4.1
from
32
reviews)
---
| Prep time 🕐 | Cook time 🕐 | Total time 🕐 |
| --- | --- | --- |
| | | 40 mins |
| Category ☶ | Cuisine ♨ | Serves ☺ |
| Dessert | Indian | 5-6 |
| Nutrition Info ⊛ | | Serving size ⊚ |
| 200 calories | | 1 serving |
---
INGREDIENTS
For Besan Churma:
1.5 cups besan (gram flour)
1/4 cup suji/ rava (semolina)
1/4 cup + 3 tablespoons ghee (clarified butter), add more, if required
4 tablespoons crumbled mawa / khoya (milk solids)
3/4 tablespoons cardamom (elaichi) powder
3/4 cup + powdered sugar (or bura)
3/4 tablespoon elaichi (cardamom) powder
1/3 cup chopped/sliced badam (almonds, kaju (cashews), and pista (pistachios)s
For Serving:
Chopped nut for garnish
Dried rose petals for garnish
---
INSTRUCTIONS:
How To Make Besan Churma Dough:
Add the besan, semolina, and salt to a large bowl. Mix well using a spoon or fingers.




Next, add 3 tablespoons ghee to it. Mix it well by rubbing the flour and ghee mixture between the palms and using your fingertips. Keep mixing until it ghee is well incorporated in all of the flour mixture. This would take about 3-4 minutes.




At this point, the mixture should resemble crumbs and hold shape. To check, take some flour mixture between your palm and make a fist. If it holds the shape and does not crumble then you have added enough fat. If the dough falls to pieces, that means you need to add some more ghee.




Start by adding the water little by little and knead it into a firm dough. You can also use milk for making the dough. (The amount of water/milk depends on the quality of the gram flour.)




Cover the dough and let it rest for 30 minutes.



How To Fry Besan Churma Dough:
After 30 minutes, uncover the dough, and divide the dough into 5-6 equal small balls.




The shape we are making with the besan dough is called muthia. To make Muthia, take a dough ball in your palm and shape into the shape of your fist and press with your fingers in the centre of each portion as shown in the video.




Heat the ghee/oil over medium heat. Once the ghee is hot, turn the heat to medium low and deep-fry all the muthias at medium-low heat until they are golden brown in color from all the sides. Frying muthias at low heat will take some time, so you need to be patient.




Drain on an absorbent paper and allow them to cool slightly.



Alternatively, Bake Besan Churma Dough In The Oven:
Preheat oven to 175°C/375°F for 10 minute. Divide the dough into 5-6 equal small balls and shape them into patties.




Arrange patties on a baking tray.




Bake it in the oven at for 30-35 minutes or until the top turn golden brown.



How to bake besan churma dough in a pan/ tawa:
Add 1 cup salt to a pan and put a stand on it. Arrange a plate on it and cover it.




Let it preheat for 10 minutes on high heat.




Arrange patties on the plate and cover with the lid.




Let it bake on medium-low heat for 20 minutes.




Flip the patties and bake them again for 20 minutes.



How to Make Besan Churma:
Break hot muthias or patties into small pieces when they are still hot. This would make pulsing easier.




In a grinder, add fried/baked dough pieces.




Grind into a fine powder.




Pass it through the sieve to get a fine mixture. Grind the solid pieces again and pass it through the sieve again. You may need to follow this step for a couple of times to get the perfect texture.




Add powdered sugar and mix well.




After that, addmelted ghee, roasted mawa, cashews, almonds, cardamom powder and powdered sugar and mix well and set aside. Besan Churma is ready. Serve it with panchmel dal and bati.


Garnish with chopped dry fruits and dried rose petals.



How To Make Besan Churma Laddu:
To make besan churma laddu, add 3-4 tablespoons of ghee to besan churma and mix well.




Shape them into laddus (balls) while the mixture is hot.(You can also microwave this mixture fo3 30 seconds).




Besan Churma laddu is ready. Serve them as a dessert.



---
WATCH VIDEO:
---
NOTES:
For making besan churma, we need coarse (thick or mota) besan flour. If you can't find coarse variety of gram flour, then add some semolina to the besan like I did. This would give you the same results.

You can also knead the dough with milk instead of water to make your churma taste even more exotic.

If you think the churma (mixture) is too dry and it is hard to mould laddu, then you can add some warm milk to the mixture.
---
If this recipe helped you, then please spread the word by sharing and
subscribing
to us on YouTube to get more such Recipe Videos.
---
Your feedback is so helpful for me and other MyGingerGarlicKitchen readers. So, for Facebook and Instagram, please mention
@MyGingerGarlicKitchen
or
#mygingergarlickitchen
. I would love to see your photos. :)
---
Author:
Anupama
Recipe Source Link:
https://www.mygingergarlickitchen.com/besan-churma/
Date Published:
2019-11-25
• • • • • • • • • •