Eggless Triple Chocolate Cookies Recipe
Learn to make Eggless Triple Chocolate Cookies Recipe with a video tutorial. These seductive, thick and crispy cookies are perfect for chocolate lovers.
---
« Go back
Print this recipe »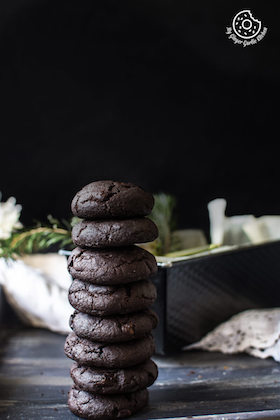 ---
Prep Time = 10 minutes
Cook Time = 15 minutes
Total Time = 25 minutes
Category = Main
Cuisine = Indian
Serves = 20-22
Nutrition Info = 180 calories
Serving Size = 1 cookie
---
RECIPE INGREDIENTS
» For Eggless Triple Chocolate Cookies:
1 1/2 cups / 192g plain flour or whole wheat flour
1 cup/ 201 grams granulated sugar
2/3 cup / 85 grams unsweetened cocoa powder
1/4 cup / 57 grams butter or margarine softened
2 tablespoons oil (I used rapeseed/canola oil)
4 tablespoons milk
1 teaspoon vanilla extract
1/2 teaspoon salt
1/2 teaspoon baking soda
1/2 teaspoon baking powder
90 grams milk chocolate chips
90 grams dark chocolate chunks (I used 54% cocoa)
---
RECIPE INSTRUCTIONS
» For Eggless Triple Chocolate Cookies:
Preheat the oven to 180°C/350ºF. Line a baking sheet with a parchment paper.
In a mixing bowl add the flour, cocoa powder, salt, baking powder and baking soda in and mix well.
In another bowl cream, the butter, sugar, oil, milk till the mixture turns fluffy and smooth.
Add vanilla extract, dry ingredients, chocolate chips, and chocolate chunks to the butter mixture.
Mix well to form a dough.
Use your hands to divide the dough into lemon sized balls.
Place dough balls about 2 inches apart onto the baking tray.
Bake 12-15 minutes. The Center of the cookies will be soft at this stage.
Allow cookies to cool on baking sheet for 5 minutes before transferring to a wire rack to cool completely.
Serve with some hot tea or coffee.
---
RECIPE NOTES
You can store them in an air-tight container for up to 2 weeks.
This recipe uses butter, but you can also use shortening instead of butter.
The addition of butter adds so much flavor to the cookies, and it keeps these delicious cookies chewy yet melt-in-mouth.
---