Moong Dal Palak Idli [Recipe]
---
Prep time: 10 minutes
Cooking time: 20 minutes
Servings: 4
---
What is Moong Dal Palak Idli?
Moong Dal Palak Idli is a steamed savory cake; which is prepared with, moong dal, yogurt, and spinach. This is a protein rich, light and a healthy dish. It includes yellow lentils, and spinach. Moong Dal Palak Idli is a quick dish, which is ready in no time, and is fully able to satisfy your taste buds. They are really beautiful and appetizing, as moong dal and palak complement each other in terms of flavor and color. This is perfect for a breakfast.
Let's learn to make Moong Dal Palak Idli in 8 easy to understand quick steps.
---
Ingredients:
yogurt – 1 cup
salt as per taste
baking soda -1 tsp
turmeric powder – 1⁄2 tsp
oil for brushing molds
split yellow gram, soaked overnight, drained & grounded into a paste – 2 cups
rice powder – 3⁄4 cup
blanched, and chopped spinach- 3⁄4 cup
green chilies, chopped -1
oil for greasing – 1⁄4 tsp
---
Method:
well, add water if needed to make smooth batter.
Add baking soda to the idli batter, and mix gently until it becomes fluffy.
Cover the bowl, and let it rest for 30 minutes.
Grease the microwave-safe idli moulds and keep aside.
Add the water in the microwave safe idli steamer and microwave on high for 30 seconds.
Add 2 tbsp of the batter into 4 greased idli moulds and microwave on high for 4 minutes.
Repeat this process with the remaining batter to make rest of the idlis.
Serve hot with coriander chutney. Enjoy!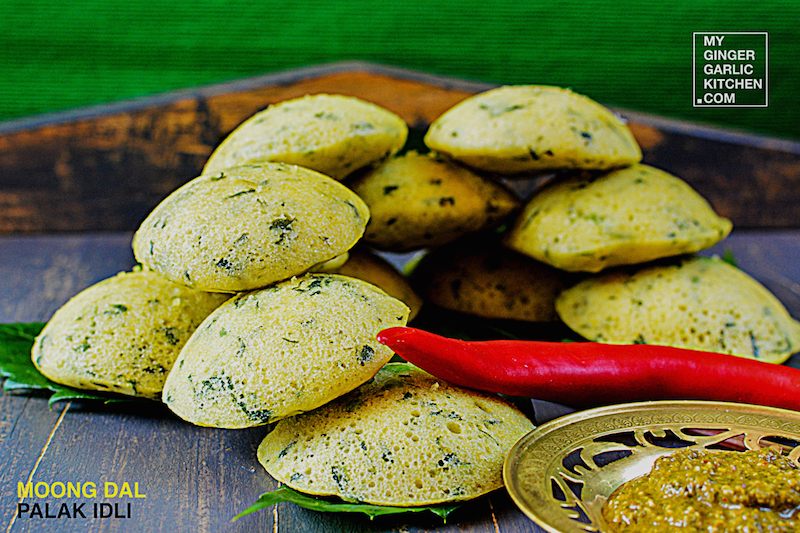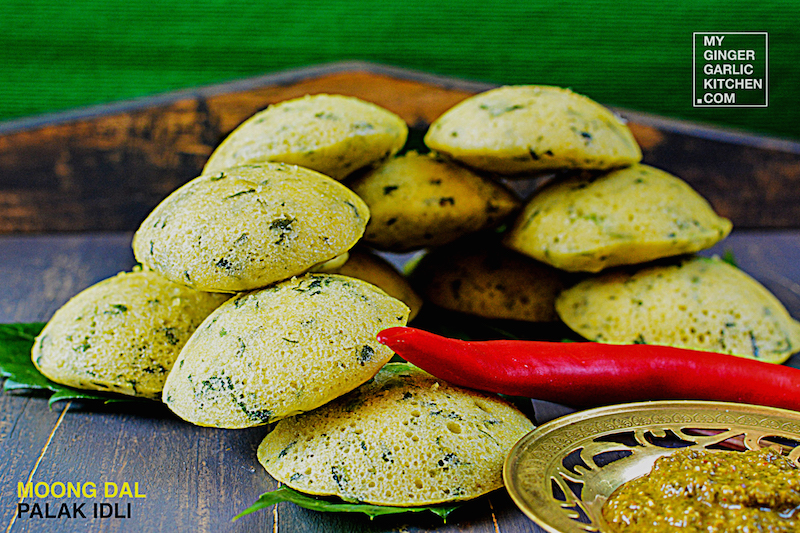 Happy Cooking 🙂
Show us your love by commenting on this post, and share your thoughts.
Liked this post, then you will like this too.
---
Filed under: All-Recipes, Breakfast Recipes, Spinach Recipes food photography, Food Styling, idli recipes, indian food styling, Indian Recipes, My ginger garlic Kitchen, Quick Indian Recipes, south indian recipes, spicy indian recipes, vegetarian recipes
---