Moong Dal Palak Idli
Moong Dal Palak Idli is a steamed savory cake made with moong dal, yogurt, and spinach. This is a protein rich, light and a healthy dish. Serve with chutney.
---
« Go back
Print this recipe »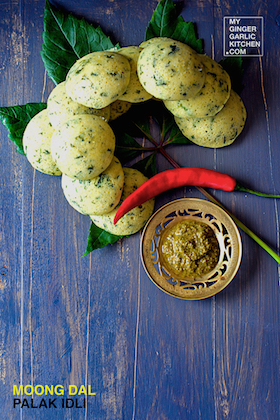 ---
Prep Time = 10 minutes
Cook Time = 20 minutes
Total Time = 30 minutes
Category = Breakfast
Cuisine = Indian
Serves = 4
Nutrition Info = 128 calories
Serving Size = 1 Idli
---
RECIPE INGREDIENTS
» For Moong Dal Palak Idli //
1 cup plain yogurt (dhai)
Salt as per taste
1/2 teaspoon eno fruit salt, or baking soda
1/2 teaspoon turmeric powder
oil for brushing moulds
2 cups split yellow gram, soaked overnight, drained & grounded into a smooth paste
3/4 cup rice flour
1 teaspoon lemon juice
3/4 cup blanched and chopped spinach
1 small green chili, chopped
1/4 teaspoon oil for greasing
Water, if needed
---
RECIPE INSTRUCTIONS
» How to Make Moong Dal Palak Idli //
Add everything to a mixing bowl and mix everything well. Add water if needed to make a smooth batter.
Cover the bowl, and let it rest for 30 minutes.
Add Eno fruit salt/baking soda, and lemon juice to the idli batter, and mix gently until it becomes fluffy.
Grease the microwave-safe idli moulds and keep aside.
Add the water to the microwave-safe idli steamer and microwave on high for 30 seconds.
Add 2 tablespoons of the batter into 4 greased idli moulds and microwave on high heat for 4 minutes.
Repeat this process with the remaining batter to make the rest of the idlis.
Serve hot idlis with coriander coconut chutney, and sambar. Enjoy!
---
RECIPE NOTES
No notes for this recipe.
---