Peas Corn Coconut Masala (Recipe)
---
Peas Corn Coconut Masala!
It's a busy weekday, and at the end of the day we need something really nutritious to eat.
Sometimes it's very hard to think about meal plans, when you have no clues.
Same thing happened with me yesterday evening. I was thinking about what to prepare for dinner, and then I went to the kitchen. Checked my refrigerator, but nothing was striking there. As I didn't feel like preparing any of those time consuming heavy meals. I wanted something quick and filler, yet spicy.
I found out, there were green peas and corn kernels in my refrigerator. Wow! It sounded so delish, when I imagined about pairing these two sweet veggies. I also found some natural yogurt. This would make something tangy and flavorful. And I knew for sure, that everyone would love to eat this veggie curry.
While collecting my ingredients I prepared my curry in my imagination, and you can understand, this made me hungrier. I could just feel having a spoonful of curry with steamed brown rice. Mmmmmm, nom nom nom. 🙂
I know, It's funny, but sometimes imagining something is real fun too, especially when you are obsessed with certain kinds of things. And I have to admit that my obsession lies in any kind of spicy food.
Yes! Curry, curry, curry. I could make curry everyday, I could eat curry everyday. That's how I am. I am also aware of that, it would eventually be boring after a while. That's the only reason I don't make it everyday 😉 In my opinion, there should be perfect balance in desires and needs, and I always try to keep them balanced.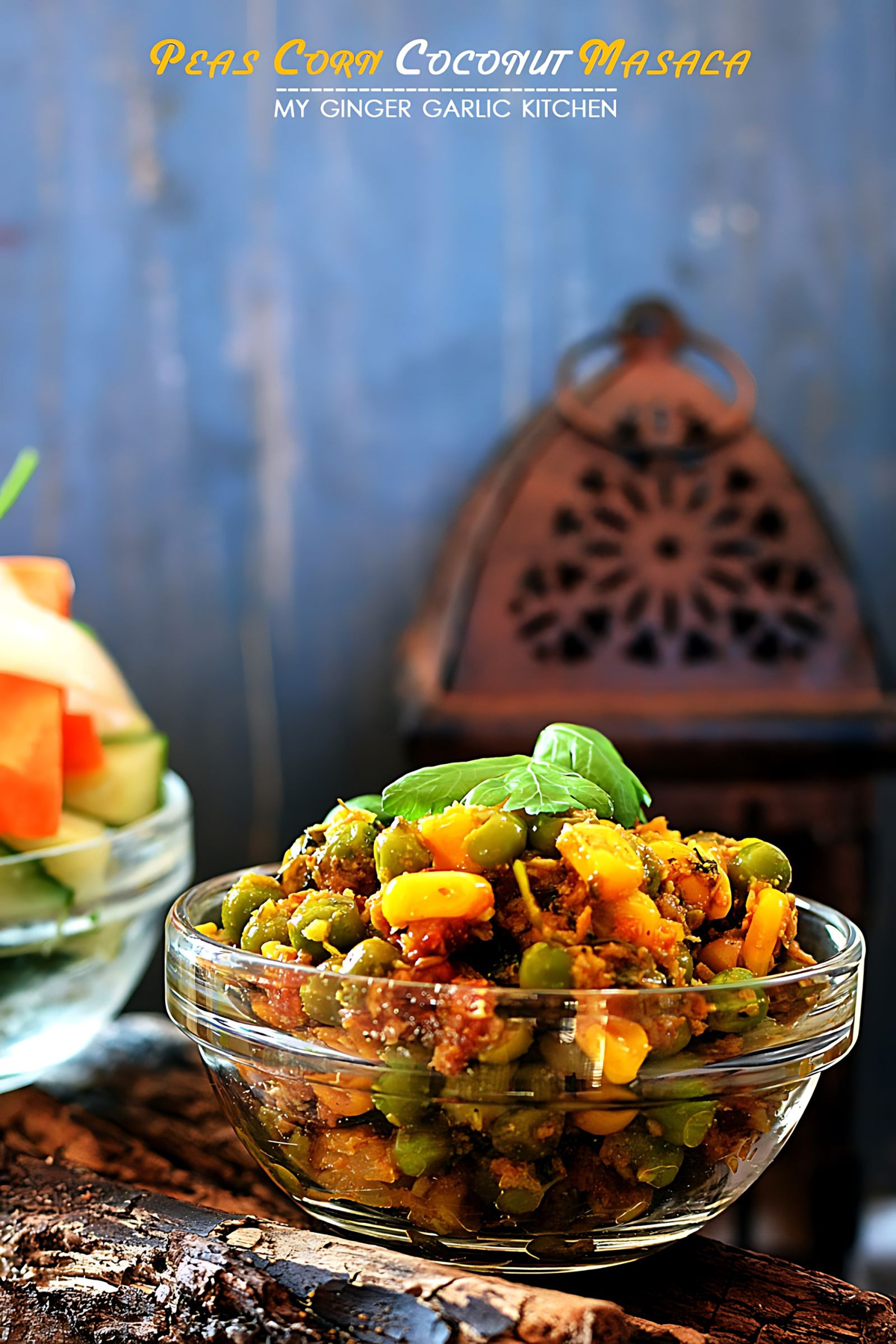 Let's talk about this delicious curry!
Peas Corn Coconut Masala sounds so natural as a name. Believe me, curry is strikingly natural too. This is a quick curry, which is easy to make, healthy & packed with all the spicy flavour one can ask for. Just look at that alluring yellow corn kernels, and bright green peas. They both are made for each other and complementing each other by making it better in taste and looks.
I could sense, that there is something strangely addictive and comforting about this quick curry. Is it yogurt, or is it coconut? Well, I think both are winners. Yogurt makes it tangy & creamy. Coconut makes it thick, royal & rich.
Let's learn how I cooked this tangy-spicy-colorful curry.
---
Prep time – 10 mins
Cook time – 30 mins
Serves – 4
---
Ingredients:
onion ginger-garlic paste -¼ cup
corn kernels – ½ cup
green peas – ½ cup
tomatoes chopped – 1
cumin seeds – 1 tsp
pinch of asafetida
green chili, chopped – 1
desiccated coconut – ¼ cup
natural yogurt – ½ cup
turmeric powder -1⁄4 tsp
coriander powder – 1 tsp
oil – 2 tbsp
red chili powder -1 tsp
garam masala powder -1⁄4 tsp
dried fenugreek leaves
salt as per taste
---
Method:
Heat oil in a pan. Add asafetida, and cumin seeds. When they start to splutter, add onion ginger-garlic paste. Sauté for 5 about minutes, or until the paste is light brown in color.
Add fresh corn kernels, and green peas along with salt. Mix well, and sauté for 2-3 minutes.
Now add chopped tomatoes, chopped green chilies, red chili powder, turmeric powder, coriander powder, and saute until tomatoes are soft.
Now add desiccated coconut, yogurt, dried fenugreek leaves, and garam masala powder. Stir continuously for about 5 minutes, or until you see curry is thick again.
Garnish with coriander leaves, and serve hot with steamed rice or any of your favorite breads.
PHOTOGRAPHY NOTES:
Camera: Nikon D7100
Lens: Nikon 35mm f/1.8G AF-S DX Lens
Setup: Used natural sunlight coming from left, and a reflector on the right side of the frame.
Angle: I clicked these photos with 90°, 70°, 50°,
Happy Cooking 🙂
Show us your love by commenting on this post, and share your thoughts.
Liked this post, then you will like this too.
---