Chow Mein Stuffed Puffs
---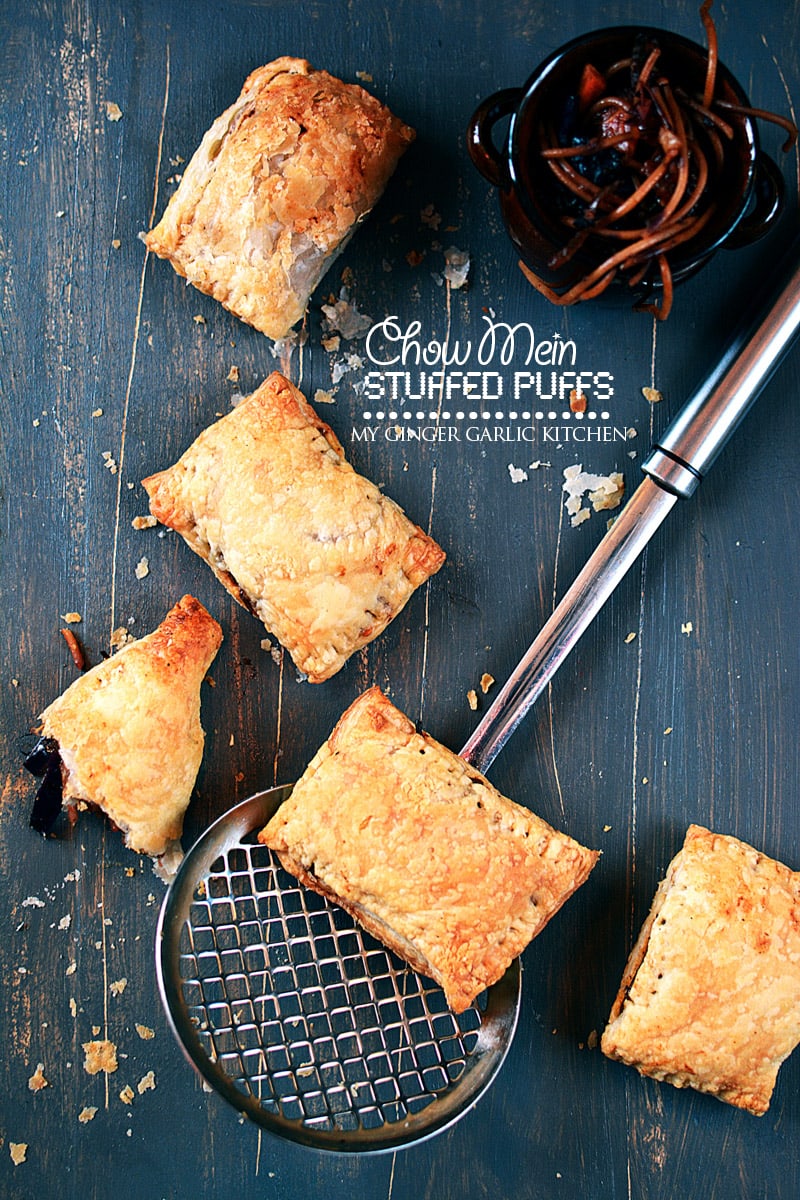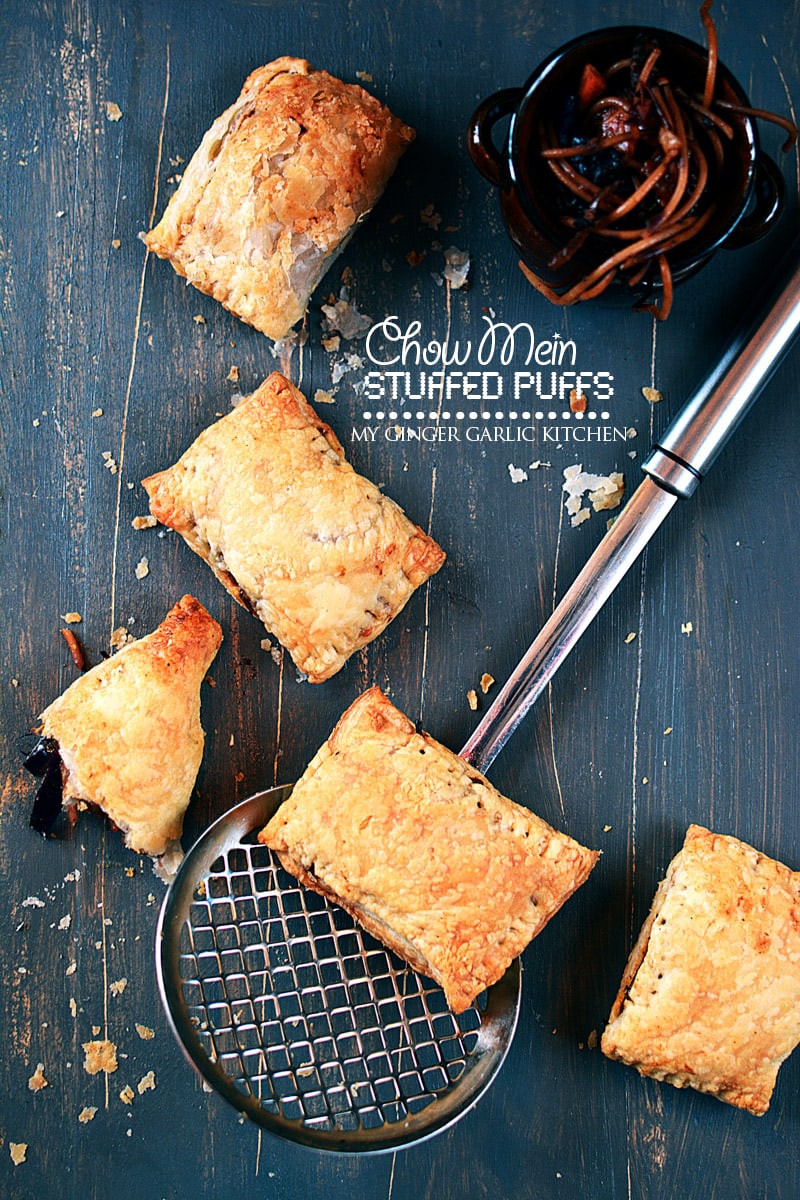 Here I go with a Noodly Doodly stuff today 😉
I love noodles in any form, and when it comes to Chow mein, it is perfect for any day, anytime. Even if I am really not in the mood of eating anything, this would strike me at the right point 🙂 And I promise you that the flavors are kind of awesome in these Chow mein puffs.
Imagine a nice combo of Indo-chinese flavors at the lazy food weekend. They are always welcome, right? Transforming traditional recipes with additional twist sounds weird, but most of the time they turn out quite well, at least in my case. 😉
I have grown up eating the chow mein in Indian style, and always loved them. It is the perfect combo of veggies, noodles, soya sauce, vinegar, chili, tomato sauce, and of course pepper powder. It is super tasty, and fast to cook. For me, the right amounts of all kinds of vegetables work wonders in all types of dishes. Theses chow mein puffs have veggies, and they go well, really well together. You just need to give it a try. You may call this is one of my favorites, and I mean it!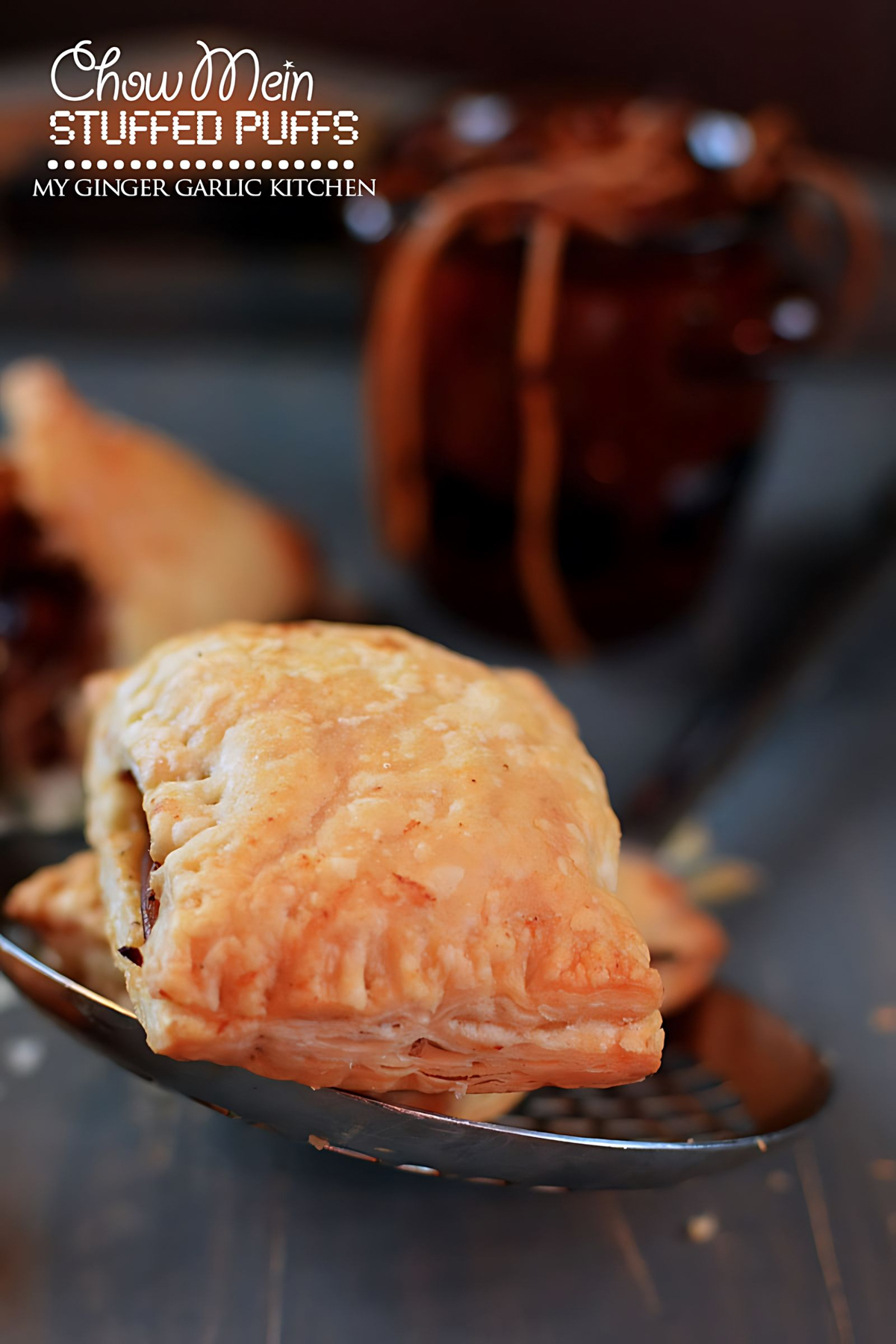 I prepared these puffs the other day, just as an experimental dish for Adoria (my little baby girl, aka a fussy eater 😉 ). Though I did not make it too much that day, so I could not post the recipe earlier. And yesterday It was the time to make it again, and this time I made sure that it should be enough for everyone; even more than enough! 🙂 Well, I am super excited to share this recipe with you. Are you excited too?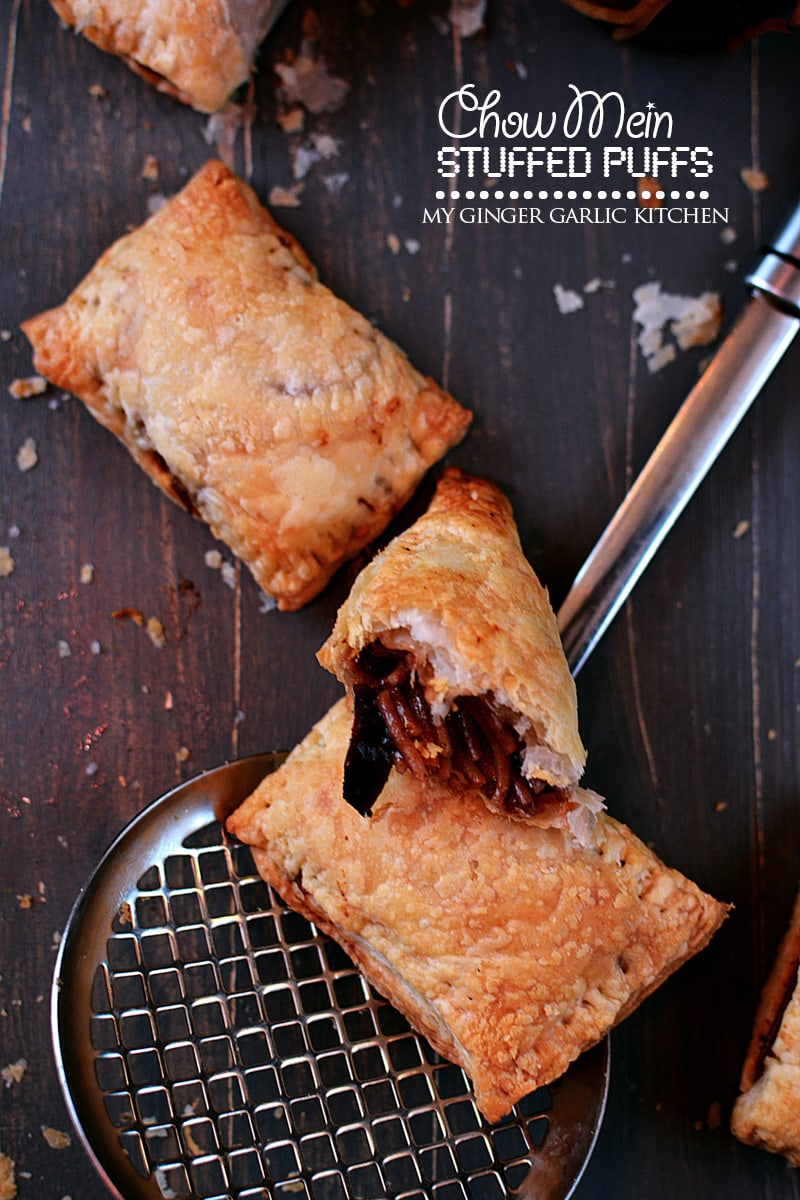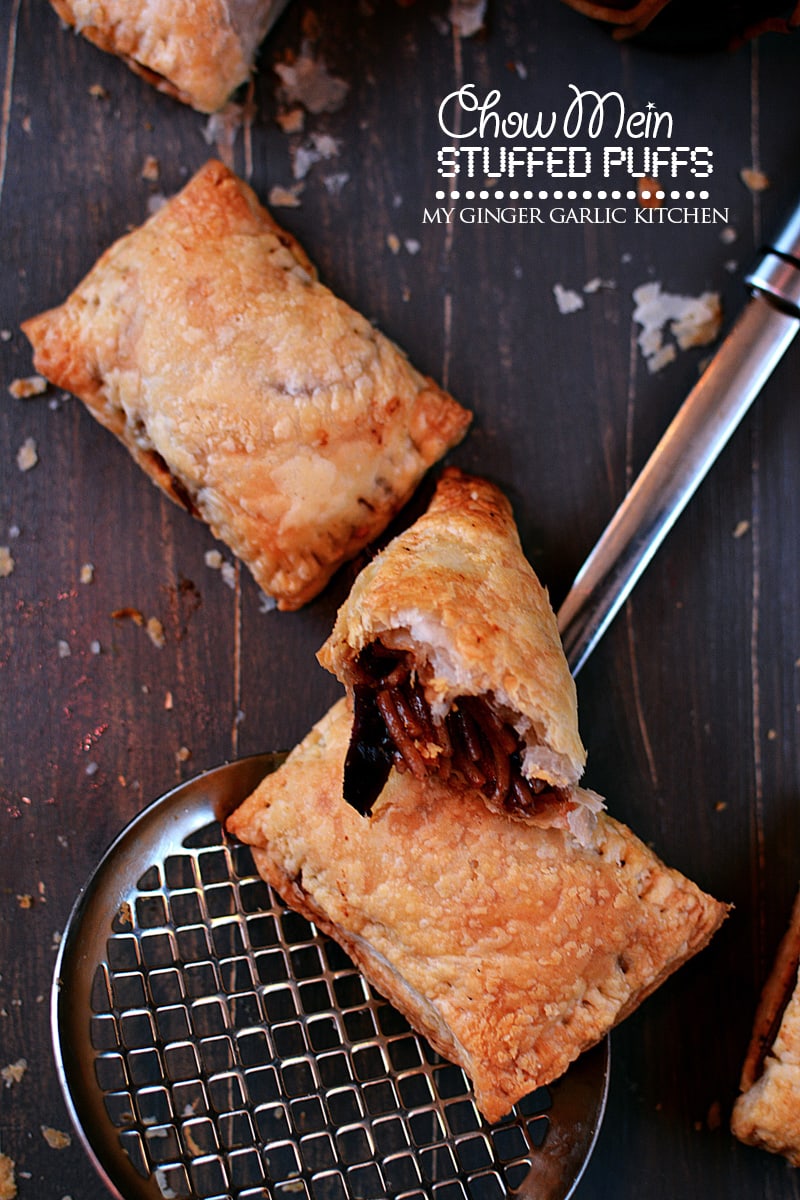 Adoria practically is not really a fond of many things when it comes to food, but she loves noodles, and puffs, separately in a way. So I just combined two of her favorites, and made a trial version to please my little baby girl. Anything for her 🙂 YES! We mothers are like that.
Once we become moms, the whole world changes to the kids side. It DOES happen, though I never realized it before Adoria was born. And I have always thought that I may be different in that sense. But the moment you get to know, that you are carrying a little life inside you, your entire world changes. Before doing anything you would think about the baby first, even if she ain't born yet. But a mother can feel the baby, and she knows her/him well. That's why they say "MOTHER KNOWS BEST".
Well, here I am now. Exactly like my mom. She used to make a wide variety of food for me, so that I can eat some good and nutritious food. I never praised her efforts towards me in terms of food. She tried all her tactics to make me eat. Like mother, like daughter. My daughter is a copy of mine, in terms of eating habits. So I don't blame her (it is in her genes may be 😉 )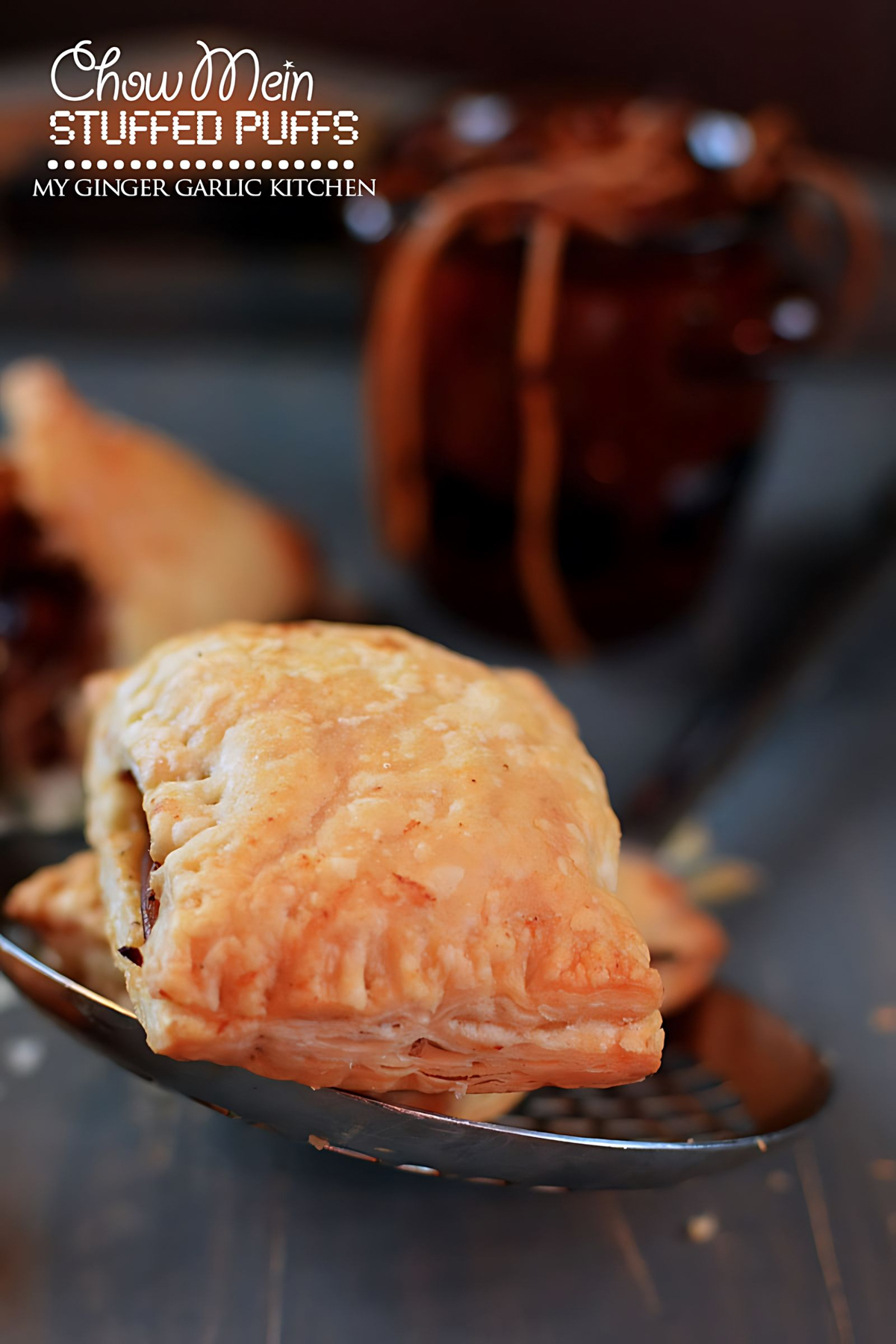 And now when I am a Mom too, I realise how much it hurts when your kid does not eat well. Till today when I visit my Mom's place, she keeps asking me, what would you eat, should I make this for you or that, as it was your favorite or something else. She is never tired!!! Wow! I just want to salute every mom out there for their courage and efforts towards their families. Moms are moms. Nature made them so special this way. And I love my mom so much like every other kid. Yes, I am still a little baby girl to her. 🙂  She gives me so many options, and variety, that makes me cry. Awwwwww, how a mother could be like that. Hmmmm! This is the way it is.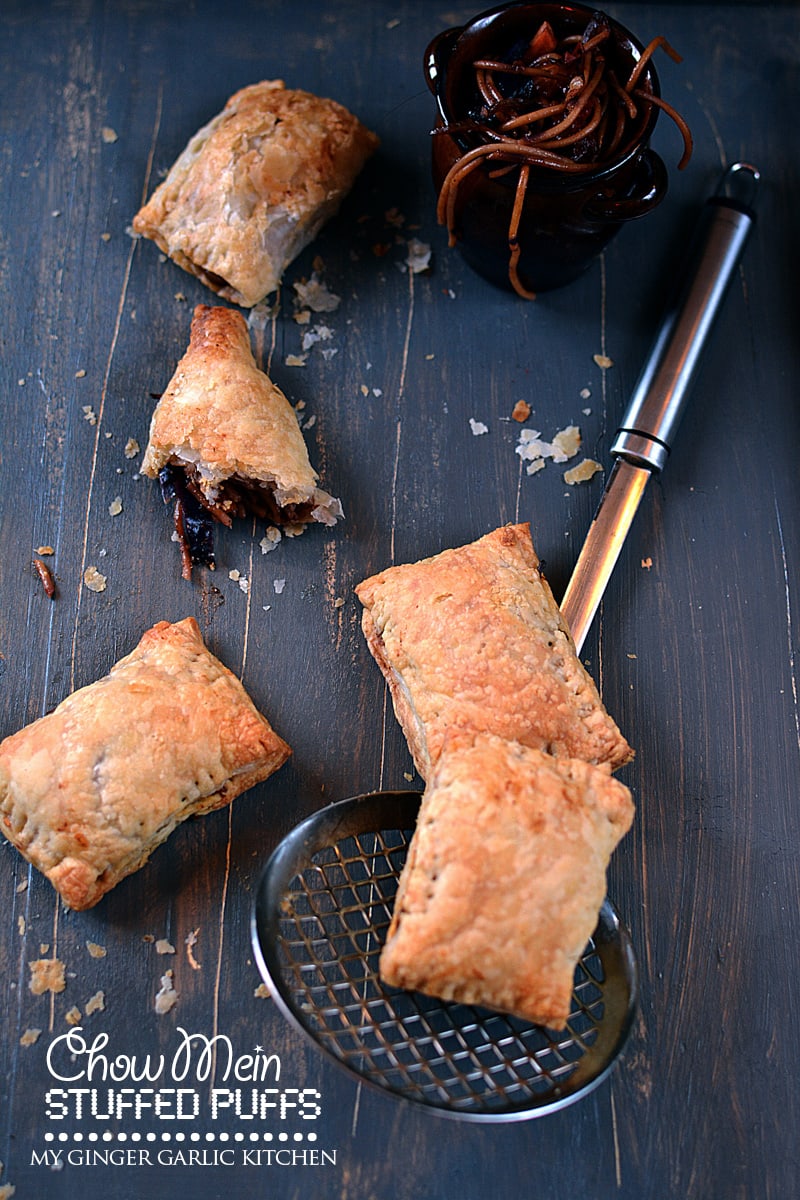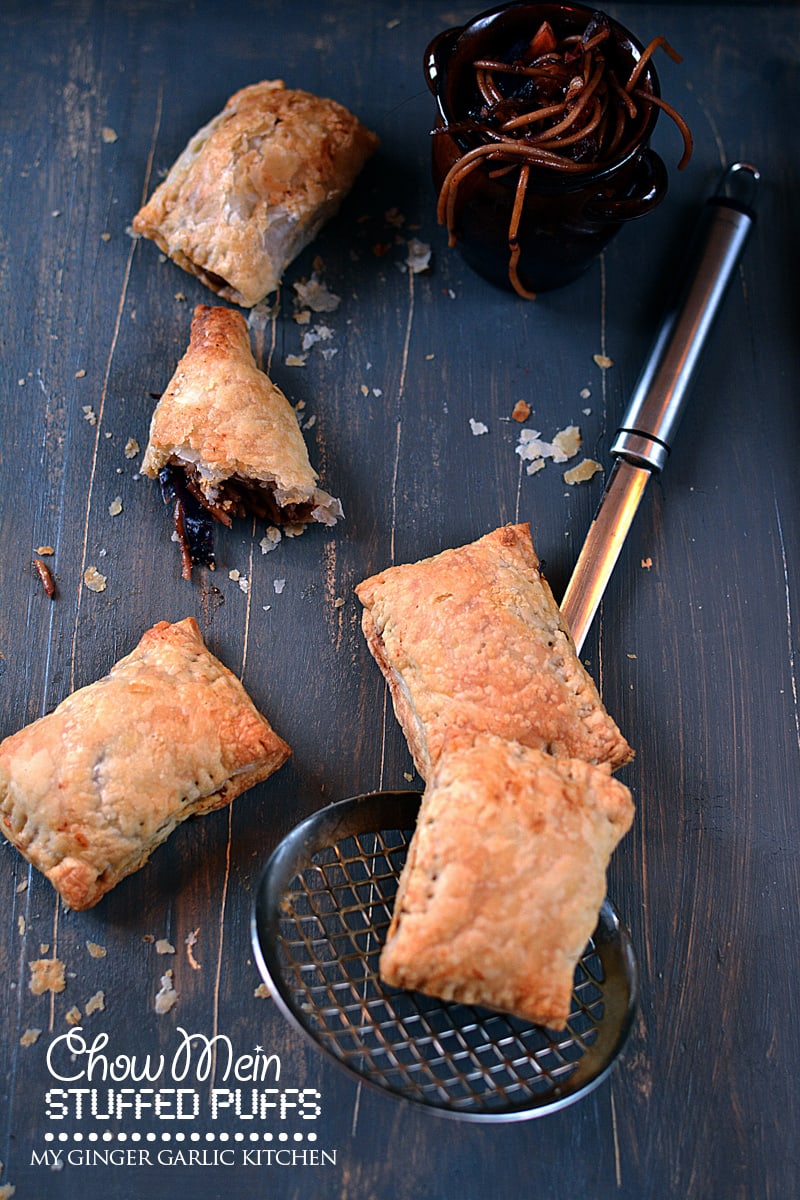 Enough of Mom talk today, let's go back to the recipe. I simply made veggie chow mein and used that as stuffing for my puff pastry. That's it!!! This would work for any meal for me, I will eat it for breakfast, lunch, brunch, or it would even make an awesome dinner.
So the point here is, that it was super delish and the whole family loved it. So we can call it, my family's HERO recipe! 🙂 YEAAAH!
I hope you and your family would love this too! 🙂 Let's learn how to make these puffs full of deliciousness!
---
Prep time – 10 mins
Cook time – 23 mins
Serves – 4
---
Ingredients:
puff pastry sheets – 8
Noodles – 1 packet (cooked as per instructions)
red cabbage, julienned – ¼ cup
carrot, julienned – 1
bell pepper, julienned – 1
onion, julienned – 1
ginger paste – 1 tsp
garlic paste – 1 tsp
chili tomato sauce (ketchup) – 2 tbsp
white vinegar – 1 tbsp
soy sauce – 1 tbsp
oil – 2 tbsp
salt as per taste
ground black pepper, to taste
---
Method:
Add 1 tsp vegetable oil to noodles, and mix well. This will prevent them from sticking. Set aside.
Heat oil in a pan. Add ginger paste, garlic paste and saute for a minute.
Add all the vegetables and saute for 3-4 minutes. Now add pepper powder, salt, soya sauce, and mix well. Cook for 2-3 minutes.
Add vinegar, tomato sauce and toss well. Add the drained noodles & mix until all is well combined.
Remove from heat, and keep aside. Preheat oven at 400 degrees F /200 degrees Celsius.
Cut the dough into rectangles. Place about 1 ½ tbsp of the noodle filling on one of the rectangles, smoothing the noodles out to just before the edge of the pastry sheet.
Wet the pastry sheet edges with milk or water.
Now lay another rectangle of pastry sheet over the filling and seal the edges by crimping with the back of a fork.
Repeat the same process with other sheets. Bake the puffs for about 15-20 minutes.
Serve hot with your favorite beverage.
PHOTOGRAPHY NOTES:
Camera: Nikon D7100
Lens: Nikon 35mm f/1.8G AF-S DX Lens
Setup: Used natural sunlight coming from left, and a reflector on the right side of the frame.
Angle: I clicked these photos with 90°, 70°, 50°,
Happy Cooking 🙂
Show us your love by commenting on this post, and share your thoughts.
Liked this post, then you will like this too.
---
Filed under: All-Recipes, Appetizer Recipes, Baking Recipes, Breakfast Recipes, Dinner Recipes, Kids Recipes, Snack Recipes Appetizer recipes, appetizers, Breakfast, Brunch recipes, food photography, Food Styling, Indian Recipes, My ginger garlic Kitchen, Quick Indian Recipes, Snacks recipes
---