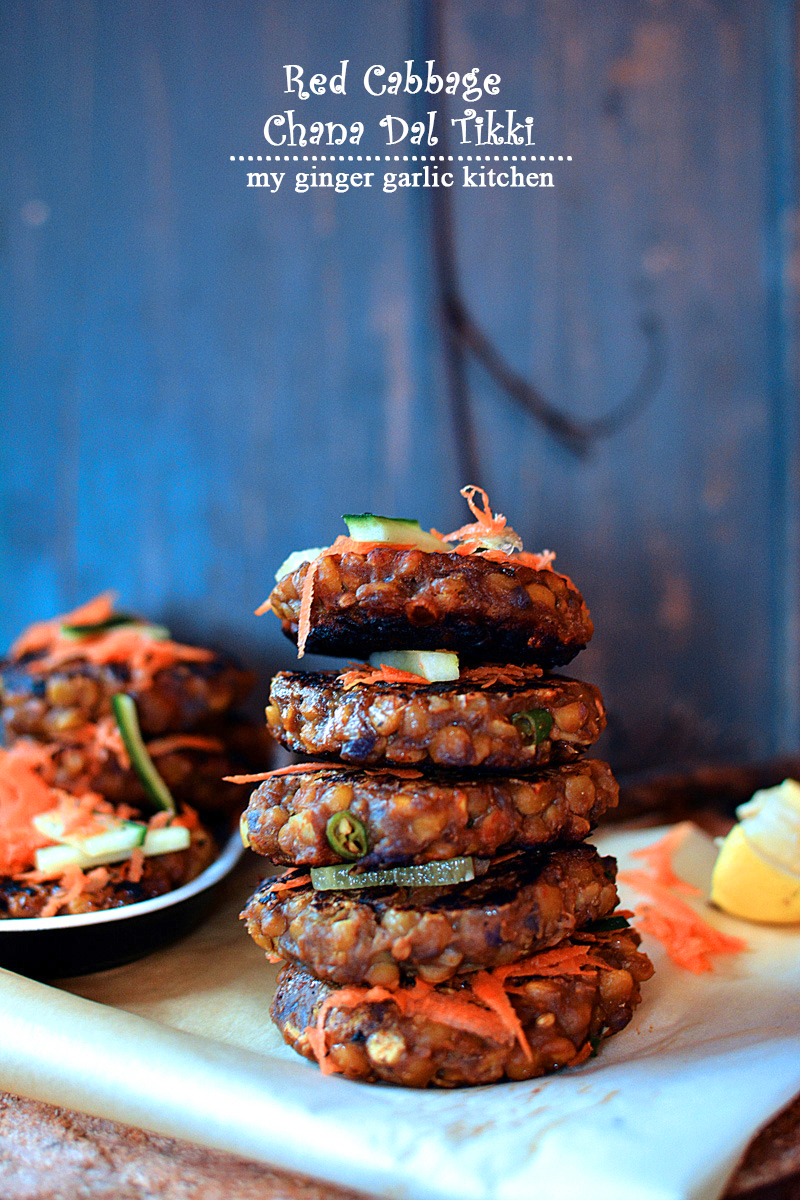 Hello AMAZING People,
This is a weekday, and a day in this HOLIDAY season too. So we can easily say — it is still a long weekend. Things are different here in Finland & nature is blessing us with lots of snow, and by LOTS, I mean LOTS & LOTS of stunning white SNOW. Life is just wonderfully blissful around here!!!
When I see outside, everyone seems to be so happy, and looks like they are still in the mood of celebration. Well! Why not — this should be the spirit. A wonderful year is going to end and a brand new beginning is round the corner. I say that is the good news. That is the reason to celebrate. If you talk about my Christmas, it was indeed so much FUN. A deadly hectic time, yet enjoyed so much! It was time to relax on the Christmas Eve night after a long hectic time, when everyone sits on the same table. Family! Food! Unlimited FUN!

And this is also the time for some serious talk. A talk about next year, a talk about new year resolutions. My goal is to make a good balance between family and work. I CAN DO THIS, AND I WILL DO THIS. 🙂 🙂
The point is that we had a lovely time, a much deserved time with family. NO WORK related talks. So I can say I pretty much managed to enjoy a nice time of celebration with lotsa good food. After eating so much rich and sweet things, it was time for some cleansing. Now I may sound CRAZY to you. Well! We all are crazy sometimes, and that is what makes us all are human 😉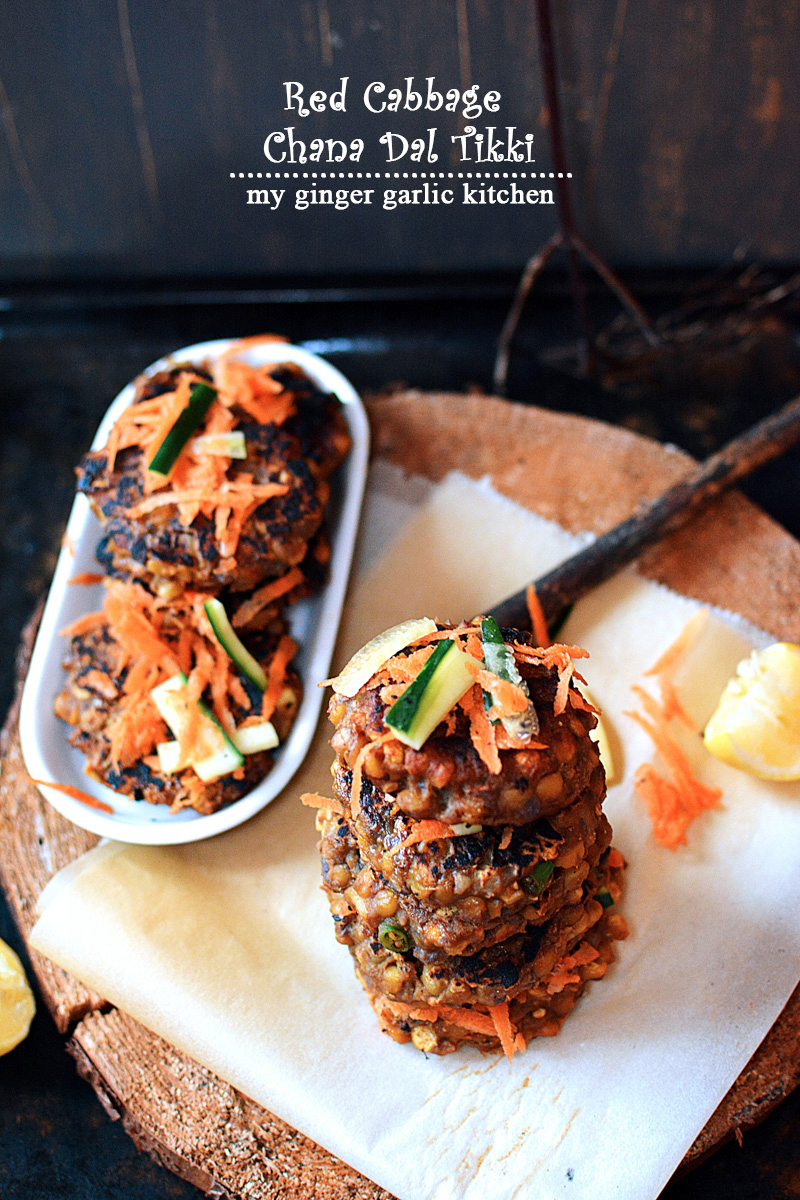 So the question here is — cleansing of what???
Cleansing of BODY from inside. My body was screaming out loud from inside to get some light and nutritious food, which would bring some gutful energy to me — an energy of spectacular fulfillment. So I got started with this, and decided to make something fibrous yesterday.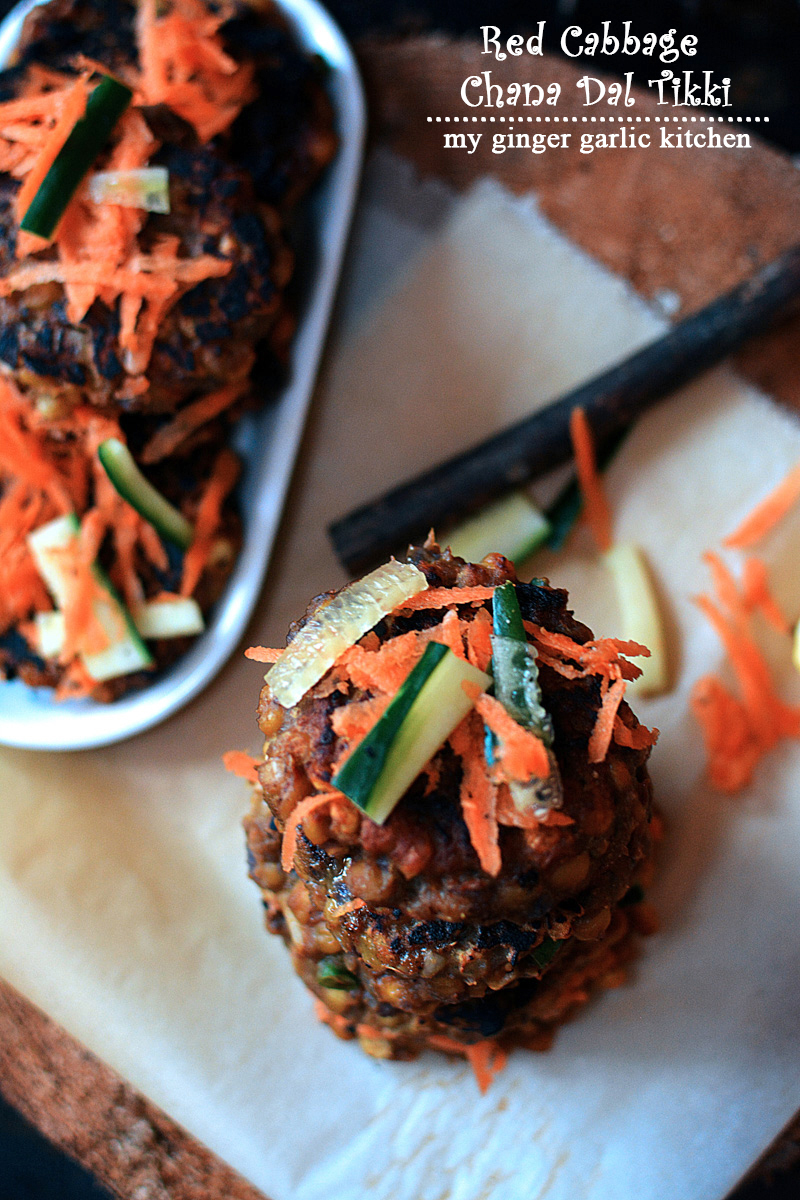 Let me tell you more about my wondrous cooking adventure yesterday. I made Chana Dal Red Cabbage Tikki. I had some red cabbage in my fridge, and I used that along with split bengal gram (Chana Dal), some crushed ginger-garlic, some freshly chopped green chilies. For finishing touch, I added some chickpea flour, which also helped in binding the tikkis. The mixture smelled really INCREDIBLE, with all the aroma of spices and freshly grated garlic. And of course I squeezed fresh lemon juice on top after cooking, which was indeed an icing on the cake. OH! And it was a Jaw-dropping presentation with fresh salad. The resulting taste was mind-blowing!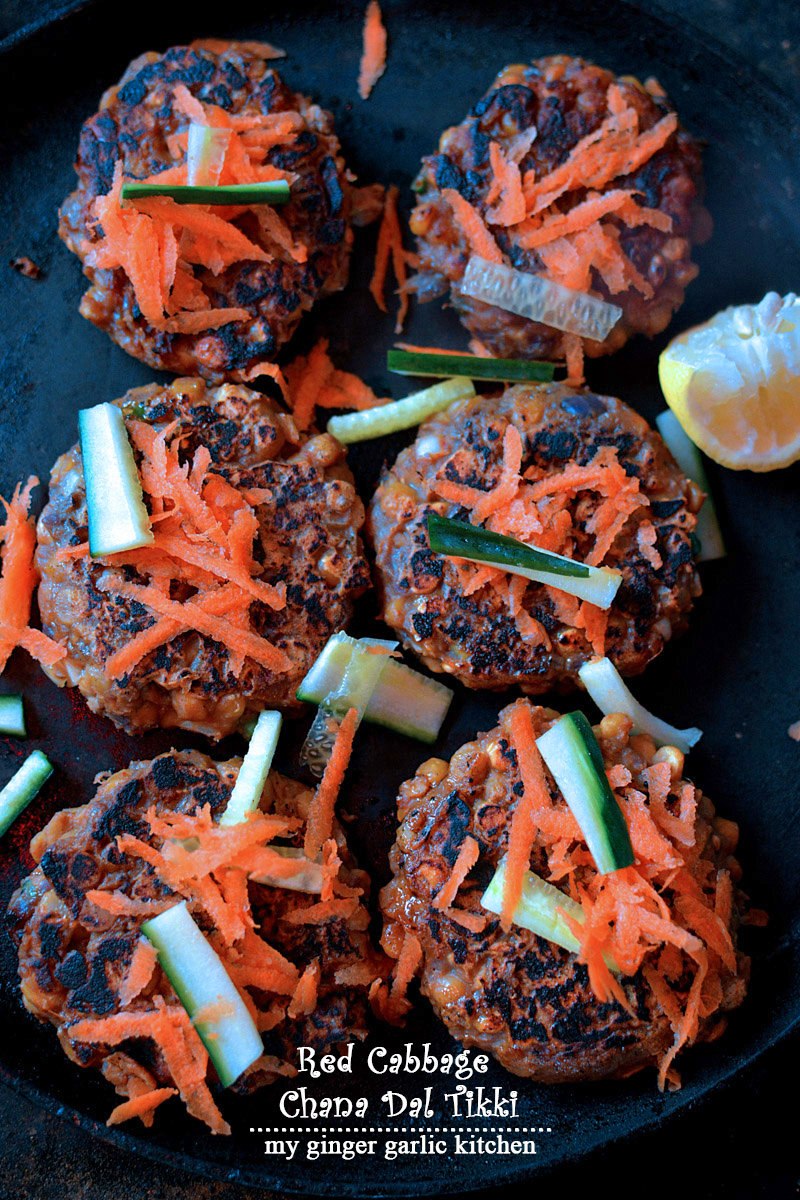 Now that Christmas has passed, it's time for New Year — this totally makes me so excited. But I have no idea what are we doing for New Year party!!
Anyways, these delicious tikkis were cooked in a pan, and the result was a simple and easy dish. You simply cook it covered on medium heat, or you can simply bake it in the oven. I personally prefer the pan roasting as I just think the tikkis come up with a more distinct flavour.
That's it. I would highly recommend these tikkis with mustard mayonnaise.
---
Prep time – 7-8 mins
Cook time – 20 mins
Serves – 4
---
Ingredients:
cooked split bengal gram (chana dal) – 1 cup
red cabbage, finely chopped – 1 cup
cooking oil for shallow frying
onions, chopped – 1
large green chili, chopped – 2 fresh
salt to taste
red chili powder – 1 tsp
dried mango powder – 1 tsp
garam masala powder– 1/4 tsp
chickpea flour (besan) – 3/4 cup
chaat masala – 1/4 tsp
---
Ingredients for serving:
fresh salad
lemon juice
mustard mayonnaise
---
Method:
Boil 2 cups water in a pan. Add red cabbage to it and boil for 7-8 minutes.
Let it cool completely.
Take a mixing bowl. Add all the ingredients except oil.
Mix well and shape into 10-11 lemon sized balls, and press slightly.
Heat oil in a another pan.
Shallow fry the flattened balls from both sides till they turn golden
brown in color.
Serve hot with your favorite ketchup & salad. Enjoy!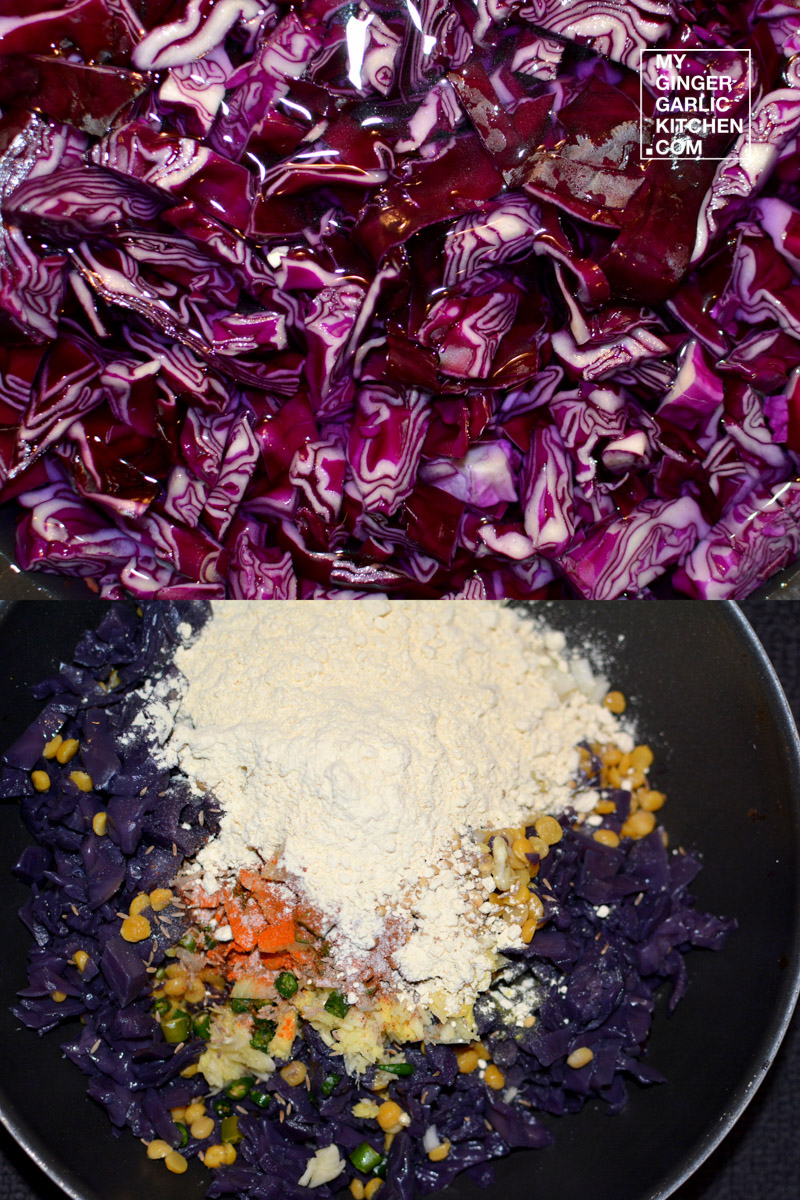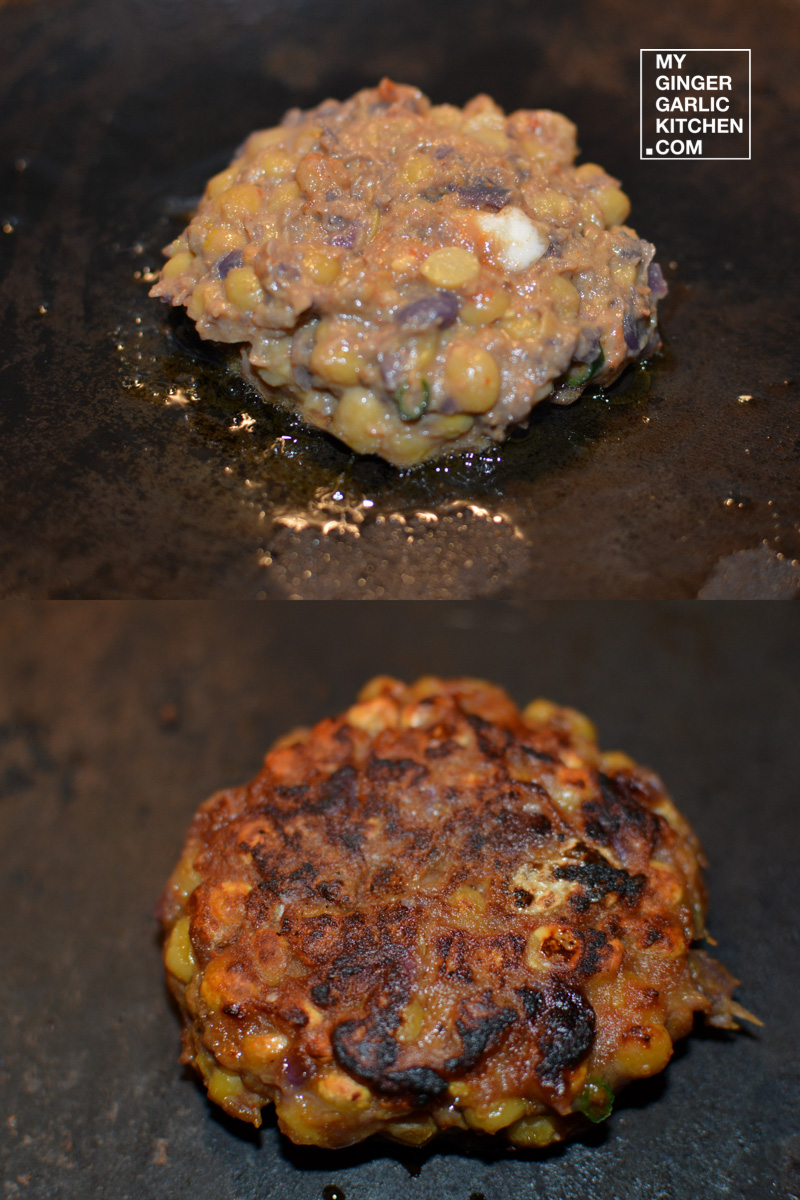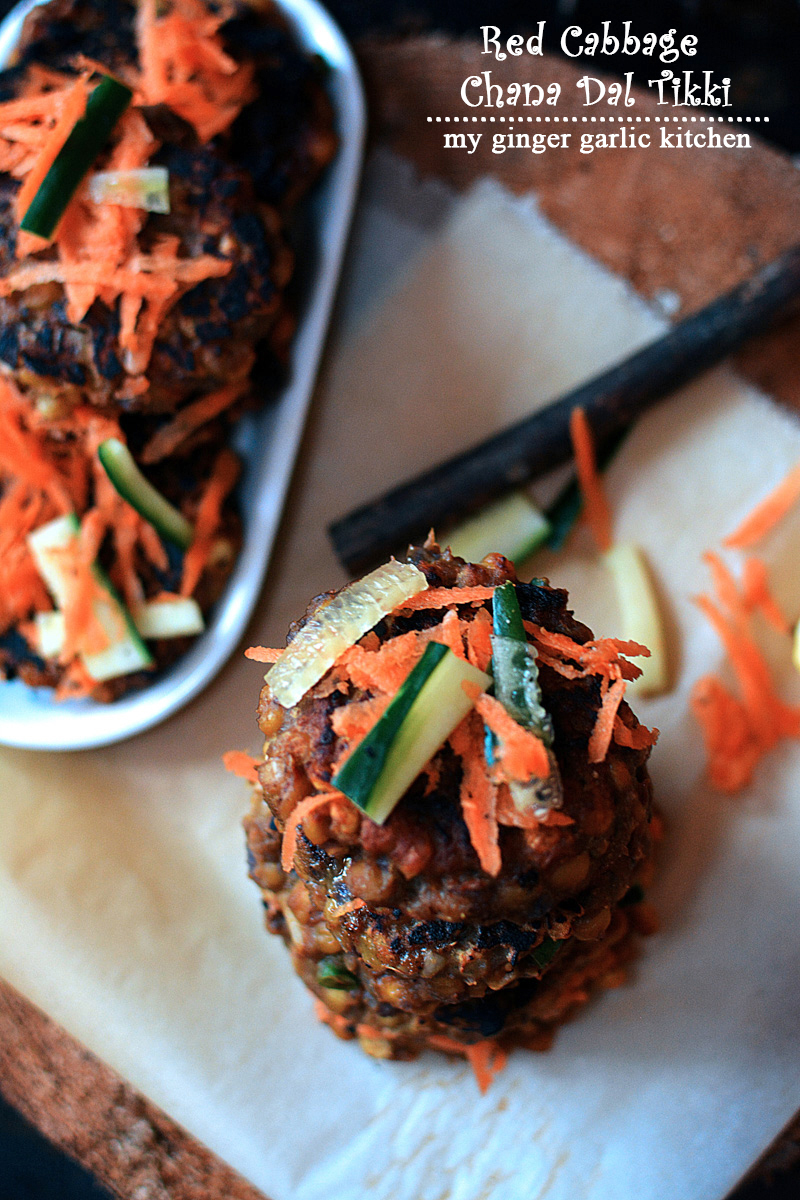 PHOTOGRAPHY NOTES:
Camera: Nikon D7100
Lens: Nikon 35mm f/1.8G AF-S DX Lens
Setup: Used natural sunlight coming from left, and a reflector on the right side of the frame.
Angle: I clicked these photos with 90°, 70°, 50°,
Happy Cooking 🙂
Show us your love by commenting on this post, and share your thoughts.
Liked this post, then you will like this too.