Learn how to make Aloo Tikki Burger recipe with an easy step-by-step video tutorial. **Aloo Tikki Burger **is a hearty, satisfying, and veggie Indian spicy burger. Aloo Tikki is deep-fried, crispy and spicy potato patty. This Spicy Potato Patty or MacAloo Tikki is topped with cheese slice, layered with mayonnaise + ketchup and served with the buns and tomato, onions and lettuce.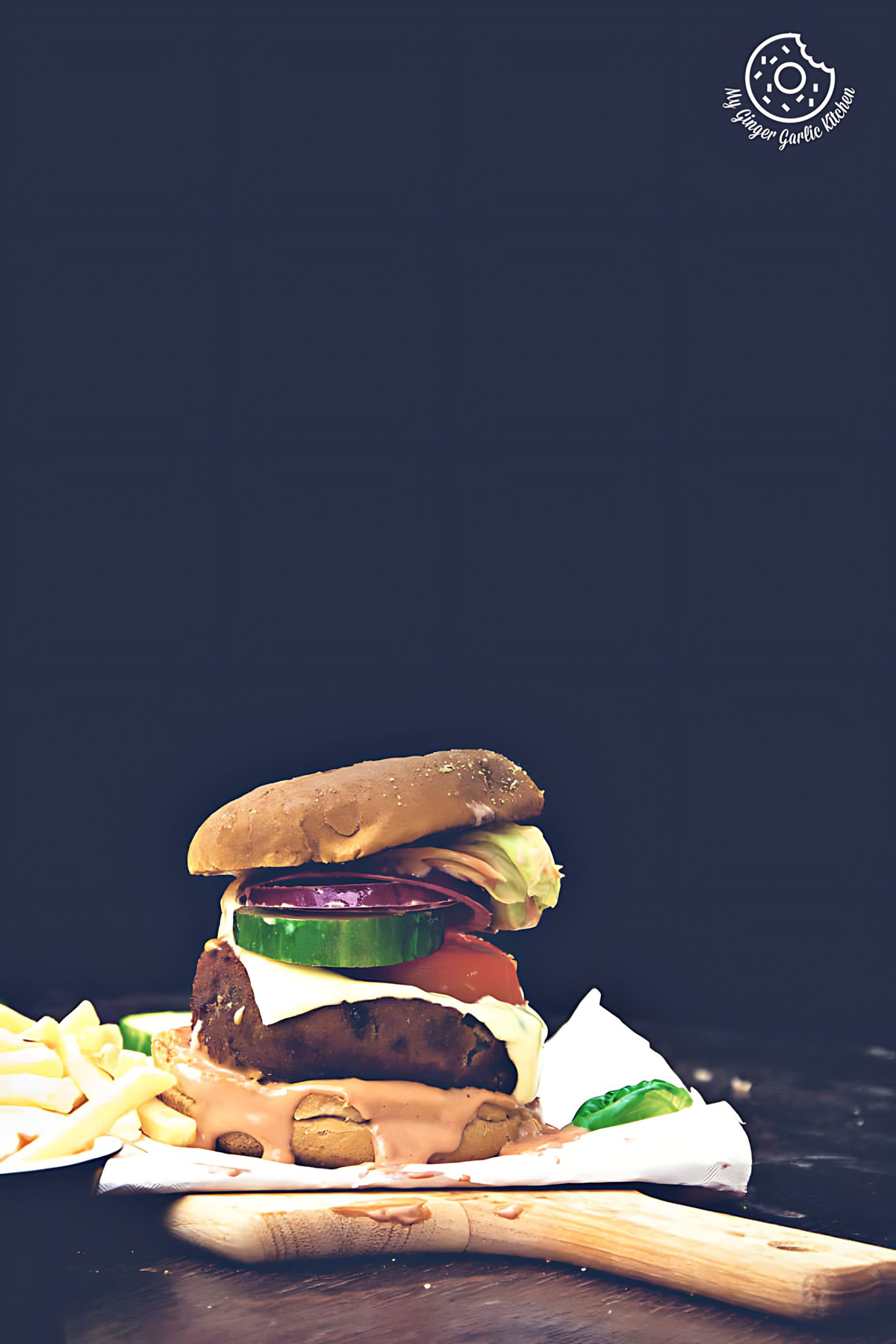 Wohoo. Time for some ice-breakers: How are you guys doing? How was your weekend? How was your Diwali / Halloween? Oh, gosh. I have so many things to ask. But you guys are free to answer to only the ones you like. 🙂
My weekend was festive, tech-free and long. I took a break on Monday also. You may ask, what do I mean by tech-free?
My Tech DETOX:
During the weekend, I decided to be on a tech and partial Internet DETOX. I was away from all the electronic devices. Yeah, I didn't open my laptop since Friday. And I must say it was so rejuvenating for me. I checked the internet only twice a day, only to make sure that I don't miss anything important. It was a great family time we spent without these devices around. And finally, I am back with lots of energy. So cheers to the good times. 🙂
Potato and spice — all things nice.
And now I have something nice to share with you. Ohhh, I have some spicy aloo tikki on a chili rub bun. How does that sound to you? Excited already?
Spicy aloo tikki with a spicy bun? That might sound like really spicy for non-chili lovers. But yeah, that's a super awesome thing for chili lovers like me. 😉 Anyways, if you are planning to make this, then feel free to choose your favorite bun for burger base.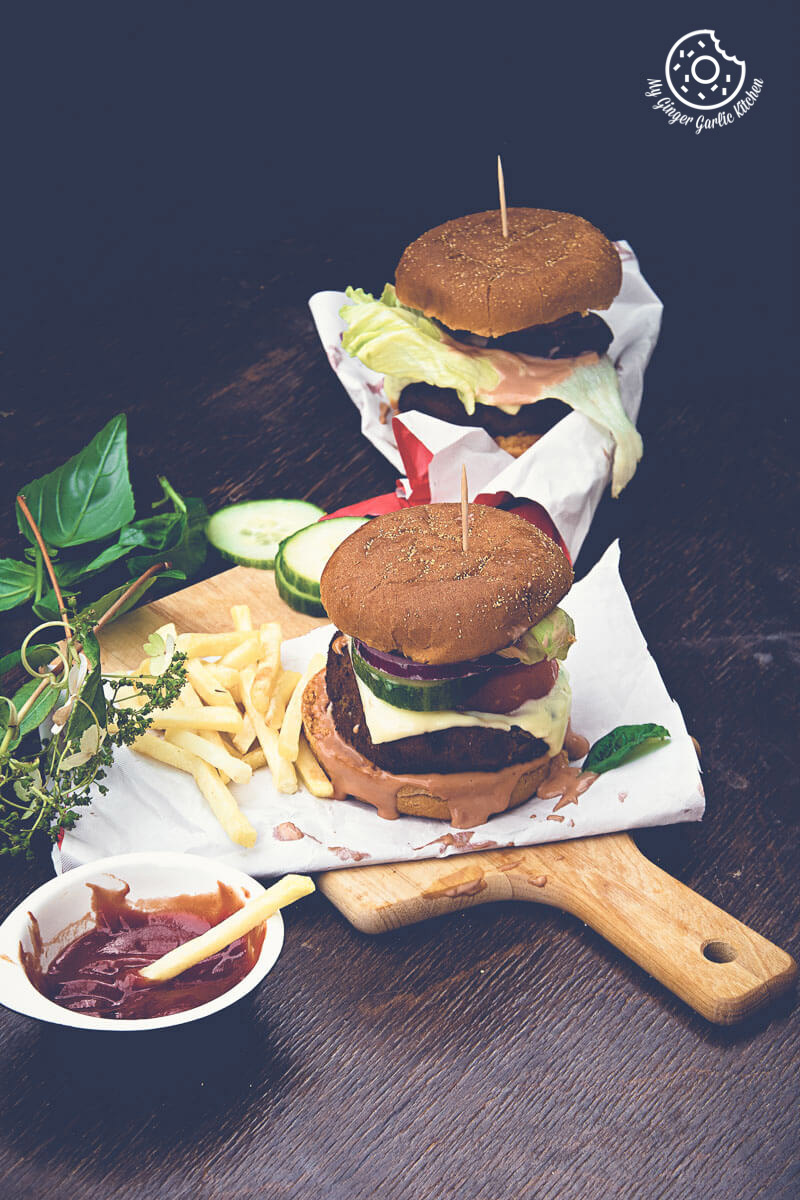 MacAloo Tikki Burger is my favorite since Childhood:
I don't know about you whether you ever had an Aloo Tikki Burger or not because I could only find them in India. This was one of my favorites during my teens. At that time, MacD's were fairly new in my city, and that too only a couple of them were opened. And these burgers were only sold there. So this Indianized version of the burger was everyone's new favorite thing. It was just that good. 🙂
I still love this delicious thing, but we don't get aloo Tikki burgers where I live now. So every time when I have some cravings for this particular burger I make my own. And making this burger is super simple and super fun too.
Aloo Tikki on a burger is like really, really good. This is one of my dearest burger recipes, and not just for the reason that it's beyond delicious, but also for the fact that they are beyond easy.
Can I pan-fry aloo Tikki Burger?
Yes, you can. If you are calorie conscious, or just want to pass over the deep or shallow frying the patties, then there is another way which pan-frying. For pan frying, simply brush aloo tikki/patties with some oil and roast them on a pan over medium heat. Pan-fried aloo tikki is fairly delicious. Alternatively, you can also grill them on a grilling pan, or in a panini maker.
Can I bake aloo tikki?
Yes. Baking aloo tikk is a cake. Preheated oven to 200°C, and bake for 20-22 minutes, or until they have a nice golden brown color.
How to freeze aloo tikki?
For freezing aloo tikki, half cook tikkis in a pan or lightly fry them. Let them cool down completely. Arrange them on a freezer-safe pan in a single layer and freeze for 2-4 hours. Once they are frozen transfer them into a freezer safe container or in a ziplock bag. Thaw the tikkis in the refrigerator for 4-5 hours prior to cooking. Bake/pan-fry/deep-fry tikkis and use them in your burger or simply enjoy them with some chutney or ketchup. Aloo Tikkis stay fresh in the freezer for up to 2 months.
How do you make potato patties for burgers?
You need some boiled potatoes, cooked green peas, and a little ginger-garlic paste for that flavor zing. This really helps add great flavor. Add some spices and shape them into patties. Dip into garlicky flour batter then roll into bread crumbs and refrigerate. Fry them and they are done. Once the burgers are fried, add your cheese, and other toppings as you please.
Make a spicy ketchup by combining, tomato ketchup + mayonnaise and cayenne pepper. This sauce is the base for this burger. Just so so delish! In this burger you have to add some cheese, you simply can't just skip it.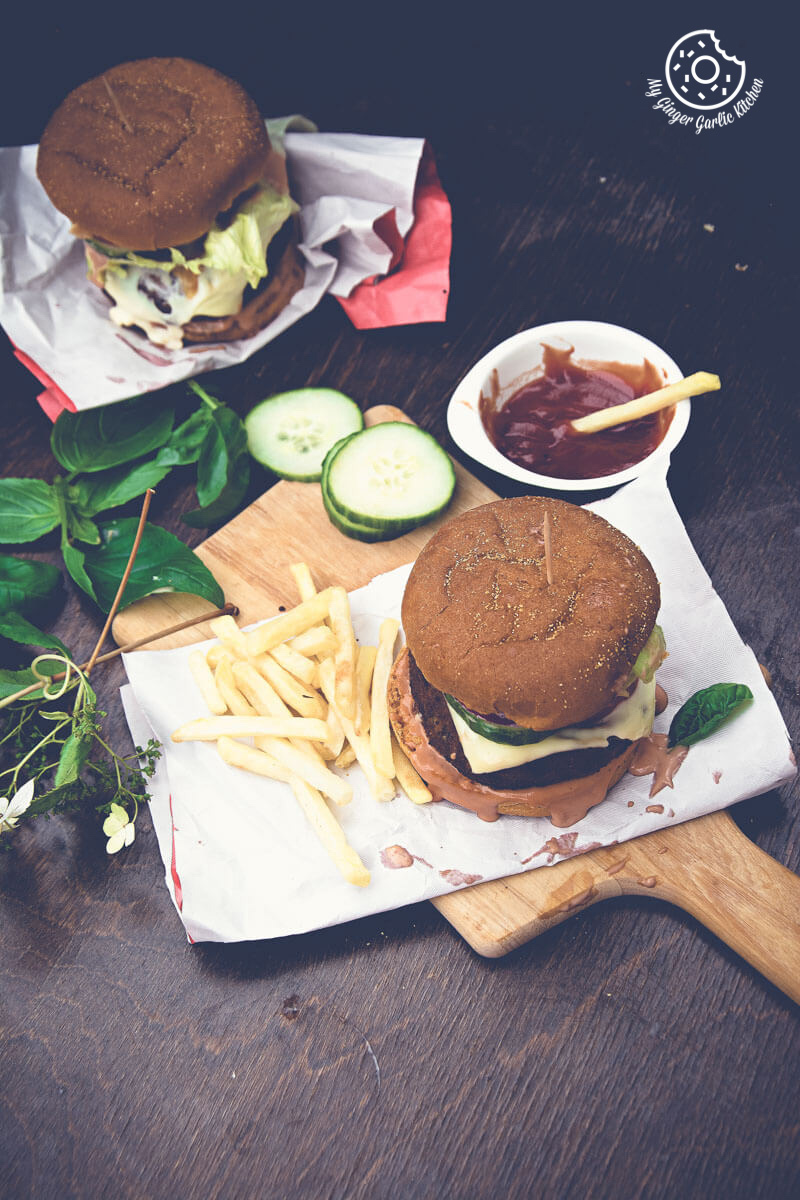 This Aloo Tikki Burger can be your new treasure:
Aloo Tikki Burger could be your new favorite as it's fresh and light, quick and pretty simple! Basically, it's the ultimate veggie burger full of amazing flavors which everyone will love. The first thing which you will admit after tasting these will be that you didn't miss the 'meat' at all. After all, taste is king.
These burgers are great for lunch packs. You can make them for dinner and leftover would make a great lunch. A win-win for sure. 🙂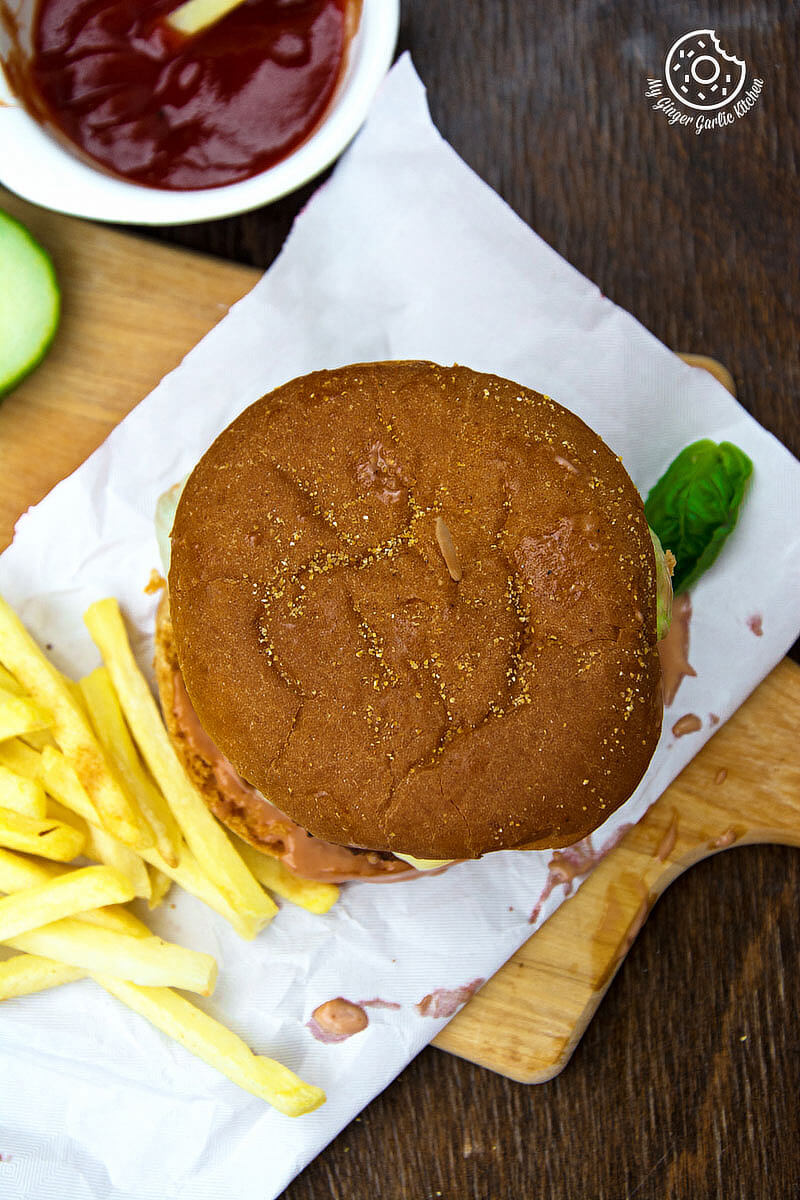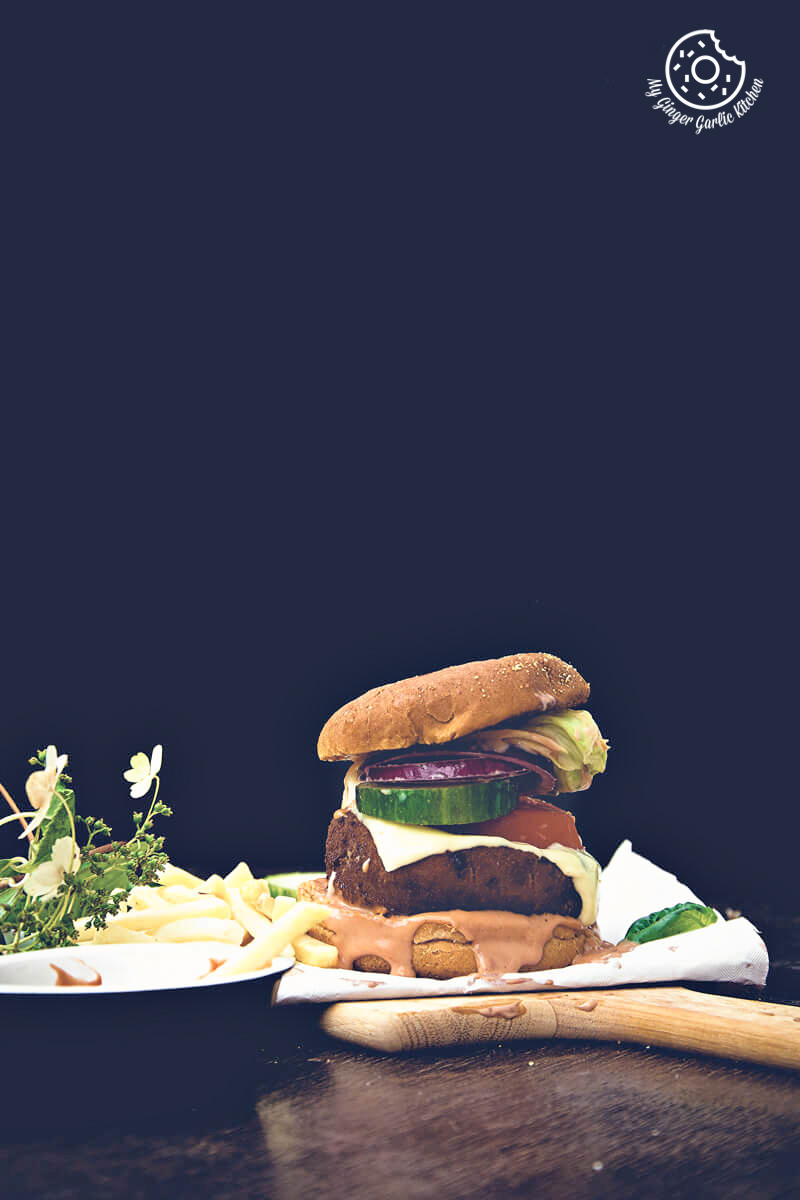 Aloo Tikki Burger Recipe

[Recipe]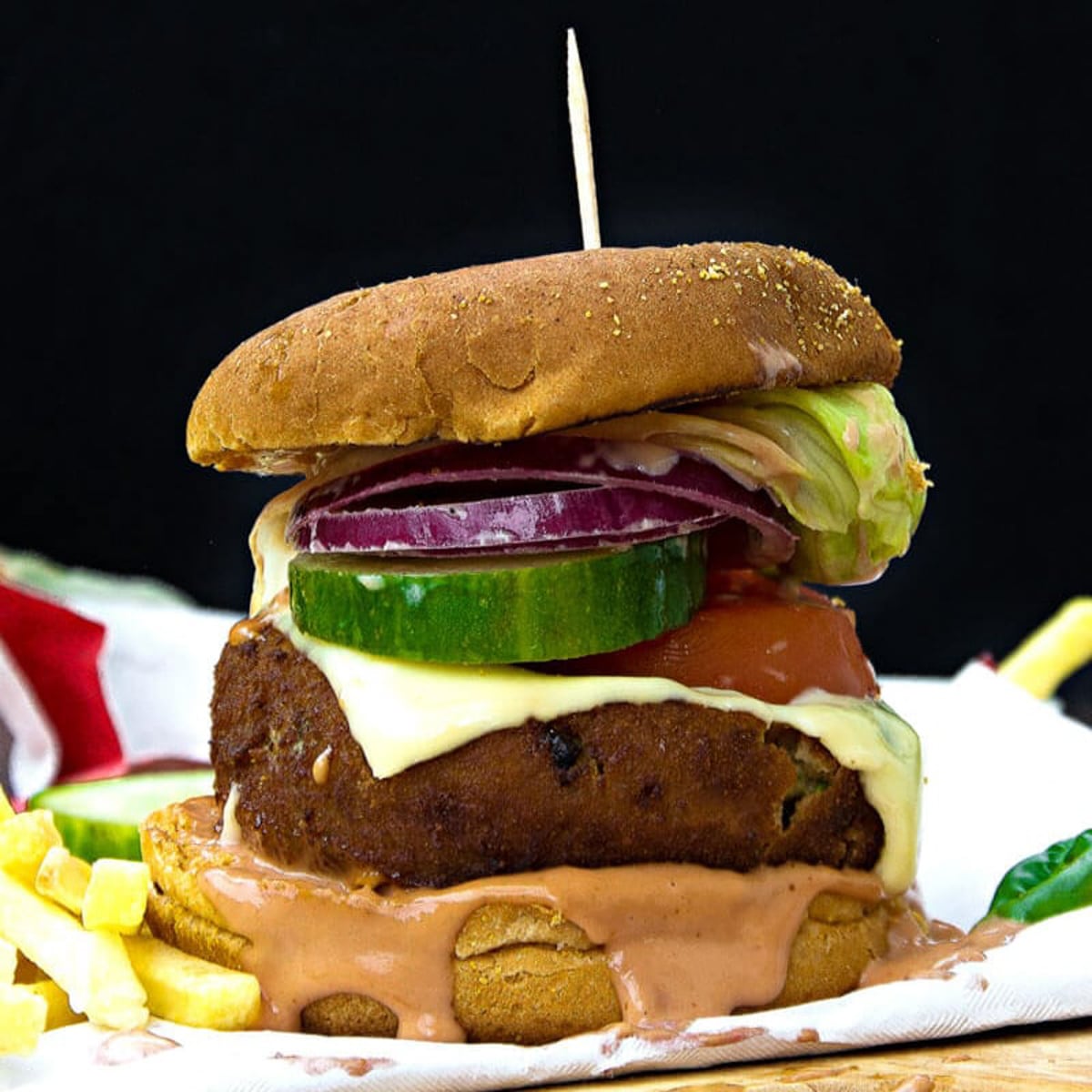 Aloo Tikki Burger is a hearty, satisfying Indian style vegetarian spicy burger where a spicy potato tikki or patty is sandwiched between buns.
---
★★★★✰
(Rating:
4.3
from
40
reviews)
---
| Prep time 🕐 | Cook time 🕐 | Total time 🕐 |
| --- | --- | --- |
| | | 35 mins |
| Category ☶ | Cuisine ♨ | Serves ☺ |
| Main | Indian | 6 |
| Nutrition Info ⊛ | | Serving size ⊚ |
| 225 calories | | 1 bowl, 4-rolls, etc. |
---
INGREDIENTS
For The Aloo Tikkis:
4 medium-sized potatoes, boiled, peeled and grated
3/4 cup green peas, cooked
1 1/2 teaspoon ginger-garlic paste
1 teaspoon red chili powder (lal mirch powder)
1 teaspoon dried mango powder (amchur powder)
Salt to taste
1 tablespoon coriander powder (dhania powder)
1 teaspoon garam masala powder
1/4 cup rice flour
For The Flour Dipping:
1/4 cup all-purpose flour (maida)
1 tablespoon garlic powder
1/4 cup breadcrumbs
For Frying Patties:
Oil for frying the patties
For Assembly:
1 teaspoon butter
6 burger buns (I used chili-rubbed buns)
6 cheese slices
5 tablespoons mayonnaise
5 tablespoons tomato ketchup
Lettuce
Tomatoes, sliced
Onion, sliced
Cucumber, sliced
Pickled jalapeño
---
INSTRUCTIONS:
Making Aloo Tikkis:
Add grated potatoes, peas, salt, chili powder, coriander powder, dried mango powder, and garam masala powder to a mixing bowl.




Mix well to combine.




Add rice flour and mix until incorporated.




Once mixed, make 6 patties similar to the size of the burger bun.




Add all-purpose flour, salt, and garlic powder to a mixing bowl.




Add water to make a thin batter.




Dip patties in flour batter and coat well.




Take breadcrumbs on a plate and coat each patty with the breadcrumbs. Press it lightly, so crumbs stick to the patty. Refrigerate for 30 minutes.



Making Aloo Tikki Burger Sauce:
Meanwhile, in a bowl, combine mayonnaise, ketchup, and cayenne pepper and mix well.



Frying Aloo Tikki:
Heat oil in a large frying pan over medium-high heat.




When hot, add patties and fry for 3-4 minutes on each side until golden brown and crisp.




Once golden, drain them on a paper towel lined plate. (You can also shallow fry them).



Assembling Aloo Tikki Burger:
Melt butter in a pan and toast bun.




Add sliced bun to the pan, and toast from one side.




Now add the fried patty to the same pan, and top it with a cheese slice.




Cover the pan and roast for about 30-60 seconds.




Transfer toasted bun to a serving plate.




Meanwhile, in a bowl combine mayonnaise, ketchup, and cayenne pepper and mix well.




Add burger sauce to the bottom bun, followed by Aloo Tikki, sliced tomatoes, sliced onions, sliced cucumber, pickled jalapeño, and onions.


Drizzle with some more sauce before adding the top bun. Top with the other half of the bun, and serve hot with some fries and ketchup.



---
WATCH VIDEO:
---
NOTES:
No notes for this recipe.
---
If this recipe helped you, then please spread the word by sharing and
subscribing
to us on YouTube to get more such Recipe Videos.
---
Your feedback is so helpful for me and other MyGingerGarlicKitchen readers. So, for Facebook and Instagram, please mention
@MyGingerGarlicKitchen
or
#mygingergarlickitchen
. I would love to see your photos. :)
---
Author:
Anupama
Recipe Source Link:
https://www.mygingergarlickitchen.com/aloo-tikki-burger-video-recipe/
Date Published:
2019-10-08
• • • • • • • • • •