Aloo Matar is a quick, easy, simple and comforting Indian curry made with potatoes and green peas. This inherently vegan and gluten-free Aloo Matar cooked with basic kitchen ingredients is ideal for a toothsome weekday lunch or dinner.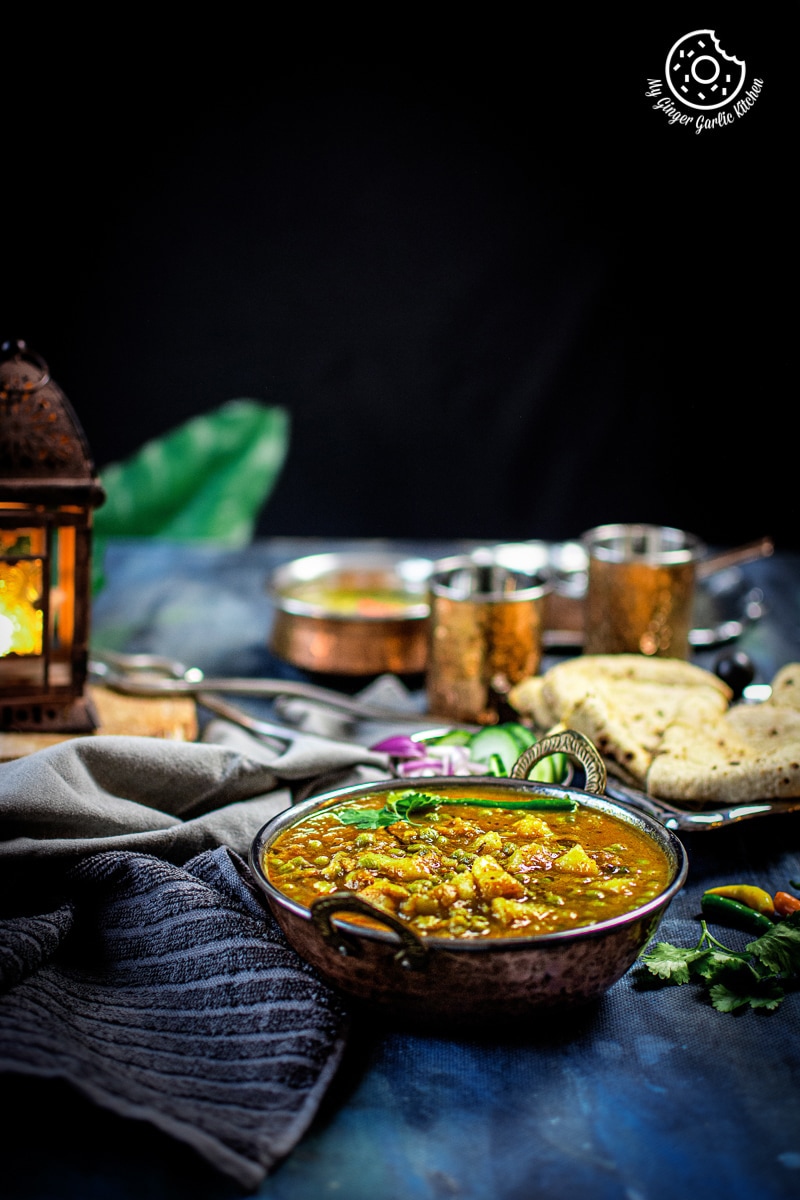 Potatoes and peas are both very ordinary vegetables, but when you cook these two ordinary veggies with an enticing onion tomato masala, they turn into a delightfully extraordinary curry.
I have made this Pressure Cooker Potato Peas Curry in the Instant Pot, but this can also be made on traditional stovetop pressure cooker or a stovetop pan.
This is my Mom's regular Aloo Matar recipe which she cooks in a stovetop pressure cooker. I just love potatoes in any form. And this 'Aloo Matar' curry is one of my favorites. Hence, it always wins the top place in my weekdays menu when I have nothing else in mind. 
Yes, this happens when you let a potato lover decide the menu. ;) If you also love potatoes, then try out this easy and straightforward recipe, I am sure you would love this as much as my family does.
What is Aloo Matar?
Aloo Matar is a phenomenal Indian curry cooked using 'Aloo' aka 'Potatoes', and 'Matar' aka 'Green Peas'. This is a gravy based curry. The gravy for this 'Aloo Matar' curry is made using basic onion tomato masala in which onion, tomatoes, ginger, garlic, green chilies are cooked with some essential spices. This is a very basic recipe, even an amateur can cook this with ease. 
What is Instant Pot Aloo Matar?
Instant Pot Aloo Matar (Pressure Cooker Potato Peas Curry) is a no-sweat peas and potato curry recipe which is great for the days when you desire a hassle-free meal which can be served on the table under 30 minutes. Simply pair it with or rice and your dinner gets sorted out.  
What is the right consistency of 'Aloo Matar' gravy?
The gravy is made with onion, tomatoes, ginger, and garlic, cooked with basic spices. The consistency of this gravy could be very thick to very thin depending on your taste preferences. I prefer slightly thick consistency of 'Aloo Matar' gravy because I don't like watery curry. But you can easily adjust the consistency of this curry by adding more or less water to it.
There is also another delicious and popular version of 'Aloo Matar', which is a Potato Peas Stir Fry. Potato Peas Stir Fry is known as 'Aloo Matar Dry Sabji or Sookha Aloo Matar Recipe.
What are the ingredients needed for Aloo Matar recipe?
Aloo Matar is a simple Indian homestyle curry recipe, therefore it is made with very basic ingredients which you will always have in your kitchen.
For making this easy 'Aloo Matar' recipe you'll require the following ingredients:
Potatoes/Aloo
Green Peas/Hare Matar (Frozen And Fresh Both Work)
Oil/Tel
Cumin Seeds/Jeera
Asafoetida/Hing
Onions/Pyaaj
Tomatoes/Tamatar
Garlic/Lehsun
Ginger/Adrak
Green Chilis/Hari Mirch
Red Chili Powder/Lal Mirch Powder
Coriander Powder/Dhaniya Powder
Turmeric Powder/Haldi Powder
Dried Mango Powder/Amchoor Powder
Garam Masala Powder
Salt/namak
Coriander Leaves/Hara Dhania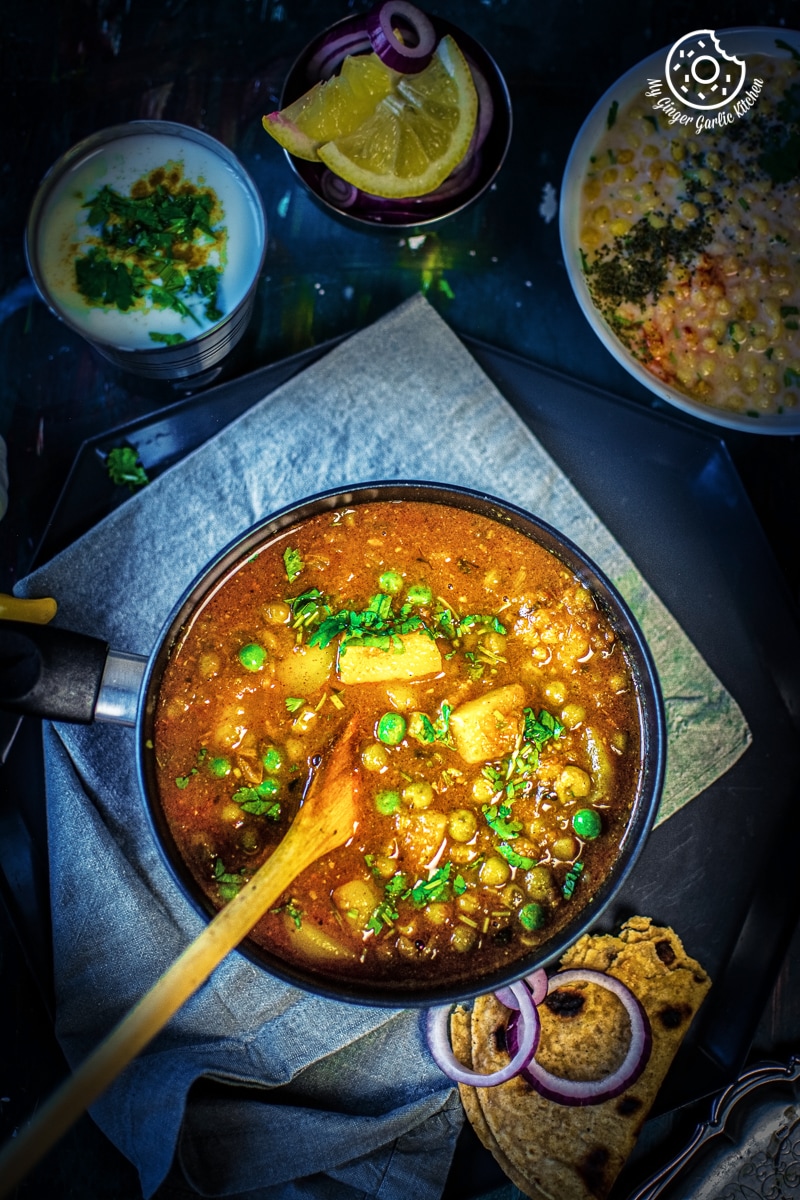 How to serve Aloo Matar?
Aloo Matar makes an ultimate comfy meal when accompanied by some Indian flatbread and yogurt. This is one of such Indian humble dishes which can be paired with almost all Indian flatbreads such as , , , , , , and the list goes on. 
This curry also goes along well with some steamed basmati rice or and even with a . I have so many childhood memories associated with Aloo Matar, thus the name of 'Aloo Matar' itself gives me goosebumps. I love to relish it with some plain chapati or paratha.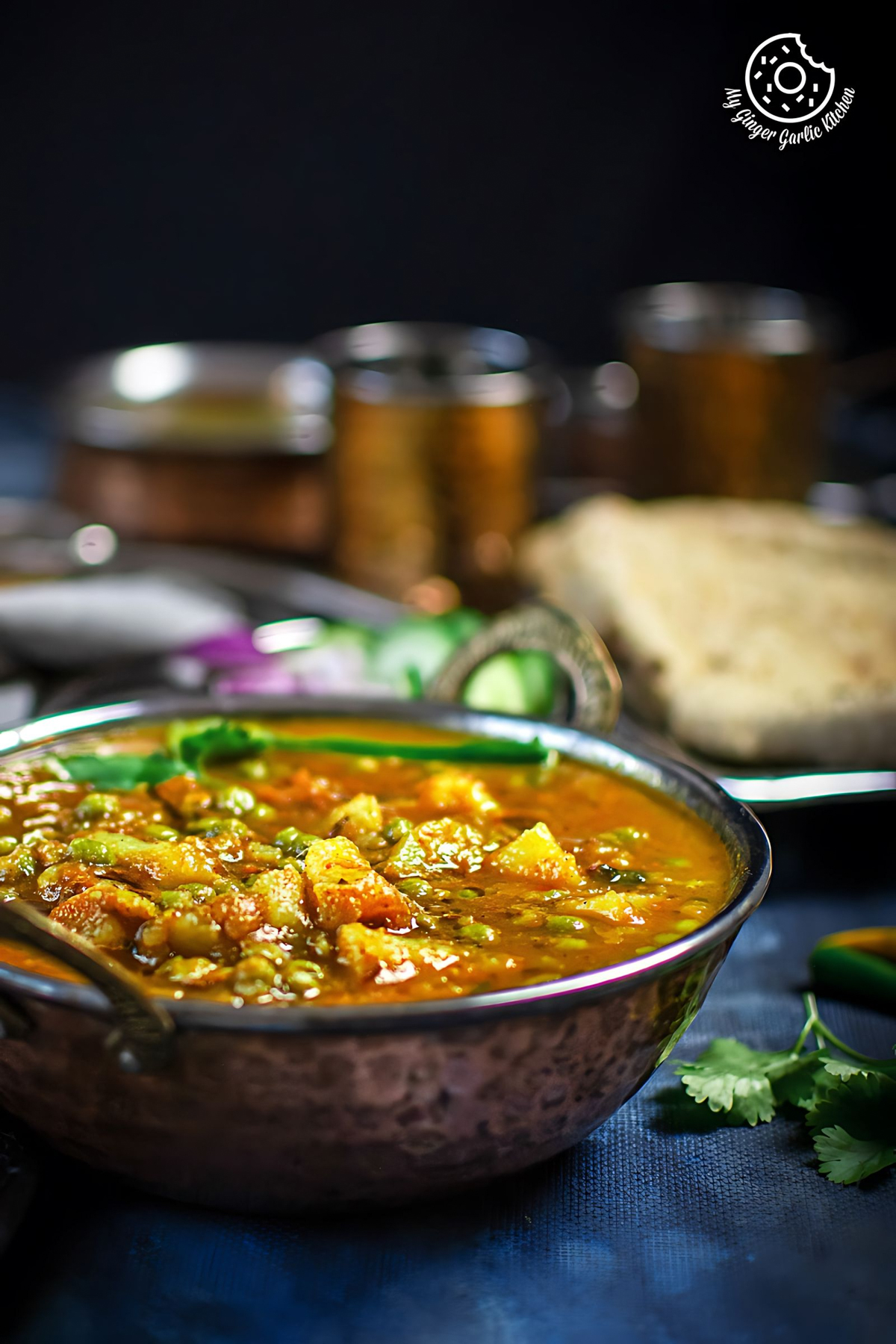 How to make Aloo Matar in an Instant Pot?
Making Aloo Matar in an Instant Pot is a piece of cake. You don't need to worry about anything, just make masala by sautéeing, add potatoes, matar, and water. Pressure cook. It's done! Can it get any simpler than this? I don't think so.
Let's start with making Aloo Matar in the instant pot with step by step instructions:
Add tomatoes, ginger, and garlic to a blender and puree. Keep it aside. Start the instant pot in sauté mode. When the display reads 'Hot', add oil. Once the oil heats up, add cumin seeds and asafoetida. When the cumin seeds start to splutter, add chopped onions and sauté them for 2 minutes.
Then add tomato puree and stir well. Sauté for 3-4 minutes, or until the mixture come to a boil. Now add spices and sauté for another 2 more minutes. Now just add green peas, potatoes and mix well.
Add water and stir well again. Cover the instant pot with lid, set the valve to sealing position. Cook on manual (high pressure) for 3 minutes. NPR (Natural pressure release) for 5 minutes, and then do a quick pressure release. Once the pin drops, open the lid.
Add the Garam Masala powder, and chopped coriander leaves. Mix well and cook for 1 minute. Lightly mash potatoes using a fork, this is to ensure that you get a thick creamy gravy. Serve hot with some or .
How to make Aloo Matar on stovetop Pressure Cooker?
To make Aloo Matar on stovetop pressure cooker you need to perform the following steps:
Add tomatoes, ginger, and garlic to a blender and puree. Keep it aside. Heat oil in the pan or pressure cooker. Add cumin seeds and asafoetida. Add the chopped onions and sauté them for 2-3 minutes. Then add pureed tomatoes, and saute for 3 minutes over medium heat. 
Add the spices and mix everything well. Cook for 1 minute. Add green peas, potato, and water. Mix well, and let it come to boil. 
After that, just close the pressure cooker lid and pressure cook for 2 whistles on medium heat. Turn -off the stove, and let the pressure cool off completely before opening the lid.
Now add garam masala and chopped coriander leaves.
Mix well and cook for 2 minutes. Also, lightly mash the potatoes using a fork. Serve hot with any .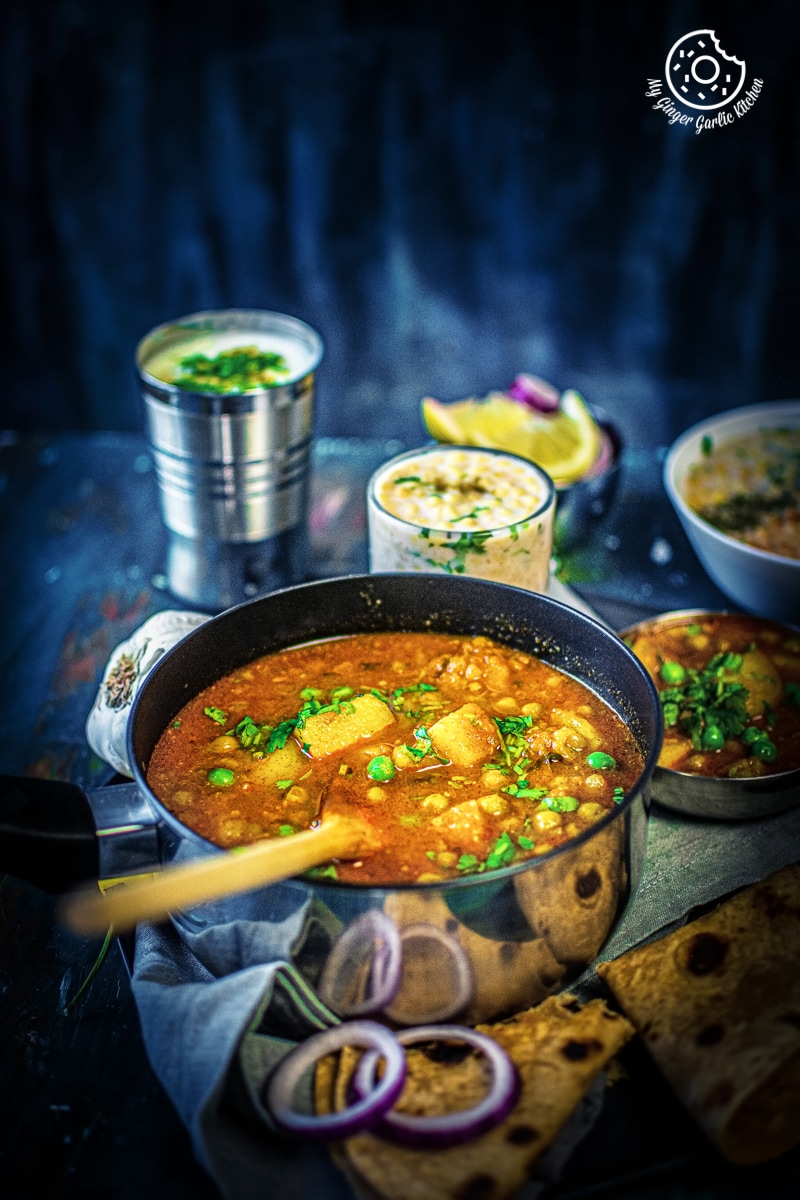 What are other Indian dishes made with 'Aloo'?
In Indian Cuisine, potato is one of such vegetables which works as a filler. You can fit it into any other vegetable/meat dish. An ordinary vegetable would become EXTRAORDINARY with just the presence of this modest vegetable. 
In a way, potatoes are magical like water — they take the characteristics of the vegetable they are mixed with. For instance, a plain 'cauliflower curry' alone never tastes so great when made alone. But when you add 'potatoes' in it, the taste of this dish '' goes to the next level.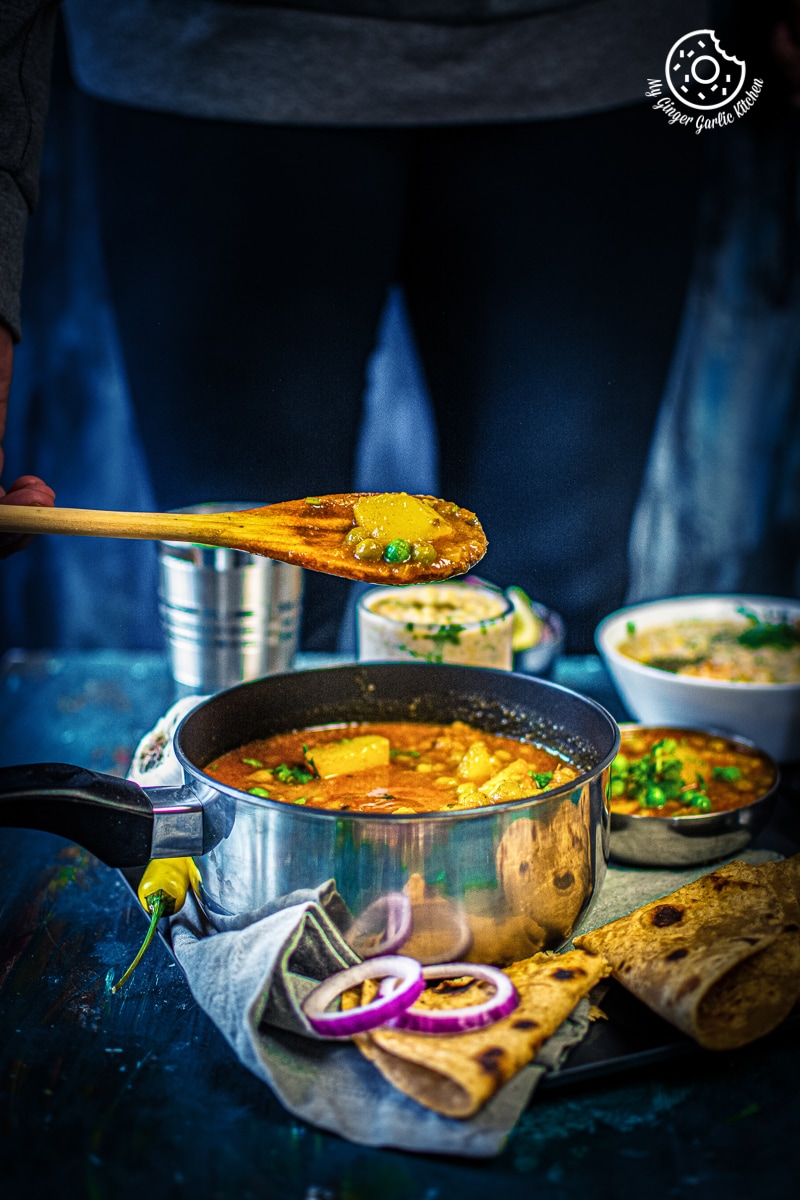 What are the other Variations of Aloo Matar Curry?
Coconut Aloo Matar: 
To cook this dish, add some coconut milk to make this curry while cooking.
Matar Paneer: 
Replace potato with paneer to make simple Matar Paneer curry.
Aloo Matar Paneer: 
To make Aloo Matar Paneer, simply fry the diced potatoes and paneer cubes in oil, and then add them to the masala.
Mushroom Aloo Matar: 
For cooking Mushroom Aloo Matar, add some sliced mushrooms along with potatoes and peas, and the rest of the recipe is the same.
Can I make Aloo Matar without onion and garlic?
Yes, you can make it without onion and garlic. This is how you make it. Puree tomatoes with ginger and green chilies and omit the garlic pods. Also, omit onions and replace them with 2 tbsp of gram flour. So basically, you sauté gram flour for 2 minutes instead of onions. Then you add tomato puree to it. 
Can I make it with frozen green peas?
Yes, it is feasible to cook this curry with frozen peas. In fact this potato peas curry can be made with both fresh and frozen green peas. To use frozen green peas in this recipe, just thaw them at room temperature for 30 minutes and then add them to cooked onion tomato masala along with potatoes.
In short This Aloo Matar recipe:
✓ is easy and quick to make.
✓ goes well with or any flatbread of choice and also with rice
✓  is made with basic ingredients.
✓ is ready under 25 minutes.
✓ is vegan and gluten-free.
Tips and Variations:
Amchoor powder adds a nice tang to this dish 'Aloo Matar', but if you don't have amchoor powder then you can instead use some freshly squeezed lemon juice. Squeeze lemon juice just before serving the curry.
You can skip green chilies if you want to make it less hot. 
I used tomato puree to get a smoother gravy, but you can also replace tomato puree with finely chopped tomatoes, chopped green chilies, and minced ginger and garlic.
For a nicer fragrance, you can also add 1 tsp of kasuri methi (dried fenugreek leaves) along with garam masala powder.