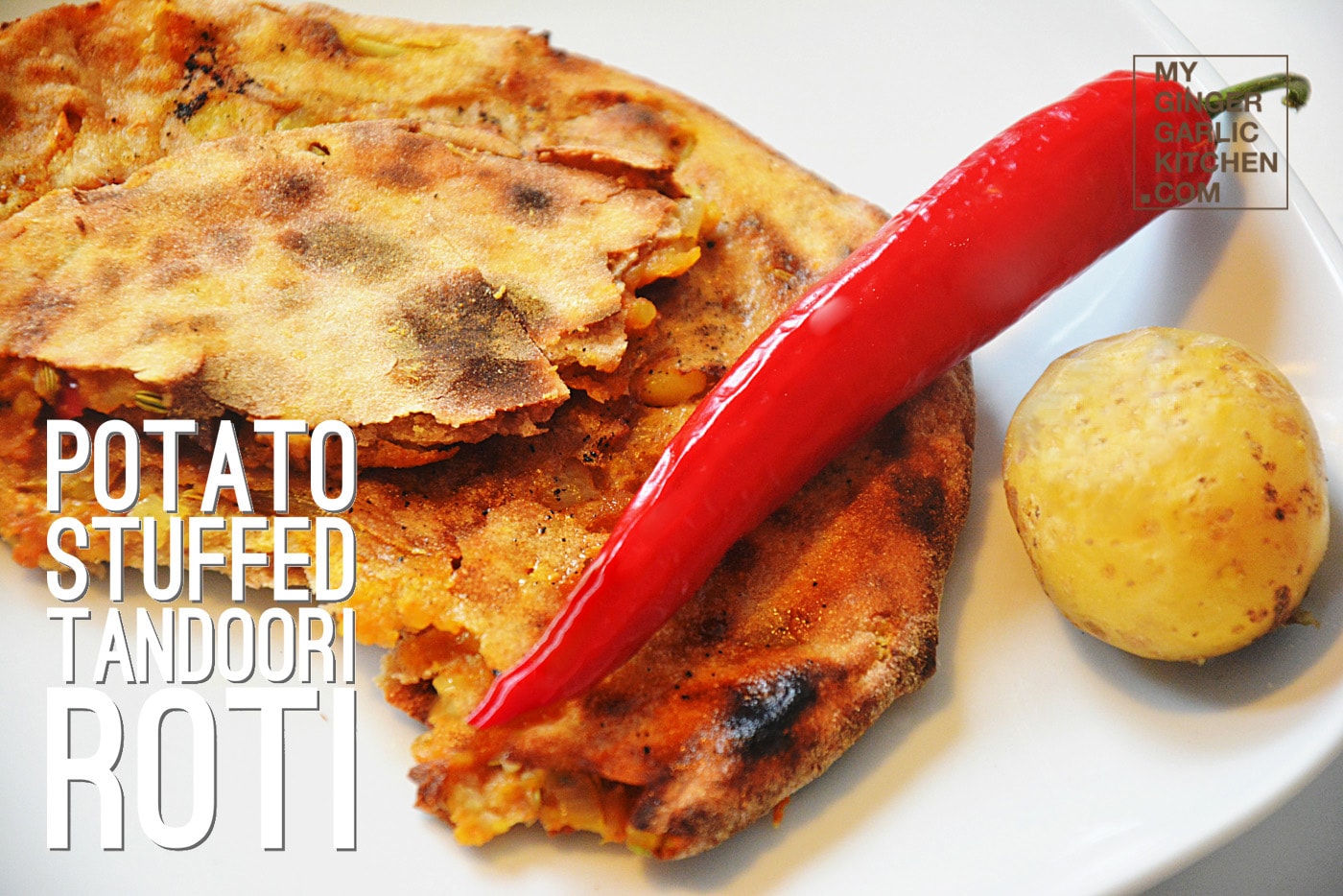 Prep time: 10 minutes
Cooking time: 20 minutes
Servings: 4

What makes Potato Stuffed Tandoori Roti so exotic?
Potato Stuffed Tandoori Roti is a part of 'Tandoori Platter'. Tandoor is a clay oven of a type used originally in northern India. Anything, which is cooked in tandoor is called Tandoori. It gives you the same authentic taste, even if it is cooked in electric oven. It is such a delight that it certainly classifies as exotic.
What makes it so yummy?
Tandoori roti is a blend of whole-wheat flour, yogurt, baking soda and salt. These ingredients and the aroma of grilling in tandoor or electric oven makes it really desirable. And, when this delightful recipe comes with potato stuffing, this one is to die for.
Let's learn how to make Exotic Potato Stuffed Tandoori Roti.
[glg_short_divider]
Ingredients for stuffing:
2 boiled potatoes
1 onion, finely chopped
2 tbsp coriander leaves, finely chopped
2 green chilies, finely chopped
1 tsp red chili powder
¼ tsp graram masala powder
1 tsp amchoor  powder (dried mango powder)
½ tsp fennel seeds
1 tsp salt or as per taste
Ingredients for dough:
2 tbsp butter
1 tbsp oil
2 cups whole-wheat flour
2 tbsp yogurt
a pinch of baking soda
salt to taste
[glg_short_divider]
Method:
Mix all the ingredients, except butter, in a bowl and knead into a semi-smooth dough. You can add water, if required.
Divide the dough into 4 equal portions. Keep aside.
Take a large bowl, and add potatoes and mash.
Add all the stuffing ingredients to the mashed potatoes and mix them properly.
Roll out one portion of the dough into a circle of around 5 inches diameter.
Place 2-3 tbsp filling mixture in the center of the dough circle.
Bring together all the sides in the center and seal tightly.
Roll out again into a circle of around 5 inches diameter with the help of some flour. Put it in a pre-heated oven at 220 degrees (broil).
When top side is done change the side and keep a check till properly baked.
Once cooked, spread butter over it. Serve hot with yogurt, achaar, chutney.
Enjoy!
Happy Cooking 🙂
[glg_short_divider]