Get ready to gorge yourself with a classic, super easy and flavorful Instant Pot Matar Paneer Recipe cooked in a spicy, rich and creamy gravy. This popular North Indian dish of Matar Paneer or Peas Paneer is one of the most fancied and all-time treasured dishes on the menu of almost every Indian Restaurant. And why not? Because who can resist succulent paneer pieces dunked in creamy, spicy, rich, comfy and satisfying gravy?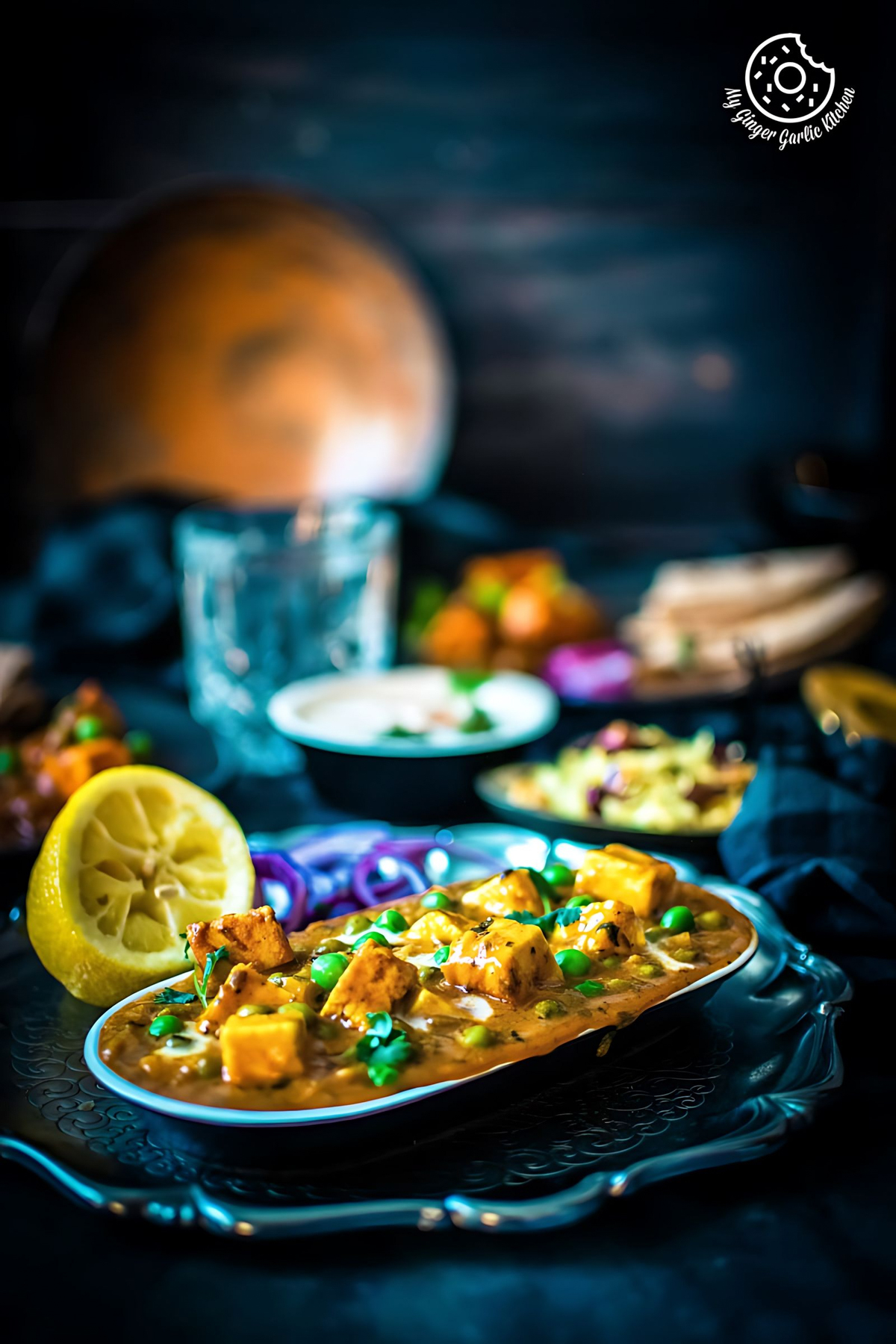 This is a Punjabi restaurant style matar paneer curry recipe which is inherently gluten-free and can be smoothly made into vegan. 
It will be on your dinner table in less than 20 minutes. Splendid, isn't it? So make this your go-to recipe for an awesome weekend or weeknight meal. Once you make Instant Pot Matar Paneer - Pressure Cooker Matar Paneer, you will never want to go back to the old ways of making it.
What is Matar Paneer?
Matar Paneer is a North Indian side dish which is served in Indian homes during dinner or lunch. Matar Paneer Curry is one of the most popular Indian dishes available throughout India. 
Be it a party, get-together, gatherings, marriages, family dinners, or restaurants — this exists everywhere. This Indian vegetarian curry made with green peas aka matar, and Indian cottage cheese aka paneer.
This delicately flavored Matar Paneer is a delicious mixture of Paneer cubes and peas mingled in a rich, onion tomato gravy and simmered together in a creamy curry. This curry is usually served with , , or . 
Those who like paneer recipes would surely love this Instant Pot Matar Paneer and I am unquestionably someone who loves all things paneer.
What is Instant Pot Matar Paneer?
Instant Pot Matar Paneer or Pressure Cooker Matar Paneer is basically same Matar Paneer curry cooked in Instant pot or Pressure cooker instead of a pan. This instant pot Matar Paneer has everything you yearn in a paneer curry. Making this curry is super easy and quick. Who doesn't like the simple and easy paneer recipe with exquisite taste without spending too much time in the kitchen? Everybody, right?
What is paneer?
is a fresh, unsalted Indian cottage cheese which is widely used in Indian cooking especially in curries. This non-melting cheese is mildly milky and it doesn't have a very pungent taste, so it blends beautifully with the spices. And thus, as a result, you get awesome paneer curries and other yummy dishes. 
Making your paneer only needs two ingredients:
Ingredient 1. Full fat milk
Ingredient 2. Any one of these:
Yogurt
Buttermilk
Vinegar
Lemon Juice
Citric Acid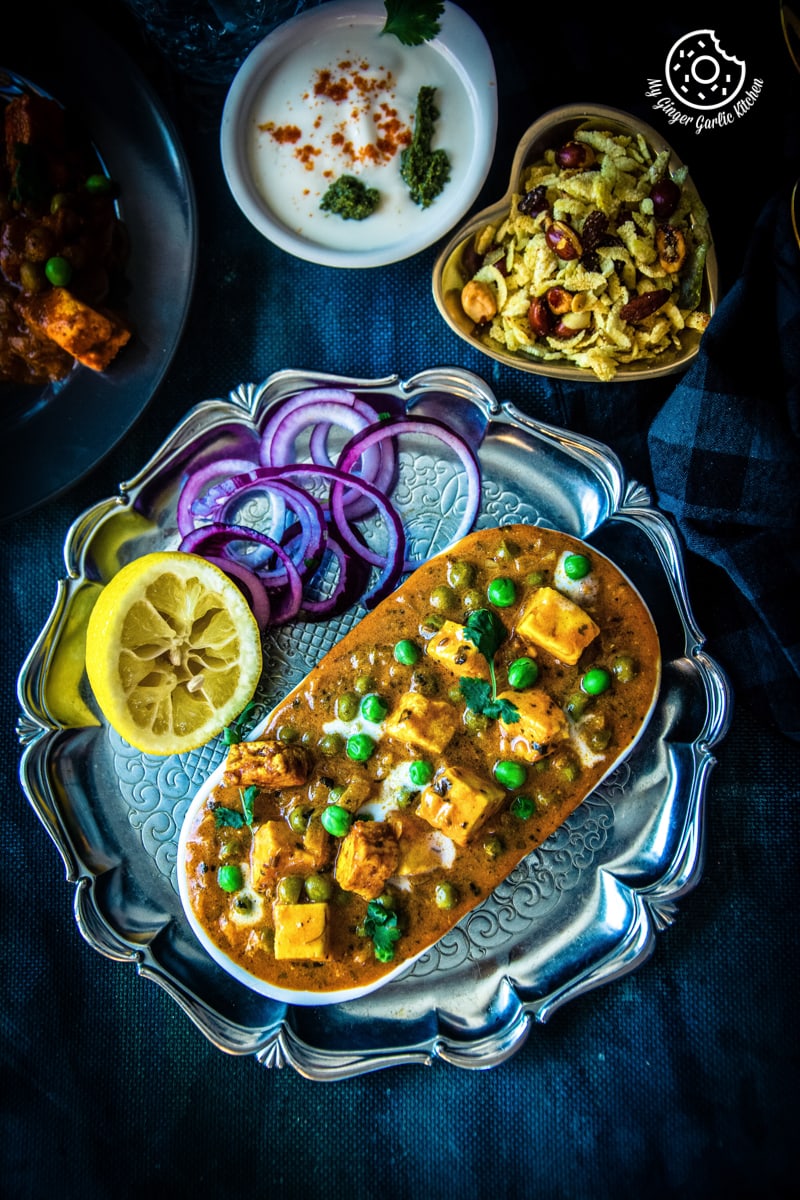 How do you make paneer at home?
For making paneer at home, it's very important that the whole milk (or full-fat milk) is used. If you will use fat-free or low-fat milk, then the milk will not have enough fat and would not curdle the way it should be, or might not curdle at all. 
First, you boil the milk and then add any of the above acidic agents to separate the curds and whey. When the milk curdles, you pass it through a muslin cloth to remove the excess liquid. Then rinse it well with the ice cold water. 
Finally, gather all the corners of muslin cloth, and squeeze well to remove all the liquids. Then wrap paneer in the cheesecloth and put some heavy weight on it for about 30 minutes. This pressing would give your paneer a firm shape. Once the paneer gets firm, it is ready to be used in the recipe. 
What type of paneer is best for Instant Pot Matar Paneer?
I generally use homemade paneer for all paneer recipes, because homemade always tastes the best. That's why for this Instant Pot Matar Paneer recipe, I have used homemade paneer. You can make paneer at home using this recipe.
But if you don't want to make paneer at home, then you can buy it from any of the local grocery stores, or from Asian/Indian grocery stores. They usually have it in the frozen section. You can get two types of paneer at the groceries — plain or fried. You can choose any of those. They both work.
Can I freeze Homemade Paneer?
Yes, you certainly can. Paneer is one of such ingredients which freezes so wonderfully. Whenever you want to use frozen paneer, just thaw them at room temperature, or toss it in hot water until the frozen cubes turn soft.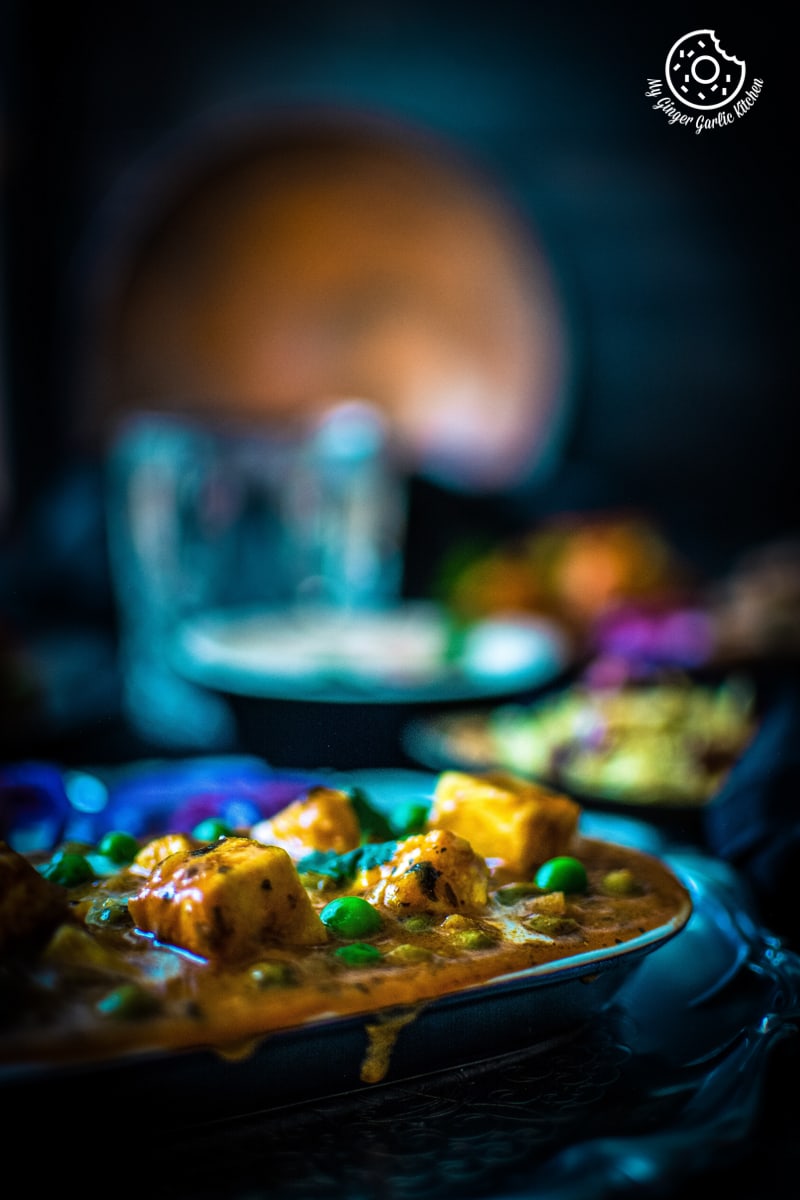 Why would you love this Instant Pot Matar Paneer?
Do you love Matar Paneer, and want to make it without a fuss?
Do you want to serve your family something exquisite, healthy and fuss-free?
You are looking for easy and effortless Instant Pot Matar Paneer Recipe?
Looking for a lip-smacking curry which can be ready in under 20 minutes?
If you said yes to all or any of the above, then this Instant Pot version of Matar Paneer is calling your name. Now you can easily make this restaurant-quality Indian Matar Paneer in your Instant Pot or in a stovetop Pressure cooker. When you cook this curry in Instant Pot you save a mountain of dirty dishes. Making this classic curry in an Instant pot or pressure cooker takes only 20 minutes. 
Reasons to choose this Instant Pot Matar Paneer:
✔︎It gets ready in no time
✔︎It is cooked in one pot
✔︎It is gluten-free
✔︎It is nut free
✔︎This recipe is mess-free and gets cooked efficiently.
✔︎This recipe requires no stirring or babysitting.
Types of equipment you will require to make instant pot matar paneer:
Instant pot or stovetop pressure cooker
A spatula
A blender
A chopping board
Measuring cups
Kitchen Knives
What are the Ingredients of Instant Pot Matar Paneer Recipe?
Cooking Oil
Cubed Plain Or Fried Paneer Chunks
Green Peas, Fresh Or Frozen
Green Chillies
Some Essential Spices
Chopped Onion
Tomato Puree
Ginger Garlic Paste
Yogurt And Cream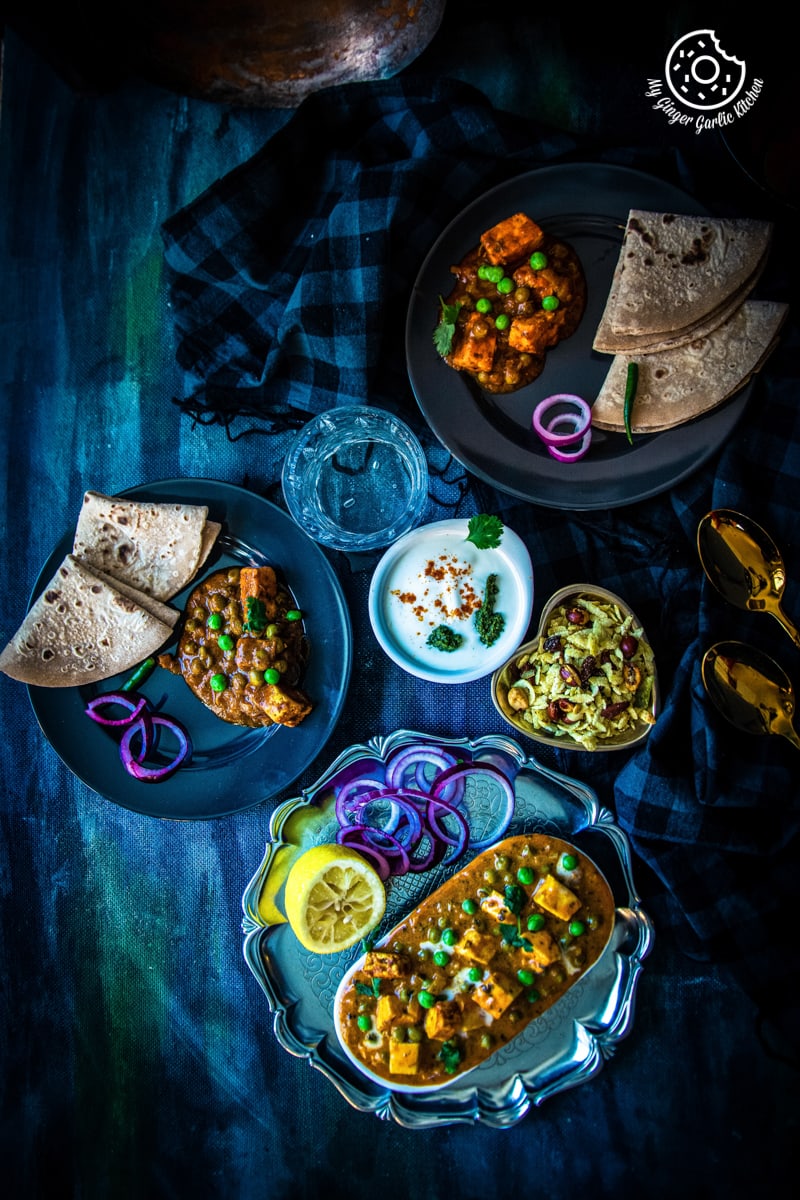 How do you make Instant Pot Matar Paneer?
For making Instant Pot Matar Paneer recipe, first, you need to make the sauce. The mild, smooth sauce for paneer curry is made with a blend of flavorful spices, and a combination of onion, tomatoes, garlic, and ginger. Once the sauce is ready, paneer and peas are added to this sauce and pressure cooked for 5 minutes on high. 
Finally simmered for a few minutes with some fresh cream, coriander leaves and garam masala to intensify and blend the flavors of this curry. Your melt-in-mouth and luscious Instant Pot Matar curry is ready to be served. So basically, you saute, seal, pressure cook, and that's it, it's DONE!
Finally, top with fresh coriander leaves and serve alongside your favorite flatbread or plain rice, and you are all set for a satisfying and wholesome meal.
How to make Instant Pot Matar Paneer - Vegan version?
Making a vegan version of matar paneer is really easy. Simply follow the same recipe and swap paneer with tofu, yogurt with vegan yogurt, and cream with some coconut cream or cashew cream. Your vegan Matar paneer or 'matar tofu' is ready.  Make it vegan or not, it tastes super delicious.
How to serve Instant Pot Matar Paneer?
Matar paneer is a vegetarian side dish and can be served with flatbreads like , , , , or . You can also serve it with some plain steamed basmati rice or any pulao of your choice.  
Tips and tricks for making Instant Pot Indian Matar Paneer recipe:
I have added fresh full fat cream here. It gives that restaurant style rich taste to the curry. You can also use low-fat cream for a lighter version.
Milk cream can easily be substituted by cashew cream or coconut cream.
I have used plain paneer for this recipe, but you can also use fried paneer. 
Yogurt gives a perfect tang to this, so it's highly recommended. 
You can also add 1 tsp of sugar or honey for that slightly sweet taste.