This simple and healthy homestyle Aloo Palak or Spinach Potato Stir Fry is a vegan side dish from the North Indian cuisine where spinach and potatoes are stir-fried together along with mild spices. This wonderful, healthy, and flavourful vegan dish is made with minimal use of spices and can be made under 25 minutes. It goes best with any flatbread like , , rice, or even with a tortilla.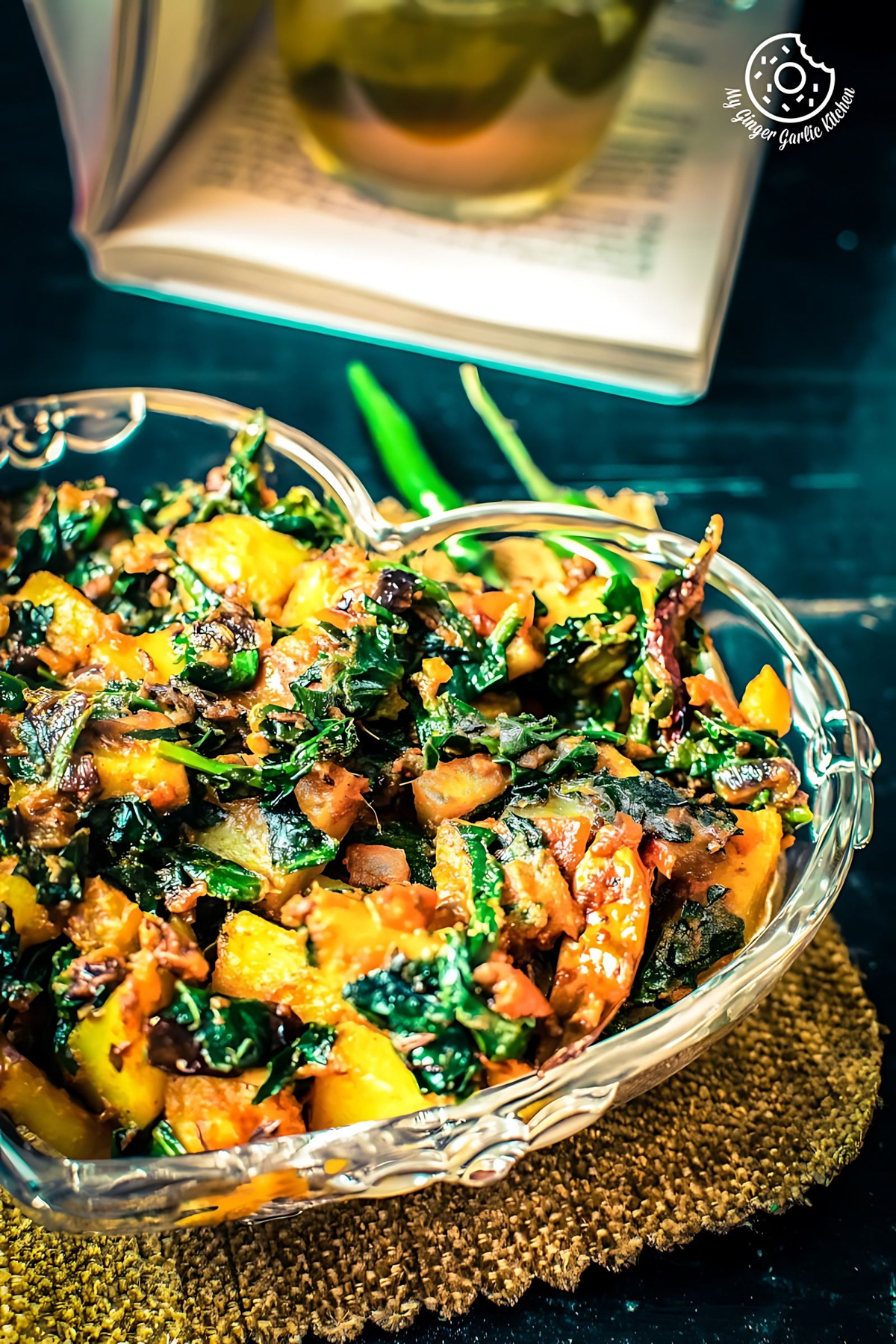 This homemade version of aloo palak sabzi is very comforting and delicious because it uses very simple spices. This aloo palak is an awesome way to relish spinach. So if you love spinach and potatoes combination, then you can't afford to miss this amazingly delicious, healthy and flavorful North Indian dish 'Aloo Palak'. 
Potatoes (aloo) and green leafy veggies (hari sabji) make a great pair, and thus potato is added to many Indian recipes where the key ingredient is a leafy vegetable. No wonder potato is one of the most used vegetables in Indian cuisine. We Indians love to add potatoes to our staple side dishes. 
There are many potato based Indian style dishes such as , , , , , and . This list is endless. Basically you can add aloo in home-cooked Indian side dish and it works as a guard for those who don't like that particular veggie. Potato is somehow so comforting.
Aloo palak recipe is a winter dish when fresh leafy green spinach or palak is in abundance in the farmers market.
There are many ways of making a simple yet delicious aloo palak recipe. The main two types of aloo palak recipe variations are dry aloo palak recipe (sukhi sabzi) or wet curry version of aloo palak recipe (geeli, pani wali or ). Most of us love both versions. The curry version makes a delicious side dish for dinner and the dry version makes wonderful side dish to pack in the lunch box.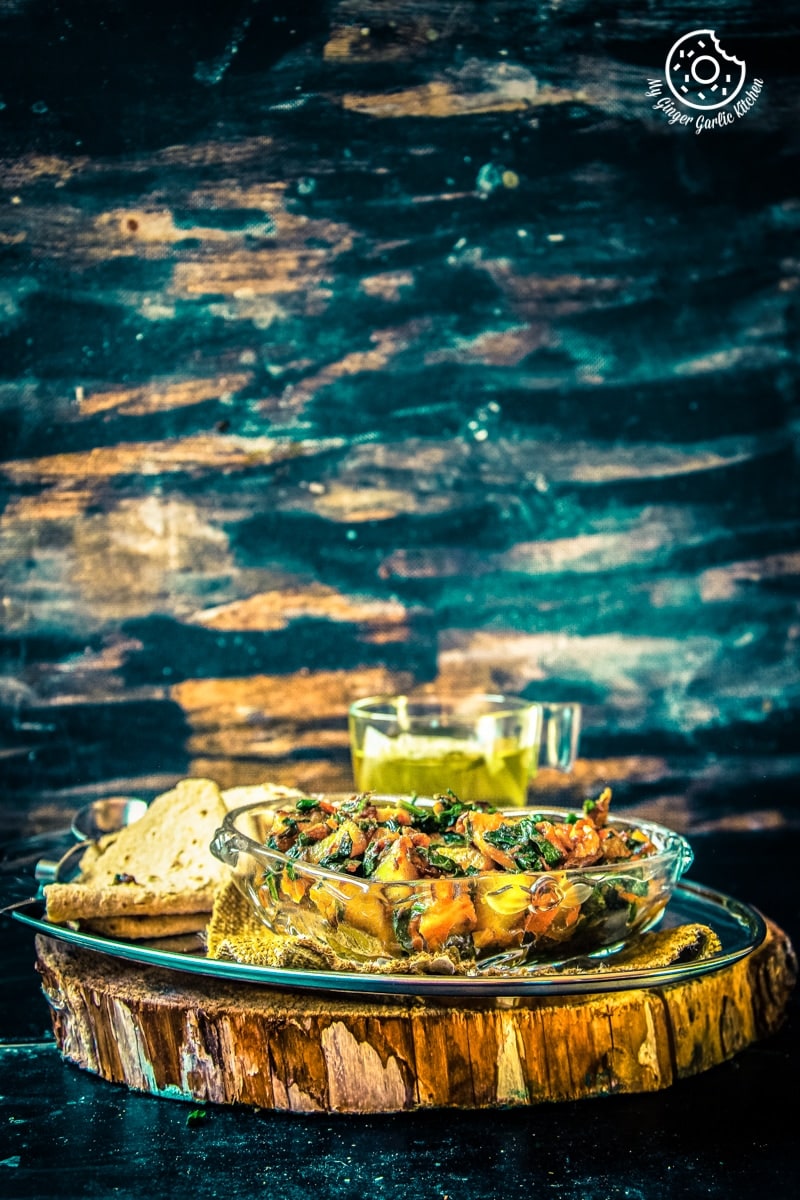 The dry aloo palak version is stir-fried and always made in a pan. The version I am sharing today is a dry version of Aloo Palak which is simple and easy to cook and tastes delicious.
On the other hand, the wet version of aloo palak can be made in several ways. The first way is pressure cooking. In this variant of aloo palak: potato, spinach, onion tomato masala, and water are pressure cooked together. Then there is another pureed version of Aloo Palak which looks similar to .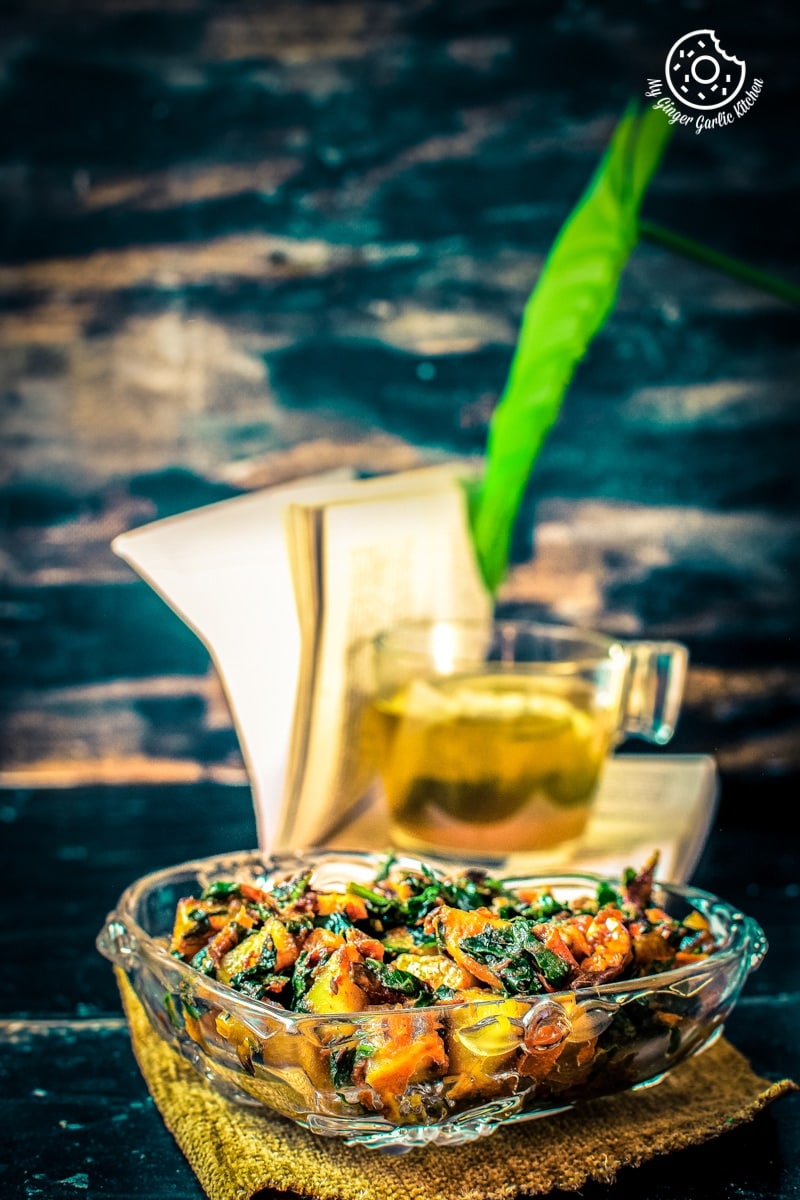 When we talk about Spinach or Palak, this is also a versatile vegetable. You can cook it in many ways. 
Here are some options to consume the goodness of spinach or palak in your meals:
What is Aloo Palak?
Aloo Palak or Spinach Potato Stir Fry is an easy to prepare, delicious and flavorful Indian stir-fried side dish made with potatoes and spinach with very few aromatic spices. In this recipe, Aloo refers to potatoes and palak refers to spinach in the Hindi language. 
What are the other names of Aloo Palak?
Aloo palak is also known as aloo palak bhaji, aloo palak dry sukhe aloo palak, palak aoo ki sabji, sukhi aloo palak ki sabzi, or aloo palak dry sabji. 
How to serve Aloo Palak?
This simple and home-cooked 'Aloo Palak Sabzi' can be eaten with some piping hot roti, paratha or puri. A combination of simple , some steamed rice, aloo palak, , and some make a wonderful Indian lunch. This is how Aloo Palak is served in most Indian homes. 
Also, an easy sabzi like this aloo palak makes a great stuffing for chapati roll or tortilla wraps. Kids as such don't like spinach, but if you give them this sabzi in the form of a wrap or roll, they would not only love to eat this spinach potato stir fry, but it might become their ultimate favorite. So this is a great idea to make 'aloo palak' roll or wrap to pack in your kid's school lunch box. This side dish also goes well with some lightly flavored fried rice such as mint pulao, or lemon rice.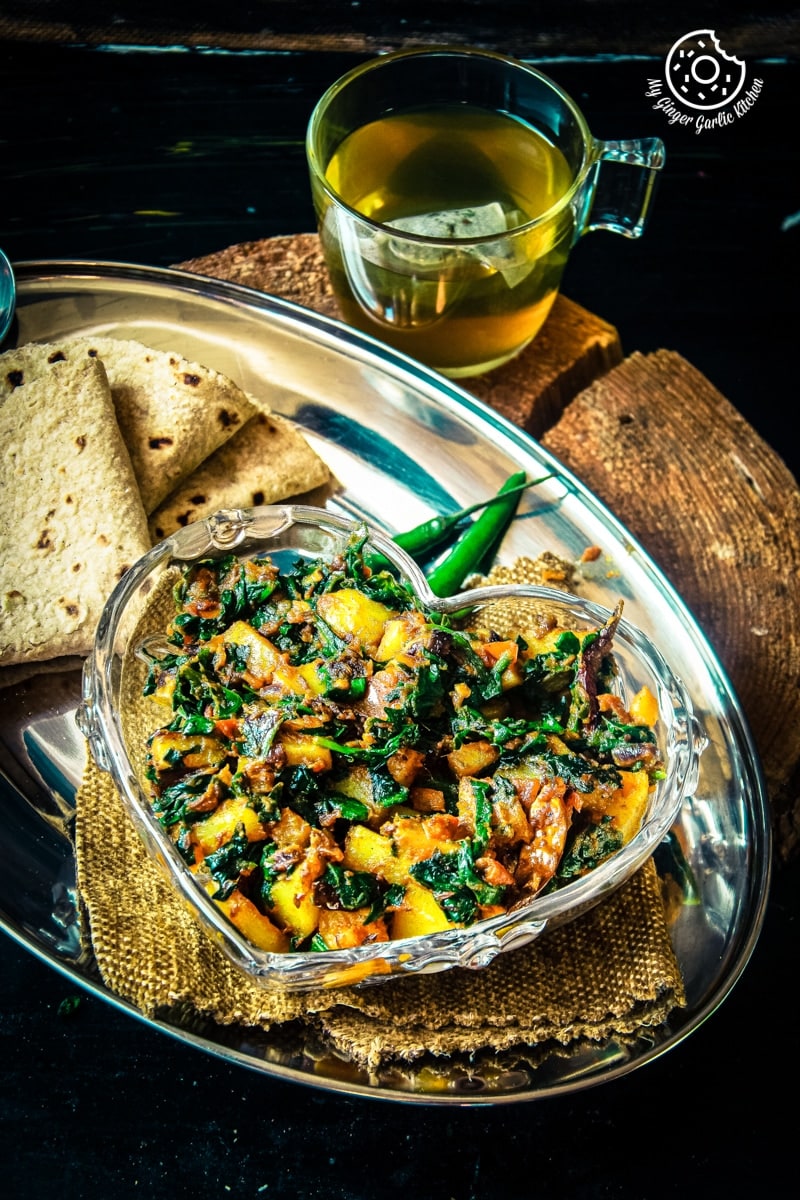 How to Make Aloo Palak?
To make this simple dry aloo palak sabzi recipe, first, fry some cumin and dried chilies in oil. Then add chopped onions and saute until translucent. Then add ginger and garlic paste and saute for another minute. Then add potatoes and fry them until cooked and tender. Then add palak, tomatoes, spice powders and cook for 3-4 minutes. Done! It is that simple. 
This Aloo Palak Recipe:
✓ is gluten-free and vegan
✓ is healthy, flavourful and made with mild spices 
✓ makes an ideal side dish to pack in the lunch box
✓ is the best way to consume the fresh leafy greens in the market
✓ goes perfectly well with any flatbread like roti or paratha'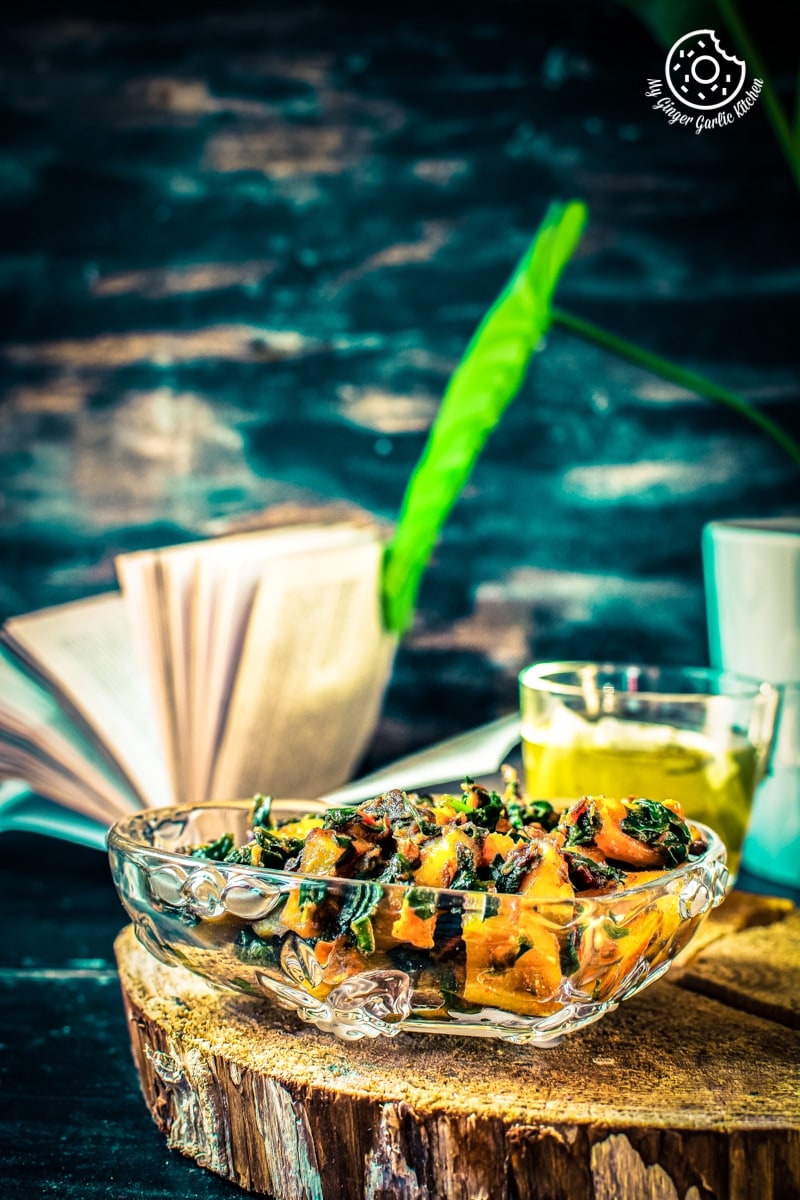 Tips and Variations to make aloo palak:
I fried potatoes for this recipe because in this recipe they taste great when fried in oil. If you want to make it faster, or if you don't want to fry potatoes, then you can also add boiled potatoes to this recipe. If you are planning to use boiled potatoes then fry them only for a minute and the rest of the recipe will be the same.
I like the tartness that comes from the tomatoes, so I add them. Adding tomato in this dish is optional. If you don't want to add tomatoes, you can either skip it or substitute it with a splash of freshly squeezed lemon juice. 
Potato and spinach shine without many flavorings and garam masala rules over its native taste. So I do not add garam masala in this dish because I love aloo palak without too many additional flavorings. If you like it more flavourful then you can use about 1/4 tsp garam masala.
I have used ginger and garlic paste in this recipe. You can also use freshly minced ginger and garlic.
Ginger is optional, you can skip if you don't like it. 
Do not add too much coriander powder to this sabzi, or else it would turn bitter. If you want you can completely skip adding coriander powder.
Always end the spinach after the potatoes are cooked. And do not overcook the spinach. Cook only for 3-5 minutes. Too much cooking alters the taste and takes away the nutritional value of the leafy greens.
Do not chop potatoes too big, otherwise they will take a long time to cook and would not taste good with spinach. 1/2 inch to 3/4 inch chopped potato is a good size for aloo palak.
I have added some red chili powder to this recipe. You can replace red chili powder with some freshly chopped green chilies. My Mom adds only green chilies to this aloo palak and it tastes great.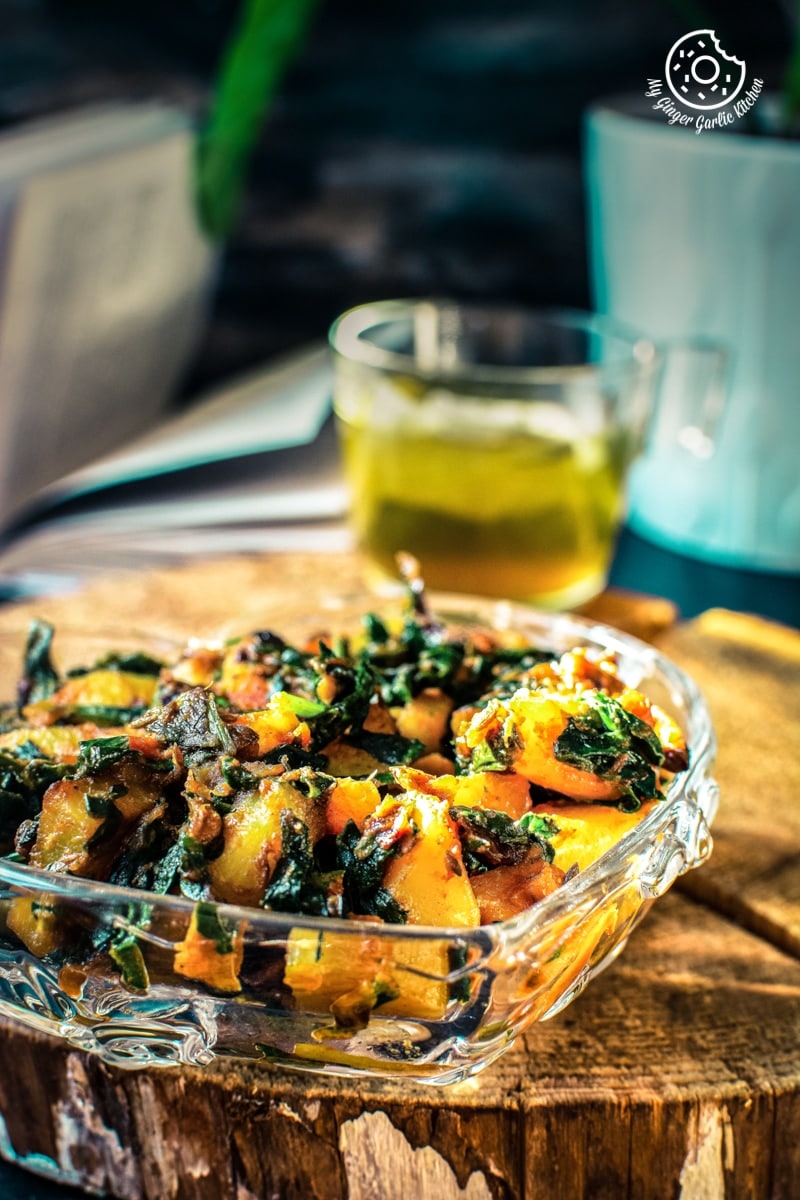 Aloo Palak - Spinach Potato Stir Fry

[Recipe]
Easy and healthy homestyle Aloo Palak is a gluten-free, vegan side dish from North India where spinach and potatoes are stir-fried along with mild spices.
---
★★★★✰
(Rating:
4.5
from
12
reviews)
---
| Prep time 🕐 | Cook time 🕐 | Total time 🕐 |
| --- | --- | --- |
| | | 25 mins |
| Category ☶ | Cuisine ♨ | Serves ☺ |
| Side | Indian | 4 |
| Nutrition Info ⊛ | | Serving size ⊚ |
| 205 calories | | 1 serving |
---
INGREDIENTS
For Aloo Palak
2.5 teaspoons cooking oil (tel)
1 teaspoon cumin seeds (jeera)
3 dried red chilies (sukhi lal mirch), small
1 medium sized onion, chopped ( I used red onion)
1 tablespoon garlic paste (You can also use freshly minced or grated garlic)
2 medium sized potatoes (aloo), cut into 1/2 inch small pieces
1 tablespoon ginger paste, optional (You can also use freshly minced or grated ginger)
Salt to taste
5 cups finely chopped spinach (palak)
1 medium sized tomato (tamatar), chopped
1/4 teaspoon turmeric powder (haldi powder)
1/2 teaspoon coriander powder
1 teaspoon red chili powder, or as per taste (You can also use chopped green chilies instead of red chili powder)
---
INSTRUCTIONS:
How to make Aloo Palak //
Heat 2.5 tablespoons oil in a broad pan over medium heat.




Once the oil is hot, add the cumin seeds and let them sizzle for 2 seconds.




Next, add dried red chilies and saute for 2-3 few seconds.




Then add the chopped onions, and saute them for about 3 minutes or until translucent.




Next, add ginger paste, garlic paste and saute for another 2 minutes.




Stir in the chopped potatoes and mix well to coat.




Then add salt, and turmeric powder and mix well again.




Toss to combine until all the potatoes are well covered with the onions.




Cover the pan with a lid and cook for 5-6 minutes over medium heat. (Keep stirring occasionally, to prevent it from sticking to the bottom.)




Add chopped spinach, chopped tomatoes, red chili powder, and coriander powder.




Mix everything well to combine.




Close the pan again with lid and cook on medium heat for about 3 minutes or until cooked.




This is a dry version of aloo palak sabji, so make sure there is not any water left at this point.




Serve aloo palak with any flatbread of your choice.



---
WATCH RECIPE VIDEO: Click the play button and video will load ...
---
NOTES:
I made homestyle simple aloo palak which does not require garam masala powder. But if you want to make it more flavourful, then you can also add about 1/4 teaspoon of garam masala to this recipe.

You can also adjust the amount of spinach according to your likings.
---
If this recipe helped you, then please spread the word by sharing and
subscribing
to us on YouTube to get more such Recipe Videos.
---
Your feedback is so helpful for me and other MyGingerGarlicKitchen readers. So, for Facebook and Instagram, please mention
@MyGingerGarlicKitchen
or
#mygingergarlickitchen
. I would love to see your photos. :)
---
Author:
Anupama
Recipe Source Link:
https://www.mygingergarlickitchen.com/aloo-palak/
Date Published:
2019-11-01
• • • • • • • • • •