This classic and moist fruit cake is balanced in flavors and studded with delicious-tasting soaked dried and candied fruits. 
For better taste, mature this fruit cake for a week. A final drizzle of orange glaze or apricot glaze before serving makes it even more enticing.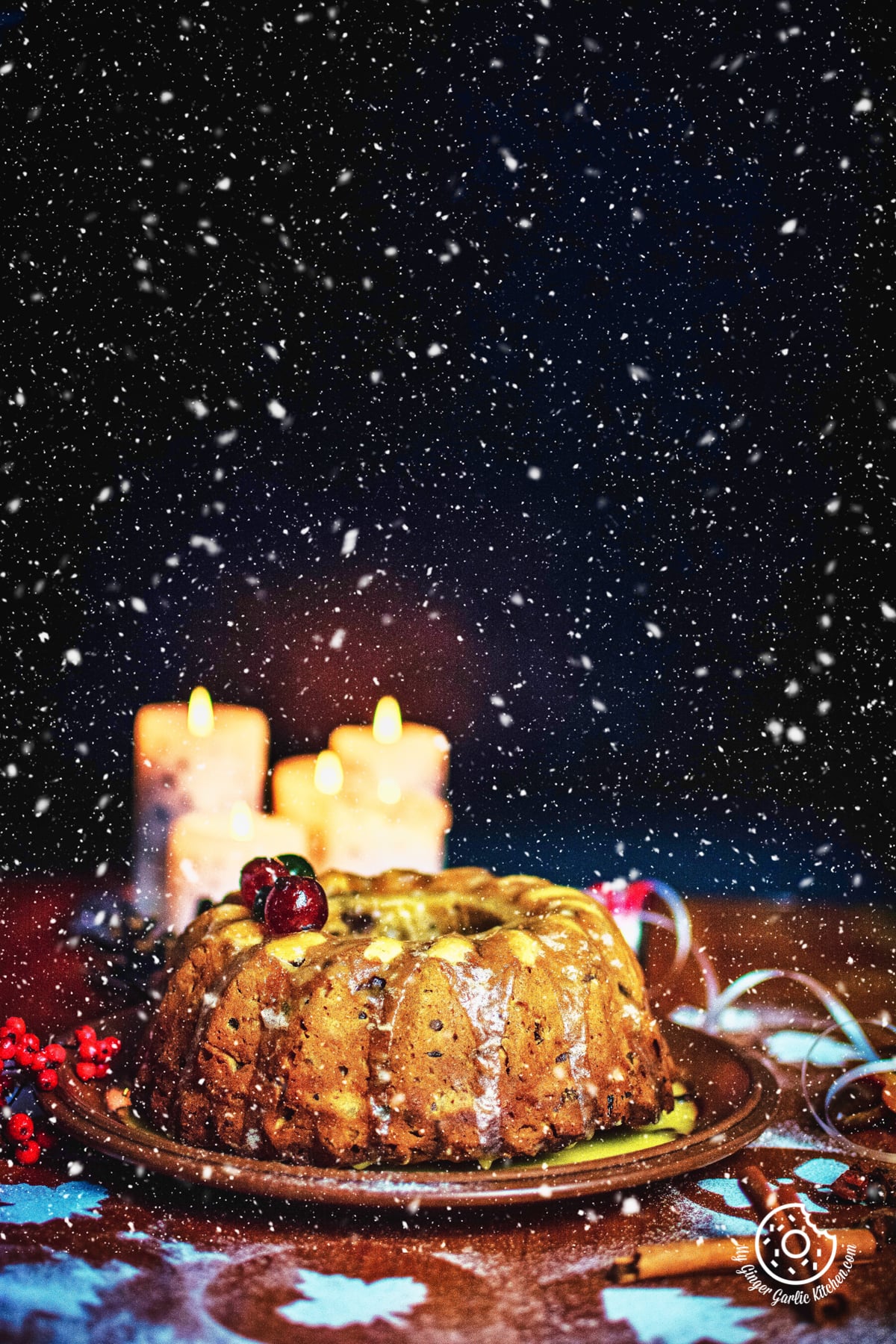 This festive, flavorful, and deliciously moist fruitcake is all you need to enjoy the holiday season. This fail-proof holiday staple recipe of fruit cake can never go wrong.
The combination of nuts, dried and candied fruits in this cake is beyond the word delicious. This cake is a delight for fruit lovers because it has so many soaked dried and candied fruits and very little batter, which is there to just hold the cake.
This fruit cake is beautifully jammed with dried fruits (raisins, juicy dates, dried cranberries, dried figs, and dried apricots), nuts (walnuts, almonds, cashews, and hazelnuts) and candied fruit.
Christmas is not considered celebrated without slices of fruit cake. And this recipe has some exotic alcohol and non-alcohol options for soaking dried fruits. So making it kid-friendly is actually a piece of cake, literally.
Make this for Christmas and your family would surely pat on your back for this fantastic fruit cake.
Fruit cake is one of the most popular recipes during Christmas.
A slice of beautiful fruit cake along with a warm mug of mulled wine is all you need to celebrate Christmas and all the winter festivities.
If you have ever been skeptical about a fruit cake, then try this one! This recipe produces the best fruit cake in the world and it is the only recipe my family enjoys.
This Fruit Cake:
✓ Is easy to make.
✓ Is loaded with dried and candied fruits and nuts.
✓ Makes a perfect gift.
✓ Is made with wholesome ingredients.
✓ Can be made with or without alcohol.
✓ Moist and has perfectly balanced flavors.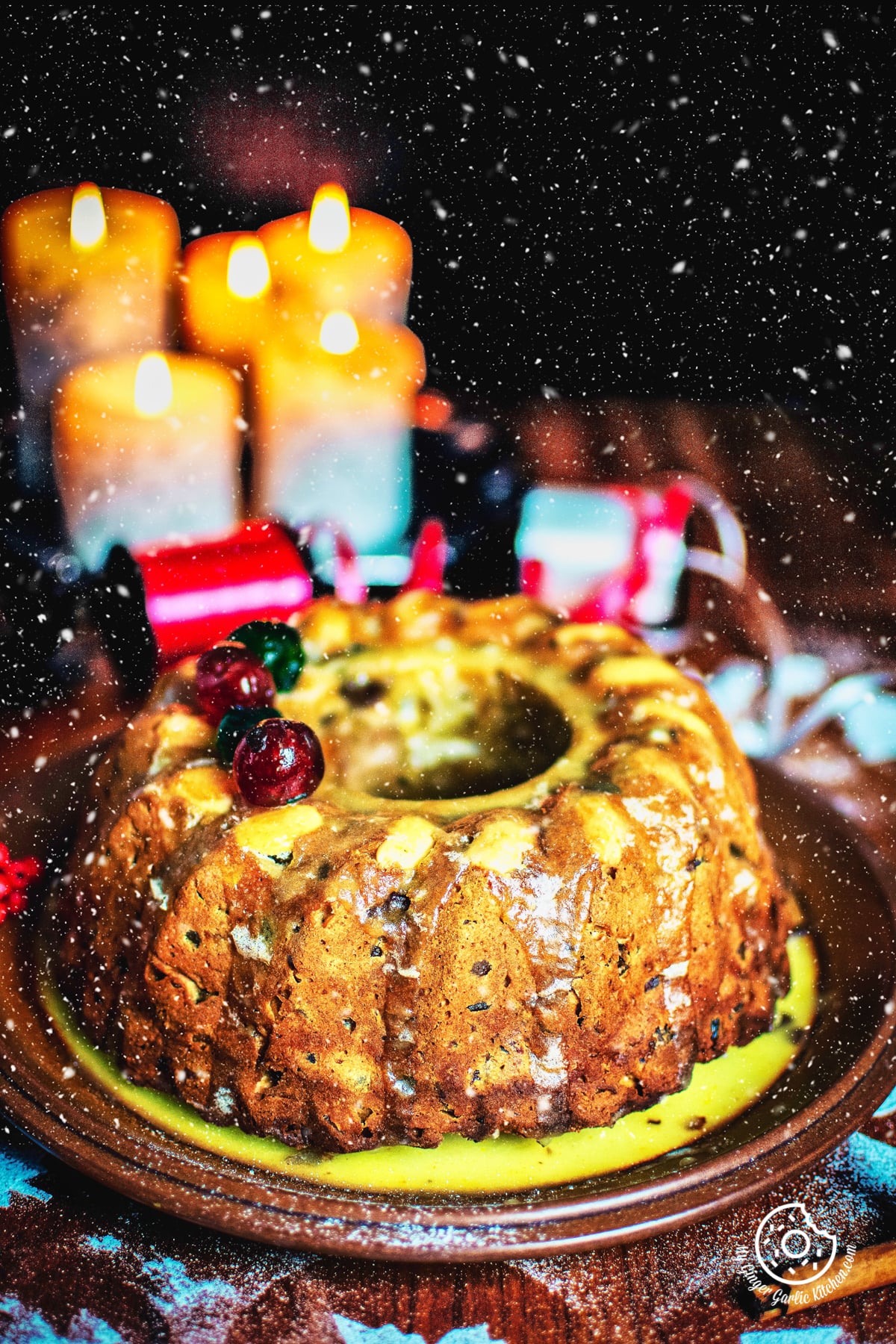 What Are The Ingredients For Fruit Cake Recipe?
This simple and delicious fruit cake uses basic ingredients easily available in the kitchen cupboard. These are:
Butter
A mix of dried fruits, candied fruits, and nuts
Alcohol or juice
Butter
Sugar (Brown and White)
Eggs
Cinnamon powder
Cardamom powder (optional)
Flour
Baking soda & Baking Powder
What Is Candied Fruit?
If you're not familiar with candied fruit then this description is for you. Candied fruit is preserved fruit that has been cooked and dried in concentrated sugar syrup.
Can I Make This Fruit Cake Gluten Free?
Yes, you can. To make it gluten-free simply replacement all-purpose flour with gluten-free all-purpose flour and add about 1 teaspoon of xanthan gum or gum gum along with the flour.
Is It Necessary To Drizzle Cake With Glaze?
No, it's not. It just tastes delicious and more fruity. You replace orange glaze with some orange or lemon jam or you can completely skip the glaze.
How To Store Or Preserve Fruit Cake?
After the cakes have cooled completely, you can store them. There are two ways of storing this fruit cake. Boozy or non-boozy kid-friendly way.
To store fruit cake you can either brush it with simple syrup and then wrap in plastic wrap. The cake would stay tasty and moist for 8-10 weeks when stored in a cake tin.
Or brush 1-2 tablespoons alcohol over the cake immediately when it is removed from the oven and then wrap tightly in cheesecloth soaked in alcohol such as dark rum, sherry or brandy. Then wrap this cheesecloth-wrapped cake in aluminum foil or plastic wrap.
Can I Brush The Fruit Cake With Alcohol Or Syrup?
You can brush the fruitcake either with alcohol or with simple syrup. Brushing imparts additional moisture, and it lets the flavorings in the cake to embrace and strengthen. 
If brushing with simple syrup then you need to brush the fruit cake only once or twice. 
However, if brushing with alcohol then make sure to brush the cake every week or when it is dried. It is also recommended that you wrap the cake in alcohol-soaked cheesecloth for better flavor.
If you want to store the cake without brushing, then you can also do that. But the un-brushed cake won't stay moist for a long time.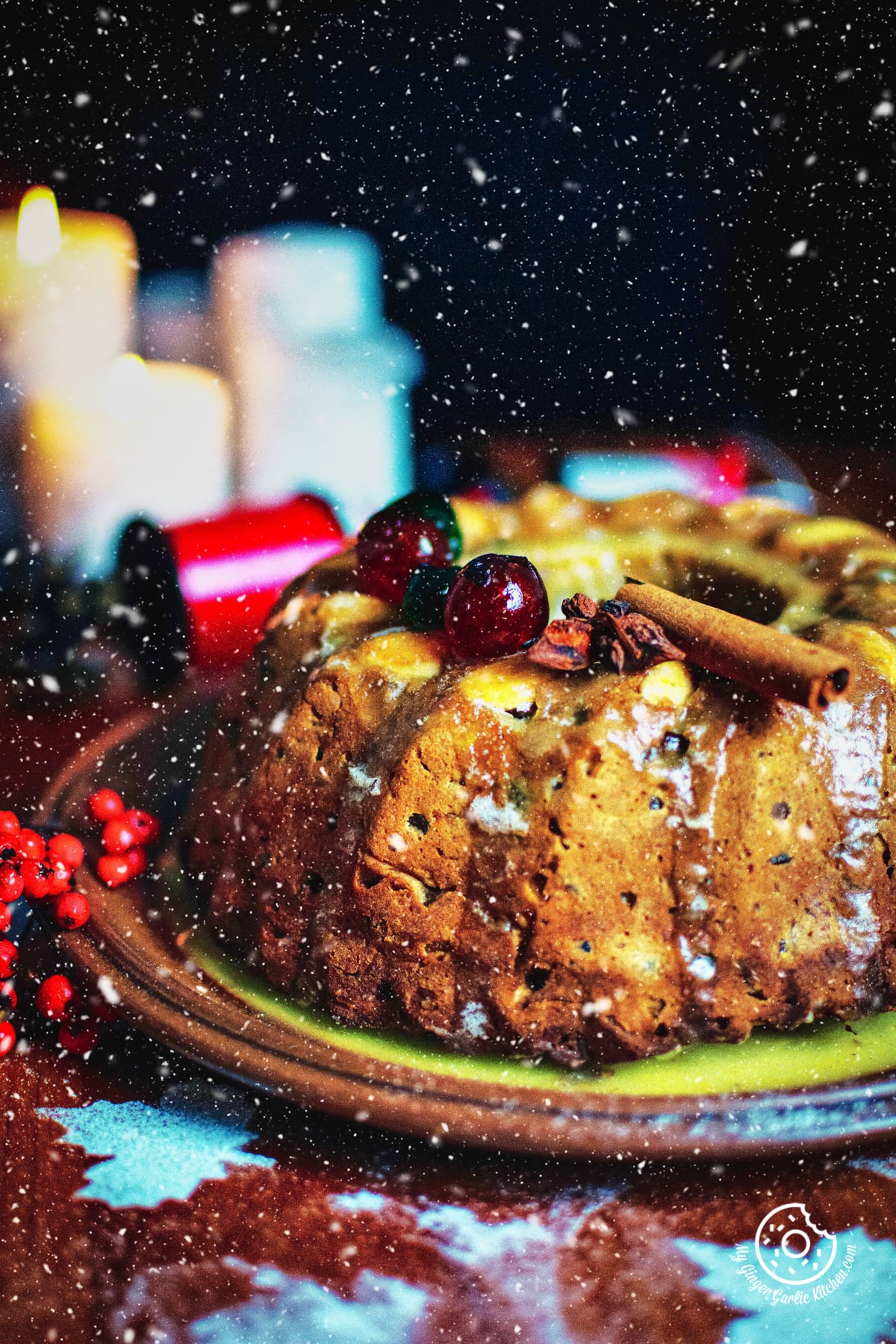 How To Soak Dried Fruits For Fruit Cake?
For soaking dried and candied fruits there are both alcohol or non-alcohol options.
Here are some alcohol options — you can choose any of the below:
Brand Or Cherry Brandy
Dark Rum
Medium Sherry
Wine
Whiskey
Orange-Flavored Liqueur
No-alcohol alternatives – you can choose any of the unsweetened juices below:
Apple Juice
Cranberry Juice
Orange Juice
Cherry Juice
When Should I Start Baking Fruit Cake?
If you want to enjoy this cake immediately then you don't have to bake it in advance. Just bake it a few days before Christmas.
If you are someone who likes the aged fruit cake for serving and gifting then I would recommend baking this fruit cake at least 2-3 weeks before Christmas. When the fruit cake sits for a long time, it soaks up more flavorings and this absorption creates a tremendous influence on the taste. 
Soaking and brushing cake with alcohol is essential when baking it in advance. So make sure to brush and wrap the cake with cheesecloth or towel soaked in alcohol every week or whenever it is dry.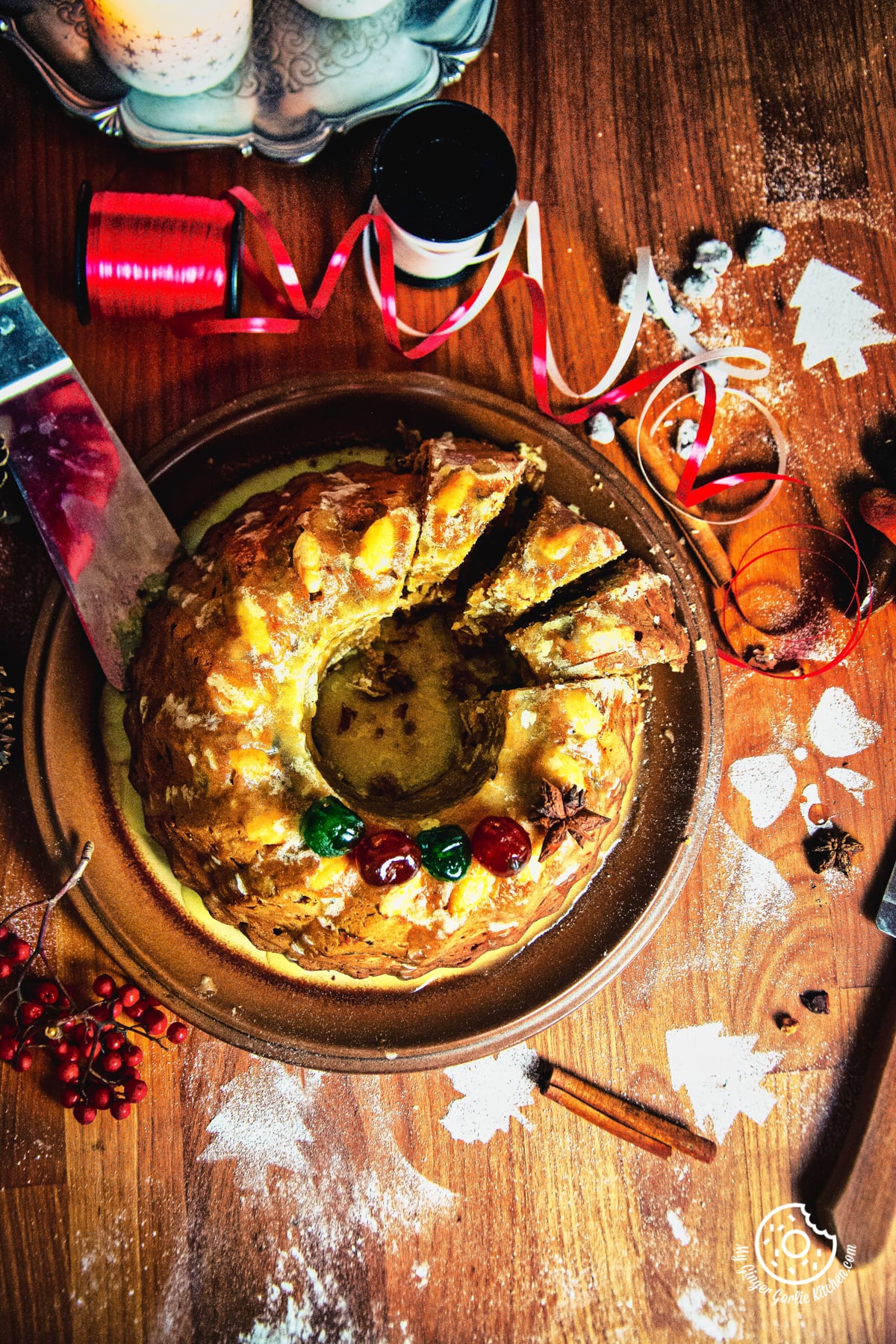 Can I Substitute Or Use Other Types Of Dried Fruit?
Yes, it is possible to modify this recipe according to your taste preference.
The combination of dried fruits and candied fruit in this recipe has a beautiful balance of tart and sweet flavors that can easily be substituted with your own favorites to make it more suitable to your taste buds.
If making substitutions, just remember to use the same amount of total dried fruits to avoid any issues. Other dried fruits you can use for this recipe are: dried cherries, dried mango, dried cranberries, dried currants, and candied citrus peel or ginger peel.
Can I Bake This Fruitcake In A Loaf Tin Or A Round Cake Pan?
Yes, you can use loaf tins or round cake pans for baking this fruit cake. However, the baking time will vary in each baking equipment exchange. 
Make sure to keep an eye on the cake after 35-40 minutes and bake till done or until a cake tester or toothpick inserted into the center comes out clean.
How To Do The Last Minute Fruit Cake Christmas Baking? 
Don't have time to soak fruits. Don't worry. If this is the case, then we have got you covered. Simply microwave fruits with alcohol or juice for about 1-2 minutes or let it come to a boil in a pan. 
Then cover the bowl with a plastic bowl. Set aside for 1 hour. Your instant soaked fruits are ready for baking.
Tips And Variations To Make Best Fruit Cake:
When the cake batter is slightly sticky and packed with a lot of dried fruits, then it can stick to the pan if not poured correctly. All you need to do is butter the pan and sprinkle it with some dry flour like you normally do with a Bundt cake and this fruit cake would easily release the pan and slide out without a hitch.
Brushing with alcohol would give the fruit cake a subtle alcohol flavor and a moist texture. Alcohol acts as a preservative so the cake can be stored for many months.
You can also add 1/4 cup of almond flour or almond meal in this recipe. If using ground almonds then use only 2 cups of flour. To make your own ground almonds, simply process the blanched almonds in a food processor until finely ground.
Candied fruits are in abundance during Christmas, so don't forget to buy some extra candied fruit if you want to enjoy the cake at any other time of the year.
You can top the cake with orange or apricot glaze. Or you can dust with icing sugar and you are good to go.
To store, place this fruit cake in an airtight cake tin, and store for 10 weeks. Just remember to douse it with alcohol every week.
If the cake is stored correctly, this can last up to 10 weeks at room temperature, and it stays fresh in the refrigerator for 6 months.
Soaking fruits for overnight is recommended. You can also soak for 24 hours. This step would cut down the sweetness and add delicious flavor to the cake. Also, the dried fruits will keep it hydrated by absorbing alcohol or juice during this resting time. So don't omit this step.
This fruit cake has a good amount of dried and candied fruit, so let the cake cool completely before removing from the pan.
You can add 1-2 tablespoon of milk if the batter seems too dry.
You can make this cake in a 9 x 2 inches round pan, 9 x 2 1/2 inches springform pan, or 9 x 5 x 3 inches loaf pan.
In this recipe, I have used a combination of brown and granulated white sugar. You can replace white sugar with the same amount of brown sugar.
You can also replace brown sugar with Muscovado sugar.
Let's bake this fruit cake! 
If you love this fruit cake recipe, then don't forget to leave a comment below.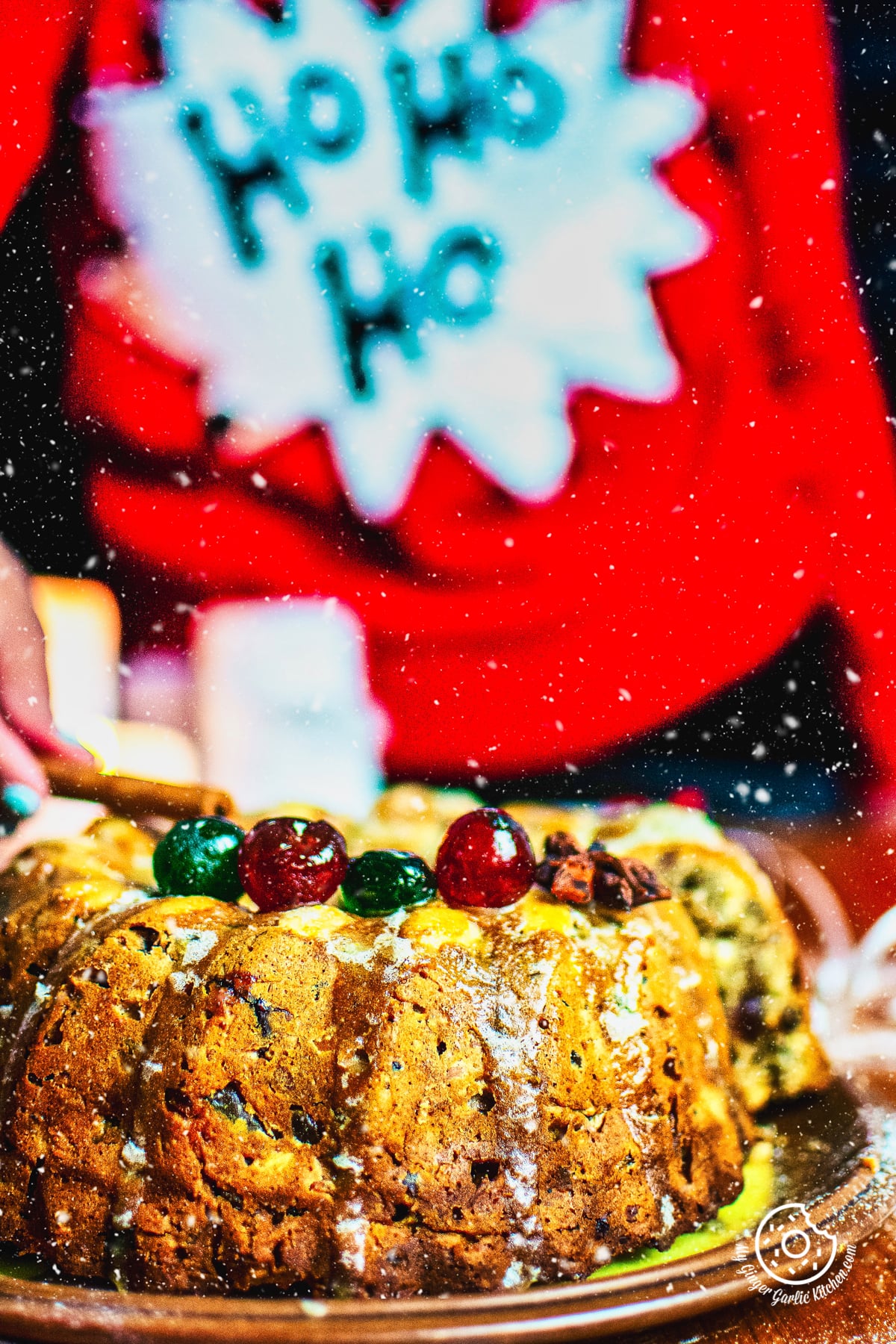 Fruit Cake Recipe (Alcohol & No Alcohol)

[Recipe]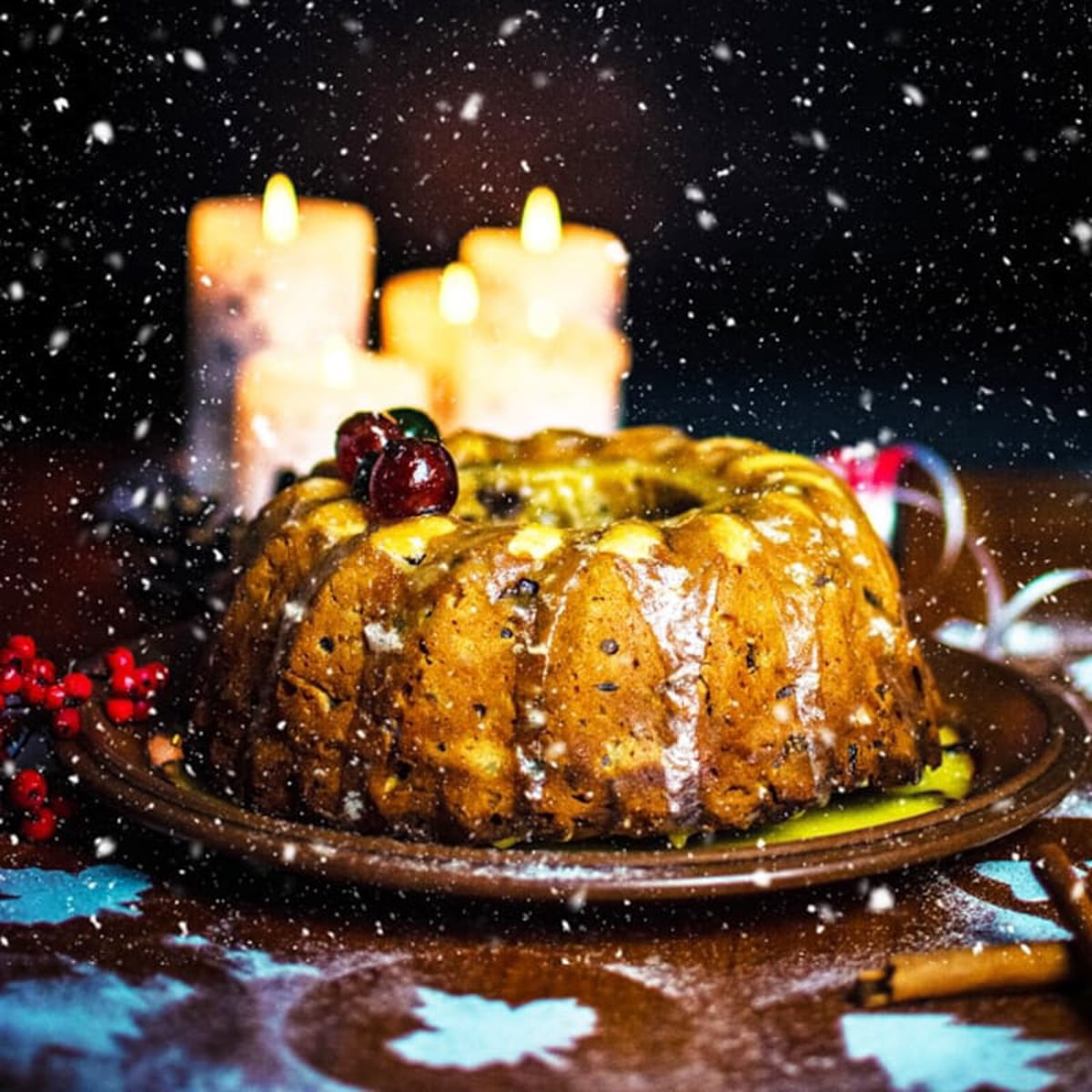 This classic and moist fruit cake is balanced in flavors and studded with soaked dried and candied fruits. This recipe has alcohol and no-alcohol options.
---
★★★★✰
(Rating:
4.3
from
193
reviews)
---
| Prep time 🕐 | Cook time 🕐 | Total time 🕐 |
| --- | --- | --- |
| | | 9 hours 20 mins |
| Category ☶ | Cuisine ♨ | Serves ☺ |
| Dessert | International | 18 |
| Nutrition Info ⊛ | | Serving size ⊚ |
| 502 calories | | 1 serving |
---
INGREDIENTS
For Fruit Cake //
3/4 cup candied fruits
1/8 cup chopped dried cranberries
1/8 cup raisins (I used golden)
1/8 cup candied cherries
1/4 cup chopped dried figs
1/4 cup chopped dried apricots
1/4 cup chopped dates
1/2 cup nuts (walnuts, almonds, cashews, and hazelnuts)
1 cup dark rum / brandy / apple juice / orange juice
200 grams or 14 tablespoons butter (I used salted) Add 1/2 tsp salt, if using unsalted butter.
3/4 cup brown sugar
1/4 cup granulated sugar
3 large eggs
2 1/4 cups bread flour or all-purpose flour
1/2 teaspoon baking soda
1 teaspoon baking powder
1 teaspoon ground cinnamon
A pinch of cardamom, optional
10-12 blanched almonds, optional
For Storing //
For Orange Glaze Icing //
5 tablespoons powdered or Confectioner's sugar
2 tablespoons Fresh orange juice or as needed
Few drops of orange essential oil (optional)
---
INSTRUCTIONS:
How To Soak Fruits //
Soak candied fruits, dried cranberries, raisins, candied cherries, dried figs, dried apricots, chopped dates, walnuts, almonds, cashews, and hazelnuts in 1 cup alcohol or juice for overnight or 24 hours. Cover tightly with a plastic wrap and, and store at room temperature.



How To Bake Fruit Cake //
Preheat oven to 320 degrees F (160°C).




Grease a 10-cup Bundt pan (tube pan) with butter and make sure you butter in every nook and corner.




Dust with some dry flour and shake off the excess flour. (You can also arrange blanched almonds at the bottom of the pan.)




To make the cake, in the bowl of a stand mixer, beat together the butter, brown sugar, and white sugar until fluffy, about 2 minutes.




In a large bowl, cream together butter and brown sugar until fluffy.




Add the eggs, one at a time, and beat until fully incorporated.




Add sifted flour, cinnamon powder, cardamom powder, baking powder, baking soda, orange zest, and lemon zest.




Mix well on low speed, and beat until just combined. Make sure the batter is completely mixed.




Stir in the soaked dried and candied fruits and chopped nuts and fold until combined.




Scrape batter into greased bundt pan and smooth top with a rubber spatula.




Bake in preheated oven for 60 to 70 minutes or until a toothpick inserted into the middle of the cake comes out clean or with just a few moist crumbs.




Let it cool in pan for 10 minutes, then you can either sprinkle with 2 tablespoons alcohol or unsweetened juice.




Invert onto a cooling rack to cool completely.



How To Age Fruit Cake //
Then, with a skewer, poke holes on the top surface of the cake and liberally brush with alcohol or juice.




Soak cheesecloth with 1-2 tablespoons of alcohol.




Wrap the cake thoroughly in cheesecloth and then in a parchment paper. Alternatively use a plastic wrap or aluminum foil to wrap.




Place in an airtight cake tin or container and age for 2-3 weeks.




Brush with 1-2 tablespoons of alcohol once a week up until a few days before you ice the cake.



How To Make Glaze //
To make the glaze, in a medium bowl, mix together the powdered sugar, orange zest, orange juice, and a few drops of orange essential oil. Mix until smooth. If needed, thin the glaze with orange juice.



How To Serve //
Drizzle the glaze evenly over the cake and let set for about 10 minutes. Slice and serve at room temperature along with some warm mulled wine.



---
WATCH VIDEO:
---
NOTES:
You can also bake this cake in a 9 x 2 inches round pan, 9 x 2 1/2 inches springform pan, or 9 x 5 x 3 inches loaf pan.

In this recipe have used a combination of brown and granulated white sugar. You can replace white sugar with the same amount of brown sugar.

You can also substitute brown sugar with Muscovado sugar.
---
If this recipe helped you, then please spread the word by sharing and
subscribing
to us on YouTube to get more such Recipe Videos.
---
Your feedback is so helpful for me and other MyGingerGarlicKitchen readers. So, for Facebook and Instagram, please mention
@MyGingerGarlicKitchen
or
#mygingergarlickitchen
. I would love to see your photos. :)
---
Author:
Anupama
Recipe Source Link:
https://www.mygingergarlickitchen.com/fruit-cake/
Date Published:
2019-12-10
• • • • • • • • • •