This cozy, calming, and satisfying Homemade Mulled Wine is warmed to perfection.
It has a marvelous blend of whole spices and citrus. This is the easiest recipe ever for winter and holiday entertainment. It's because making this is so simple, and it tastes so delicious.
This is a simple step-by-step video guide on How To Make Perfect Mulled Wine at home!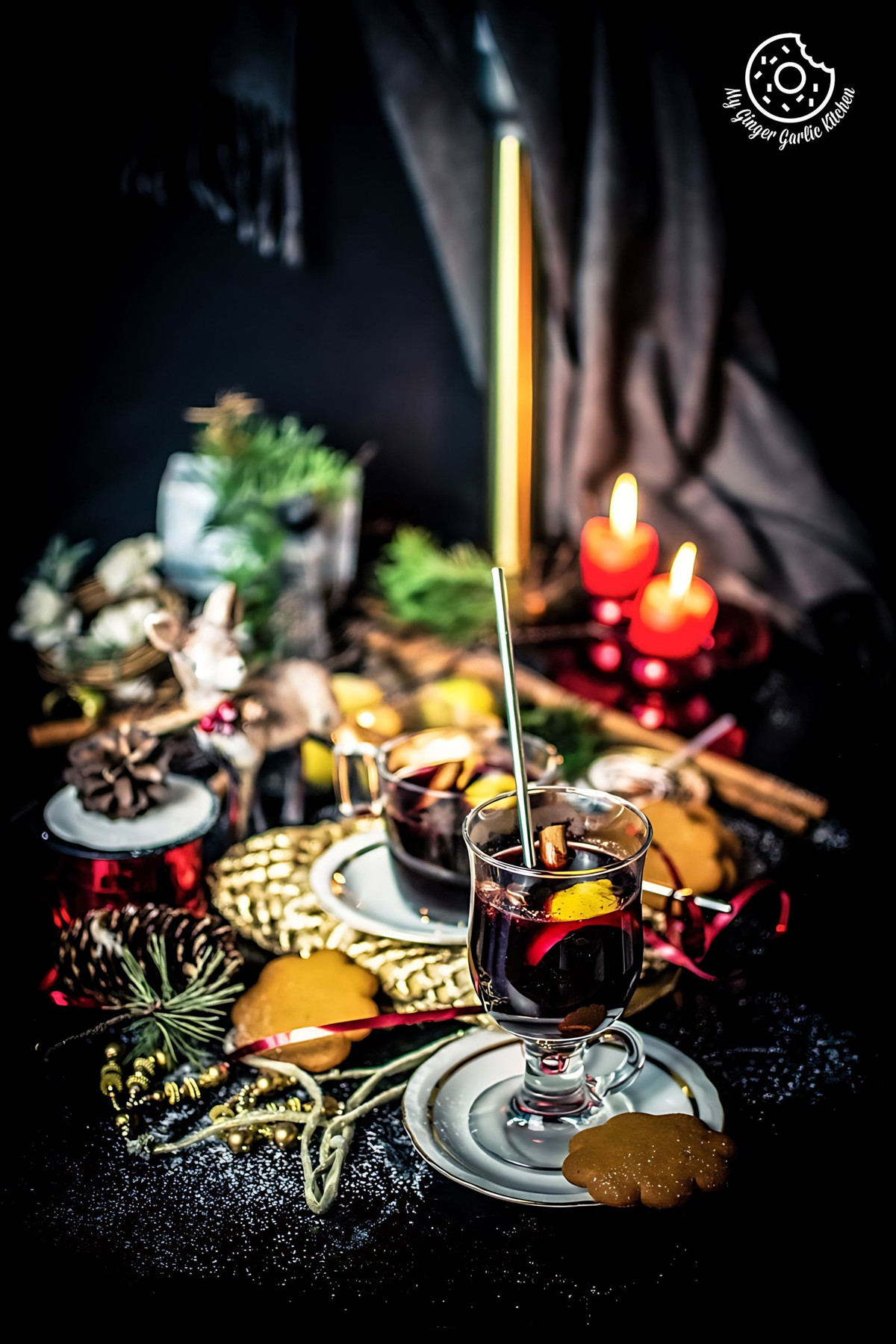 This is the only mulled wine recipe you will need to make your best best mulled wine Recipe at home. Because it has all the tips and tricks to help you make the perfect mulled wine each time.
This exquisite and aromatic mulled wine is immersed with cinnamon, cloves, nutmeg, and citrus. The infusion of all of those delicious flavors comes together really quickly.
What is Traditional Mulled wine?
Mulled wine is a classic warm drink which is served during winter, especially around the Christmas season.
This is an alcoholic beverage generally made with red wine along with diverse spices. For me, Mulled Wine = Winter Love.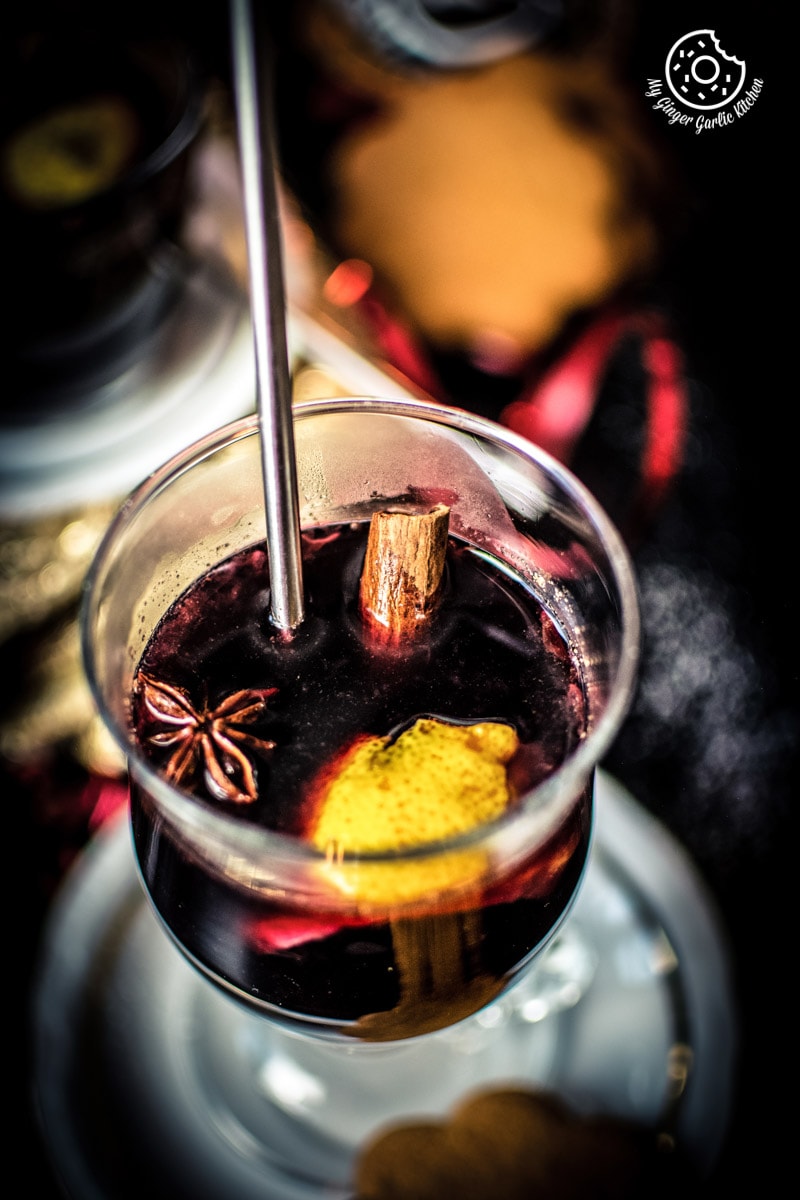 What are the other names of Mulled Wine?
Mulled wine has many names depending on which part of the world we are talking about. Mulled wine is known as 'Glögg', 'Gløgg', 'Glögi' in Nordic countries. In Germany, this is known as 'Glühwein'. In France, this is 'Vin Chaud', and in Chile, it is called 'candola'.
So in my part of the world, this alcoholic Christmas drink is known as Viiniglögi, which is the literal translation of Mulled Wine.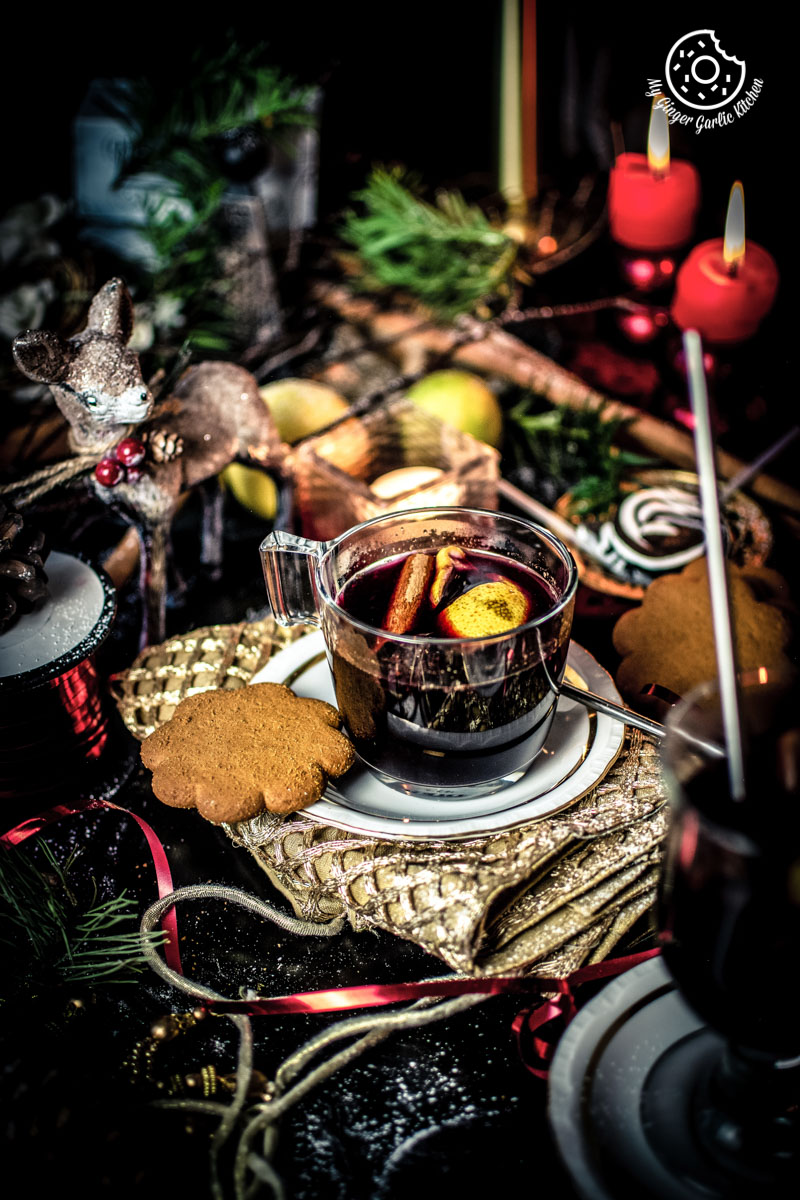 Can I Customize Mulled Wine?
The main thing I love about homemade mulled wine is that you are free to choose the wine according to your taste buds. It's also very easy to customize it with your favorite spices, and you can always add some of your favorite liqueurs such as dark rum, or brandy to spruce up the flavors.
And also, making Mulled Wine at home is the easiest. This just takes 10 minutes to prepare. For me, anything homemade is THE BEST. 😀
You can make it for holiday parties, get-togethers or even date night. This homemade mulled wine would certainly warm everyone up on a chilly winter night. Undoubtedly this would make your home smell amazing because its natural aroma is way better than any scented holiday candle.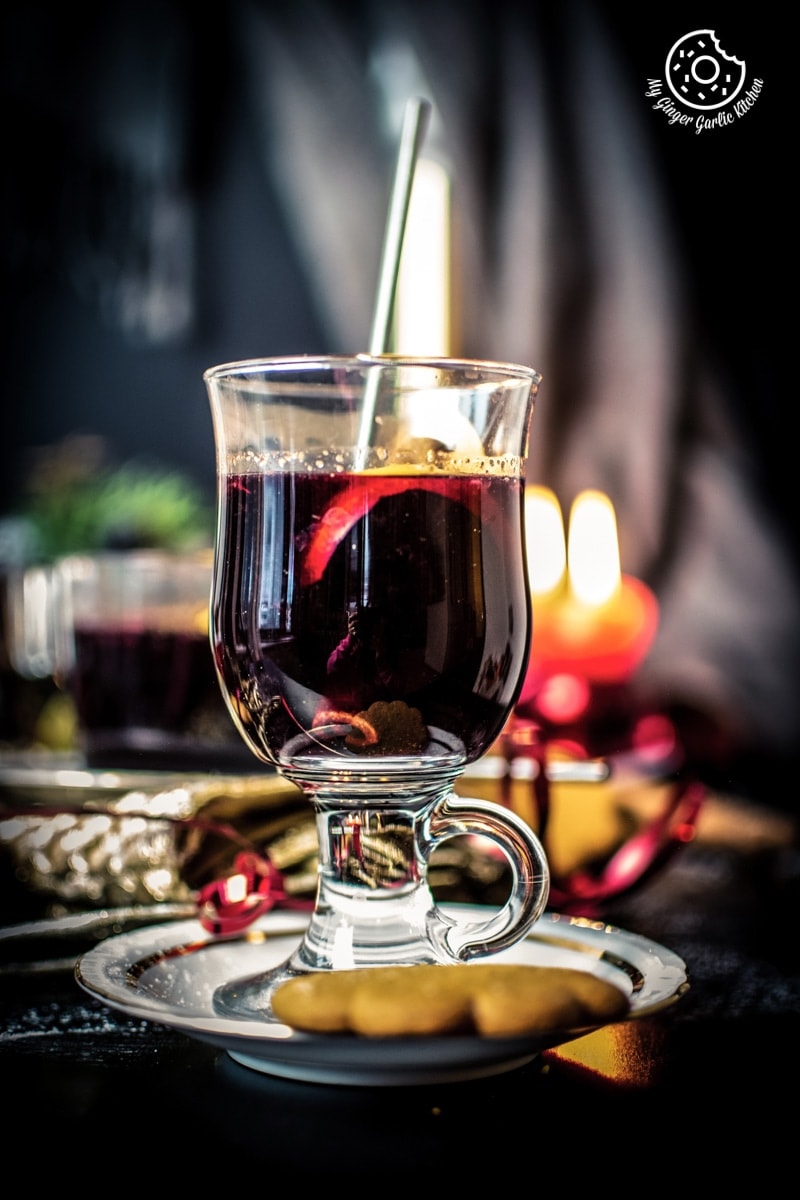 How To Make Mulled Wine?
Making homemade mulled wine couldn't get any easier.
Step 1: For making mulled wine at home, combine the orange juice, sugar, cinnamon sticks, citrus peel, juice, cloves, ground nutmeg, and star anise in a large saucepan, and bring it to a boil.
Step 2: Add red wine and simmer over low heat for 5-7 minutes. DONE!
Step 3: Pour into mugs, add an orange/lemon peel, and cinnamon stick to each mug and serve warm with some gingerbread cookies.
Making this traditional homemade mulled wine recipe at home is super easy. Plus, this incredibly delicious winter drink gives a cozy feel which is much desired during the cold winter times.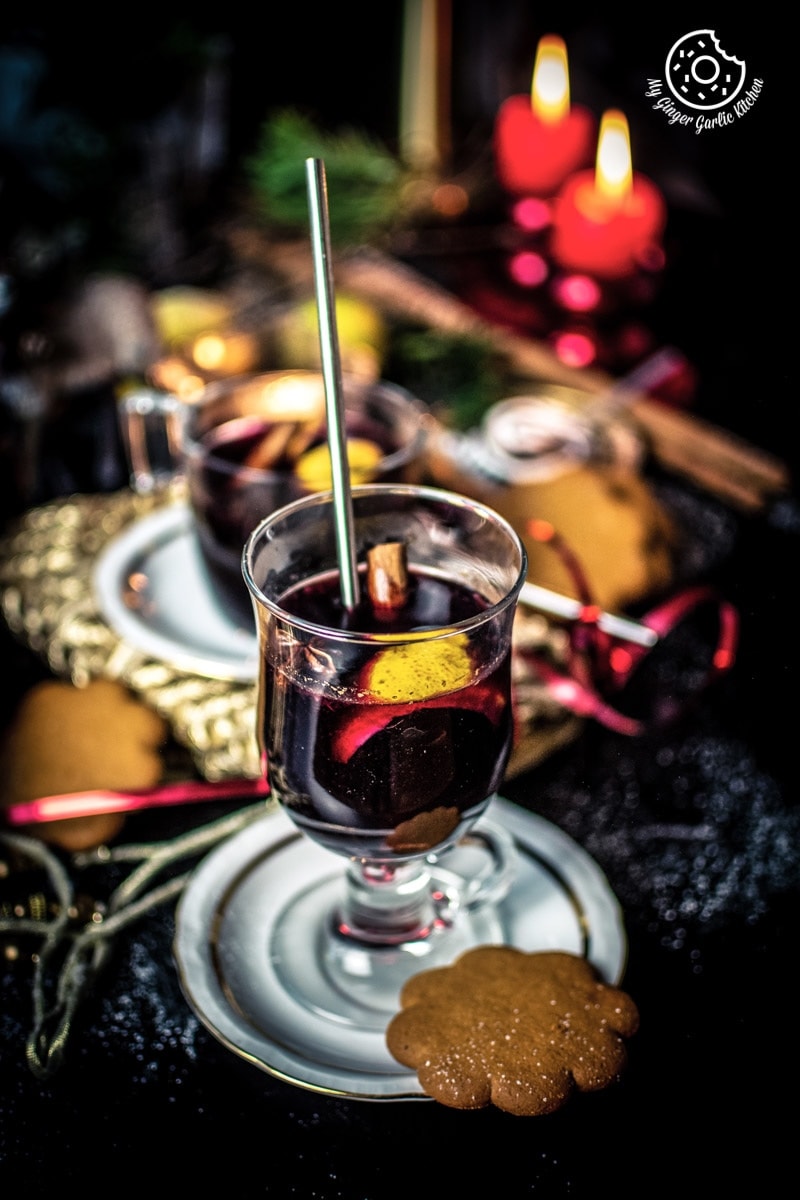 What are the ingredients for mulled wine?
Wine: For making mulled wine, the foremost ingredient that you would need is wine. Traditional recipes use red wine, but you can definitely go for any of your favorite white wines.

Citrus fruits: For citrus flavor, you will need orange juice. You can also add clementine juice. Then you need some citrus peel. For this, I used a combination of oranges, lemons, and limes for color.

Spices: Thereafter come the Cinnamon sticks. They look incredibly pretty and taste amazing with citrus and wine. Then there are some other spices such as star anise, cloves, and nutmeg. And it also requires some of your favorite sweeteners, such as sugar or honey.
You May Also Like These Holiday Recipes: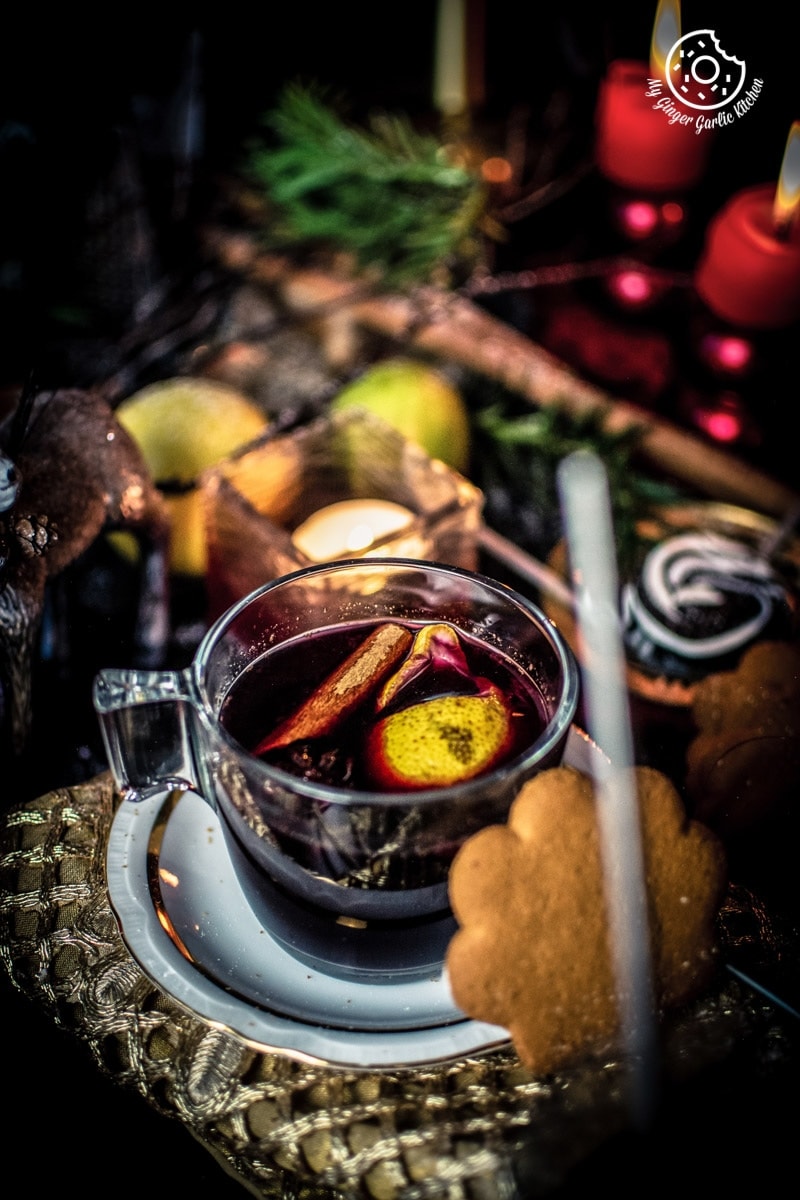 How to serve Mulled Wine?
Mulled wine is best served warm or hot. You can add some sliced almonds, raisins, and dried cranberries to make this festive drink more luxurious.
Can I make Mulled Wine in the INSTANT POT?
Yes, definitely. Mulled wine only needs simmering which can easily be done in the Instant Pot. In fact, I would recommend making Mulled wine in Instant Pot if you are making it for a party.
It's because Instant pots have large pots, and you can keep it on KEEP WARM mode. This way you could keep mulled wine warm in an Instant pot or in a slow cooker and it would assist your guests help themselves.
Mulled wine is never boiled, just simmered. So in Instant pot simmering mode, there is no chance that alcohol would boil.
For making Mulled Wine in the Instant Pot (IP), add all the ingredients to your IP liner, and simply simmer everything for at least 12-15 minutes, or slow cook for up to 3 hours. Strain out the spices, and serve warm.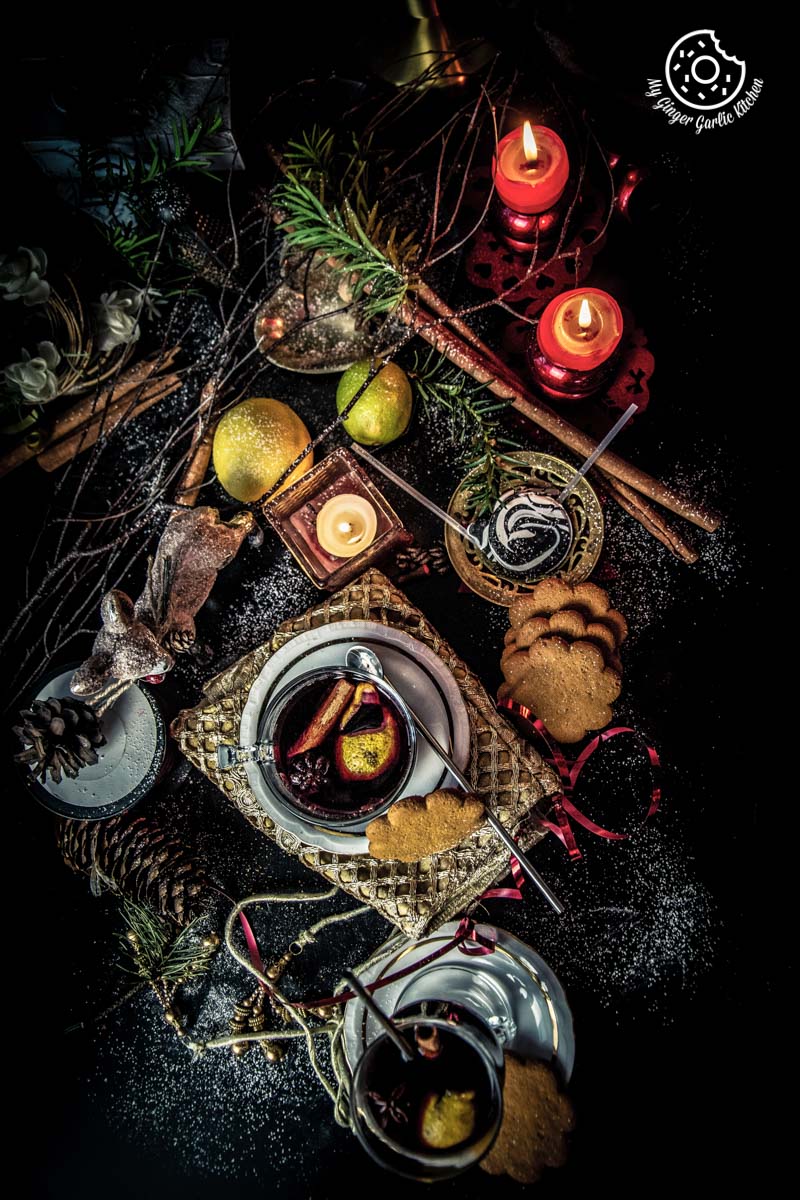 Tips for making your best Homemade Mulled Wine:
I have made this recipe on the stovetop, but you can easily replicate this in a slow cooker
You really don't need to go for the most expensive wine for making this recipe. You can go for any decent tasting wine, because in the mulled wine, you get the combined taste from mulling spices and citrus. 
Cinnamon sticks are the best. They make it look so inviting. But if you can't find cinnamon sticks, then you can also add some ground cinnamon.
I didn't add any vanilla in this recipe, but if you are planning to add vanilla then use the de-seeded sticks.
Feel free to add any of your favorite spices such as cardamom. 
I have added sugar as the sweetener because mulled wine tastes great with sugar. However, you can easily add replace sugar with honey or maple syrup.
You can also add some fresh cranberries to this recipe.
If you are using white wine, then add saffron strands along with spices, it gives it a delicate and a delectable aroma. 
You can swap orange juice with cranberry juice or blackcurrant juice.
You can refrigerate the wine overnight, as this would allow the flavors to blend.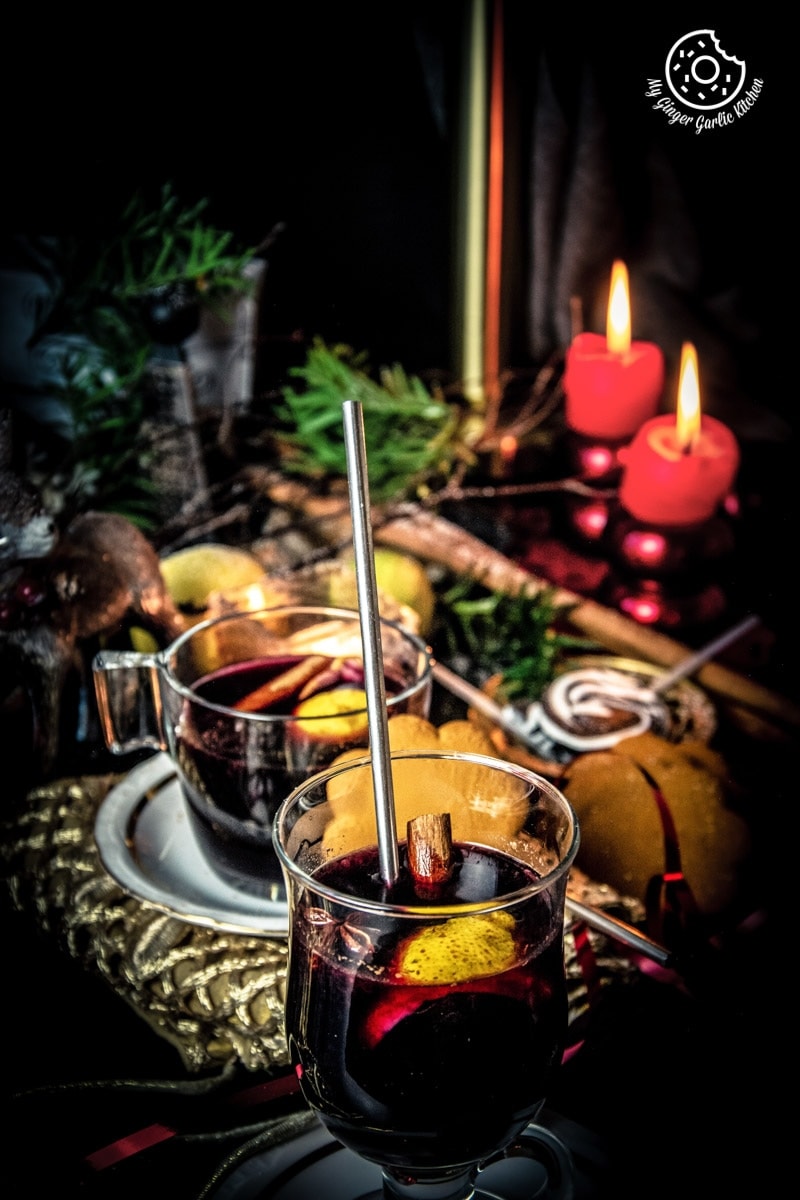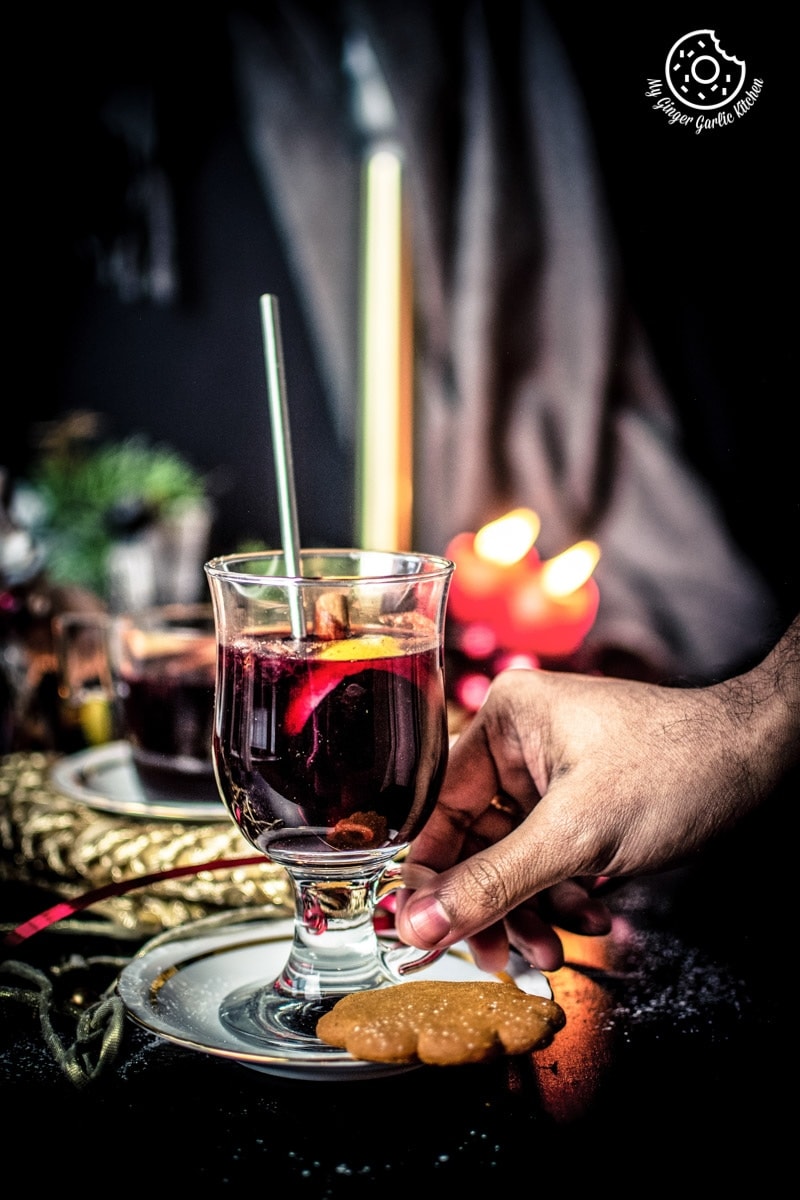 How To Make Perfect Mulled Wine

[Recipe]
This cozy, calming, and satisfying Homemade Mulled Wine is warmed to perfection. It has a marvelous blend of whole spices and citrus.
---
★★★★✰
(Rating:
4.3
from
108
reviews)
---
| Prep time 🕐 | Cook time 🕐 | Total time 🕐 |
| --- | --- | --- |
| | | 15 mins |
| Category ☶ | Cuisine ♨ | Serves ☺ |
| European | Indian | 6 glasses |
| Nutrition Info ⊛ | | Serving size ⊚ |
| 100 calories | | 1 glass |
---
INGREDIENTS
For Mulled Wine
1 (750ml) bottle of dry red wine
100g sugar, or honey to taste
5 tbsp orange juice
3 star anise
6 cloves
2 cinnamon sticks
1 nutmeg
Peel of 1 orange, twisted
Peel of 1 lemon, twisted
Peel of 1 lemon, twisted
For serving //
Raisins
Dried cranberries
Sliced almonds
---
INSTRUCTIONS:
How To Make Perfect Mulled Wine
Combine the sugar, orange juice, cinnamon sticks, orange peel, lemon peel, lime peel, cloves and star anise in a saucepan.




Stir well, and bring it to a boil over medium-low heat.




Add wine and simmer for 5-7 minutes. (Do not to boil the mulled wine.)




Pour warm wine into mugs. (You can strain if you like.)




Add an orange/lemon peel, cinnamon stick to each.




Serve warm with your desired garnish.



---
WATCH RECIPE VIDEO: Click the play button and video will load ...
---
NOTES:
No notes for this recipe.
---
If this recipe helped you, then please spread the word by sharing and
subscribing
to us on YouTube to get more such Recipe Videos.
---
Your feedback is so helpful for me and other MyGingerGarlicKitchen readers. So, for Facebook and Instagram, please mention
@MyGingerGarlicKitchen
or
#mygingergarlickitchen
. I would love to see your photos. :)
---
Author:
Anupama
Recipe Source Link:
https://www.mygingergarlickitchen.com/mulled-wine-recipe/
Date Published:
2019-12-16
• • • • • • • • • •