Thandai is a refreshing Indian cold drink, made with a mixture of almonds, cashews, pistachios, melon seeds, fennel seeds, watermelon kernels/seeds, peppercorns, cardamom, saffron, milk, sugar, and rose water.
The bouquet of fennel, cardamom, peppercorns, rose water and saffron intensifies and accentuates the concentrated flavor of fully boiled milk.

Thandai is the perfect drink to serve on special days and festive occasions like Holi when you have to pamper the senses and rejuvenate the spirit. Holi, the festival of colors, definitely calls for this celebration drink known as Thandai. Luscious flavors of Thandai will certainly boost up your festive mood.

As I wrote in my last post about Mawa Gujiya that, Holi, the festival of colors is approaching soon. So when we talk about Holi there are some things which are a must for this Holi festival — Gujiya (fried pastry filled with sweet mawa stuffing), and Thandai. Holi is never complete without these two.

Thus, I already shared my Mawa Gujiya recipe with you guys, and today it is time for Thandai.

What is Thandai?
This soul-gratifying drink Thandai where creamy milk is empowered with almonds and spices is a nice thirst-quencher. Thandai is high on nutrients level and it has some wonderful health benefits.

Exhilarating Thandai drink is native to India which is popularly prepared on the festivals of Maha Shivaratri and Holi.

Thandai is one of such traditional drinks which can replace stylish drinks at any time and has its healthy advantages too.

Homemade vs Readymade Thandai Mix:
Nothing can beat a refreshingly delicious homemade Thandai — this is the best thing. You can't get that heavenly taste with the readymade Thandai mix available in markets.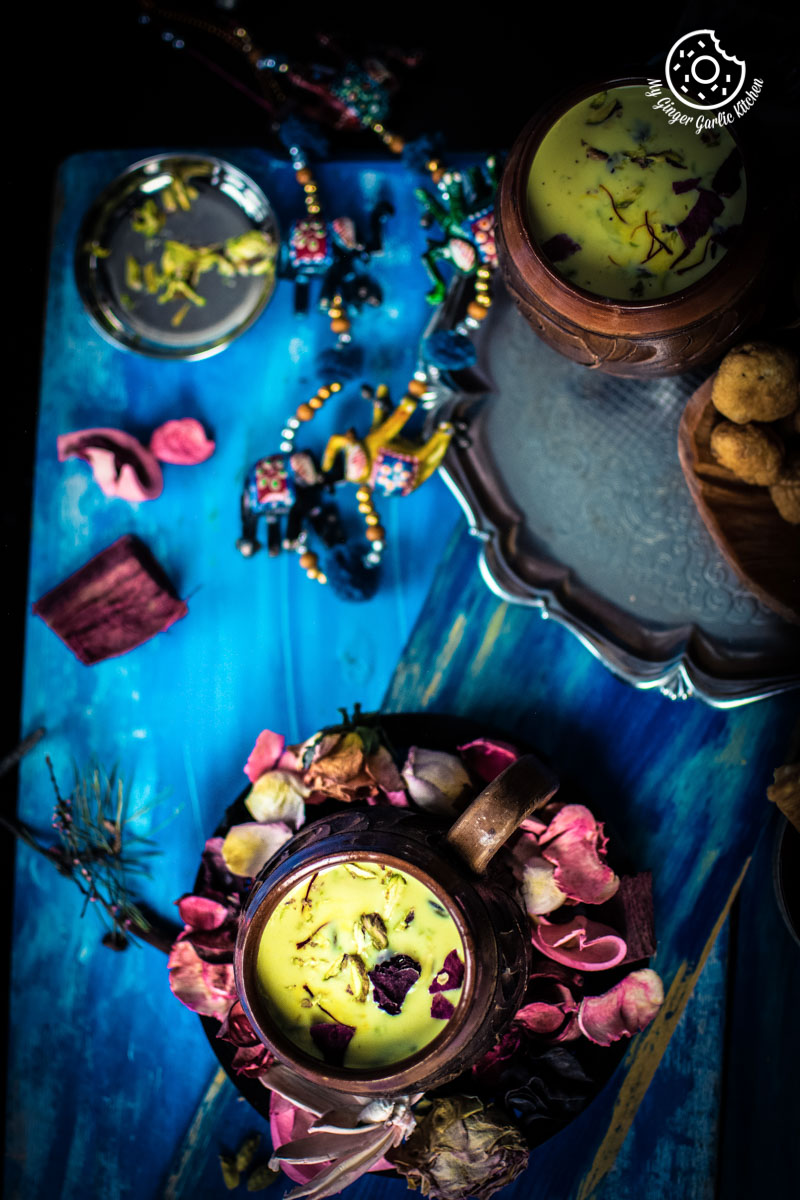 There are mainly two variations of Thandai:

Badam (almond) Thandai: It is made with almonds and other nuts.

Bhang Thandai: It is an Indian style cocktail made with edible preparation of cannabis (leaves and flowers) and aromatic Indian spices and nuts. Bhang, a derivative of marijuana is used as the main ingredient for this Bhang Thandai. This drink is specially served on the festival of Holi when people want to get tipsy the Indian way. This delectable cannabis-infused Bhang Thandai can be prepared easily at home with some edible cannabis, almonds, watermelon seeds, cashews, rose petals, cardamom, cloves, peppercorns and watermelon seeds.

How to serve Thandai?
Thandai drink tastes great when served with Indian savory snacks like masala mathri, chaat, palak pakora, bread pakora, kachori, samosa, or mirchi vada.
What is the meaning of Thandai?

The literal translation of Thandai is 'something which is cooling', Thus, Thandai is famous as a cooling drink. This nut based sweet, creamy, and flavored cooling beverage is a wonderful drink for the hot weather when the mercury begins to rise.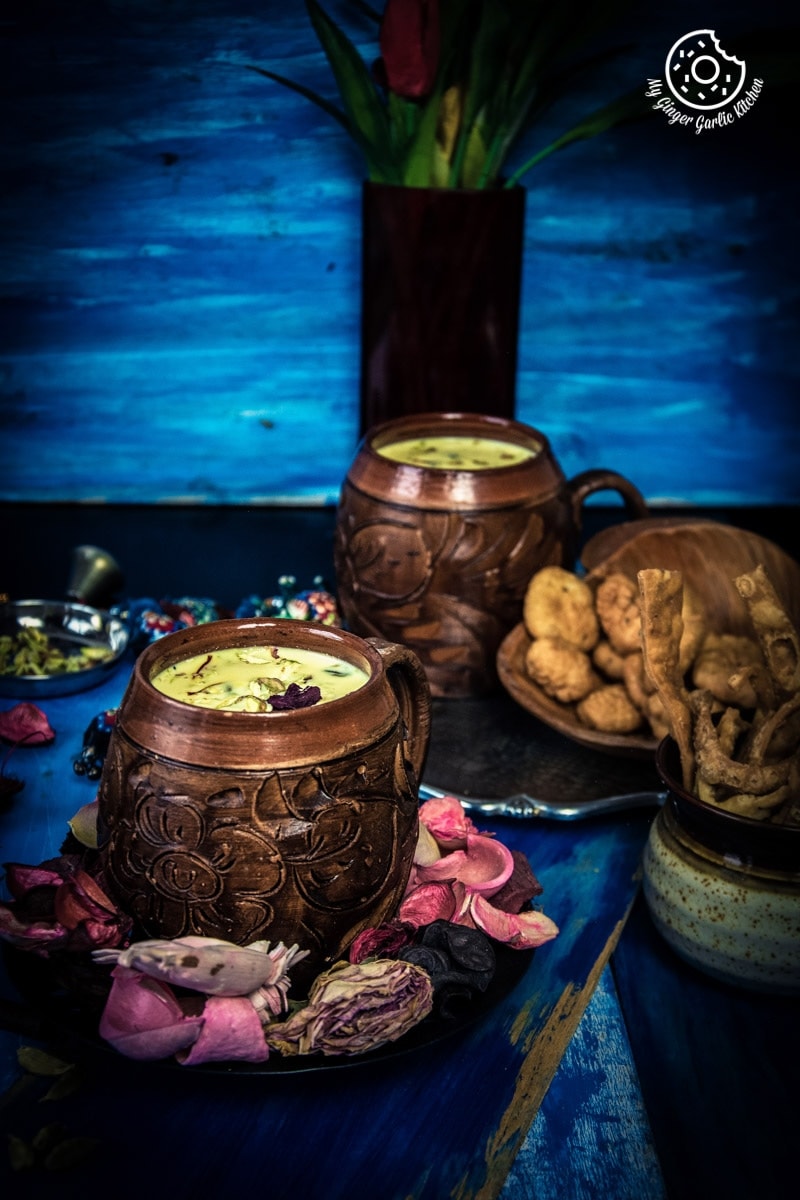 How to make Thandai?

Here's how you can make this fabulously delicious Thandai mixture by following some easy and quick steps given below.

First, you need to make the Thandai Paste for making Homemade refreshing Thandai. Thandai paste is made out of almonds, cashews, pistachios, poppy seeds, fennel seeds, watermelon seeds, peppercorns, green and cardamom pods.

For making a paste, you can either blanch the nuts or soak them in water overnight. Both of the methods work here. Once the thandai paste, aka Thandai Masala is ready, you boil the milk.

Once the milk is boiled, add saffron strands and boil it for some more time. Then you add sugar to the boiling milk and then boil for a couple of more minutes.

Then the Thandai masala is added to the milk. After that it is boiled for some more time.

Once the milk is cooked with spices and nut mixture, set it aside to let it cool completely. This way milk would absorb all the flavors of spices and nuts.

Strain the thandai and add rose water to it. Refrigerate for at least 4 hours or overnight. It's DONE!
Tips for making the best Thandai:

To make Thandai even more delicious and creamy you can add some fresh cream to the milk along with rose water. The cream adds a really nice creamy texture to this drink.
Straining thandai is completely optional. My family likes the creamy texture of Thandai so I normally strain the mixture before chilling it. But if you like that mouthful of coarse nutty texture in your thandai then I would not recommend straining it.
If you want to make Bhang Thandai or you want to have Thandai cocktail, but you don't have edible cannabis, then you can also some gin to the thandai mixture.
Rich and creamy milky thandai tastes the best. Remember to use whole or full milk for this thandai recipe.
I don't like it too sweet, so I added 4 tbsp of sugar to 1 litre of milk. But you can surely adjust the sugar according to your taste buds.
If you want Thandai to taste spicier, then you can also add a couple of cloves along with peppercorns.
I have added fennel seeds for cooling effect and more flavor.
Thandai can be made ahead of time. Make and refrigerate Thandai recipe in 1-2 days in advance and simply pour it at your festive party.
To add some crunch to this Thandai recipe, garnish with some chopped pistachio and almonds.
I added some rose water to make it more aromatic. To make it more delectable, you can also add some dried & crushed rose petals along with rose water.
Add crushed saffron strands to the milk while boiling. This adds an eye-catching color and adds a great flavor to Thandai.
Holi is certainly incomplete without a glass (or glasses) full of some homemade Thandai. So are you ready to make this drink on the festival of Holi and relish it with your family and friends? I am doubtlessly going to make a jug full of Thandai.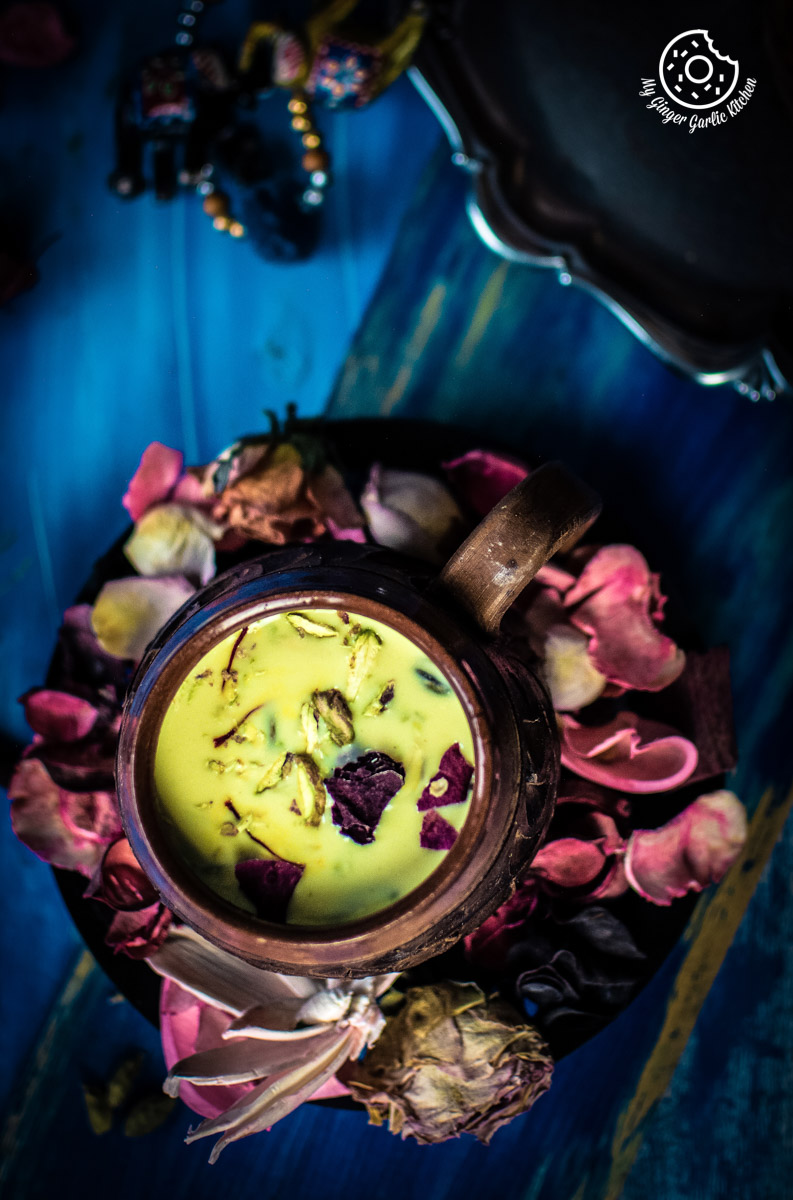 Other cooling beverages you may like:
Thandai Recipe

[Recipe]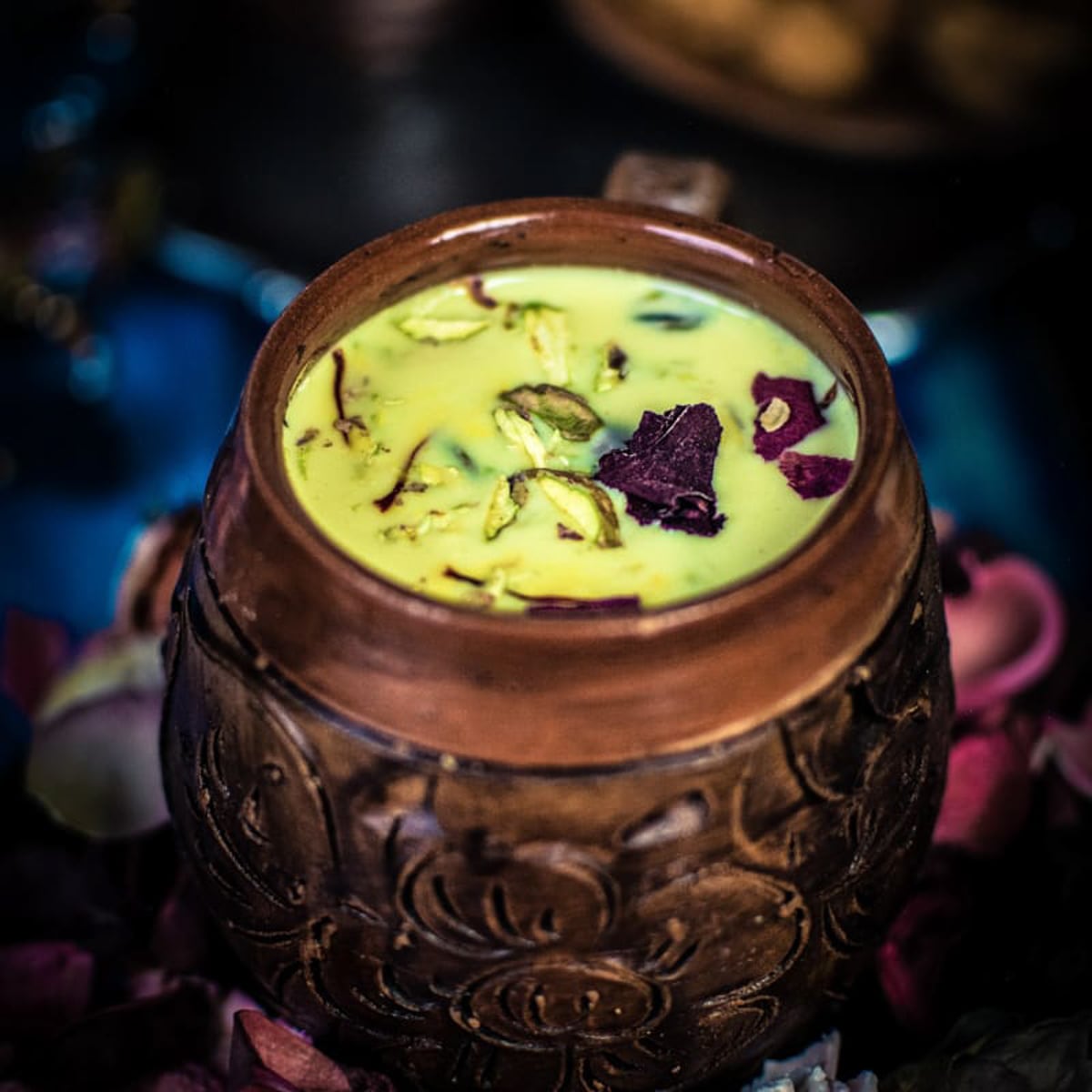 Thandai Recipe is a refreshing Indian cold drink, made with a mixture of almonds, cashews, pistachios, melon seeds, fennel seeds, and spices.
---
★★★★✰
(Rating:
4.4
from
9
reviews)
---
| Prep time 🕐 | Cook time 🕐 | Total time 🕐 |
| --- | --- | --- |
| | | 40 mins |
| Category ☶ | Cuisine ♨ | Serves ☺ |
| Main | Indian | 4 large glasses |
| Nutrition Info ⊛ | | Serving size ⊚ |
| 250 calories | | 1 serving |
---
INGREDIENTS
For Thandai //
1 Litre Full-Fat Milk
4 Tbsp Powdered Sugar, Or As Per Taste
15 Saffron (Kesar) Strands, Crushed
1 Tablespoon Rose Water (Gulabjal)
Thandai Masala Paste //
2 Tablespoons Almonds (Badam), Blanched Or Soaked Overnight
2 Tablespoons Cashews (Kaju), Blanched Or Soaked Overnight
2 Tablespoons Pistachios (Pista), Blanched Or Soaked Overnight
2 Tablespoons Poppy Seeds (Kuhs Kuhs/paust Ke Dane), Soaked Overnight
1 Tablespoon Watermelon Seeds (Kharbuje Ke Beej), Blanched Or Soaked Overnight
1 Tablespoon Fennel Seeds (Saunf), Soaked Overnight
5 Green Cardamom Pods (Hari Ilaichi)
10 Whole Peppercorns (Kalimirch)
For Serving //
Saffron Strands
Rose Petals
Chopped Pistachios, And Almonds
---
INSTRUCTIONS:
How to Make Thandai Paste/Masala
Peel off the almonds and pistachios skin. (You can either soak them overnight or blanch them in hot water for 30 minutes before peeling off the skin.)




Add the peeled peeled almonds, cashews, peeled pistachios, melon seeds, poppy seeds, fennel seeds, cardamom pods, and peppercorns with 1 tablespoons to water to a blender. Grind together to make a fine paste.




Thandai masala is ready. Keep it aside.



How to Make Thandai Paste/Masala
Add milk to a heavy saucepan over on medium heat.




Stir occasionally, and bring it come to a boil.




Add crushed saffron strands and mix well to combine.




Simmer for 5-7 minutes.




Once the milk is boiled and changes the color, add the powdered sugar.




Mix well and simmer for 5-7 minutes or till the sugar melts.




Now add the 1/3 cup of thandai paste to the milk and mix it well. (You can use a wire whisk to mix it)




Simmer for 7-8 minutes.




Let it cool 1 hour at room temperature.




Strain the mixture using a mesh strainer (sieve) into a pitcher. (Use a wooden spoon to press the solid thandai masala. This pressing masala would bring out the maximum flavors out of the thandai masala.)




Add 1 tablespoon rose water and mix well. Refrigerate thandai for at least 4 hours or overnight.




Pour chilled thandai into serving glasses.




Garnish thandai with saffron strands, dried rose petals, and chopped pistachios.




Serve chilled with some gujiya and hot pakoras.



---
WATCH VIDEO:
---
NOTES:
No notes for this recipe.
---
If this recipe helped you, then please spread the word by sharing and
subscribing
to us on YouTube to get more such Recipe Videos.
---
Your feedback is so helpful for me and other MyGingerGarlicKitchen readers. So, for Facebook and Instagram, please mention
@MyGingerGarlicKitchen
or
#mygingergarlickitchen
. I would love to see your photos. :)
---
Author:
Anupama
Recipe Source Link:
https://www.mygingergarlickitchen.com/thandai-recipe/
Date Published:
2021-03-15
• • • • • • • • • •