Thandai Recipe
Thandai Recipe is a refreshing Indian cold drink, made with a mixture of almonds, cashews, pistachios, melon seeds, fennel seeds, and spices.
---
« Go back
Print this recipe »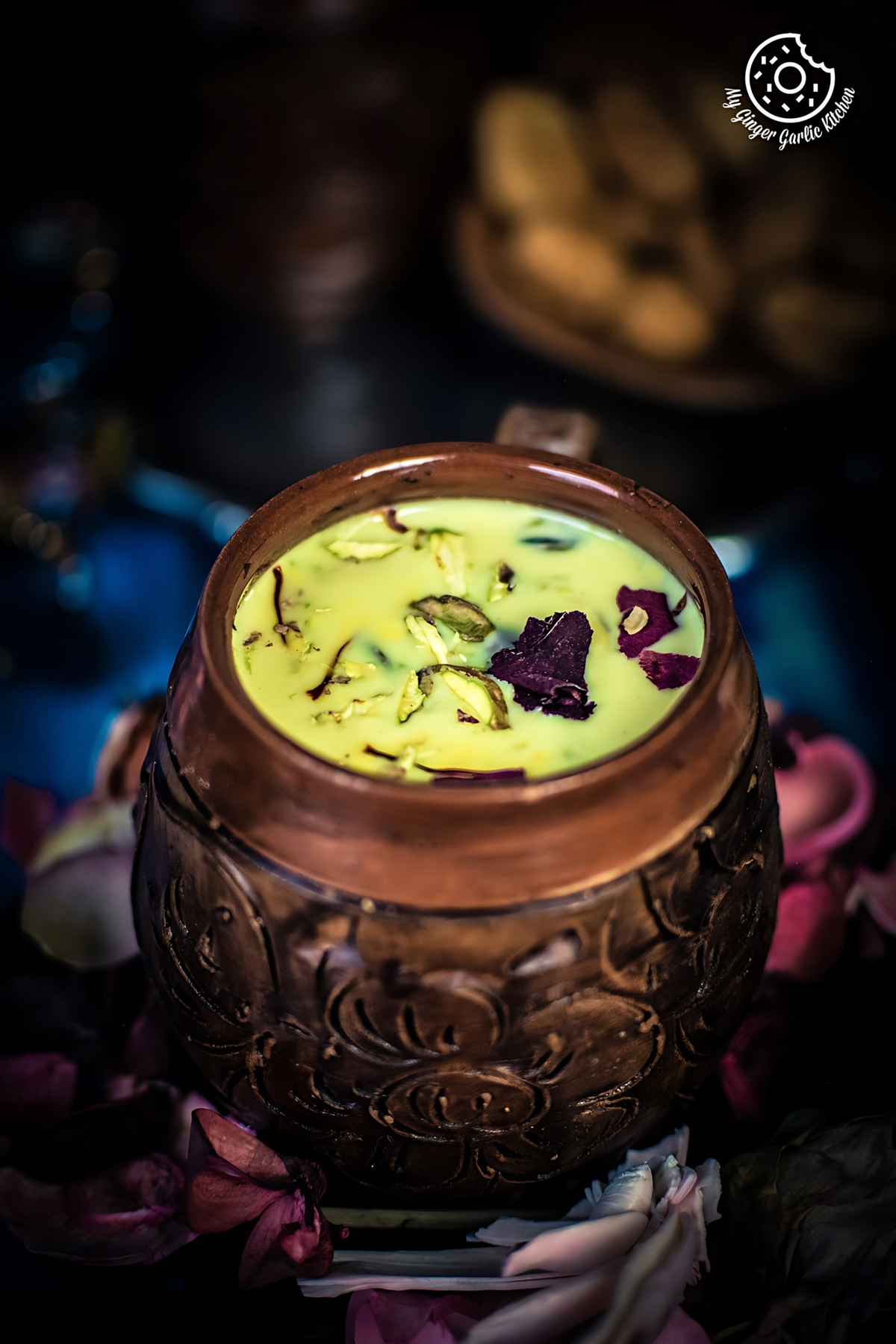 ---
Prep Time = 15 minutes
Cook Time = 25 minutes
Total Time = 40 minutes
Category = Main
Cuisine = Indian
Serves = 4 large glasses
Nutrition Info = 250 calories
Serving Size = 1 serving
---
RECIPE INGREDIENTS
» For Thandai //
1 Litre Full-Fat Milk
4 Tbsp Powdered Sugar, Or As Per Taste
15 Saffron (Kesar) Strands, Crushed
1 Tablespoon Rose Water (Gulabjal)
» Thandai Masala Paste //
2 Tablespoons Almonds (Badam), Blanched Or Soaked Overnight
2 Tablespoons Cashews (Kaju), Blanched Or Soaked Overnight
2 Tablespoons Pistachios (Pista), Blanched Or Soaked Overnight
2 Tablespoons Poppy Seeds (Kuhs Kuhs/paust Ke Dane), Soaked Overnight
1 Tablespoon Watermelon Seeds (Kharbuje Ke Beej), Blanched Or Soaked Overnight
1 Tablespoon Fennel Seeds (Saunf), Soaked Overnight
5 Green Cardamom Pods (Hari Ilaichi)
10 Whole Peppercorns (Kalimirch)
» For Serving //
Saffron Strands
Rose Petals
Chopped Pistachios, And Almonds
---
RECIPE INSTRUCTIONS
» How to Make Thandai Paste/Masala
Peel off the almonds and pistachios skin. (You can either soak them overnight or blanch them in hot water for 30 minutes before peeling off the skin.)
Add the peeled peeled almonds, cashews, peeled pistachios, melon seeds, poppy seeds, fennel seeds, cardamom pods, and peppercorns with 1 tablespoons to water to a blender. Grind together to make a fine paste.
Thandai masala is ready. Keep it aside.
» How to Make Thandai Paste/Masala
Add milk to a heavy saucepan over on medium heat.
Stir occasionally, and bring it come to a boil.
Add crushed saffron strands and mix well to combine.
Simmer for 5-7 minutes.
Once the milk is boiled and changes the color, add the powdered sugar.
Mix well and simmer for 5-7 minutes or till the sugar melts.
Now add the 1/3 cup of thandai paste to the milk and mix it well. (You can use a wire whisk to mix it)
Simmer for 7-8 minutes.
Let it cool 1 hour at room temperature.
Strain the mixture using a mesh strainer (sieve) into a pitcher. (Use a wooden spoon to press the solid thandai masala. This pressing masala would bring out the maximum flavors out of the thandai masala.)
Add 1 tablespoon rose water and mix well. Refrigerate it for at least 4 hours or overnight.
Pour chilled thandai into serving glasses.
Garnish it with saffron strands, dried rose petals, and chopped pistachios.
Serve chilled with some gujiya and hot pakoras.
---
RECIPE NOTES
No notes for this recipe.
---