Kalakand is a popular and delicious Indian sweet dish (mithai) made by reducing milk and sugar along with paneer (cottage cheese). Kalakand is a type of barfi (milk-fudge) which is a dense milk-based Indian sweet which has a soft, moist, juicy, delicately grainy, and melt in the mouth texture.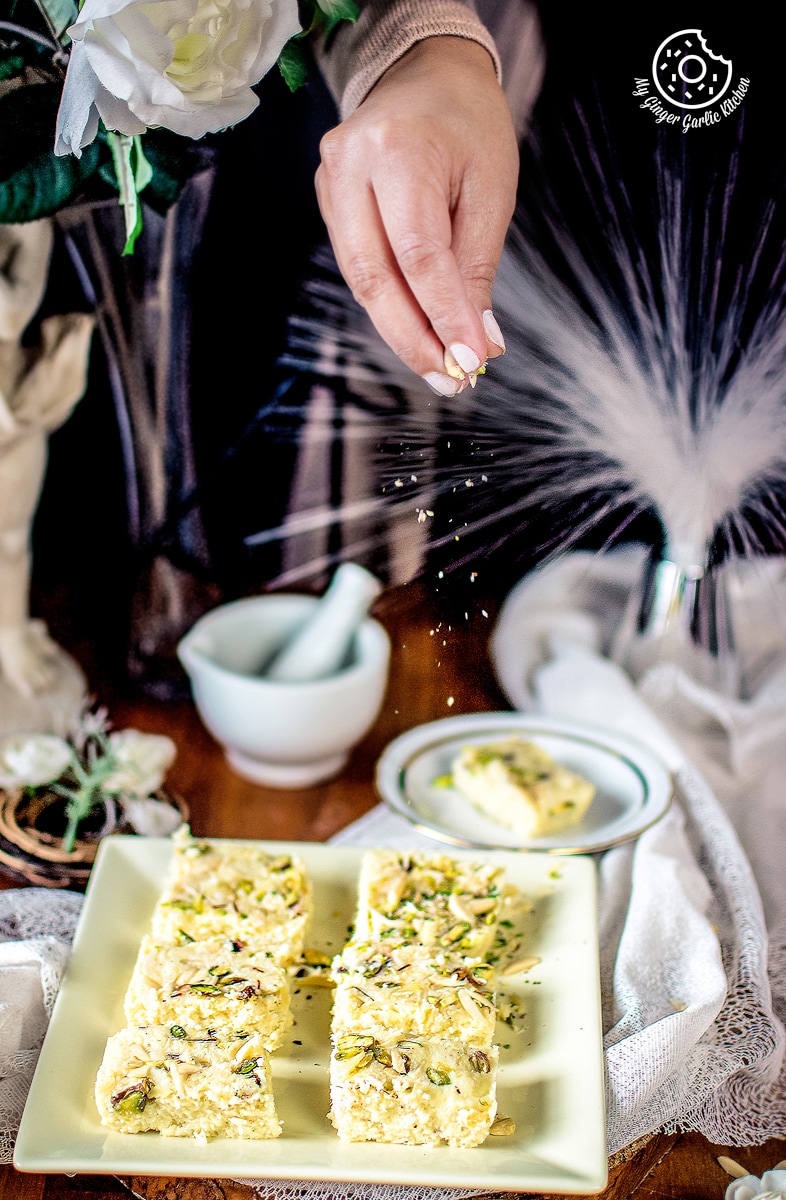 It has a subtle flavoring of cardamom and slightly nutty and crunchy texture from almonds and pistachios toppings.
With this simple and quick recipe, you can make perfect kalakand at home each time. This recipe has all the fantastic tips and variations on how to make perfect irresistible Halwai (confectioner's) style grainy kalakand. 
Check out the video below for a detailed process.
I won't say that it is one of the easiest sweets to make at home, but I can assure you that making kalakand at home is fairly simple. This entire recipe is made from scratch and it only requires 50 minutes of your effective time. For making kalakand, all you need to know about is how to stir and combine ingredients.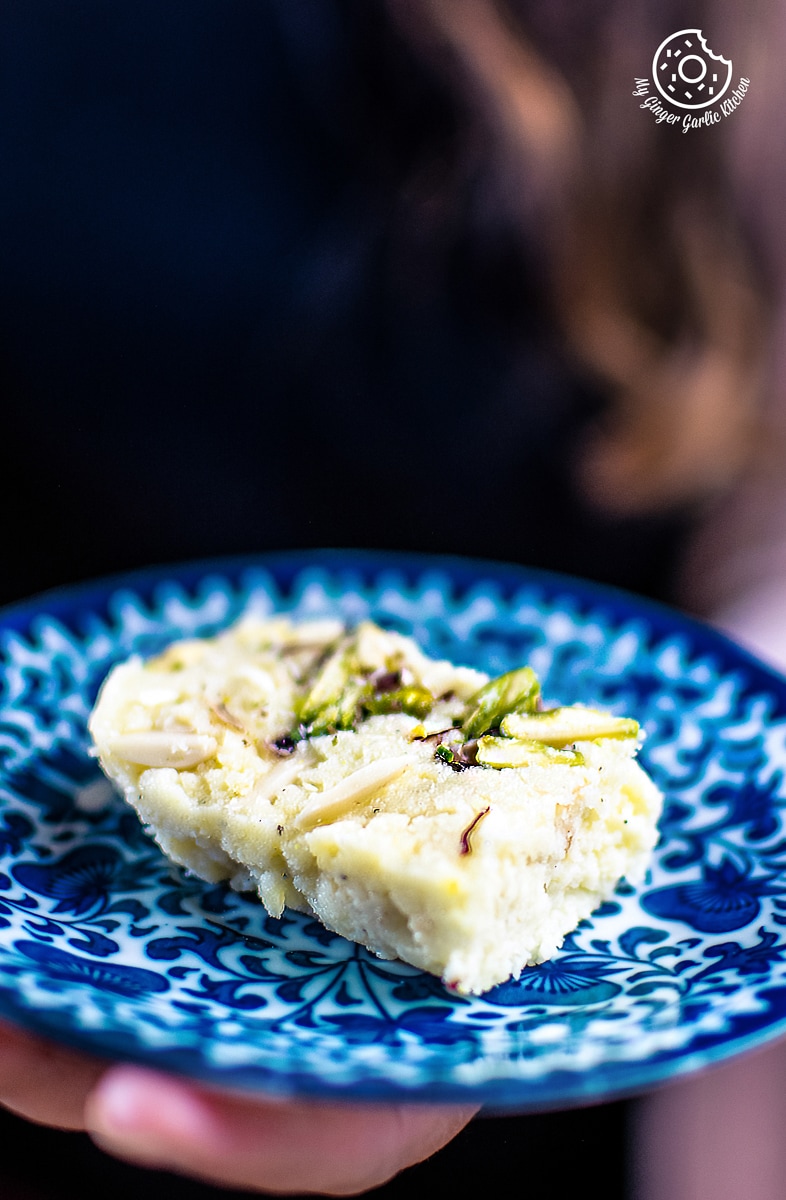 Kalakand is widely sold in Indian sweet shops. This is because it is one of the most sought after dishes. For many people, it is still very hard to believe that making kalakand at home is super easy and fuss-free. Hence, in many Indian households, people only buy kalakand from their favorite mithai shop.
Homemade everything is better because we know what goes in them. We can't be sure of the ingredients with the store-bought stuff. So try this easy and simple recipe of kalakand and I promise that you'll never buy this from the sweet shops again.
What is Kalakand?
Kalakand is a traditional and popular Indian sweet made out of coagulated milk, sugar, and paneer.
Kalakand is traditionally made by simmering sweetened milk with crumbled paneer for a long time until it reduces and forms a grainy yet soft and juicy texture.
This creamy, juicy, moist and soft textured dessert is delicately flavored with cardamom and generously topped with crunchy almonds and pistachios. Kalakand is a simple sweet dish that is loved by many — a delight for sweet food lovers.
What is Kalakand made of?
Traditional Kalakand recipe is made of solidified Milk, Sugar, and chena (paneer).
What are the ingredients used in the Kalakand recipe?
The most exotic Kalakand recipe is made using a handful of very basic ingredients which are easily available any day in any kitchen across the globe. These simple ingredients are:
Full Fat Milk 
Cardamom Powder
Chopped Almonds And Pistachios
Ghee / Butter
Ice-Cold Water
Lemon Juice Or White Vinegar
Saffron Strands
Sugar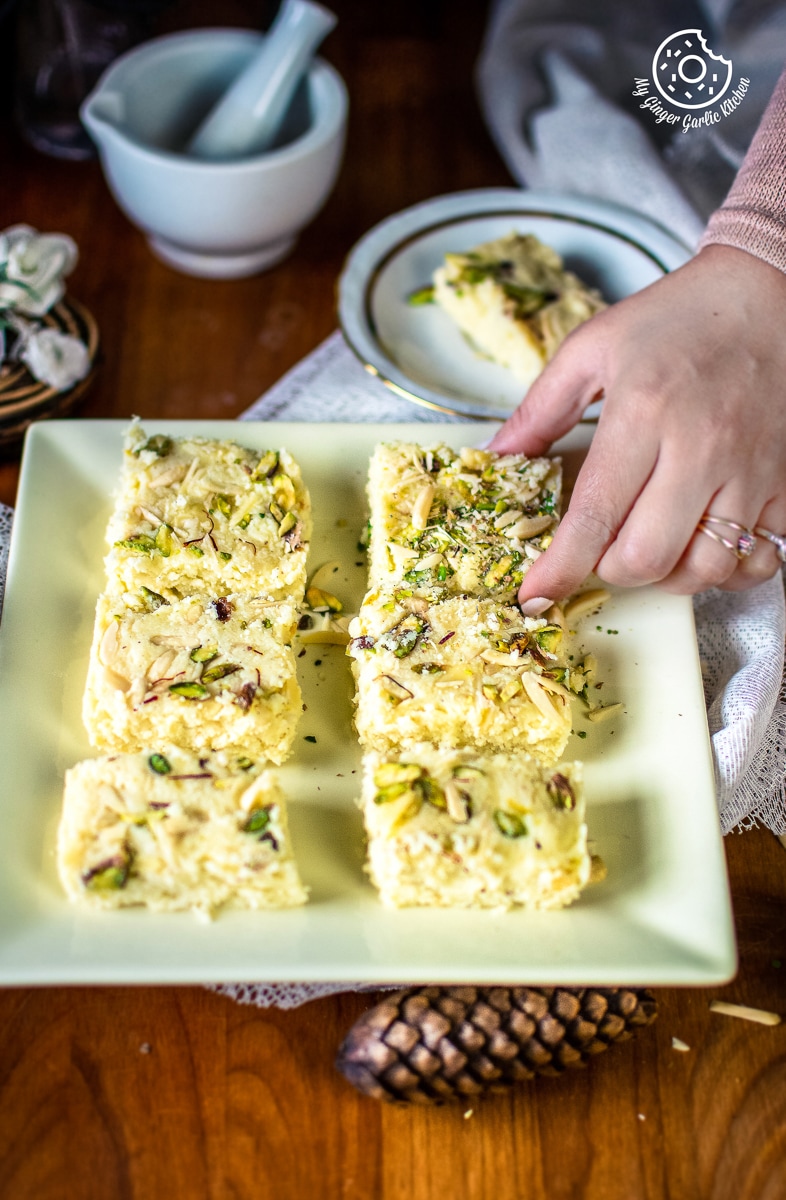 When to make Kalakand?
Kalakand is usually prepared during the festive season, weddings, parties, and other celebrations. You can make it for dinner parties or get-togethers at home, and this exquisite milk sweet is sure to make everyone go WOW. 
Or simply make it anytime you want to devour an elegant dessert. Pampering yourself with something delightful is a thing we all must try.
So, step in your kitchen, put your apron on and try out this delicious kalakand recipe today to overindulge. Because there is no wrong time to do the right thing. :)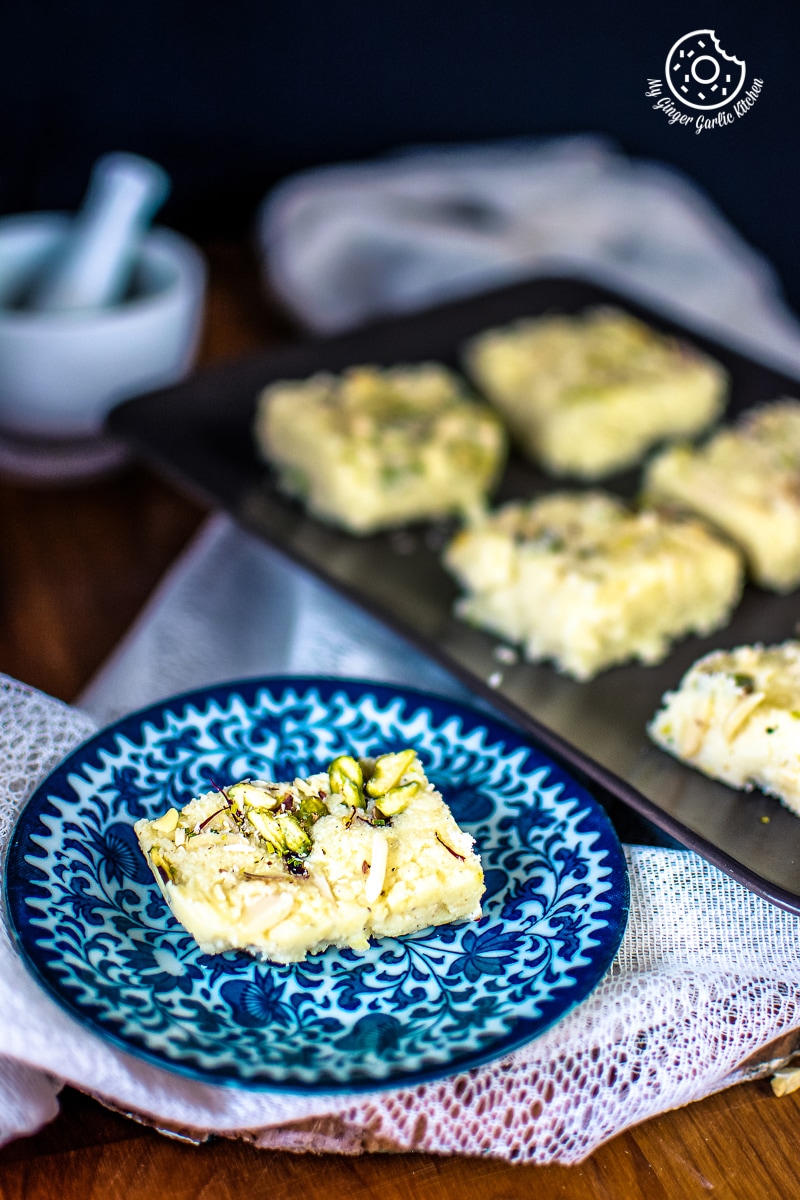 What to serve with kalakand?
Kalakand is a rich and delicate festive dish so it normally goes well with any party food. But there is no rule that you have to pair it with party food — you can simply serve it as an after-meal dessert. 
Here are some meal ideas on how to serve kalakand:
How to store Kalakand?
During winters, kalakand stays fresh at room temperature for 1 day when kept in an air-tight container. 
If you are making kalakand during hot months then it is not advisable to put it on the countertop. As soon as it cools down, store it in the refrigerator.  To store, you can refrigerate kalakand in a dry and airtight container for up to 1 week.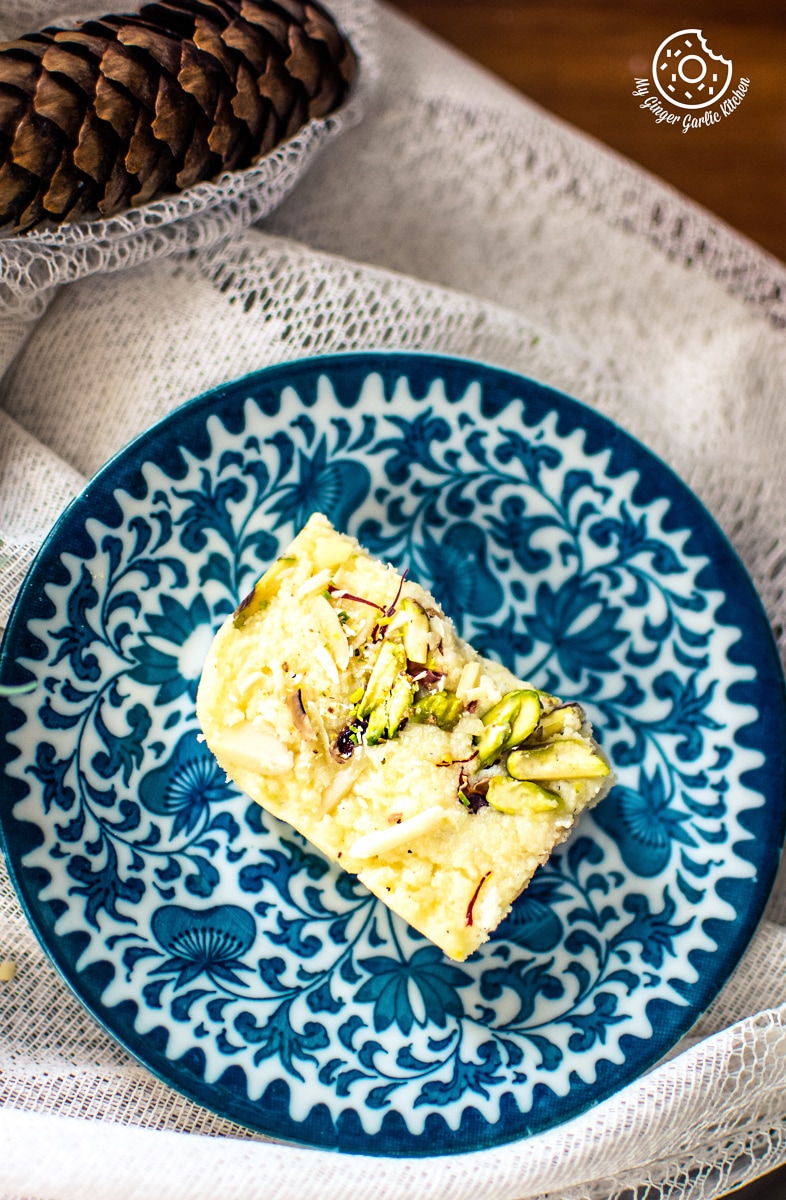 What type of milk is best for Kalakand?
The best type of milk for making chena (paneer) and making kalakand should be of high-fat content. So the whole milk is the best when it comes to making kalakand. 
Low-fat milk can also be used for making paneer and kalakand, but it would not taste so great. This is because the low-fat milk would yield a very small amount of paneer and also it won't have any greasy and smooth creamy texture.
What is the difference between kalakand and milk cake?
The process of making milk cake and Kalakand are very similar, this is because both of these are prepared by reducing sweetened milk. They both have a grainy texture and milky flavor.  However, they both are entirely different sweets as they taste and look different. Let's look at their differences.
Kalakand has a very light color and is delicate, juicy, moist, soft, light, crumbly and melt-in-the-mouth in texture. Whereas Milk Cake, on the other hand, has a deep caramelized color, dense flavors, thick texture, and it's slightly firm.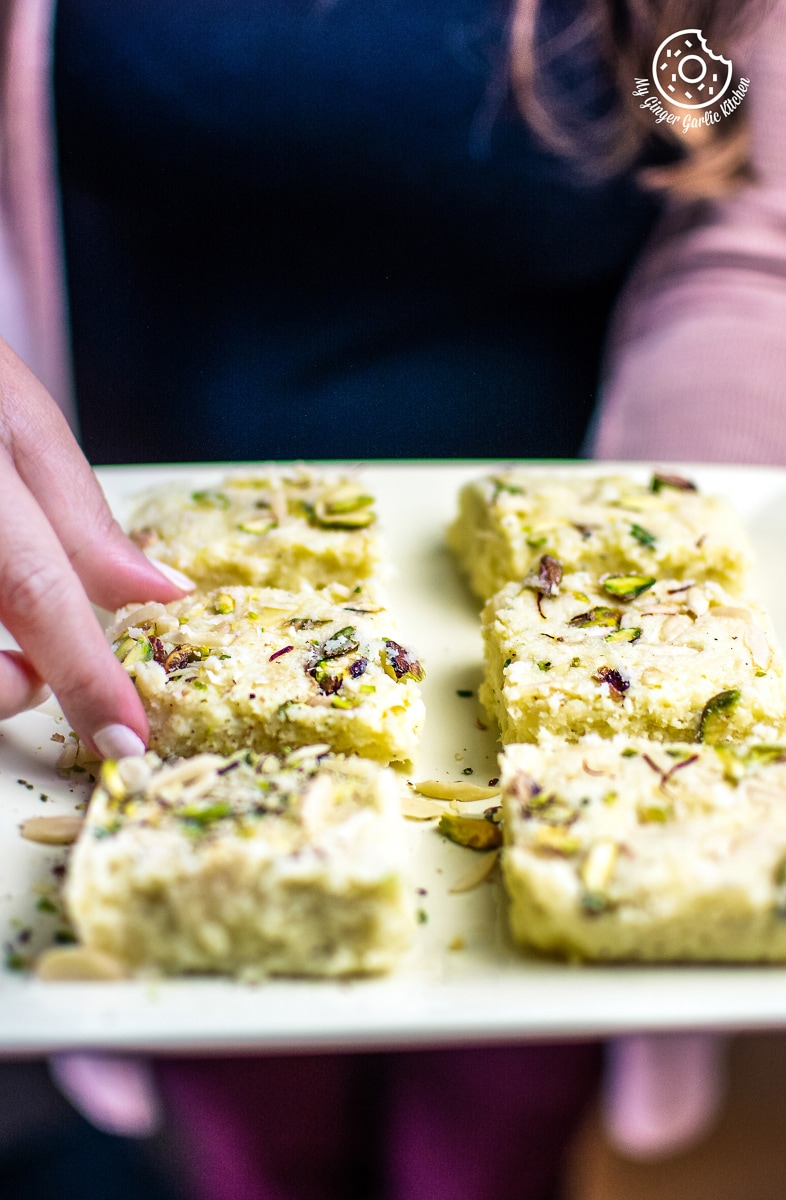 How to make Kalakand?
This recipe of kalakand makes the best kalakand from scratch. To make kalakand at home you need to follow some simple steps.  
Step 1: Make chena (cottage cheese). 
Step 2: Reduce milk by boiling.
Step 3: Add chena to the milk.
Step 4: Reduce milk by cooking it further.
Step 5: Add sugar and cook again.
Step 6: Flavor with cardamom and pour this mixture to the greased tray. 
Step 7: Garnish with some nuts and let it set.
Step 8: Slice kalakand into desired pieces. Done.
Check out the detailed recipe in the recipe box on this page.
Tips and variations to make your best Kalakand at home:
That ideal grainy (danedaar) texture of Kalakand is simple to attain and is absolutely obtainable with a few handy tips & tricks. So follow these tips below and make your own grainy and super moist kalakand at home. This would taste exactly like the one you buy from sweet vendors. 
To make kalakand creamier you can replace sugar with the same amount of sweetened condensed milk.
Always use fresh homemade chena or cottage cheese to make kalakand. I make my own for making it. Because the freshest and soft paneer tastes best here and makes the soft and moist Kalakand.
You can use store-bought paneer for making kalakand recipe, just make sure that you are buying the freshest soft paneer. Firm and old paneer would not make great tasting kalakand. Also do not use frozen paneer for making kalakand. 
I have greased my tray with ghee here. Alternatively, you can line your tray with the parchment paper. This way it would be easier to lift the paper and then cut the sweet dish into squares.
I have used chopped almonds and pistachios for garnish. You can also use any of your favorite nuts such as cashews, almonds or even hazelnuts.
For an intensified nutty flavor, you can also dry roast or fry the nuts before drizzling them over the sweet.
You can either slice or finely chop the nuts. It won't make much of a difference in the taste.
You can also garnish Kalakand with edible silver or golden leaf to make this sweet dish more gorgeous and presentable.
I have only used cardamom powder for flavoring here. This is because a little bit of cardamom powder does not overpower the milky taste of this sweet dish. You can also try other flavorings like saffron, or rose water.
For making chena (cottage cheese), I have used lemon juice as the acidic agent. For separating curd, you can replace lemon juice with vinegar, citric acid, or buttermilk.
After rinsing the curd, make sure you squeeze the excess water. But do not completely drain the chena. 
Make sure you crumble or grate the paneer before adding it to the boiling milk. This step would ensure that you will get the lump-free coarse texture of the milk mixture.
Kalakand is generally served sliced into individual servings which are usually shaped into cubes. Slicing kalakand wouldn't be hard if you slice it with care. You can also grease the knife before slicing, this way it is easier to slice the kalakand slab. But if for some reason you are not able to slice kalakand properly then you can also serve it as a crumble, it tastes delicious. 
Kalakand is usually served chilled. If you are not a fan of a cold kalakand then microwave it for 10 seconds or keep it at room temperature for 30 minutes prior to serving.
After adding paneer make sure that you stir continuously. However do not smash up the chena or else you will not get a creamy texture.
It is important to allow the hot kalakand mixture to cool down and set completely before cutting it into squares. Cold mixture holds shapes and slicing is easier this way. Also the mixture would not fall apart if you let it set completely. 
To make it tastier, don't forget to top it with some saffron strands.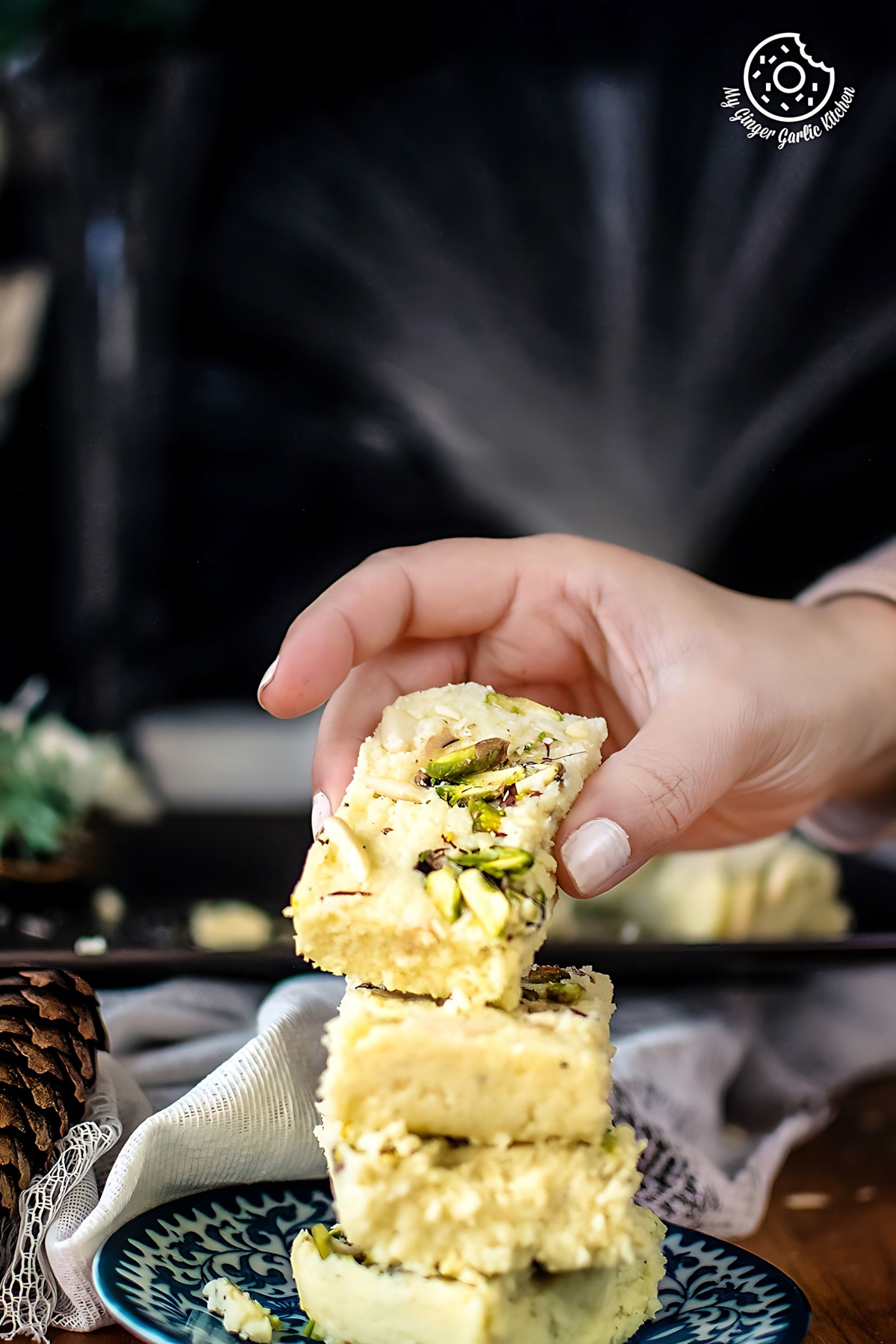 Best Kalakand Recipe

[Recipe]
Kalakand is a popular and delicious Indian sweet dish made by reducing milk and sugar along with paneer (cottage cheese). It has a soft and grainy texture.
---
★★★★✰
(Rating:
4.2
from
121
reviews)
---
| Prep time 🕐 | Cook time 🕐 | Total time 🕐 |
| --- | --- | --- |
| | | 3 hours 50 mins |
| Category ☶ | Cuisine ♨ | Serves ☺ |
| Dessert | Indian | 8-10 |
| Nutrition Info ⊛ | | Serving size ⊚ |
| 138 calories | | 1 piece |
---
INGREDIENTS
For Kalakand:
2 liters full-fat or whole milk (I used 3.5% fat)
1/2 cup sugar
1-2 tablespoons lemon juice or white vinegar
ice-cold water
1/2 teaspoon cardamom powder (elaichi powder)
1 teaspoon ghee for greasing
For Garnish:
2-3 tablespoons chopped almonds and pistachios
7-8 saffron strands
---
INSTRUCTIONS:
Preparation:
Brush a tray or a plate generously with melted ghee and keep it aside. (I have used a rectangular glass baking tray, you can choose any tray you wish.) Set this aside.



Making Chena:
For making chena, add 1-liter full cream milk to the pan, and heat over medium heat. Let it come to a boil. Stir occasionally.




Once boiled, turn off the heat.




Wait for a couple of minutes and then start adding acidic agents (lemon juice, vinegar, citric acid, yogurt) little by little.




Keep adding & stirring continuously until the milk has curdled completely and the whey (light green water) is separated from the milk completely. (Just in case, if the milk doesn't curdle fully then put it back again on the stove and boil over low heat until the milk is fully curdled.)




Once the milk curdles, place a muslin cloth or a cotton cloth lined over a colander.




To drain, pour the curdled milk over the cloth and discard the whey. (You can use this whey in curries, or flatbreads.)




Rinse it well with the ice-cold water to get rid of the sour taste.




Gather up the cloth from all the sides, and squeeze it well to take out the excess water. But do not over squeeze it, or else it would turn chewy. Chena (paneer) is now ready for use. Keep it aside.



Making kalakand:
Pour 1-liter milk to a heavy-bottomed non-stick pan over medium heat. Stir and let it come to a boil.




Boil it for 10 minutes. Stir often to prevent it from burning and sticking to the pan.




Next, crumble the chena (paneer) using fingers and add it to the boiling milk.




Keep cooking and stirring constantly until the milk has thickened and reduced.




Add sugar to it and stir well and let the sugar dissolve completely.




Once the sugar has dissolved, cook for about 5 minutes or until the mixture is thick and resembles a clump. At this point, the mixture would leave the sided yet it would remain juice and moist.




Add cardamom powder and mix well. Cook for a minute and turn off the heat.




Pour hot milk mixture immediately to the prepared greased tray.




Spread and flatten the mixture using a spatula.




Drizzle the top with chopped nuts and saffron strands.




Press nuts gently with a spatula to make sure that they are nicely tucked in.




Let them set for 2-3 hours at room temperature. You can also refrigerate the mixture for a couple of hours after it has cooled down.




Once the kalakand is set, cut it into desired shapes.




Serve it as an after-meal dessert or along with an elaborate Indian meal.

---
WATCH RECIPE VIDEO: Click the play button and video will load ...
---
NOTES:
This recipe yields 8 large pieces of Kalakand. You can also cut them into small pieces to get up to 14 pieces.

To make kalakand creamier you can replace sugar with the same amount of sweetened condensed milk.

If using store-bought paneer, then replace homemade chena with 200 grams crumbled or grated paneer.
---
If this recipe helped you, then please spread the word by sharing and
subscribing
to us on YouTube to get more such Recipe Videos.
---
Your feedback is so helpful for me and other MyGingerGarlicKitchen readers. So, for Facebook and Instagram, please mention
@MyGingerGarlicKitchen
or
#mygingergarlickitchen
. I would love to see your photos. :)
---
Author:
Anupama
Recipe Source Link:
https://www.mygingergarlickitchen.com/kalakand-recipe/
Date Published:
2020-10-16
• • • • • • • • • •