Best Kalakand Recipe
Kalakand is a popular and delicious Indian sweet dish made by reducing milk and sugar along with paneer (cottage cheese). It has a soft and grainy texture.
---
« Go back
Print this recipe »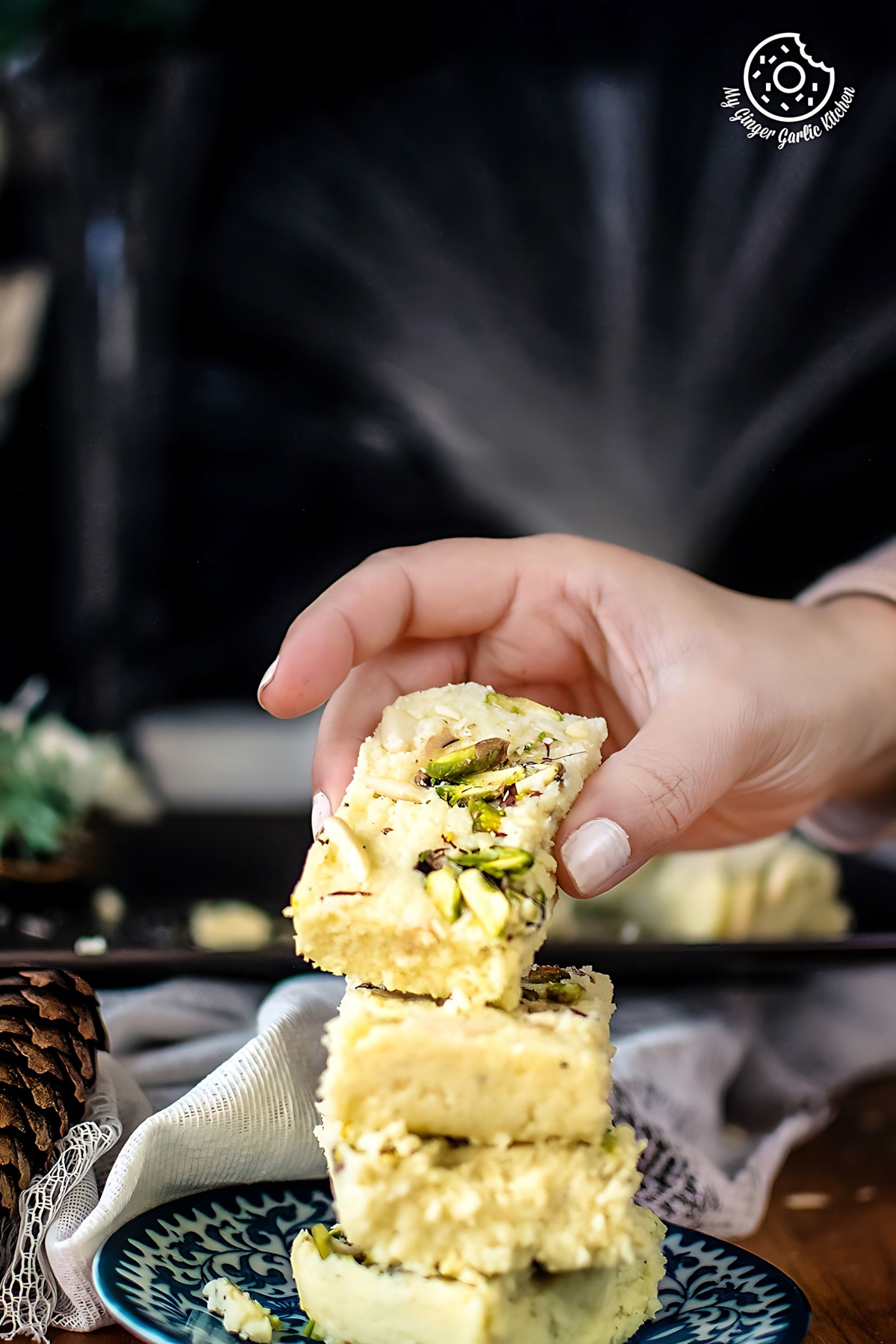 ---
Prep Time = 3 hour(s) 10 minutes
Cook Time = 40 minutes
Total Time = 3 hour(s) 50 minutes
Category = Dessert
Cuisine = Indian
Serves = 8-10
Nutrition Info = 138 calories
Serving Size = 1 piece
---
RECIPE INGREDIENTS
» For Kalakand:
2 liters full-fat or whole milk (I used 3.5% fat)
1/2 cup sugar
1-2 tablespoons lemon juice or white vinegar
ice-cold water
1/2 teaspoon cardamom powder (elaichi powder)
1 teaspoon ghee for greasing
» For Garnish:
2-3 tablespoons chopped almonds and pistachios
7-8 saffron strands
---
RECIPE INSTRUCTIONS
» Preparation:
Brush a tray or a plate generously with melted ghee and keep it aside. (I have used a rectangular glass baking tray, you can choose any tray you wish.) Set this aside.
» Making Chena:
For making chena, add 1-liter full cream milk to the pan, and heat over medium heat. Let it come to a boil. Stir occasionally.
Once boiled, turn off the heat.
Wait for a couple of minutes and then start adding acidic agents (lemon juice, vinegar, citric acid, yogurt) little by little.
Keep adding & stirring continuously until the milk has curdled completely and the whey (light green water) is separated from the milk completely. (Just in case, if the milk doesn't curdle fully then put it back again on the stove and boil over low heat until the milk is fully curdled.)
Once the milk curdles, place a muslin cloth or a cotton cloth lined over a colander.
To drain, pour the curdled milk over the cloth and discard the whey. (You can use this whey in curries, or flatbreads.)
Rinse it well with the ice-cold water to get rid of the sour taste.
Gather up the cloth from all the sides, and squeeze it well to take out the excess water. But do not over squeeze it, or else it would turn chewy. Chena (paneer) is now ready for use. Keep it aside.
» Making kalakand:
Pour 1-liter milk to a heavy-bottomed non-stick pan over medium heat. Stir and let it come to a boil.
Boil it for 10 minutes. Stir often to prevent it from burning and sticking to the pan.
Next, crumble the chena (paneer) using fingers and add it to the boiling milk.
Keep cooking and stirring constantly until the milk has thickened and reduced.
Add sugar to it and stir well and let the sugar dissolve completely.
Once the sugar has dissolved, cook for about 5 minutes or until the mixture is thick and resembles a clump. At this point, the mixture would leave the sided yet it would remain juice and moist.
Add cardamom powder and mix well. Cook for a minute and turn off the heat.
Pour hot milk mixture immediately to the prepared greased tray.
Spread and flatten the mixture using a spatula.
Drizzle the top with chopped nuts and saffron strands.
Press nuts gently with a spatula to make sure that they are nicely tucked in.
Let them set for 2-3 hours at room temperature. You can also refrigerate the mixture for a couple of hours after it has cooled down.
Once the kalakand is set, cut it into desired shapes.
Serve it as an after-meal dessert or along with an elaborate Indian meal.
---
RECIPE NOTES
This recipe yields 8 large pieces of Kalakand. You can also cut them into small pieces to get up to 14 pieces.
To make kalakand creamier you can replace sugar with the same amount of sweetened condensed milk.
If using store-bought paneer, then replace homemade chena with 200 grams crumbled or grated paneer.
---