Learn How To Make a classic and delectable Blueberry Pie Recipe with a quick recipe video tutorial. There is nothing like a piece of fresh homemade blueberry pie in summer and early autumn. If you love blueberries, then you'll surely love this very easy, and enticing looking juicy pie.

What is Blueberry Pie?
Blueberry Pie is a simple, classic blueberry dessert which is overlooked, but a slice of this masterly dessert can brighten up anyone's mood.
This easy and fresh blueberry pie is the best use of seasonal blueberries when blueberries are abundant in the farmers market. The blueberry season calls for a blueberry pie, so don't let the season go by without making this blueberry pie.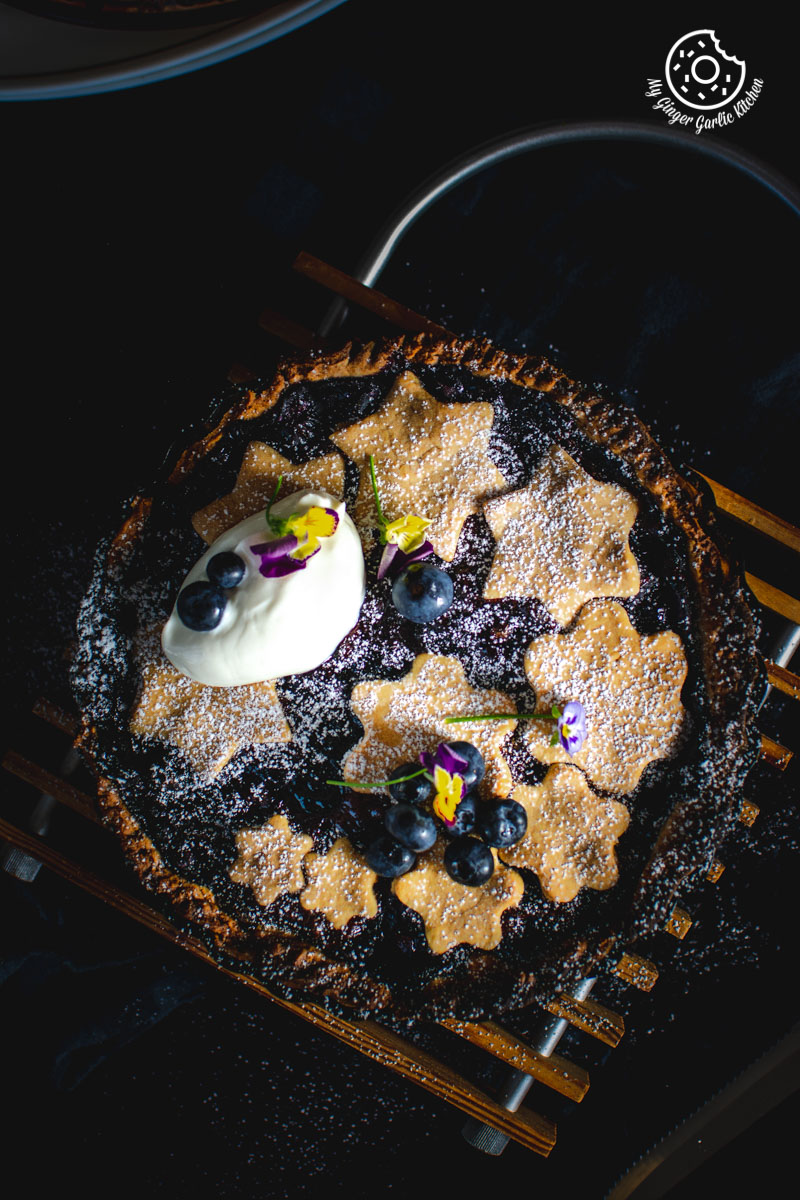 What is the best way to consume summer blueberries when they are in season?
Well, the first thing you can do is to eat these 'superfood blueberries' straight from the bushes or from the basket, because they are so full of healthy goodness. Thus they are really good for your body and well-being.
And when you are done with eating, you can either freeze them or you can make some classic desserts such as this blueberry pie.
That's what I do. 😀 When blueberries are in abundance, what is better to do with them than making some luscious blueberry desserts which will attract eyes and mouths alike? Blueberry pie is one of the best things about summer.
Related: Blueberry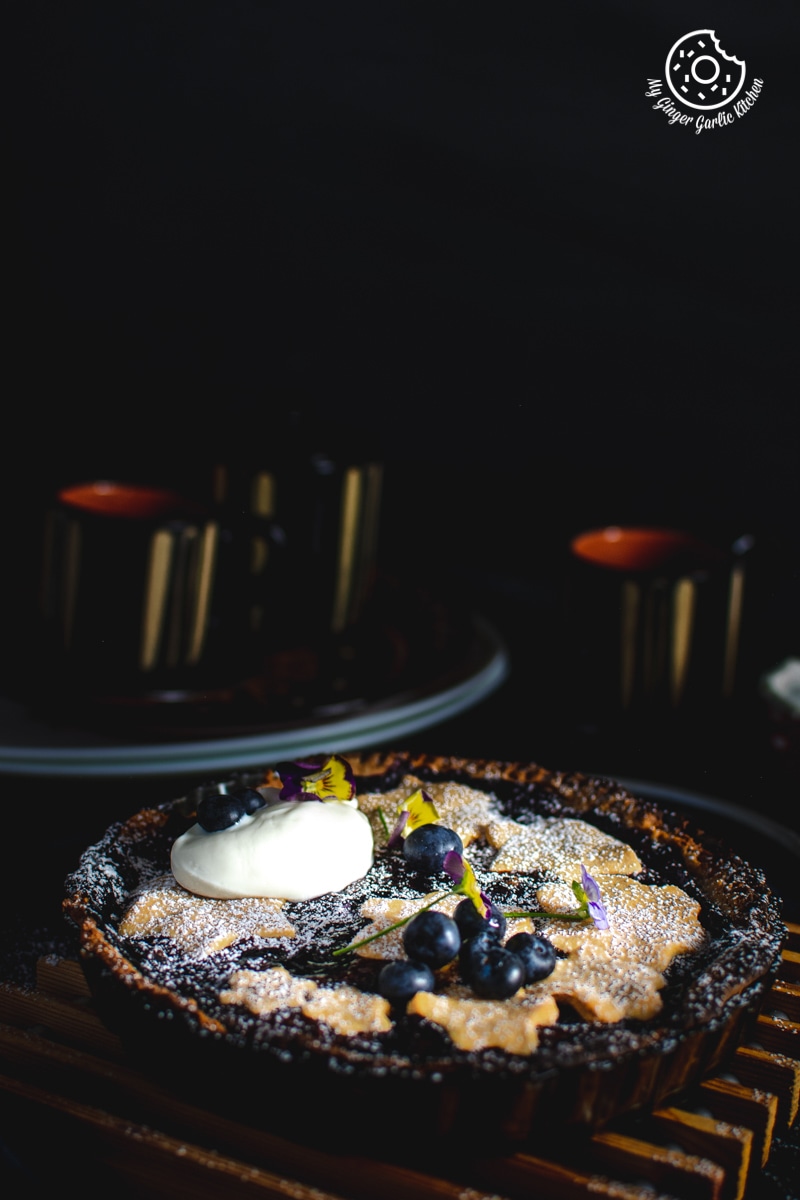 Can you use frozen blueberries for a pie?
Using fresh blueberries is the best. But yes, you can easily make this pie with frozen berries. You can either use fresh or frozen blueberries for making this pie, and you can also use a combination of frozen and fresh blueberries the way I used.
What are the ingredients used for making this blueberry pie?
For the blueberry pie filling, blueberries are tossed with a dry mixture of sugar, cornstarch, ground cinnamon, and salt. Some people like to add a little bit of lemon zest for that zing. So feel free to add lemon zest to the filling. And you'll need a pie crust for the bottom and top pie shell.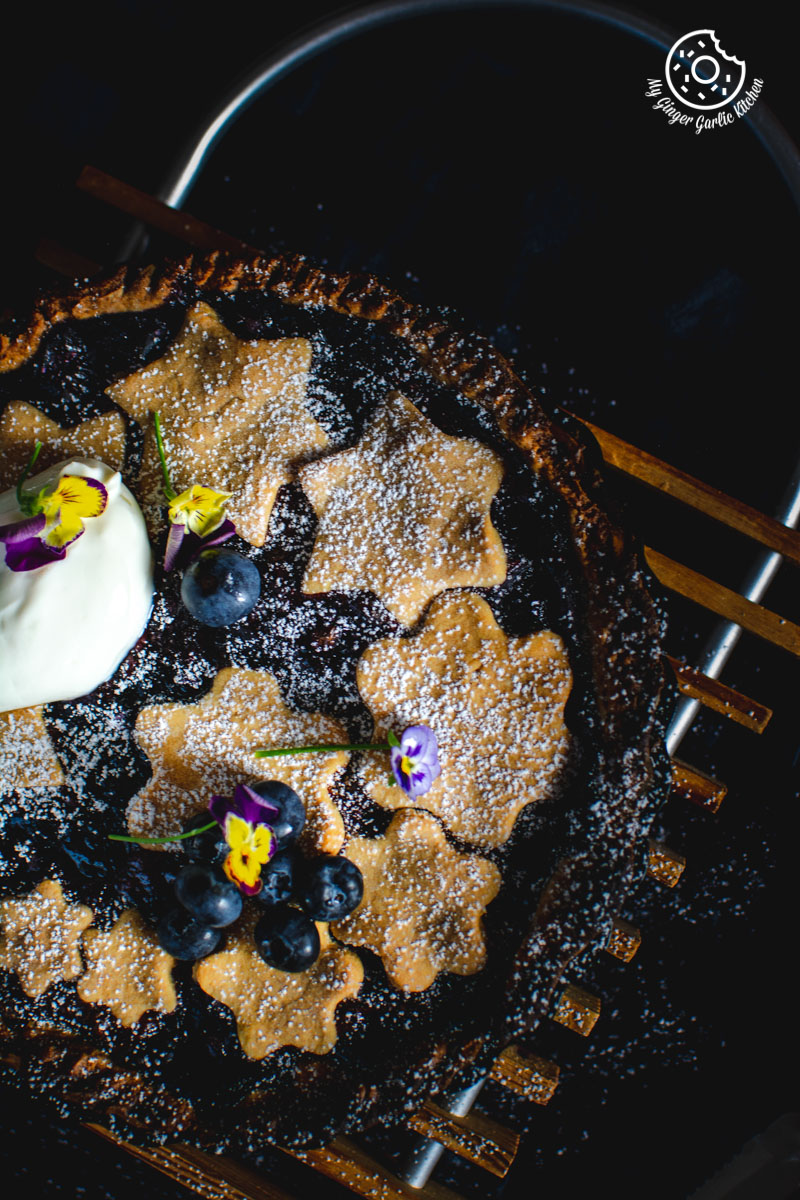 What is the best type of blueberries you can use for making blueberry pie recipe?
About the blueberries — the juicier the better. Try to use the berries which are sweet, plump and juicy.
Do you have to thaw frozen blueberries before baking?
If you are using frozen blueberries, you don't even need to thaw them first. But you still can thaw berries if you want, before using. In that case, if you see juices in the frozen berries, then simply drain the extra juices.
How to make an easy (as pie) and decorative pie?
In this recipe, I have shared a full video tutorial for how to add a decorative pie crust. This time, I chose to top my pie with an easy yet decorative crust, which is crafted using simple cookie cutters and a knife. You can also opt for a traditional lattice pie crust.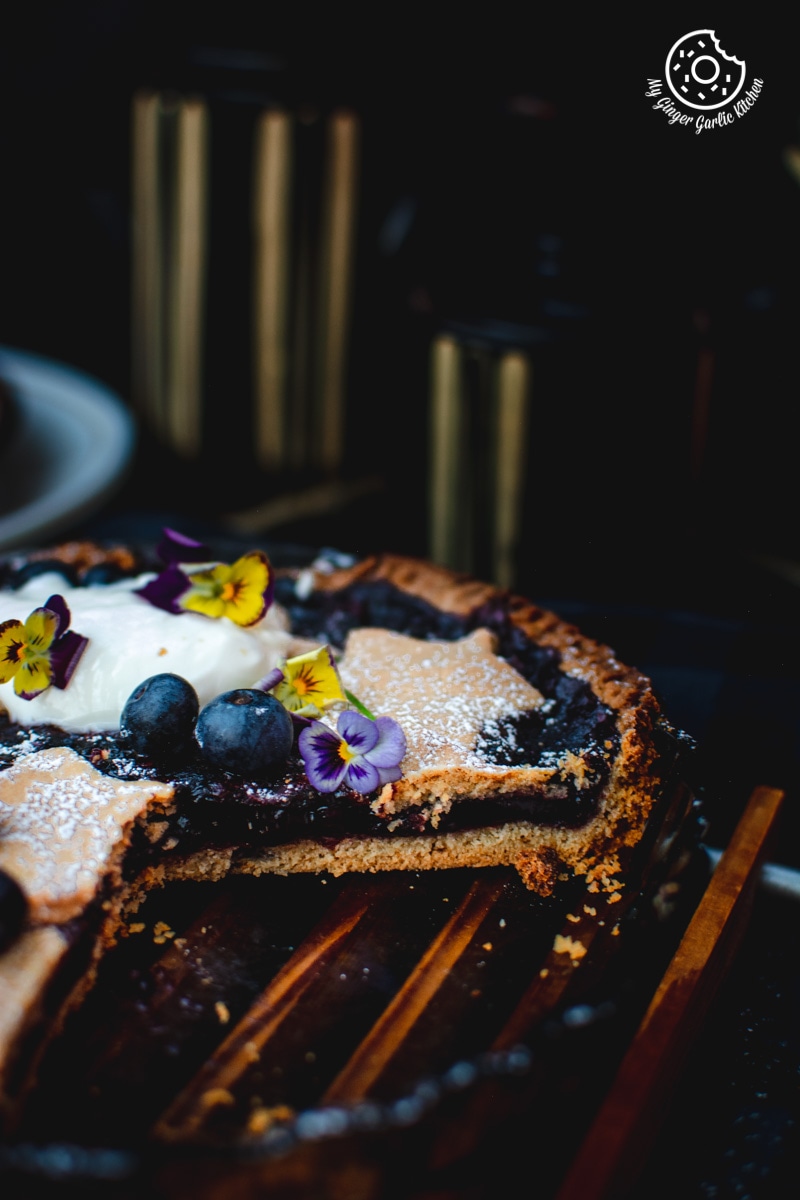 Are there any variations on the classic blueberry pie recipe?
If you don't want to opt for a fancy pie design, then another option is to simply place a sheet of rolled pie dough over the filling then add slits to the top. You could also bake the pie as a single crust, open-faced pie, or alternatively, you can also add a crumble topping.
Why would you love this blueberry pie?
The blueberry pie filling is thick and so full of fleshy, juicy blueberries. And when you wrap this filling in a flaky and buttery pastry, then you get the wonderful contrast in texture and taste which makes every single piece of blueberry pie so much more desirable.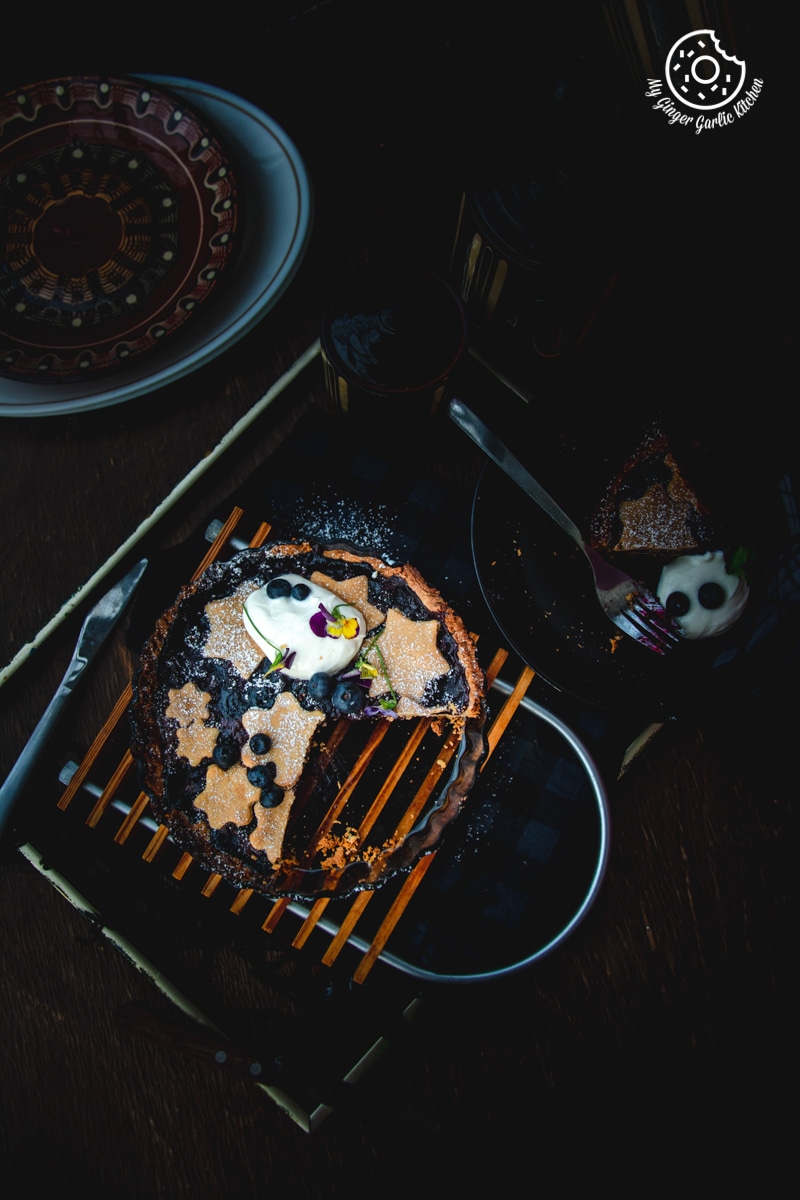 How to make the blueberry pie filling?
Making this homemade blueberry pie filling recipe is so easy. This blueberry pie filling is made completely from scratch. Making a pie filling is one of the most painless things you could ever do.
You will simply have to toss the blueberries together in a large bowl along with sugar, cornstarch, cinnamon, and a pinch of salt. That's it. See, so simple!
How to cook blueberry pie filling?
You can bake this filling in a pie shell if you are making pie instantly. Or if you are not baking it into a pie and planning to use it later, then simply cook it on the stove top.
For cooking on the stove: Start by just adding the mixture to a pan/pot and cook it over medium-low heat until the berries start to burst and the mixture looks juicy and syrupy. Once the pie filling comes to a boil, it will thicken up. And it will continue to become even thicker as it cools. Store in an airtight jar and use it as a pie filling. You can also can this blueberry pie filling.
How to know when the blueberry pie is done?
Once your blueberry pie filling is ready, just pour the mixture into the prepared pie crust and bake. You'll know that pie is baked when the juices are bubbling and the crust looks golden brown.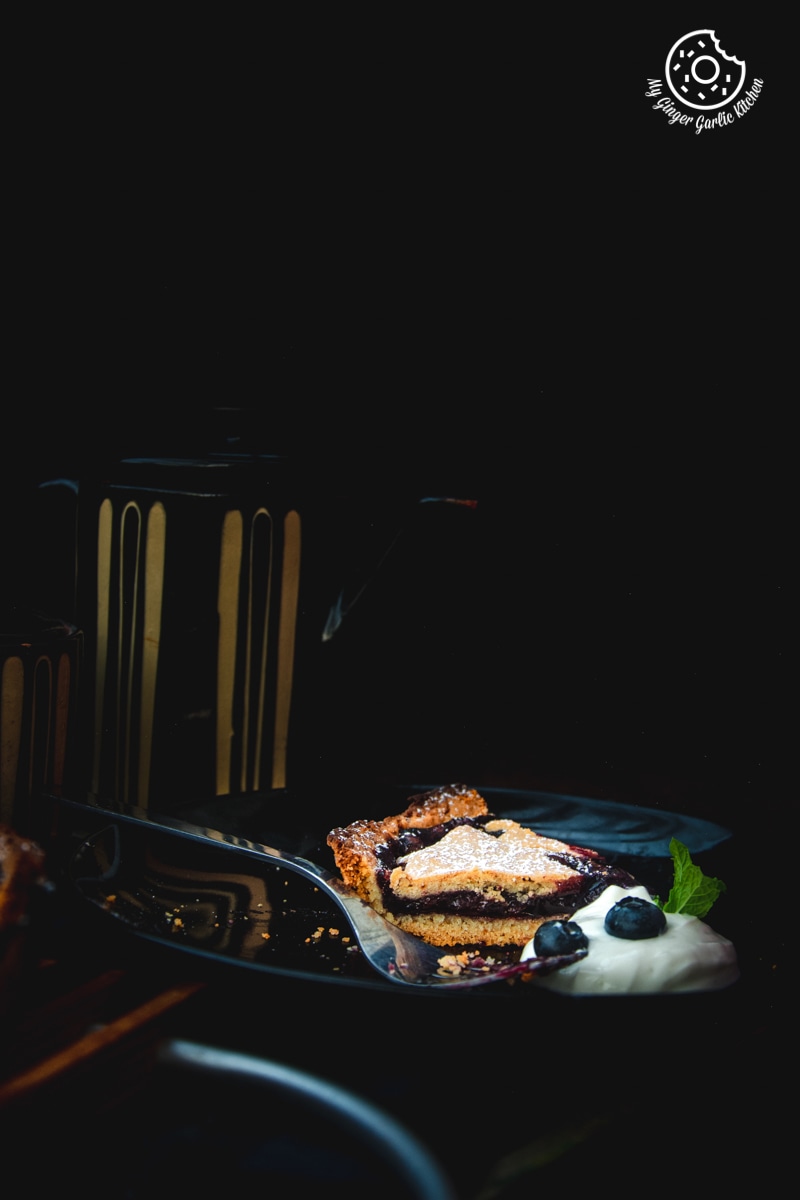 How do I thicken my blueberry pie?
I usually add cornstarch to thicken the pie filling. However, if you don't want to add cornstarch, then you can use arrowroot powder, all-purpose flour,  or tapioca starch instead. You can also use gluten-free flour for making a gluten-free version of blueberry pie.
How long does this blueberry pie stay fresh?
This blueberry pie will be fresh if kept at room temperature for a day. If you want to use it later, then you can simply refrigerate it. It should keep fresh and can stay so for up to a week.
Can I freeze this blueberry pie?
Yes, you can. If you want to assemble pie now for later use, then you can comfortably freeze the pie prior to baking it. This is a wonderful dessert option when you have a guest coming over and you want to bake a pie without any hassle.
For freezing pie: Wrap it tightly with a foil or a plastic wrap, then glide it into a freezer-safe plastic bag, and freeze. You can freeze this pie for up to 2 months.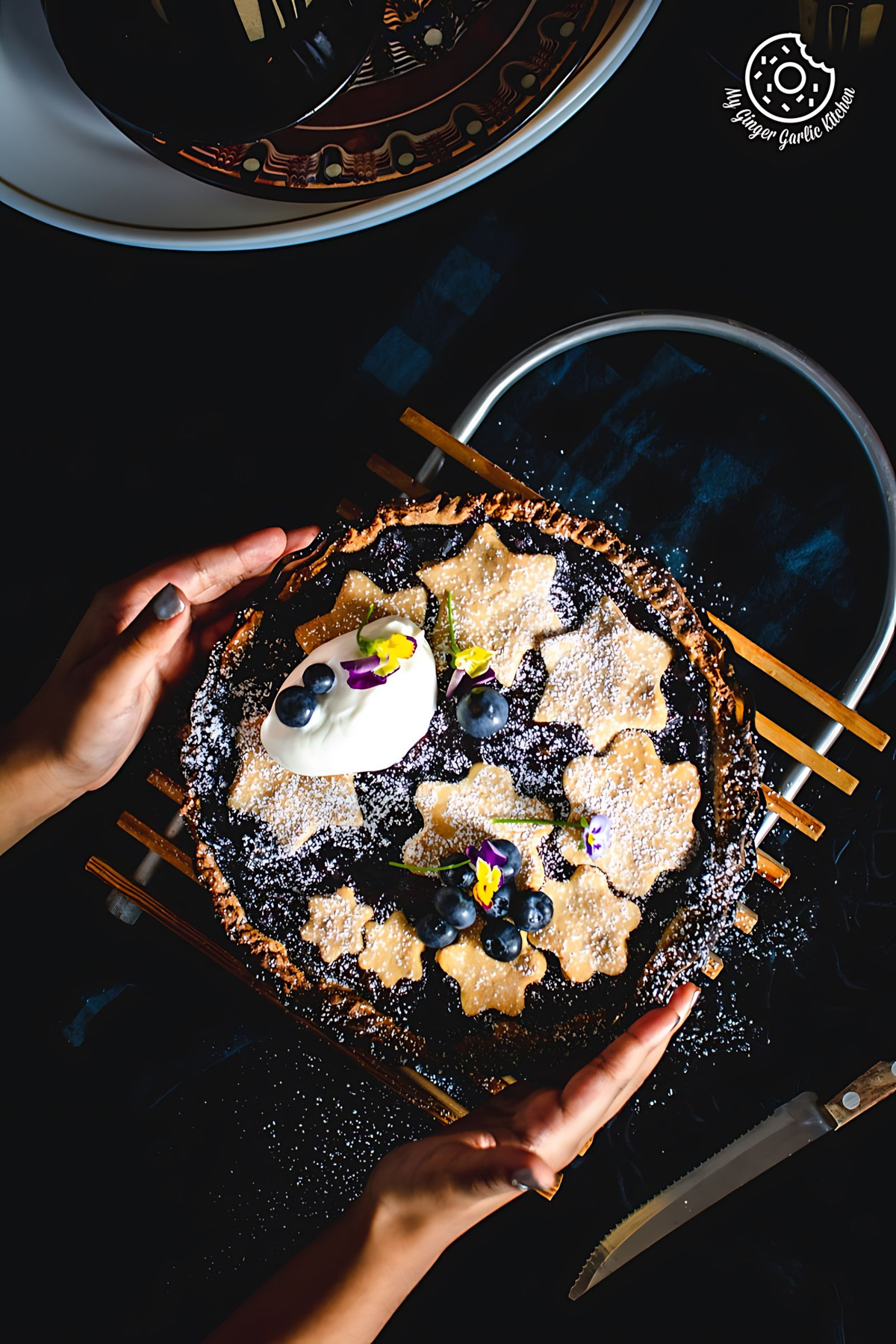 Can I put a frozen pie in the oven?
Yes, you can.
How do you bake a frozen blueberry pie?
Simply thaw it in the refrigerator on the day when you want to bake. Then bake, and done. 🙂
Important tips for making a homemade pie that looks perfectly classic:
Before baking, always brush the crust with an egg wash or cream.
Bake the pie until bubbling and has a golden brown color.
Let the pie cool for 2 to 3 hours before slicing.  I know that is the difficult part. But if you cut the pie straight away, it may be watery and then the filling will spill out and make the crust soggy. As the pie cools, the filling will thicken up even more.
How to serve blueberry pie?
You can enjoy this succulent warm pie as it is, or serve this pie with some blueberry ice cream, whipped cream, or sweetened creme fraiche.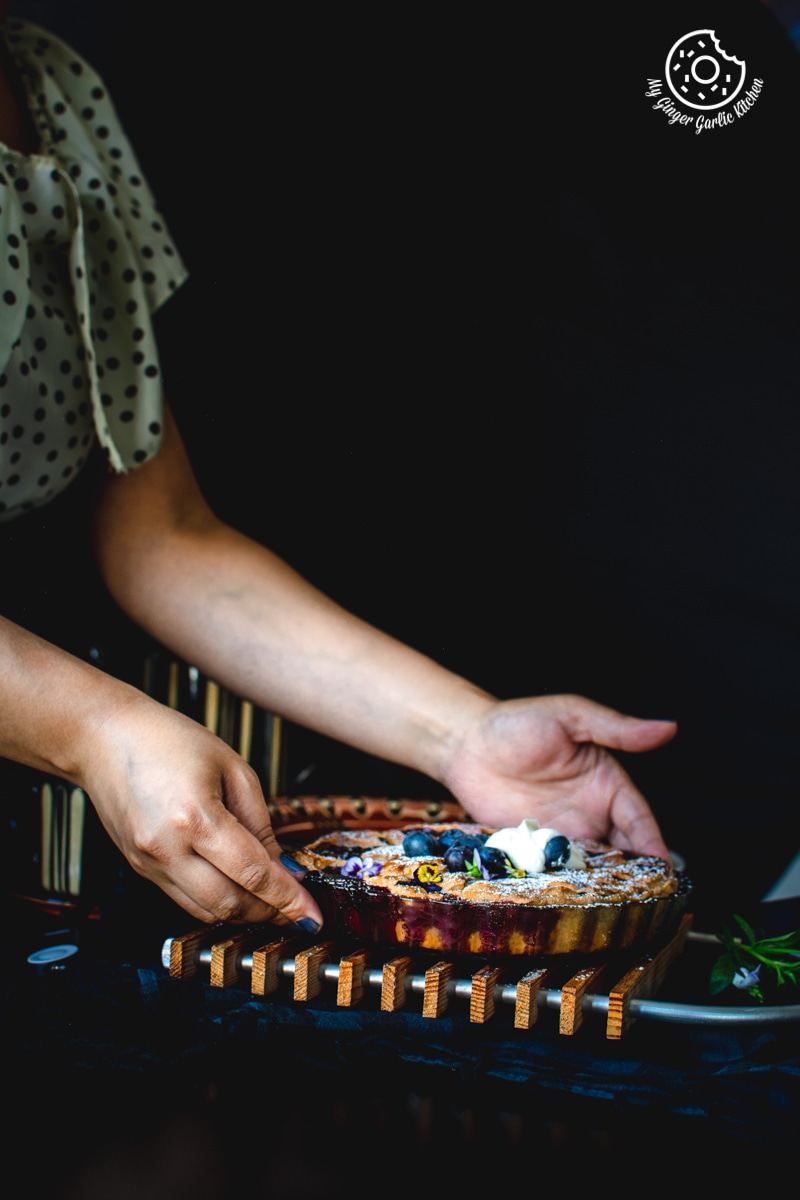 Blueberry Pie Recipe

[Recipe]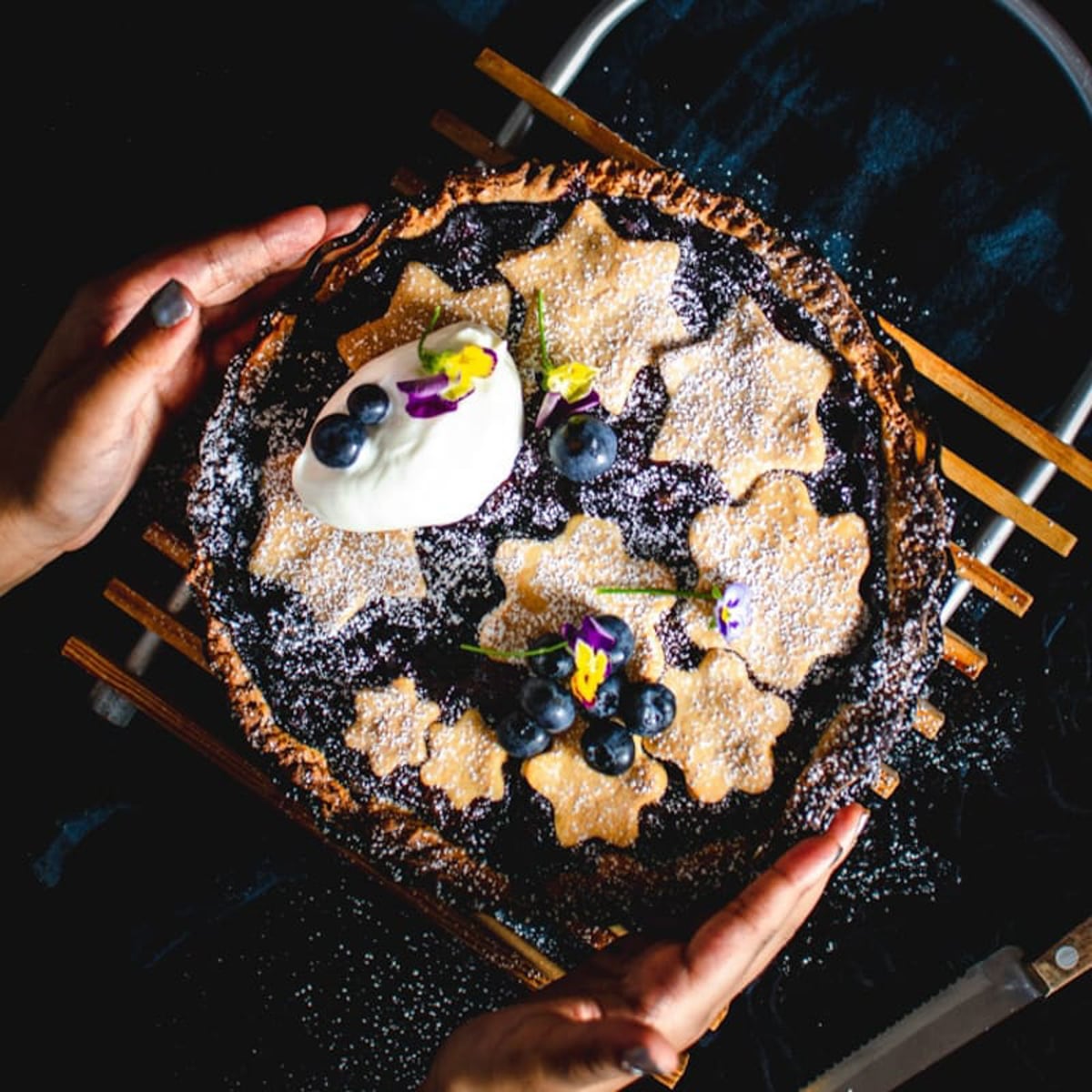 How To Make a classic and delectable Blueberry Pie Recipe. If you love blueberries, then you'll love this enticing and juicy pie.
---
★★★★✰
(Rating:
4.5
from
12
reviews)
---
| Prep time 🕐 | Cook time 🕐 | Total time 🕐 |
| --- | --- | --- |
| | | 1 hours 5 mins |
| Category ☶ | Cuisine ♨ | Serves ☺ |
| Dessert | United States | 4-5 |
| Nutrition Info ⊛ | | Serving size ⊚ |
| 360 calories | | 1 slice |
---
INGREDIENTS
For Blueberry Pie:
1/4 cup + 2 tablespoons white sugar
1/8 teaspoon salt
1/4 teaspoon ground cinnamon
1 tablespoon and 1-1/2 teaspoons cornstarch
1-3/4 cups fresh blueberries + 1/4 cup frozen blueberries. (Add 2 cups of fresh blueberries, if you don't want to add frozen berries)
2 pastry dough discs for a 7-inch double-crust pie
2 teaspoons butter
Egg Wash Ingredients:
1 egg
1 tablespoon milk/cream
---
INSTRUCTIONS:
Making The Bottom Crust:
Remove the pie dough from refrigerator and allow it to thaw for about 15-30 minutes before rolling.




Place it on a clean and lightly floured flat work surface.




Sprinkle dry flour and roll it out the first circle of dough into a circle just less than ¼-inch thick and 10 inches wide circle.




Line the rolled out dough on to a 7-inch pie pan.




Crimp the edges leaving untrimmed.



Making Blueberry Filling:
Add sugar, cornstarch, salt, and cinnamon to a large mixing bowl.




Add blueberries and gently mix well.




Add frozen blueberries and gently stir them so that the blueberries are coated with some sugar and flour mixture.



Fill The Bottom Crust With The Berries:
Pour the sugar-coated blueberry filling into the lined pan, and top with butter pieces.



Making Top Crust:
Roll out the second dough circle to the same size and thickness as the first.




Decorate using a cookie cutter and knife. (See the video above)




Place the decorated crust on top of the berry filling.




Tuck the top dough over and under the edge of the bottom dough, and seal the edges with ork, or your fingers.




Trim away the excess pastry using scissors.



Making Egg Wash:
Whisk egg and cream/milk together to make an egg wash.




Brush the decorated top crust with the egg wash.



Baking:
Preheat oven to 375 degrees F/190 degrees C.




Place the pie on the lower rack of the oven.




Bake pie on lower shelf of the oven for about 50 minutes, or until the pastry is golden brown.




Transfer pan to a wire rack and cool the pie completely before serving.




Slice and serve along with ice cream.



---
WATCH VIDEO:
---
NOTES:
No notes for this recipe.
---
If this recipe helped you, then please spread the word by sharing and
subscribing
to us on YouTube to get more such Recipe Videos.
---
Your feedback is so helpful for me and other MyGingerGarlicKitchen readers. So, for Facebook and Instagram, please mention
@MyGingerGarlicKitchen
or
#mygingergarlickitchen
. I would love to see your photos. :)
---
Author:
Anupama
Recipe Source Link:
https://www.mygingergarlickitchen.com/blueberry-pie-recipe/
Date Published:
2019-11-10
• • • • • • • • • •