Spiced Pumpkin Pie [With Video]
---
I hope you all had an awesome weekend, and had lots of fun and lots of goodies too! 🙂
I too had a great time this weekend, and did something fruitful too. I think I am getting there, and trying to be productive on weekends too. Yeaaahhh! Being productive is such a great thing. Right? What else could give you the satisfaction of being useful other than just doing what you want to do. So whatever I do, I do it for my satisfaction. 😀
Many times Abhishek says, "I understand your passion, but sweetheart, sometimes you need to act like a selfish person. Forget about everything. Forget about Adoria. Forget about me. Forget about work. Think only of yourself. BE SELFISH. It's good sometimes."
"You are always working — you seriously work so hard and I mean it. All you need to do is sit back to regain your energy to work much more effectively and with much more vigour".
Awwww, I just love him for being him. Just being true to me. And I completely admire his beautiful advice and also try to follow that. So, this weekend I did what he suggested partially. I completely relaxed on Sunday and worked on Saturday. See, I listen to my Hubby dear, so for the ones who say that women only talk and never listen, I'd say, you are wrong people! 😉 Hehehe, Jokes apart! But I really did that! 🙂
But what did I work on?
I worked for this blog.
Really? But why did I not post anything, you might be wondering.
100% correct. Technically, I wasn't active on this blog, but I was working for this blog (Behind The Scenes).
And what was that backstage work exactly? Well, I worked on a project called 'Recipe Video'. Yeahhh! I did it. I made another video this weekend.
So I had delish food and did not enjoy this alone because, I am sharing this with you, so that WE all can enjoy. See, I think about you all the time!
The project of making another video recipe is DONE. And I am super thrilled. Yippeeee!
So the dish [including the video] I made is a super easy, classic and no-fuss 'Spiced Pumpkin Pie'.
I made my own puree, because fresh puree just tastes incredible. But you can make this with canned pumpkin as well — this would come out awesome too.
This is a classic and unfussy pumpkin pie. You can sure have this plain. But I felt like having it fancy, so I spread a layer of chilled condensed milk and sprinkled cinnamon sugar on top. And topped with chocolate cereals and dark chocolate shards. Mmmm, having a slice of this pumpkin pie is like a feeling of heaven. Pure #JOY!
This pie is so perfect with enough amount of sweetness to balance the pumpkin flavor and the spices. You can blindly have an extra slice for dessert without knowing it! It would happen that fast. 🙂
And you can even have the leftover slices for breakfast. I actually did it. Shhhhh, quiet. Please don't breathe a word about this to anyone.
I don't want everyone to know that I am the one who had the leftover slices of this delicious pie for breakfast.
That's kind of a little secret between you and me, and may be this a little extra prize for the one who made it! I know it was a bit dramatic, but this pie is worth a little drama. Once you enjoy this then you'll know what I mean! So go for it!
Making this pumpkin pie is the simplest thing ever. It's super easy — actually it's one of the simplest and tastiest pies which you would love to bake. The filling is made from pumpkin puree, eggs, condensed milk a little salt, and spice mix. Yes, I also added salt for that EXTRA oomph.
Everything is mixed well together and poured into a pie crust. And BAKED. Just that SIMPLE. And the best ever pumpkin pie is ready.
For the crust I used readymade pie dough. You could also make with your homemade pie crust. It's up to you.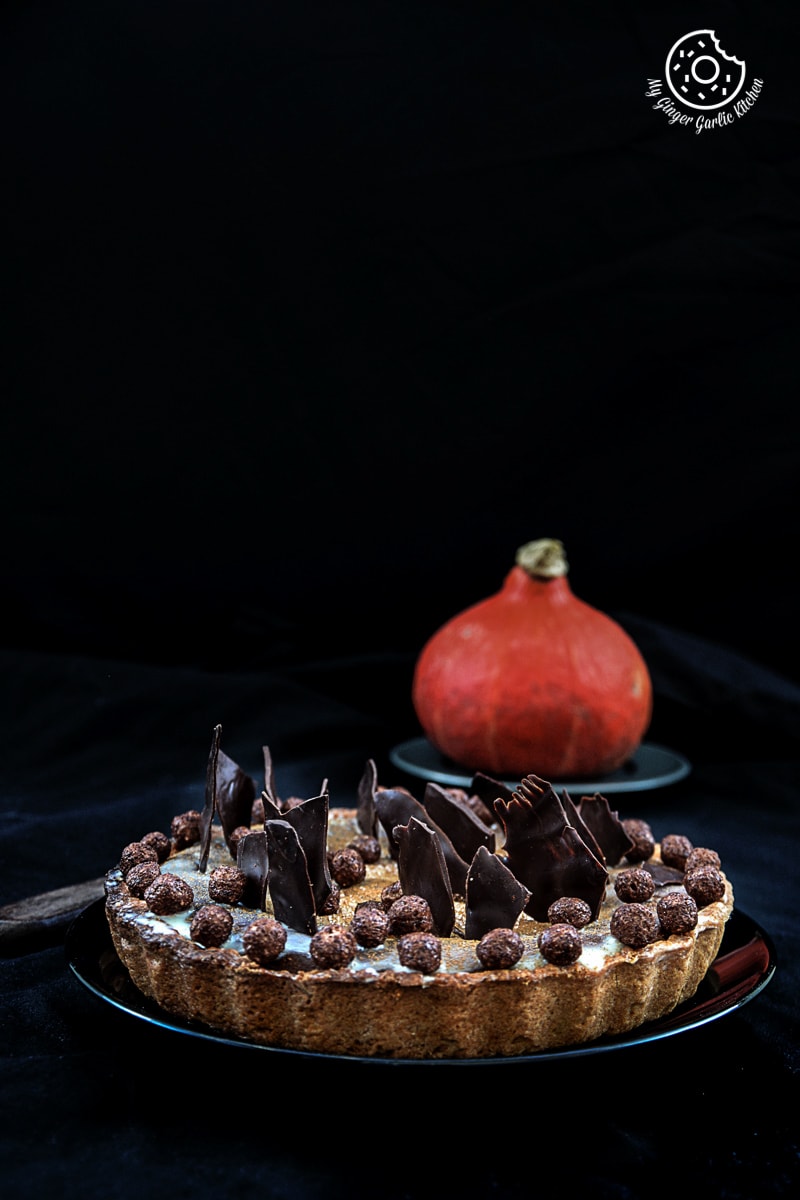 The pie crust is simply flaky.
For puree, I added 1 tbsp spices, which is not less and not too much either — just the right amount. Plus, the spices make the pumpkin flavor shine. Fill the crust as usual and bake it, until the filling sets.
If you don't love spices too much, you can surely add less spices. With this pumpkin pie, I so love how the crust becomes little moistened from the filling. And the base of the crust is brown and crisp.
It's soft and tender where the filling and crust meet.
If you bake this pie a day ahead and you are lucky enough to save it for the next day, then keep it covered at room temperature until serving time.
Let's learn to make this dish as easy as pie — literally 'Spiced Pumpkin Pie'.

Whisk together pumpkin puree and eggs in a large bowl until smooth. Add sweetened condensed milk, spice mix, ginger and salt. Whisk until thoroughly combined.

Roll the dough on a floured surface to fit the pie plate leaving about 3-5 inches of dough hanging over the edge. Roll the dough on the rolling pin, and fit the pie crust in a pie plate. Now crimp the edges to make a pretty pattern. Set this aside aside. In a large bowl whisk together all the pumpkin filling ingredients until all combined. Pour the prepared filling into the prepared pie shell.

Bake for 15 minutes in the preheated oven. After 15 minutes, reduce your oven temperature to 350°F/175°C. Bake for 30 to 35 minutes. Cool for 30 minutes on a wire rack. Now chill it in the fridge for at least 2 hours. Top with chilled condensed milk, and sprinkle some cinnamon sugar.
I hope you'll enjoy the video! 🙂
Happy Cooking!
Spiced Pumpkin Pie + Video
Author:
Prep time:
Cook time:
Total time:
Learn how to make classic and no fuss spiced pumpkin pie. This is so perfect with the enough amount of sweetness to balance the pumpkin flavor and the spices.
Ingredients
<ul class="ingredients">
  <li class="ERSeparator">
    for pie:
  </li>
  <li class="ingredient">
    pie crust (I am using readymade crust)
  </li>
  <li class="ingredient">
    pumpkin puree - 1 cup
  </li>
  <li class="ingredient">
    spice mix - (1 tbsp ground cinnamon, ⅛ tsp ground nutmeg, ⅛ tsp teaspoons ground ginger, 1 tsp ground allspice)
  </li>
  <li class="ingredient">
    condensed milk - 1 can (15oz)
  </li>
  <li class="ingredient">
    eggs - 2 large
  </li>
  <li class="ingredient">
    pumpkin pie spice - 1 tbsp
  </li>
  <li class="ingredient">
    salt - ½ tsp
  </li>
  <li class="ERSeparator">
    for serving:
  </li>
  <li class="ingredient">
    chocolate shards
  </li>
  <li class="ingredient">
    chocolate cereals
  </li>
  <li class="ingredient">
    chilled condensed milk
  </li>
  <li class="ingredient">
    cinnamon sugar
  </li>
</ul>

Instructions
<div class="instructions">
  <ol>
    <li class="instruction">
      Preheat oven to 425°F/220° C.
    </li>
    <li class="instruction">
      Whisk together pumpkin puree and eggs in a large bowl until smooth.
    </li>
    <li class="instruction">
      Add sweetened condensed milk, spice mix, ginger and salt.
    </li>
    <li class="instruction">
      Whisk until thoroughly combined.
    </li>
    <li class="instruction">
      Roll the dough on a floured surface to fit the pie plate leaving about 3-5 inches of dough hanging over the edge.
    </li>
    <li class="instruction">
      Roll the dough on the rolling pin, and fit the pie crust in a pie plate.
    </li>
    <li class="instruction">
      Now crimp the edges to make a pretty pattern. Set this aside aside.
    </li>
    <li class="instruction">
      In a large bowl whisk together all the pumpkin filling ingredients until all combined.
    </li>
    <li class="instruction">
      Pour the prepared filling into the prepared pie shell and bake for 15 minutes in the preheated oven.
    </li>
    <li class="instruction">
      After 15 minutes, reduce your oven temperature to 350°F/175°C.
    </li>
    <li class="instruction">
      Bake for 30 to 35 minutes.
    </li>
    <li class="instruction">
      Cool for 30 minutes on a wire rack. Now chill it in the fridge for at least 2 hours.
    </li>
    <li class="instruction">
      Top with chilled condensed milk, and sprinkle some cinnamon sugar.
    </li>
    <li class="instruction">
      Decorate with chocolate cereals and chocolate shards and serve chilled. Enjoy this rich, classic and custardy cinnamon pie.
    </li>
  </ol>
</div>

If you cook this dish, be sure to tag your photo with this hashtag: #mggk
Happy Cooking & Keep Sharing! 🙂
---