Spiced Pumpkin Pie Recipe
Spiced Pumpkin Pie Recipe is a super easy delicious pie. The filling is made from pumpkin puree, eggs, condensed milk a little salt, and spice mix.
---
« Go back
Print this recipe »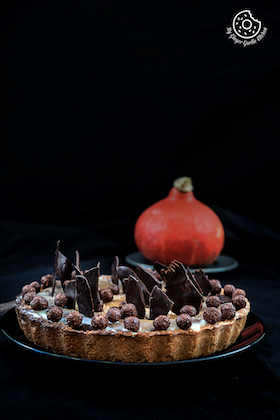 ---
Prep Time = 8 minutes
Cook Time = 45 minutes
Total Time = 53 minutes
Category = Dessert
Cuisine = World
Serves = 6-8
Nutrition Info = 231 calories
Serving Size = 1 serving
---
RECIPE INGREDIENTS
» For Spiced Pumpkin Pie //
pie crust (I am using ready-made crust)
pumpkin puree - 1 cup
spice mix (see below)
sweetened condensed milk - 1 can (15 oz)
eggs - 2 large
pumpkin pie spice - 1 tablespoon
salt - 1/2 teaspoon
» For serving //
chocolate shards
chocolate cereals
chilled condensed milk
cinnamon sugar
» For Spice Mix //
1 tablespoon ground cinnamon
1/8 teaspoon ground nutmeg
1/8 teaspoon teaspoons ground ginger
1 teaspoon ground allspice
---
RECIPE INSTRUCTIONS
» How to Make Spiced Pumpkin Pie //
Preheat oven to 425°F/220° C.
Whisk together pumpkin puree and eggs in a large bowl until smooth.
Add sweetened condensed milk, spice mix, ginger and salt.
Whisk until thoroughly combined.
Roll the dough on a floured surface to fit the pie plate leaving about 3-5 inches of dough hanging over the edge.
Roll the dough on the rolling pin, and fit the pie crust in a pie plate.
Now crimp the edges to make a pretty pattern.
Remove the excess dough and set this aside aside.
In a large bowl whisk together all the pumpkin filling ingredients until all combined.
Pour the prepared filling into the prepared pie shell and bake for 15 minutes in the preheated oven. After 15 minutes, reduce your oven temperature to 350°F/175°C. Bake for 30 to 35 minutes.
Cool for 30 minutes on a wire rack. Now chill it in the fridge for at least 2 hours.
Top with chilled condensed milk, and sprinkle some cinnamon sugar.
And decorate with chocolate cereals and chocolate shards and serve chilled.
Slice and enjoy this rich, classic and custardy cinnamon pie.
---
RECIPE NOTES
No notes for this recipe.
---